Winner announced! And the winner is… lucky #58! Congrats, Kaleigh: check your inbox for details on how to claim your beautiful crown and quartz necklace. Thanks to all who entered and a big thank you goes out to Andrea for sponsoring this giveaway!
– – –
Loves – it's the moment you've been waiting for: it's time for a brand new giveaway at Emmaline Bride! Each Monday, we team up with a handmade artisan to offer a beautiful new item. This week, we've teamed up with the always-lovely Andrea of Andrea Bonelli Jewelry to offer one lucky reader a gorgeous crown and quartz necklace! Read on to find out how to enter for a chance to win…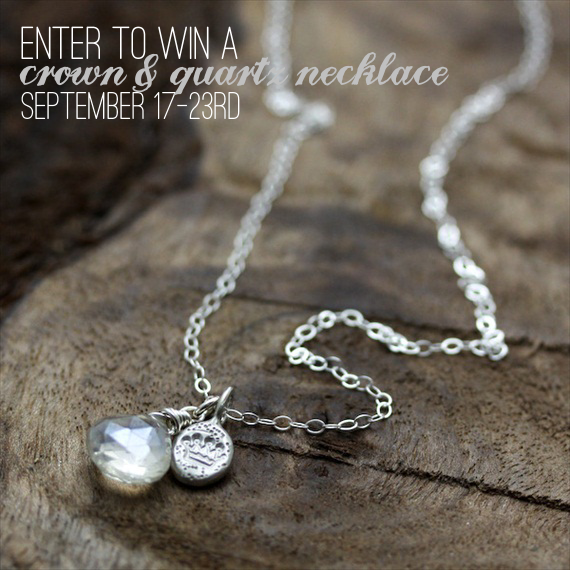 Crown and Quartz Necklace Giveaway
This necklace measures 18″ long and features an iridescent quartz briolette and a handmade recycled sterling silver charm. The charm – deeply stamped with a crown and stardust sparkles – is a truly unique piece, worthy of being worn down the aisle.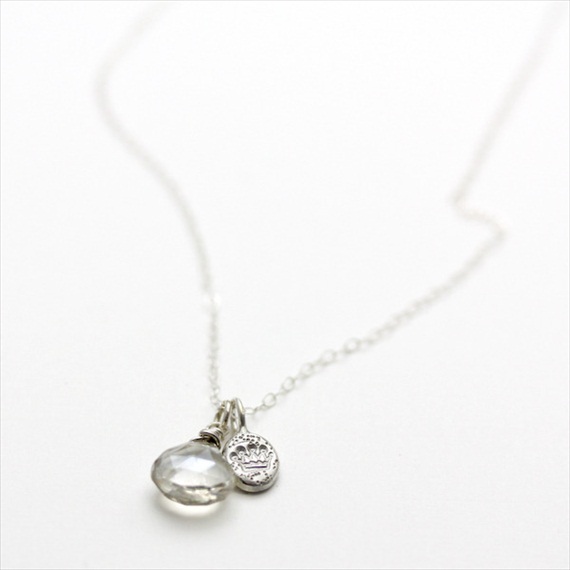 How to Enter
Between September 17th through September 23rd (11:59pm EST), enter for a chance to win a crown and quartz necklace! Simply visit Andrea Bonelli.com and view her entire collection. Return here and comment on a piece you love from the collection. You may enter with a comment once per day for one full week.
You may also enter using each method below daily…
o share the giveaway on Facebook*
o share the giveaway on Twitter*
o share the giveaway on Pinterest*
*if you use these methods, please leave additional comments below for proper recognition
You may enter up to four times daily using one method above once per day (comment, Facebook, Twitter, Pinterest).
Rules
One (1) lucky winner will be randomly selected using random.org and announced on our blog on September 24th. Winner will also be notified via email. Winner will receive one (1) crown and quartz necklace, shown above, handmade by Andrea Bonelli Jewelry. Necklace takes 2-3 weeks to fabricate. Past giveaway winners within thirty (30) days not eligible to win. Entries received through September 23rd 11:59pm EST. No purchase necessary.
Good Luck!
♥
-THE EB TEAM
Andrea Bonelli Jewelry is a Featured Artisan at Emmaline Bride! Apply with Emmaline Bride + find out how to sponsor a giveaway with us!