Hi again, loves! Earlier we talked about getting creative with a paper project and now we're back with another reason why paper rules the wedding world. Have you selected your wedding bouquet yet? And, have you considered paper wedding bouquets for yourself and/or your bridesmaids? These sweet little handfuls of paper-crafted petals are a perfect alternative to fresh flowers. We're often asked by brides why paper wedding bouquets are used instead of the real deal, so we're here to share five important reasons… find out more after the jump!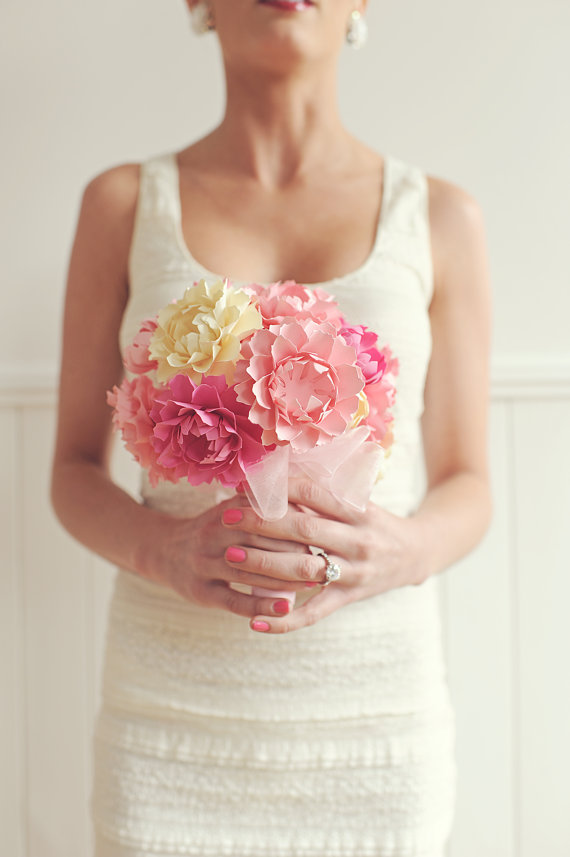 photo by jessica may photography | bouquet by dragonfly expression
5 Reasons to Love Paper Wedding Bouquets
1. Paper wedding bouquets last forever.
First and foremost, paper wedding bouquets will never die and can be enjoyed for years after your big day. Instead of paying a ton of money on a bouquet that you'll throw in the trash, a paper wedding bouquet can be placed in a decorative vase on your desk and enjoyed for years to come.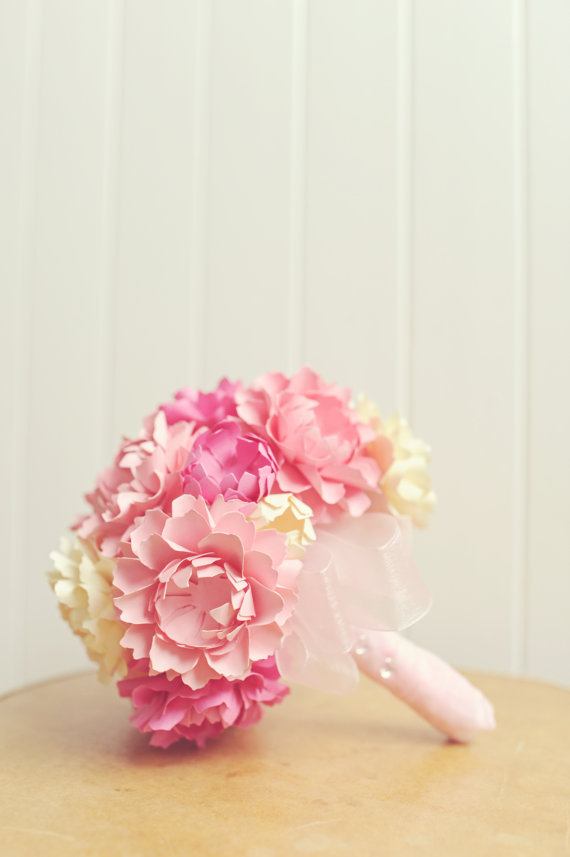 photo by jessica may photography | bouquet by dragonfly expression
2. Paper is always in season.
Dreaming of a calla lilies off season? No problem. Want an array of pink peony-like petals in August? You got it.
3. Paper wedding bouquets can seamlessly match your color palette.
If you're using a color palette to tie in your theme, paper bouquets are an easy way to do it! With a huge array of paper colors from which to choose, matching your bridal party or color palette with a paper bouquet is a breeze.
4. Paper does not wilt.
Hot humid days are no problem for paper wedding bouquets.
5. No one is allergic to paper.
Allergen-prone brides: rejoice! Paper wedding bouquets will keep you from sneezing mid-ceremony.
To purchase the bouquet shown above (I want one myself), visit Dragonfly Expression, maker of all types of paper wedding bouquets, paper flowers, place card flower accessories, and more. Chantal – shop owner and designer – is a Featured Artisan in The Marketplace, where you can find her work and many other artisans' who also specialize in alternative wedding bouquets. Check out more here.
Happy Planning!
♥
-E.
P.S. Emmaline Bride is crazy for our groom readers, too! This week, we're giving away a shaving kit (complete with beer soap, a shaving brush, and more!) to one lucky Emmaline Bride reader. Find out how to win one for yourself (or your honey) here!
P.S.S. Join the conversation on Twitter where we talk about everything from handmade weddings to coffee. Join us, won't you?
P.S.S.S. We want to see YOUR DIY submissions! E-mail your best DIY idea to the team at Emmaline Bride and we may feature it in an upcoming post! Please send one image of the item along with a brief description here.
♥