Happy Sunday! Today we're sharing a unique photo lined purse idea which integrates a few of my favorite things: handmade + photography. This genius idea comes from talented designers ANGEE W., a daughter and mother team based in Toronto. The photo lined purse option can be order through their 'add-ons' list in their shop. This means you can order a clutch and send an image (at least 1MB in size) to have printed on the inner lining of your purse. What could be better than opening your clutch to reveal your engagement photo? The add-on only costs an additional $18 and takes just a few extra days to design and process. This makes a great gift idea for the bride-to-be and will be cherished forever. Here's an example of what the photo lined purse looks like: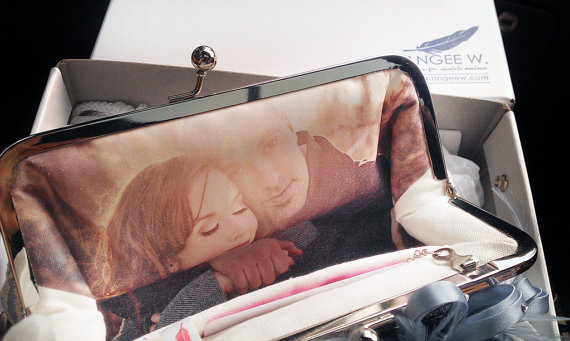 Isn't it lovely? (Photo on the lining of this bag was taken by Edmonton Fine Art Photographer Sharon Litchfield Photography – http://www.sharonlitchfield.com)
Before you get started, though, you'll need to select a clutch. I recommend my new personal favorite in pink (surprise, surprise!):
There are TONS of designs to choose from, so head on over to ANGEE W. now (and tell 'em Emmaline Bride sent you!) ANGEE W. is a featured artisan in The Marketplace at Emmaline Bride!
Happy Planning!
♥
-E.
P.S. We're launching a giveaway on Monday morning and you're not going to want to miss it. To stay in the loop, be sure to subscribe to Emmaline Bride's feeds for up-to-the-minute posts sent straight to your inbox. :)