Good morning! About a week ago, we wrote a post about fall wedding favors to savor. While we're still enjoying each and every drop left of August it goes without saying: fall is on its way. I (Emma here!) don't mind fall; in fact, I welcome it with open, caramel-apple holding arms. I can't wait to break out my tried and true cord pants, my husband's hooded sweatshirts (they're more comfy than my own – true story, right, ladies?), throwing a football around while the leafs crunch under your feet, curling up with your honey on the couch to watch Saturday football, hay rides, cider and donuts… the list goes on and on. To prepare brides for the upcoming season, many of our Featured Artisans have launched brand new collections featuring new styles in fall colors. One of our artisans – Rustic Gem – has added a few new products to their collection including these bridesmaid necklaces featuring burgundy and black. We love the contrast of the matte burgundy against the black beads and the asymmetrical placement of floral piece. Each bead is individually wrapped for a truly handcrafted piece. These bridesmaid necklaces measure 44mmx37mm and feature a lobster clasp. Your bridesmaids will love wearing these…
There are even matching earrings! I pretty much want a pair in every color.

We didn't forget about a matching necklace for the bride, too! Check out this matching necklace with white beads in lieu of black…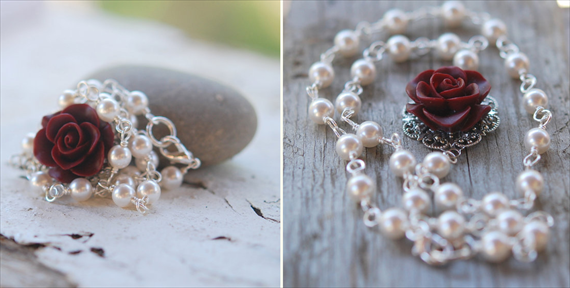 Now, if you love the design but you're looking for a different color combination – we've got you covered. Although these aren't particular fall themed, they are still quite lovely! Here are a few more bridesmaid necklaces we love from their shop:
Lovely! Check out more (and, when we say more, we mean it – this shop is packed full of pretty!) at Rustic Gem, Featured Artisan in The Marketplace!
More coming up in a jif!
♥
-E.
P.S. Let us know what you think: which combination is your favorite?