Want to really take charge of your wedding planning and build your own invite? Now you can thanks to a unique service offered by Julie Hanan Design called Build Your Invite which can bring your unique wedding theme to life. This service allows you to choose from a completely custom design or an invitation suite and add on specialty elements such as custom card stock, envelope liner, ribbon, belly band, envelope addressing, and more. Read on to see a sampling of a few favorite build your own invite options…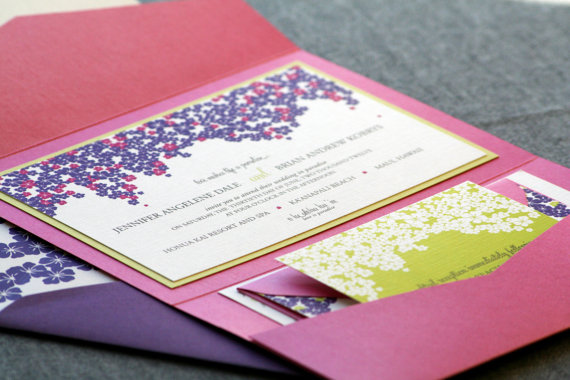 Build Your Own Invite Inspiration
* * *
1. Hibiscus Wedding Invitation
This pretty palette is spring inspired with purples, pinks, and greens. Perfect for a summer destination or floral themed wedding!
2. Bold Striped Modern Wedding Invitation
Love a modern look? This yellow, grey, and white invitation is bold and stripey for the modern couple.
3. Sweeping Script Wedding Invitation
This invitation is girly at its best! A gorgeous script typography meets hot pink, black, white, and silver for a glamorous invitation unlike any we've seen. We love the stylish satin ribbon bow.
4. Delicate Dotted Wedding Invitation
We love this invite's sapphire blue, aquamarine, silver and white color palette and the polka dot style in the envelope lining.
Would you build your own invite? If so, which one would you choose?
Believe us, it was tough to choose just a sampling of our favorite invitation suites. You can view MANY more designs at Julie Hanan Design, featured artisan in The Marketplace.
Happy Planning!
♥
-E.
P.S. Are you subscribed to our FREE updates yet?
P.S.S. You could win a free pair of adorable bride and groom silverware! Click here for this week's handmade wedding giveaway.