Blushing bride-to-be: listen up! Whether you're applying your bridal day makeup yourself or hiring a professional, learning how to apply it can be a planning process all its own. Wedding-related events such as your engagement party, bridal shower and rehearsal are terrific opportunities to try out a few makeup tips + tricks you may not have considered otherwise. Today, we're focusing solely on blush. We're showing you how to make your own blush at home (it's really easy to do), how to apply it properly and where to get your hands on some handmade blush for your bridal clutch. Enjoy!
crushed botanicals
source via anne marie photography
5 Different Types of Blush
1. Powder: best for oily skin + longest lasting!
2. Bronzer: gives you a sun-kissed look
3. Cream: best for dry skin
4. Gel: best for normal/oily skin
5. Shimmer: great for evenings
source
How to Make Your Own Blush
Did you know that you could make your own blush at home using natural ingredients? It really makes you stop and think about the chemicals being used in traditional blushers. This easy-to-DIY blusher idea requires beet powder, strawberries and olive oil. Talk about easy (+ natural!) Mix the beet powder (1/4 c) and strawberries (1/4 c, chopped) together with olive oil (1/2 tsp) for a glowing, natural blush cream. (I haven't tried this one out myself yet, but plan to soon! We spotted it here).
source
In lieu of the olive oil, you can also mix just the beet powder with Vaseline for more of a cheek stain. Or, apply to lips for an all natural lip stain!
How to Apply Blush
When it comes to figuring out how to apply blush, there's a fine line between looking finely flushed versus overdone. Since we aren't huge fans of figuring out how to apply blush from a diagram, we thought a video might help. Check out this how to apply blush video via MakeupGeek TV. The video is lengthy but goes into depth on how to first prep and contour your cheekbones and then apply the blush. We like how she explains the proper brushes to use and shares the specific brands used, too. Very helpful!
Where to Apply by Shape
Oval – apply blush to the apples of your cheeks
Round – apply to the apples and angle upward (the video shows this technique)
Rectangle – apply horizontally with a curve
Heart-Shaped – outer sides of the apples of your cheeks
We found this awesome visual via here originally via here:
Isn't this the greatest diagram ever?
Make It Last ALL Day
After going through the trouble of learning how to apply blush, the last thing you want is for it to pull a disappearing trick on you right after you walk down the aisle. Here are a few tips to make it last:
– Prime!
Always start with a clean, primed finish to make your look last all day.
– Double Duty
Apply cream blush first and finish with power on top.
– Touch Up
Bridal clutches make storing your blush and brush convenient for touch-ups on the go! Don't be scared to do a quick touch up after you cut the cake (since the frosting will probably take most of it away with it, anyway!)
Where to Buy Handmade Blush
There are several places to buy eco-friendly or au natural handmade blush. Here are a few handmade blushes we spotted:
sweet pay & fay
vandaleyez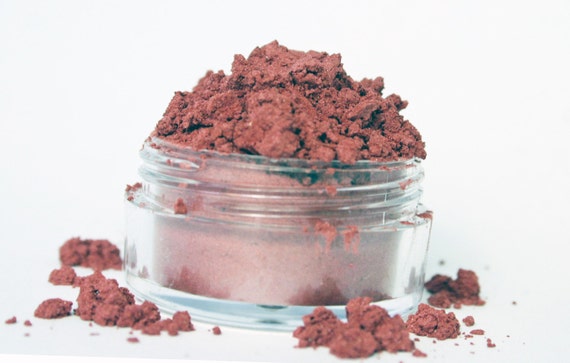 crushed botanicals
And, remember – when it comes to blush (as with all makeup) – moderation is key. Don't overdo it. After all, you still want to look like your beautiful self!
♥
-E.