Psst. This deal was so popular, they needed to extend the savings one extra day! Enjoy this Minted coupon discount, outlined below, through 11/27 at 9am PST. PLUS, there's a gift card now added to the special! throwsconfetti
Looking for a Minted coupon? We found the biggest one to save you money! Read on for the full details.
When is the best time to order your wedding invitations and save the dates? When there's a killer sale, that's when! And when we say this is the best Minted coupon you'll find all year, we mean it. It is Cyber Monday and you know what that means: save HUGE on your wedding. At Minted, you can take a whopping 25% off ALL wedding products and get FREE SHIPPING. That could mean many (many!) dollars back in your pocket, depending on your order size. And when we saw it, we knew this deal was wayyyy too good to keep to ourselves.
If you are looking for a Minted coupon but hesitant to wait for a better deal to come along, don't wait… do it now. As a frequent Minted shopper + fan, I can attest to the fact there are not many sales and discounts that come along. When they do, you really need to take advantage. I've already texted my engaged friends about this coupon code because ends TODAY, Monday, 11/26/18.
This Minted coupon will save you a sweet 25% off EVERYTHING on their site with FREE shipping. This includes your wedding invitations, your menu, your programs, favor tags, RSVP cards, enclosures, etc. Plus, if you're ready to get your holiday cards crossed off your list, you can ALSO save 15% off ALL holiday cards with this Minted code. We've outlined the individual codes below for your convenience.
Minted Coupon
Here are the Minted discount codes you can use right this minute. And like I said, hurry 'cause it ends on 10/8/18 (Monday, 11:59pm EST).
25% Off Minted Coupon Discount
This Minted coupon gives you 25% off EVERYTHING on their site — wedding included! — plus free shipping. Cyber Monday Event: Enjoy 25% Off Everything + Free Shipping with code CM2018 at Minted! Get the deal here.
If you have been wanting to buy save the dates, but waiting for them to go on sale, now is the time to use this Minted coupon. Why? Well, Minted doesn't offer coupons or discounts often, especially on wedding products; this is the biggest discount they ever give on save the dates at 25% off. On the whole, a Minted coupon is hard to find, and getting one at 25% off is actually pretty amazing.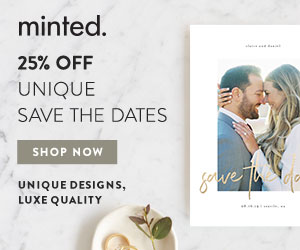 Here's a few save the dates we spotted on the website and I love 'em!
minted coupon code here // minted wedding save the date card via susan brown
minted coupon code here // minted save the date via kelli hall
minted coupon // via pink house press
Here are some wedding invites we saw — and when you see how much 25% off takes from your total, you'll be amazed.
via here
via here
Don't forget: 25% off means holiday cards, too!
Do you need a Minted coupon for holiday cards? You can use the same discount for 25% off those, too! Enter code CM2018 at checkout to save 25% off and get free shipping, right to your doorstep.
via angela marzuki
via oscar and emma
Minted graciously gifted us with holiday cards to use this year and I love how they turned out. It was easy to do and they shipped quickly. #winwin Now I just need to address 'em. Bring on one of my favorite movies, Elf, and hot cocoa! That's the only way I can do them all in one sitting. I love that silly movie.
via angela marzuki
If you need a coupon, I hope this post helped you… as it did for me and my engaged friends! If so, please share using the social media buttons below.
<3
And I hope you're having a great start to the new week.
Need a Minted coupon? Use it now!
Don't forget to use those codes here before they end on Monday night!
xo
Emma
This is a sponsored post in collaboration with Minted.