Ready to pop the question? Congratulations! Before you drive to the local mall or big-box jewelry chain, consider buying a handmade engagement ring instead. Your fiance is special… why should her ring be like anyone else's? A handmade engagement ring is crafted for the recipient, customized to suit one's personal style, and is made with two hands (+ lots of love). Today, we're presenting one of our all-time favorites: the twig engagement ring.
Twig Engagement Ring
Meet the twig engagement ring, one of the newest styles (+ a personal favorite!) by Barbara Michelle Jacobs. Barbara's unique collection of jewelry is handmade, eco-friendly, and crafted in beautiful New York City. The twig engagement ring (with a sparkling champagne diamond) is best described by Barbara herself as, "not your plain vanilla solitaire". Instead, this twig engagement ring features a champagne diamond stone, a recycled 18k yellow gold band, and a unique twig style band (inspired by a Central Park twig), which measures 2mm wide. This ring can be crafted + shipped as quickly as 2-4 weeks after receipt of purchase… just in time to pop the question! Check it out up close…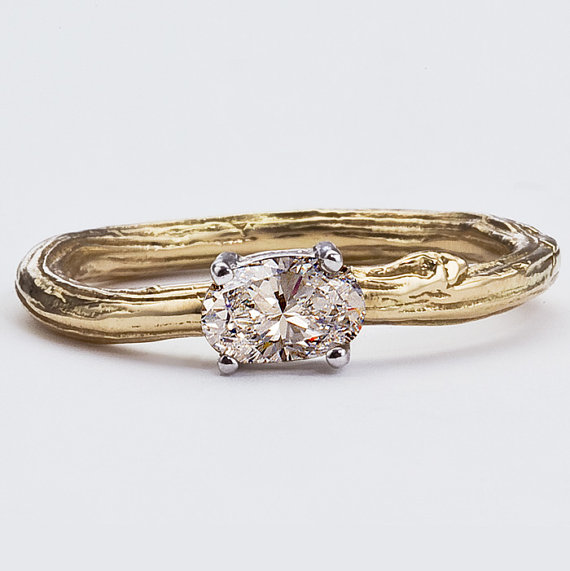 Isn't it incredible? I'm normally a fan of white gold, but I wholeheartedly love this in yellow. The twig is such a unique detail. If you'd like to see this ring, order yours, or see more by this artisan, head over to Barbara Michelle Jacobs.
Also… you may wish to also buy the matching wedding band (it matches the twig engagement ring perfectly) since you can save $50 if you buy at the same time. (Not to mention it will save you plenty of time later while planning your wedding.)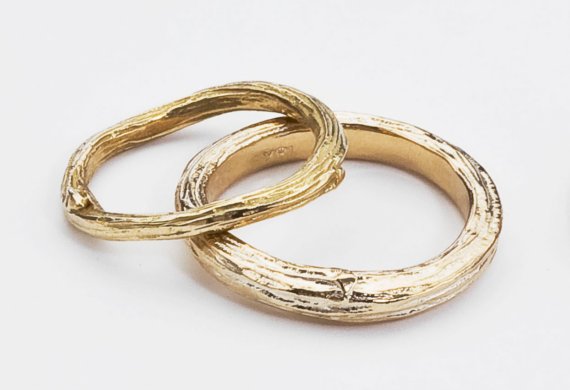 Emmaline Bride is proud to feature + promote Barbara Michelle Jacobs as a Featured Artisan in The Marketplace. Visit her shop here.
* * *
Happy Planning!
♥
-E.