Ah, love. Sweet, literary love. We are avid fans of Pride and Prejudice by Jane Austen and adore this Elizabeth and Darcy wedding invitation suite by Borrowed & Blue. If you're planning a book themed wedding or one filled to the brim with romance, silhouettes, and love, this is the wedding invitation for you. It looks like it could have come straight from Pemberley.
"In vain have I struggled. It will not do. My feelings will not be repressed.
You must allow me to tell you how ardently I admire and love you."
-Jane Austen, Pride and Prejudice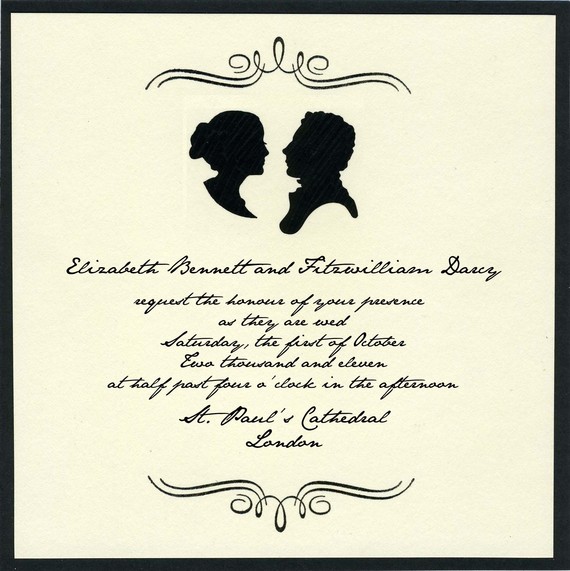 Elizabeth and Darcy Wedding Invitation
This unique Elizabeth and Darcy wedding invitation includes a 5.5×5.5 double layer invitation in white and black (square-shaped), an outer envelope with a pop of color in 'beet' (customize if you'd like!), black and white patterned envelope liner, 3.5×5 response card, response card envelope, and reception card.
To order yours – or view more invitations (Lindsay has a HUGE collection of all types of invites) – visit Borrowed & Blue, Featured Artisan in The Marketplace.
Happy Planning!
♥
-E.