Whether you're decorating for your wedding reception, ceremony, bridal shower, or you'd just like to spruce up your own creative space, wall poms are a new delightful idea we're excited to share with you today. These wall poms – created with beautiful, colorful shades of tissue paper – can be adhered to any wall (or table) to add a pop of color and whimsy to any space. Wall poms are available in three sizes: small (10″), medium (12″), or large (15″), are easy-to-fluff, and can be customized in a multitude of colors. This example shows mocha, french vanilla, tan, light pink, and dark pink. Take a peek…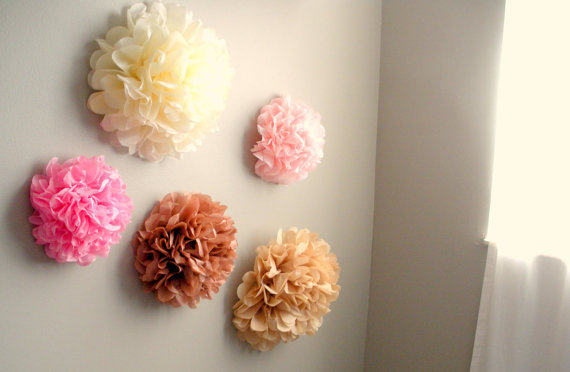 Wall poms are handmade by Simply Nesting and available for purchase here.
Happy Planning!
♥
-E.
Simply Nesting is a Featured Artisan in The Marketplace at Emmaline Bride®.