The following unique wedding clutches are the best for 2021! But first… picking the handbag to take to a wedding is tough enough as a guest; it can seem downright daunting to pick just one perfect bridal clutch to wear at your own wedding! We're here to help with a round-up of the best bridal clutches for 2019 including fancy handbags, beaded wedding handbags, personalized Mrs bags, feather bridal clutches, and more.
These unique bags are designed to carry just the essentials on your wedding day: your phone, wallet, keys, and lipstick. If you're a bridesmaid, mother of the bride, mother of the groom, or a guest looking for a beautiful wedding handbag, you'll find it all right here. Some purses are more bridal than others, but this list isn't limited to brides alone. These a beautiful bridal clutches and special occasion purses… a few here I'm actually eyeing for my own closet. ;) Enjoy!
19 Most Unique Bridal Clutches for 2021
1. White feather clutch, $195
by cloe noel
This small off-white lace box clutch features a metal gold frame, gold rhinestone clasp, and is embellished on the front so it won't snag your bridal gown. #win On this handbag, you'll find ostrich feathers and silver rhinestone trim which makes a stunning combination; on the front, a hand-selected vintage jewel sets this bridal clutch apart from others we've seen like it. Handmade by Cloe Noel. Like It, Buy It
2. Ivory paisley lace purse, $75
by angeew
Hold your wedding day essentials inside this ivory lace clutch, made with premium Alencon paisley lace and ivory satin. Designed by ANGEE W. Like It, Buy It
3. Velvet tassel bag, $68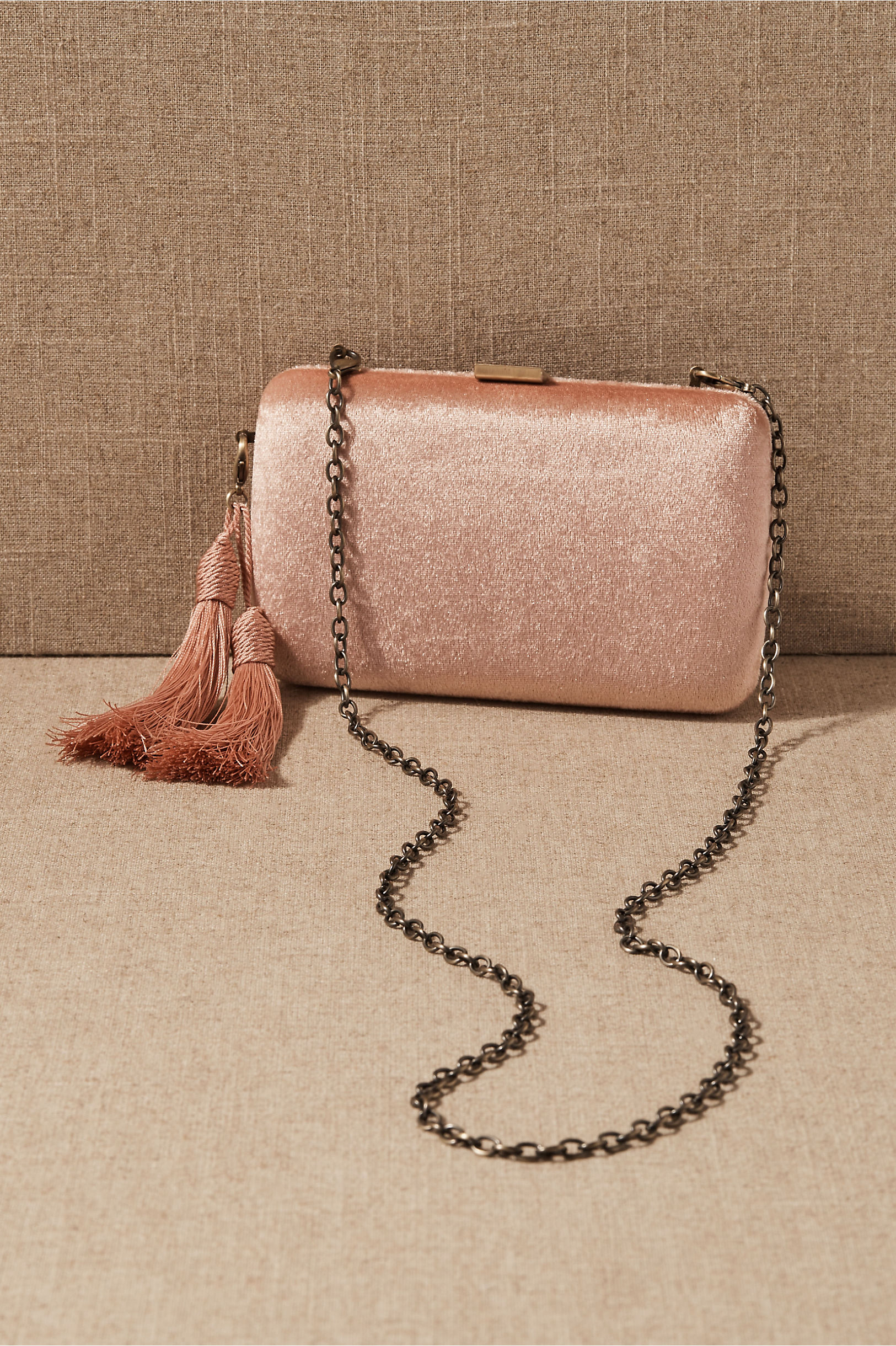 This clutch is covered in soft, sumptuous velvet and finished with a cute tassel. By BHLDN. Like It, Buy It
4. Scalloped flap envelope clutch, $145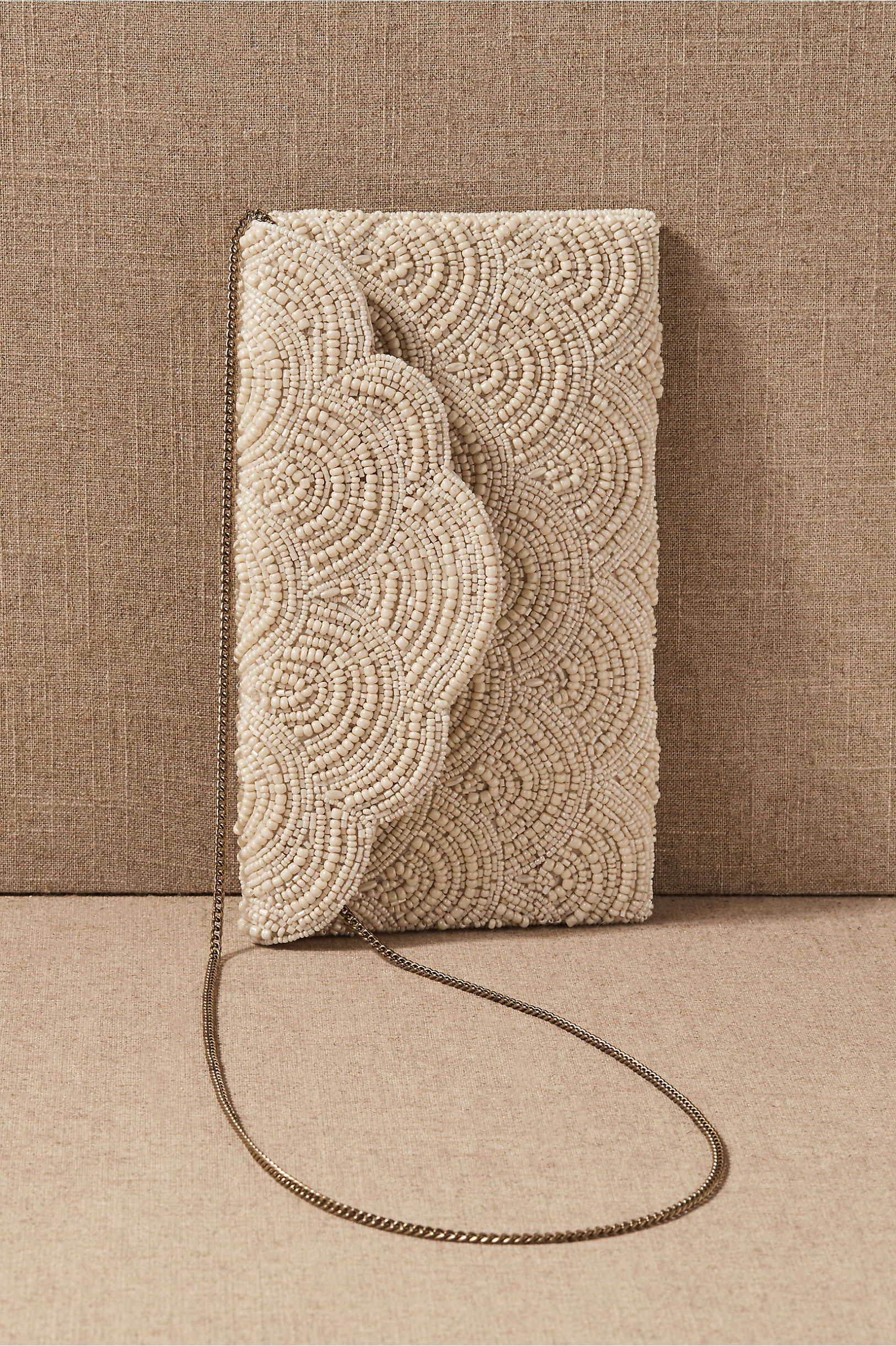 This handmade clutch features an envelope style, ivory beading, and a simple gold chain. My favorite part? The chic scalloped flap! By St. Xavier for BHLDN. Like It, Buy It
5. Bridal clutch with photo inside, $75
by angeew
Of the wedding handbags we've seen, few come close to the sweet personalized detail as this clutch with photo inside. This is a beautiful keepsake to give to the bride or as a gift to yourself for your wedding day complete with your favorite photo printed on the inside lining. The outer lace design is gorgeous, too. By ANGEE W. Like It, Buy It
6. Beaded envelope clutch purse, $128+
by nandeetas
These metallic beads really add a modern and stylish accessory to your wedding look. Inside, you can fit an iPhone, lipstick, and tissues; this bag is made of polyester and handmade with glass beads. By Moyna. Like It, Buy It
7. Silk wedding purse, $69
by eclu
This silk wedding clutch purses are shown in two styles: with a bow or with a rosette pin. This style makes great bridal clutch purses and gifts for bridesmaids. Many colors available. Coordinate with your wedding or choose a color and style for a wedding handbag she will love to carry. By Eclu. Like It, Buy It
8. Beaded pearl hard case clutch, $200
by camillachristine
This hard case clutch protects your wedding day essentials and has a removable chain strap and magnetic snap closure. Wedding clutches are handmade with ivory pearls and clear crystals; along with the wedding handbags, you'll find silver settings and pearls all over the exterior. By Camilla Christine. Like It, Buy It
9. Acrylic box clutch with mirror inside, $72
by the brodie bride
This cool personalized box clutch has a hard outer shell and a mirror on the inside. You can personalize the outside of the acrylic purse with your monogram or Mrs and new last name. By The Brodie Bride. Like It, Buy It
10. Ampersand wedding clutch purse, $358
by kate spade
This gold ampersand wedding purse is a fan-favorite. It is made of acrylic and features a gold polka-dot exterior on the back. Strap can be tucked in the inside of the wedding bag to be carried as a clutch. By Kate Spade. Like It, Buy It
11. Something Blue satin wedding bag, $75
by emmagordonlondon
This luxe satin wedding handbag is ideal as the bride's Something Blue. Features a darling feminine bow on the front. By Emma Gordon London. Like It, Buy It
12. Embossed vegan clutch purse, $72
by blushingbeandesigns
A vegan clutch purse with personalization makes a cute bag for your bridal events and wedding day. By Blushing Bean Designs. Like It, Buy It
13. Shiny rhinestone wedding handbag, $15.99
by naimo
This affordable wedding purse is just the right size for your essentials. This bag can be carried as a clutch or worn as a shoulder bag. Covered in gorgeous sparkly rhinestones and available in many colors. Shown in gold. By Naimo. Like It, Buy It
14. Pleated satin wedding purse, $23.33
This wedding purse is made of satin and features an elegant pleated design. The sparkly rhinestones on the side really make this a glamorous special occasion bag for the bride or wedding guest to carry. Includes a chain to be worn as a shoulder bag or carried as a wedding clutch. By Charming Tailor. Like It, Buy It
15. Pink unique wedding clutches with rhinestones, $145
by cloe noel, photo by ashley noelle
This glam pink rhinestone clutch is a stunning accessory for the bride. It fits everything you need inside and shines with pink sequin details and jeweled crystal rhinestones in a classic box style. Like It, Buy It
16. Ivory and sequin wedding bag, $59
by meshkadesign
This purse is made with hand-selected ivory beaded laces with a vintage rhinestone adornment. By MeshkaDesign. Like It, Buy It
17. Lace and rhinestone wedding purse, $90
by leelapurse
This rhinestone bridal purse is made with ivory french Alencon lace on top of ivory silk; it has a secure closure made of brass and a delicate rhinestone embellishment on the front. This wedding purse comes with a removable chain strap. By Leela Purse. Like It, Buy It
18. Mrs wedding day bridal clutch, $75
by emmagordonlondon
Make a statement with this stunning personalized clutch purse. Available in different fonts and colors to match your style. By Emma Gordon London. Like It, Buy It
19. Rose gold sequin clutch purse, $95
by angeew
Sparkle and shine with this rose gold bridal clutch. It features shimmery sequins placed across the exterior for the perfect wedding day accessory. By ANGEE W. Like It, Buy It
I hope you enjoyed this list of unique bridal clutches. And I hope it helped you pick your perfect wedding day accessory to complete your look. :) Tell us which bridal clutches you like best from this list in our comment box below.
xo
Emma