Are you wondering where to buy cheap save the dates for your wedding? They're here! It's time for a new Ask Emmaline question from bride-to-be Tina who wants to know where to buy cheap save the dates for her wedding. She asks,
"Hi Emmaline Bride! I want to send save the dates to my guests but I didn't really budget for them. I need to send about 100 save the dates and I'm not even sure how much that normally costs. Also, I really don't want DIY save the dates I have to make myself. Do you know where to buy cheap save the dates that look good? Thanks!
Cheap Save the Dates
Great question, Tina! Cheap save the dates aren't hard to find, you just need to know where to start looking. I'm glad you shared the number you need. Knowing how many cards you need to send will help tremendously when figuring out exactly what kind of cheap save the dates you can afford. Remember, you don't need to send save the dates to everyone on your list, so keeping that in mind might help you save even more!
While it is ideal to send a save the date to every guest on your list, sometimes your budget doesn't allow for that and it's OK. If needed, just send save the dates to close friends and family members (and only to people you know for SURE are on your guest list — that's a biggie!) It is also helpful to send save the dates to guests who live further away, which allows them ample time to arrange for travel accommodations well in advance.
The only time when you absolutely have to send save the dates to everyone on your list is if you're having a destination wedding. Since everyone is traveling, it is polite to give guests a heads up so guests can make arrangements if they plan to attend.
Now circling back to your original question — cheap save the dates! Yes, they're out there and my gosh are they beautiful. You just have to know where to look! We're here to help and we've found amazingly affordable save the dates you'll love, even on a budget!
Here's where to buy cheap save the dates that look amazing.
Where to Buy Cheap Save the Dates
1. Minted
Although you might think Minted is more pricey because the quality is top-notch, you can actually find really cute and cheap save the dates from their huge collection. Here's some of our favorite designs.
You can get affordable save the dates by purchasing a postcard style. This saves you a little money because you don't need envelopes and postage for postcards is much cheaper. Plus, these cheap save the dates are only about $1 each.
cheap save the dates by liz conley
cheap save the dates by jennifer wick
by jessica ogden
And this postcard save the date utilizes your favorite engagement photo.
by hooray creative
This style might be my favorite this season.
by alethea and ruth
2. Shutterfly
At first glance, you might visit Shutterfly and see cheap save the dates around $2 each. But that doesn't sound like that great of a deal, now does it? That's why Shutterfly ALWAYS has sales going on. Right now, you can save 50% off EVERYTHING so that means you'll get save the dates at easily $1 (and sometimes even less) with a code at checkout. They have code HAPPYSPRING happening right now (through 3/25) to save 50% off any order. Take advantage and get your cheap save the dates at a serious steal! You can browse a ton of them here. Check out some of our favorite cheap save the dates from their shop.
by shutterfly
by shutterfly
cheap save the dates by shutterfly
And I loooove these cute infographic save the dates! In addition to being super affordable, these are also available as a save the date magnet.
by shutterfly
3. Zazzle
Zazzle offers cheap save the dates with many UNDER $1. You can browse their newest designs here. We've found a couple of really cute ones to share, below!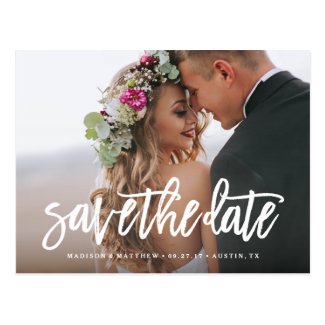 by fine and dandy paperie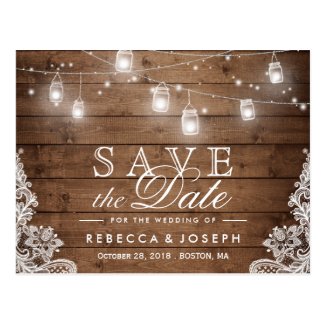 by cardhunter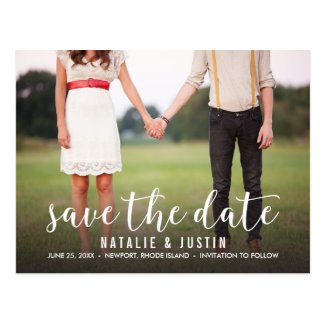 by nb paper co.
This next style is perfect for a starry night wedding theme!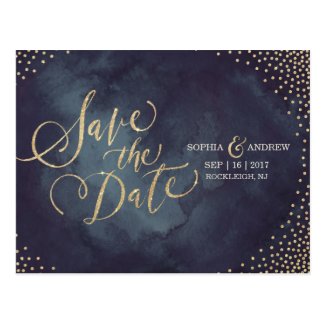 by ava paperie
And this rustic design is so beautiful with trees and a green color palette.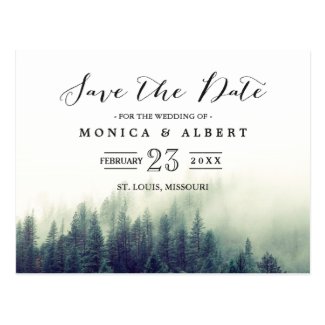 by card hunter
4. Etsy
You can also find really cheap save the dates at Etsy. When you search, go to this section and sort by price. You may need to look a bit, but cheap save the dates are out there! You'll also want to look for digital files, which are personalized for you. You buy the digital file and print at your local print shop, which can save you money. Although this is a bit of a DIY suggestion, it's worth noting.
Here is an example of a digital save the date we found on Etsy.
by meraki design inc.
These are cheap save the dates printed for you, at ONLY $0.19 each! Crazy! They have fantastic reviews, too.
by tavern creative
To find even more Save the Dates, browse The Marketplace here at Emmaline Bride. We work with independent artists who create the most amazing wedding products on the planet!
♥
Need more advice on save the dates? Now that you know where to buy cheap save the dates, read: What To Include on Save the Dates and Do You Need Return Address on Save The Dates for tips!
Hope it helps!
xo
Emma
P.S. Do you have a question? Submit it to Ask Emmaline and it could be featured in an upcoming post!