Looking for the best wedding photo albums online? We've found them! Subscribe now for the latest to your inbox.
Hi, lovelies! Now is a great time to tackle your photo album, whether you're preparing to have your photo album ready in advance, or you've recently married and want to start putting your album together. In this post, you'll find the best wedding photo albums in every book style and budget you can imagine!
by paper peach
From layflat wedding photo albums to velvet photo albums — even wood covers and photo booth wedding photo albums — there's a little bit of everything here for every couple! We've done all the digging on photo albums to bring you the best wedding albums for every budget. We even found really great discounts on affordable wedding photo albums.
Let's get started!
Best Wedding Photo Albums
1. Photo Booth Wedding Photo Album
Planning a photo booth at your wedding as a guest book alternative? There's a book for that! And this is the one every couple is looking for since it makes the process so much easier to compile all your photos in one convenient place. Plus, the cover is gorgeous; it's handmade for you by PaperPeach.
buy here
buy here
2. Velvet Wedding Photo Album
This beautiful velvet covered photo album is a stunning choice. You can get it with or without an optional photo frame; in addition, you can choose the cover wording. Choose a monogram with a decorative accent or wording such as, "From this day forward". By Claire Magnolia.
buy here
buy here
buy here
3. Extra Large Photo Album
This wedding album is XL in size with 100 pages and 50 sides! This is the perfect photo album for holding a ton of photo memories. By storiUK.
buy here
buy here
4. Leather Photo Album with Sleeves
This album is a bestseller for people who want an album with sleeves. I love the leather cover! By MMlovehandmade.
buy here
buy here
5. Binder Style Wedding Photo Album
These are the wedding photo albums for people who want a binder style. This is great for your bridal shower photos, wedding photos, or honeymoon photos. You can keep adding pages and re-arrange them easily, which makes a binder a great option. By CraftBuro.
buy here
buy here
We're going a little nuts on photos for this album because there are a few covers to choose from, as well as black pages inside the binder which makes your photos really pop!
buy here
buy here
buy here
6. Personalized Leather Photo Album 4×6
This 4×6 wedding photo album is perfect for encapsulating your favorite photos in a smaller size. By WoodenEngravedShop.
buy here
7. Personalized Wedding Photo Album / Scrapbook
A perfect photo album for keeping your wedding pictures in one place; works great as a scrapbook, too. By HandmadeDesignsByBB.
buy here
8. Handmade Luxury Wedding Album
A beautiful cover and ribbon binding make this a gorgeous album that is heirloom worthy! By TheIdleBindery.
buy here
buy here
9. Flush Mount Wedding Photo Albums 11×14
This beautiful photo album arrives in a gift box and is just as lovely as you can imagine; I love the flush mount style and linen cover. By AlbumsRemembered.
buy here
buy here
buy here
10. Custom Photo Cover Album
Want a photo album with your favorite wedding picture on the front? There's an album for that! By Albums Remembered.
buy here
11. Wedding Photo Album Wood
This is the ultimate wood covered wedding album. I love the engraving here! By SecretCreation.
buy here
12. Affordable Wedding Photo Albums
This is a great option for an affordable wedding album: it is currently under $30!
buy here
And these inexpensive wedding albums are under $50 for a limited time; they're a great option to stay on budget and they look beautiful. By Dalloway Place.
buy here
13. Hardcover Wedding Photo Albums
For a photo covered album — with a hardcover! — check out these photo books by Star Wedding Albums.
buy here
14. Leather Wedding Photo Albums
This gorgeous leather bound book lays flat and has a ton of room to hold your precious snapshots. By AmyWoodenDecor.
buy here
buy here
15. Wedding Photo Albums for Instax Pictures and with Velvet Cover
These personalized wedding photo albums feature an eco suede velvet cover and are designed to make great photo guest books, too! Great for your Instax photos. By StudioTenebris.
buy here
buy here
buy here
16. Customized Rustic Wedding Photo Albums
These cool rustic albums are perfect for your farmhouse wedding. I love the leather tie in the front. By LottesPapery.
buy here
17. Vintage Wedding Photo Albums
This vintage wedding photo album has a bit of lace for a vintage-inspired look and feel. By Stori.
buy here
18. Quilted Wedding Photo Album Books
These remind me of books for a fairytale-inspired wedding! What a beautiful album! By MerryMaidLt.
buy here
buy here
19. Bookbound Wedding Photo Album in Navy
This is a beautiful photo album and hold 200 photos! By MCS.
buy here
20. Laser Engraved Wedding Photo Album
By Woodlack.
buy here
21. Instax Guest Book Photo Album
These beautiful hardcover guest book photo albums hold your photo booth pictures perfectly. I love how this book is designed! By CatchThisMoment.
buy here
buy here
22. Giant Wedding Photo Album 4×6
This size is 4×6 but holds a whopping 600 photos! By MCS.
buy here
23. Linen Layflat Wedding Photo Albums
Layflat photo albums look so lovely, especially with a personalized cover in linen! By FlipChap.
buy here
buy here
BONUS: Large 8×10 Wood Photo Box
If a photo album book isn't your thing, try a photo box instead! The lid of this wooden box is engraved and slides out to hold your favorite wedding photo prints inside. By MUUJEE.
buy here
buy here
DIY Wedding Photo Albums
Want to do it yourself? Now is a great time to make your own with these helpful sites. They are all offering huge discounts right now, so you can make the best wedding photo albums at home. They're even offering 50% off and shipping deals:
– Mixbook
And at PhotoBarn here, you can make these photo gifts at a hefty discount: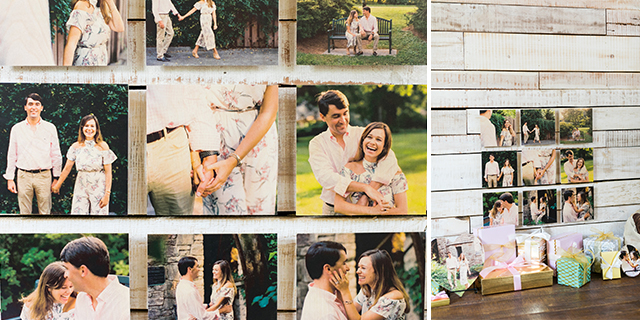 Shop their collection of photo gifts here.
So, what do you think of these wedding photo albums? Which one is your favorite? Tell us in the comment box below!
Happy Planning!
xo
Emma