It's no secret that midi bridesmaid dresses are still one of the hottest bridesmaid dress styles you can buy right now.
But if you're wondering what a midi bridesmaid dress is, where its length hits, and the difference between a midi vs. maxi dress, you've come to the right place!
We're bringing in experts on the topic of bridesmaid fashion — BHLDN — with their most popular midi bridal party dresses to showcase this style.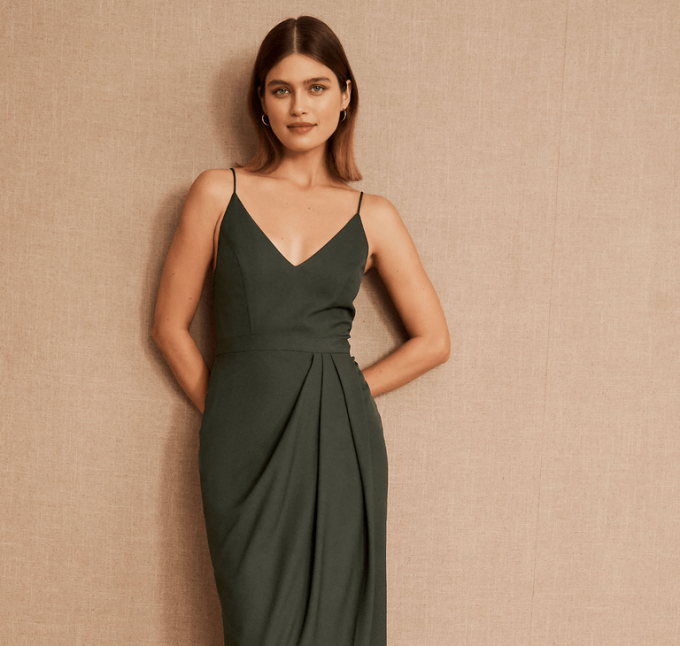 But first, let's discuss what a midi-length bridesmaid dress is and how it differs from a maxi dress. And FYI, neither one is better than the other! Both styles are wildly popular and flattering.
Midi Bridesmaid Dresses
What is a midi dress?
This dress length is a dream: it's not too short, not too long, and it fits juuuuust right.

A midi-length dress means any length below the knee (approximately two inches) to slightly above the ankle. Although many describe a midi length hitting at "mid-calf", it is actually the most flattering when it hits right above the calf or directly below it. We call this the midi dress sweet spot. :) This is because it can make your calves look thick.
Why are midi dresses popular?
This fashion style looks good on everyone! Although some have stated that midi dresses aren't for petite women, we disagree (see next point, below).
Can I wear a midi dress if I'm short?
If you've heard that a midi dress is not flattering for petite women, that's simply not always the case. As long as you're wearing a midi dress that is perfectly proportional and hits at that sweet spot of the calf — just above or just below! — you'll look great in a midi dress.
How to Accessorize Midi Dresses for Bridesmaids
Although you don't really need to add any accessories to these sensational dress options, you can bring in the waist with a belt or add a pair of amazing heels.
Midi vs. Maxi
The only difference between a midi or maxi length dress is all about the length. As we mentioned, midi length hits below the knee or down to the ankle, whereas maxi dresses are typically floor-length.
Here is an example of a midi dress vs. maxi dress.
Midi
shop here
Maxi
shop here
See how the length goes all the way to the floor for the maxi? That's all you need to know!
[TIP: To shop maxi bridesmaid dresses, click here.]
Now that you know the difference between midi vs. maxi dresses, let's explore stylish midi bridesmaid dresses for weddings. These are all available at BHLDN right now.
Take a look!
1. V-Neck Crepe Midi Dress
Love this style! Shop the look.
shop here
2. One-Shoulder Midi Bridesmaid Dress
This one-shoulder dress has a midi length and a sleek silhouette. Named "Audrie". You can shop here.
3. Floral Midi-Length Bridesmaid Dress
If you love a floral print, check out this strapless floral midi dress by designer V. Chapman.
shop here
4. Ruffles and Lace
Wear an elegant dress featuring layers or ruffles, lace, and a v-neckline. By V. Chapman.
buy here
5. Strapless Satin Midi
This dress was made for dancing! By Amsale.
buy here
6. One-Shoulder
This is another one-shoulder style but with an asymmetrical neckline. Stylish! By designer Norma Kamali.
6. Midi Bridesmaid Dressses with Sleeves (Ruffle Cap)
This dress really sparkles and shines! See the full length here.
7. Midi Bridesmaid Dresses in Green
This is a dream dress for the summertime, don't you agree? This shade of green is stunning and I adore the ruffles, ruching, and bows. By designer V. Chapman. P.S. Really love this paired with those pointed toe heels!
shop here
8. Satin Charmeuse Dress
9. Textured Print Midi Dress
10. Satin
This modern midi dress in charmeuse satin looks elegant and super soft!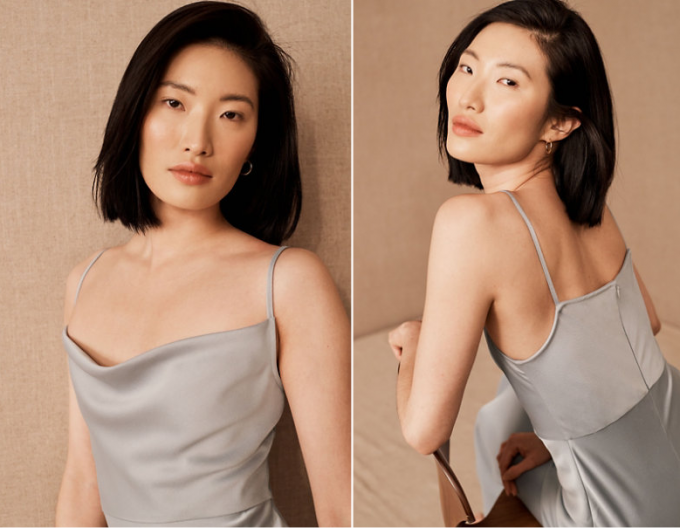 And there you have it: midi bridesmaid dresses everyone will love! Which style is your favorite? Tell us in the comments below!
Happy Planning!
xo
Emma