It's HERE: the new bridal gowns 2021 has to offer from the collection at BHLDN! We can't wait to show you all of the latest styles and wedding dresses 2021 brides are going crazy for — but first, subscribe for the latest to your inbox!
If you're looking for the new bridal gowns 2021 wedding season is crafting up, you're going to be instantly inspired. I'm not even planning my wedding and yet, I'm swooning over the latest wedding gowns for spring and summer by BHLDN. They've partnered with the best designers in the industry to provide you with the
You are beautiful, your dress is just the icing on top! Today we're talking about the fifteen new bridal gown styles 2021 has to offer that will make you look even more beautiful than you already are. From the latest trends like drop shoulder sleeves and puff sleeves to sleek, sophisticated silhouettes, there's something here for every body.
Most of these new bridal gowns for 2021 weddings are available in standard or plus size, and many are available online only (that's how new they are!)
If I were picking out a wedding dress today, there's no doubt that one of these would be the one I'd pick! And although I loved my dress, I'm sharing my favorite bridal gown for 2021 in this blog post at the bottom. Which one do you think it is? Find out!
Latest Bridal Gowns 2021
1. A-Line Gown with Puff Sleeves
Puff sleeves are back, but in a modern and romantic way — not like the 80's style you may recall. The puff sleeves can be worn on or off the shoulder, giving you the freedom to make this gown totally your own. It features all-over floral embroidery and an A-line skirt. This is one of the new wedding gowns 2021 has to offer — so new, in fact, that it isn't available in-store yet (but you can get it online!) By Willowby by Watters.
buy here
2. Dimensional Blooms
This airy gown is made of soft pink tulle and has an off-the-shoulder neckline. This is a one-of-a-kind bridal gown, that's for sure! I adore those drop sleeves. By Marchesa Notte.
buy here
3. Chiffon Bridal Gown with Voluminous Sleeves
This isn't your grandmother's or mother's puff sleeve! This is the modern, stylish way to rock 'em. And rock 'em you will with this airy, romantic dress. By Sachin and Babi.
buy here
4. Beaded Bridal Gown
This elegant bridal gown reminds me of something a princess would wear, with shimmery sequins and beads all along the bodice and straps. The full and floaty skirt will cascade down the aisle. You can add a velvet ribbon sash to this dress, if you'd like, as shown. Other sash colors are also available. By Watters.
buy here
5. Floral Lace Bridal Gown
If you love floral lace, this dress is a dream come true! It is covered in lace with a floral pattern and then adorned with a light scattering of sequins and beadwork for just a subtle sparkle. The sheer lace on the top finishes this dress beautifully. By Sachin & Babi.
buy here
6. Modern Crepe Gown
If a stylish silhouette is what you crave, this modern crepe wedding dress is The One! It has a clean, minimalist look and features long sleeves, a fitted silhouette, open back (perfect for a back necklace), and a draped train. By Tadashi Shoji.
buy here
7. Satin Wedding Dress
This luxe duchesse satin wedding gown has a modern, structured silhouette, thanks to its chic square neckline and corset back. You can add a detachable overskirt for a dramatic look down the aisle or on the dance floor. By BHLDN x Amsale.
buy here
8. Ivory and Blush Mermaid Dress
This fit-and-flair wedding dress has a combination of ivory and blush, along with two types of laces to create an extraordinary dimension. It has a strapless neckline and fitted silhouette. By Watters.
buy here
9. Short Dress with Shoulder Drop
This fun, flirty midi bridal gown has a soft stretch mesh for comfort all day long. Shirred sleeves and an off-the-shoulder neckline combine with lace and sequins. By Watters.
buy here
11. Classic V-Neckline
This classic bridal gown combines corded lace atop a floating sheer train; cap sleeves and a low back add stylish accents you'll love. By Jenny by Jenny Woo.
buy here
11. Classic V-Neckline
By Tadashi Shoji.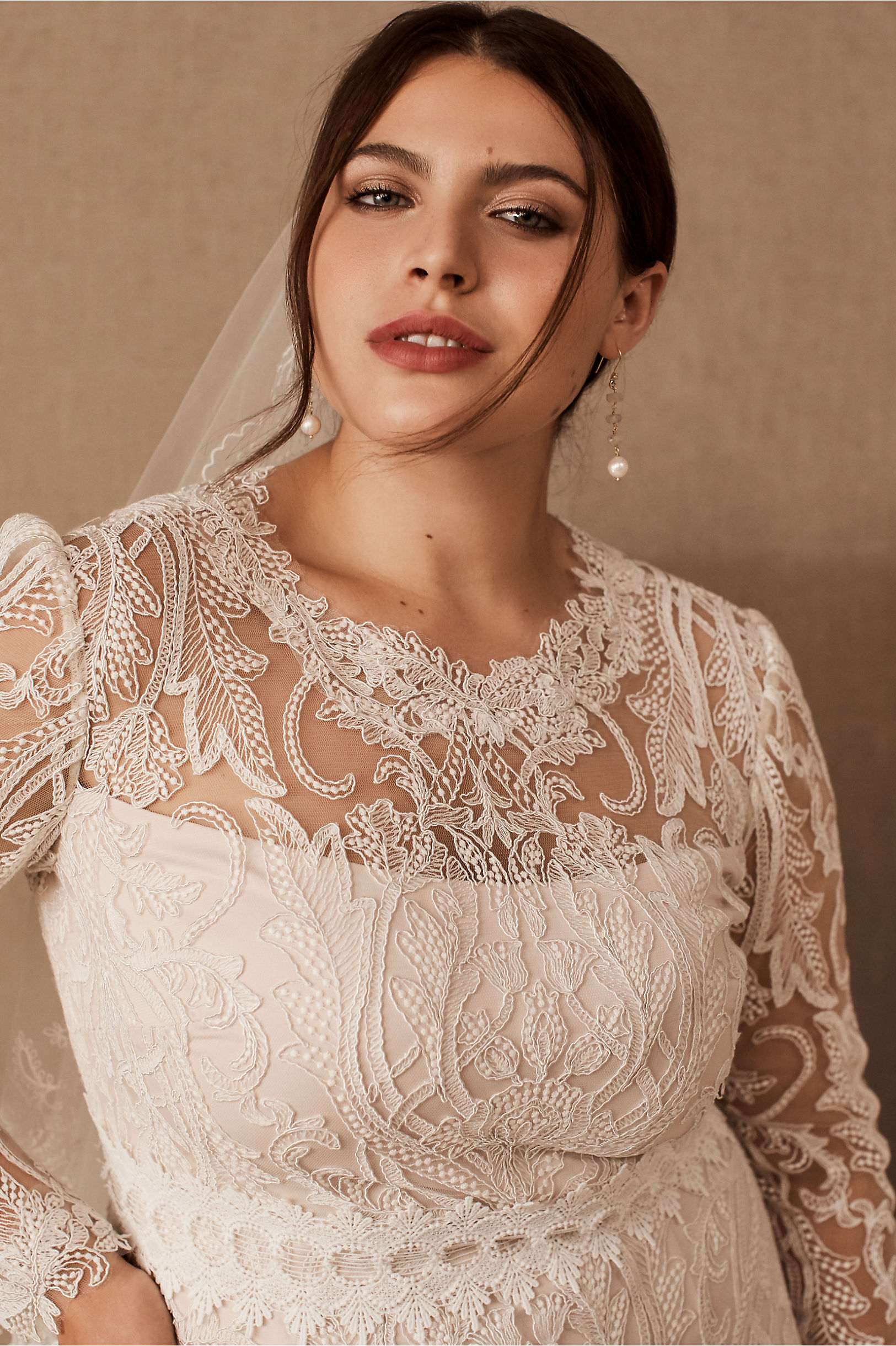 buy here
12. Long-Sleeve Column Gown
This wedding gown is made from embroidered stretch tulle, a knit lining, and an antique-inspired lace waistband. The sheer sleeves offer a light and airy touch. By Jenny by Jenny Yoo.
buy here
13. Off-The-Shoulder Silk Gown
This is stunning with an off-the-shoulder neckline, romantic and airy skirt, and a silk gown that is a true romantic's dream dress. It has gossamer sleeves and an elegant open-back. By Nouvelle Amsale.
buy here
14. Romantic Flutter Sleeve Dress
If you are looking for a hint of boho style, this bridal gown features a few accents you'll love. The romantic flutter sleeves can be worn on or off the shoulder and there's a deep v-neckline plus an open back that fastens with a fashionable bow. By Willowby by Watters.
buy here
15. Sweetheart Neckline
And last but not least, this gown features the sweetheart neckline brides love, along with a corset bodice and sweeping skirt. This looks ultra-stylish and comfortable, too. Made of corded lace. By Hayley Paige.
buy here
So, which of these bridal gowns 2021 has to offer is my FAVORITE? #13! I absolutely love the ruffle on the drop sleeves, the open neckline, and the skirt. That skirt was made for dancing and I would totally rock that dress on the dance floor!
Which bridal gown is YOUR favorite? Tell us in the comment box below!
Where to Shop New Bridal Gowns 2021
Want to shop these gowns? Or do you want to see other styles in the bridal gowns 2021 collection? Click here to zoom right to the collection / to buy yours. There are many more dresses available… we just had to choose our favorites! :)
Want to schedule a virtual appointment? Want to see the sizing options? Click the button below!
Happy Planning!
xo
Emma