Don't you wish you could have roses that last forever?
Think back to the last time someone surprised you with roses, or you surprised yourself with a bouquet. They were gorgeous, lasted for a nice amount of time, and then… boom. Wilted.
Throwing them away is never fun, especially because they looked so gorgeous just a few days earlier.
I always joke to Andrew that he should never buy me flowers, but instead buy me perennials. "At least they'll come back," I joke. But it's so true.
If you're looking for roses that last forever, we sort of accidentally stumbled upon the answer. Have you ever heard of Eternity Roses? They take actual roses — dip them in 24 karat gold — and then send them to you in a box.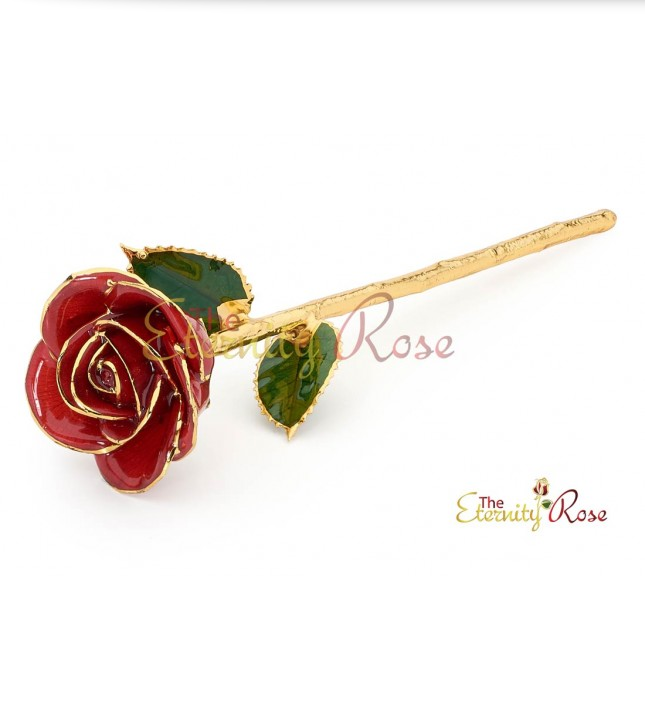 I know, sounds pretty amazing, right?
So, it's a dipped rose, made of gold, and designed to last forever. It never wilts. Never smells. Never has to go in the trash. That's money well-spent, I say!
Roses That Last Forever
Each "Eternity Rose" has the characteristics of a real rose because, technically, that's what it is made from. It's not just a cast or a mold; it's an actual rose, picked at its peak bloom and then glazed and dipped to become a lasting keepsake.
In addition to being a good gift idea for weddings or, let's face it, any time… this is especially perfect for a 25th wedding anniversary (whose year corresponds with silver). This eternity rose can be dipped in your choice of finish from gold to silver, even platinum.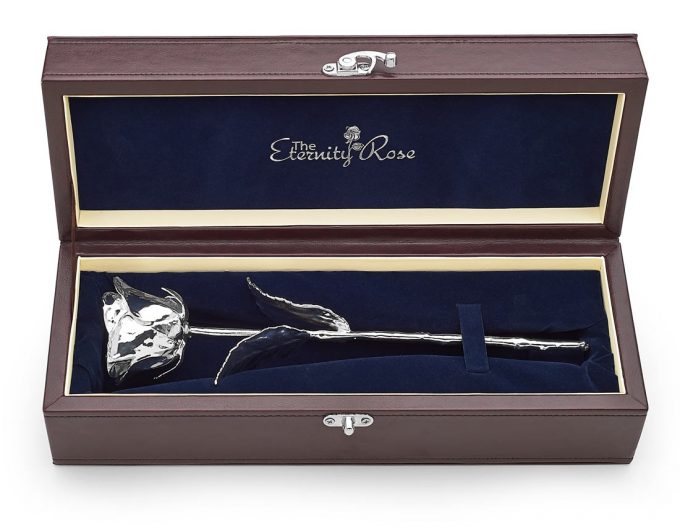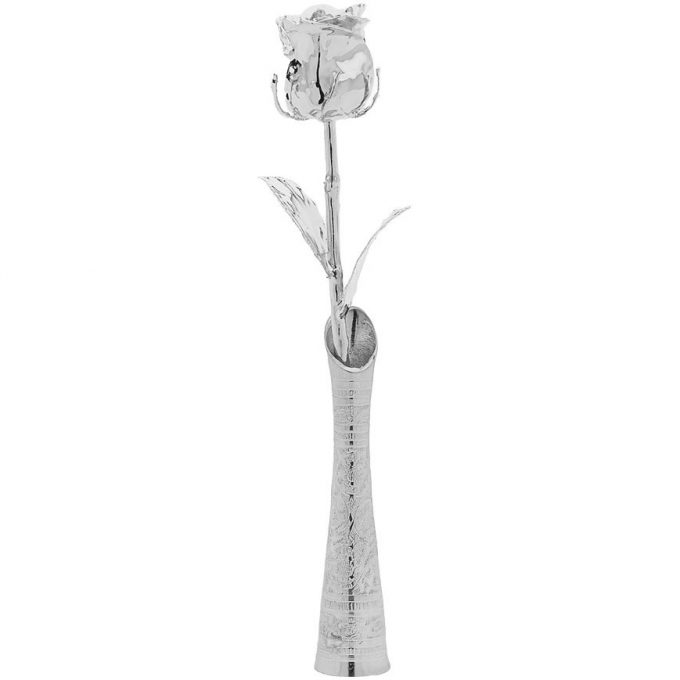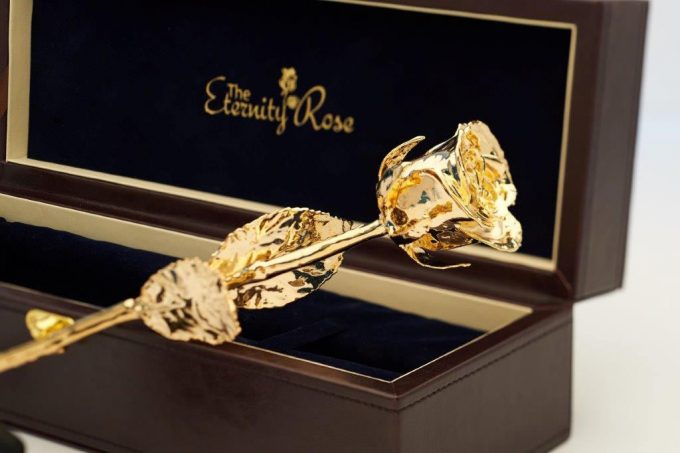 What I find interesting about this eternity rose is actually how it is made. They use a very intense 60-step procedure that uses something called immersion electroforming to layer the rose with pure copper and ensure the rose's integrity is preserved.
You're essentially capturing a rose at its most beautiful moment in time — then immersing it in gold and glazing it to last forever.
The copper makes a texture-sensitive layer and then is dipped in nickel for strength, which is why these roses are quite hefty in weight. Finally, it goes to a gold-dipping stage and becomes a long-lasting gift to treasure forever.
The process ensures you have thin layers added over time to give a signature mirror finish and an incredible luster, one you won't find anywhere else. This rose will never wilt, never corrode, and will become a gift to treasure always.
This long-lasting rose is displayed in a leather case, but you can move it to your favorite vase to show it off in your office or in your bedroom. This unique art piece is unlike anything we've seen before, measuring 11.5″ in length, a sturdy weight, and a beautiful glaze.
What do you think of these roses that last forever? Which ones do you like best? You can even see colorful options dipped in red, pink, gold, platinum, silver — you name it! Check it out here.
Happy Planning!
xo
Emma
This is a partner post with Eternity Roses. All opinions are our own.