Wondering how to secure wedding card box at your reception? We'll tell you! Be sure to subscribe for the latest to your inbox.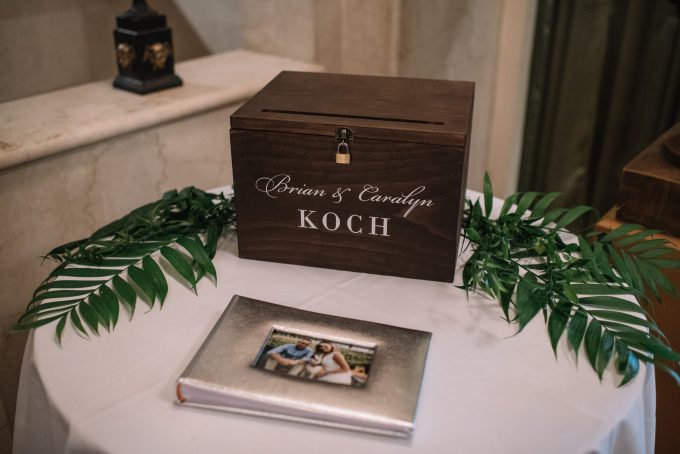 buy here
Hi, loves! We have a new Ask Emmaline question today from bride-to-be Ashleigh. We were just talking with one of our wedding clients this week about this very same question, so it couldn't have come at a better time. Ashleigh writes,
Hi Emmaline! I was looking for a wedding card box at the store with a lock, but they didn't sell any. I looked online and saw dozens but they will take too long to arrive for my December wedding. Do you have any suggestions on how to secure the card box at my wedding? I'm scared of someone taking the cards and money or stealing the card box altogether. I don't want to be paranoid about it all evening. Any tips?
That's a good question, Ashleigh! Most brides don't think about this problem, yet it presents itself at every single wedding. I'm not suggesting your friends and family or wedding vendors will necessarily steal from you; however, you can't always be certain and if there are other weddings happening at the same time, someone could walk by the door and grab the box and run. It's horrible to think about, but you wouldn't want all of your cards or gifts to go missing. There are some really easy ways to secure the card box and we'll share those with you today! Read on for more…
How to Secure Wedding Card Box
Buy a Box with a Lock
There are three easy ways to secure your card box at your reception. Regardless of which method you use to secure the box, you will want to place your card box in an area that is slightly away from any entrance doors. This will make it more difficult for someone to grab the box, or open and sift through it. The first way to secure the card box is with a lock. You could buy a card box with lock (you'll find these online, try Etsy or Amazon, as I've never seen them in store) or buy a wooden box and add your own lock (you'll want to use a mini lock with key — nothing too large).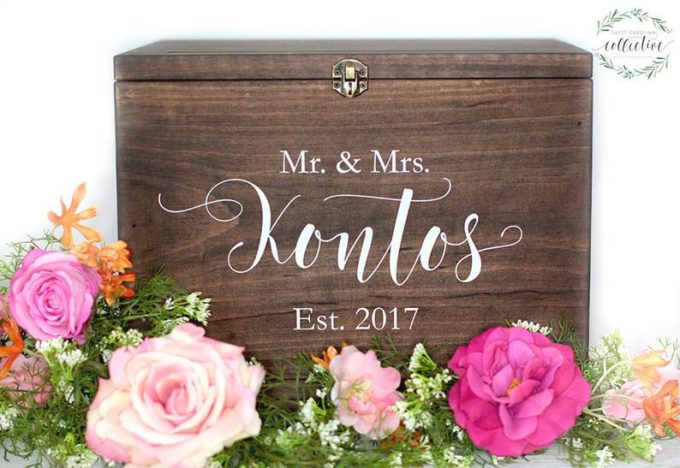 by
For a recent wedding client, we bought a wooden wedding box (this one from Hobby Lobby) and added our own mini lock to it. Andrew had to drill a hole in the front, but it did the trick and looked great.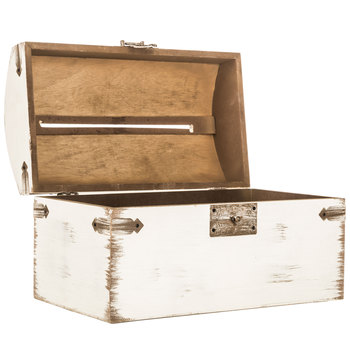 from
hobby lobby
Adhesive
Another way to secure your card box is by placing 3M adhesives or industrial strength velcro to the bottom of your card box before putting it on your card table. This will thwart any attempt to remove the box because it would be blatantly obvious if attempted.
Remove the Box
And lastly, a great way to secure your wedding card box is by removing it at your reception after dinner.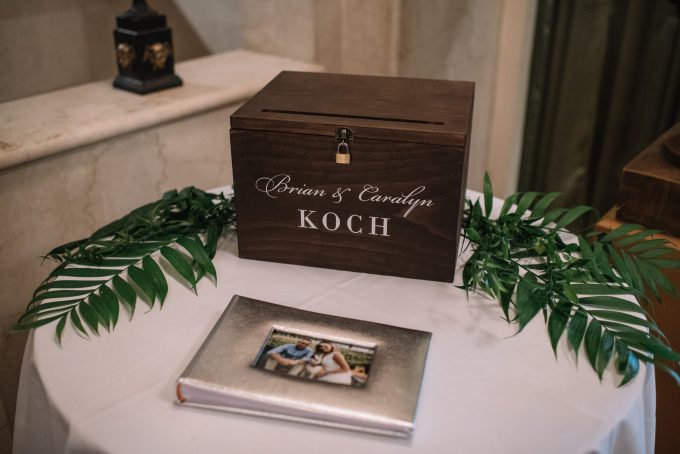 by
Typically, we say that once the cake has been served, most guests have already added their card to the box; generally, most guests place their card in the box upon arrival; giving guests until after dinner and during cake is more than ample time to add it to the box. Simply remove the card box at this time and place it in a locked place, such as a locked trunk (one without any windows) or a locked room. This is especially important because this is when dancing usually takes place and the lights go down low, so it makes stealing a box even easier. This will prevent it from happening at all.
In conclusion, you don't want to have to think about it, but it is very important to safeguard and secure your wedding card box. I hope these suggestions helped you and please let us know if you have any questions in the comments area!