When you're planning your wedding, you want your guests to be pleased with everything you've selected. You realize that while you can't please everyone, you'd like to at least make sure the details you select are noticed. What do wedding guests care about anyway?!
In this list, we're outlining what guests care about at weddings so you won't have to worry about spending extra money where it won't be noticed.
Or, even worse, forgetting to cash in where it matters most.
What Wedding Guests Care About
There are ten things guests care about at weddings. Let's start with a big one: the food. Ohhhh, the food: it's so important.
1. The Food
Do you want to know what guests really care about at weddings? The food. First and foremost, make sure the food tastes good.
How do you know guests will really like the food at your wedding? Try these three things just to make sure:
• Sample it!
Don't just go based on reviews. Try the entrees, sides, and desserts your caterer is providing so you know exactly what your food will taste like on the wedding day.
• Read reviews.
You do need to read some reviews, of course: you want to make sure the food is consistently good. Someone can do a great job one time, but more than once is considered professional level. That is what wedding guests will notice: delicious food, every step of the way, from appetizers to the main course.
• Ask for suggestions.
When in doubt, ask! The caterer can give you an idea of what kinds of foods, number of entrees, sides, and more will work together to create a perfect wedding day dinner.
2. What Is On The Menu
Speaking of food, guests also care to see what is on the menu! Unless you've already provided guests with an entree choice on your wedding invitations, provide a menu at your tables to outline what's on the menu. Guests like to know what to expect for dinner.
by erica krystek
by sara hicks malone
You can shop wedding menus here with a great selection to coordinate with your wedding colors, theme, and more.
PRO TIP: It is not necessary to print one menu per person (although it does look nice with your place settings). Instead, you can put two menus, double-sided, inside one of these table holders and display one per table. I used these for a recent wedding and they worked great!
3. The Bar
Guests like an open bar. Let me rephrase that: wedding guests care about an open bar. They like knowing the tab is taken care of, and they can toss in tips to the bartender.
Does it mean you have to have an open bar? Not necessarily. It's your wedding and budget, so you should decide what is best for you.
However, when it comes to things that guests care about at weddings, an open bar is one of them.
4. Guests Care About Having a Place to Sit
Do you remember playing musical chairs as a kid? It's not so much fun when you can't find a seat.
It's the same feeling when you're a grown-you-know-what-woman trying to find a decent seat at a wedding.
Don't make guests play a game of musical chairs, trying to squeeze in with their plus-one at a table.
Instead, make sure you have assigned seating at your wedding.
This does NOT mean you have to assign specific chairs (you can, of course, using place cards). It simply means you make sure guests are seated at particular tables.
Why?
Well, some guests get along better with others. It's a simple matter of fact. Plus, there are certain family members that should be seated together, particularly if you are inviting kids to your wedding.
Furthermore, having a table reserved with your name at one of the seats makes a guest feel welcomed; wedding guests care about feeling embraced at your wedding. Make sure you do this!
Some ways to seat your guests include:
• Escort Cards
These cards are typically tented-style cards that stand up on their own (or you can use card holders like these).
They are placed at the entryway of your wedding on a table for guests to spot right away.
It helps to have signage, like this from ZCreateDesign, to draw attention to it.
by here
• Seating Chart
A seating chart can have tables and guest names listed underneath, alphabetically, so they're easy to locate. A seating chart can be placed on an easel and can be a work of art! Just take this for instance! Talk about a grand entrance! :)
by oaky designs
This one reads, "Our Favorite People", at the top and is handmade by ScriptedEverAfter. This is definitely something that wedding guests notice, particularly when it looks this good.
by scripted ever after
For more amazing inspiration, you've gotta check out all of these. Heart eye emojis, for sure.
6. Guests Notice Music (or Lack Thereof)
Despite what you may think, guests actually care about music playing at your wedding. Do they plan to dance? Not necessarily, but having a wedding with no music really doesn't provide the same kind of atmosphere to which guests have grown accustomed.
Have you ever been to a wedding with no DJ or live band? I have.
Guests care about music at weddings. They also hope they are not seated directly next to the speaker. Ha!
In addition, some guests appreciate music so much that they wish to contribute to your playlist.
This can be good or bad, depending on their music choices vs. yours. You, of course, and your DJ have the final say. ;)
You can have your guests request songs at the DJ stand with song request cards like this, so they're not interrupting the DJ every five minutes.
For added fun, and to make things more convenient for everyone, you can include a song card like this as your RSVP for your invitations.
In this way, your playlist is curated with your guests in mind, something wedding guests care about and of which they take notice.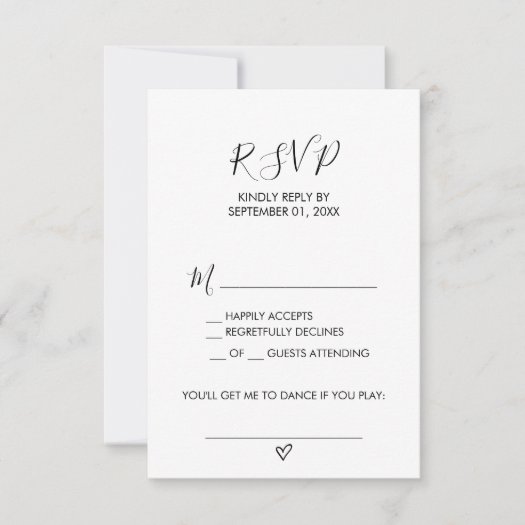 by fresh and yummy paperie
You'll probably get more people dancing, too!
7. Guests Care About Long Wait Times at the Bar
In addition to the bar, as mentioned, guests care about having a long wait time to get their drinks.
As a rule of thumb, plan to have at least one bartender per every 75 guests.
For a wedding with 100 guests or less, 1 bartender is suitable.
At a wedding reception with 150 guests, would need to hire 2 bartenders.
At 225 guests, plan to hire 3 bartenders.
You get the idea. :)
8. Timeline
One thing guests notice at weddings, almost every single time: how long it takes to eat dinner.
People get hungry!
If your schedule is way off, you take too long for photographs, the reception begins late, wedding toasts are given at the wrong time, or things go haywire, guests notice when food takes forever to arrive.
In addition, guests notice when things don't start on time. So make sure you stick to your proposed timeline as closely as possible so that everything falls right into place.
9. Guests Notice Comfort
And last but not least, guests notice the level of comfort at a wedding.
This largely has to do with weather, which may be somewhat out of your control completely.
However, here are some suggestions. The bottom line is, try to thwart any threat to the comfort level of your wedding in any way possible. Even putting forth the effort will reflect positively on you as a couple, and that is something guests notice at weddings.
• Blankets for Guests at Weddings
When it is chilly outside, plan to buy blanket favors in bulk for weddings.
• Heaters
If you have a tented reception outdoors, and it may be cold, rainy, or damp, make sure you rent heaters for the space. And be careful, those things get EXTRA hot and can be known to be a nuisance and fire hazard, so make sure you hire heaters from a reputable source.
• Umbrellas
Planning an outdoor ceremony? It may rain on your wedding day, and yes, it's ironic, just as Alanis Morisette would tell you.
But it's not all bad, especially when you come prepared with umbrellas like these for guests to use.
• Adequate Bathrooms
One major pain for outdoor weddings? Not enough bathrooms! Don't forget that guests need to have restrooms available, especially if your wedding is completely outdoors. It is recommended to have one restroom available per 50 guests at a minimum. Personally, I think that number is low; if able, I recommend one restroom per 25 guests, so there are no long lines. This is not always doable, so if you must have one per 50, that is OK. Just don't leave one bathroom for 150 guests or you're going to have trouble!
10. Guests Care About Seeing YOU
And last but not least, what do guests really care about? Seeing you and your new spouse on your wedding day. Make sure you have a receiving line to greet guests upon arrival at the reception, or at least make sure you stop by each table throughout the night to greet guests and thank them for being present.
A thank you card only says so much; in person, a greeting with each guest means the world. It is one of the most important things guests care about at weddings, truth be told.
In conclusion, you can see the things that wedding guests care about may differ from what you thought. Although many guests will notice the beautiful decorations and the delicious cake you selected, they may not care so much if you opted for a specialty cake topper, went all-out on wedding favors, or chose to include a luxe upgrade on your table linens.
The bottom line? Guests just want to have fun. And they want YOU to have fun, too. :)
What would YOU add to our list? What is something that you care about as a guest at a wedding?
We'd love to hear from you in the comment box below!
Happy Planning!
xo
Emma