Uh-oh: are you nervous about when to order bridesmaid dresses? Worried you're too late or freaking out over when bridesmaid dresses need to be ordered? Relax, let's take care of it together! Read on for exactly what you need to know + subscribe for the latest to your inbox for FREE!
When bride-to-be Louisa wrote us about the bridesmaid dress timeline, we swooped in to help immediately because this year is unlike any other for weddings. Due to COVID, canceled and rescheduled weddings, and supply chain issues, it has never been crazier, busier, or a more exciting time to plan your wedding; making sure you order bridesmaid dresses on time is essential.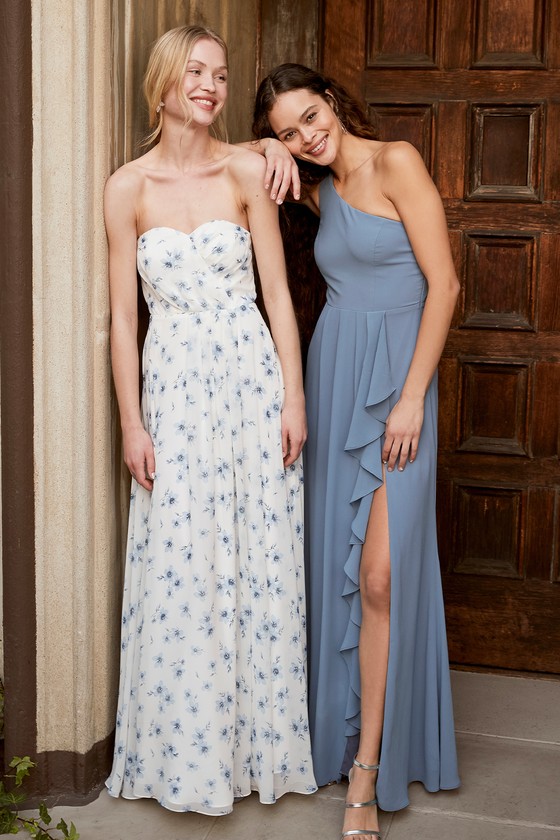 shop this look here
She writes,
"Hi Emmaline, I want to know when do bridesmaid dresses need to be ordered? I'm getting married in the fall and I haven't ordered them yet. I'm getting nervous, am I too late already?"
Great question, Louisa! Not to panic you, but you should order your bridesmaid dresses ASAP. I would recommend this no matter when you're getting married this year, simply due to the increase in demand, supply issues, and shipping timelines.
Here's exactly when bridesmaid dresses need to be ordered — but feel free to order as early as today, if you're feeling stressed. But don't freak out! We're here to help. :)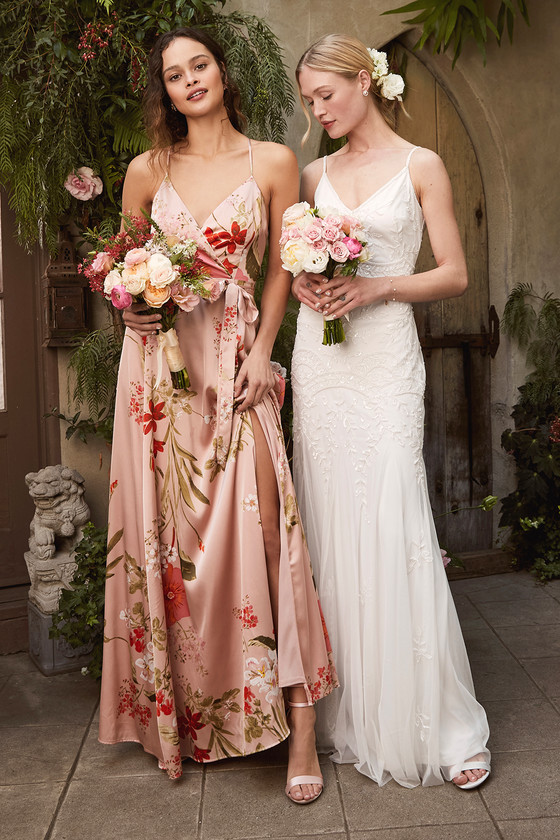 shop here
When to Order Bridesmaid Dresses
The best time to buy bridesmaid dresses is as soon as you can and when you finally decide on the style you love. Remember, you don't want to order too early if your colors aren't selected yet, and you also don't want to wait too long and run into dress timeline issues.
As a rule of thumb, you should order bridesmaid dresses six months before the wedding. This will give enough time for the dresses to be made, shipped, and allow for fittings in a timely manner.
NOTE: Some retailers take two to three months for bridesmaid dresses to ship!
When to Have Your Bridesmaid Dress Fitting
There are usually three fittings for the bridal gown and two fittings for the bridesmaid dresses. The first fitting should occur no later than 6 weeks before the wedding.
Bring with you undergarments you'll wear on the wedding day, along with the same shoes you're wearing (if you don't have them yet, make sure the heel is the same height). Both items — undergarments and shoes — are crucial for getting the right length and fit of the garment.
The final fitting occurs one month before the wedding — or — three weeks prior. Try not to schedule it any later than that.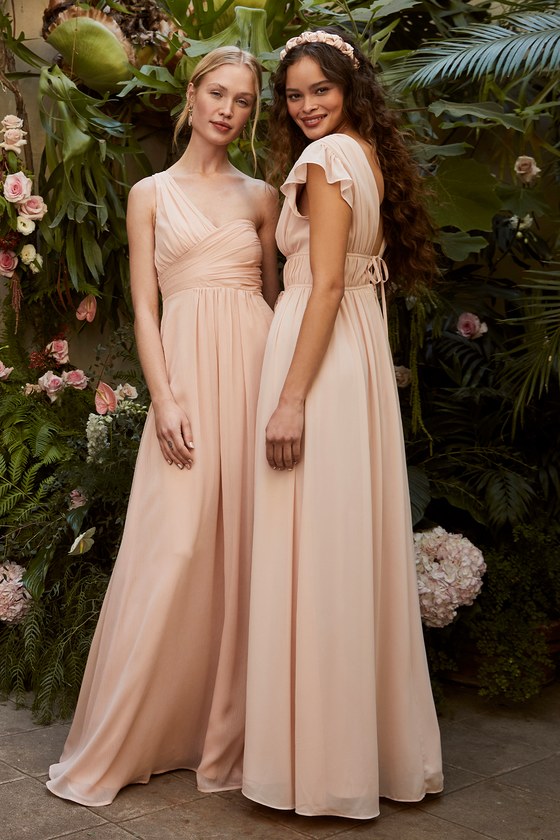 shop this look here
Why Order Dresses for Bridesmaids So Early?
Great question. The reason why bridal party dresses need to be bought in advance is due to the time required for shops to make them, ship them, and allow for reasonable amounts of time for fittings. All of these tasks require time and, unfortunately, poor planning can result in a delay in the dresses (or worse, no dresses in time for the big day). Ahhhhhh!
We don't want that to happen to you, so here are some tips on ordering bridesmaid dresses on time, without freaking out. :)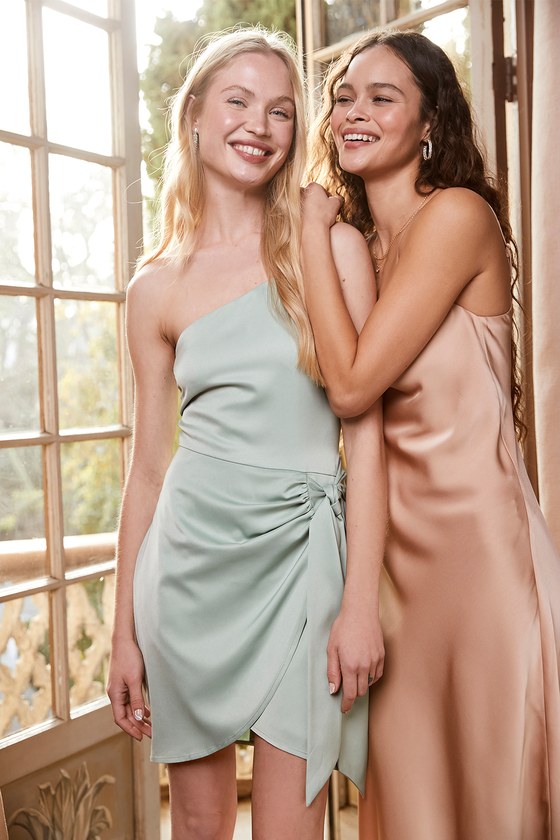 shop here
Tips for Ordering Bridesmaid Dresses on Time
1. Order early.
This one is obvious but bears repeating: put in your dress order ASAP.
2. Choose bridesmiad dresses with 'ready to ship' labels.
Some dress companies like Lulus or David's Bridal offer last-minute dresses that are ready-to-ship or "guaranteed in-stock" like these. This is crucial if you're already running behind on your dress timeline, so keep an eye out for these specials. When/if you do, remember to order them all at once to save on shipping time and sometimes score free shipping (or discounted).
3. Only buy from reputable dress retailers online.
If a deal sounds too good to be true… it probably is. ;) If you're looking for cheap bridesmaid dresses, at least purchase them from reputable places like here, here, here, and here (but read reviews).
Be sure to read reviews before you buy. It is many times the reviews that help tremendously in ensuring the quality is as pleasing as possible, while still staying within your budget.
4. Get tracking if possible.
Unless you want to wake up in the middle of the night with yet another wedding day nightmare (I remember those so well!), I recommend getting tracking on your shipping whenever possible. This way, you can keep tabs on the delivery and know exactly when it will arrive.
5. Get your MOH to assist.
Your Maid of Honor can help with ordering bridesmaid dresses on time, making sure the bridal party attendants have selected their proper size, the right color, length, and style, and have ordered the dress in a timely manner. It's OK to delegate some tasks, and this may be one you can offload from your plate. You already have so much going on! ;)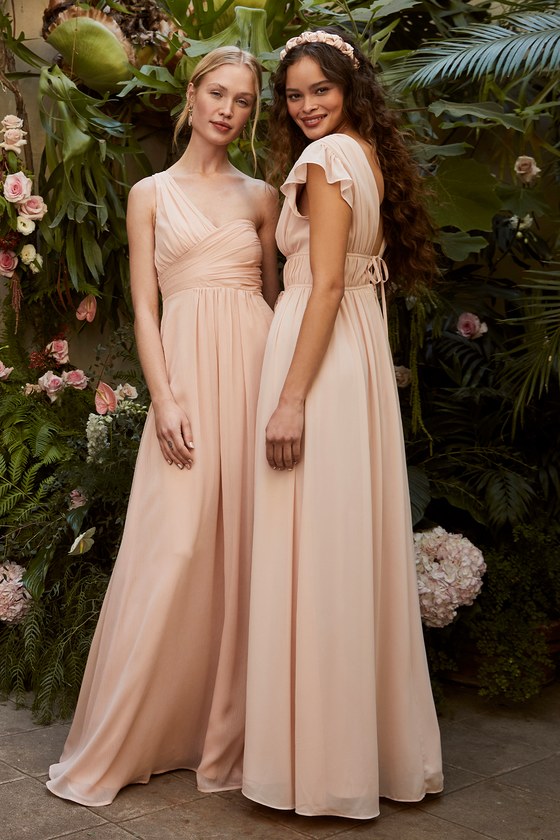 by lulus
Where to Buy Bridesmaid Dresses on Time
Three great places to order your bridesmaid dresses — places I'd never hesitate to shop myself! — include the following:
• Lulus: great assortment, awesome prices, stellar reviews.
• David's Bridal: I've purchased many dresses from here for weddings. Great quality!
• BHLDN: gorgeous, fashionable bridal party dresses in a variety of the latest trends.
• Amazon: you can usually score an amazing deal, read quality reviews, and shop affordable bridesmaid dresses on time with quick shipping.
If you have more questions on the topic, let us know in the comment box below!
Hope it helps!
xo
Emma