What is the best size cup for wedding reception bars, and why does it matter? How many cups do you need? In this blog post, you'll learn what size cups to use at your wedding plus how many to order, and what style looks best. Read on + subscribe for fun tips — FREE! — to your inbox.
Hi, lovelies! It's a new advice question, this time for your DIY bar: what size cups for wedding reception bars work best.
This is a good question because without the right size cup, you'll run into some big issues:
► TOO BIG | With wedding cups that are too large, you'll run out of drinks quickly.
► TOO SMALL | If you opt for small cups, it will irritate guests who will be left standing in the bar line all evening.
Yikes! 😬
In this blog post, you'll choose the right size cups you need for the wedding reception so you can raise the bar, so to speak. :)
What Size Cups for Wedding Reception Bar
Bride-to-be, Larua, writes, "Dear Emmaline, I'm planning an outdoor wedding and we need to stock the bar with everything including cups and all the drinks. Before I order them, what size cups do I need for the wedding bar? Is there a certain size cup to use for wedding bars, i.e. beer, wine, mixed drinks? Where can I get cups for the wedding bar? Thank you!"
shop here
Great questions, Laura! First, let's tackle what size cups you should order for your wedding bar. You need to buy the right size cups based on what you're serving drink-wise at the bar.
Here are the common wedding cup sizes, based on drinks.
Common Wedding Cup Sizes
If you're serving only beer and mixed drinks, soft drinks, etc., you can stick with one size cup: 14oz.
Beer and Mixed Drinks / Soft Drinks / Lemonade / Sangria / Punch
As a rule of thumb, 12oz cups to 14oz are perfect for all kinds of drinks, especially beer and soft drinks at your wedding. If you're using drink dispensers, the 12oz cups seem to fit underneath and work the easiest.
If you're unsure on which one, 14oz is your best bet for wedding cup sizing on most drinks, especially beer, mixed drinks, and soft drinks, based on experience. The 2 extra ounces make a difference and cut down on bar line wait times.
cups: rubi and lib
Wine / Cider
For wine or mulled ciders, use a 10oz size cup at your wedding. I would not go smaller than that, based on experience. The 9oz cups seem way too small.
You can see a helpful sizing guide from Rubi and Lib where you can order custom cups. They are BPA-free and made in the USA.
Now that you know what size you need, let's talk about how many cups you need to order for your wedding.
How Many You Need BEFORE Ordering Plastic Wedding Cups
Buying the right quantity is just as important when it comes to ordering cups for your wedding reception. Here's info on how many cups to buy for a wedding reception.
► GUIDELINE: Guests typically use one cup per hour at the bar.
This is a great guideline to use when deciding how many cups you'll actually need. Guests get thirsty, so offer plenty of cups throughout the evening. You should plan on ordering enough for one cup per wedding guest per hour. If you'd like, an extra quantity pack of cups around 50 is a pretty good idea to have on hand, just in case.
How Many Wedding Cups to Order, Based on Reception Length and Number of Guests
100 Guests
For a 4-hour wedding with 100 guests, order: 400 cups
For a 5-hour wedding with 100 guests, order: 500 cups
For a 6-hour wedding with 100 guests, order: 600 cups
150 Guests
For a 4-hour wedding with 150 guests, order: 600 cups
For a 5-hour wedding with 150 guests, order: 750 cups
For a 6-hour wedding with 150 guests, order: 900 cups
200 Guests
For a 4-hour wedding with 200 guests, order: 800 cups
For a 5-hour wedding with 200 guests, order: 1,000 cups
For a 6-hour wedding with 200 guests, order: 1,200 cups
250 Guests
For a 4-hour wedding with 250 guests, order: 1,000 cups
For a 5-hour wedding with 250 guests, order: 1,250 cups
For a 6-hour wedding with 250 guests, order: 1,500 cups
Offer Water Bottles
To cut down on wasted cups, buy water bottles in bulk here and add custom water bottle labels to them.
by stick 'em up labels
Guests will toss empty water bottles into the recycling bin instead of the trash, as they will with cups, cutting down on waste.
In this way, you'll eliminate unnecessary trash, guests will hydrate, and you'll waste fewer fancy personalized wedding cups. :) You don't want those wasted on a quick sip of water
What Type of Plastic Wedding Cups to Order
Plastic wedding cups are ideal to buy for receptions because they're so convenient. It is also necessary when your venue prohibits glass, or the celebration is held outdoors so you can prevent any glass from shattering.
There are many types of wedding cups on the market, but those details will only bore you. ;) So, instead, here are the basics:
Frosted Plastic Cups
For your wedding reception, I highly recommend custom frosted plastic cups. Why? They're personalized (fun!), shatterproof, and offer a clean design that is appealing and ties into your wedding look.
You can order any size and quantity you need from RubiandLib, where I know you'll get 100% amazing cups that look terrific at your bar and in those awesome wedding photos. They come highly recommended and you can see their tremendous reviews here.
Wedding Cups with Names
Once you choose the cup size you need from their shop, you can pick your designs and customize them! Here are some of our favorite designs for customized wedding cups with names, your wedding date, monogram, and more.
shop here
shop here
shop here
shop here
Wedding Cups with Dog Face
You can even get yours customized with your pet, like your pup, on the front! These wedding cups with dog face are a fan-favorite and can even feature cute tagline, like "I Do, Too".
shop here
► See more designs and order your cups here.
How Many Drinks You Need to Order for Your Wedding
With all this talk about cups and quantities of them, you're likely wondering how much alcohol you need to purchase to fill those cups.
It can be tricky to get the numbers right, so we found a helpful calculator here so you know exactly how much alcohol to purchase based on your guest list.
In addition, this article will be beneficial if ordering wine:
• Here's EXACTLY How Much Wine to Buy for a Wedding
Worried About Running Out of Drinks?
If you are worried about running out of drinks, Minibar to the rescue! This is a unique app that delivers drinks and snacks to your location with ease. What a great idea for weddings and parties of all kinds! You'll never underestimate the drinks again.
It's a helpful resource to have on your device, especially if you're worried about running out of drinks at your wedding bar.
Try it out ahead of time at your bachelorette or bachelor party, too. The app is available here.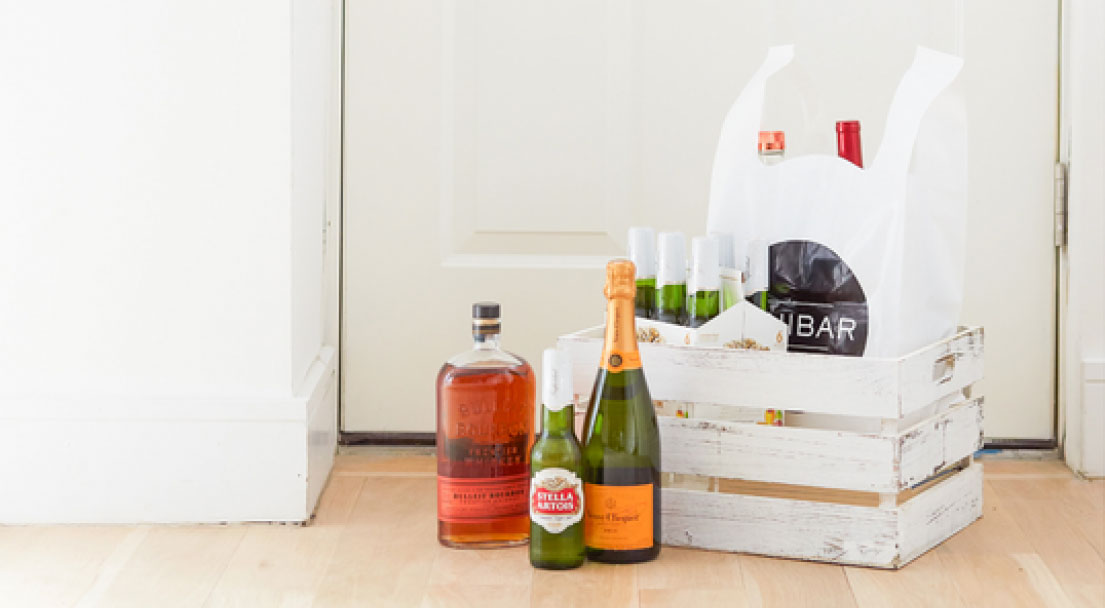 ► Download the FREE app now so you have it stored for later!
Now that you know what size cups to order for a wedding bar, what drinks to serve in them, and how to calculate how many cups to order, you're looking pretty good on your whole DIY wedding bar scenario. Go you! 🙌 If you run into any questions along the way, just ask!
○ ASK EMMALINE: Thanks so much to Laura for writing to us in our Ask Emmaline feature. It's always helpful to hear what questions you have so we can tackle them: send YOURS in here!
Portion of this post sponsored by Minibar.