If you're looking for casual wedding dresses 2020 has to offer vs. a formal bridal gown, you've come to the right place! I love the look of easy wedding dresses: they're perfect for summer, spring, fall, and winter and are a huge trend right now. If you're more of an informal, laid-back, and fun bride, informal wedding dresses are the perfect fit for you. A friend of mine was looking for where to buy casual wedding dresses since many shops were closed in-person and she just wants something easy and laid-back to wear as her gown. So, we created this GIANT list of the best informal dresses for weddings in a variety of styles for everyone's needs. We've found wedding dresses with sleeves, without sleeves, with pockets, with cap sleeves, with color, without color, casual wedding dresses with cowboy boots, wedding dresses with tulle skirts, and so much more.
There are amazing options out there — you just have to know where to look. (And that's what we're here for!) :)
TIP: Looking for casual wedding guest dresses? Browse here!
Cheap informal wedding dresses for summer are popular, but this trend doesn't stop when the fall arrives. Summer brides are looking for casual wedding dresses that are short, whether as an ode to a more laid-back look or simply because the wedding may take place in a hot or humid climate.
For fall weddings and winter receptions, we're noticing a trend upward of casual wedding dresses with sleeves — not necessarily for older brides, but brides of all ages! The long-sleeve wedding dress trend took off a few years ago and it has been going strong ever since. Another upward trend we're noticing is a minimalist casual wedding dress with sleeves; it's the perfect combination of modern meets low-key.
Spring brides are choosing the new cap sleeve casual styles or the half sleeve options. This trend of three quarter or half sleeve casual wedding dresses are ideal for in-between-seasons or brides who don't want to commit to a long sleeve wedding dress.
In addition to choosing your wedding dress based on formality, season, tone, or theme, it is important to consider the location of your wedding. Here are a few tips to keep in mind before buying casual wedding dresses.
Informal Wedding Dresses for Outdoors
Casual wedding dresses for outdoors — like a barn, beach, mountain, seaside, mountain, or vineyard wedding, just to name a few — work best. Avoid casual wedding dresses that are heavy — you'll want a light and airy look and feel. Shop informal wedding dresses made of fabrics like chiffon or organza for a lightweight feel. Choose a dress without a train, as it will only gather lots of sand, dirt, or leaves, and may appear dirty in photographs. Or if you do want a train, shop casual wedding dresses with a mini-train or a dress with detachable train (yes, it does exist!)
Popular Tip for Low-Key Wedding Dresses: Silhouettes
The number one tip for any wedding: choose a silhouette that flatters your figure best, whether sheath, A-line, strapless, casual halter wedding dresses, etc. Once you've selected your ideal silhouette, decide on length: long or short? Casual wedding dresses with tea-length or knee-length are perfect for brides who like an in-between length.
Best Informal Wedding Dresses for Style
Lastly, but perhaps most importantly, most brides choose to wear casual wedding dresses simply because they love the look! Some brides who don't like the look of a large, frilly bridal gown… and that's OK! The wedding dress you choose should reflect your unique personality and style. So, if informal wedding dresses are more your style, GO FOR IT! Are you minimalist, the rustic, the bohemian, the traditional, or the beach bride? For the minimalist, casual wedding dresses are a dream come true: these dresses are simple, short, or long, and they don't have the same "frills" that other dresses do, like embroidery, beading, rhinestones, or over-the-top lace. Some brides aren't into the frills and prefer cheap thrills — reminds me of that song, ha! I adore Sia! — so that's another reason to love these dresses: you'll find many cheap casual wedding dresses that cost under $200, some even under $100!
TIP: If you're looking for casual crop top wedding dresses, see them all in a separate post here. :)
Casual Wedding Dresses + Accessories to Match
If you're wondering where to find casual wedding dresses, you're probably wondering what kind of bridal attire coordinates with it, too. For your veil, you should choose something close to your face, like a birdcage veil (or skip the veil altogether) since a veil will blow in the wind and constantly get in your way.
For casual brides, shoes are sometimes thrown right out the window! Just kidding. Well, you can go barefoot, especially wearing these for the beach, but shoes are probably a good idea to wear in some form. We recommend wearing the most comfortable wedding shoes you can find; wedding flats for bride and bridesmaids are highly recommended on the sand, as well as these sandals, since, as you probably can imagine, heels are nearly impossible on the beach, on grass, in dirt, running around or dancing in a barn, etc. Flats are just so much easier!
So, whether you're wondering where to buy casual wedding dresses for outdoors this summer or fall, or perhaps you want to save money and want cheap casual wedding dresses under 100, you'll find it all right here.
Here are the top casual wedding dresses Etsy has to offer for cool, laid-back brides. Plus, your dress is 100% handmade and custom-made. And that's pretty awesome in itself. Enjoy!
Casual Wedding Dresses 2020
1. Casual Halter Wedding Dresses
This beautiful laid-back wedding dress is made for any outdoor space of your dreams. I love this inspiration of the lavender fields; what a gorgeous setting for a bridal shoot! This is my favorite pick for halter style wedding dresses this year; I love the maxi skirt! By VintageSummerFashion.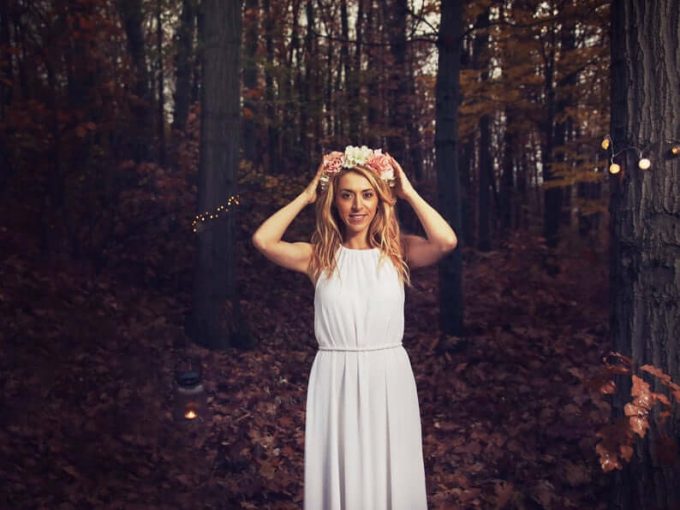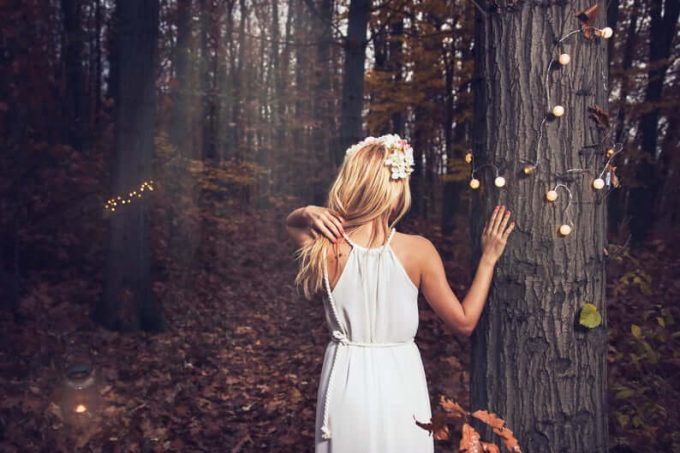 buy here
2. Beach Wedding Dress in Ivory
Looking for casual wedding dresses in ivory? This is one of my favorites with a simple top, flowy chiffon skirt, and cute tie around the waist. I like it paired with that gorgeous floral headband, too. Very boho and lovely! You can't really beat the price, either: casual wedding dresses under $100? Amazing! (Well, 5 bucks over, but you get the idea.) By VintageSummerFashion.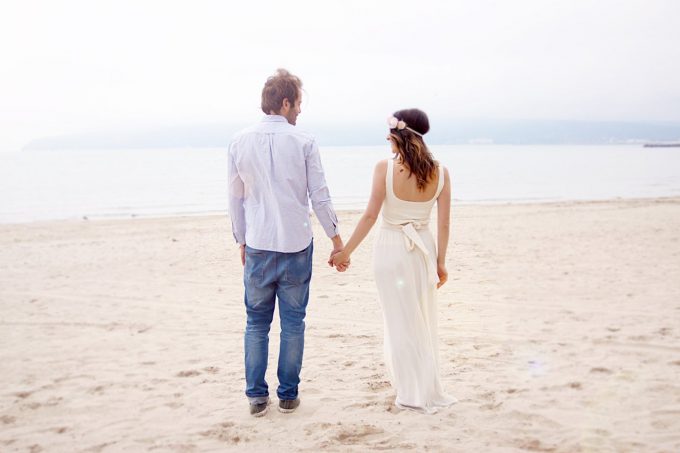 buy here
3. Casual Bridal Gown with Embroidery on the Back
For beach brides, this is one of my top picks: it has delicate embroidery on the back and is made in flowy chiffon. By Barzelai.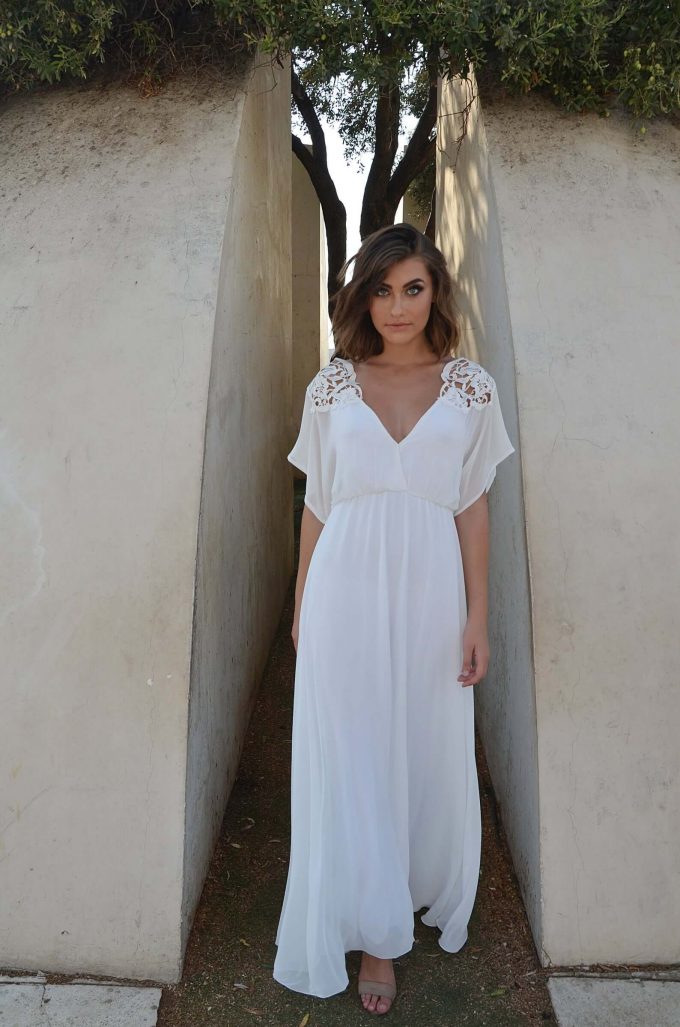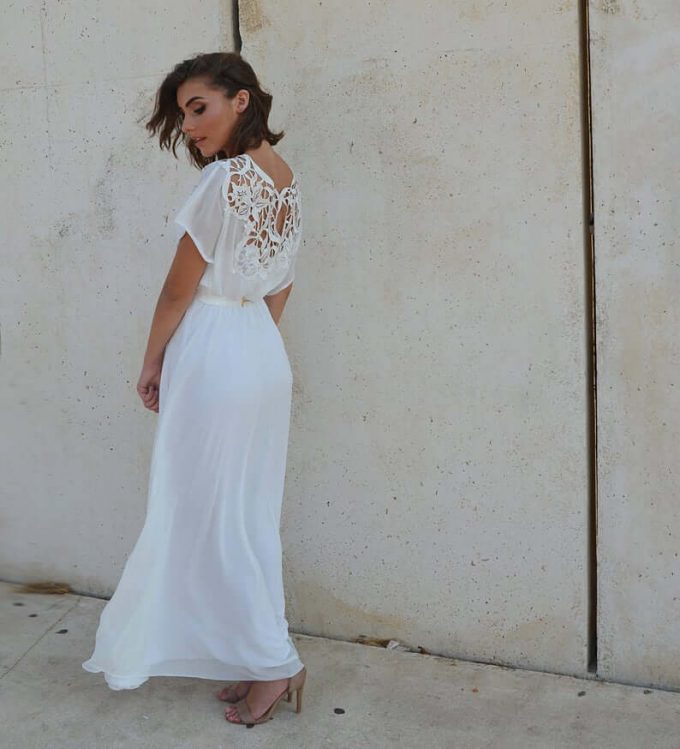 buy here
3. Yellow Wedding Dress
HOLY COW, this mustard yellow wedding dress is so gorgeous! Who knew casual yellow wedding dresses would be a thing right now? I didn't expect it but I am loving the look. This two-piece wedding dress is casual, yet elegant with a lace top and those classic bridal buttons down the back. A dream come true for brides looking for casual wedding dresses with color! WardrobeByDulcinea.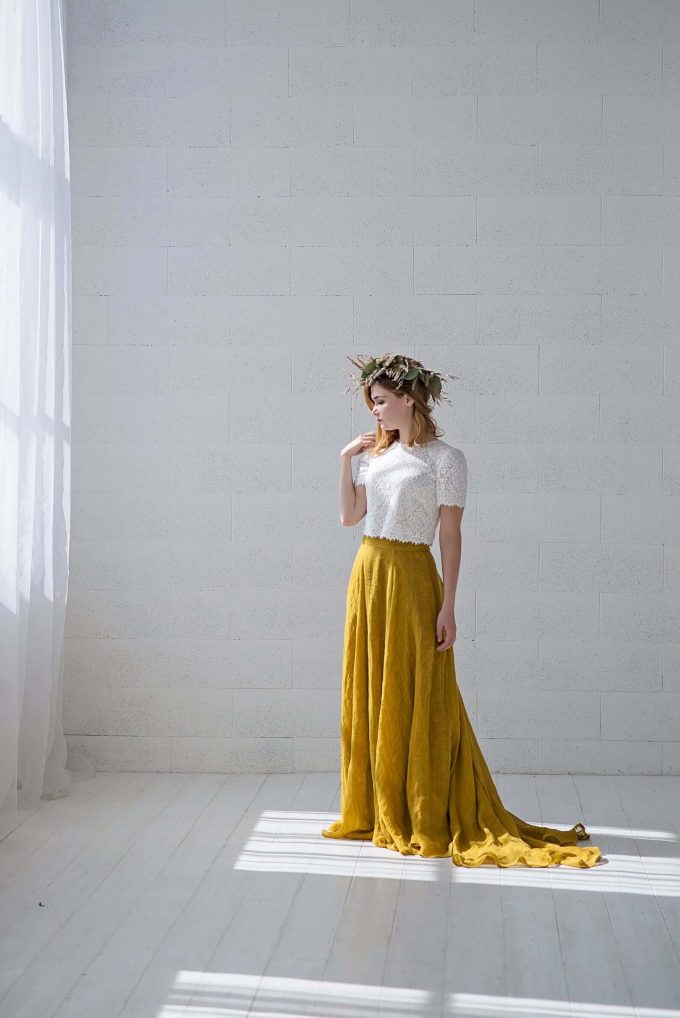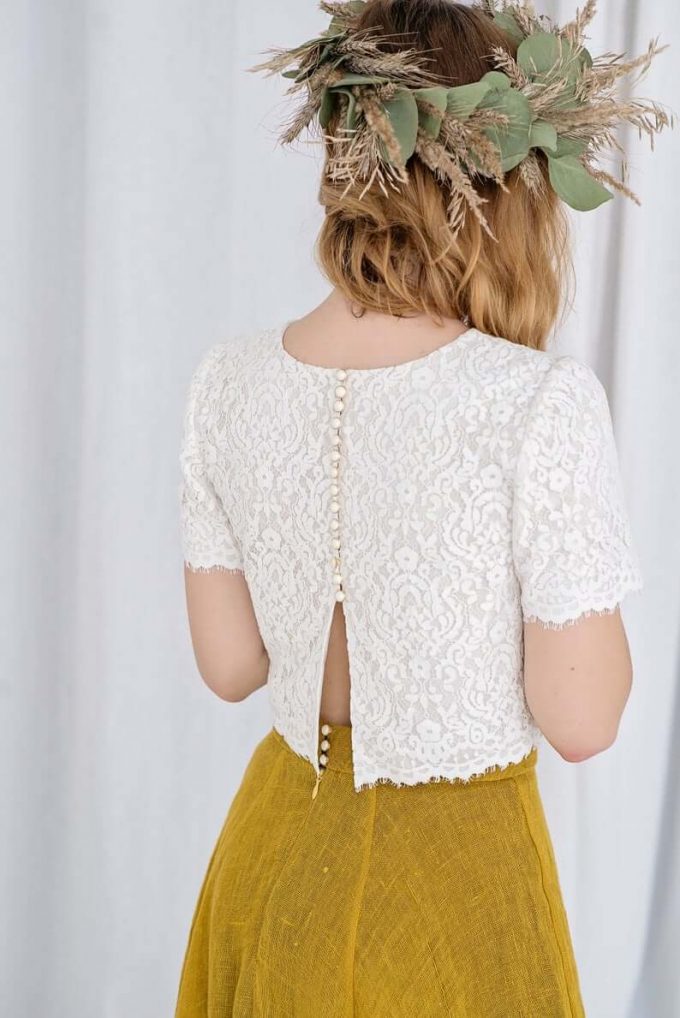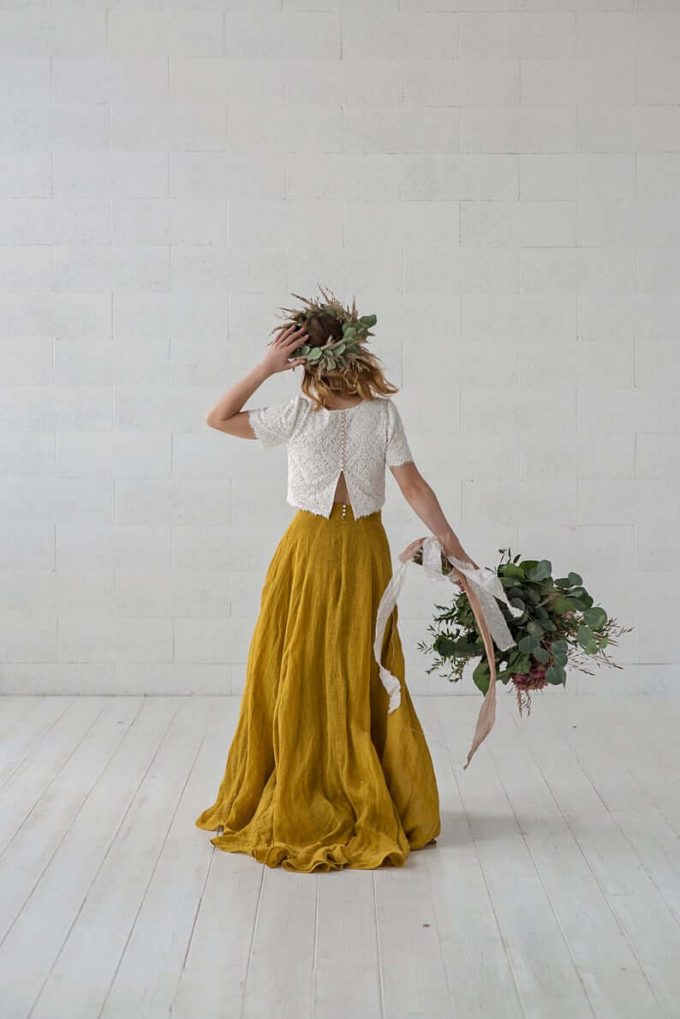 buy here
4. Casual Wedding Wrap Dress
This multi-wear dress can be worn in a variety of ways, so you technically have multiple dresses in one! Most popular as casual halter wedding dresses, this can also be worn one-shoulder, v-neck, criss-cross back, and more. By Mimetik. And right now, this is one of the cheap casual wedding dresses under $200 you can buy for a limited time!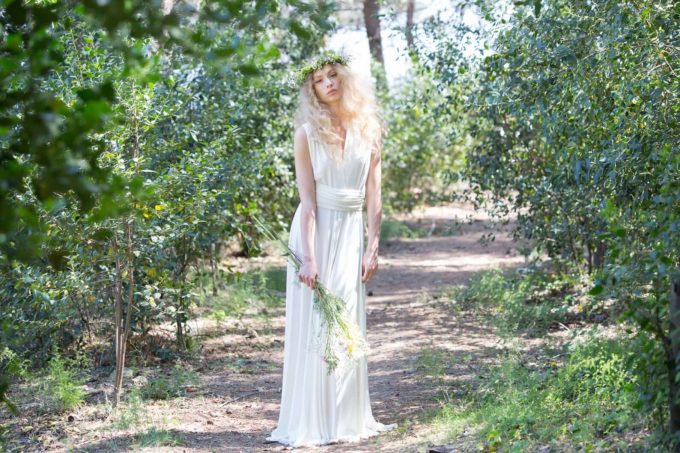 buy here
5. Goddess Inspired Organic Wedding Dress
This incredible off-white organic dress is handmade with raw cotton and organic cotton with braids to form its shape. Since this is adjustable, it is one of the casual wedding dresses plus size brides are loving, too! You can change around the braids to adjust for a perfect fit. By AYAsacredwear.
buy here
buy here
buy here
6. Casual Wedding Dress with Sleeves
If you're looking for a dress with long sleeves, an open back, and a totally beautiful silhouette, this is it! By Barzelai.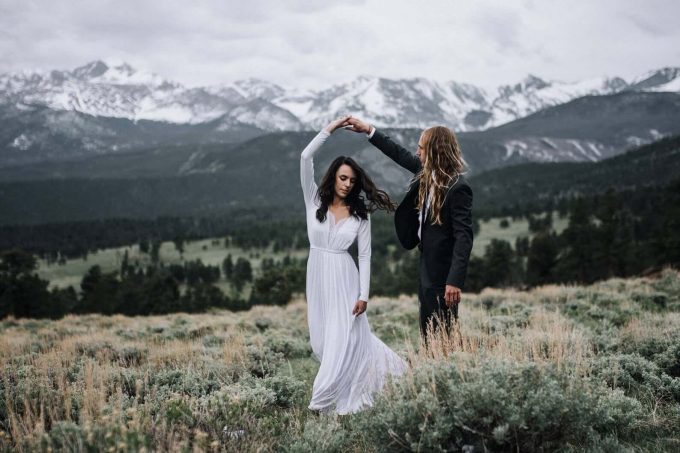 buy here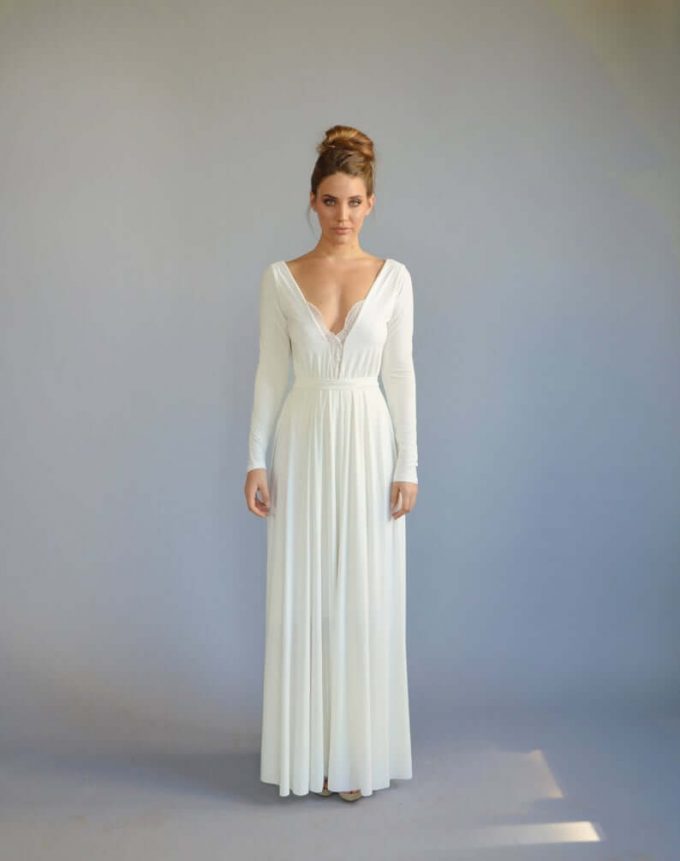 buy here
7. Simple Wedding Dress with Pockets and High Low Hem
This wedding dress is casual, yet elegant; it has thin spaghetti straps and an ivory silk mikado skirt. Plus, this is one of the casual wedding dresses with pockets (yay!) and a unique high low hem. By JBridalStudio.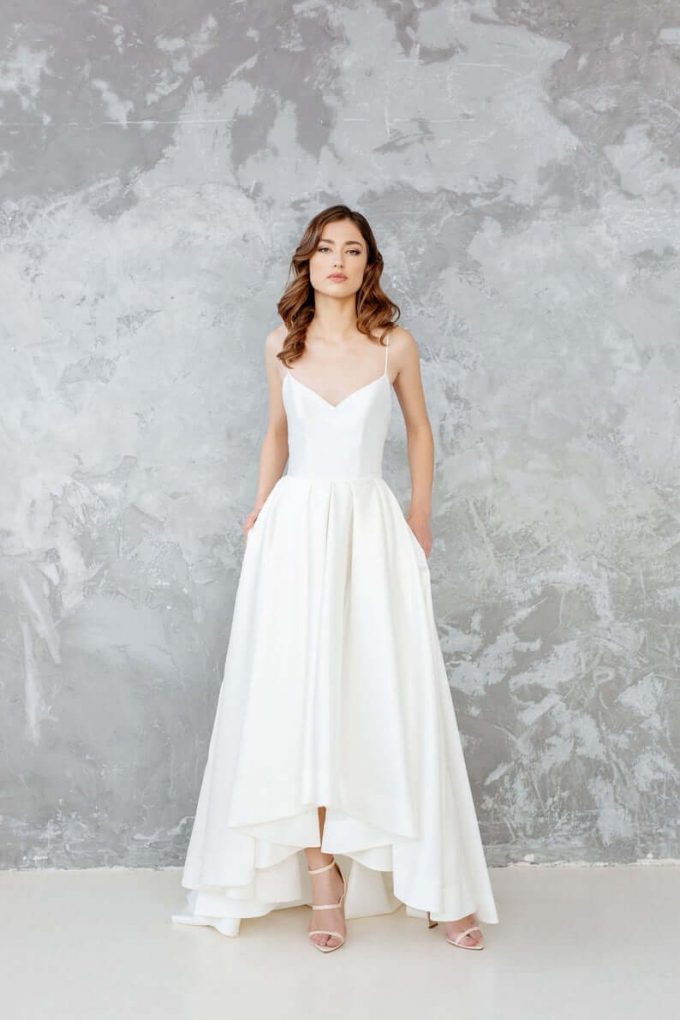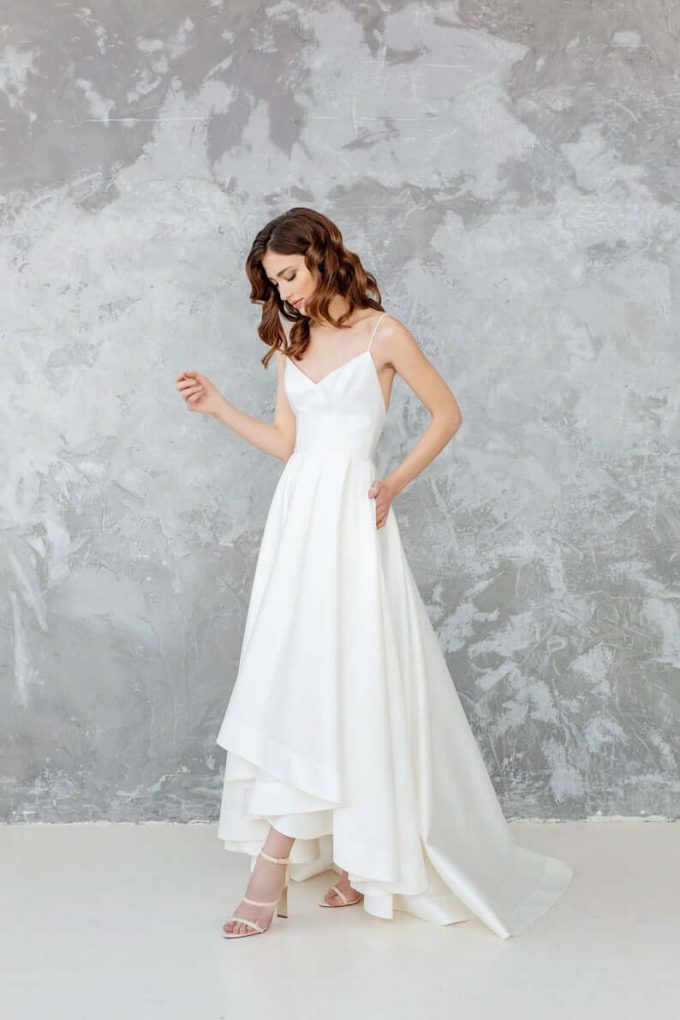 buy
here
8. Vintage Lace High Low Wedding Dress
This vintage-inspired casual wedding dress is the one you're looking for: it has a vintage look accented by a jeweled sash, a high-low hem, and keyhole back. By ieie bridal.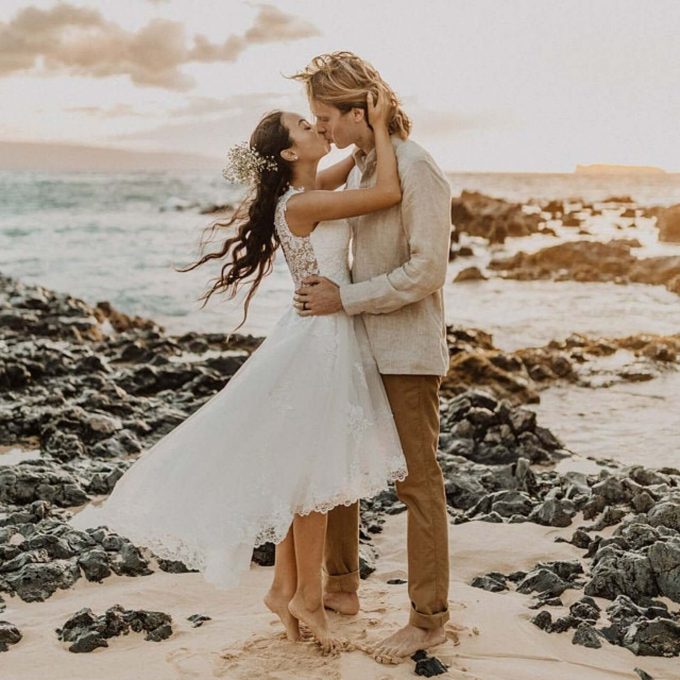 buy here
9. Casual Knee-Length Wedding Dress for Courthouse
This dress isn't limited to a courthouse wedding, but it's PERFECT for one! This casual dress features long sleeves, a knee-length, and elegant deep-v back. By BridalGardenStudio.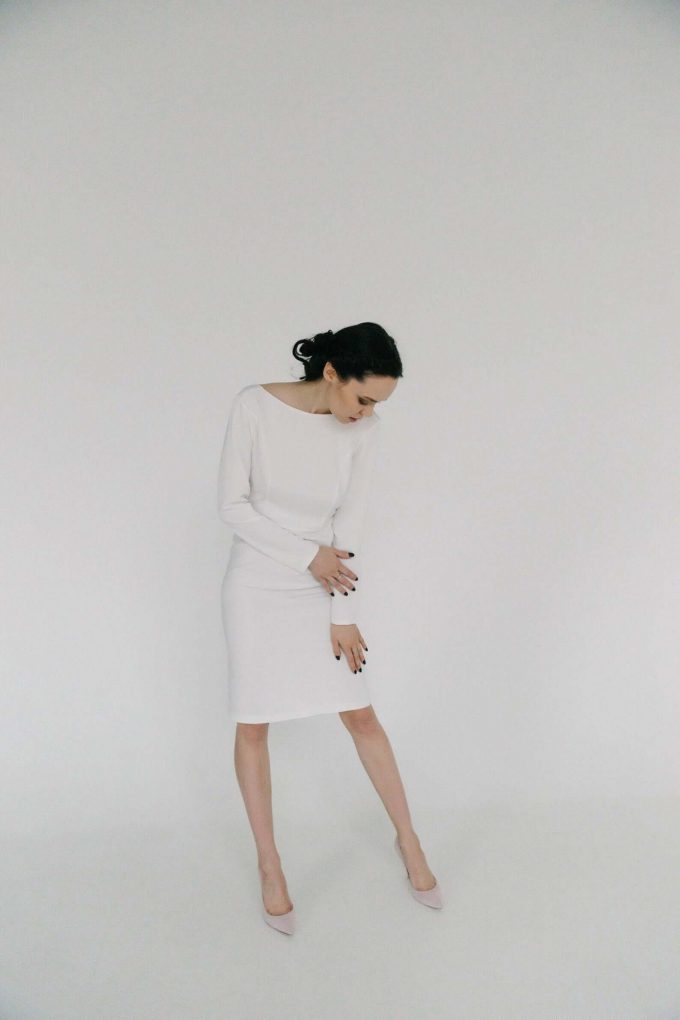 buy here
10. Short Wedding Dress with Boots
This is one of the best casual wedding dresses with boots we've seen yet! The cute knee-length dress is accented with elegant long lace sleeves. This is a perfect dress for fall weddings. By ieie.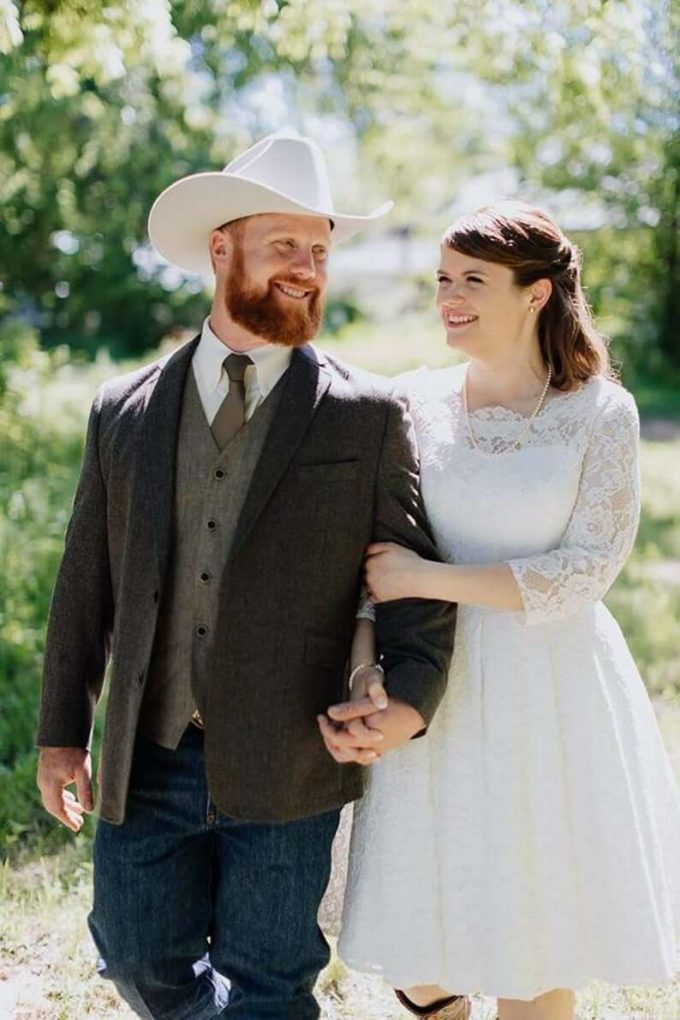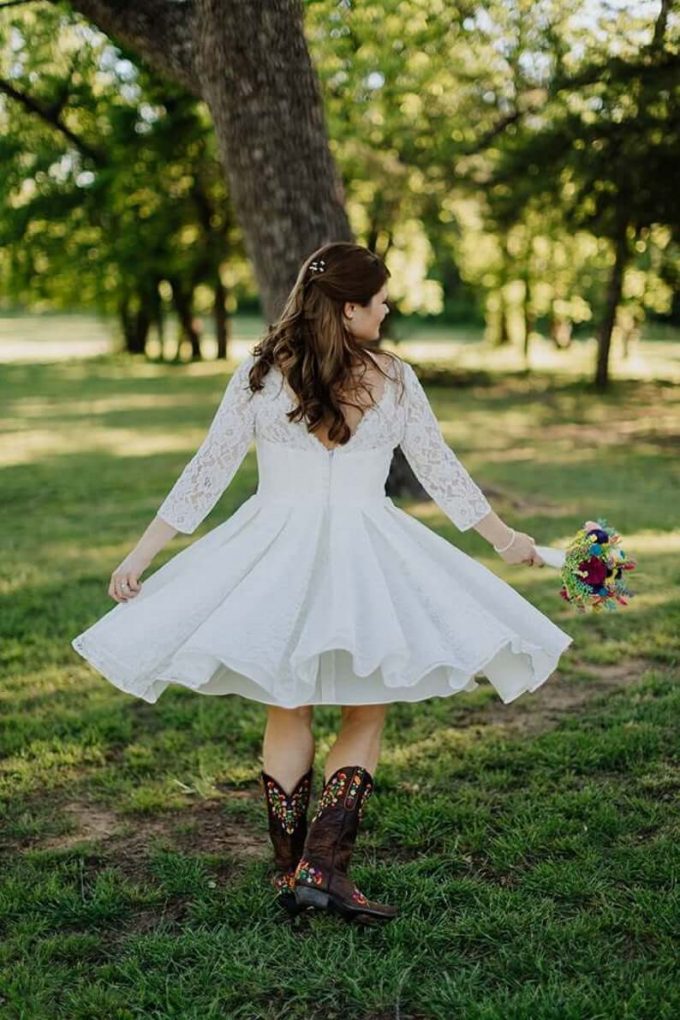 buy here
11. Champagne Lace Wedding Gown
This dress is absolutely stunning! It is a fantastic option for brides looking for where to buy casual wedding dresses plus size friendly since they have sizes that go up to 4XL. Great for brides of all shapes and sizes; you can choose the color lace, too. This is shown in champagne, so it makes a casual wedding dress without white as the only color. In their shop, you can buy casual wedding dresses in blue, blush, ivory, champagne, and white, along with other shades; bridesmaid dresses, too! This is my favorite dress from their shop. Isn't this couple adorable, btw? By BLUSH. (P.S. This is also where to find casual wedding dresses on sale right now: they're currently 40% off in honor of their anniversary!)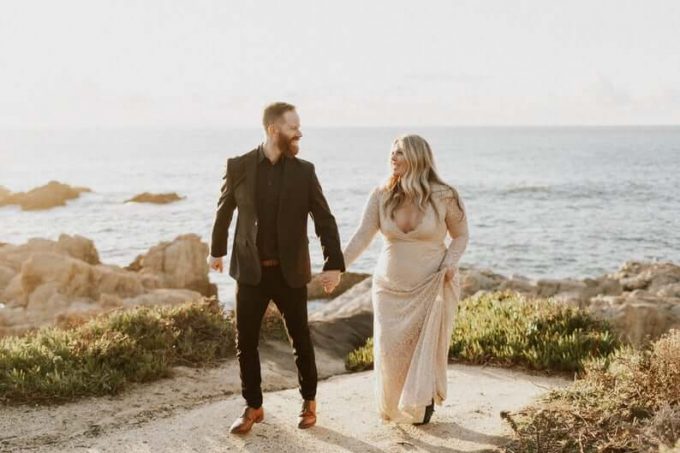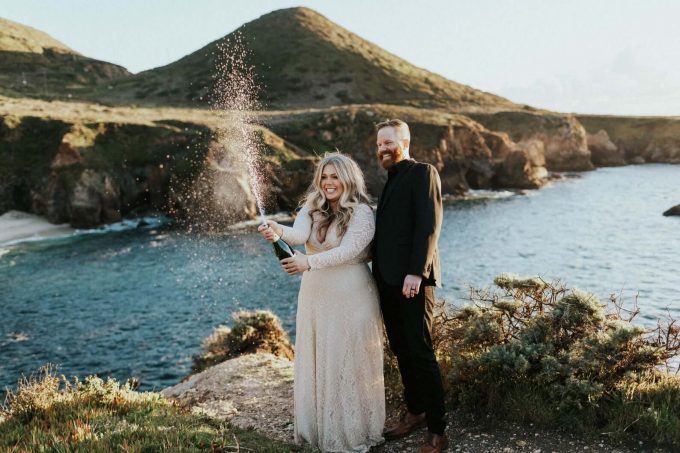 buy here
Here is another style for brides looking for casual wedding dresses with tulle. You can see more images here. Great for dancing!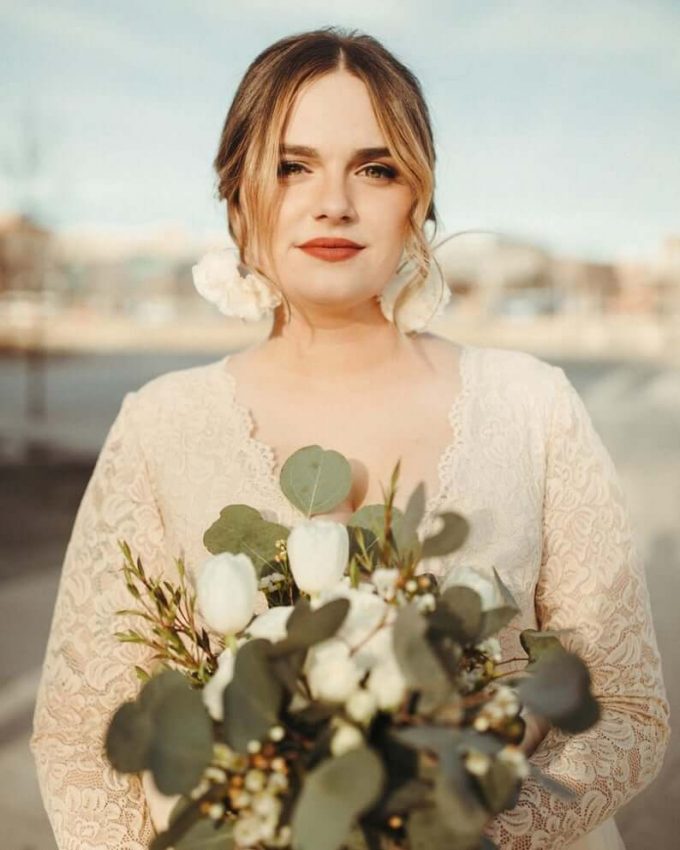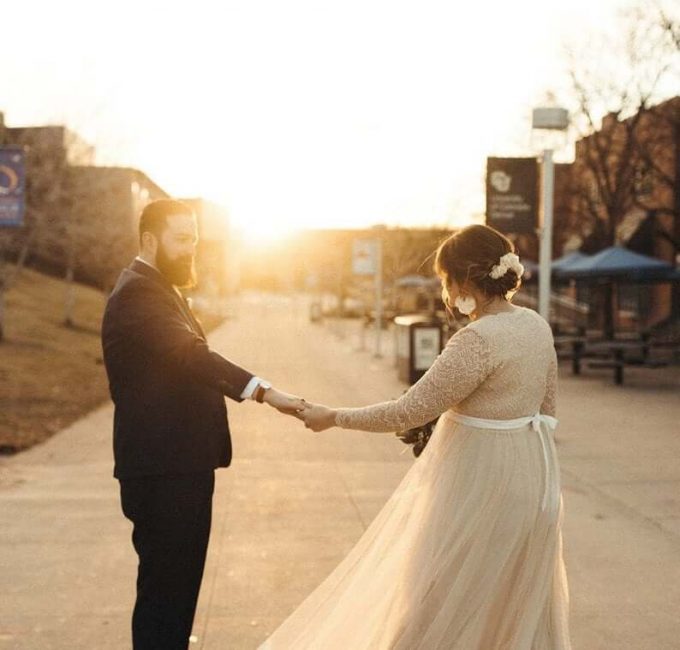 buy here
12. Boho Off-The-Shoulder Casual Wedding Dresses
This is one of my favorite casual wedding dresses 2020 brides are lovin' right now; check out that gorgeous shoulder lace! This is a popular choice for hippie wedding dresses, too, thanks to its eyelash lace and free-spirited silhouette with open back. By WearYourLoveXO.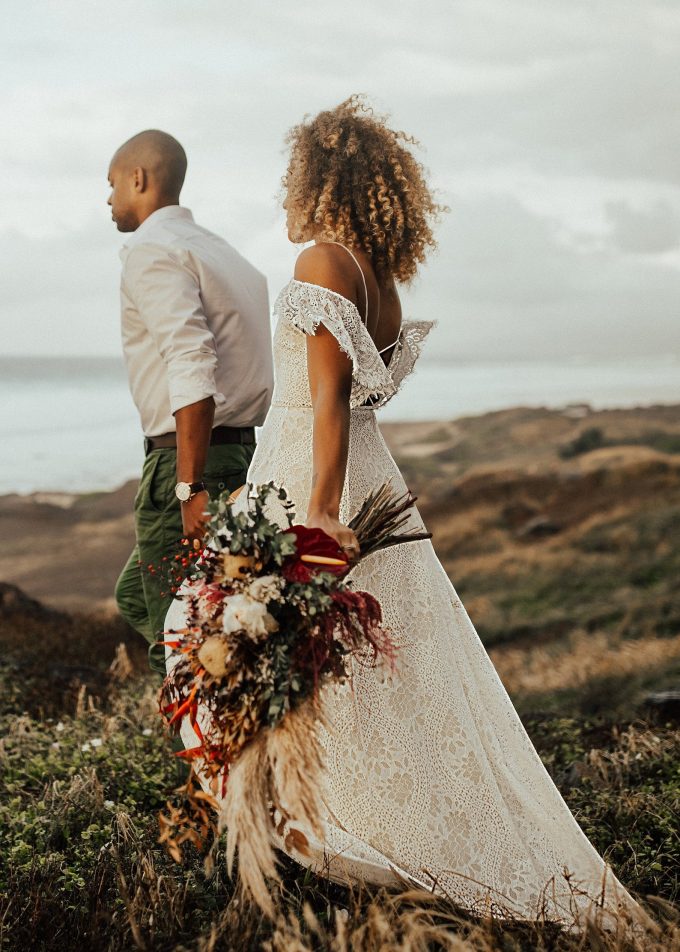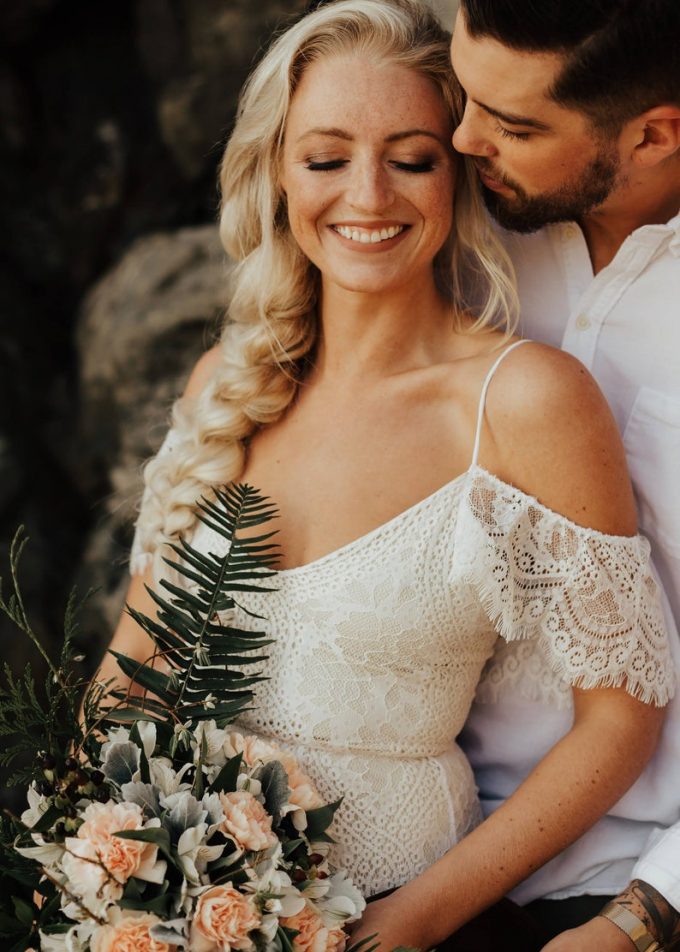 buy here
13. Vintage Lace Casual Hippie Wedding Dresses
The lace pattern on this casual halter style dress reminds me of a dreamcatcher. These are beautiful hippie wedding dresses with an informal look and feel. By Wear Your Love XO.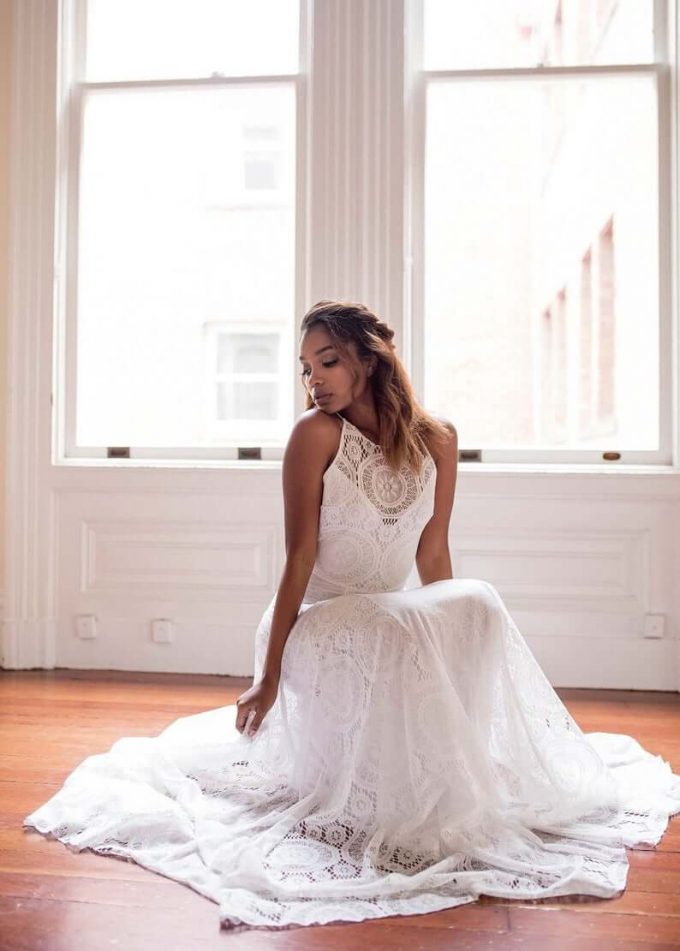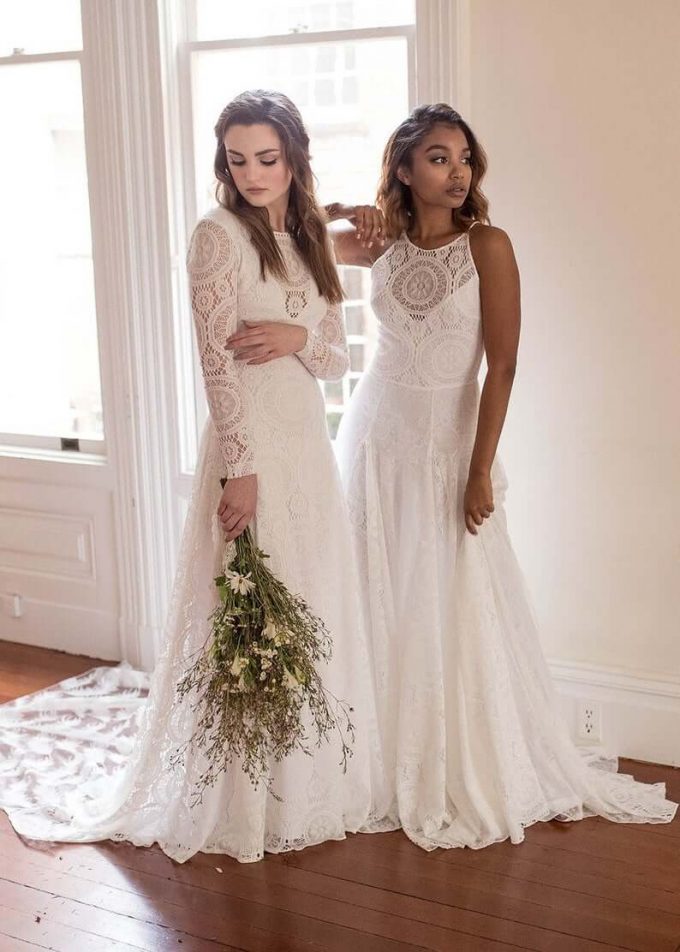 buy here
14. Casual Wedding Dress with Three Quarter Sleeves
If you're looking for three-quarter sleeve casual wedding dresses, here's one to love! The deep-v neckline is a beautiful accent. By Barzelai.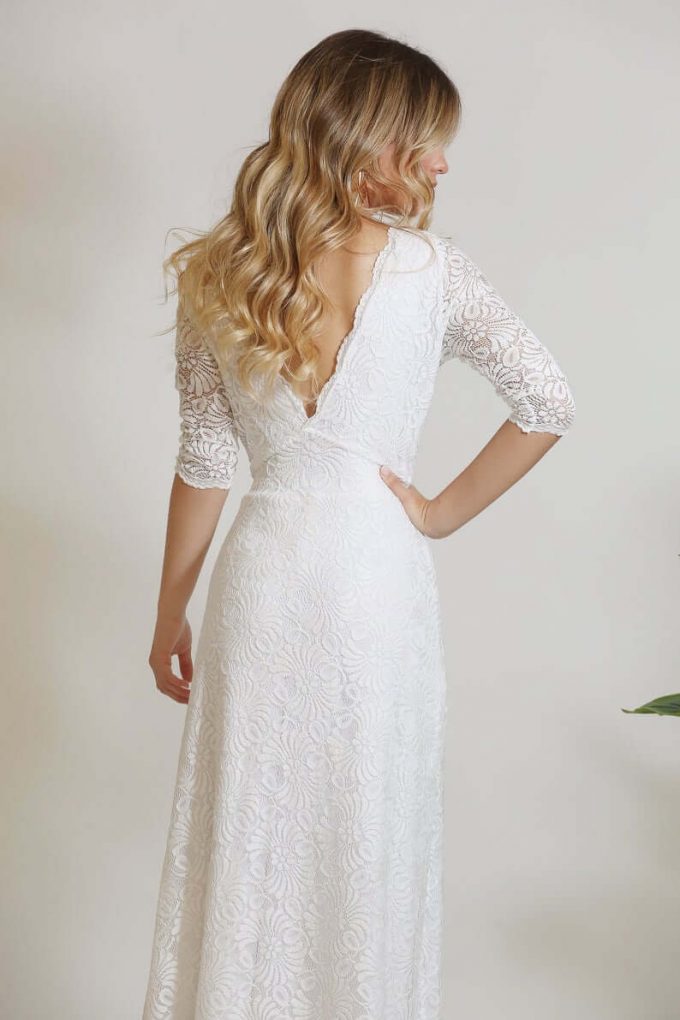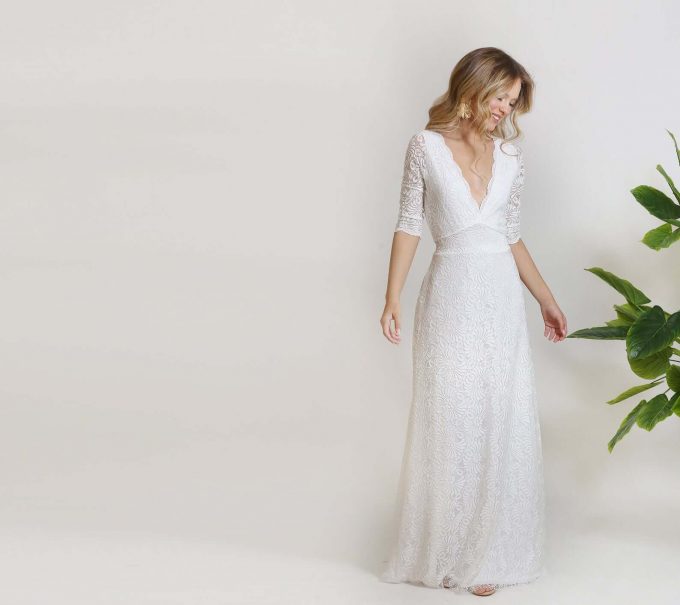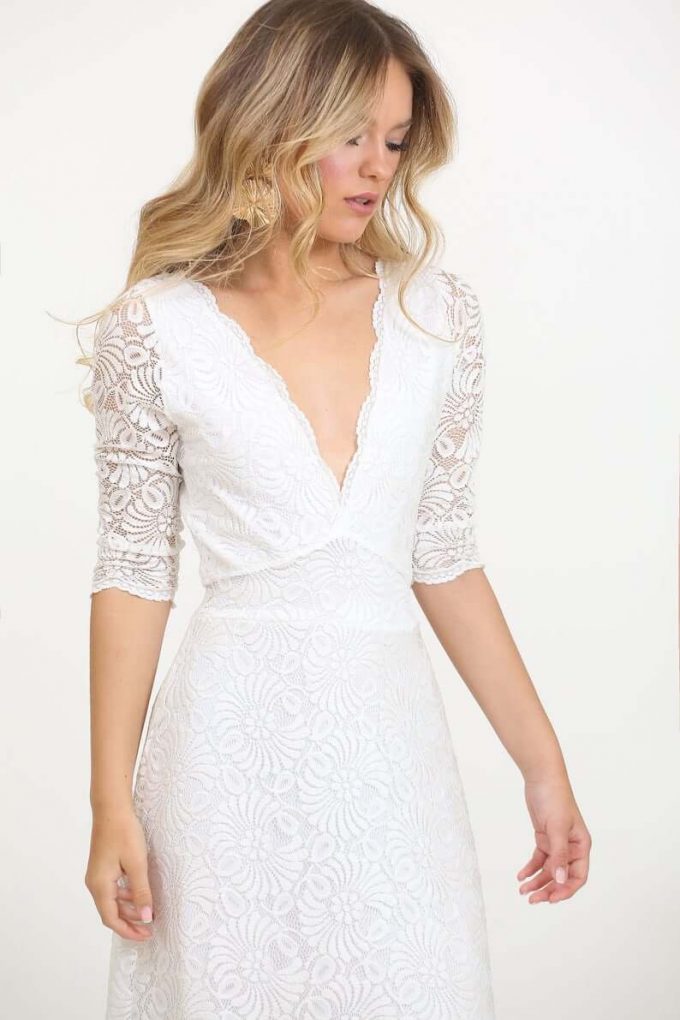 buy here
15. Sleeveless Lace Knee Length Casual Wedding Dress
Ooh, I love this knee-length, sleeveless style! The back zipper is a fun detail. By bridal by anatomy.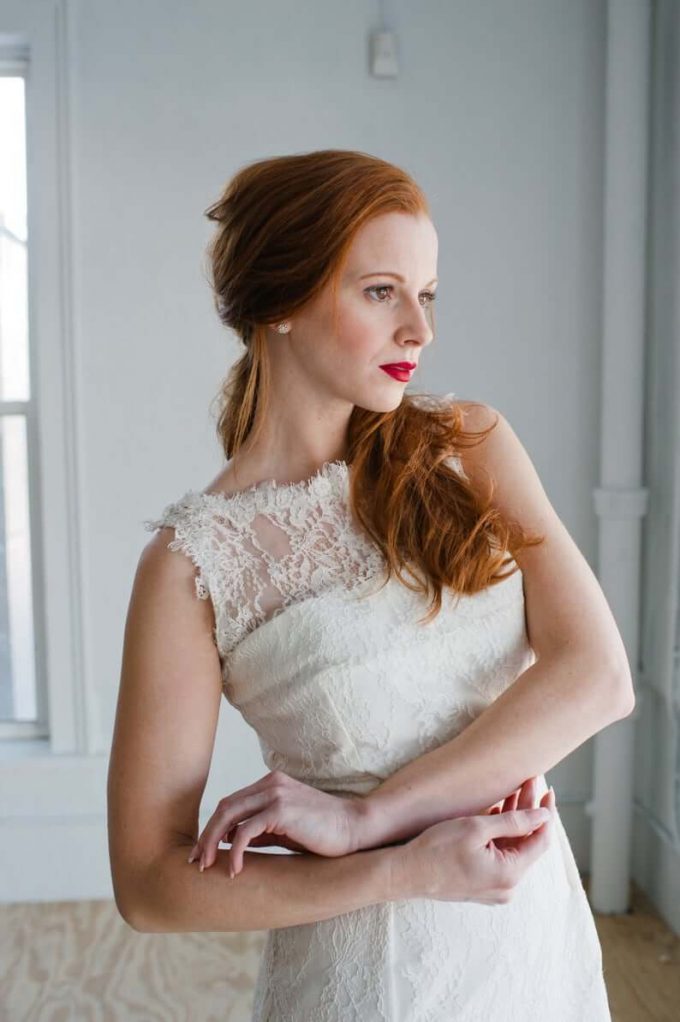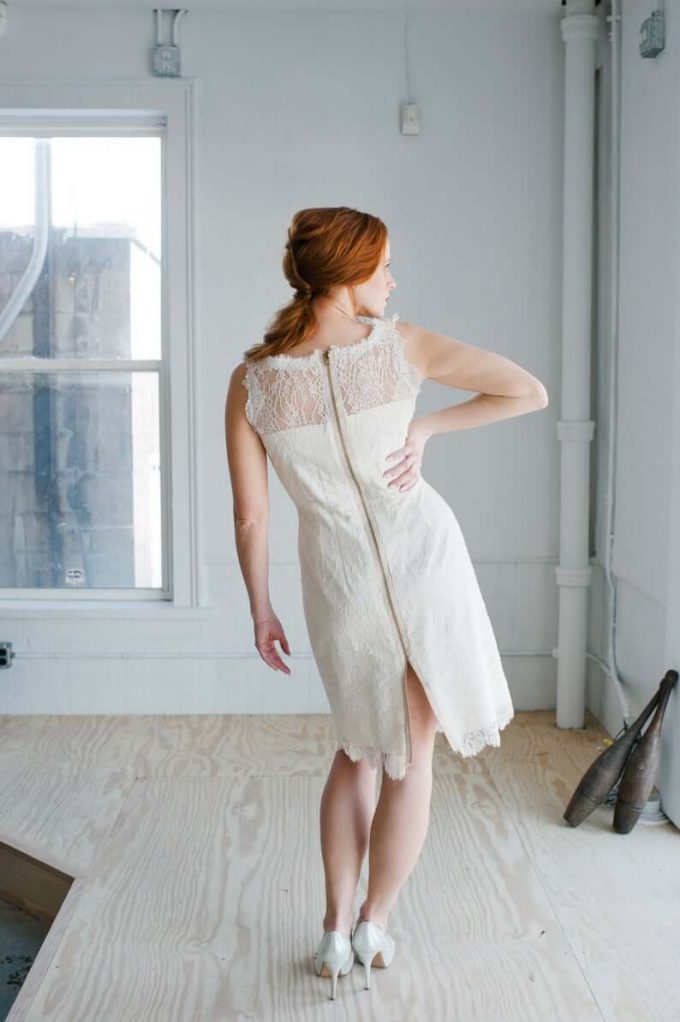 buy here
16. Long-Sleeved Lace Wedding Dress with Mini Train
This is the ultimate beach wedding dress for the bride who also wants long sleeves! The mini-train makes it easy to walk down even the sandiest aisle! By WearYourLove.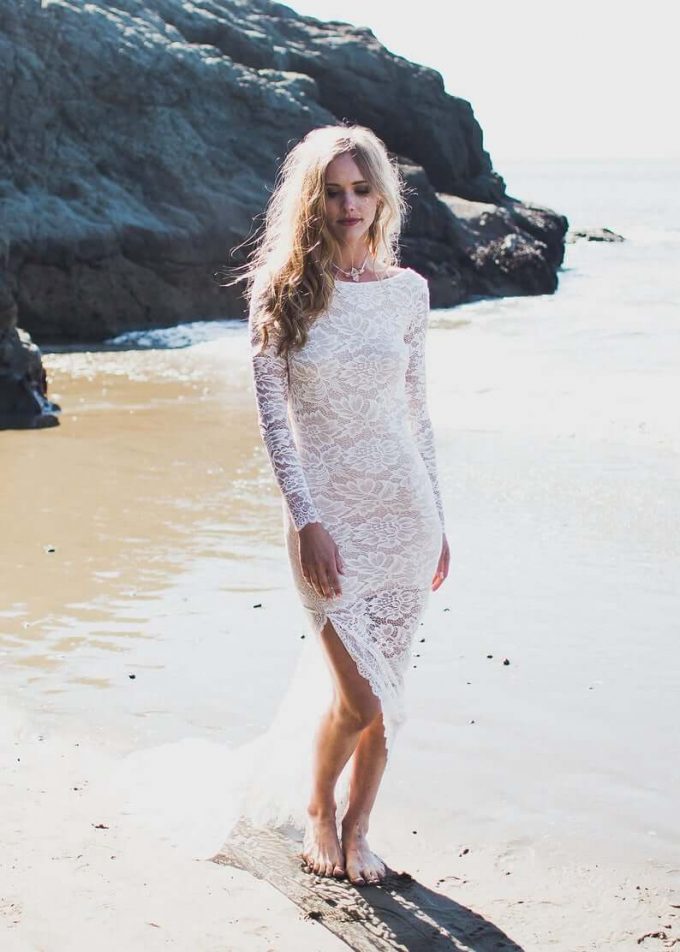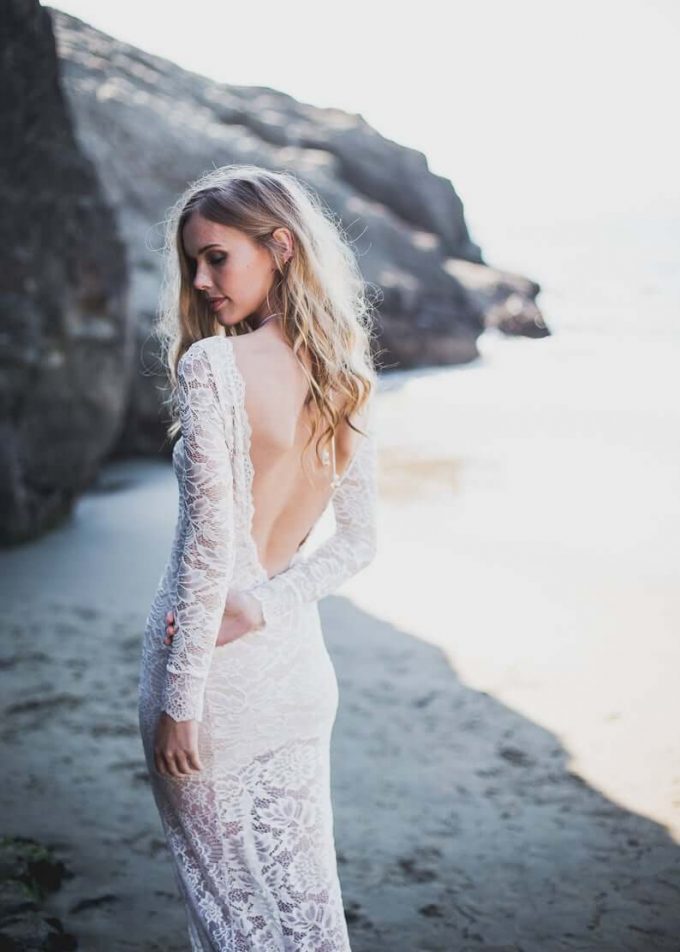 buy here
17. Tea Length Casual Wedding Dresses
This is our top pick for tea length casual wedding dresses! I love the way this crop top looks and can be accented with a bridal topper, as shown in the 2nd photo. By WardrobeByDulcinea. Photos by Vytaute Stankeviciene, edited by Indre Sipaite Kuodiene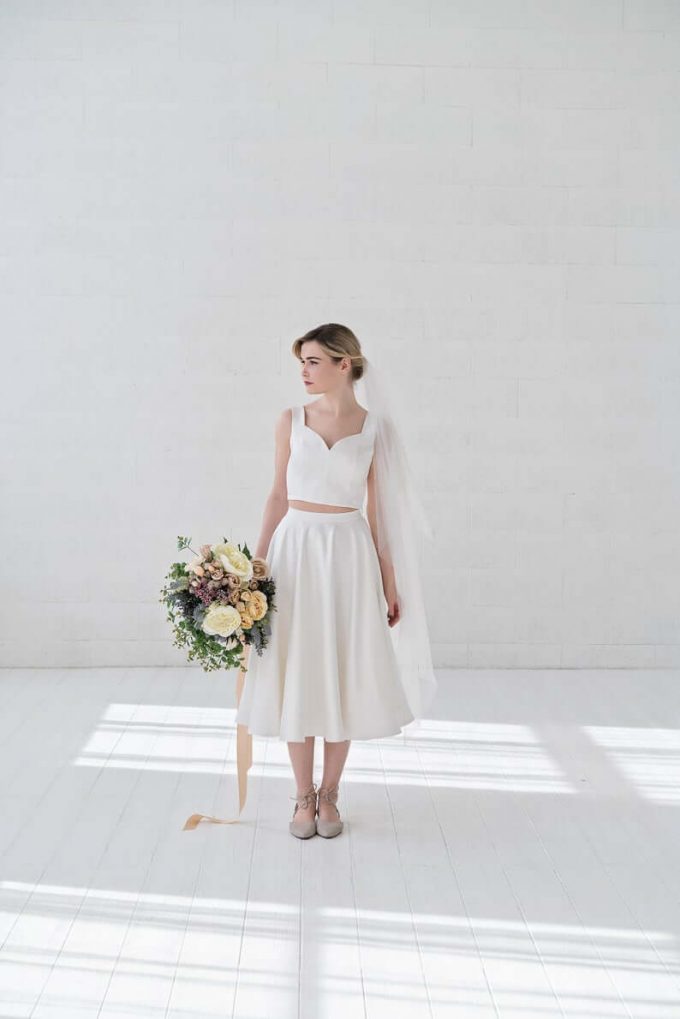 buy here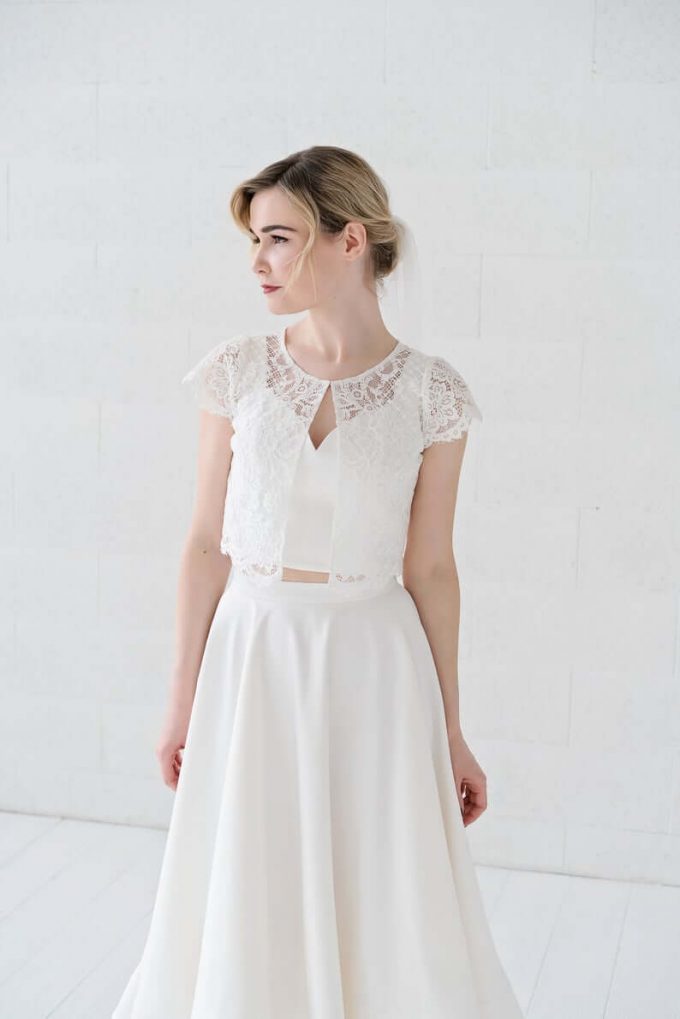 buy here
Now that you know where to buy casual wedding dresses, which one will you choose? Who knew there were so many amazing (+ handmade) options! I especially love the casual wedding dresses with sleeves. Which style is your favorite? Tell us in the comment box below!
Where to Buy Casual Wedding Dresses
Want to buy the dresses shown here? Simply click on the photo of the dress you love to be redirected for price, details, and purchase.
Aren't these informal wedding dresses so lovely? I especially love the dresses in #1 and #2! Tell me which one you love in the comments below!
TIP: Planning a rustic wedding? You may also like: 12 Wedding Dresses Brides Can Wear With Cowboy Boots
Happy Planning!
xo
Emma
P.S. If you're planning a minimalist wedding, you have to see these simple invitations to kick off the theme!