If you're a laid-back bride and you want the best casual wedding dresses 2022 + 2023 have to offer, you're in the right place! This list features the most laid-back and informal wedding dresses that are simple, yet elegant; they're affordable, yet totally on-trend.
This article will show you what to wear to a casual wedding as a bride, whether outdoors or indoors, with long sleeves or sleeveless, and with floor-length or short dress options. Let's begin with the reason why simple wedding dresses are such a popular trend at the moment.
Simple Wedding Dresses
If you're dreaming of a casual wedding dress vs. a formal bridal gown, I have good news: the style is perfect for every season of the year. You can wear a simple wedding dress in the summer, spring, fall, or winter. It is always in style! Despite this, there are not nearly enough articles written about where to buy casual wedding dresses… so I wrote this one for you!
I went wild on the web looking for wedding dresses with sleeves, without sleeves, with pockets, with cap sleeves, with color, without color, casual wedding dresses to pair with cowboy boots, wedding dresses with tulle skirts, for older brides, plus size, and so much more.
shop here
Most of these dresses are cheap casual wedding dresses under 100 dollars, so you'll also save a ton of money — and look amazing in the process.
Here are the top casual wedding dresses 2022 and 2023 have to offer for cool, laid-back brides.
Casual Wedding Dresses 2022
1. Mermaid Maxi Skirt, $99
For under $100 dollars, this is one of the top casual wedding dresses for the bride. It features a long white maxi skirt and long sleeves; the back has classic bridal buttons and an open v. Love this one! Shop here.
shop here
2. Ivory Mermaid Shape Maxi Dress, $89
This gorgeous dress has an awesome silhouette with a mermaid fit and a long-length skirt. Love the high neckline! Buy here.
shop here
3. Casual Cowl Neck Wedding Dress, $198
This cowl neck dress in satin is a dream come true! It is strappy with a long skirt and criss-cross back and is one of the most stylish casual wedding dresses on this list. By Lulus.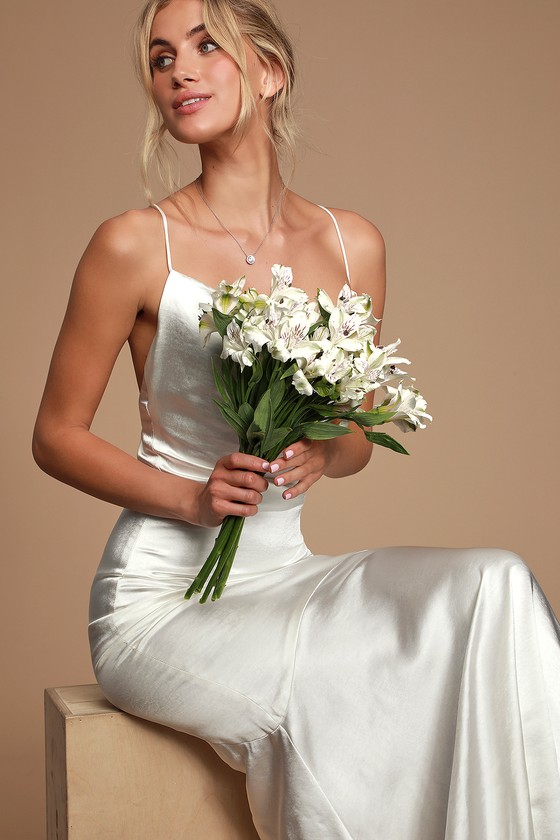 shop here
shop here
4. White and Beige Embroidered Lace Maxi Dress, $98
Go casual — but still strikingly elegant — with this lovely plunging v-neckline wedding dress with layers of lovely mesh tulle. This dress is available in extended sizing in regular and plus size. By Lulus.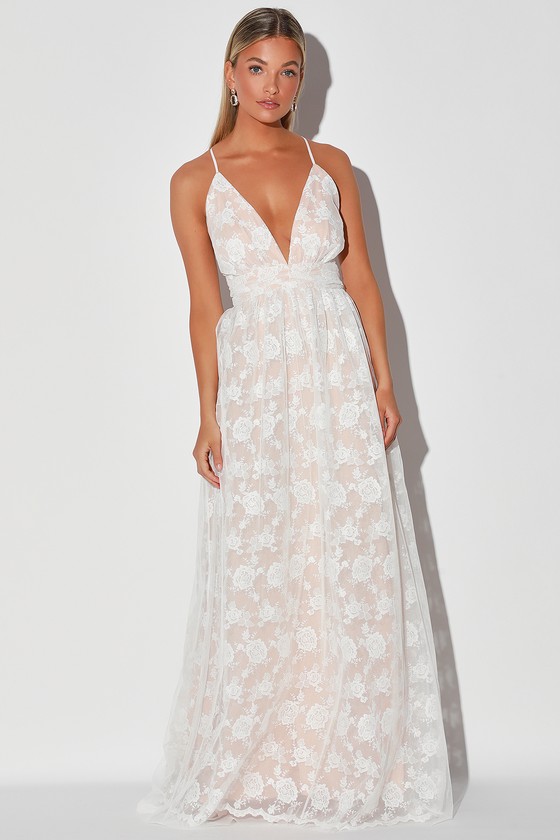 shop here
buy here
5. Simple White Wedding Maxi Dress, $89
If you're a bride who wants casual wedding dresses with a v-neck maxi style, this is THE one! By Lulus.
buy here
6. Simple Button-Back Dress, $99
For under $100, wear this low-key wedding dress with classic bridal buttons and a little flare on the maxi skirt. So pretty! Buy it here.
shop here
7. Casual Short Sleeve Wedding Dress with Lace, $109
This dress is incredible! It's simple, yet elegant; the allover lace gives it a casual bohemian look and feel. Love the cap sleeve! Get it here.
shop here
8. Simple Long-Sleeve Dress, $89
Buy it here.
shop here
9. Casual One-Shoulder, $79
Make an entrance in this casual and cool one-shoulder bridal gown featuring a unique trend and long maxi length skirt. Great for dancing! Buy here.
10. Simple Dress with Strappy Back, $94
This is one of the most popular casual wedding dresses for 2022: it's simple, yet nice and light, making it the perfect informal option for the bride. Get it here.
shop here
Check out the back!
shop here
11. Long-Sleeve V-Neck, $119
This is one of the most beautiful casual dresses for the bride to wear! I love the v-neckline and the lace sleeves, long lace floral print, and the skirt length. Get it here.
shop here
12. Mermaid Maxi, $119
If boho casual wedding dresses are your thing, I think I have the dress for you: this one! I love it. Available here.
buy here
13. Cream Ruffled Wedding Dress, $79
This bohemian-style dress is perfect for your laid-back wedding and features a little ruffle on the sleeve. Cute! Shop here.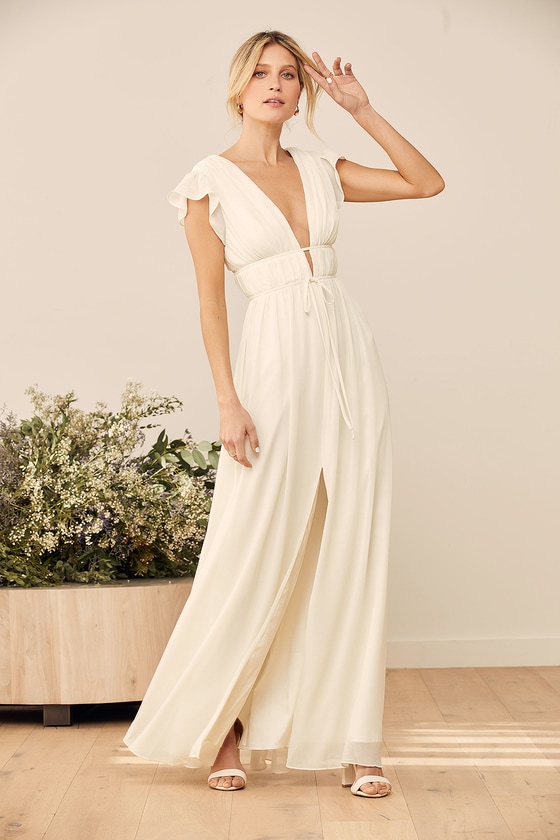 shop here
14. Casual Wedding Short Dress, $62
This short dress is casual wedding at its finest! It has sweet ruffle detail on one side and is modern in style. By Lulus.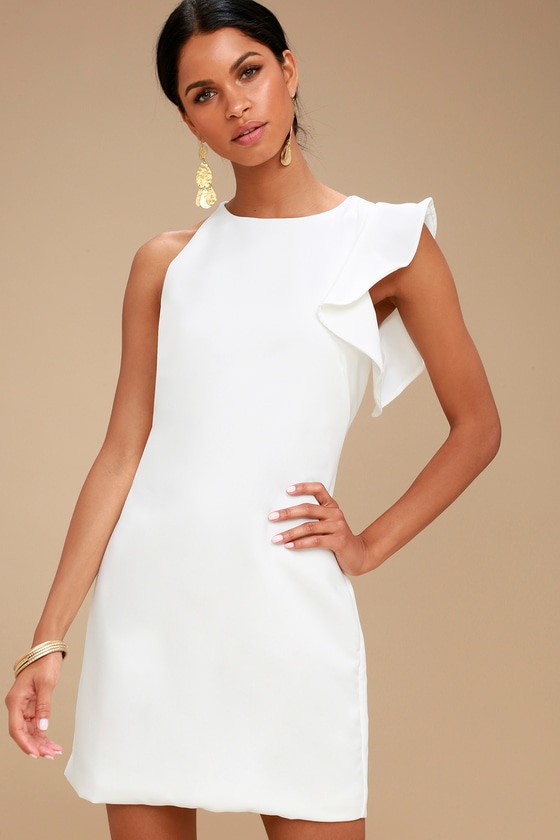 shop here
15. White Lace-Up Maxi, $99
Getting married on the beach? This dress is pure perfection in a maxi skirt with a white lace-up style on the back. Buy here.
shop here
16. White Strappy Dress with Plunging Neckline, $84
You can't go wrong with this simple, stunning silhouette and plunging neckline. A fan-favorite! Get it here.
buy here
17. Strapless Beach Wedding Dress with Sweetheart Neckline, $89
Wear this one to the beach! It's one of the best casual wedding dresses on the list and it's under $100. Beautiful! Shop here.
buy here
18. Unique Casual Wedding Dress with Bell Sleeves, $149
What a fashion statement! This is one of my favorite boho wedding dresses with a casual, laid-back feel. LOVE those bell sleeves! Shop here.
shop here
19. Halter Style Simple Dress, $119
Who says simple has to be boring? This is one of the dresses that feature elegant beadwork and embroidery on a chic halter neckline for a one-of-a-kind look. Buy here.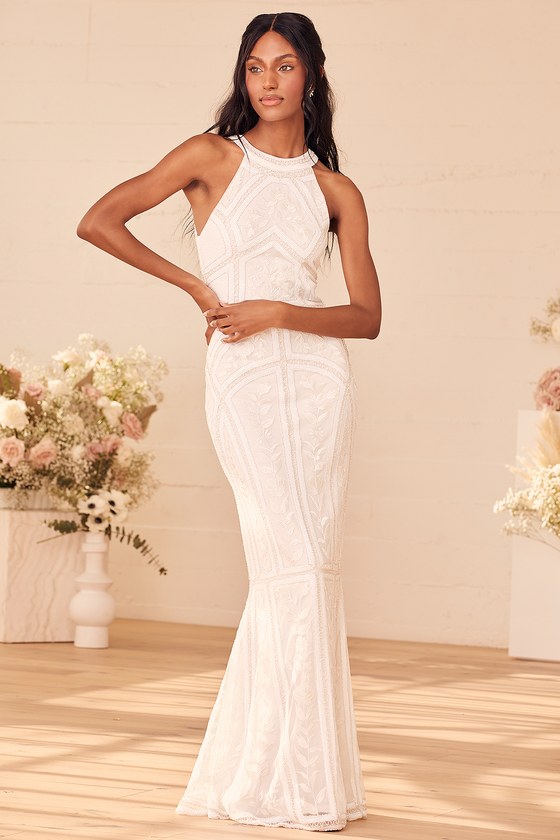 shop
here
20. Casual Knee-Length Wedding Dress for Courthouse, $62
This dress isn't limited to a courthouse wedding, but it's PERFECT for one! This casual dress features no sleeves and a knee-length hem with a fun asymmetrical strap. Get it here.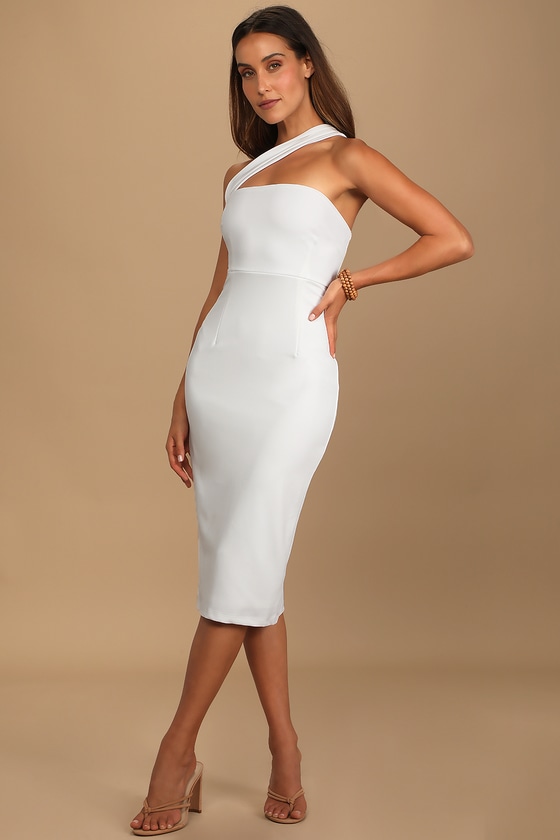 shop here
21. White Beaded Pearl Chiffon, $128
This gorgeous dress features light, airy chiffon and tons of beautiful beadwork! It's casual yet chic. Buy it here.
buy here
22. Satin Maxi Dress with Little Train, $99
The perfect casual wedding dresses don't exi… wait, this dress is perfect! I love the little train, the sumptuous satin fabric, and the scoop neckline with darted bodice. Love this one. Buy it here.
shop here
23. Short and Simple Midi, $59
Go short! This cute midi dress is one of the best casual wedding dresses and looks great wherever you plan to get hitched. Get it here.
buy here
24. Deep V-Neck Lace Maxi, $89
This elegant yet simple dress is beautiful for the bride who wants no frills, yet wants a chic and classy bridal gown. Love this look! Get it here.
shop here
25. White Satin High-Low Dress, $88
Highly-rated, this broadway inspired dress is one of the most notable informal wedding dresses on this list! It looks so cute: short in the front and long in the back, made for dancing the night away! Get it here.
buy
here
26. Long Sleeve Off-the-Shoulder, $109
Stylish! Get this dress with a trendy off-the-shoulder dress and long sleeves with all-over lace. Buy here.
buy here
27. White Backless Dress with Lace Cap Sleeves, $99
And last but not least, check out one of the prettiest informal wedding dresses for 2022: this simple dress has lace cap sleeves and a maxi skirt plus a statement-making backless style. Get it here.
shop here
Now that we've covered the dresses, let's talk about a few pointers to consider when you're shopping for casual wedding dresses.
PRO TIP: Did you stumble on this page looking for casual wedding guest dresses instead? Click here to browse!
Avoid These Informal Wedding Dresses When Outdoors
If you're selecting a casual wedding dress for outdoor nuptials, whether it be in a barn, on the beach, mountainside, seaside, in a garden, or on a vineyard, avoid any garment that is too heavy. For these venues, you want something light and airy; you also don't want a train that will pull through mud, leaves, or sand and make your dress dirty.
If you want a train, mini-trains do exist! You can even find a dress with detachable train for impeccable style indoors or out.
Choose the Low-Key Wedding Dresses in Your Favorite Silhouette
Fit is everything! The number one rule for choosing casual wedding dresses is to go simple, but stick with a silhouette that shows off your figure best. This can be a sheath, A-line, strapless, casual halter wedding dress, etc.
Once you've selected your ideal silhouette, decide on length: will your dress be long or short? Casual wedding dresses with a popular midi length are the ultimate trend right now. Midi length hits in that sweet spot, right between the knee and the ankle. It's very trendy!
via lulus
Best Informal Wedding Dresses by Style
Many brides wear casual wedding dresses simply because they love the look! If a big, frilly bridal gown isn't your thing, that's OK!
The wedding dress you choose should reflect your unique personality and style.
If informal wedding dresses are more your style, GO FOR IT! Are you the minimalist, the bohemian, the traditional, or the beach bride?
Minimalist
For the minimalist, casual wedding dresses are a dream come true: these dresses are simple, short, or long, and they don't have the same "frills" that other dresses do, like embroidery, beading, rhinestones, or over-the-top lace. Some brides aren't into the frills and prefer cheap thrills, so that's another reason to love these dresses: you'll find many cheap casual wedding dresses that cost under $200, some even under $100!
Bohemian
Casual dresses in a bohemian style typically feature layers of lace; you may see off-the-shoulder necklines and romantic tiered skirts, like this example.
shop here
Traditional
A traditional bride with a simple taste might like casual wedding dresses with a sleeveless neckline and allover lace with a floor-length skirt. Here's an example of a casual wedding dress for the bride to wear.
buy here
TIP: If you're looking for casual crop top wedding dresses, see them all in a separate post here. :)
What accessories to wear with a casual wedding dress?
What kind of bridal accessories do you wear with a casual dress? Great question: keep it simple!
For the veil, choose something close to your face, like a birdcage veil (or skip the veil altogether) since a veil will blow in the wind and constantly get in your way.
When it comes to footwear, always go with the most comfortable wedding shoes you can find. That applies to every style. For comfort and low-key fashion, try wearing these for the beach, sandals, flats, or a pair of trusty block heels or wedges, which are both great to wear on uneven terrain like dirt or sand.
buy here
Where to Buy Simple Wedding Dresses
Want to buy the dresses shown here? Simply click on the photo of the dress you love to be redirected to price, details, and purchase. Alternatively, you can shop more styles here.
TIP: Planning a rustic wedding? You may also like: 12 Wedding Dresses Brides Can Wear With Cowboy Boots
And there you have it: everything the casual bride needs to know. Did you find a few simple wedding dresses you love in this post? Tell me which one you like best in the comment box!
Happy Planning!
xo
Emma