We're chatting about how to turn a picture into a painting! If you want to skip ahead and grab a discount, use code EMMALINEBRIDE here to get $60 off every order + free frame and free worldwide shipping, too! #Score
Want to turn a picture into a painting? I was skeptical when I heard this was available to anyone who wanted it; turns out, it's not only doable, but the results are beautiful!
When were contacted by the team of Paint Your Life, they offered the opportunity to turn any photo into a custom painting.
Intriguing, I thought.
Immediately, I assumed it would be similar to those settings on photo editing software where you can make a photo appear like it was painted. You know the kind I'm talking about, more like a filter?
But it's not. It's any picture turned into a painting, a REAL custom art work.
It is an actual artwork made with real brush strokes and acrylic paint, one you'll be proud to display in your home.
Here's how it works!
How to Turn a Picture into a Painting
It's very easy to turn a picture into a painting.
1. Pick a picture.
First, select the picture you'd like to use.
For this example, I used a favorite photo from our wedding. It is one where we're standing together in front of the chapel with stained glass windows behind us; it is winter, so I'm wearing my cozy faux fur shawl. I like this photo because we were just married. As in, minutes prior. That's true excitement our faces and a beautiful moment captured by our photographer, Kristin.
2. Upload it!
So, you go to their website PaintYourLife.com and upload a photo.
Next, it uploads the picture, asks you to confirm use of photo, and then you pick the size of the painting you'd like, which is painted onto a sturdy canvas. You choose what kind of painting you'd like — acrylic, watercolor, etc. — and then you can even select an artist. I chose the artist they recommended (Johny) and he did an amazing job.
You can view profiles of the artist past work to get an idea of their style; his looked like what I wanted, so I kept the setting.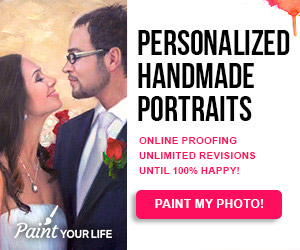 3. Submit your order.
You submit your payment information, fill out the shipping and billing info, and that's it.
Then you receive an email confirming your painting has been started. Then you wait just a bit, maybe a day or two (but they give you an estimate of when the painting will be completed and shipped).
Pretty soon, you get an email that your painting is completed. You get to see a draft of your painting and add any notes, if you'd like something fixed or changed. Mine was pretty perfect, but I asked that a few minor tweaks be made; he made the fixes with no problem.
4. Preview.
Then you get a final draft: your photo turned painting is READY! (It's very exciting to see on your screen, but even more exciting in person!)
Once your painting is ready, it ships; you wait patiently at your door, checking every few hours to see when FedEx arrives. ;) Just kidding. You'll probably wait a week and then you'll know exactly when to expect it.
5. Show it off!
And it arrives, beautifully boxed. It still smells like paint, slightly, just enough to know it's the real deal. AN ACTUAL PAINTING!
It's gorgeous.
Here's ours!
Seriously, look at this boutonniere detail!
It turned out amazing!
I wanted to add the customer service is exceptional. When I had questions on the painting, they were very accommodating to my requests; in addition, they check in with you when you receive it to make sure you like it, if you have any questions, and if you want special offers. They were there through every step of the process. I really enjoyed the customer service.

Why a Custom Painting Makes a Great Gift
Whether you're dating, newly engaged, newlywed or you've been married for years, a custom painting from your favorite photo is a wonderful way to commemorate a favorite memory. It makes a beautiful gift and a fun surprise for your significant other.
These paintings also make lovely gifts for bridal showers or engagement parties, surprising the soon-to-be wed couple with a work of art to enjoy together in their home.
Custom Painting
Now… go on and get one for yourself! They are giving all of our readers a special exclusive offer:
Here's the discount again:
DISCOUNT
EMMALINEBRIDE here and get $60 off! Plus, don't forget you get a free frame and also free shipping.
We recommend turning a favorite engagement photo into a painting or buying a gift certificate to turn a future wedding photo into a painting for your home. This makes a beautiful gift for a newlywed couple, newly engaged couple, new parents (the baby and kids paintings are beautiful!) and more. Everyone loves a painting of a favorite photo, especially one of themselves, am I right? :)
Get a custom painting made from a picture!
Click here to get started!
Happy Planning!
xo
Emma
This is a product review. Our honest feedback was given in exchange for a product; we only recommend products we truly find remarkable because we so value you, our readers. If we don't like a product, we'll tell you so!