It is obvious that we love handmade wedding gifts, so we were very excited when we spotted these wedding embroidery hoops by Lilac Saloon + couldn't wait to share! This is the perfect handmade option for wedding season gift-giving and can be displayed (and enjoyed) for years! One of our favorite examples (below) features embroidery in mustard yellow and dark charcoal gray, pretty much a perfect color combination. The names are hand-embroidered onto unbleached cotton, secured into a 5 inch embroidery hoop, and ready for display. These embroidery hoops are gifts which are handmade with love + care, unlike that blender they'll throw under the cabinet. ;) Take a peek:
To view more, check out Lilac Saloon at Emmaline Bride. We're proud to include their work in The Marketplace!
Happy 1st (Company) Birthday, Lilac Saloon!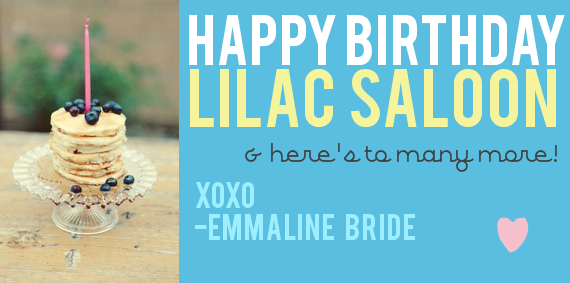 cake image / source
Please join us in wishing Lilac Saloon a very Happy 1st (Company) Birthday! Congratulations – here's to many more! Send kind wishes to Megan via Twitter to make the day extra special for her! :)
More soon!
-THE EB TEAM