If you're planning a bridal shower for the happy couple but you need somewhere to host it, try a local favorite restaurant! A restaurant makes an excellent party space for your wedding shower and is a nice way to commemorate the occasion. In this blog post, we'll show you the best tips on planning a bridal shower at a restaurant from someone who's done it! :)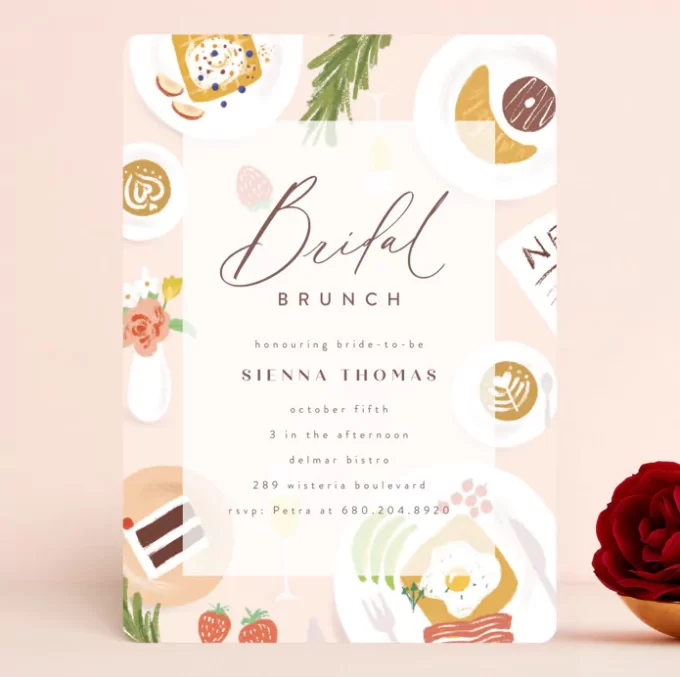 bridal shower invitations by chocomocacino
Can a bridal shower be held at a restaurant?
Yes! A bridal shower can most certainly take place at a restaurant. Bridal showers can be held anywhere: your home, a banquet hall, a garden venue, etc. Restaurants, especially those with small private gathering spaces for rent, make wonderful venues to host bridal showers.
Tips for Hosting a Restaurant Bridal Shower
1. Choose a location with private event space.
Many restaurants near you offer event space that is private and able to be rented for a party. Inquire locally for one near you and ask the following questions:

• How much is the event space to rent?
Ask how much the space is to rent and what is included in the cost (tableware, linens, tables, chairs, etc.)
• How many guests can the space hold?
Make sure your guest list can handle the space! You don't want to invite too many guests, as it will feel crowded; on the other hand, if the space is too large and you don't expect many guests, you'll have too much open space.
► Read: Here Is EXACTLY Gets Invited to the Bridal Shower to make your guest list.
• How many hours can I rent the space?
Most bridal showers take place for three full hours.
This is typically from
12 pm – 3 pm
or
1 pm – 4 pm
on a Sunday or Saturday.
• What date(s) and time(s) are available?
See which dates are available on those days and during those time windows.
It is possible to plan it at another time, but the given times above are a traditional timeline.
No Event Space Available?
No worries!
If you find a restaurant you love but it does NOT have private space for rent, that's OK! You can inquire about hosting a bridal shower in their restaurant and see what their options are. Many times, if a private space isn't available, there is a section they can reserve for more of a private gathering. This should work just fine, as long as the number of guests will fit comfortably within the space.
The most important thing is to rent space at a restaurant you LOVE that has delicious food and is within a good range of travel time for most guests. The menu is important, the food ought to be delicious, and you want to find a restaurant with quality service. These are the points that will help you to host the most memorable and best bridal shower ever at a restaurant.
Once you find the proper location that suits your needs, book it! Now you have a venue, date, and time.
Now, let's talk about the finer details including bridal shower invitations.
2. Choose invitations.
What kind of theme will you choose? Once you select the best bridal shower theme for your event, decide on an invitation to match. Select one that resonates with the bride and ties into her favorite hobbies, or you can simply go with a seasonal design or theme you think she'll enjoy.
► You can browse many designs here, which are always inspiring!
Here are a few ideas for bridal shower invitations when hosting at a restaurant. Be sure to include the full name of the restaurant and the address so guests can easily enter it into GPS for driving directions.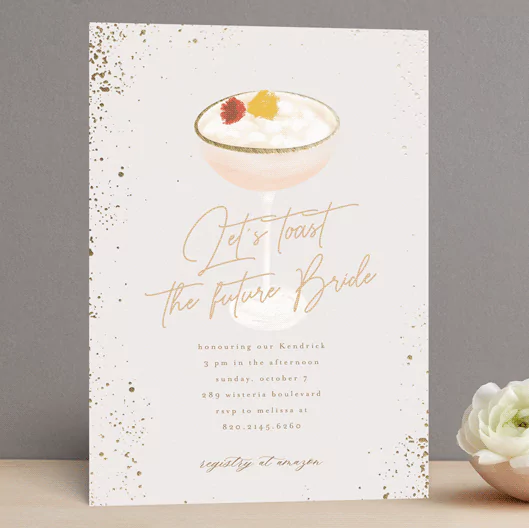 let's toast to the bride by chocomocacino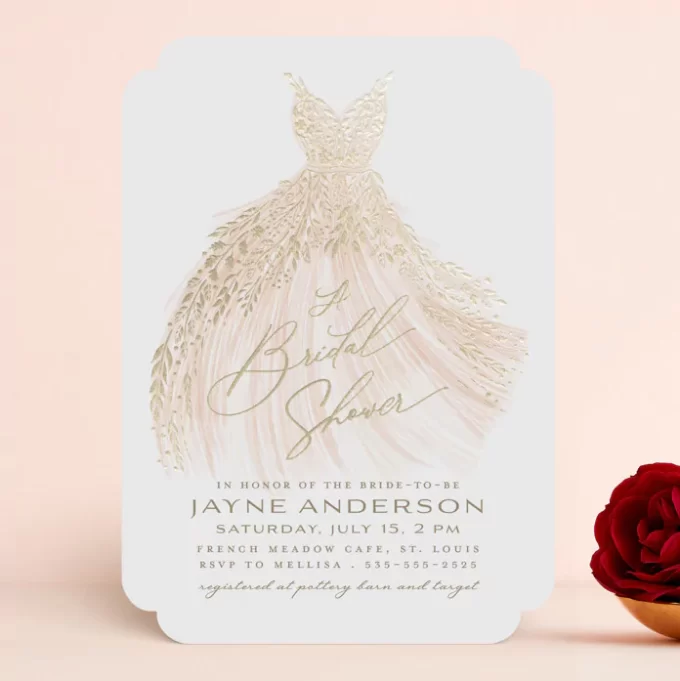 here comes the bride by paper sun studio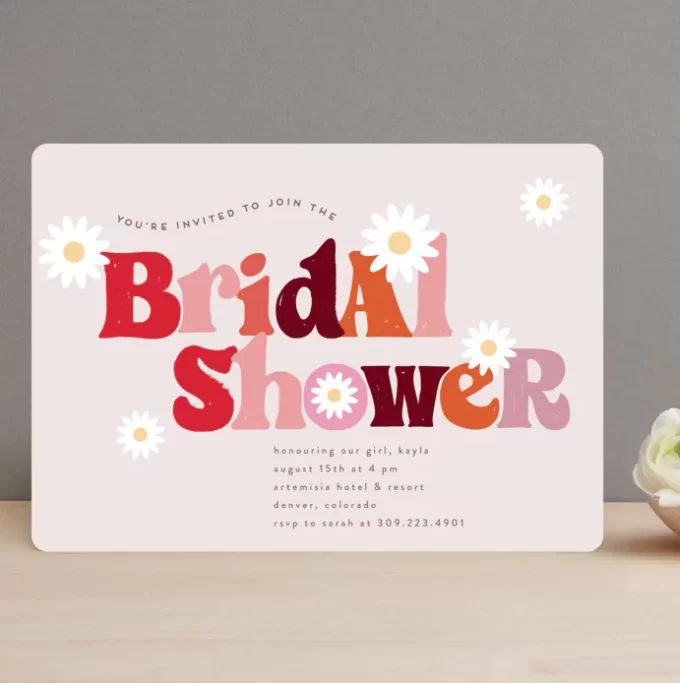 retro bridal shower by chocomocacino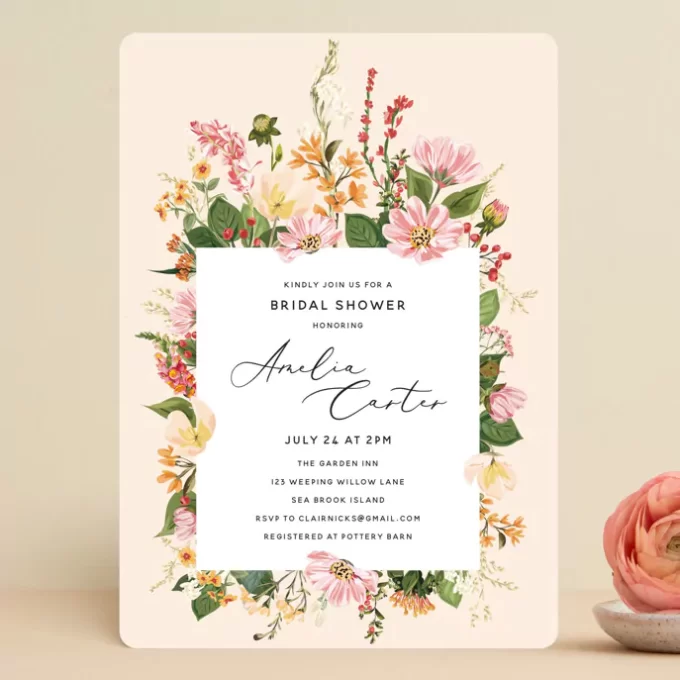 floral design by susan moyal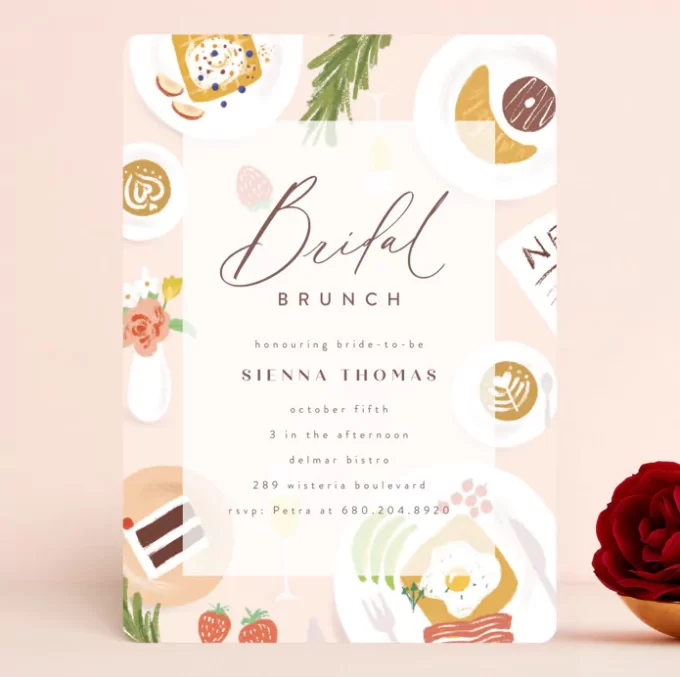 bridal shower invitations by chocomocacino
2. Decide on a menu.
At a wedding shower, food is served. If yours takes place during traditional lunch hours, you'll serve a luncheon with beverages, plus dessert and coffee.
• Bridal Shower Brunch: Planning a bridal shower brunch? Decide on a classic brunch menu! Pancakes, french toast, eggs, sandwiches, and more (with mimosas!)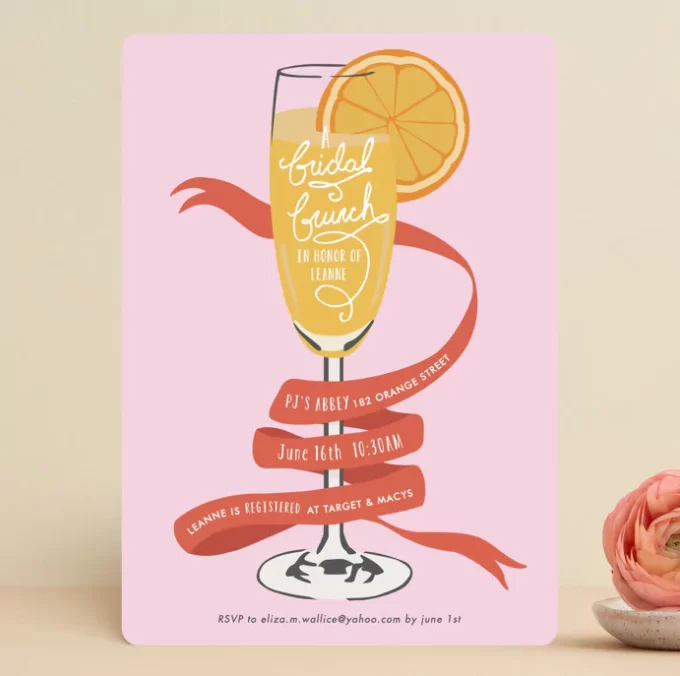 brunch bridal shower invites by shiny penny studio
• Couples' Shower: If you are planning a couples shower, make sure the space is large enough to hold that number of guests (a couple's shower is designed for all to participate) and offer it in the evening during dinnertime. Serve dinner, dessert, drinks, and coffee. You can, alternatively, hold a couples' shower during the lunch hours if you prefer.
3. Plan a timeline.
For the party, decide how the flow will go. Here's a sample timeline of the events for the bridal shower at a restaurant.
Bridal Shower at a Restaurant Timeline: 12pm Start Time
12-3pm

12:00 pm: Guests Arrive + Mingle
12:15 pm: Drinks served with appetizers, toast to the couple by host
12:30 pm: Guests play games at their seats, and prizes awarded
1:00 pm: Lunch is served
1:45 pm: Cake is cut and served with coffee
2:00 pm: The bride or couple opens presents as guests enjoy their dessert
2:45 pm: Guests are given party favors to take home
3:00 pm: Final toast and goodbyes
4. Games
Games are a classic touch to any bridal shower, whether you host it at home, at a banquet hall, in a garden venue, or in a restaurant. Paper bridal shower games — like these — are best suited for a wedding shower at a restaurant because guests can work on them at their seats. In addition, there's not a lot of extra room to work on a project, so paper games work just fine!
Plus, they're not too time-intensive, so you can whip through them before lunch is served. :)
Offer a printable pack of games like these and make sure you have plenty of pencils for your guests to use.
Also loving this game pack from here:
► You can find more here. Some of the best games to play are "what's on my phone", "he said / she said", "would she rather", and "gift bingo" which is fun to play as the bride opens presents. When someone gets a Bingo, they win a prize! Get cards here to play.
via here
Bridal Shower Pencils
I love these bridal shower mini pencils: they're small yet effective, festive, and have an eraser! Get them here.
shop here
Game Prizes
Then, be sure to award prizes to the winners of the games.
► Here are some bridal shower prizes you'll love that are cost-effective (yet huge party pleasers!)
5. Decorations
Since you're hosting the party at a restaurant, you won't need to bring too many bridal shower decorations with you. Most times, tableware and linens are provided by the staff, along with glassware. But there are some nice extras you can bring to make the space extra-special for the bride-to-be.
Here are some fun decorations to bring along to the restaurant to make it memorable.
Personalize napkins for the bride-to-be's shower and bring them to the restaurant. You can get these personalized at ForYourParty.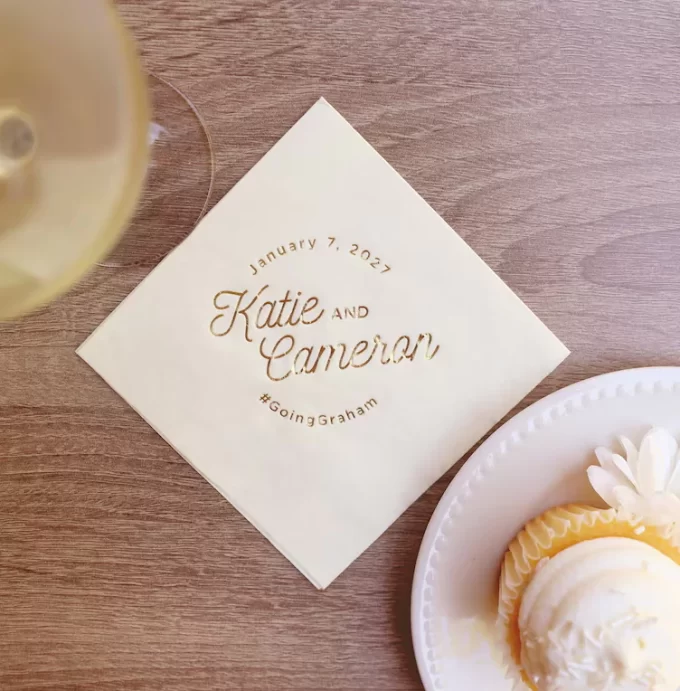 by foryourparty
Make your guests feel welcomed — and in the right place! — with a welcome sign. You can personalize yours here. Place it on a tabletop or floor easel near the entryway of the party space.
by blissful melody design store
• Sash for the Bride
Make your guest of honor feel special with a custom sash she can wear. This one is adorable! It's handmade by WhiteRabbitsDesign with her future last name.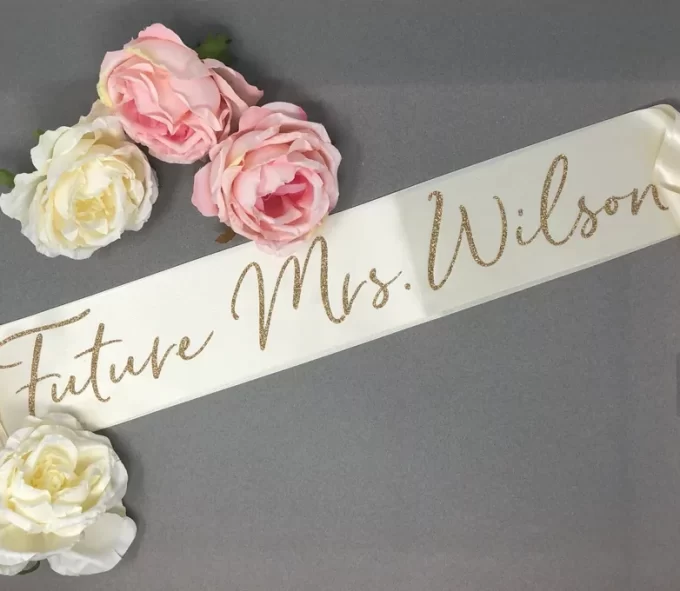 by white rabbits design
You'll want a cards / gifts sign on a table where guests can place theirs.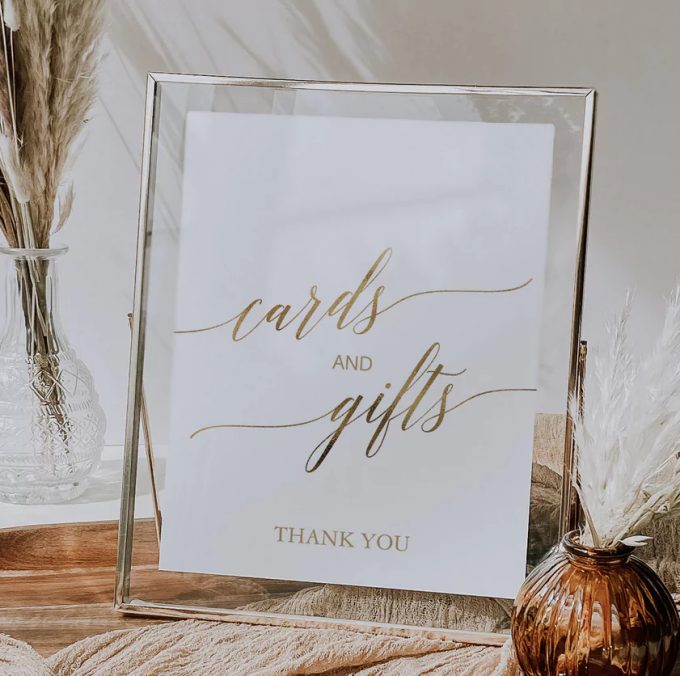 by fresh & yummy paperie
• Card Box
Typically, most bridal showers have a card box to keep them safe before opening. You can get a simple one, like this, which can be reused for the wedding day. You can add photos to make it extra special. By KellyMarieDesign.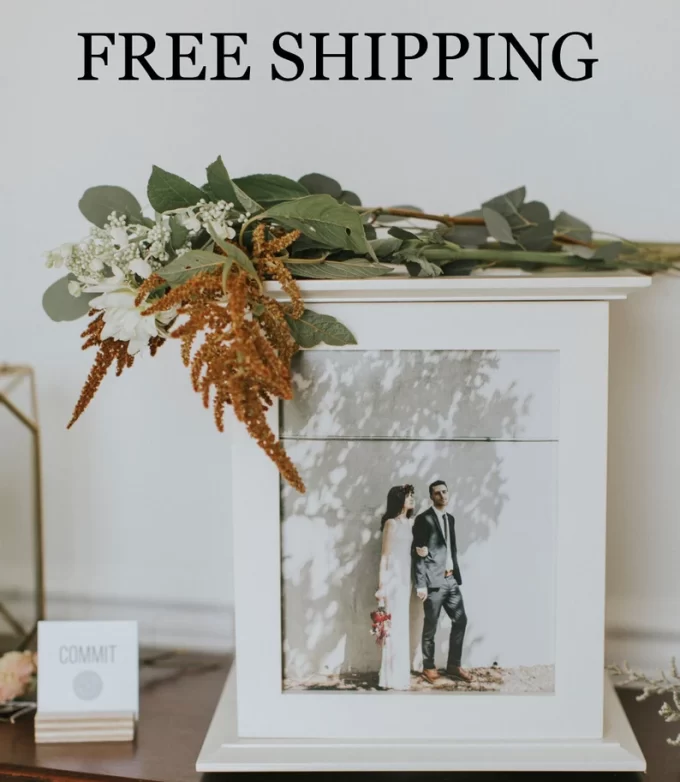 by kelly marie design
6. Bridal Shower Favors
And last but not least, be sure to send your guests home with memorable party favors. For tips on what to give, read: 50 Most Creative Bridal Shower Favors. There is plenty of inspiration to love!
I hope this blog post helps you plan a bridal shower at a restaurant! As you can see, it's really no different than hosting the celebration elsewhere. In many ways, having a bridal shower at a restaurant gives you the freedom to sit back and enjoy while the staff takes care of preparing the meal, serving it, and keeping your guests satisfied with beverages and desserts. You get to relax and enjoy the festivities!
In addition, while you're planning the party and it's still a labor of love, most of the "extras" like tableware are taken care of, which keeps one less thing on your plate.
ON TO YOU: Are you hosting a shower? Did this help you decide on a restaurant where you'll host the bridal shower? Tell me in the comment box below!
Happy Planning!
xo
Emma