Planning a disco bachelorette party? Here are the best themed ideas to make it happen! Read on for the ultimate guide to planning a disco themed bachelorette party and subscribe for the latest to your inbox.
The bachelorette party is the best time for the bride-to-be to relax and have some fun with her besties before tying the knot. For a truly unique and memorable party theme, consider a disco-inspired bash. In this blog post, we'll show you how to make a disco inferno bachelorette party come to life and have the bride and her BFFs dancing the night away. You'll find out how to plan with disco bachelorette party invitations, how to make a groovy 70s playlist, activities, disco bachelorette party decorations, and party favors for your guests.
Let's get started!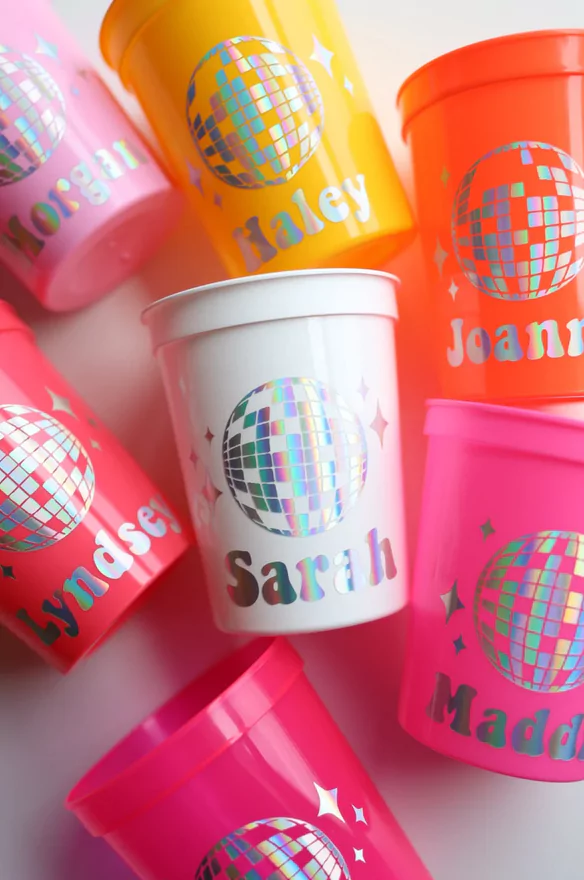 disco bachelorette party cups by sassy and co designs
Disco Inferno: How to Plan the Ultimate Bachelorette Party
From choosing a disco theme to when to hold the party, what tunes to play and how to keep guests entertained with activities, there's a lot that goes into planning the perfect disco bachelorette party. You can do it no matter what budget or skill level, time constraint, or knowledge of disco thanks to this party planning guide.
Let's start with what a disco bachelorette party is so you know exactly how to get started.
JUMP TO TOPIC: Venue | Invites | Decor | Party Outfits | Drinks | Playlist | Activities
What is a Disco Bachelorette Party?
For starters, what is a disco bachelorette bash? Disco refers to dancing and is a style of dance from the 1970s era.
The style of music has a lot of soul influence and melody, with a fun bass-powered beat. You've likely heard songs that are popular from the era: this song, this one, and this classic are all popular hits from the disco era.
In its most simplest form, any disco-themed bash is going to be centered on music and dancing. If that sounds good to the bride, move on to the next steps: when to have the party and where.
Selecting the Theme and Timing
When to Throw a Disco Bachelorette Party
Venue: The best time to host a bachelorette party with a disco theme is anytime: this theme truly works whether it is spring, summer, winter, or fall.
As a rule of thumb, the bachelorette party typically takes place three months to two weeks before the wedding, so pick a date anywhere in that window for the party to occur.
With that being said, you'll find this theme occurring most often in the spring and summer months, leading up to the most popular time of year for weddings: peak summer and fall months.
Once you have the date nailed down, let's choose a location.
Here are some of the most memorable places to throw a disco-themed bachelorette party.
• Dance Hall
• Nightclub
• Popular Nightspot
• Skating Rink
• Host the party at home
• Event Space / Banquet Hall
The proper venue is essential for a disco bachelorette party: you need plenty of room for dancing, loud music, and food/drinks. It can be lowkey: plan the party at home, in the backyard, deck out your basement for a party zone, or throw it in your living room. Just move over furniture and make sure there's plenty of room to dance.
If you plan to go all out, rent out a small event space, like a banquet hall, which already has a dance floor built in (bonus!) You can even hire a DJ to spin tunes so you and your bachelorettes can disco the night away.
If you have local hotspots in a popular venue — like Miami, Chicago, Palm Springs, Nashville, etc. — you can get your dancing on at a popular nightclub in town. Just be sure to book the space as VIPs so you can all get in, have an awesome table as a "home spot" to throw your purses and drinks, and plenty of room on the dance floor to go all out.
Now that you have the date and the venue, it's time to make a guest list and send invites. Consult with the bride on whom she'd like to invite to the party. Typically, the bachelorette party guest list will include the bride, her mom, future MIL, maid of honor, bridesmaids, siblings, and close family members, along with friends. It doesn't have to be a gigantic list — although it can, if that's her style. Discuss the date, venue, theme, and ideas you have with the bride and obtain a guest list from her.
Then, it's time to pick out invitations and mail them to your guests.
Make sure the bride has one of these amazing disco hats! By ShopStagandHen.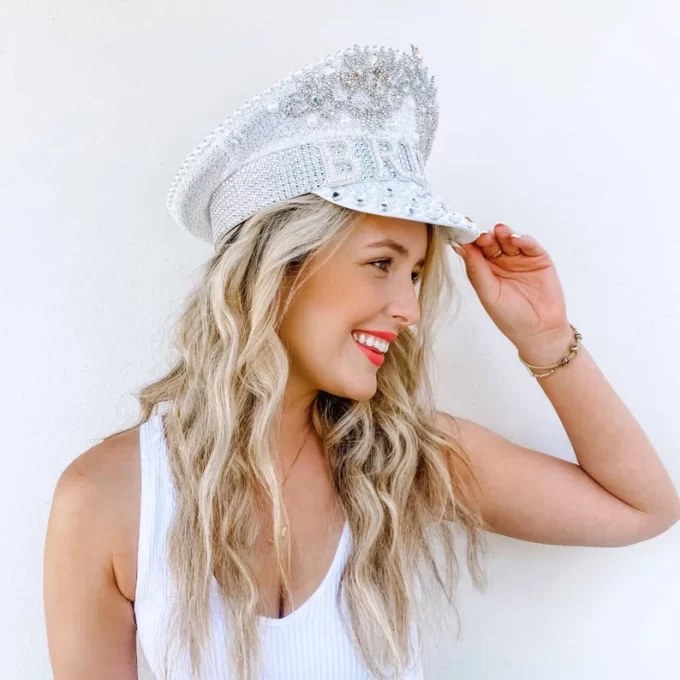 disco bride hat by shopstagandhen
Sending Disco Bachelorette Party Invitations
Invites: Send the party invites approximately 4 to 6 weeks before the bachelorette party. This is important so you know how many guests will attend the disco-fueled bash, how much food to order, how many drinks you'll need, and what activities you'll plan to do.
Your party can be centered around disco balls, lights, and dancing… or opt for a groovy flowery theme, which is very 70s and perfectly fitting here.
Choose a tagline you like and run with it: "Bride's Last Disco", "Groovy & Boozy", "Bach to the 70s", "Dancing Queens / Dancing Bride", or "Bach Disco Fever" are just a few popular suggestions.
Here are some ideas for bachelorette invitations with a disco theme.
Last Disco
I love this colorful retro design by Nicole Blaser Design: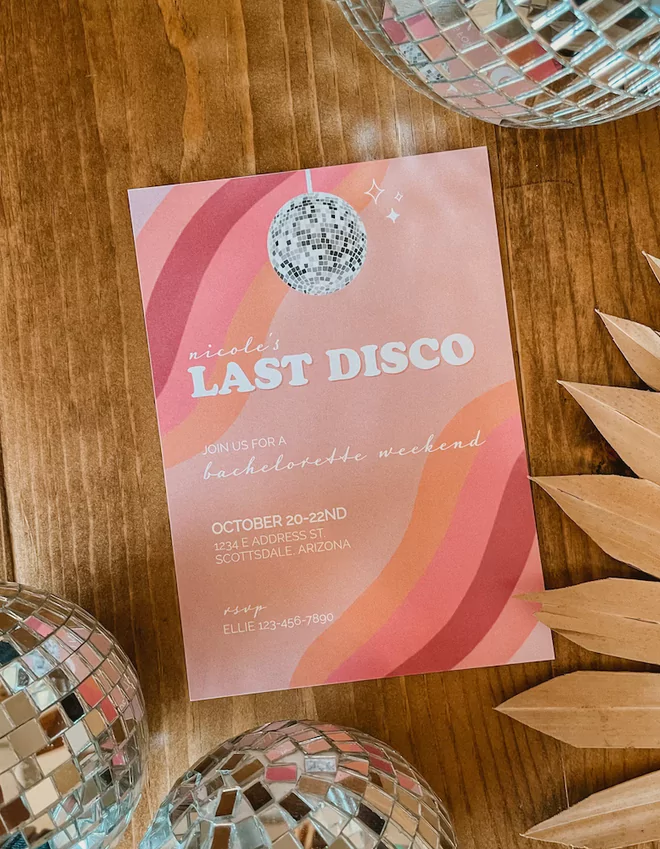 disco invite by nicole blaser design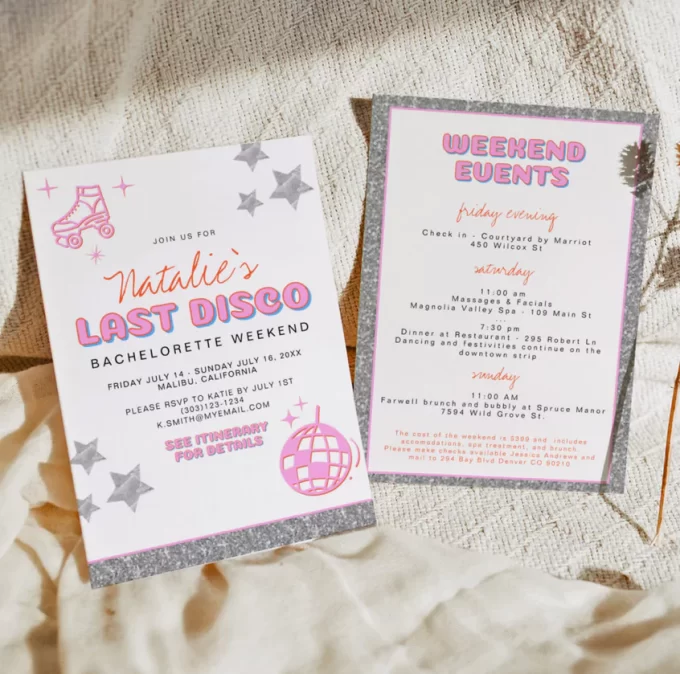 last disco bachelorette invitations by unmeasuredevent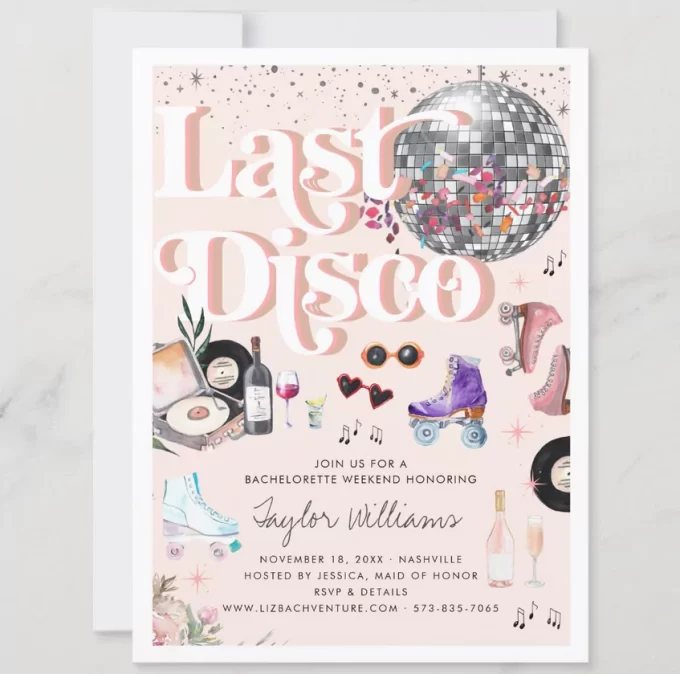 bride's last disco invites by ihytvdesigns
This sparkly-inspired disco ball invitation is one of the most popular styles (by UnmeasuredEvent):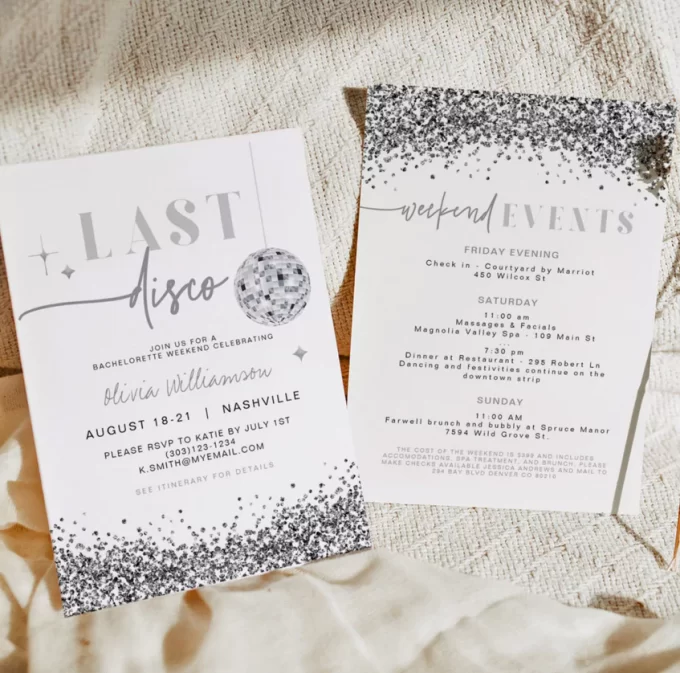 by unmeasured event
And if you're into a Mamma Mia theme, go with "Honey Honey" invites by Etta Paperie: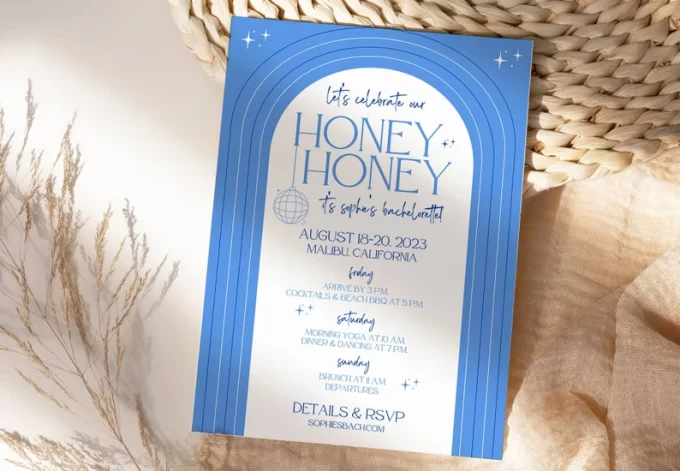 honey honey invites by etta paperie
► For more styles, check out this HUGE collection. There's virtually every color combination and style you can imagine.
Now that you're set with the invitations, let's talk about what you'll wear and how you'll decorate the space. Here's the cutest disco themed bachelorette party outfits and decorations to prep the venue for the party.
Creating the Disco Look
Preparing the Venue
No matter where you're hosting the party, you'll want to deck it out from the modern-day to the disco era. Here are some creative ways to decorate for a disco themed bachelorette party with all the bells and whistles.
Display these fun disco lights by SimplyMrs!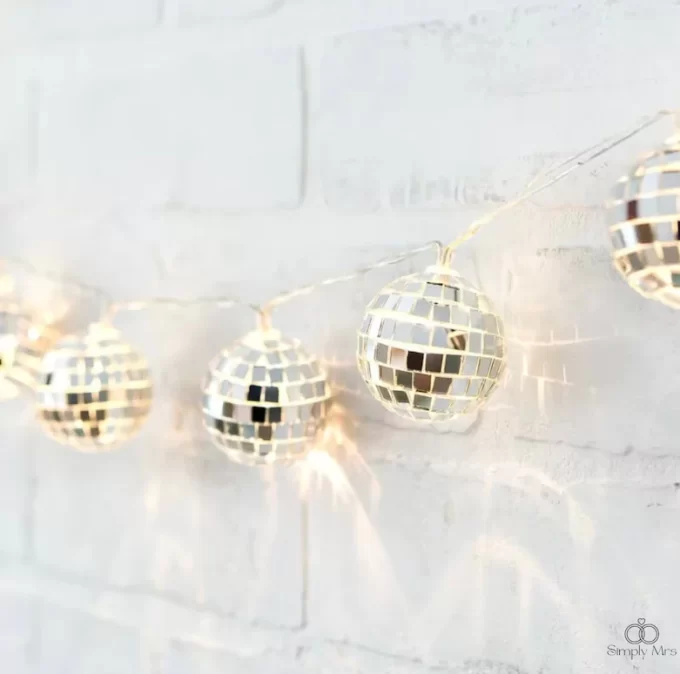 disco lights by simplymrs
Add Disco-Themed Decorations
Decor: Set the tone with funky decor. Here are some ways to do it including where to buy disco themed bachelorette party decorations.
• Disco Ball Curtain
Need to dress up a wall or a table? Add this disco ball foil curtain anywhere you see fit! By xoFetti.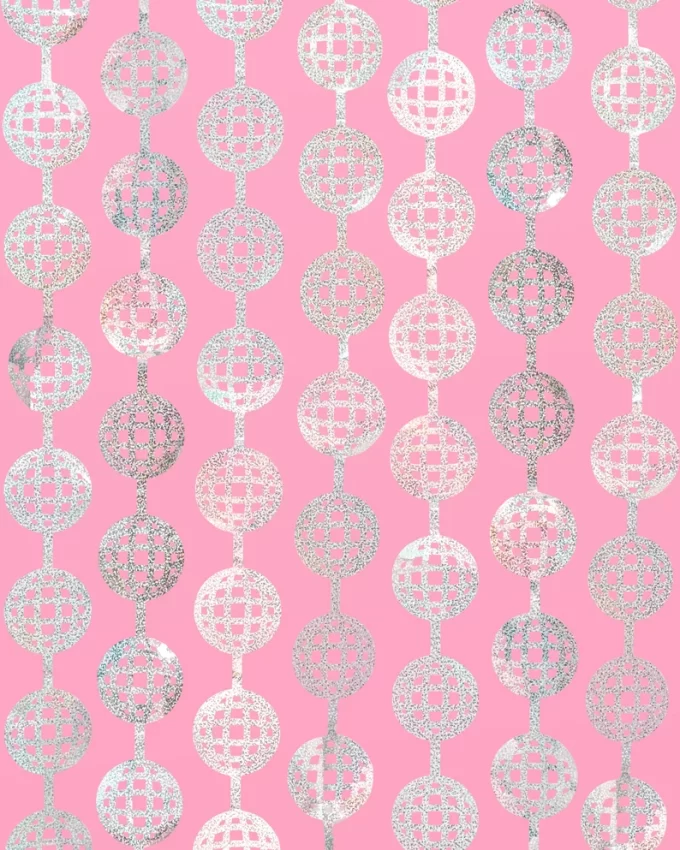 by xofetti
• Disco Balloons
Amp up the space with these amazing disco ball balloons! Get them at AniBucco.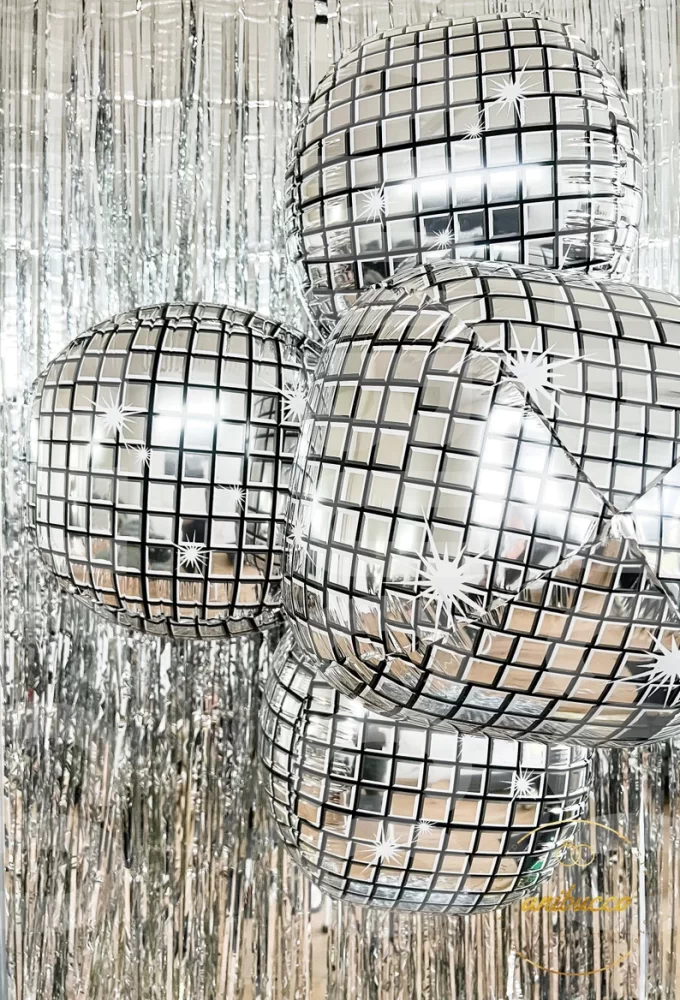 disco ball balloons by anibucco
• Disco Ball Napkins
Serving food and drinks? Make sure you add these napkins to your party supply list! By EnFete.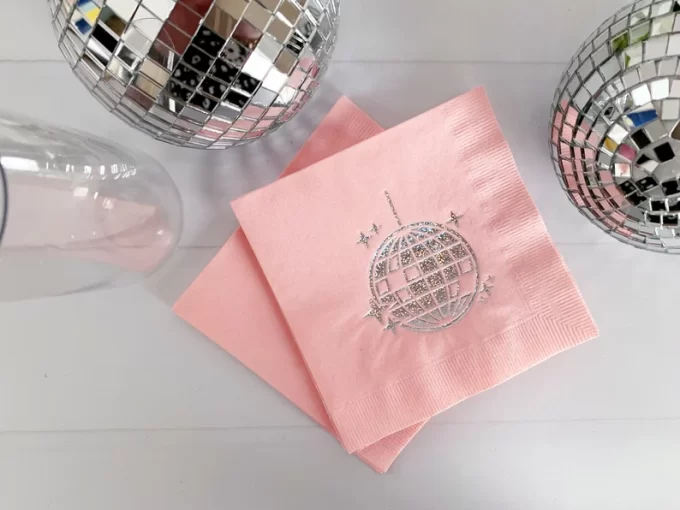 disco ball napkins by enfete
• Disco Table Runner
Add this table runner to decorate your space! It's available at EnFete.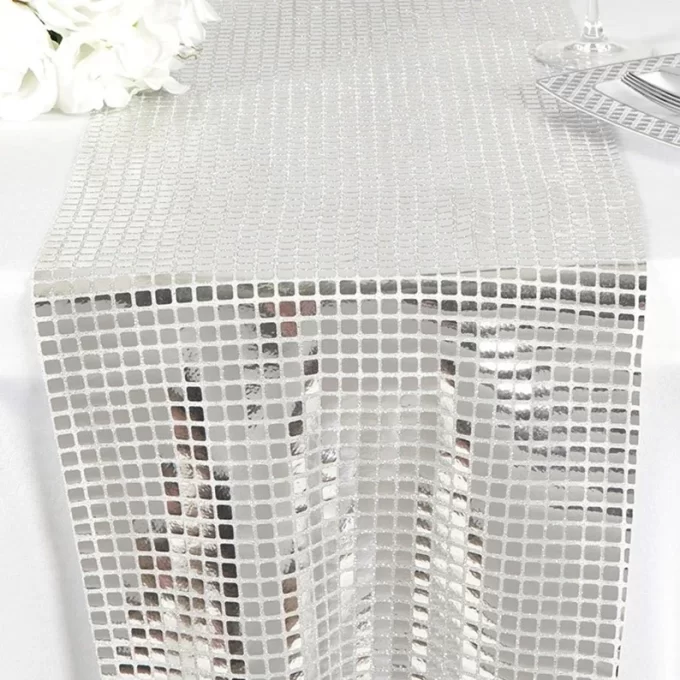 table runner by enfete
• Serve Food on these Disco Plates
These are the perfect touch for your party! Get them at xoFetti.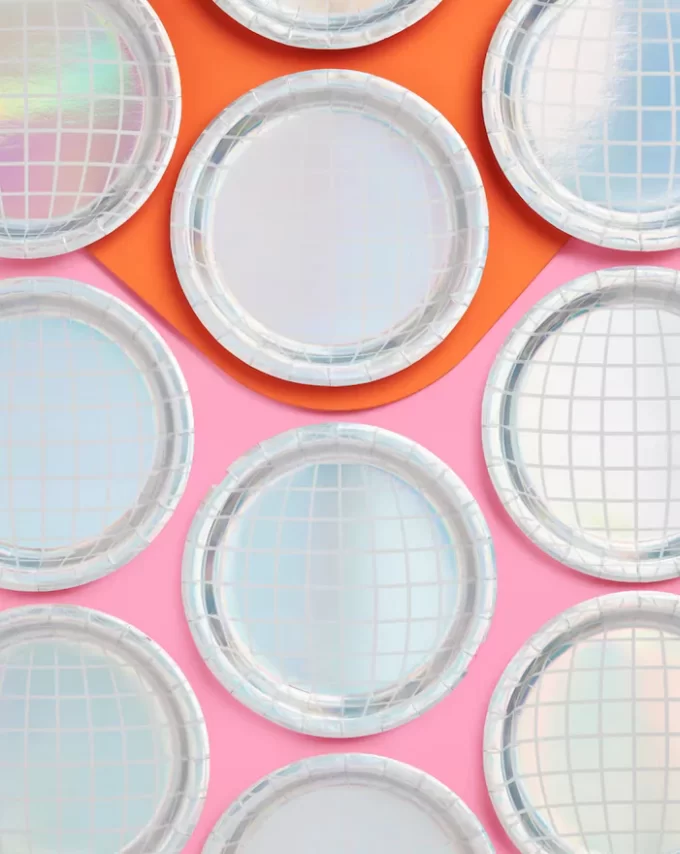 disco plates by xofetti
• Disco Ball Letter
Make her initial sparkle and shine with this disco ball letter, handmade with love by RadandRare:
by radandrare
• Disco Ball Cake Topper
Give her a special bachelorette party cake and add this disco cake topper to it! By xoFetti.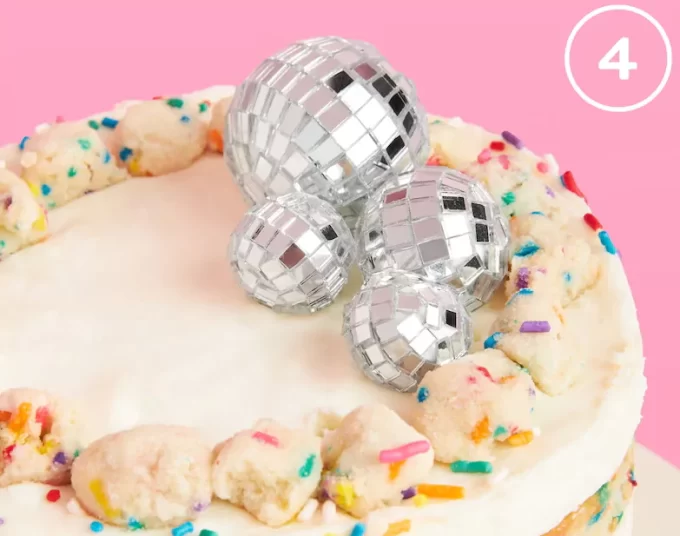 by xofetti
• She Said Alright Alright Alright
Fun! Love this balloon set from Glamoncha:
shop here
• Last Disco Banner
Hang up this banner to deck out your space! Get it here. It's so shimmery!
shop here
• Personalized Balloons and Arch
Make your decorations pop with this Last Disco setup by CherCanDoIt. Good news: it's easy to assemble!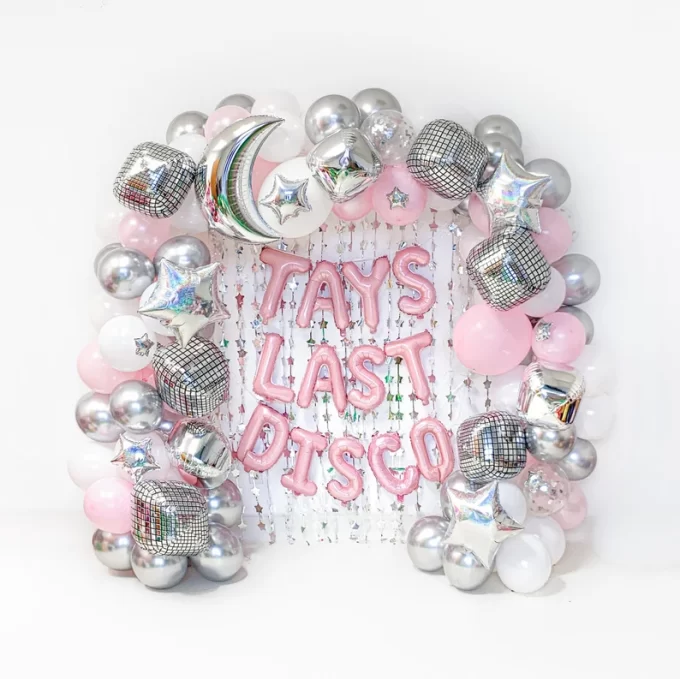 disco bachelorette party decorations by chercandoit
Love another color combination? There are more options in this shop! Here are two additional examples: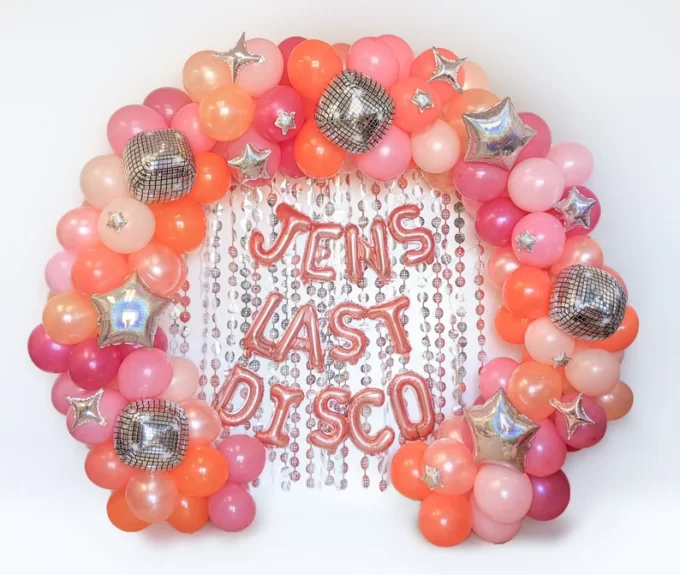 balloon display by chercandoit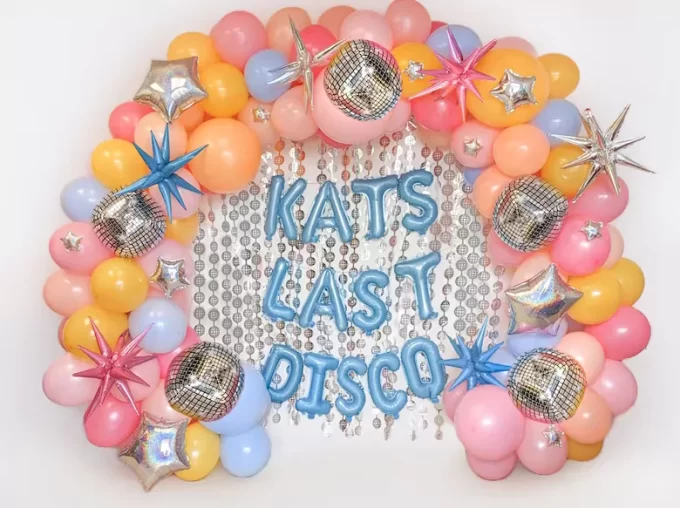 by chercandoit
Or try this balloon kit by Balterever.
shop here
• Fun Signage
Display some groovy signage, like this example with matching pieces: it lets guests know the entry fee is "one shot" and would be fun to place at the entryway of your party.
• Groovy Balloons
Opt for this unique and fun dazed style with a retro look and feel by CherCanDoIt.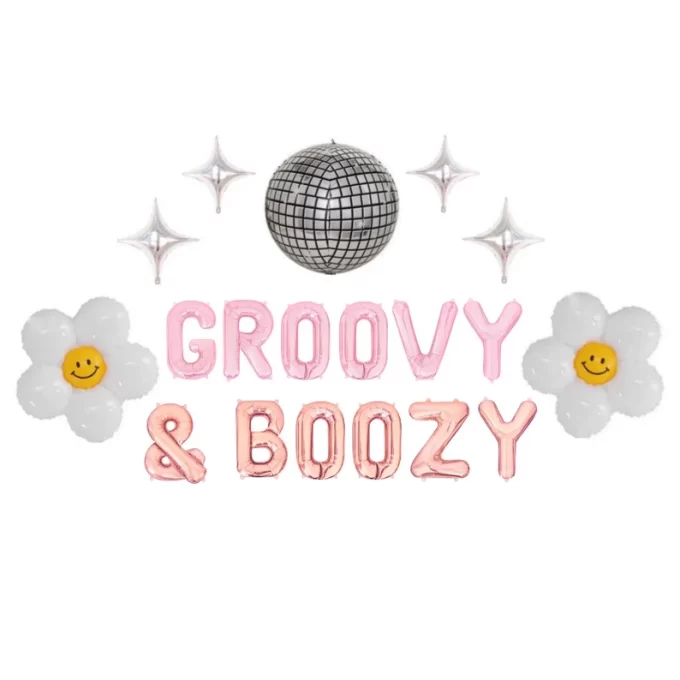 dazed balloons by chercandoit
• Last Disco Balloons
Set up streamers for a fun backdrop with this party kit from here.
shop here
Give Groovy Disco Party Favors
Favors: Give your party-goers fun favors to take home. Here are a few disco themed party favors to consider.
Party Tote Bags: Get these personalized holographic bags and fill them up with fun take-home party favors. These bags are by OnlyFavesCo.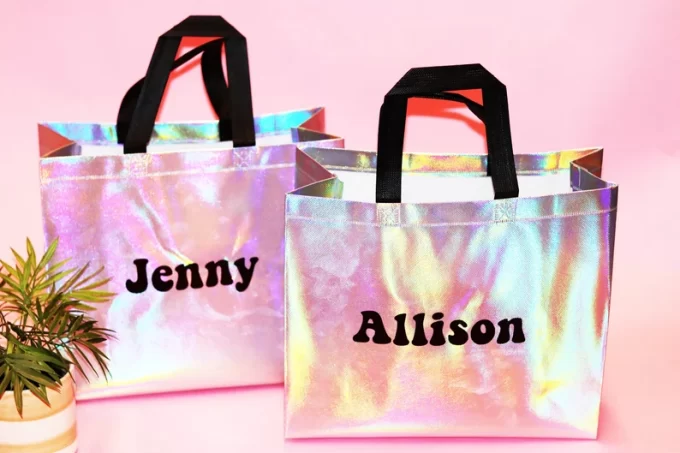 by onlyfavesco
Also lovin' these tote bags with personalized names and a disco ball in the corner. $5.50 each, by PartyToThePeopleCo.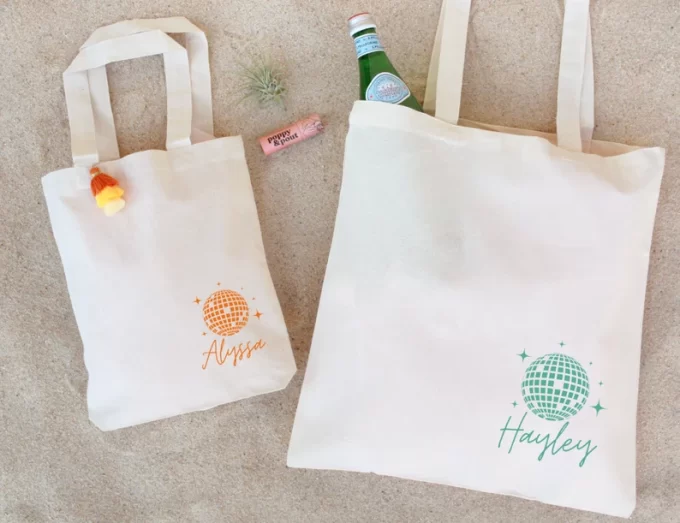 tote bags by party to the people co.
Stickers: These groovy stickers make awesomely affordable stickers that will also add to your decor on the table.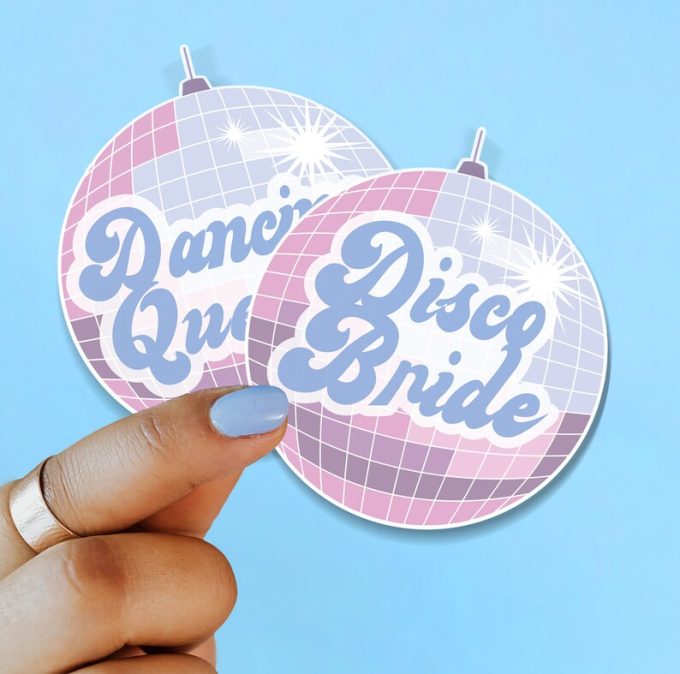 disco stickers by beeverthine
Temporary Tattoos: Add these temporary tattoos to your disco-themed bachelorette bash! Available at xoFetti.
shop here
Funky Sunglasses: Get groovy with these heart-shaped sunglasses in with fun colorful lenses. Buy here.
shop here
Scrunchies: Put your hair back and shake your groove thing with these hair scrunchies by BachingBride.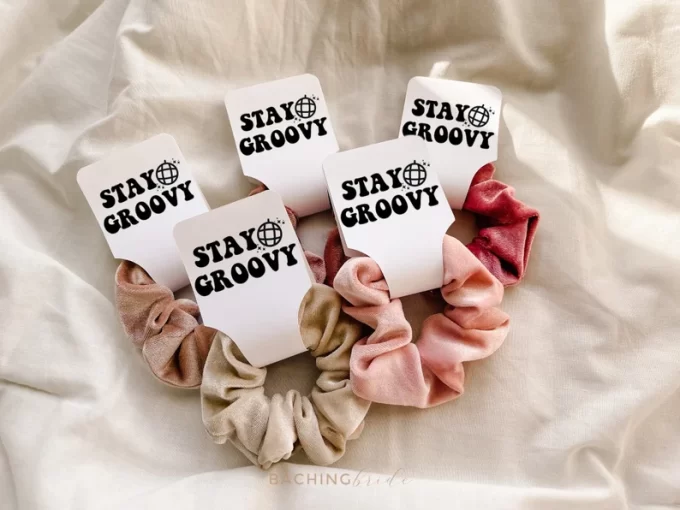 disco scrunchies by bachingbride
Party Cups: Give these personalized stadium cups to your bachelorettes so they can sip on them all night! By SassyandCoDesigns.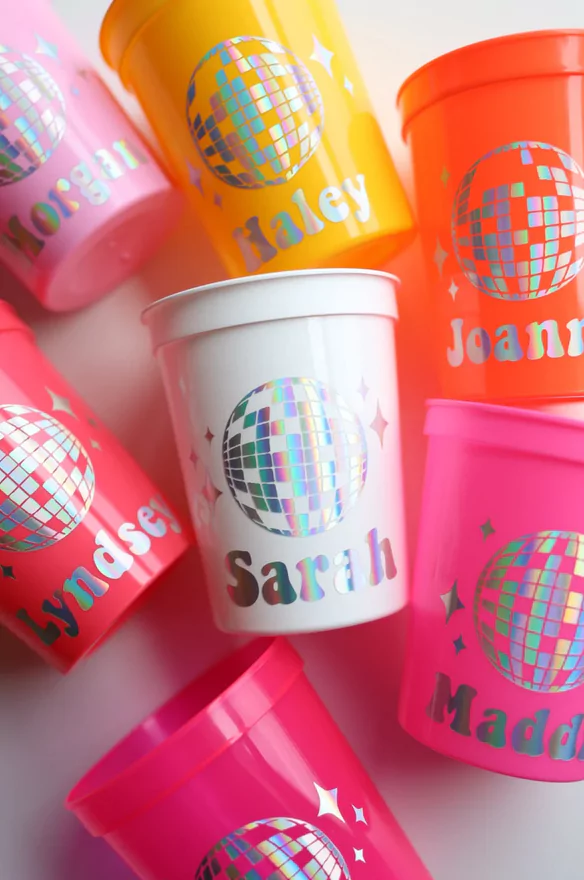 cups by sassy and co designs
Also loving these Dancing Queen party cups by the same shop: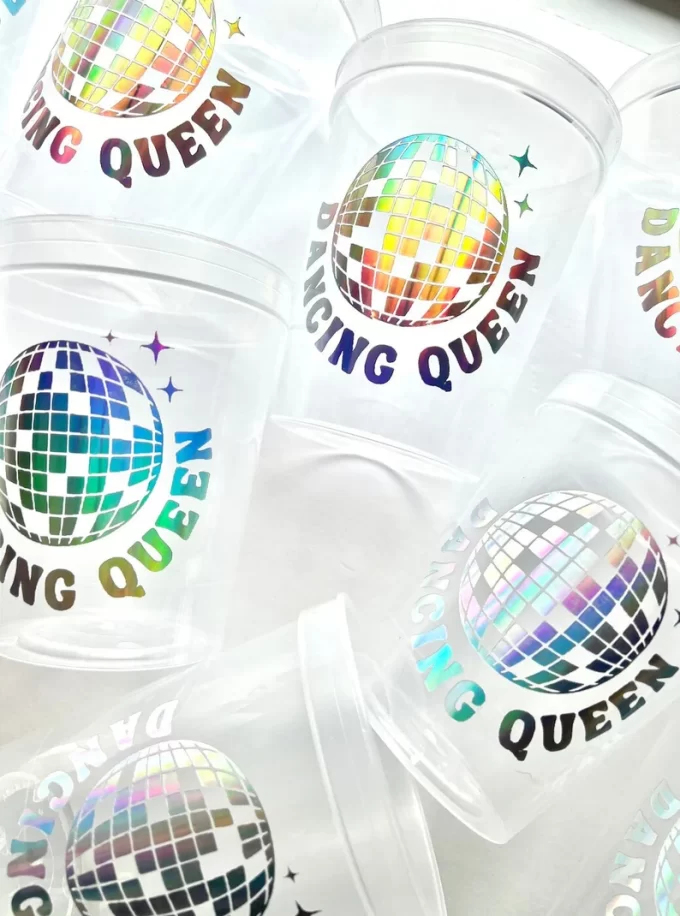 by sassy and co designs
Or these "Honey Honey" inspired ones! Love this color combination, too.
by sassy and co
Can Coolers: Keep drinks cold and lookin' groovy all night with these custom can coolers by TheMakersNestCo: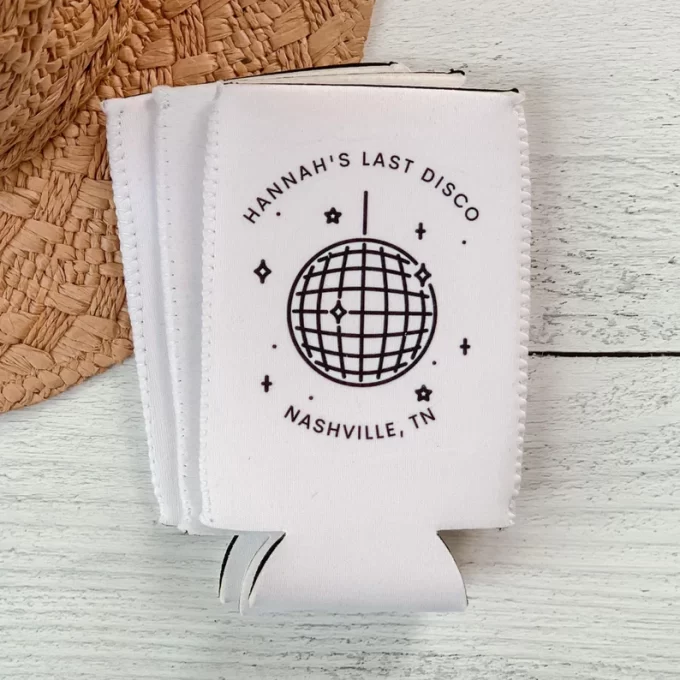 can coolers by the maker's nest co.
Or this style by TarynsCreationsStore: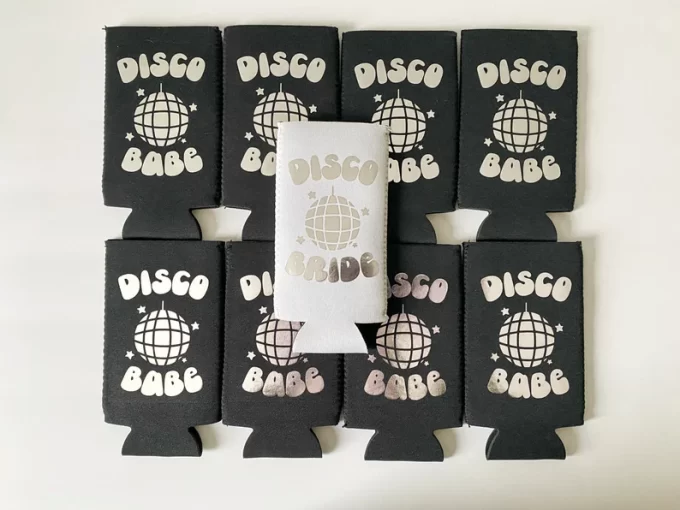 disco can cooler favors by tarynscreationsstore
Hair Ties Cute and perfect for putting on your wrist! Love the color combinations here. By ShelbyLenayDesigns.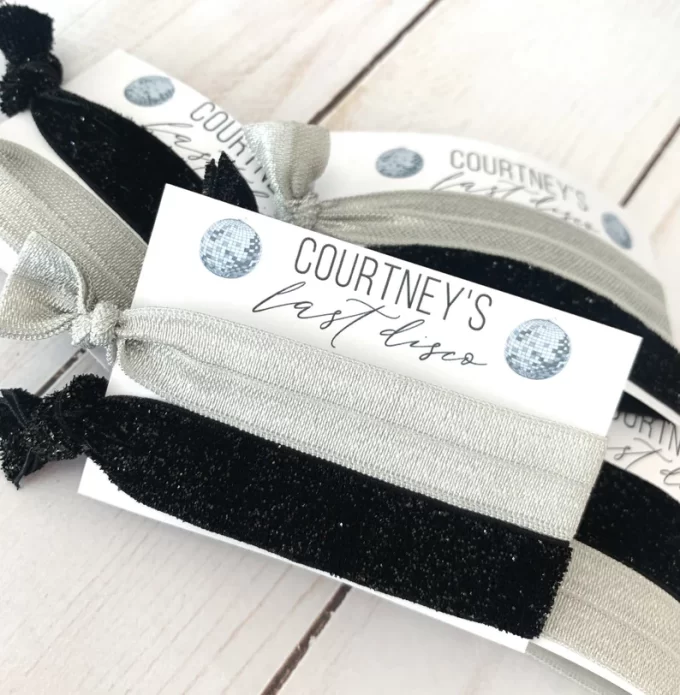 disco bachelorette hair tie favors by shelby lenay designs
Stayin' Alive Hangover Kits Put together your own hangover kits for guests to take home! Add these items and place them into these adorable disco-themed bachelorette party bags by OnClouDesignLA: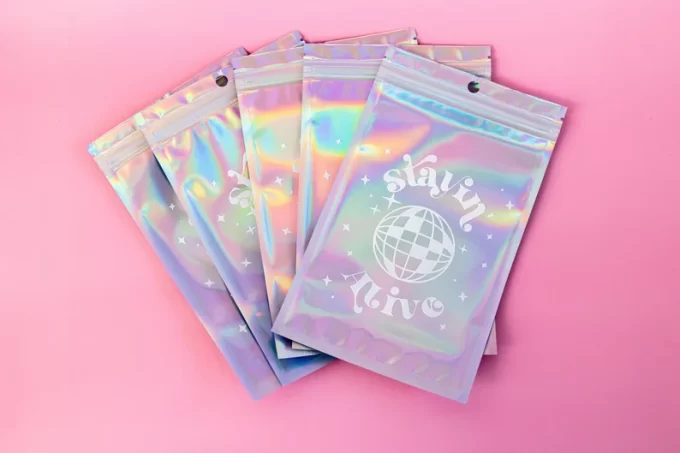 hangover kit bags by oncloudesignla
Dress the Part: Outfit Inspiration for the Bride-to-Be and Her Crew
Outfits: What will you wear? You can dress in vintage 70's clothes: think fun jumpsuits like these and sparkly sequined outfits.
Go all out in a pair of sparkly gold sequined bell bottoms, a la this:
via here
Go fringey and boho with this fringe-vest outfit and floral-print bellbottoms with jewelry! Get the full getup here.
via here
For a full-on disco look, opt for this sparkly jumpsuit from here.
buy here
► For more outfit inspo, don't miss this entire page. There's so many styles to love!
If you prefer to go more casual, put on your highest-heeled disco boots (these are fun!) and team up in matching t-shirts, like theses disco themed bachelorette party tees and tank tops.
These go-go boots are essential! ;)
buy here
Groovy T-Shirts
These fun tees will hit the groovy spot thanks to RoseGoldRebel! You can get them here.
groovy bachelorette party t-shirts by rose gold rebel
Disco Queens Tees
By BeEverthine.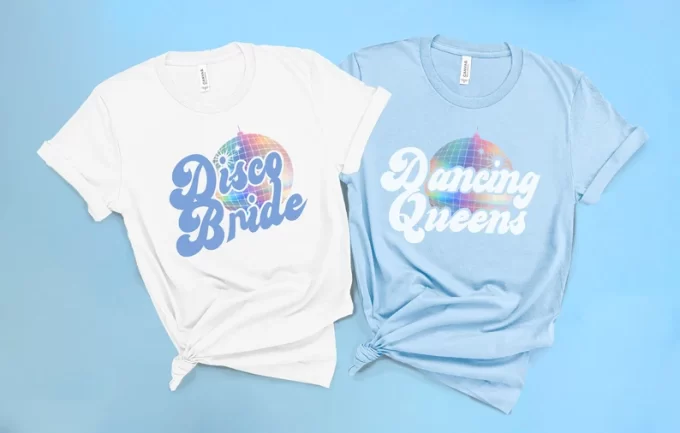 disco queens tees by beeverthine
This cute set is by Hubman Co. Available in many color combinations.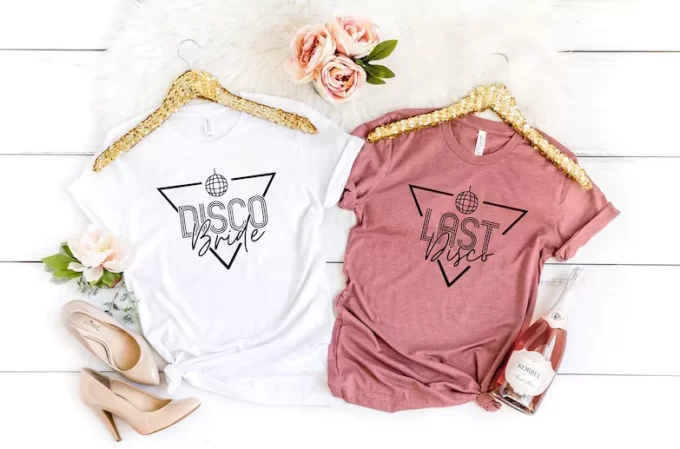 tees by hubman co.
By EventDazzle.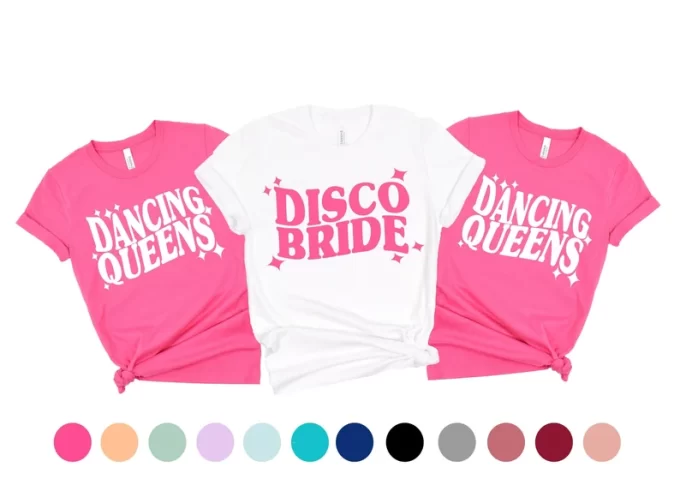 t-shirts by eventdazzle
Who says you have to wear tees? If you're heading to the beach during the bachelorette party weekend, opt for this disco-themed bachelorette swimsuit set! By RoseGoldRebel.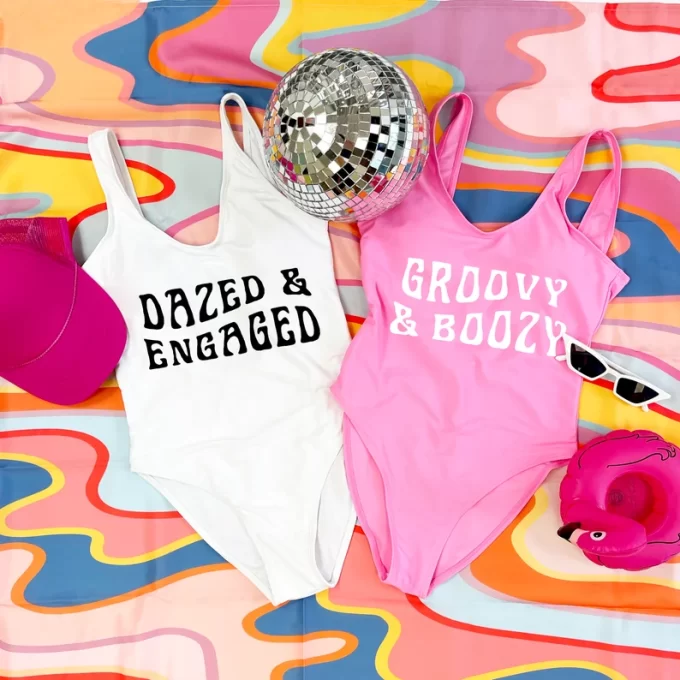 swimsuits by rosegoldrebel
LOVE these cute tanks! By BeEverthine.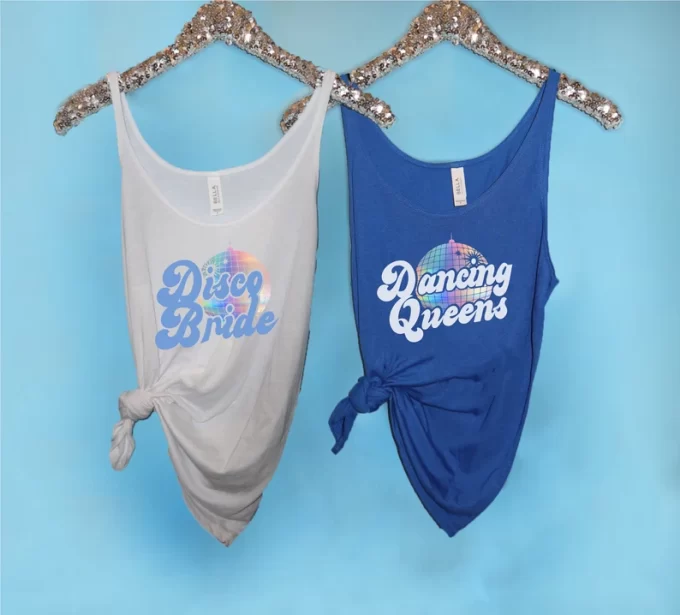 disco bachelorette party tank tops by beeverthine
Groovy
A cute set of groovy bride and bachelorettes tees by BeEverthine.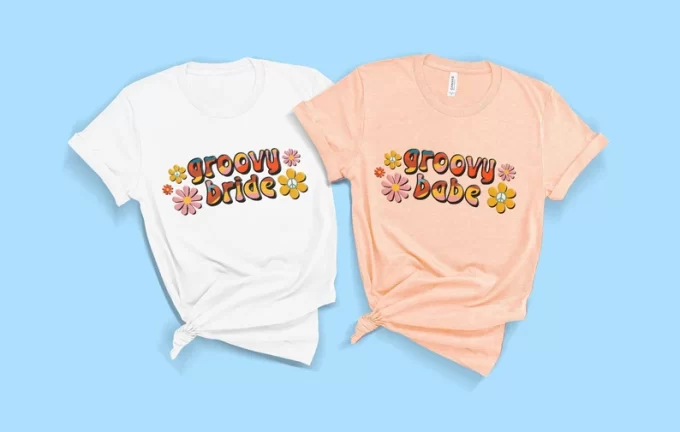 tees by beeverthine
Disco Queen
This cute set of disco bachelorette attire is perfect for a combination Nash Bash or last rodeo bachelorette! By RoseGoldRebel.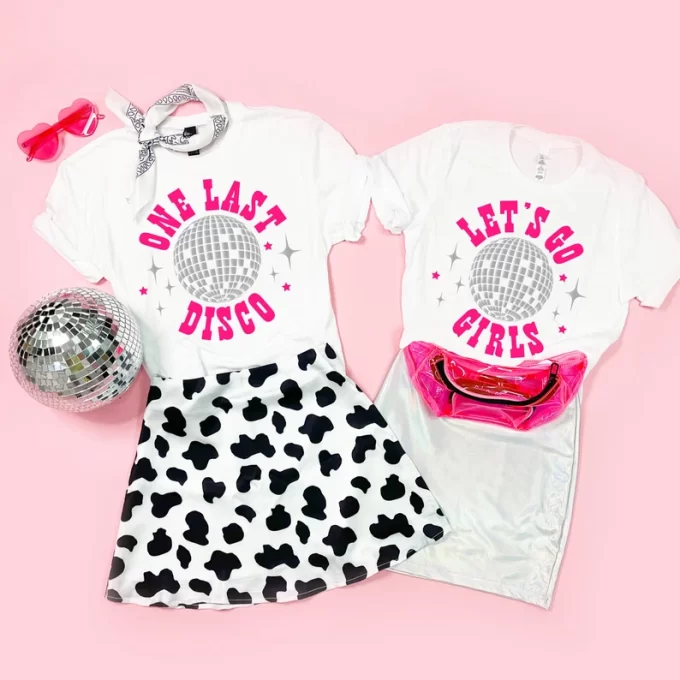 by rosegoldrebel
Bride Vibes, Disco Vibes
And last but not least, this set of bride vibes and disco vibes tees for bachelorettes is perfect! By BeEverthine.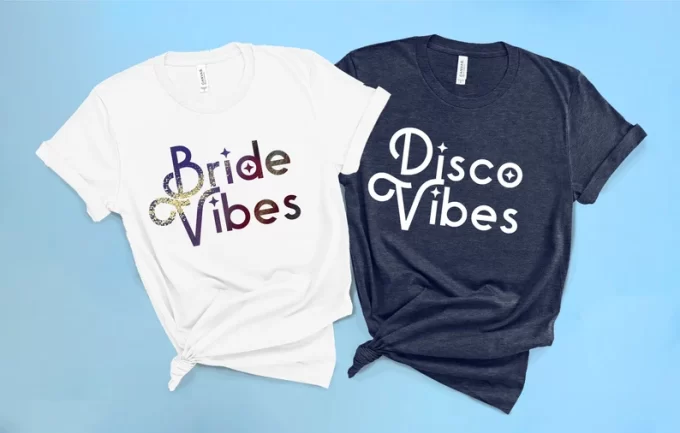 tees by beeverthine
Don't forget a special sash for the bride! This disco themed holographic sash is perfect for the bride-to-be. By GiftsyBox.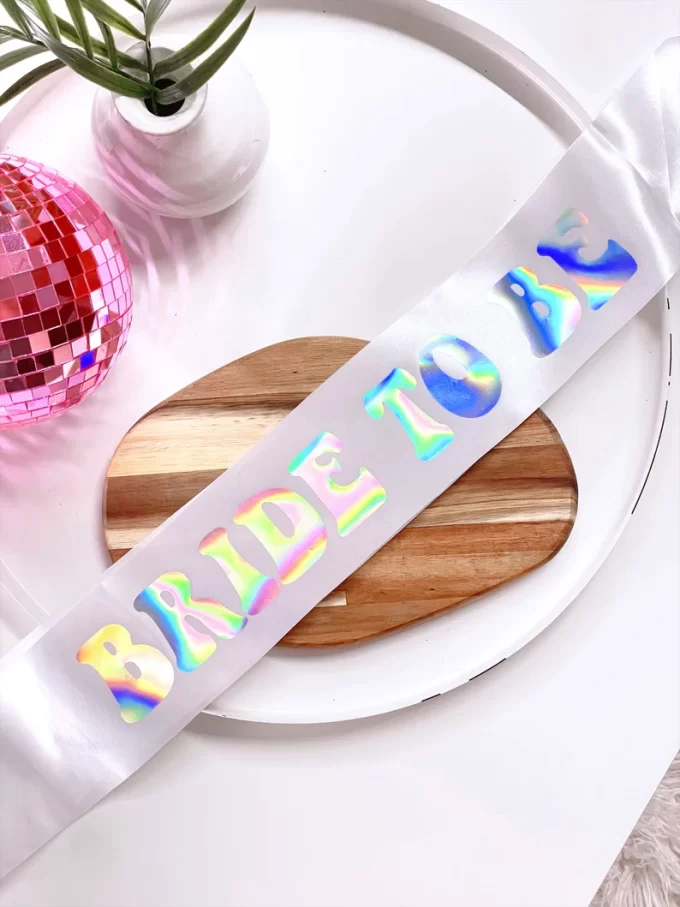 disco bride sash by giftsybox
Also lovin' this one by VonHartVinyl: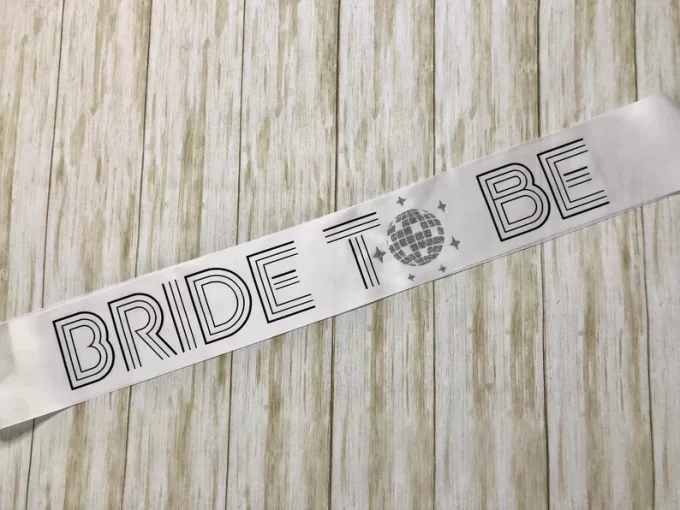 bride to be sash by von hart vinyl
Or add a fun veil! This party set is great for the bride's last disco on the town. It comes with disco earrings, a fun veil with a headband, and a sash. Get it here.
buy here
Make it a Night to Remember with Disco Ball Cocktails
Drinks: Serve up some punch and fun beverages in these disco-themed drink pouches. You can get them at here. By BeEverthine.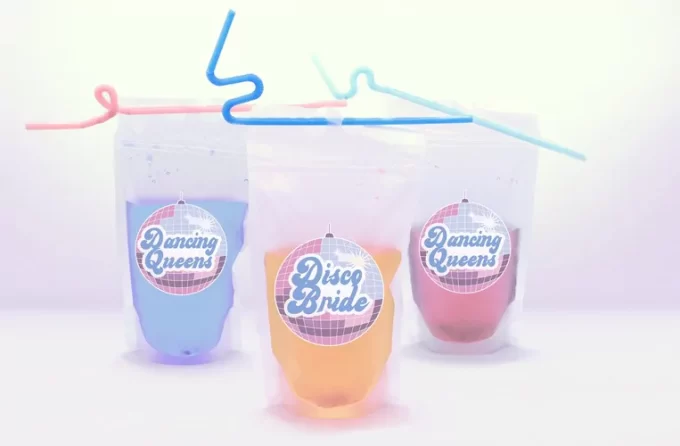 drink pouches by beeverthine
Add these disco ball stirrers to your drinks! From OnlyFavesCo.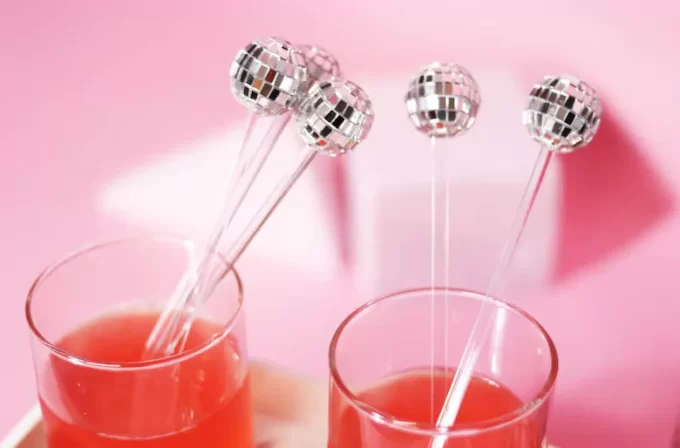 disco ball drink stirrers by onlyfavesco
Love swirly straws? Put a disco ball on it! These straws are available at xoFetti.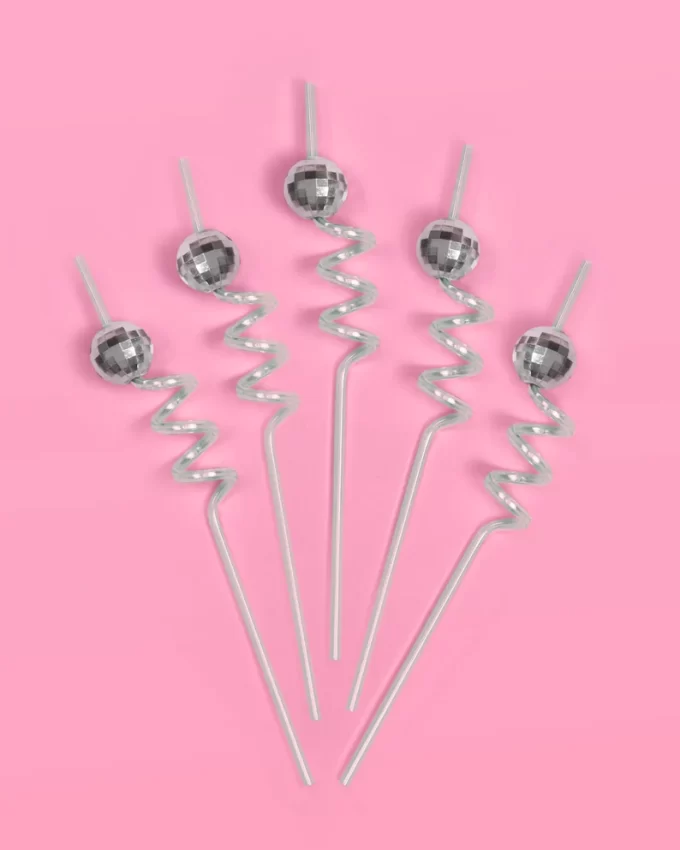 disco ball straws by xofetti
Serve up signature drinks in these fun disco ball cups! They make great take-home party favors, too. By LoveLinax.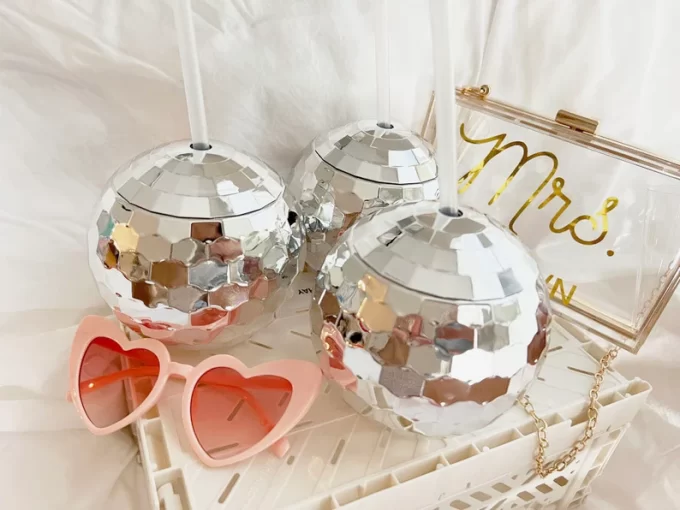 disco ball cups by lovelinax
Also available in hot pink!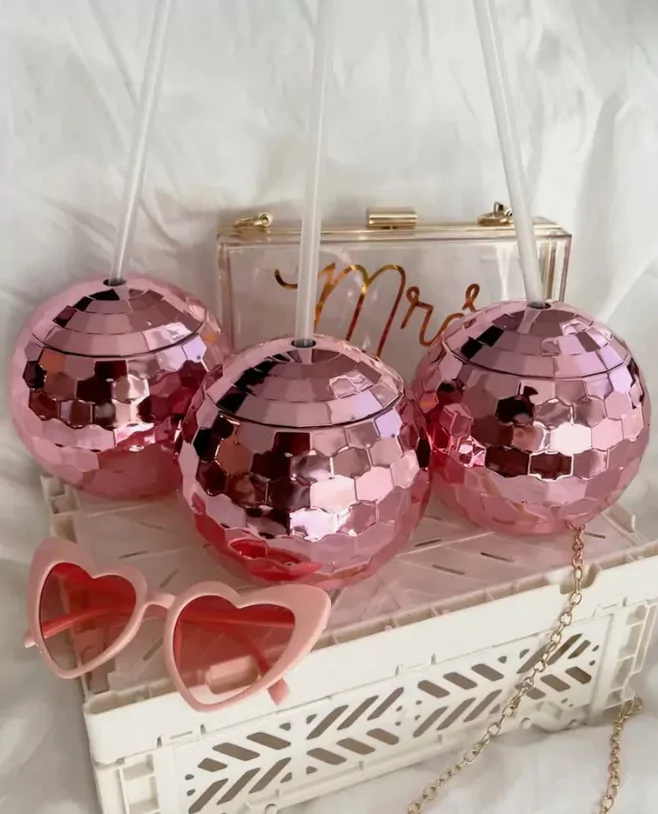 disco ball cups by lovelinax
Going a bit country? Add these western hats to the cups for a country / disco bachelorette party experience! By LoveLinax.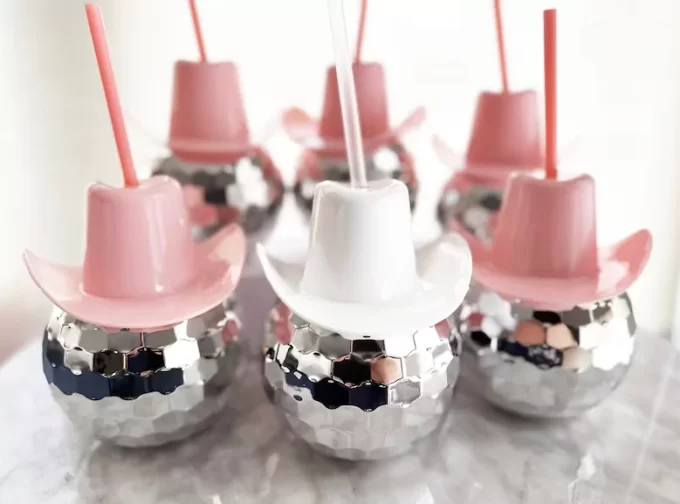 western hat disco cups by lovelinax
Get these Last Disco bachelorette party cups at xoFetti for a festive touch.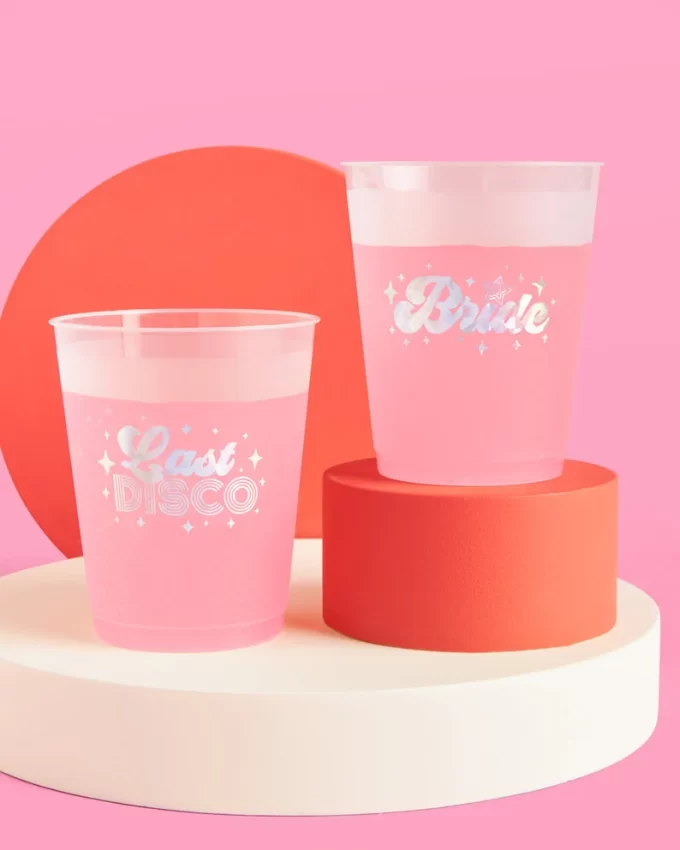 party cups by xofetti
And last but not least, put it on ice with this beverage tub in the shape of a groovy disco ball. So fun! By LusterandLaceDesigns.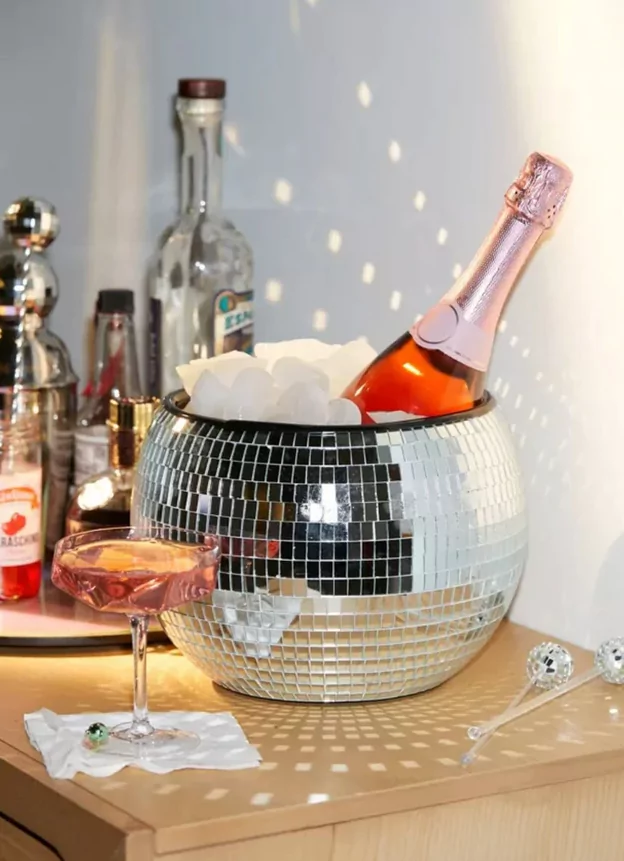 disco ball drink chiller by luster and lace designs
Choosing the Groovy Tunes
Playlist: It's important to keep the energy high with an awesome soundtrack. Make your own playlist or, if you're able, hire a DJ for a big bash and have them spin all the best disco hits of the 70s.
• Browse this playlist to make yours and pick top hits from the 70s era.
Create a Disco-themed playlist
Make sure your playlist includes these top ten most popular disco songs:
• Stayin' Alive by Bee Gees
• Dancing Queen by ABBA
• Y.M.C.A. by Village People
• Let's Groove by Earth, Wind & Fire
• Funky Town by Lipps, Inc.
• We Are Family by Sister Sledge
• The Hustle by Van McCoy
• Night Fever by Bee Gees
• Ladies Night by Kool & The Gang
• I Will Survive by Gloria Gaynor
Utilize old-school Disco Videos
Activities: Project a playlist of YouTube videos from these classic 1970s tunes at your party! Pick a large wall or use a screen and let the dancing commence: you can use a projector and screen kit to make it happen anywhere.
You can even display some fun dance moves and how-to videos to learn favorite disco dance moves, like:
• The Hustle: Watch them perform it with the official music video here!
• The Bus Stop
• The Funky Chicken
• The Pull
► See more dance moves + how-to's here.
Picking Out Activities
Dancing is going to be a big part of a disco themed bachelorette party. Here are some fun ways to integrate dance into your festivities.
Get the Party Started with a Disco Dance Lesson
Hire a dance instructor to show you and the crew the popular disco dances of the era! Then…
Feature a Dance Competition
Break off into teams to learn a dance and compete in a disco-themed dance competition. Offer fun prizes to the winners!
Include a Fun Photo Booth
Don't forget to capture the fun! Use one of your decorated walls to create a fun photo booth. You can use these instant cameras for take-home snapshots for guests to take home.
• Use Disco-themed props
Make a stylish photo booth wall with this iridescent fringe from KatchOn.
buy here
Add fun props, like these from here:
buy here
• Utilize classic Disco dance moves
Show off those dance moves you learned as you strike a pose!
Photo Sharing Gallery
Or you can make a photo sharing gallery here and have guests snap pictures all night long and upload them to a shared gallery so you can all join in on the fun!
As you can see, with the right combination of funky decor, disco-inspired party favors, themed attire, and an awesome playlist, you can create a memorable bachelorette party and dance the night away! Put on your go-go boots and plan a perfect disco inferno bachelorette party the bride will remember forever.
Planning a disco bachelorette party with all the details isn't stressful after all! Thanks to this guide, you now have everything you need to plan the perfect party with an atmosphere and vibe for guests to get groovy, get down, and shake their groove thing. :) Go simple and stylish or go all out for your special day with these disco-themed bachelorette party ideas.
► It's time to start planning: get your disco attire on and let's get planning! Click on an item above to purchase, find out details, and get inspired for the ultimate bash.
Need more inspo? Click here for the latest ideas!