Looking for the latest lace-up wedding shoes, heels, and sandals for your big day? You'll find ankle wrap shoes for weddings here! Get inspired below with the prettiest pairs of comfy bridal footwear and subscribe for the latest to your inbox.
Shopping for the perfect wedding shoes can sound like a big task, but it doesn't have to be! The best advice: find a pair of comfortable shoes that look great, flatter your feet, and coordinate with your wedding dress. Bonus points if you find something stylish, too! ;) In this blog post, we'll show you the perfect blend of lace up wedding shoes with comfort, style, and chic elegance for any bride-to-be in a variety of colors and styles. From open toe to peep toe, closed toe to pointy toe, there's a perfect pair of lace up wedding shoes for you on this list.
Let's get started!
What Are Lace Up Wedding Shoes?
New to this trend? Lace up shoes are the style of sandals, heels, or flats that wrap up around your ankle. Some are tied in a bow, others are tied in a knot, or simply go around your ankle in a lace up style. They add a dramatic look to any style and are available in different textures (like satin, leather, suede, or velvet) and styles (like ribbon, knot, or bow).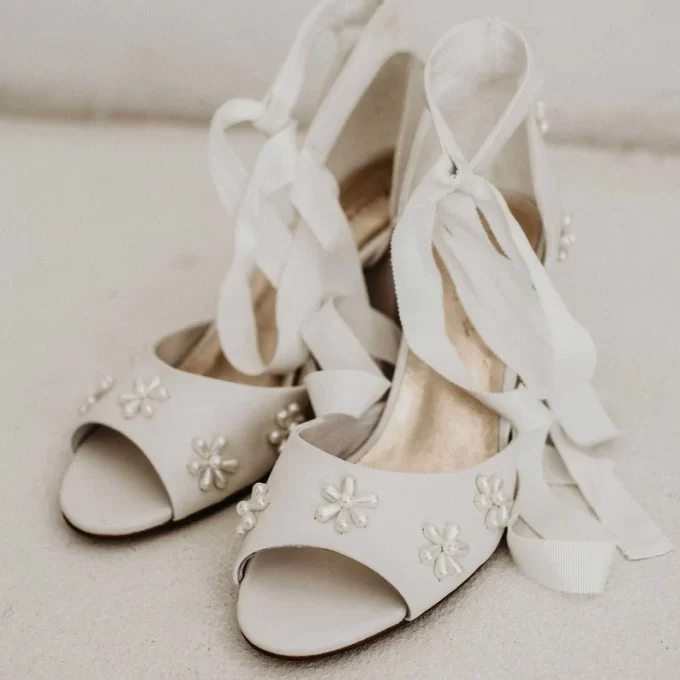 ankle tie wedding heels by forever soles
Lace-Up Wedding Shoes
Which pairs are stealing my shoe-lovin' heart? These… especially this first pair. I wish they had these when I got married! I love the pearls and the chic ribbon ankle tie. It's perfect!
1. Ankle Wrap Wedding Heels

These gorgeous pearl embellished heels feature a sturdy block heel, an open toe, and a chic ribbon that ties around the ankle. By ForeverSoles.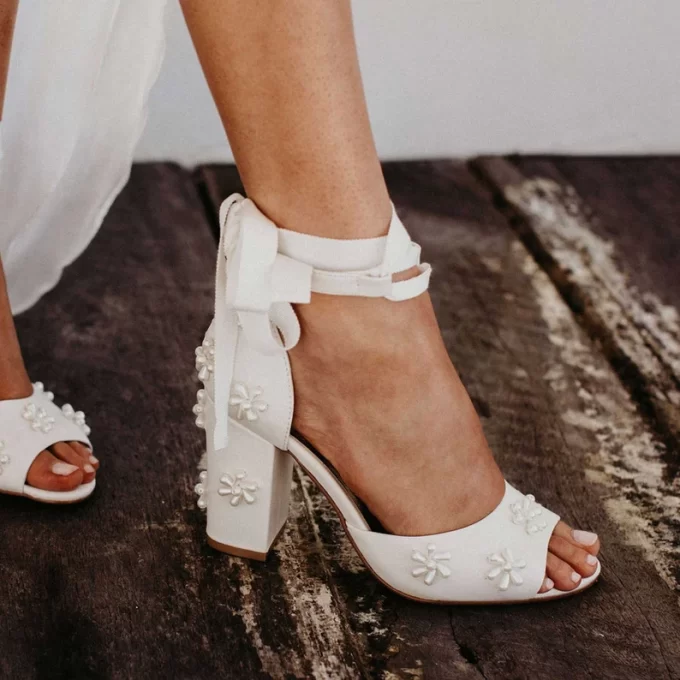 by forever soles
2. Ankle Wrap Champagne Velvet Heels
Love these champagne bridal heels with a chic tie-up ankle strap. Get them only at ForeverSoles.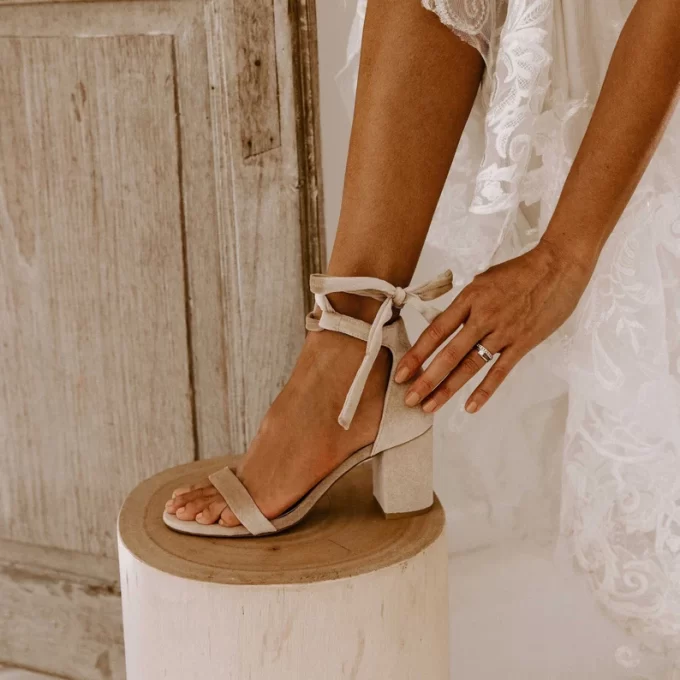 heels by forever soles
3. Lace-Up Wedding Sandals
Go with a boho beach style in these lace-up ankle sandals, perfect for your wedding day! By GreekChicHandmades.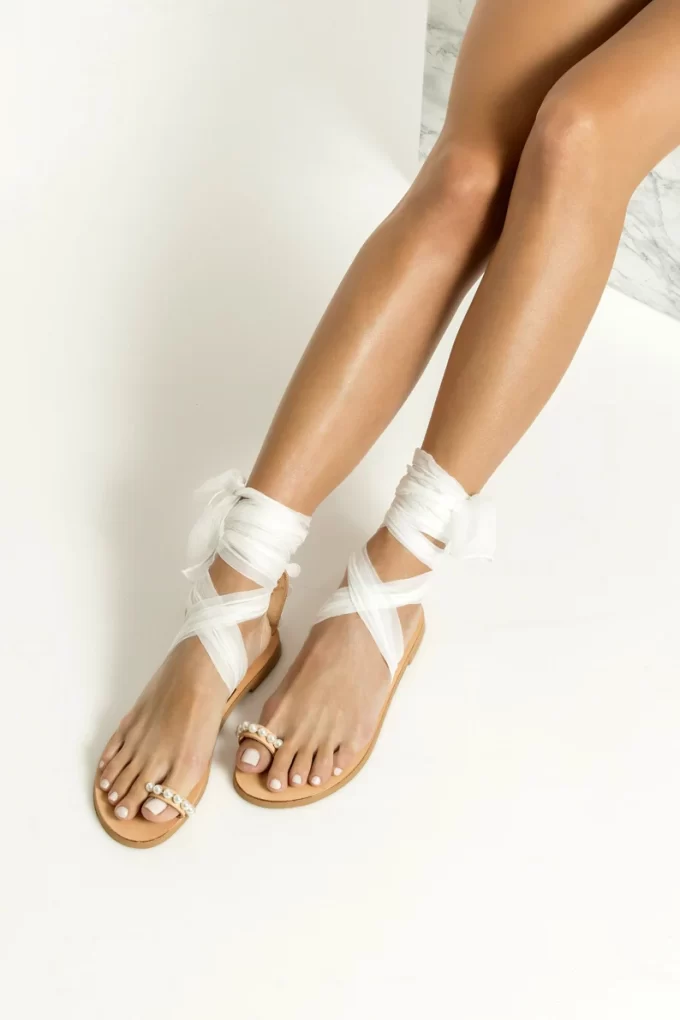 ankle wrap sandals by greekchichandmades
4. White Lace Up Sandals
A block heel, build for summer wedding season! Love these affordable lace-up heels from Lulus.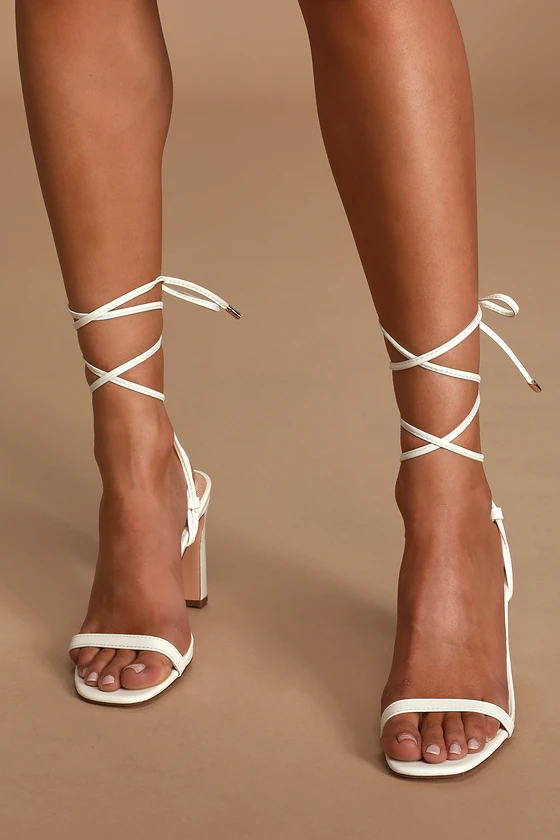 heels by lulus
5. Ivory Lace-Up Wedding Ballet Flats
Get a pair of ballet-inspired flats with a chic ribbon that wraps up your ankle. By TheWhiteRibbon.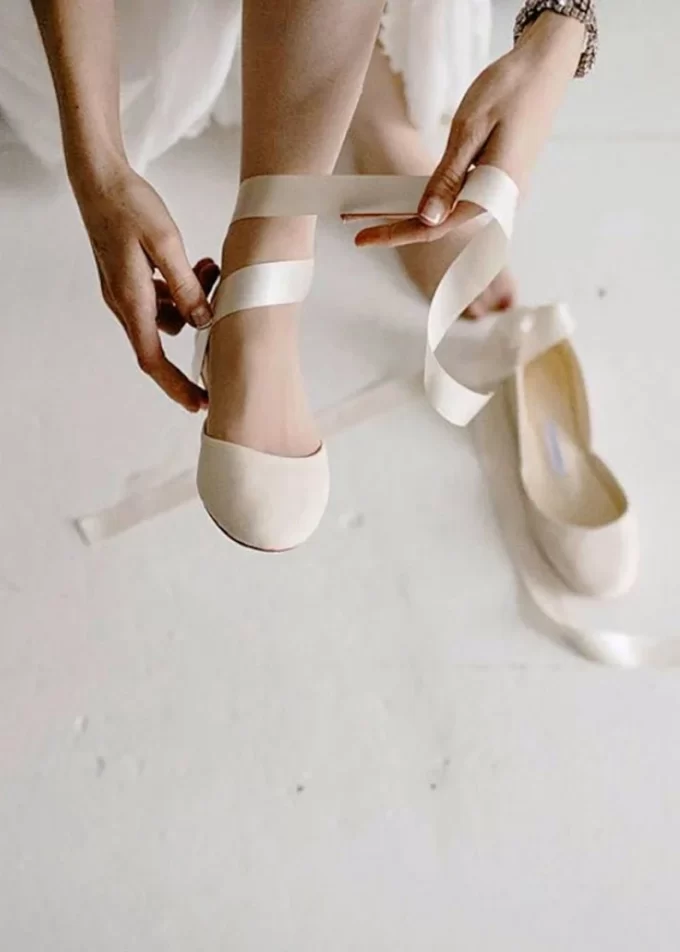 ankle wrap flats by the white ribbon
6. Champagne Velvet Heels with Lace-Up Ankle
I love these champagne velvet heels. They look so comfy and stylish! By ForeverSoles.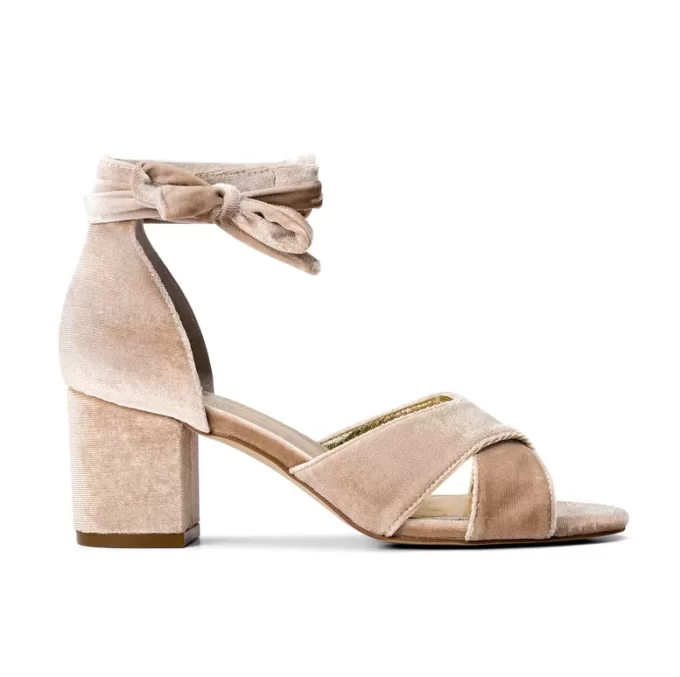 buy here
7. Lace-Up Wedding Shoes
These flats are anything but basic! They tie and wrap around your ankle for an extra-special touch. By Kaileep.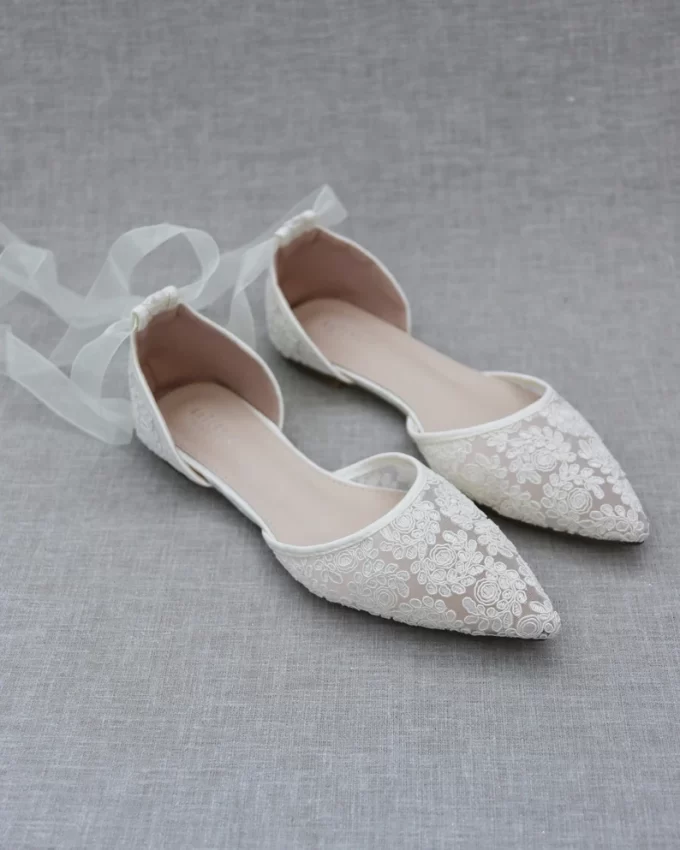 by kaileep
8. White Lace-Up Straps
Get these unique mid-heel shoes for your wedding! By Lulu's.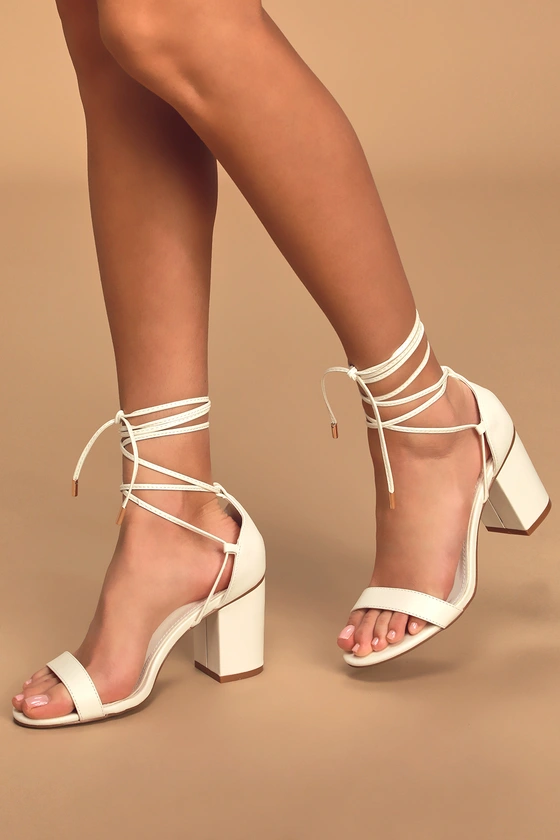 by lulu's
9. Silver Ankle Ribbon Block Heels
These stylish block heels in metallic silver will make a statement! Great heels for the bride or a guest. By PinkyPromiseAccessories.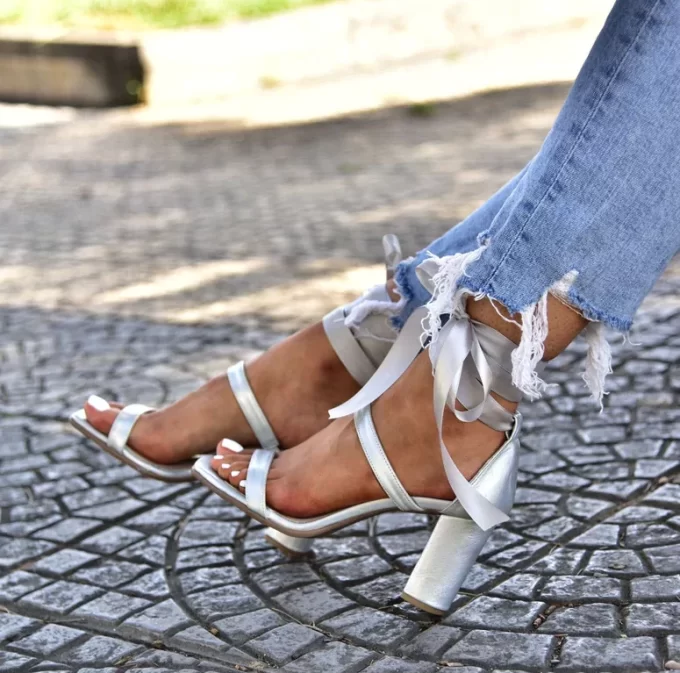 metallic silver ankle tie heels by pinky promise accessories
10. Lace Up Block Heels
Wrap these ribbons around your ankles into a bow. The nice low height of the block heels makes these sturdy for walking down the aisle and dancing the night away! By GreekChicHandmades.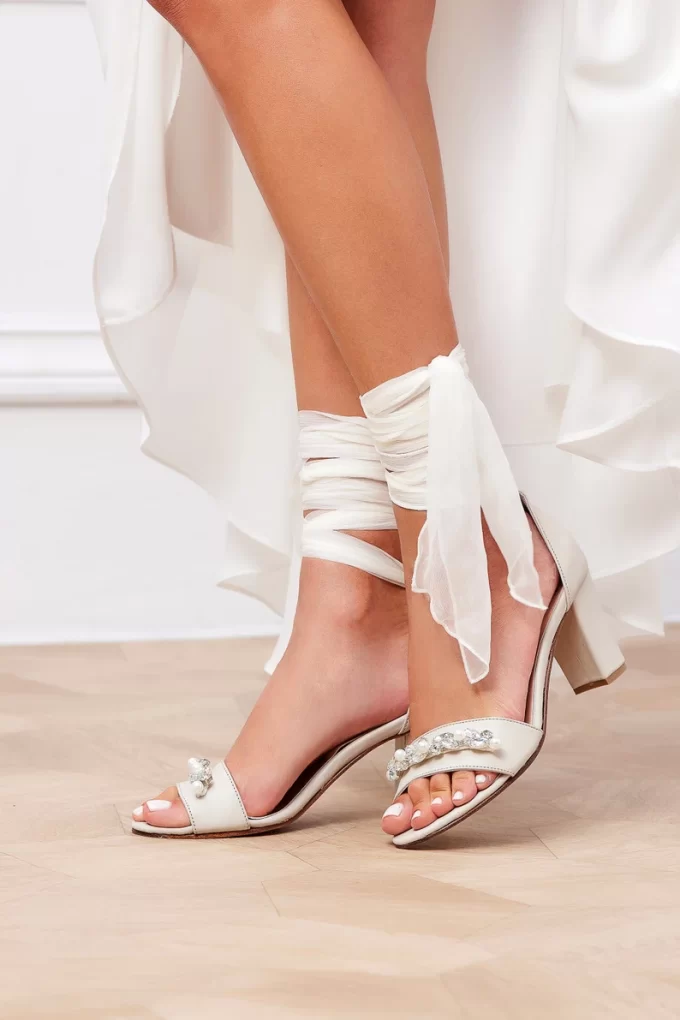 by greekchichandmades
11. Large Ankle Bow Heels
Go big and bold with this cute bow on the ankle! Heels by LovelyBrideByAnna.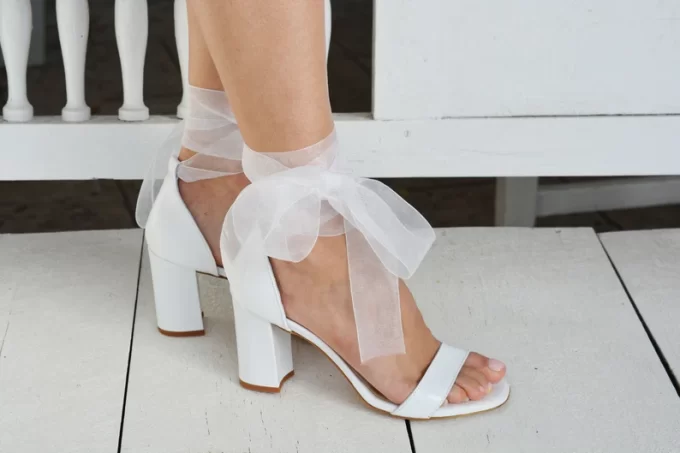 wedding shoes by lovely bride by anna
12. Suede Block Heels with Lace-Up Ribbon
Perfect! Get them here.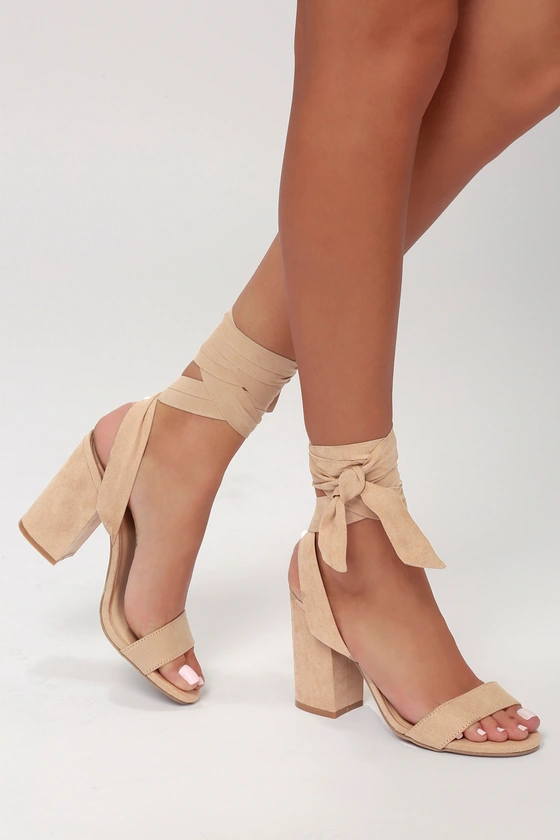 by lulus
13. Blush Ankle Wrap Heels
I love these heels! The blush pink ankle wrap is my favorite style. By GreekChicHandmades.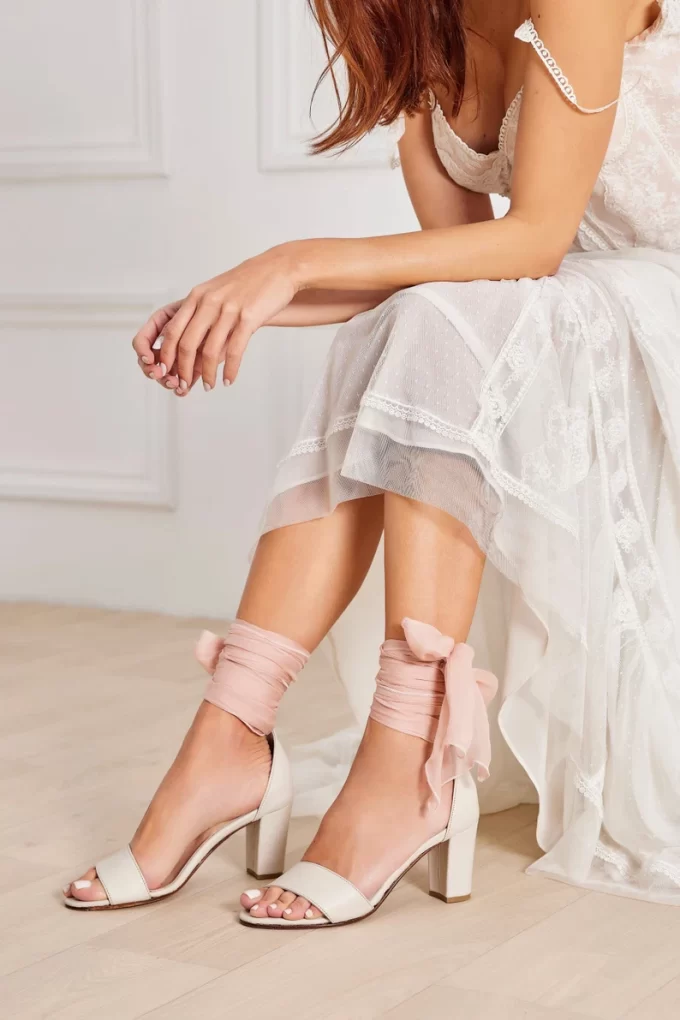 blush wrap by greekchichandmades
14. Satin Tie Bridal Flats with Pointed Toe
Wear these wedding shoes with a pointed toe and ankle strap in satin ribbon. By KaileeP.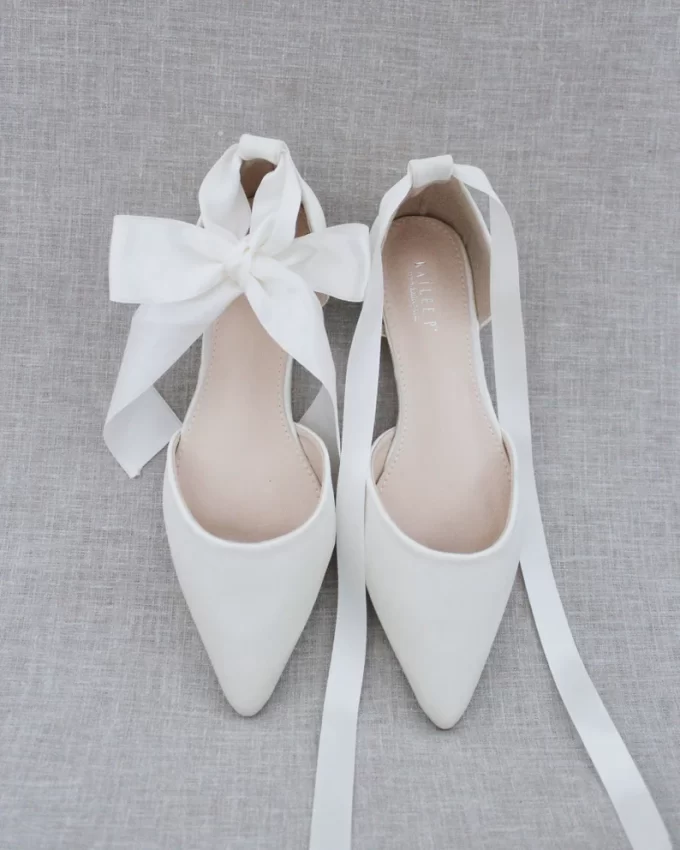 ankle wrap flats by kaileep
15. Low Heel Emerald Green Velvet Lace-Up Heels
Holy cow, these are GORGEOUS! Perfect for fall and winter weddings. By ForeverSoles.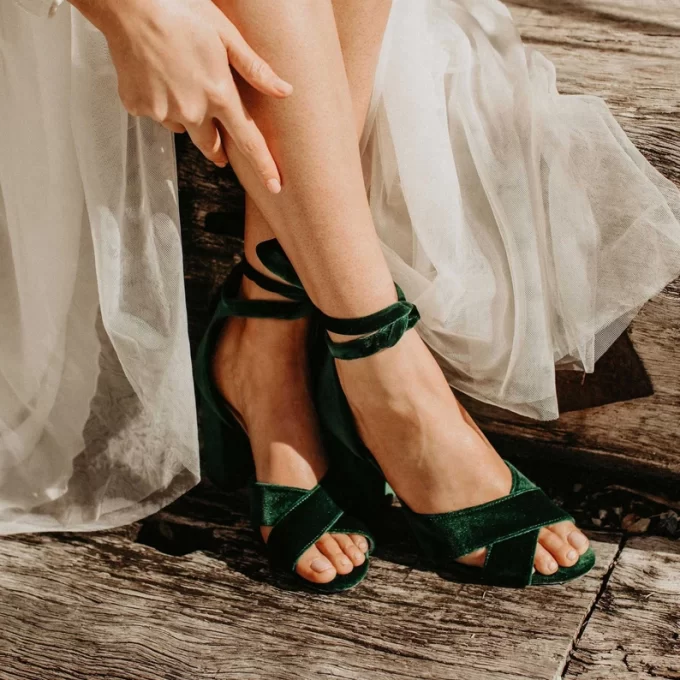 shoes by foreversoles
16. Ruby Red Velvet Heels with Tie-Ankle
Another beautiful pair in sumptuous luxe velvet. By designer ForeverSoles.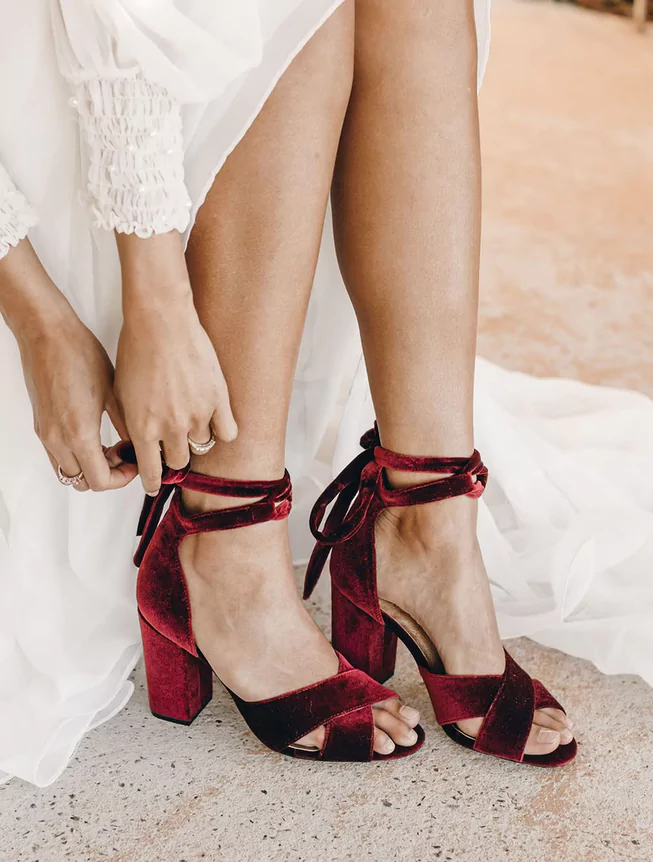 heels by foreversoles
17. Mid-Height Heels with Ankle Tie and Tassels
Cute tassels make for a boho-style we love! These bridal shoes have a mid-heel height and lace-up ankles by ForeverSoles.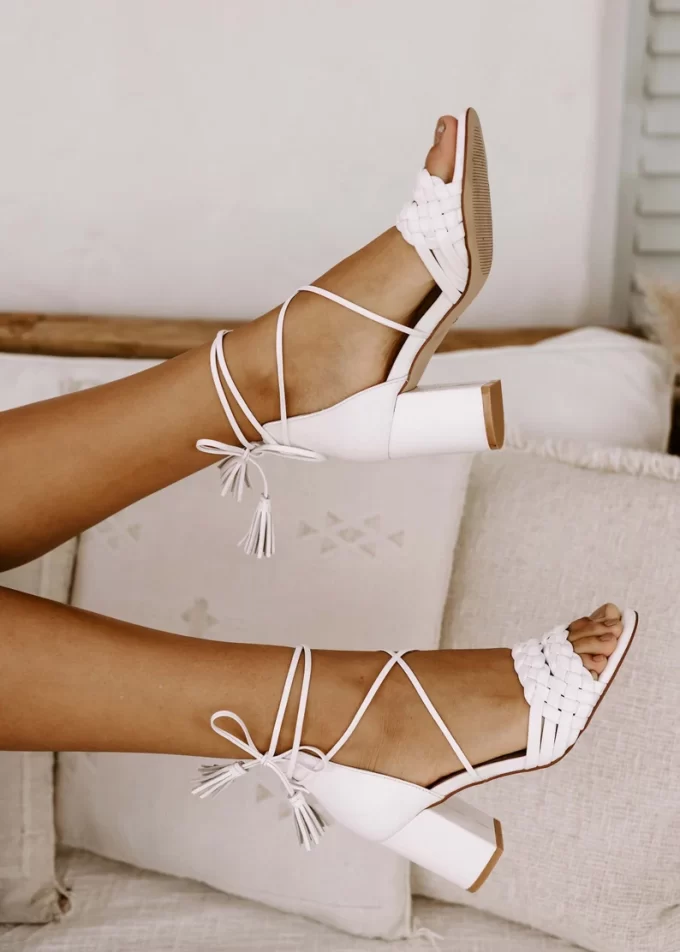 by foreversoles
18. Nude Ankle Tie Wrap Shoes
The cute bow on these is everything! Get them here.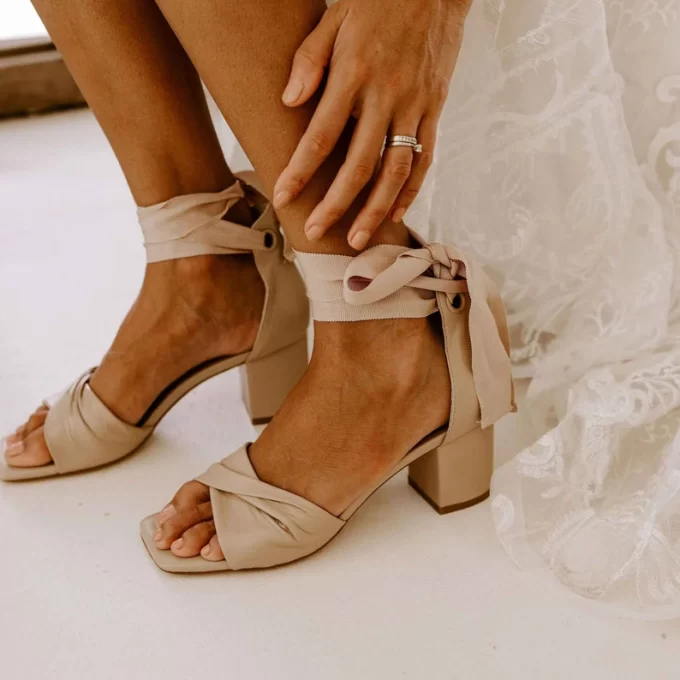 ankle-tie heels by foreversoles
19. White Satin Square Toe Heels
Wrap up your ankle in luxe satin with these square-toe block heels from ForeverSoles. Love 'em!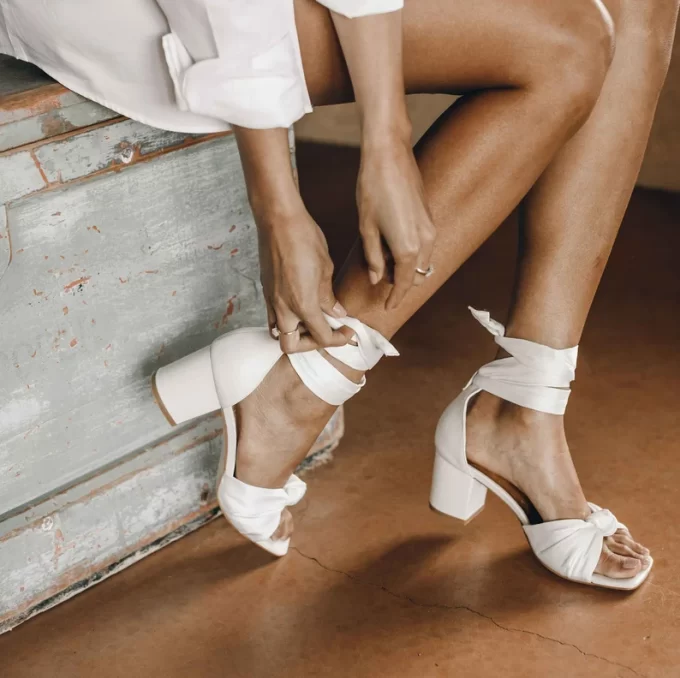 heels by foreversoles
20. Pearl Ankle Strap Heels
Wear these beautiful bridal heels down the aisle and dance the night away. They feature a stylish ankle strap with pearl embellishment. By PinkyPromiseAccessories.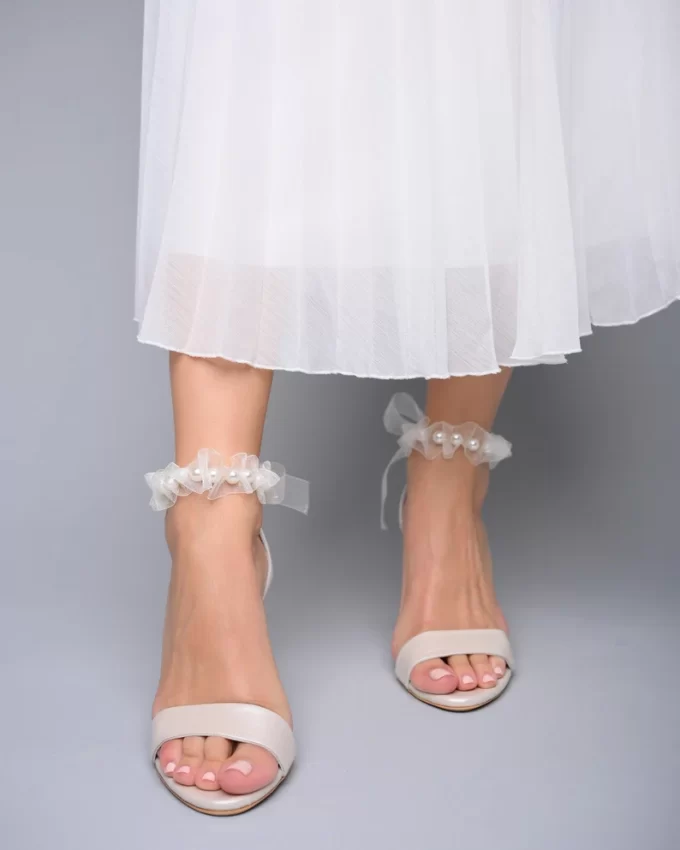 by pinky promise accessories
21. White Velvet Heels
Love these. The velvet adds a lovely texture while the bright white color is stunning for all seasons. By ForeverSoles.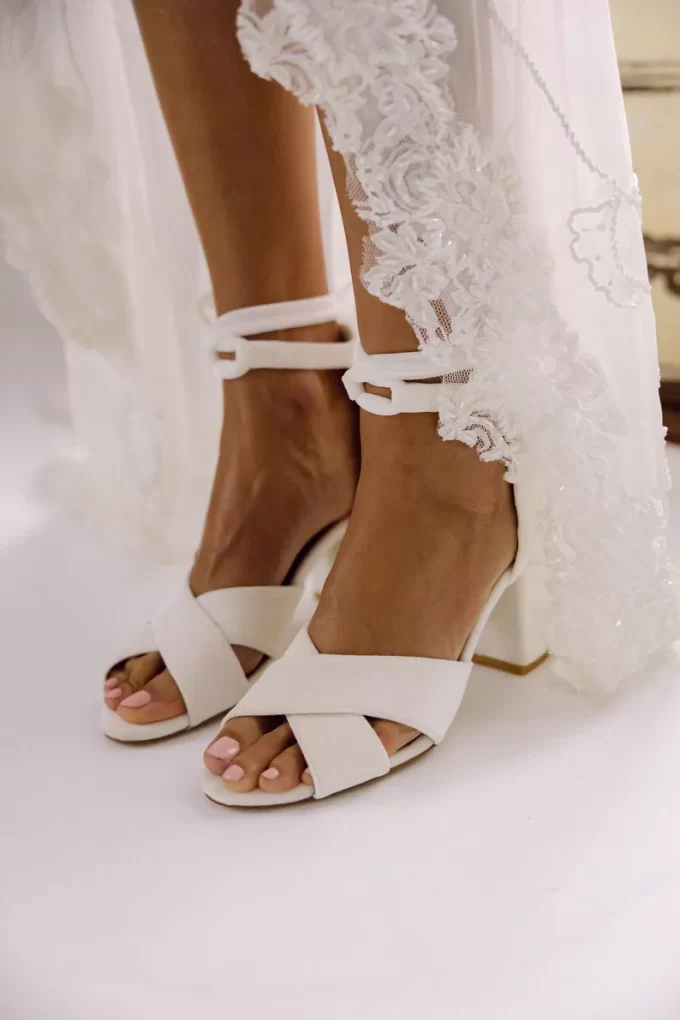 block heels by foreversoles
22. Bow Back Block Heel
Stylish! Put a bow on the back of your ankles with these block heels from PinkyPromiseAccessories.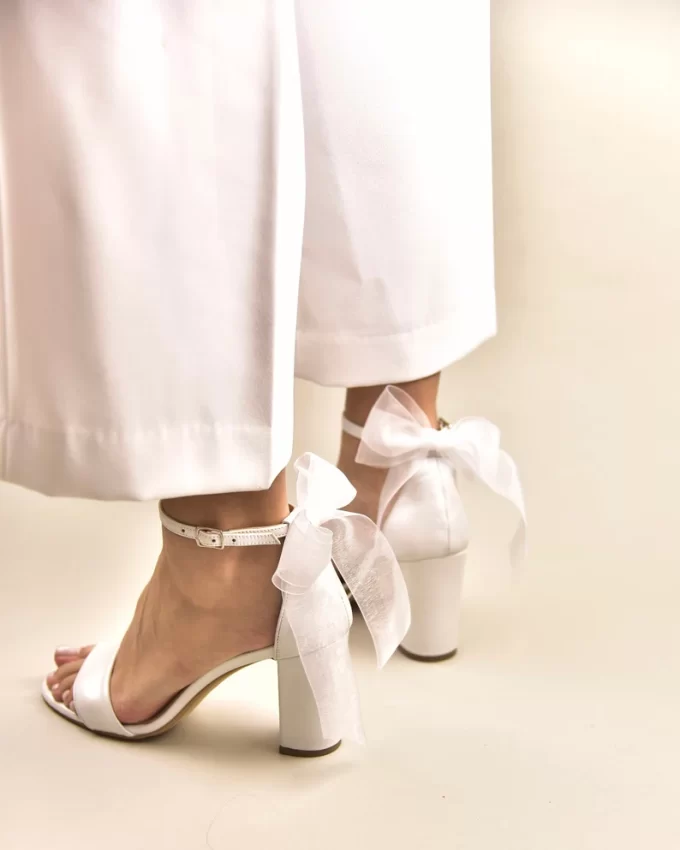 ankle wrap wedding heels by pinkypromiseaccs
23. Suede Caged Laced-Up Heels
Ooh, these are stylish! Get them in Something Blue, too. By Lulus.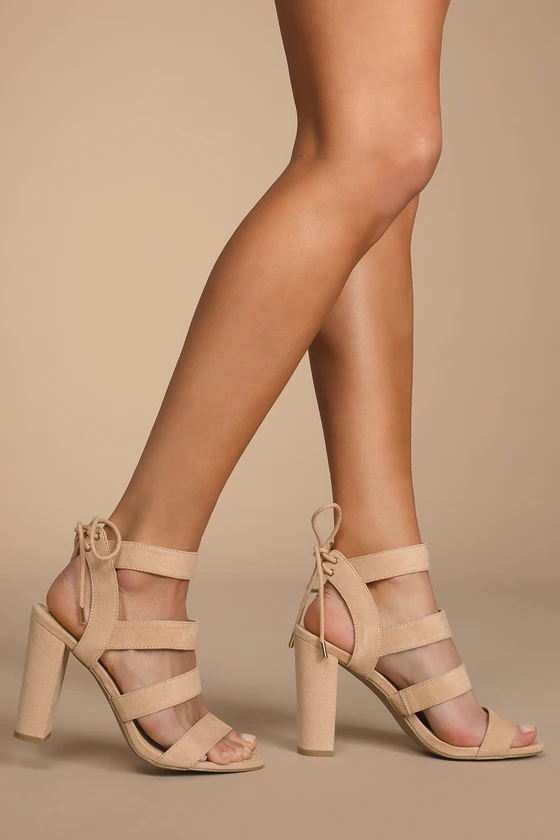 caged lace-up heel by lulus
24. Lace-Up High Heel Stiletto
These are popular for how flattering they look! Read the reviews here. By Lulu's.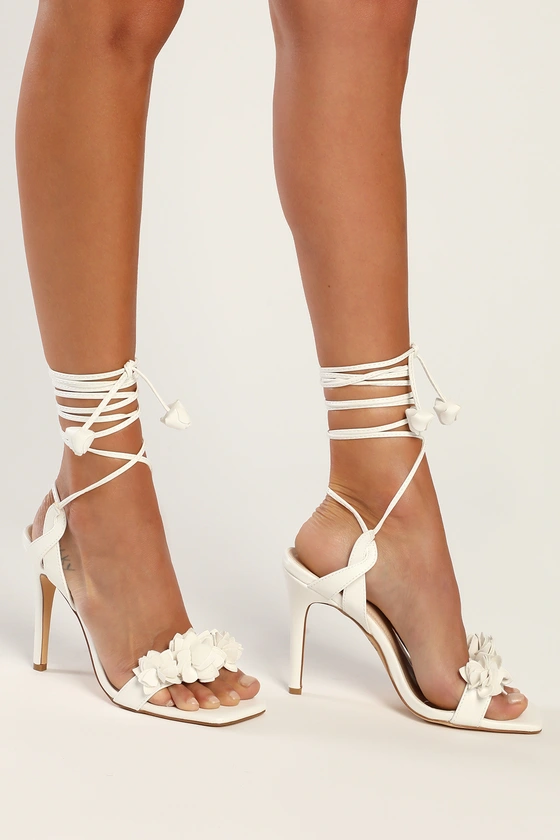 heels by lulus
Finding the Perfect Fit
The best advice for wedding day footwear is to find the most comfortable wedding shoes you can. Be sure to stretch them out a bit before the big day: wear them around the house or use shoe-stretchers. And don't forget to avoid these wedding shoe mistakes: your feet will thank you!
Where to Shop for Lace Up Wedding Shoes
You can find ankle wrap wedding shoes at many stores, as it's one of the hottest trends of the moment in footwear. For weddings, we've been having the best luck finding this type of shoe in different heel heights, from high stiletto heels to high, mid, and low-heel options. There are even lace-up wedding flats available for brides who don't want any height but still crave the style.
Here are five of the best places to buy wedding shoes that wrap around your ankle in a bow or tie.
• Lulu's
• KaileeP
When you're shopping for wedding shoes, comfort is number one! Thankfully, the shoes shown in this round-up are all highly-rated for comfort from real brides. I hope this list helps you to find the best lace up wedding shoes to effortlessly blend comfort and style in one perfect pair. If you have questions on these, let me know in the comment box below!
► Now that you know which shoes are in style, it's time for some shoe shopping. Click on a pair of shoes in the list above to find out more details, product listing info, pricing, and to purchase yours today!