Planning a dusty blue wedding? It's one of our favorite color palettes, too! Let's plan from start to finish. But first, join the list for the latest to your inbox!
Are you wondering how to plan a dusty blue wedding? It's so much easier when you have the best dusty blue wedding decorations, accessories, bridesmaid dresses, bridal jewelry, and more at your fingertips.
We did all the digging to find you the best dusty ideas with EVERYTHING you need from:
• save the dates
• invitations
• wedding favors
• dusty blue wedding decorations
• groomsmen attire
• flower girl + ring bearer accessories
• bridesmaid gifts

… and so much more.
We don't want you to miss a single dusty blue detail, so we went pretty crazy here with the ideas — and we don't think you'll mind. ;)
Let's get started: here is how to plan a dusty blue themed wedding from start to fabulous finish! Enjoy!
Dusty Blue Wedding Ideas
Once you've set the date, it's time to tell guests what it is! Send save the dates to your guests on the list to keep that date available.
Save the Date
This acrylic magnet is a fun idea, giving guests a magnet for the fridge that will remind them of your upcoming nuptials. It is handmade with love by BlushRosesPrint.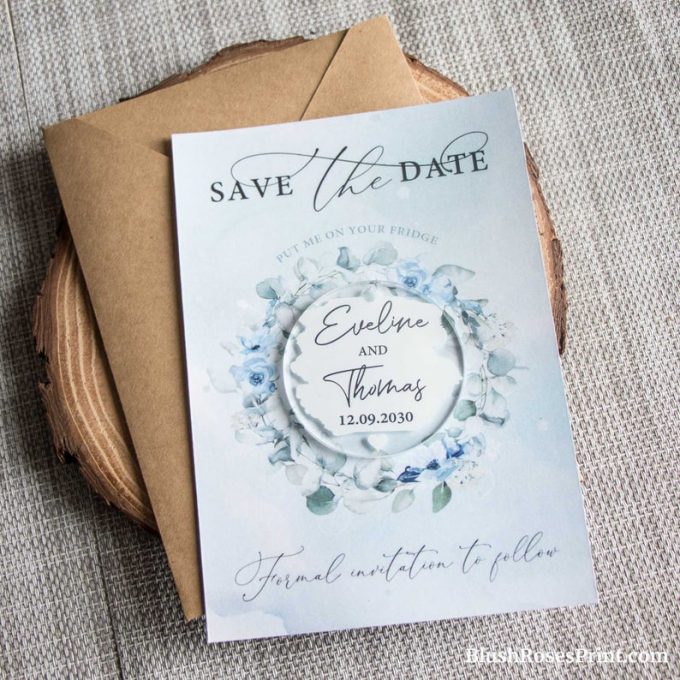 by blushrosesprint
If you prefer a digital save the date, this style is gorgeous! By UnmeasuredEvent.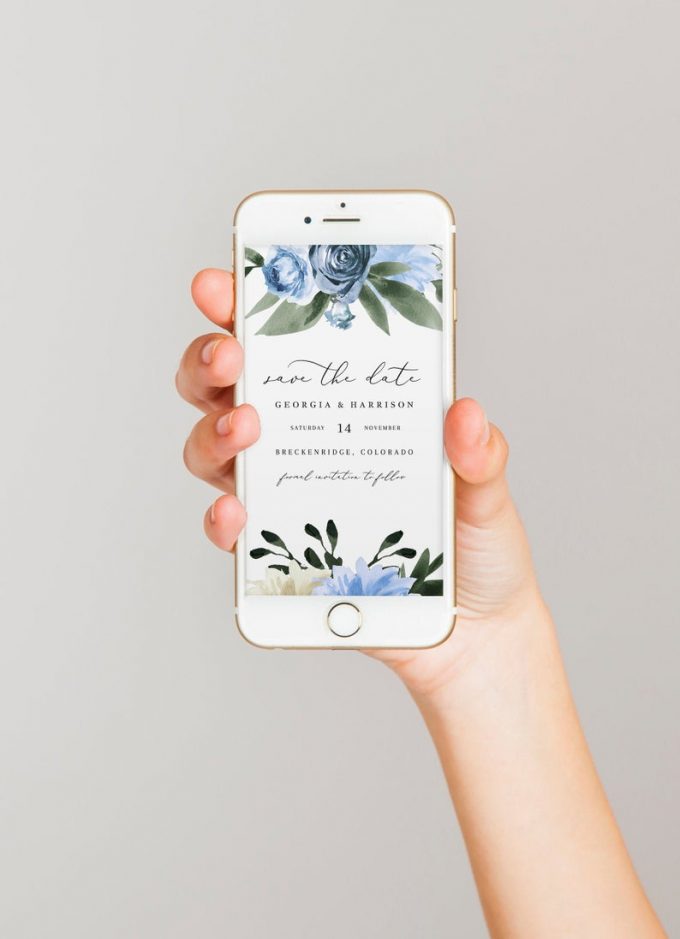 by unmeasured event
Next, let's talk about invitations. We found a ton of beautiful dusty blue wedding invitations so you can have a few different styles from which to choose.
Dusty Blue Wedding Invitations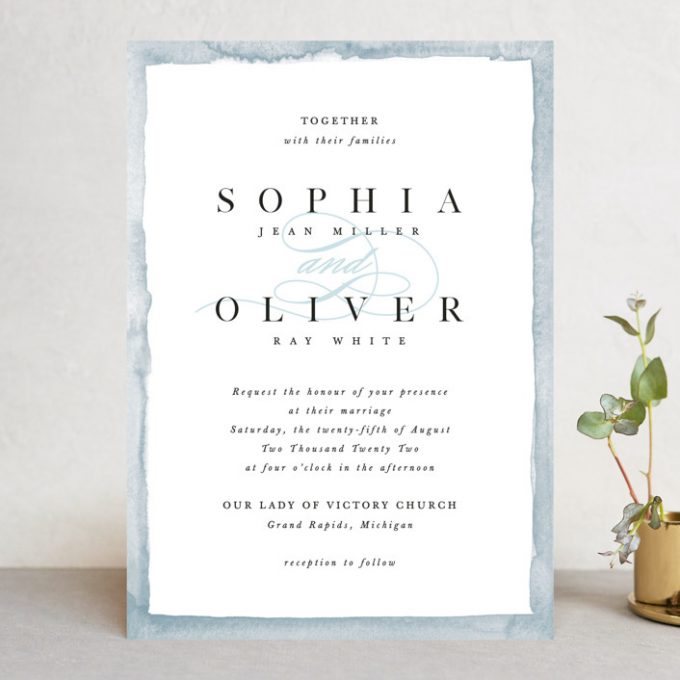 by pixel and hank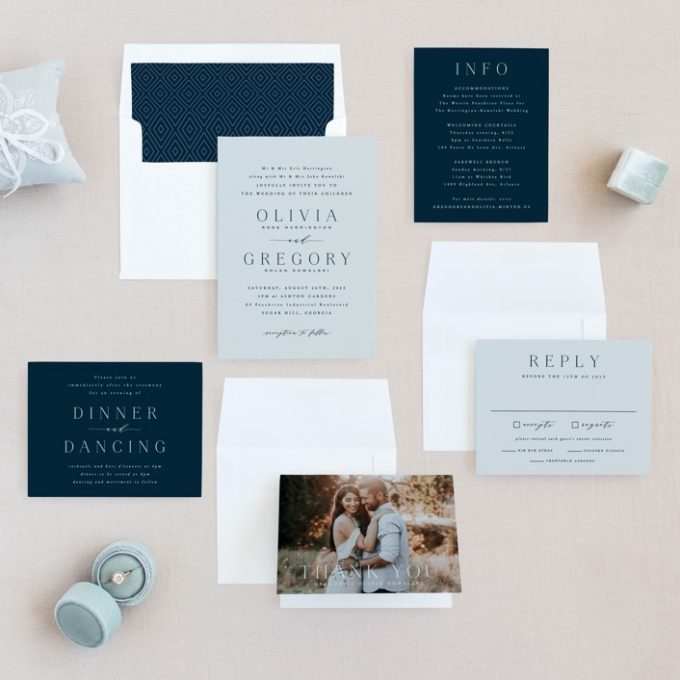 by hooray creative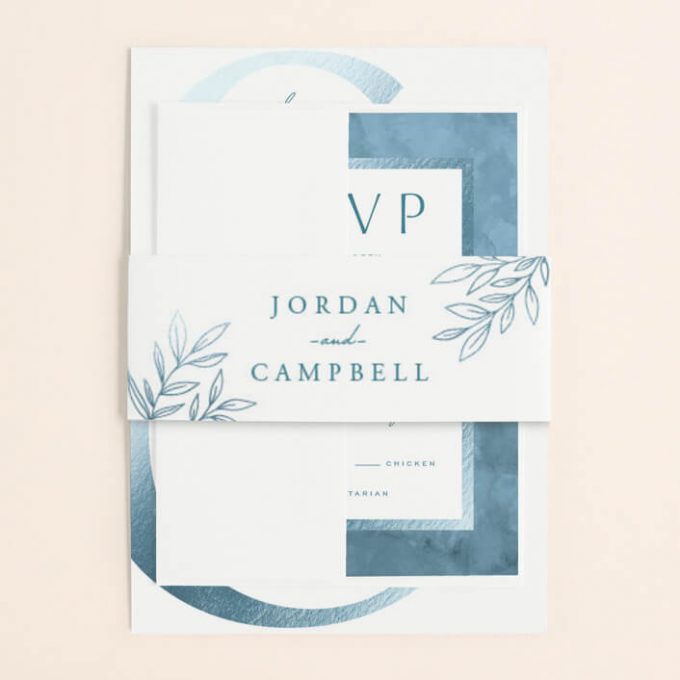 by yulia evseeva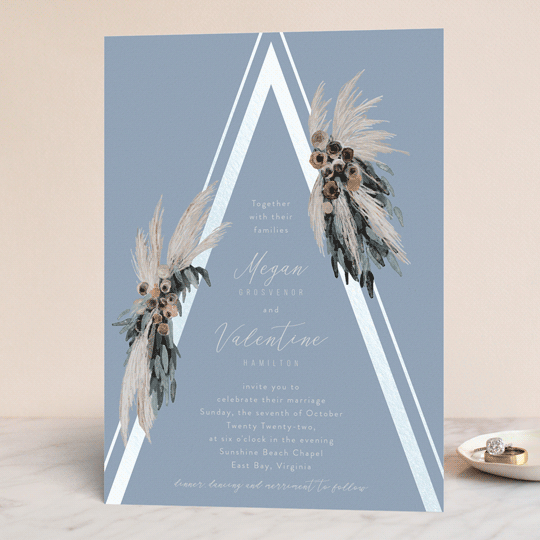 by cass loh
You can even get a pampas grass and dusty blue wedding website to match (free!)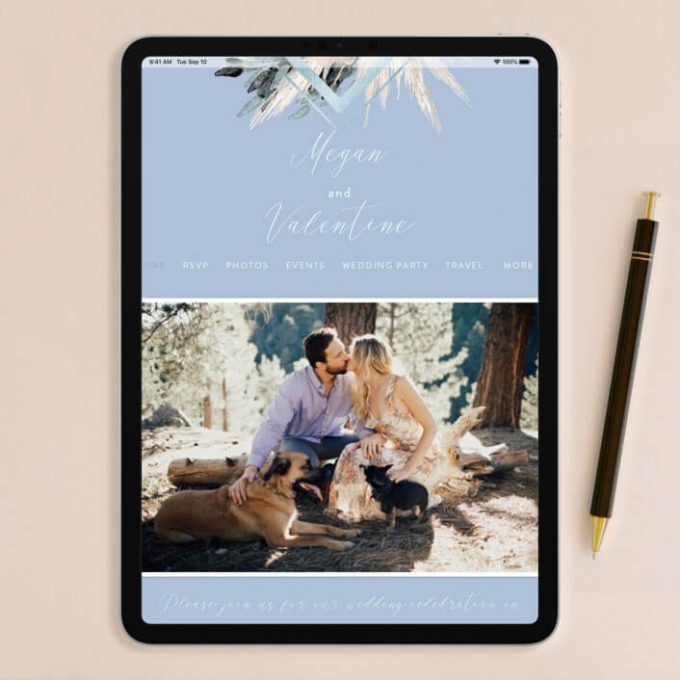 by cass loh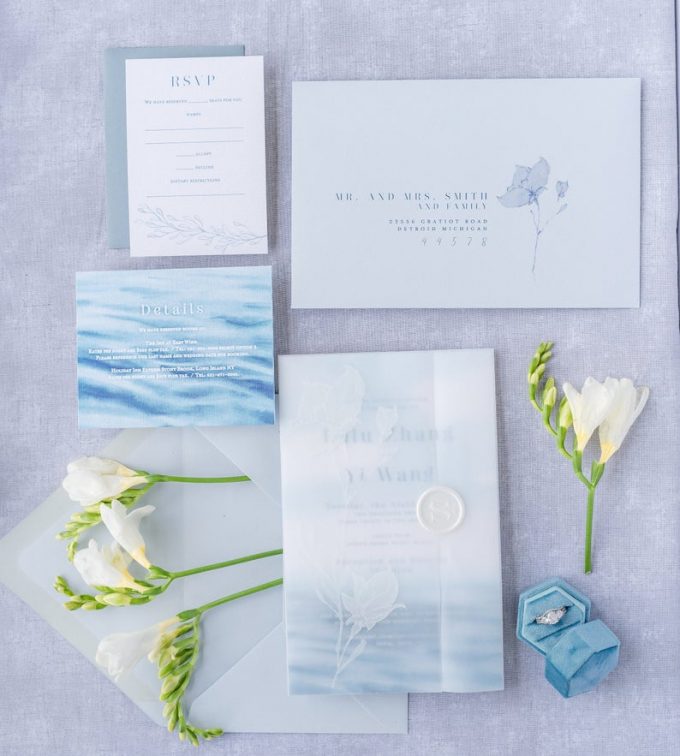 by designed with amore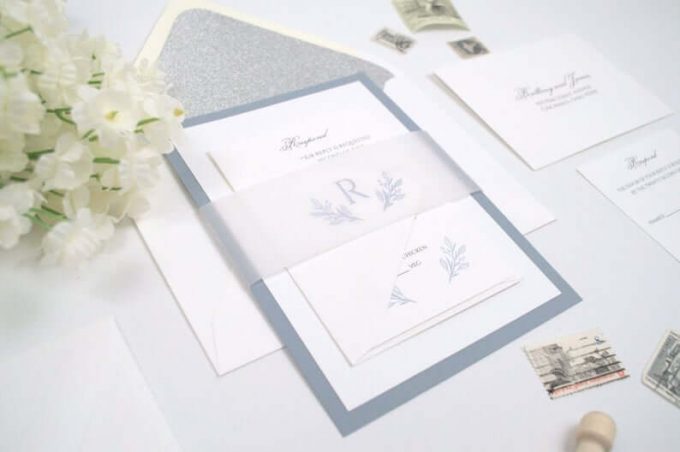 by redheartpaperco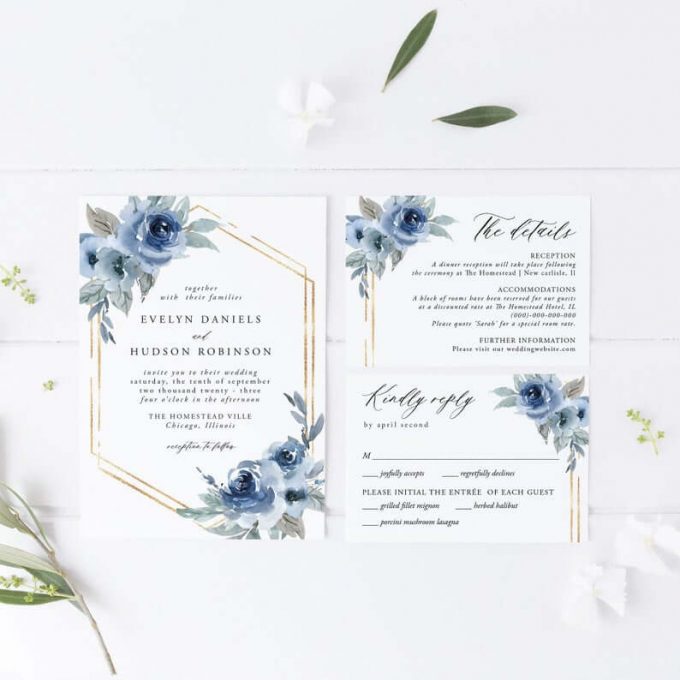 by stickerarte
Save the dates? Check.
Invites? Check.
Now, let's splurge a little on dusty blue bridal finds from garters to the prettiest shoes we've seen in this color!
For the Bride
OMG, these dusty blue wedding heels are AMAZING. By YuliaNadeeva.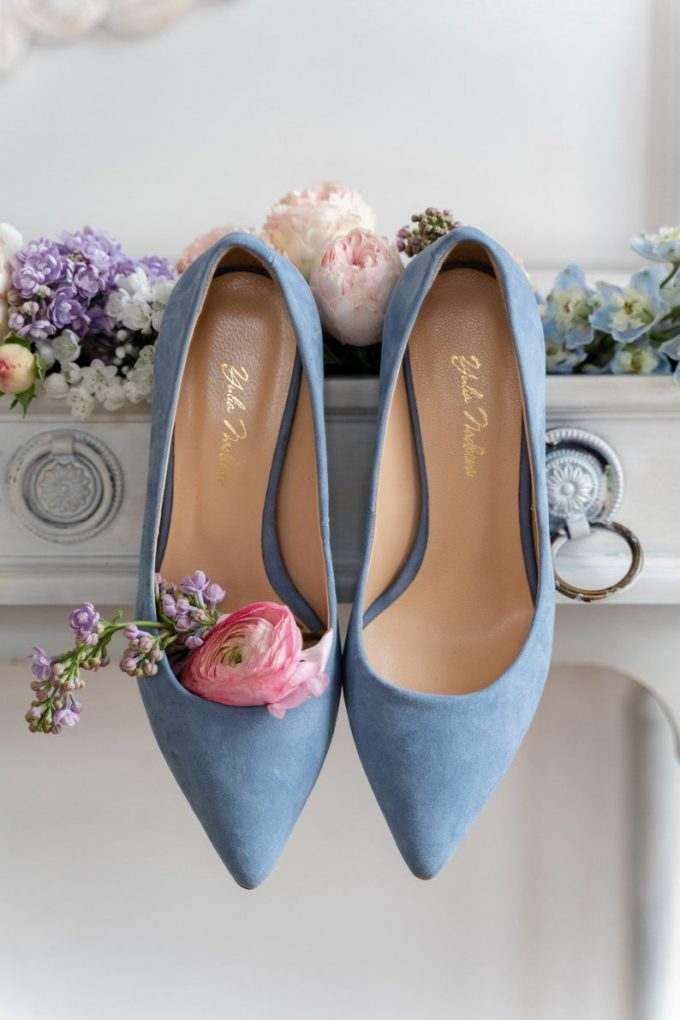 by yulia nadeeva
The bride will need a handkerchief for those tears of joy. This is a pretty one, hand-embroidered with love by MountainElegance.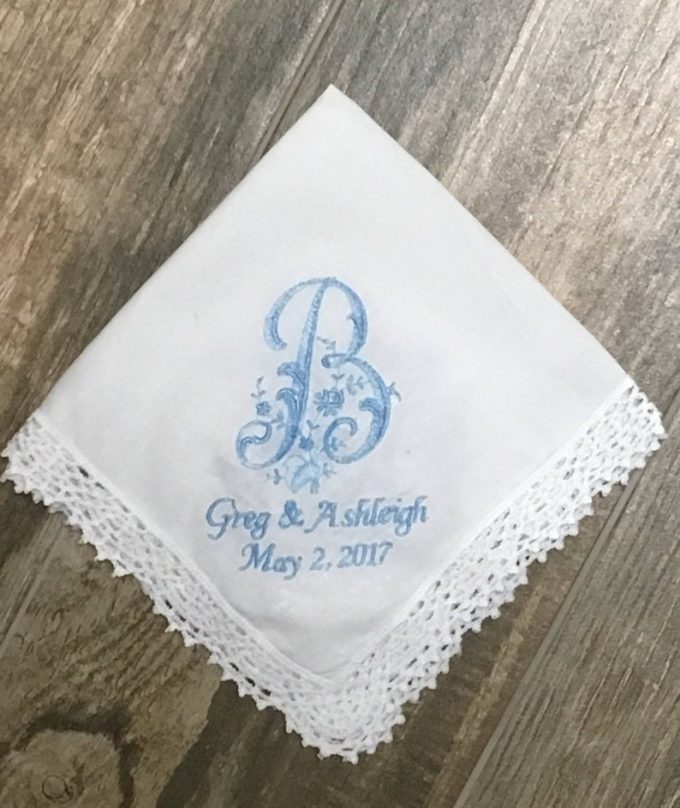 by mountainelegance
Wear a bridal garter for something blue — and it matches your color palette, too. By LoveForeverBridal.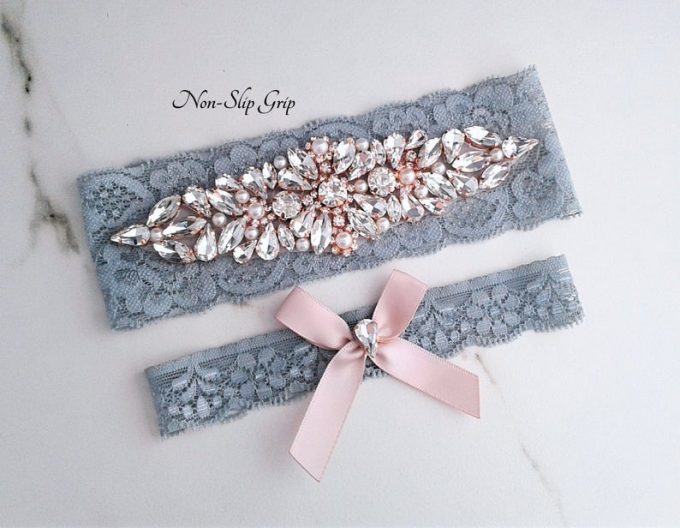 by love forever bridal
If you prefer a hair comb vs. a veil, this is a lovely option made with dusty blue flowers. By SERENlTY.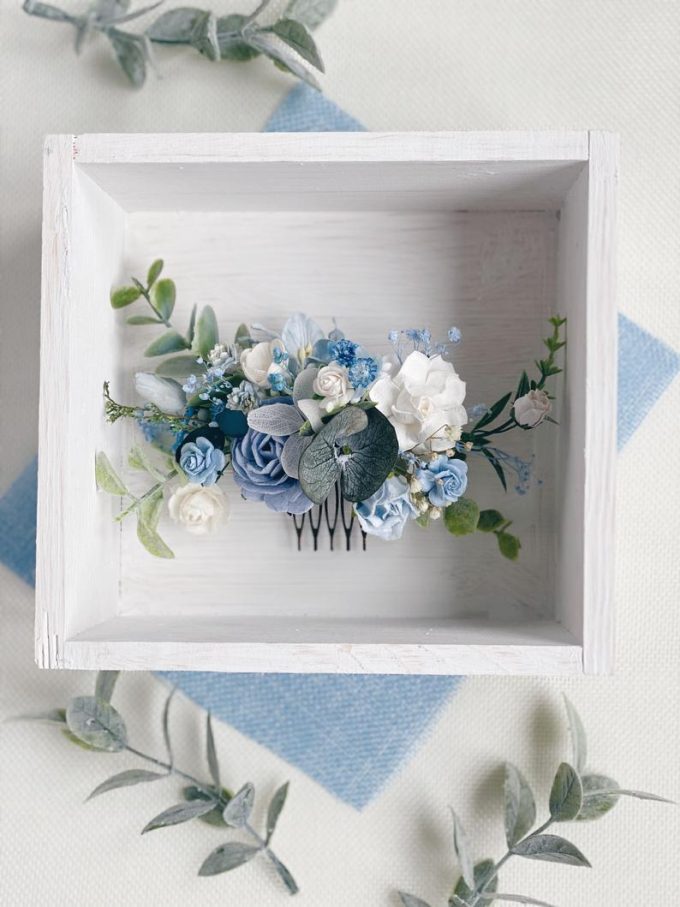 by serenity
Or this style in lace by LoveAndPeony: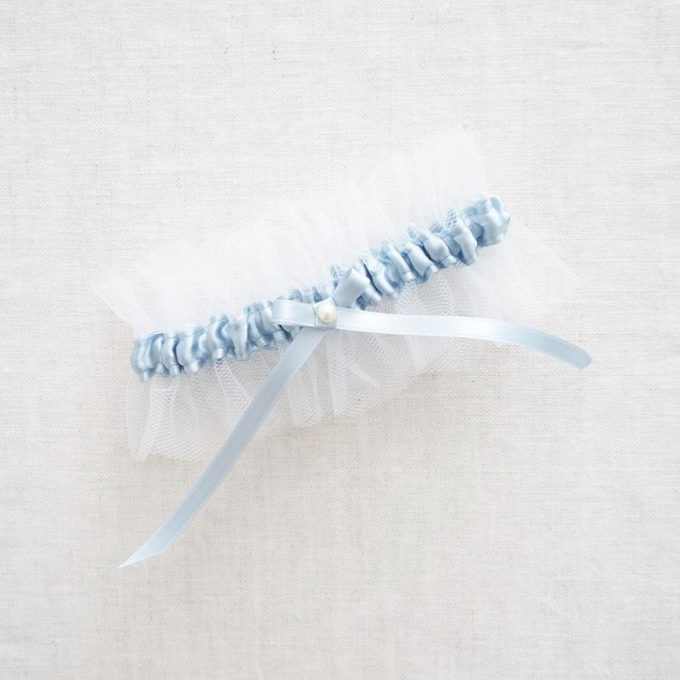 by love and peony
We found these stylish earrings for the bride in two different styles: cluster or chandelier. These are handcrafted by BlingBaddaBoom.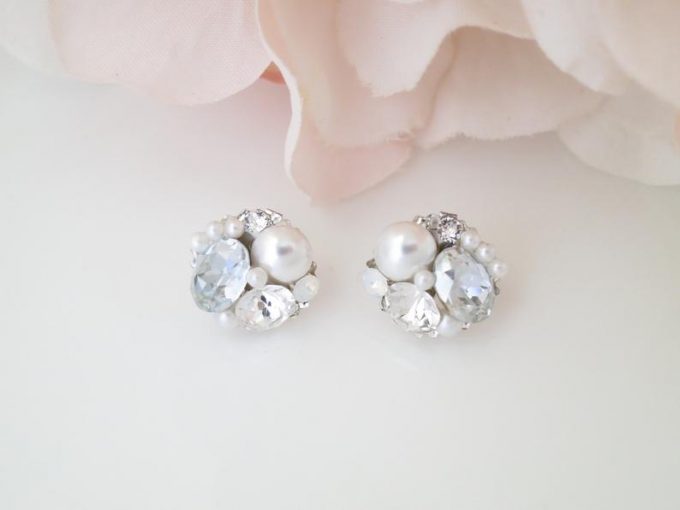 by blingbaddaboom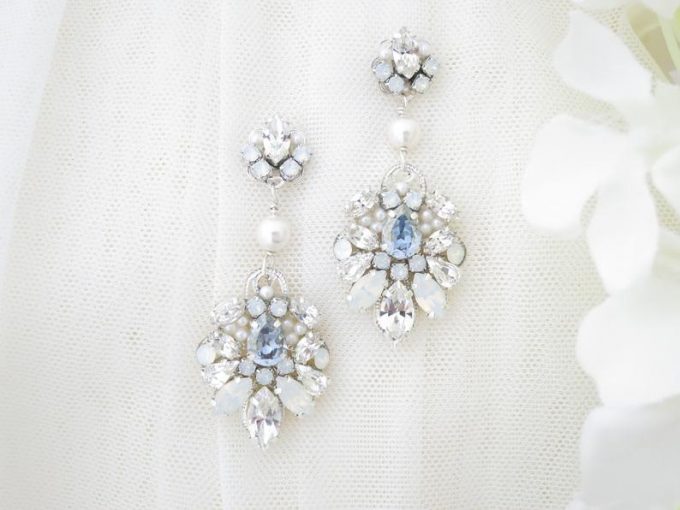 by blingbaddaboom
And last but not least, a bridal clutch! This has just a hint of something blue. By LittleWhiteCoutureAU.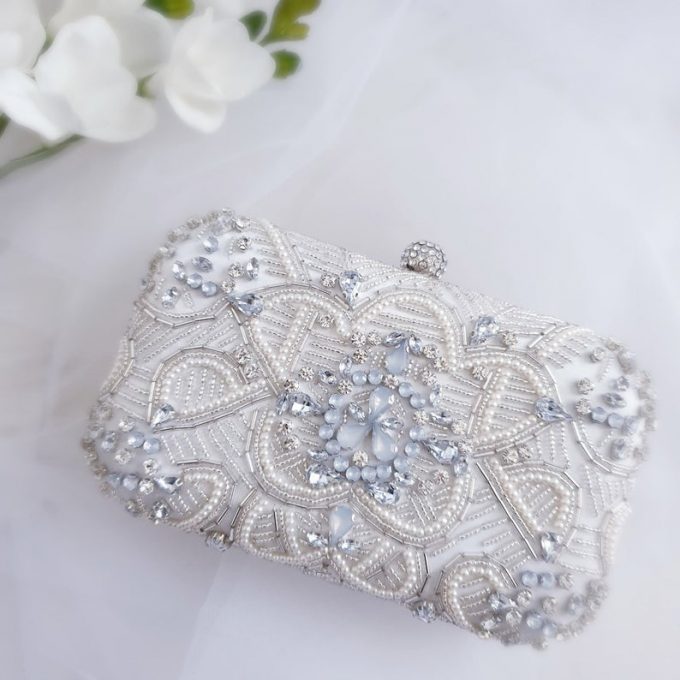 by littlewhitecoutureau
Add a decorative sash to your dress to tie in this theme, if you'd like. This pretty dusty blue dress sash is handmade by LutikFlower.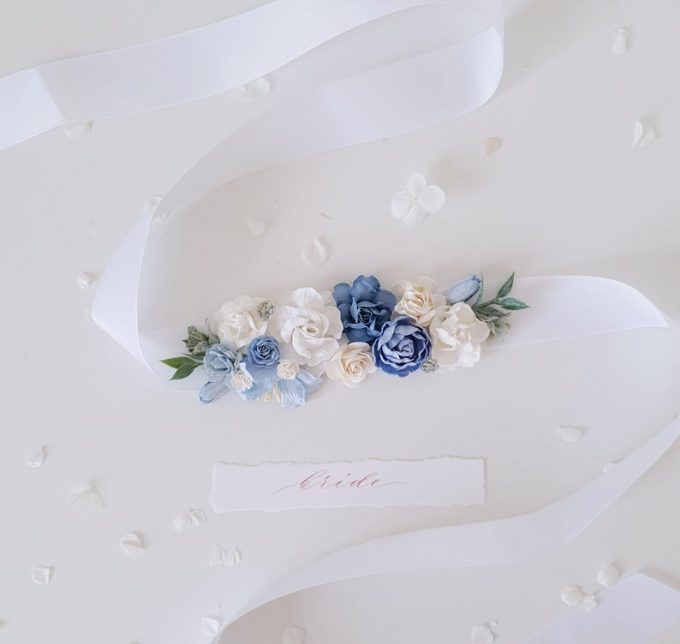 by lutikflower
Or this one, made of feathers! This is technically a light blue, but it's so pretty we wanted to include it as an option. It makes a perfectly modern something blue! By JosephineAccessory.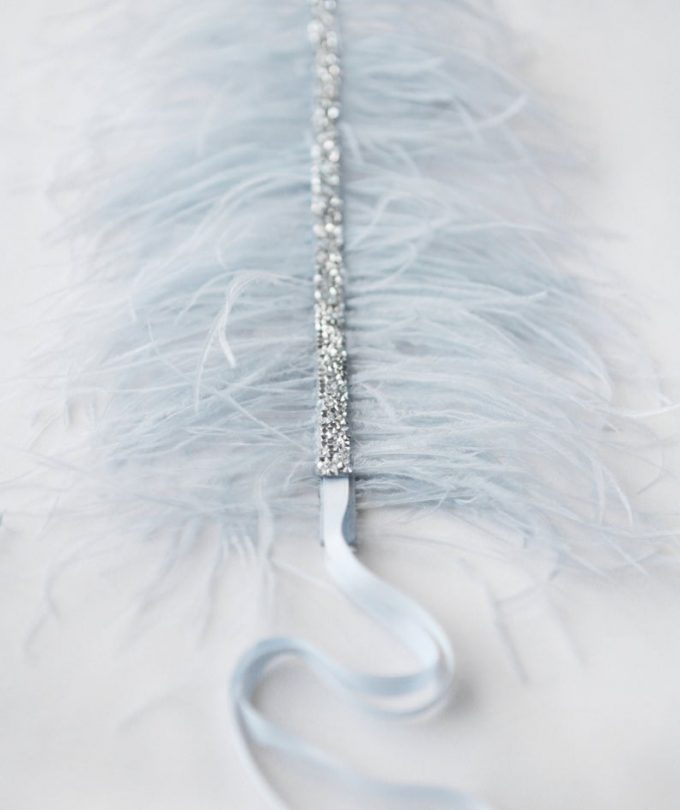 by josephineaccessory
Bridal Party
What will your bridal party wear? We found dusty blue bridesmaid dresses in two styles to suit your needs.
These dresses up first are made of chiffon and are quite affordable. By AmorDresses.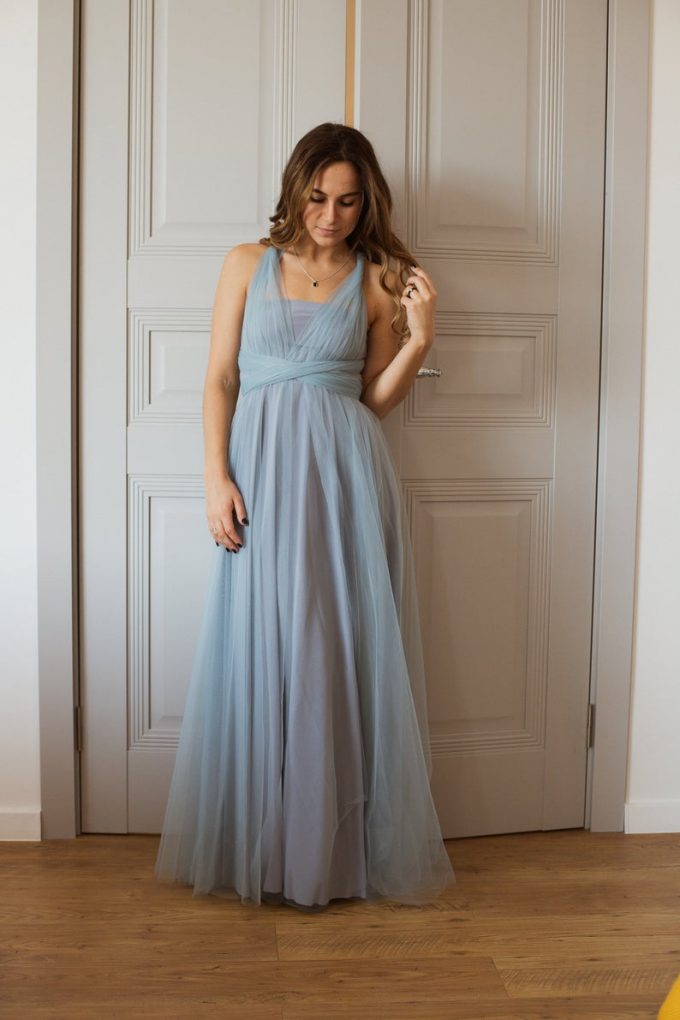 by amordresses
Or these two-piece dusty blue bridesmaid dresses are a popular choice for weddings. I love the lace topper paired with this elegant dusty blue skirt. By StylishBrideAccessories.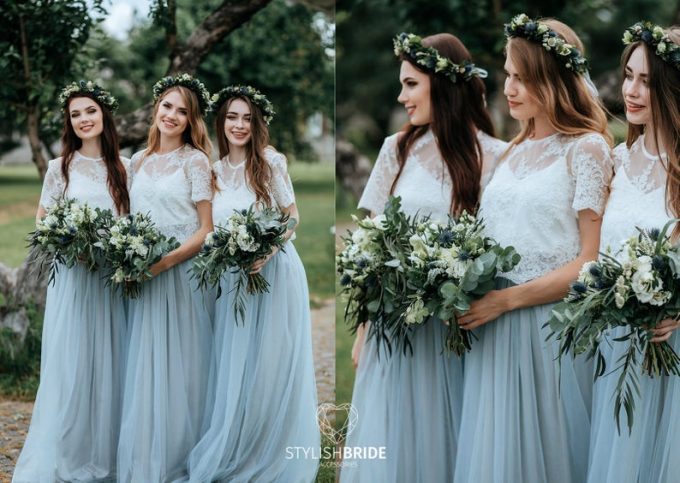 by stylish bride accessories
Want one more option? Try this affordable convertible dress style from here.
Bridesmaids, dressed! Now let's see get everyone else outfitted.
Groomsmen
From dusty blue suspenders to bow ties, we found a few pieces for your groomsmen to wear to coordinate with this color palette.
These suspenders are a nice touch, spotted at MiniSwagTextiles.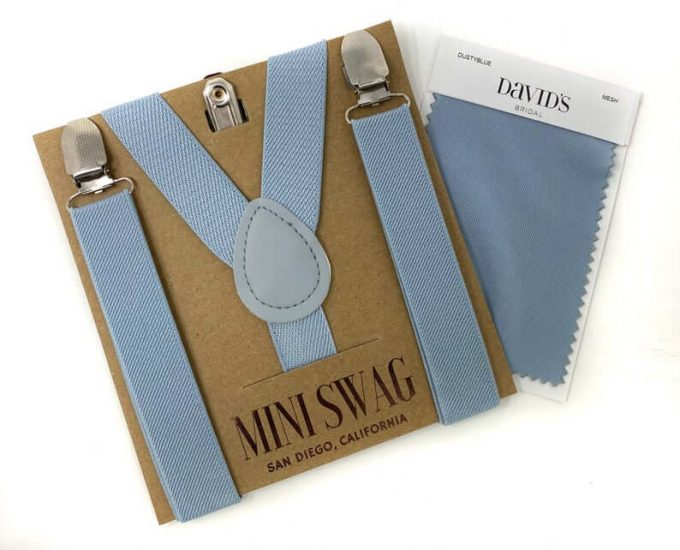 by miniswagtextiles
A bow tie with a touch of floral is a nice accent! We spotted this one at BowStyleBoom.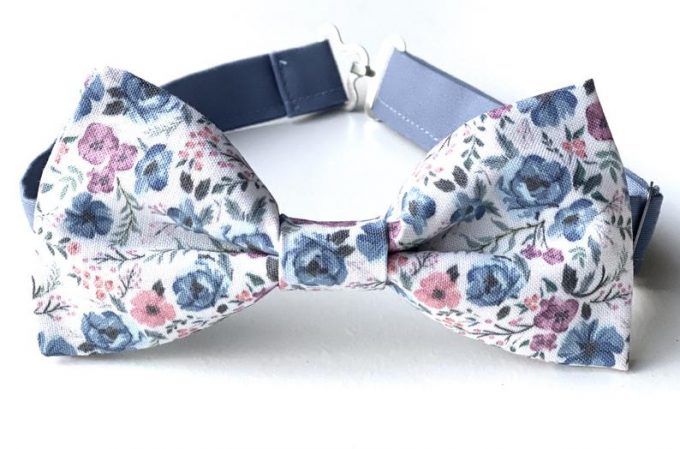 by bowstyleboom
Or a solid dusty blue bow tie, like this one by Diviclo.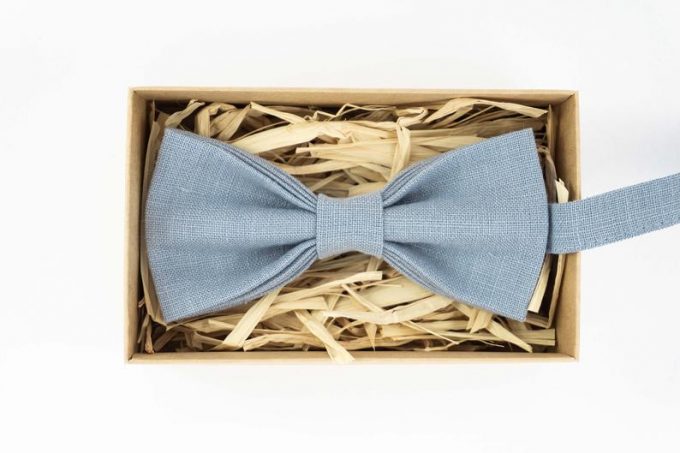 by diviclo
Groomsmen will need a boutonniere to wear; these are perfect and last forever! By SEREN1TY.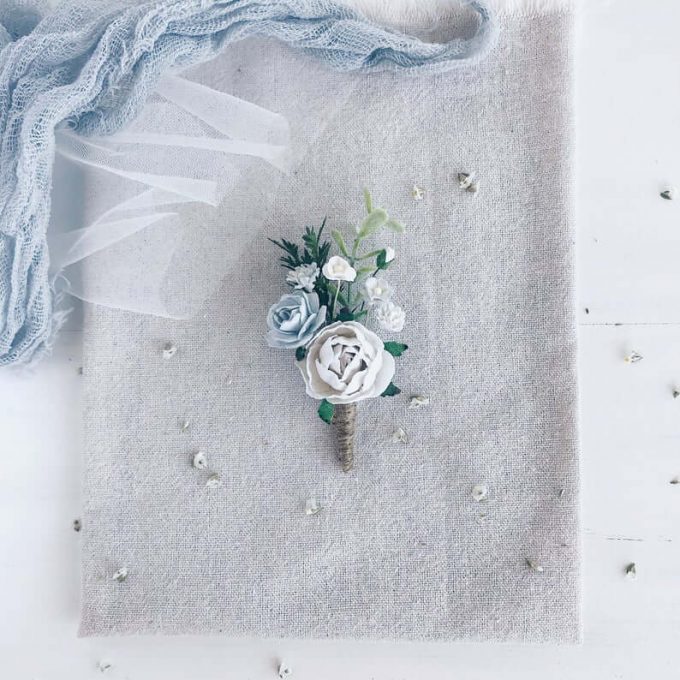 by serenity
Next up: the flower girl.
Flower Girl
The flower girl dress is easy to find for a dusty blue wedding when you know where to get THIS! What a gorgeous dress for your sweet flower girl. By TheFlowerGirlDress.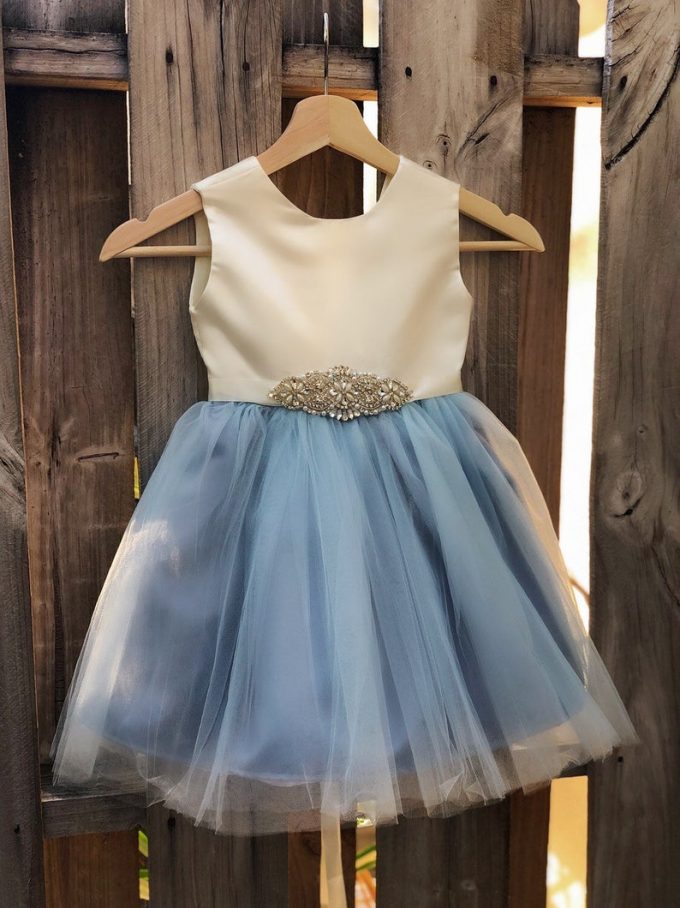 by theflowergirldress
And I also adore this white flower girl dress with dusty blue ribbon! So cute! By AlexDress.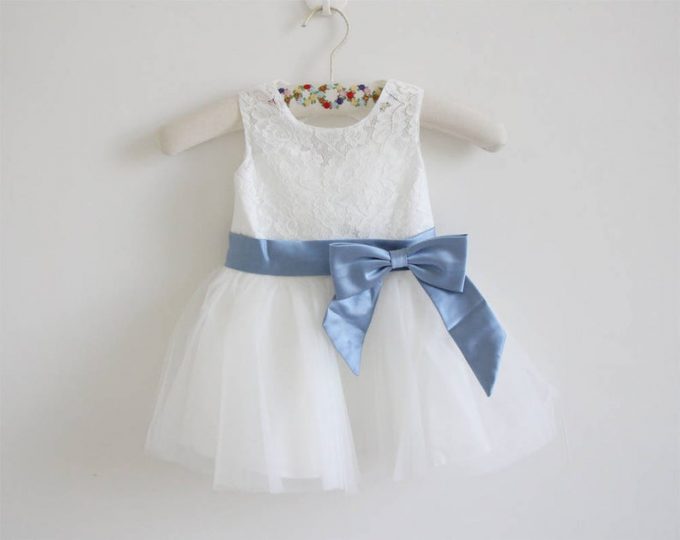 by alexdress
Want another option? Try this dress as another example.
And don't forget a cute pair of shoes! You can get these silver glitter shoes with a dusty blue bow. By KaileeP.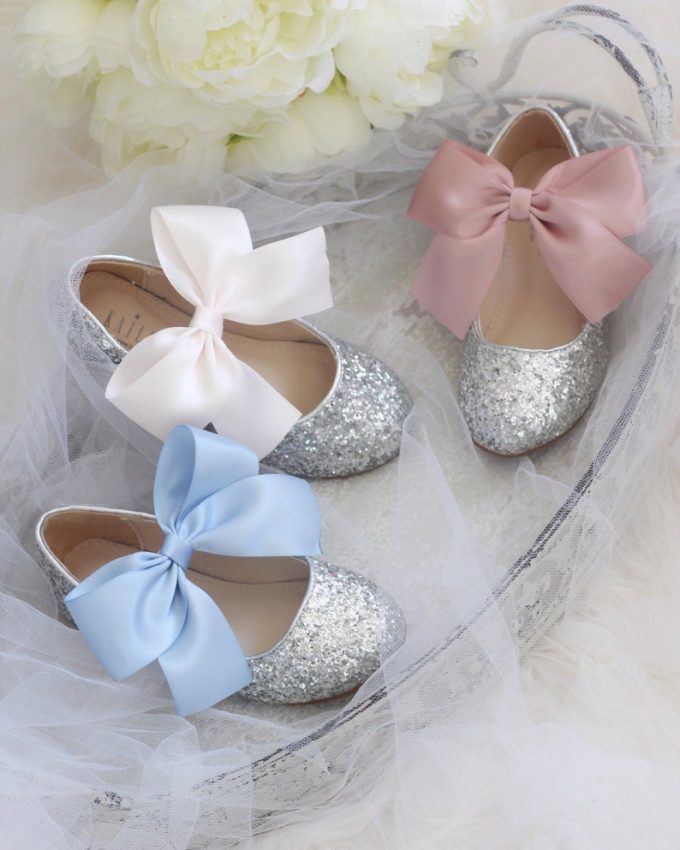 by kaileep
She can wear a delicate flower crown on her head, like this style by SEREN1TY. She'll love the way it looks!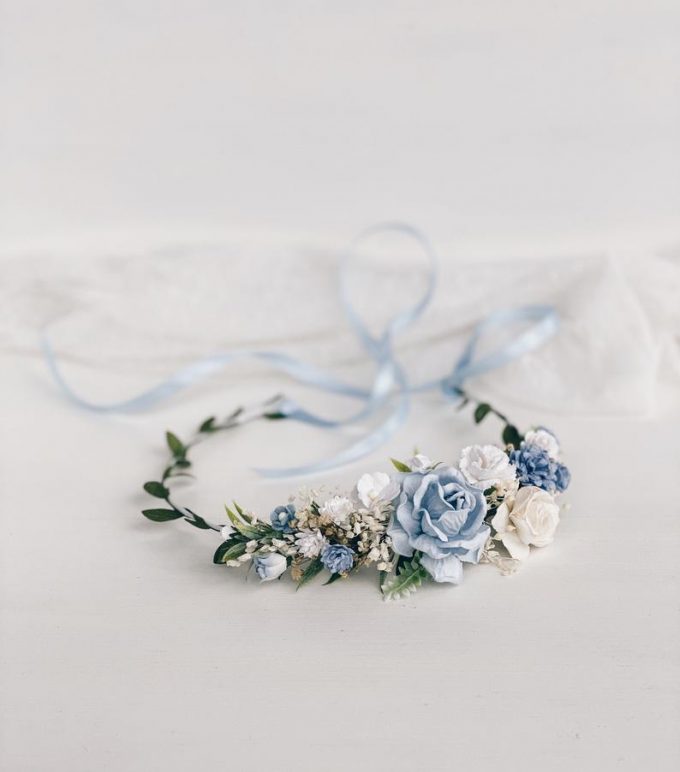 by serenity
Have the flower girl carry a traditional basket down the aisle, adorned with dusty blue wedding flowers on the sides. By WeddingAccessoriesUS.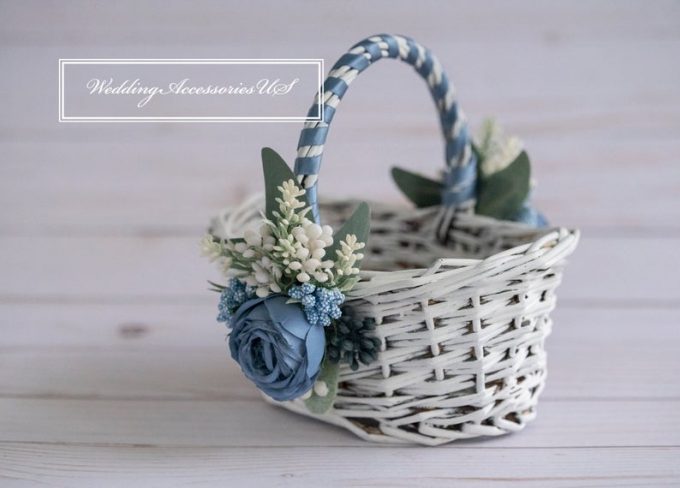 by weddingaccessoriesus
Ring Bearer
He'll need a cute outfit, too! Choose one of these ring bearer outfits and then add the suspenders and dusty blue bow tie as shown here by MrDapperBoutique to complete his look.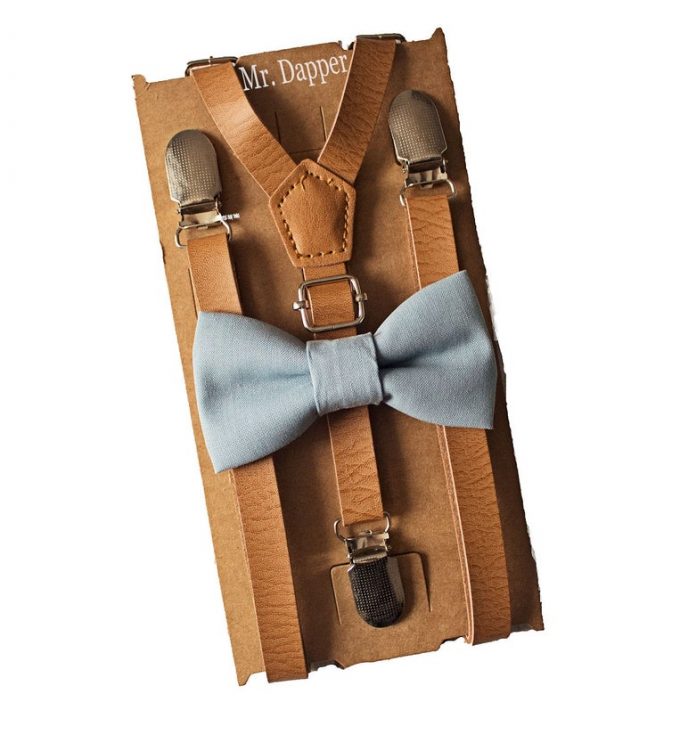 by mrdapperboutique
He can carry this ring bearer box for the rings, which matches the flower girl's basket perfectly. By Wedding Accessories US.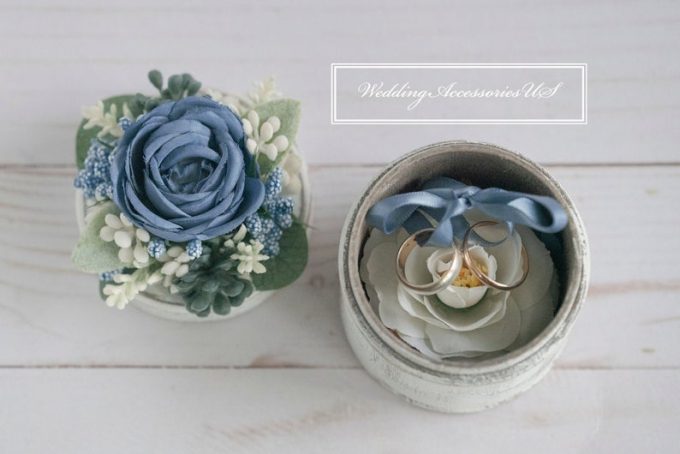 by weddingaccessoriesus
Prefer a traditional pillow? You've got it! This dusty blue wedding ring pillow is a stunning choice. It will look nice as a small throw pillow at home after the big day. By Flowers By Sveta.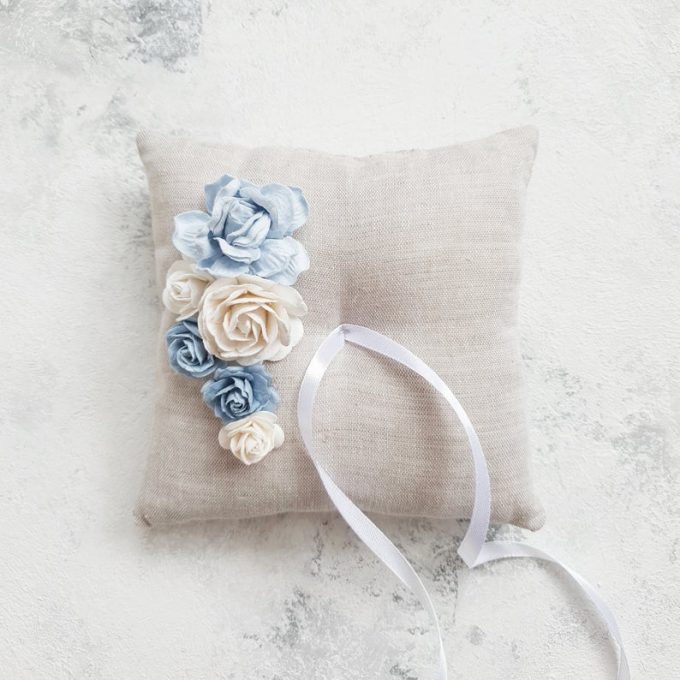 by flowers by sveta
Everyone is outfitted… perfect! Let's talk about the big day itself with dusty blue wedding decorations and accents to pull it all together.
Decorations
Welcome guests to your dusty blue wedding with this hand-painted acrylic sign by PerryhillRustics. Such a pretty style!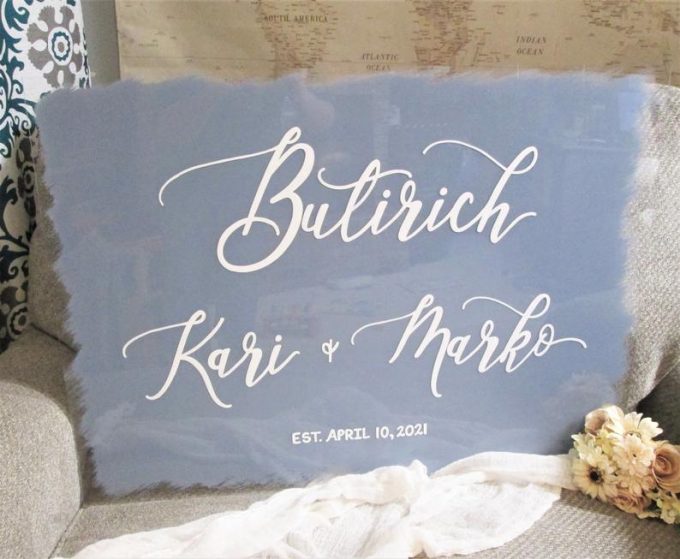 by perryhillrustics
Have guests step up in front of this backdrop for an impromptu photo booth. Spotted at VintageBellsandCo.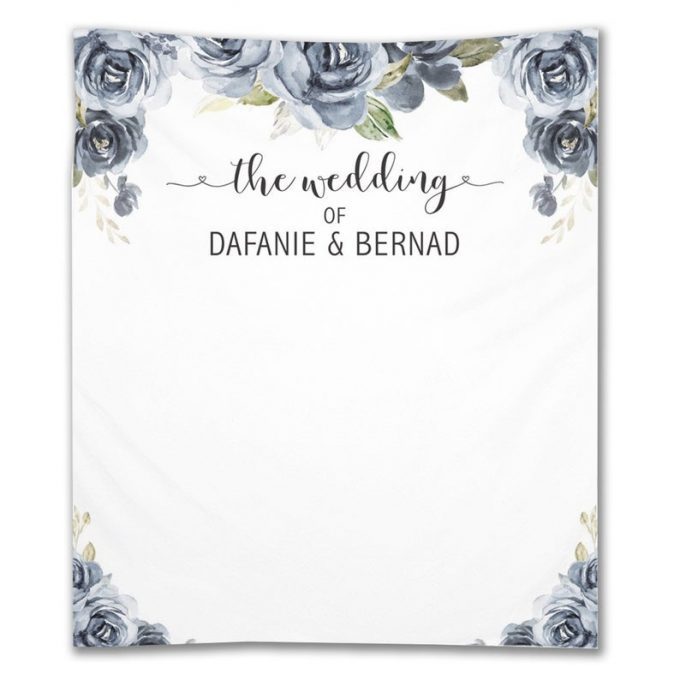 by vintagebellsandco
Say cheers to your new spouse with these elegant dusty blue wine glasses. They're made by CharlestonCharms and make a great gift.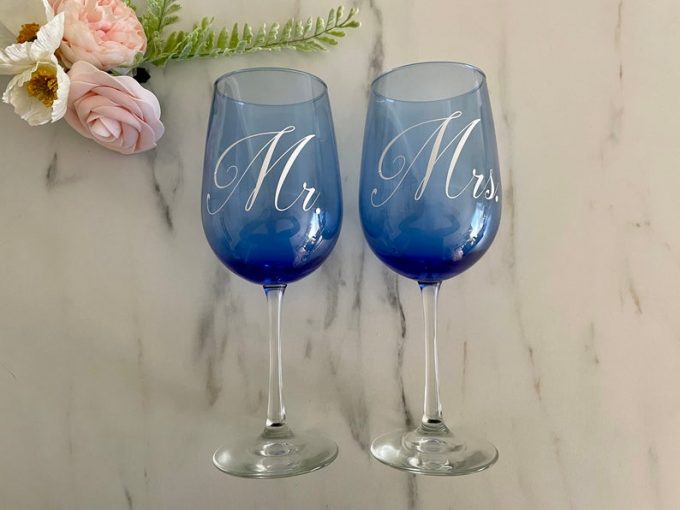 by charlestoncharms
Add decorative strands of garland or banners, like these paper streamers from PartyJones. You can place them around the cake table, on a wall, or as part of your wedding reception entryway.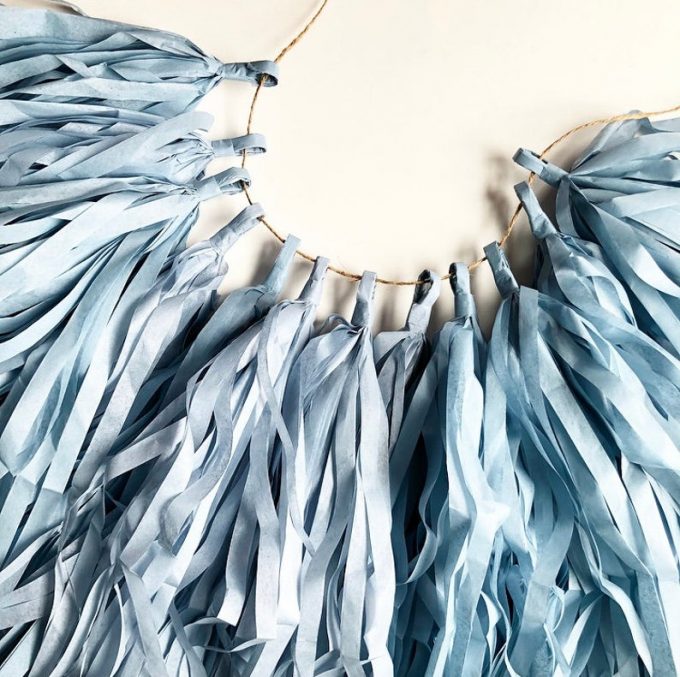 by partyjones
And these pom pom garlands from the same shop.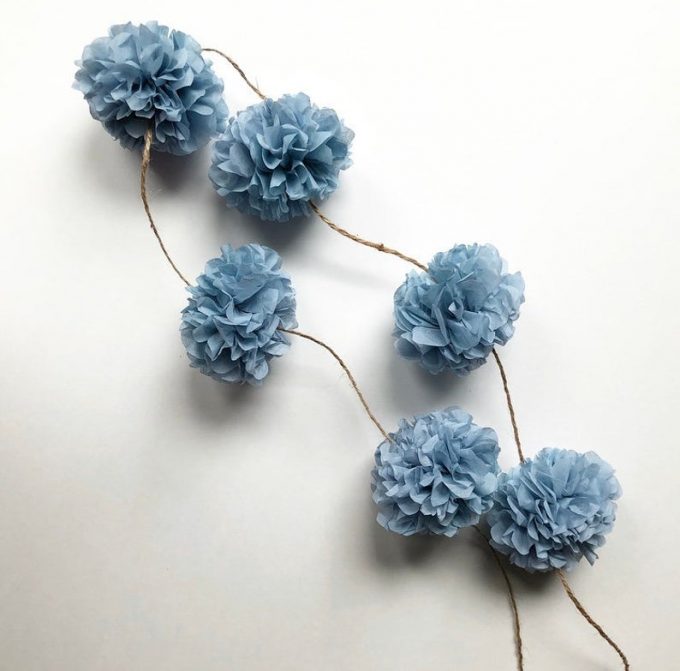 by partyjones
These decorative dusty blue wedding napkins are customized with your initials in an elegant crest. By ForYourParty.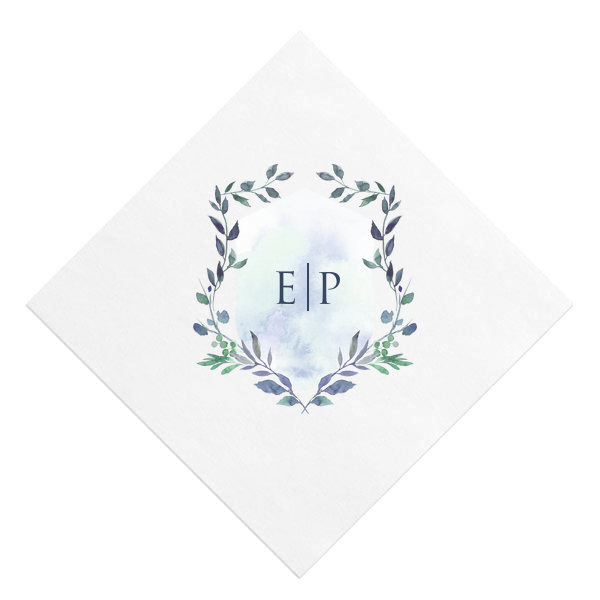 by foryourparty
Or these from the same shop: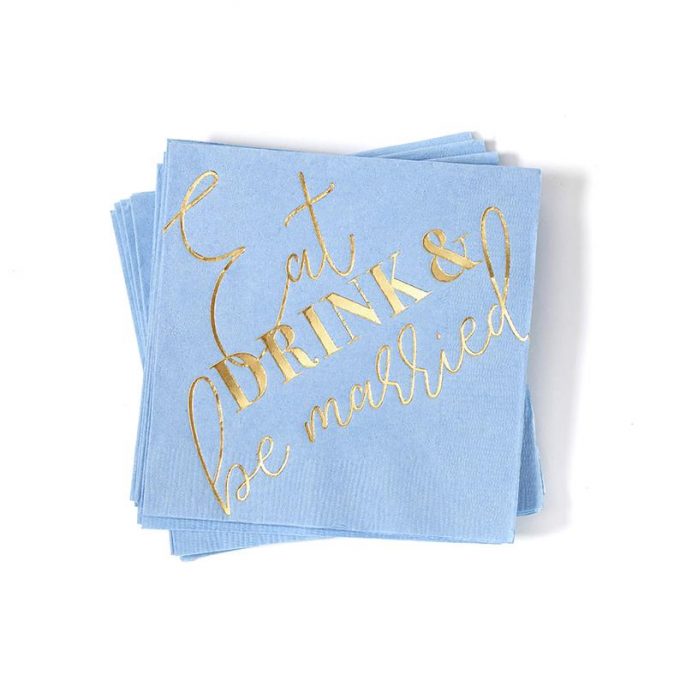 by foryourparty
You can deck out your tables or add any florals, as needed, with these by Ling's Moment.
by ling's moment
For your ceremony aisle, add these decorative dusty blue floral sashes to the backs of chairs. They're available at LingsMoment.
by lingsmoment
Get a birch arch for your ceremony (by BlueSkiesForever)…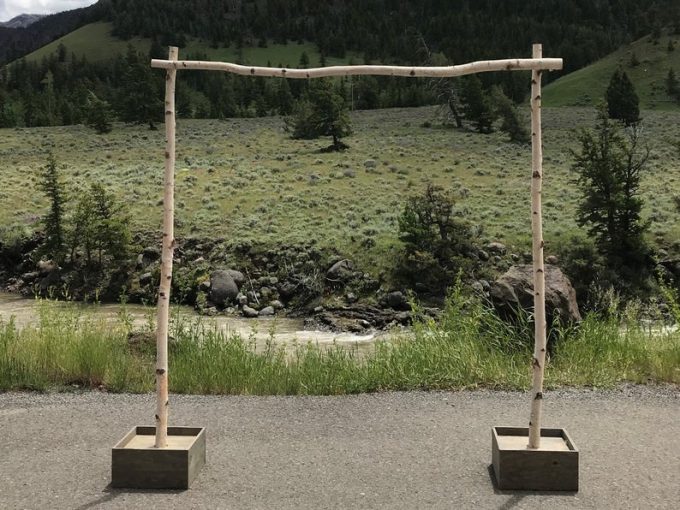 by blueskiesforever
… and deck it out with these gorgeous drapes. By LingsMoment.
by lingsmoment
Beautiful!
Whether down the aisle or on top of tables, these dusty blue wedding petals are a nice decorative touch. By PartyDecorGarden.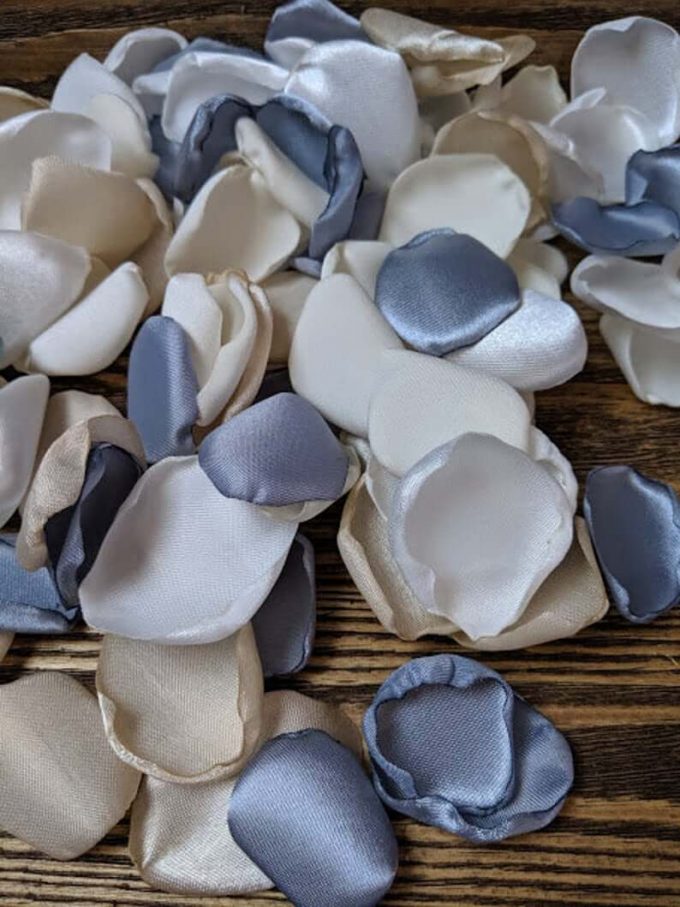 by partydecorgarden
Guest Book
Set up a guest book at a reception table, close to the entryway, to maximize well-wishes. Here are just a few options you'll love.
Wedding guest book alternatives are all the rage, like this 3D heart art you can hang up at home after the wedding day. By YourWeddingTheme.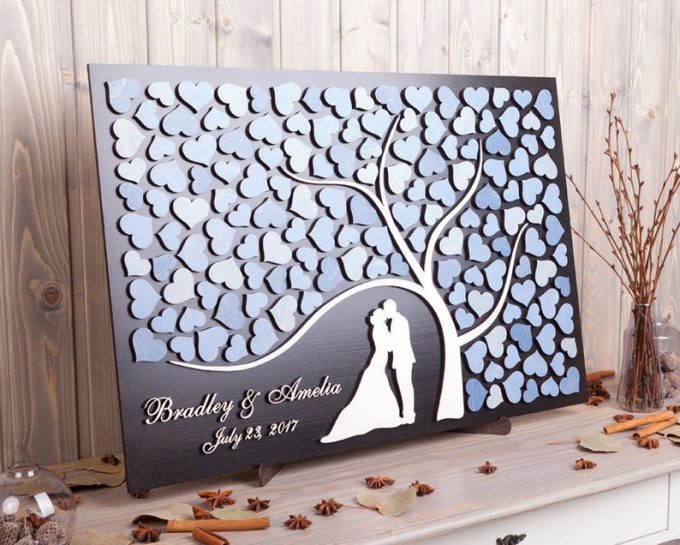 by your wedding theme
Or kick it old school with a classic book! This dusty blue guest book is perfect. By PaperBoundLove.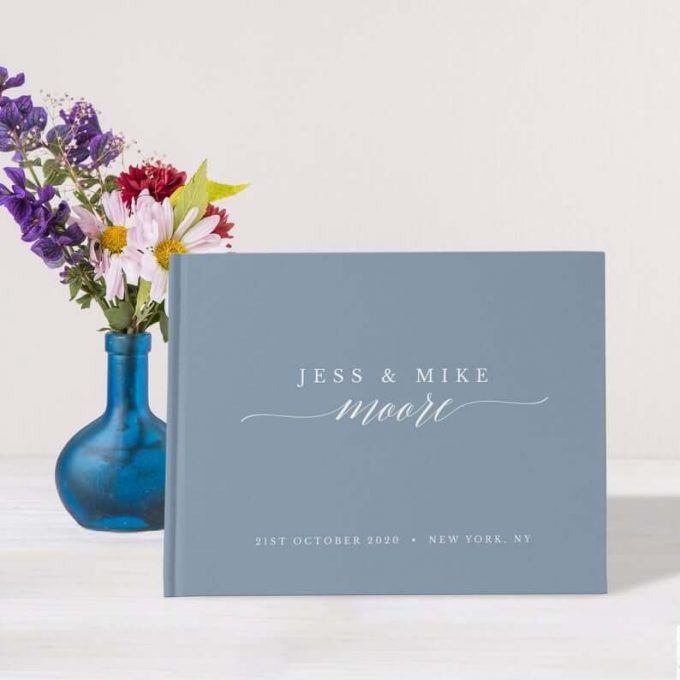 by paperboundlove
Cake
Serve up your cake with this dusty blue wedding cake server set by LaivaArt.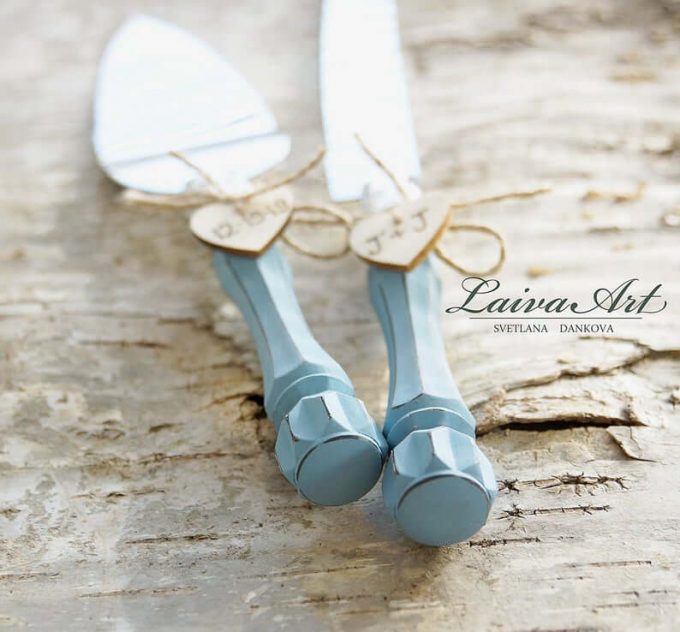 by laivaart
And top your cake with these sweet dusty blue love birds by Angelheartdesigns.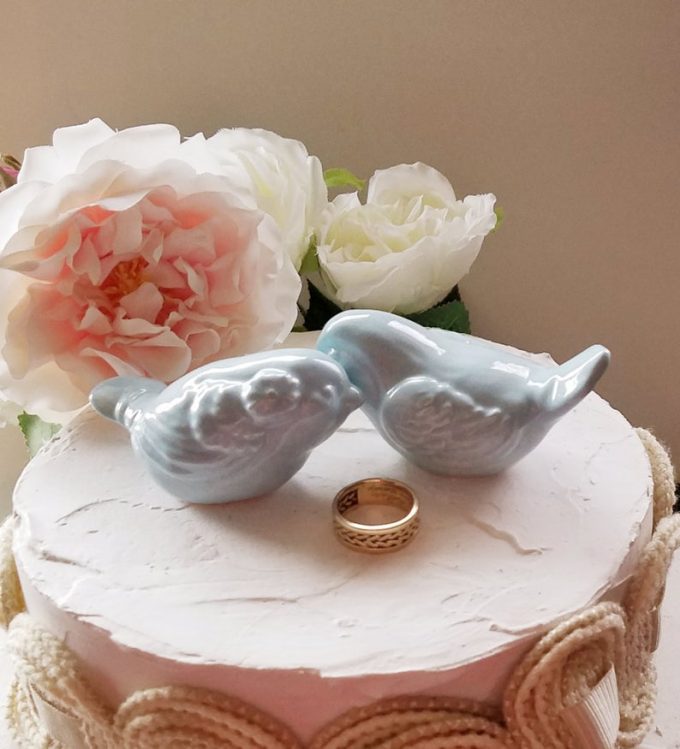 by angel heart designs
Sending guests home with slices of cake? Use these pretty cake boxes by PersonalizedFavorCo.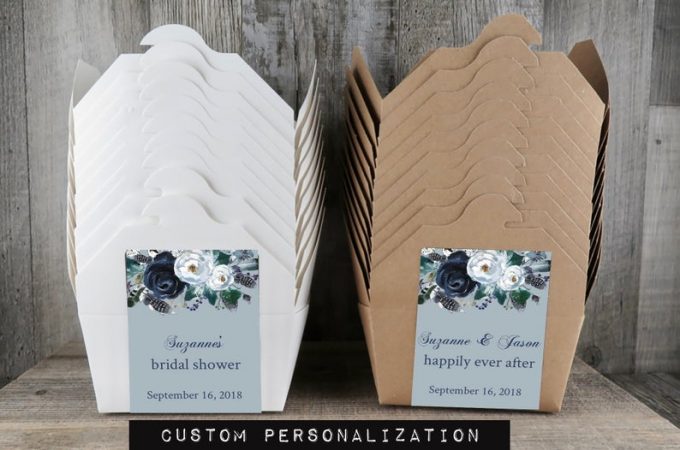 by personalized favor co.
At the ceremony, plan a unity candle ceremony and this elegant set by StayWithAnn.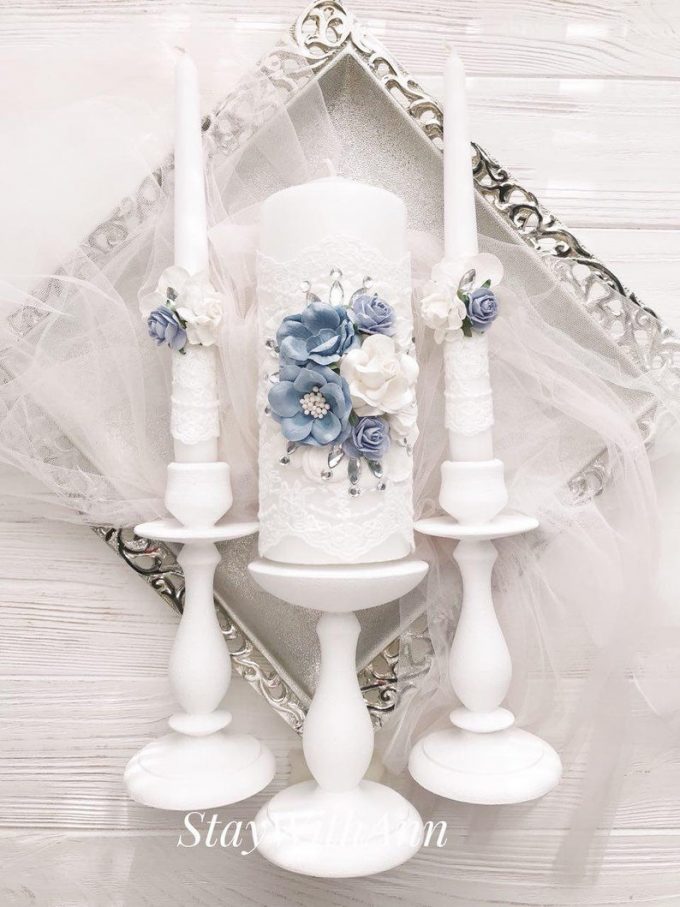 by staywithann
Moving on to the reception, here are some ideas to deck out your dusty blue wedding reception tables.
Set The Table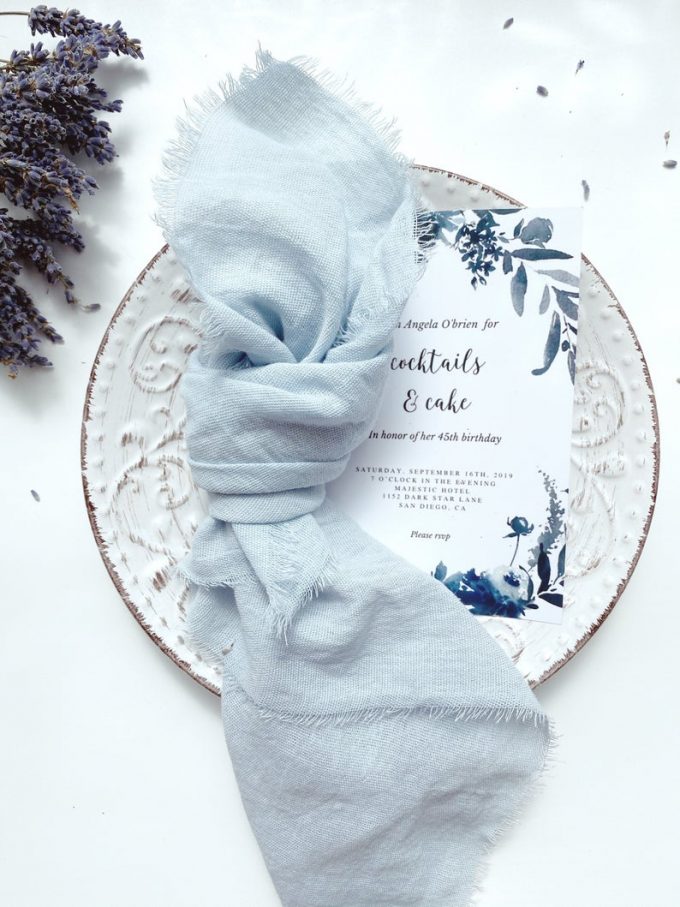 by lovely heart things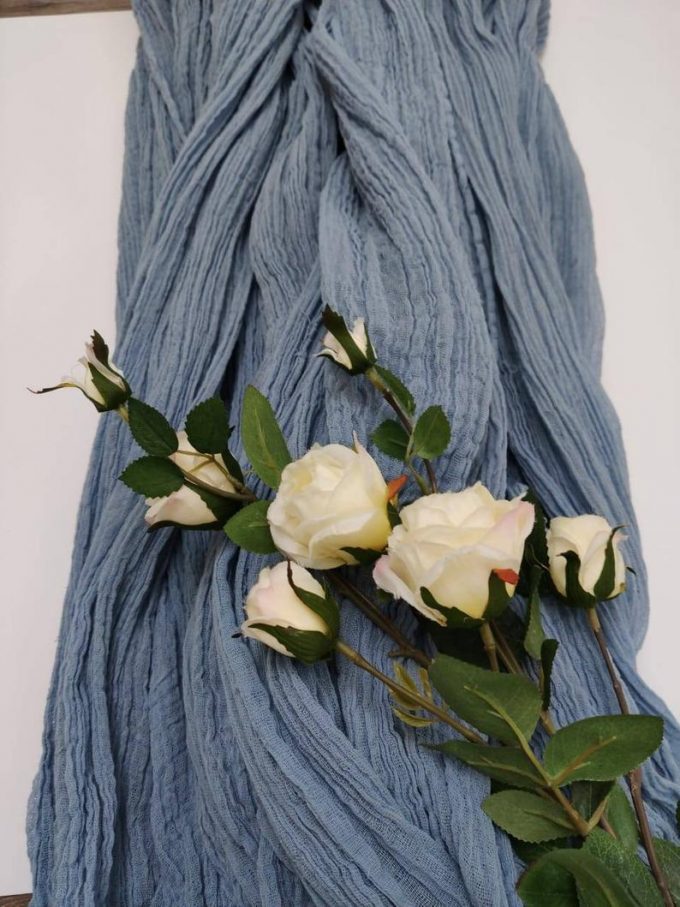 by decodreamsstore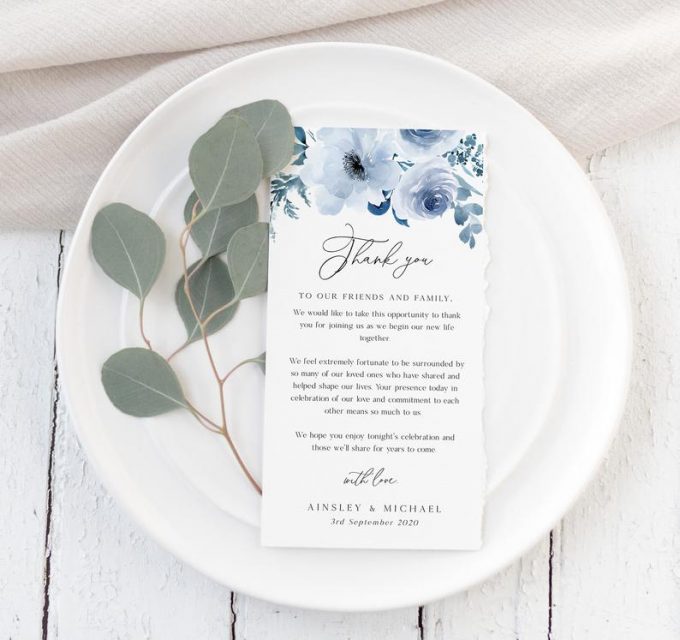 by berry designs shop
Or these by DorisHome:
by dorishome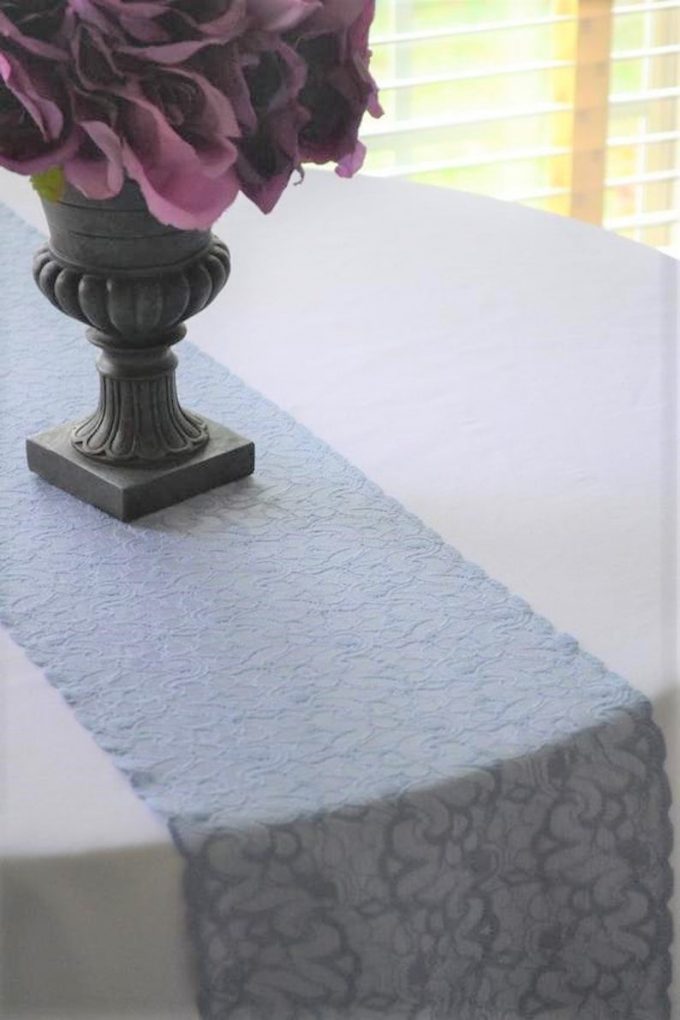 by lola and bea
For dusty blue linen napkins and table runners, we recommend RPLinen as one resource.
For your tables, you can add these soft dusty blue wedding garland strands — stunning! — by Flaural.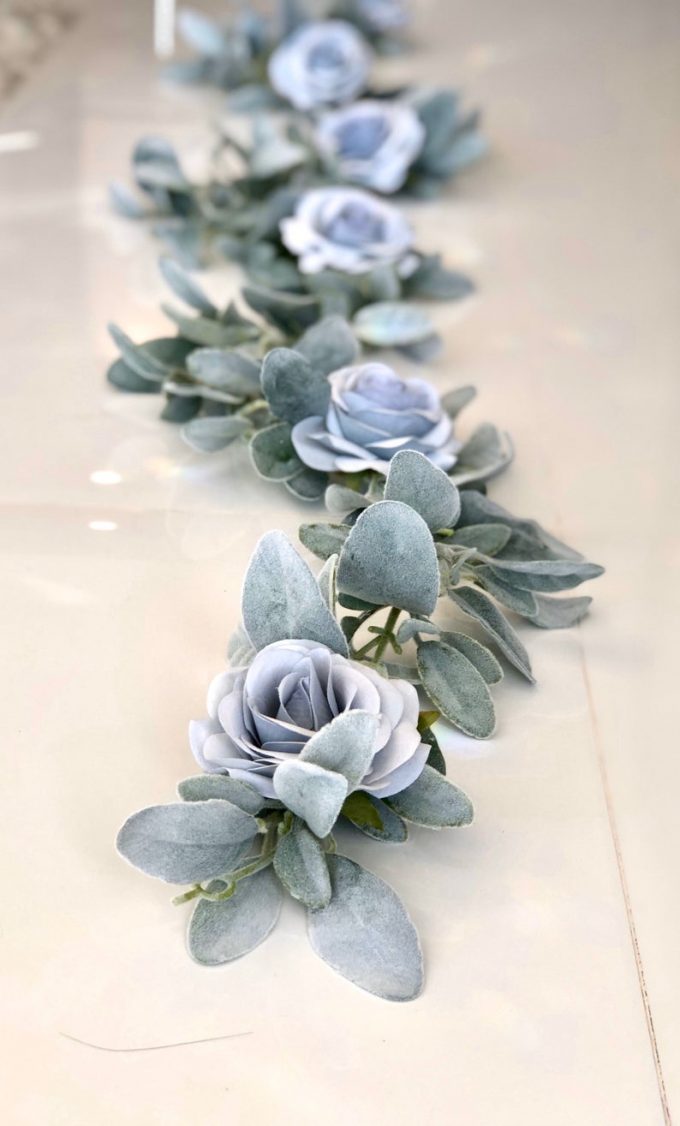 by flaural
Add centerpieces that you love, like dusty blue flowers and pampas grasses (love these!) from FernsAndSunPalm.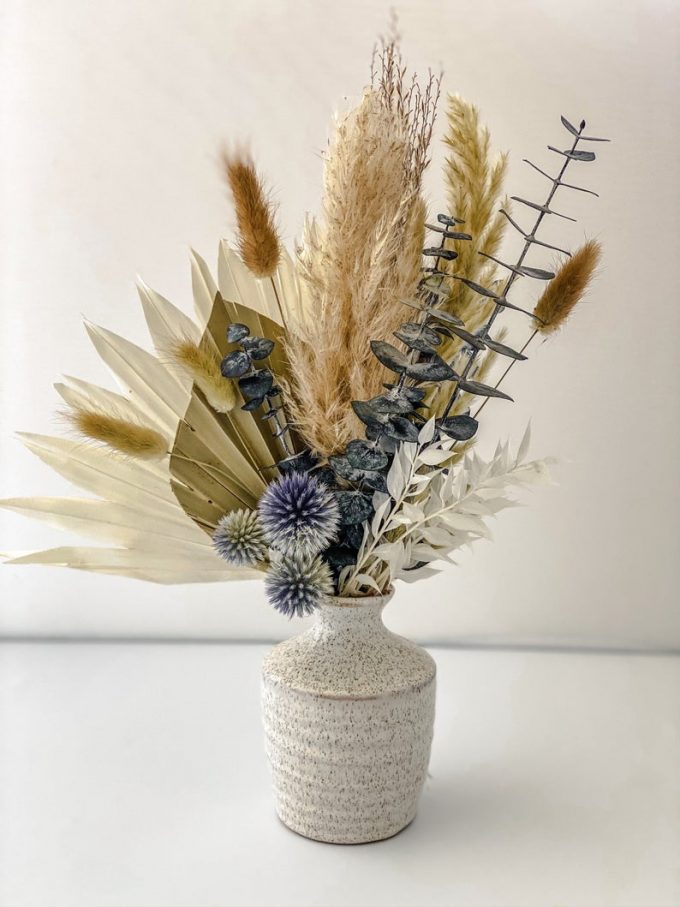 by ferns and sun palm
Or these decorative floral centerpieces in nice rustic wooden boxes. Handmade by WeddingsByBillie.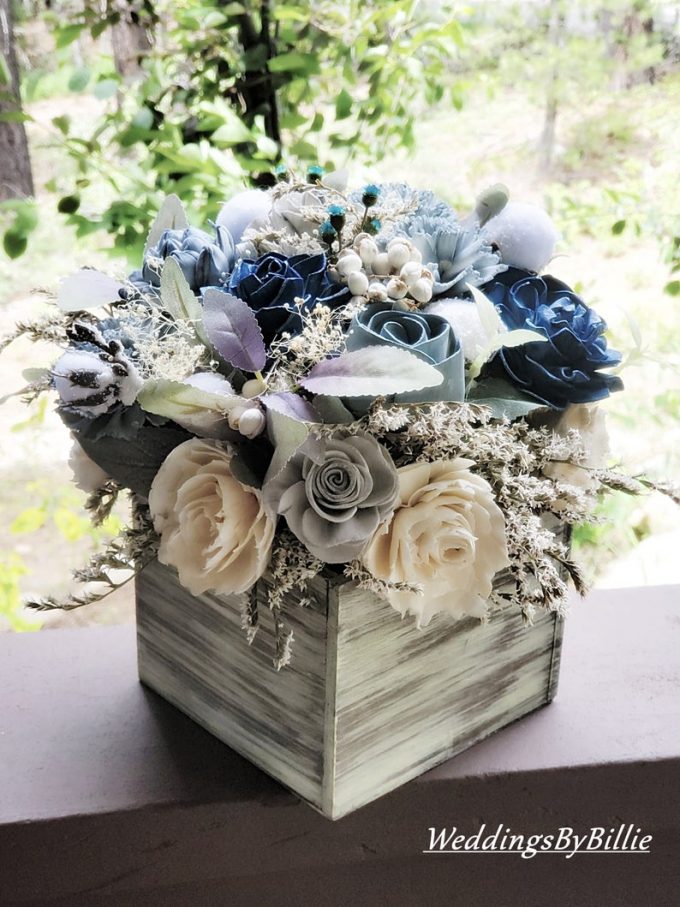 by weddings by billie
You can make your own dusty blue wedding centerpieces with these artificial hydrangea blooms in glass hurricane vases or mason jars. By LuLuHouse.
by luluhouse
And last but not least, add wedding menus to your tables. These are editable and look great! By KarmaKWeddings.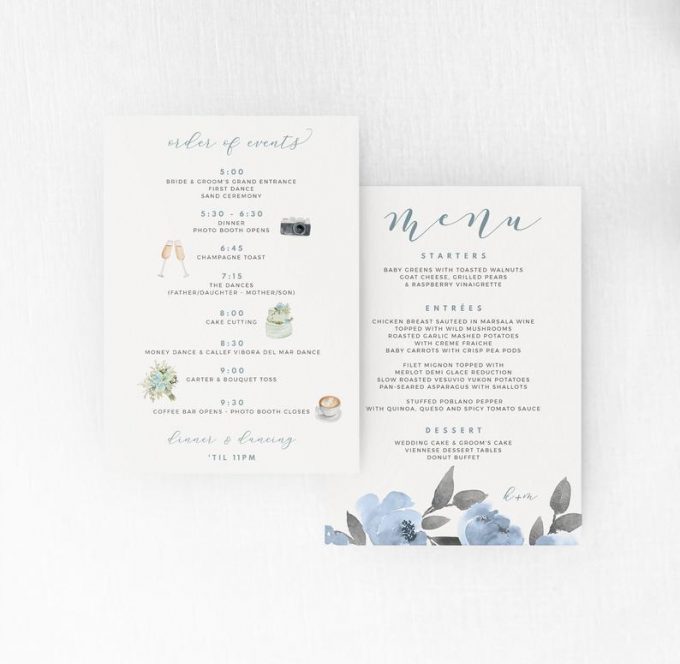 by karma k weddings
Now let's talk about flowers. What kind of bouquet will you carry?
Bouquets + Flowers
We found a plethora of dusty blue wedding bouquets and bridesmaid bouquets to carry down the aisle, all handmade and designed to last forever. Here are just a few of our favorites.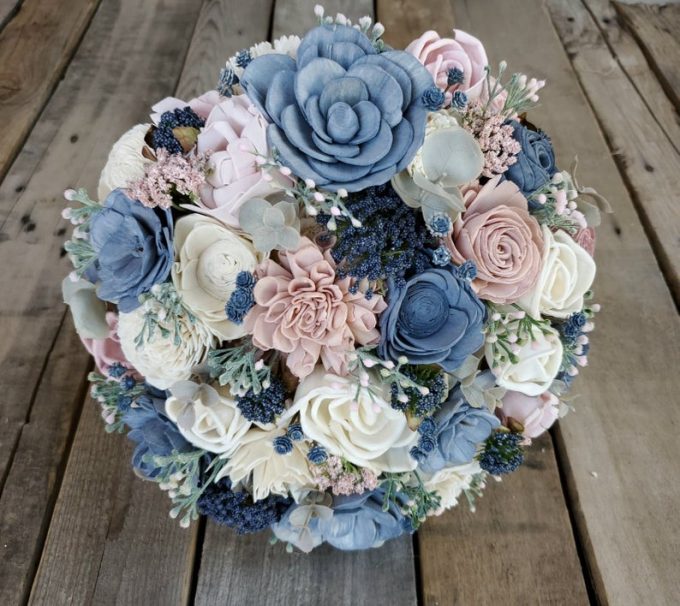 by rose and bee organics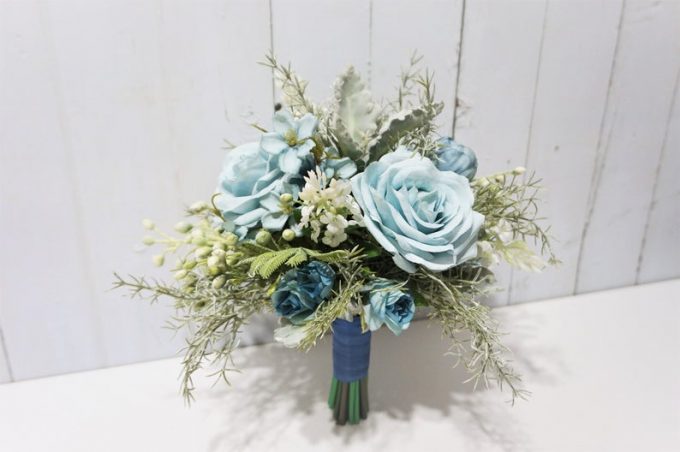 by hydrangeaslover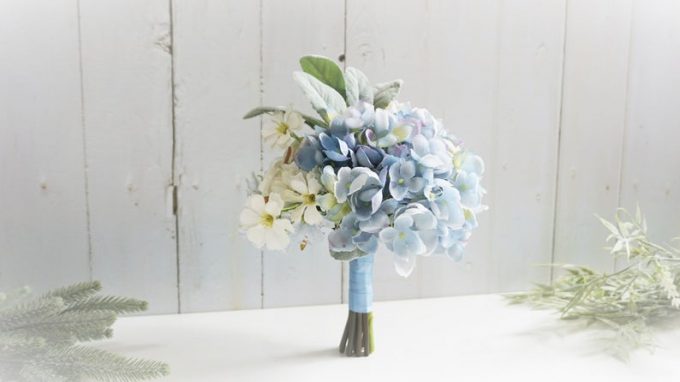 by hydrangeaslover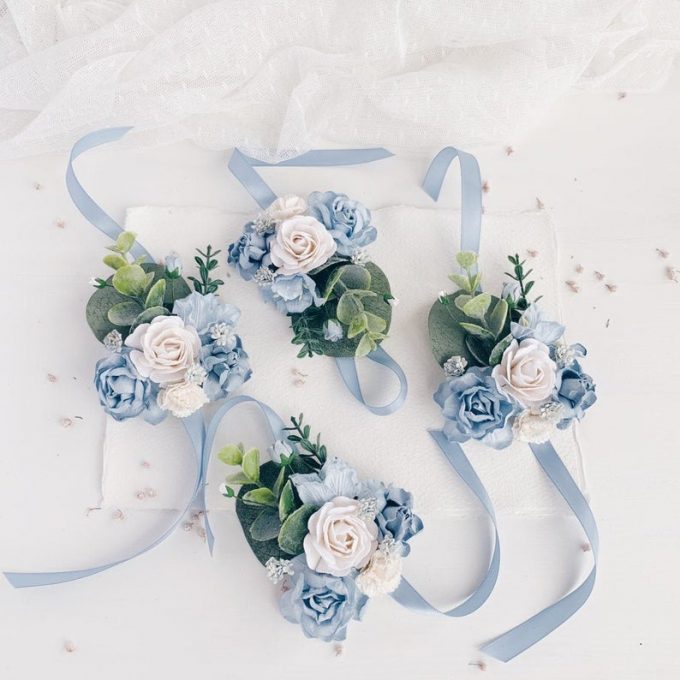 by serenity
Instead of a bouquet, bridesmaids can carry this modern bouquet hoop — a popular choice! — adorned with dusty blue flowers. By PishPoshLove.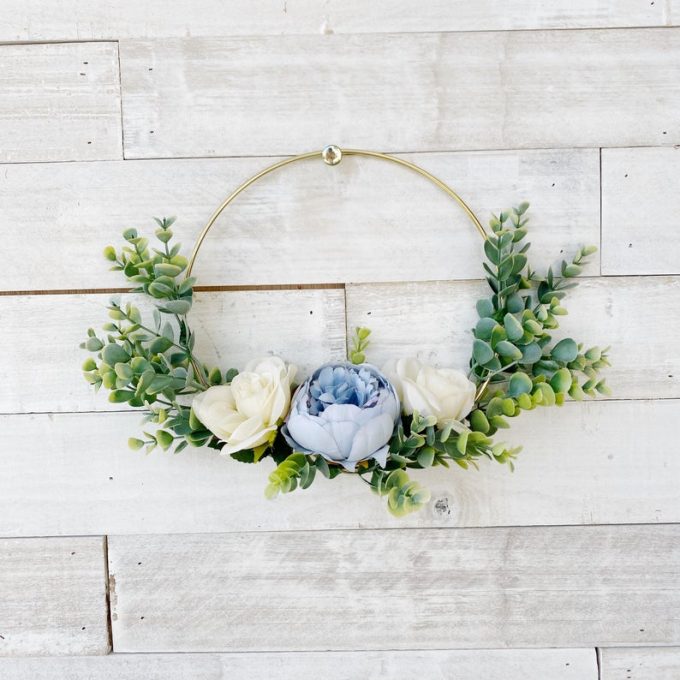 by pishposhlove
Wrap your bouquet handles with this elegant ribbon in a pretty shade. By LinenLark. This dusty blue ribbon can be used for invitations and favors, too.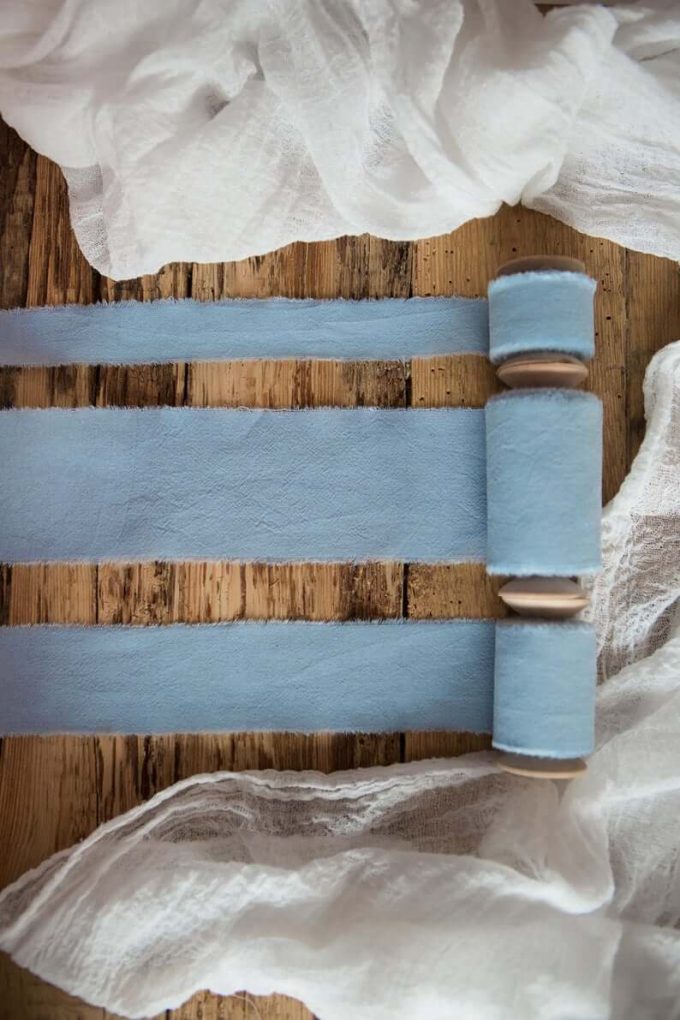 by linenlark
Table Numbers, Ceremony Programs, Place Cards
You'll also need a few day-of stationery items, like table numbers, ceremony programs, and place cards. These are all designed by SideStreetDesigns so they match perfectly. P.S. I spy those program fans we talked about earlier, too!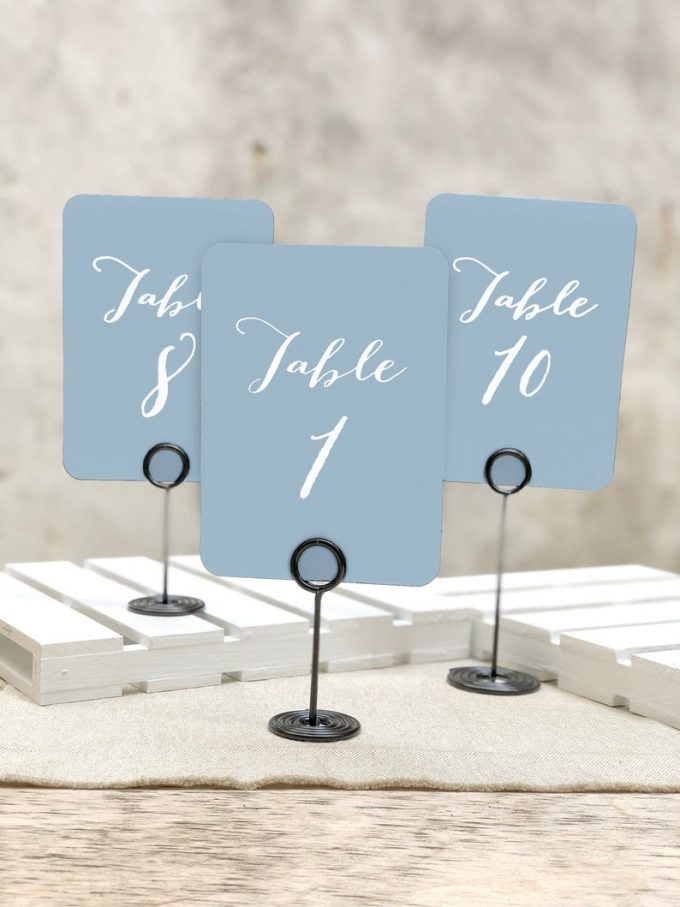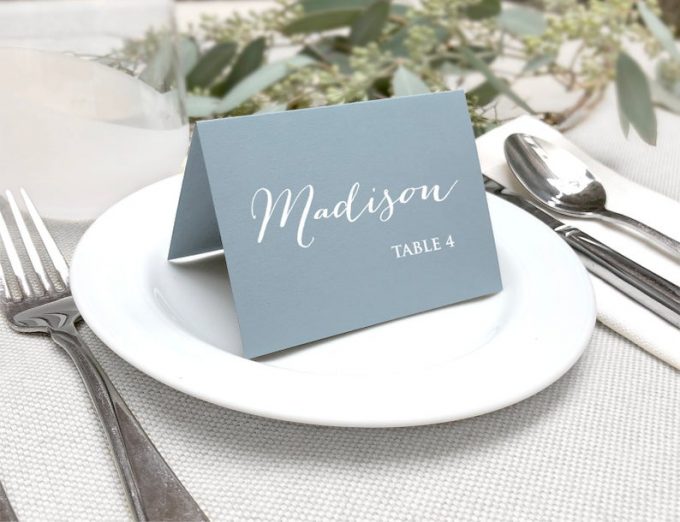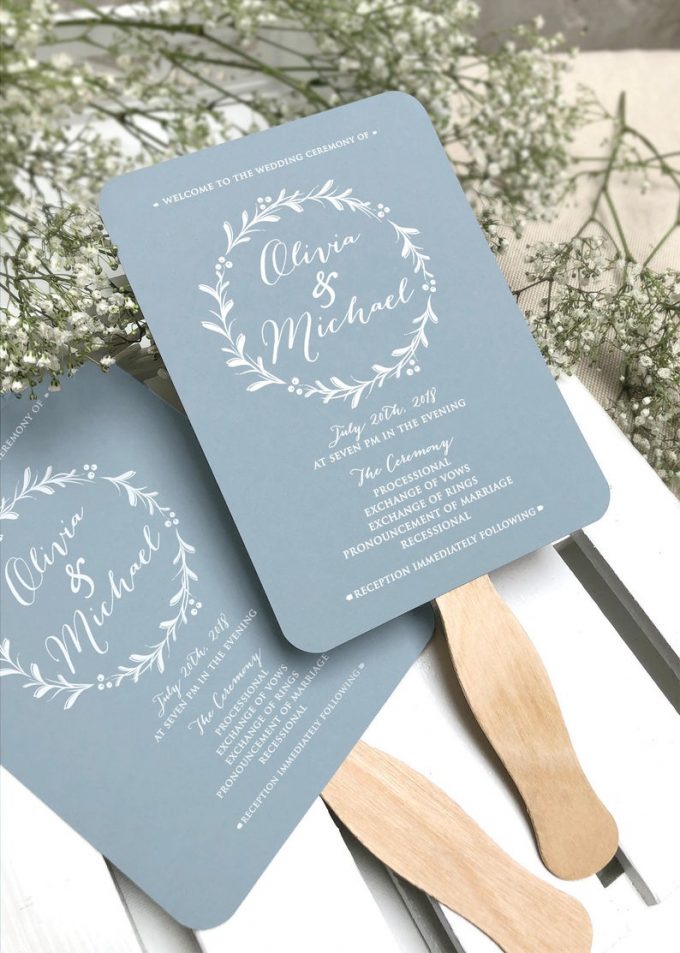 Favors
Give guests take-home favors that coordinate with your color palette. Here are just a few fun options.
Luggage Tag Favors by Letter and Leather: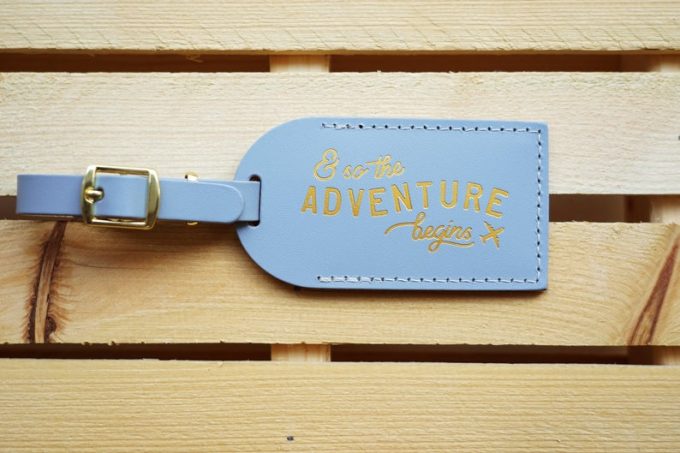 by letter and leather
Hand Sanitizer Favors by ThePaperedWedding: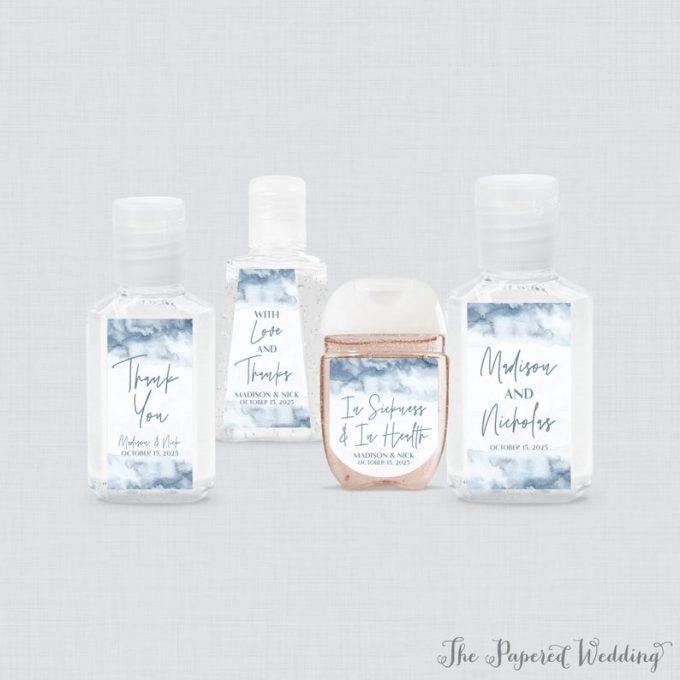 by the papered wedding
Bubble Favors, fully assembled by MintFavorsAndMore: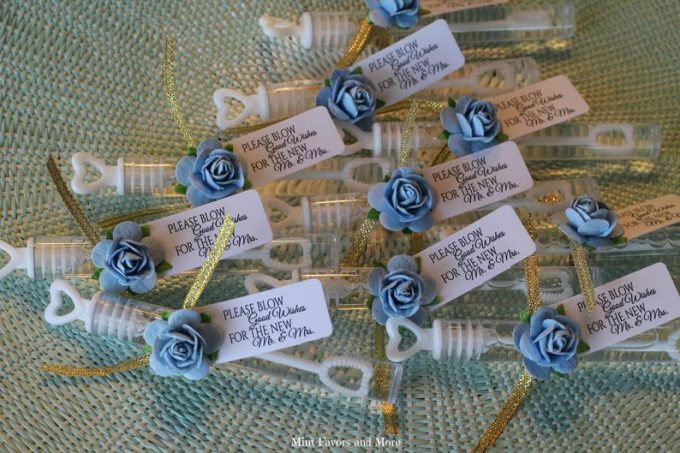 by mintfavorsandmore
Wine Bottle Stopper Favors by KarasVineyardWedding: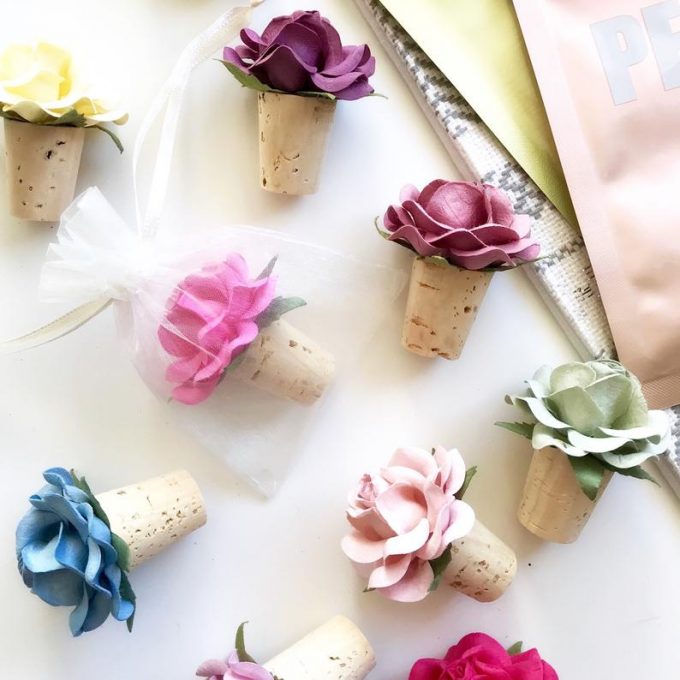 by karasvineyardwedding
Now, let's talk about gifts for bridesmaids. It's so much easier to shop by color palette, so these presents will all coordinate beautifully.
Bridesmaid Gifts
When you're planning a dusty blue wedding, you can kick off the fun with bridesmaids by picking out bridesmaid proposals to emphasize your theme. For instance, you can send an elegant be my bridesmaid card in a soft shade of dusty blue by ElmwoodPaperie.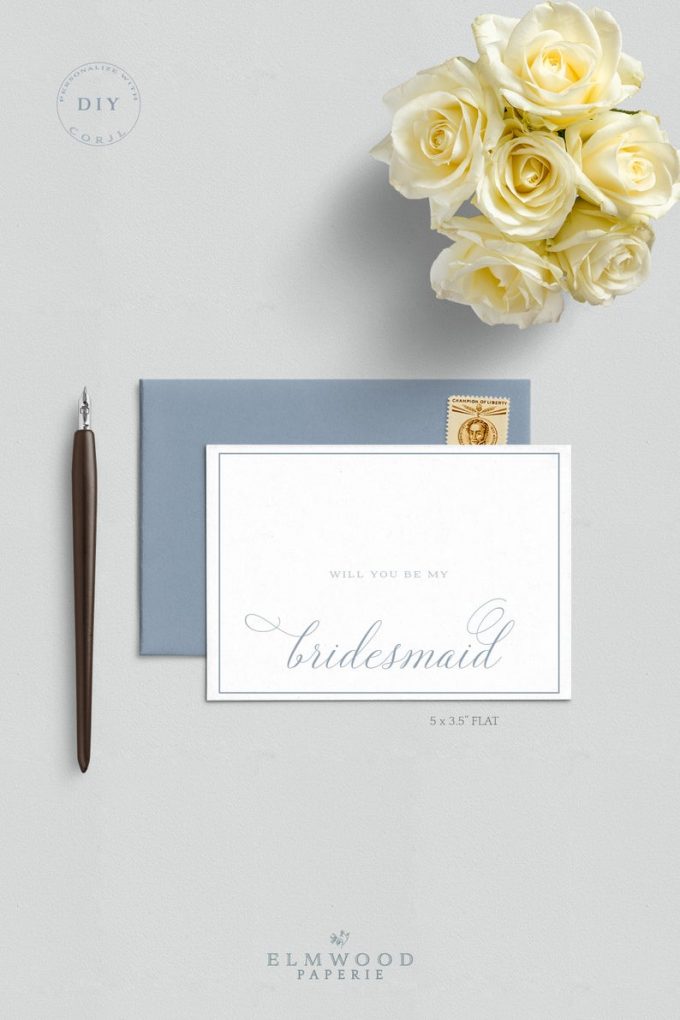 by elmwood paperie
Bridesmaids can also scratch off a secret message with these cards by Announce It Favors.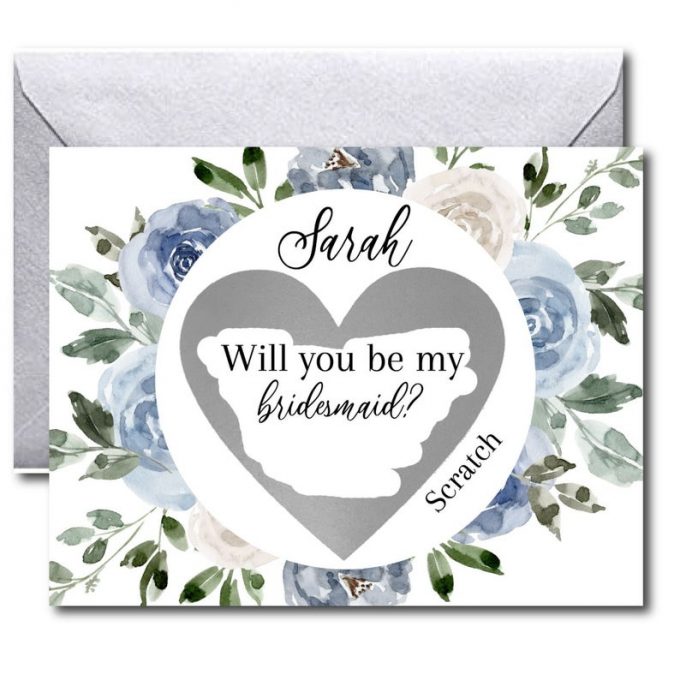 by announceitfavors
Or ask with a be my bridesmaid gift box, like this one by HarxonCollective.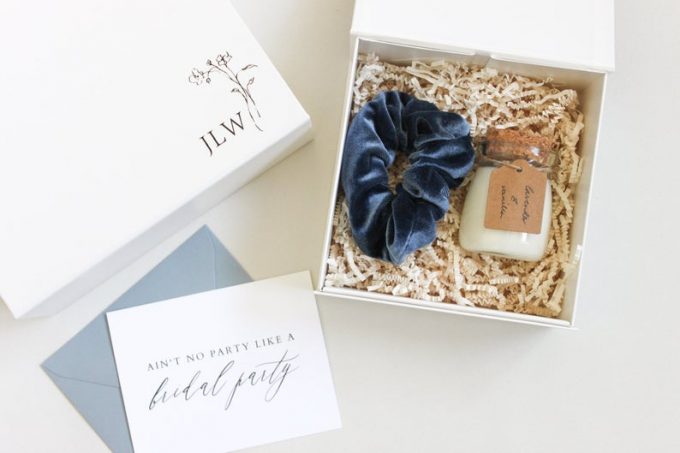 by harxoncollective
Now, let's talk about bridesmaid getting ready attire. Robes are a popular choice — and we love these by DivineBridalShop.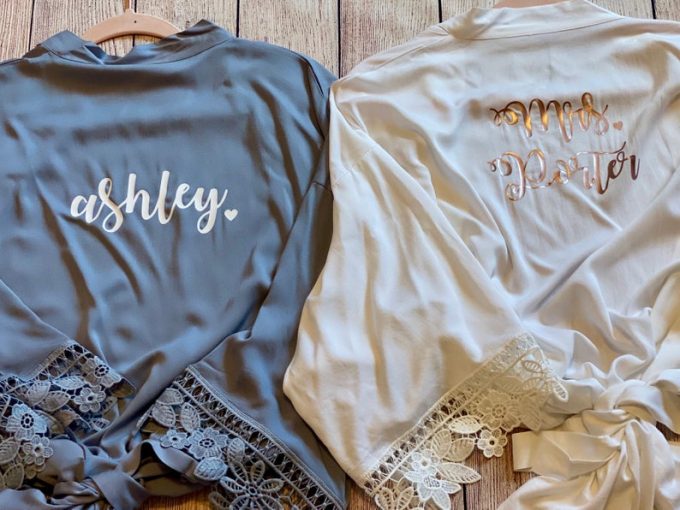 by divine bridal shop
Want to wear bridesmaid shirts instead, or as bachelorette party attire? Sure thing! These pretty shirts by DecoratedDelight look super-soft and comfy.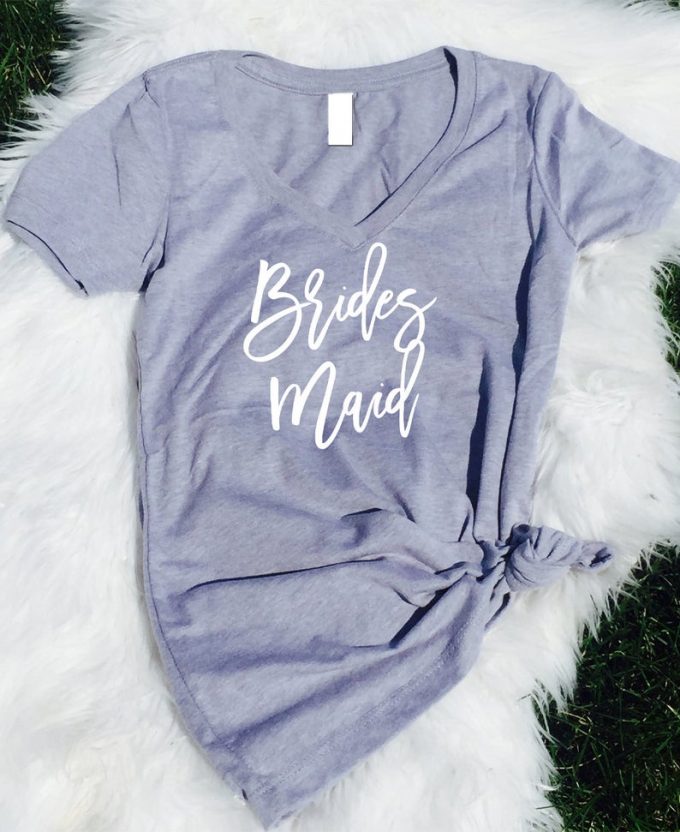 by decorateddelight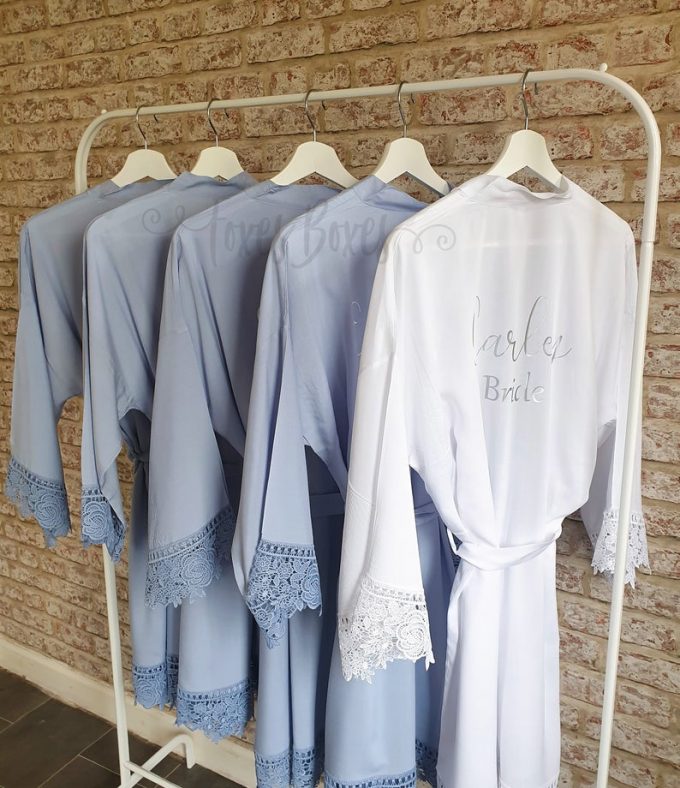 by foxesboxesuk
If you prefer dusty blue bridesmaid pajamas, try Everthine Bridal as a resource.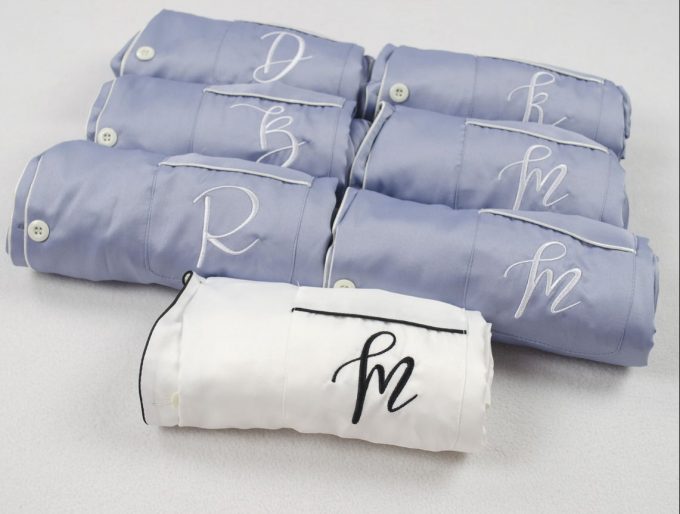 by everthinebridal
Now, let's talk bridesmaid gifts. Here are some of our favorite jewelry pieces and small gifts to say thank you for being a part of your wedding.
Earrings by Theresa Rose Weddings: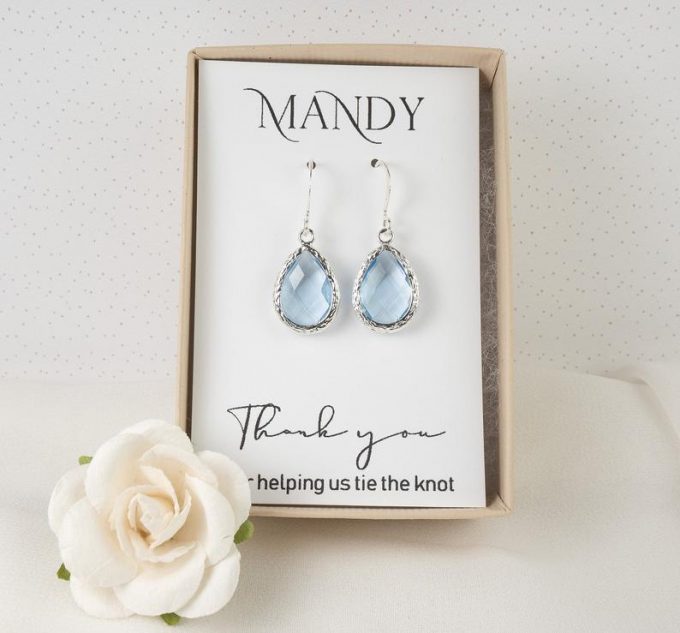 by theresa rose weddings
Bridesmaid Hair Ties by LoveMiaCo: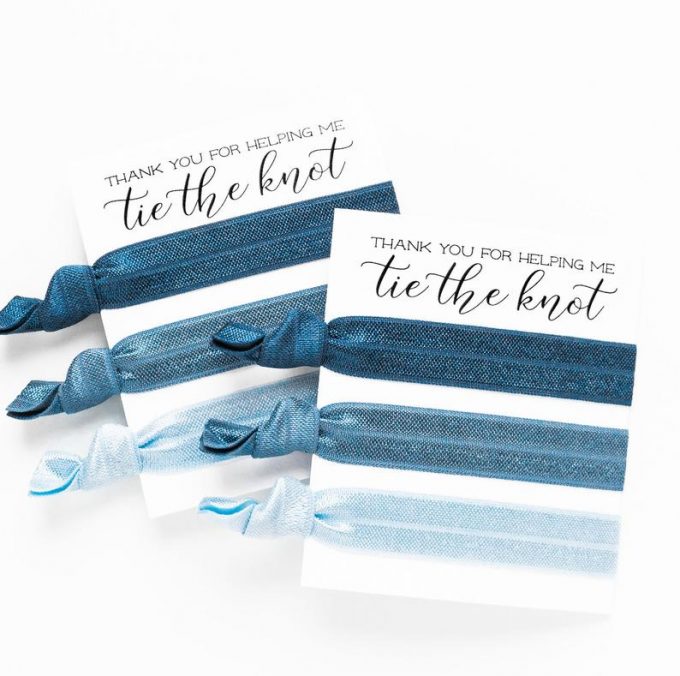 by lovemiaco
Dusty Blue Bridesmaid Can Coolers by AvenueJCreations: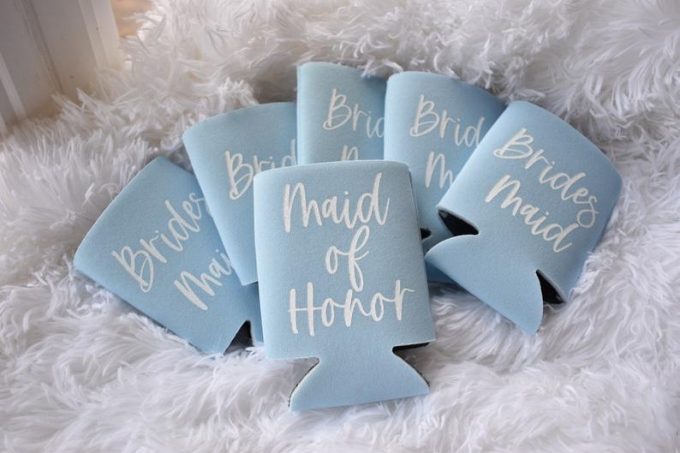 by avenuejcreations
Bridesmaid Mirrors by GlamCoDesigns: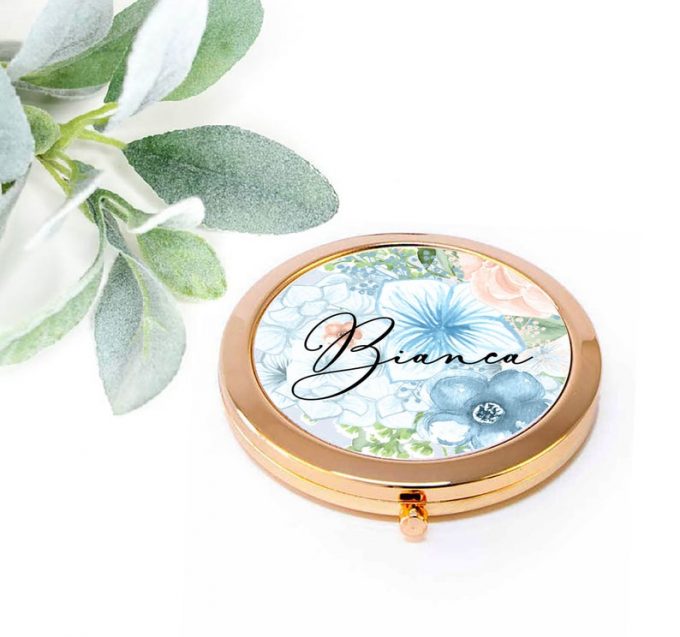 by glamcodesigns
Bridesmaid Tumblers by The Mint Orchid: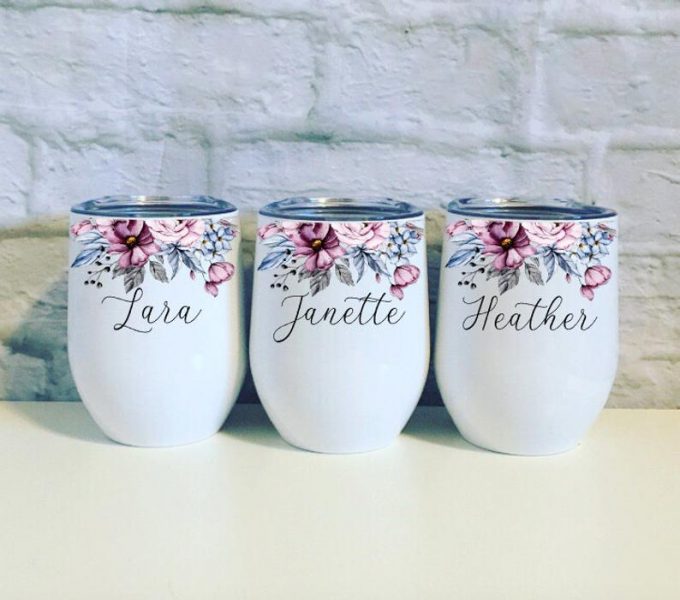 by the mint orchid
Bridesmaid Jewelry by ChicMaddies: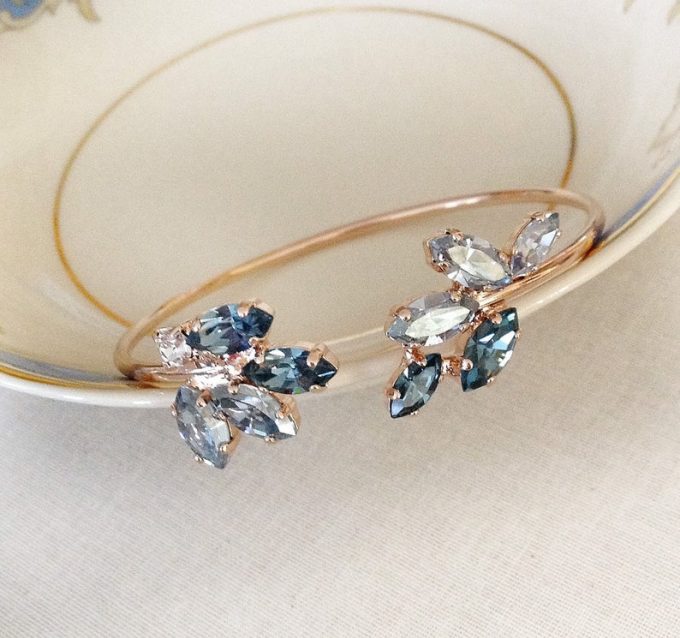 by chicmaddies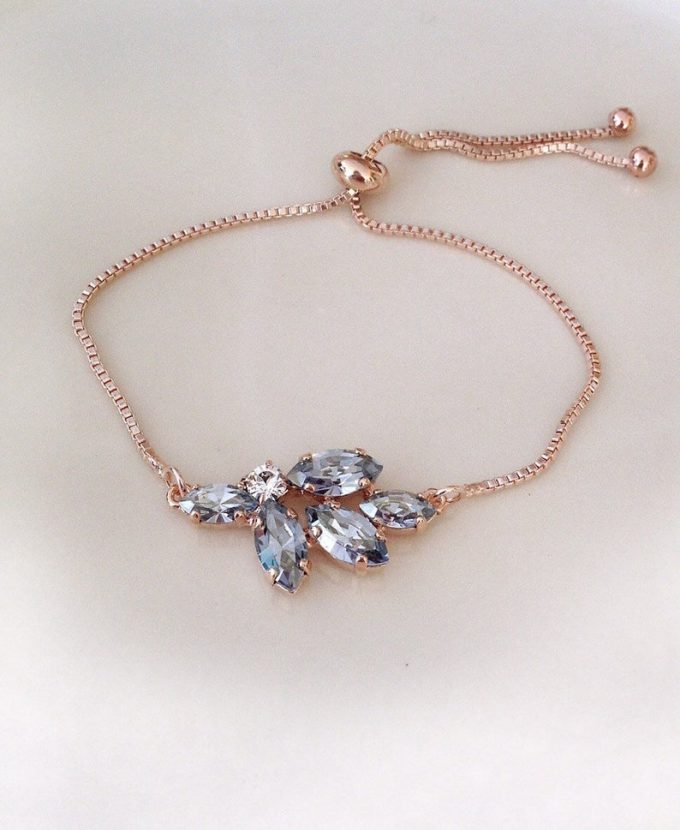 by chicmaddies
Face Masks
Offer masks to guests in coordinating colors! These reusable masks are a fun idea and are monogrammed for your big day. By BellesDesignShop.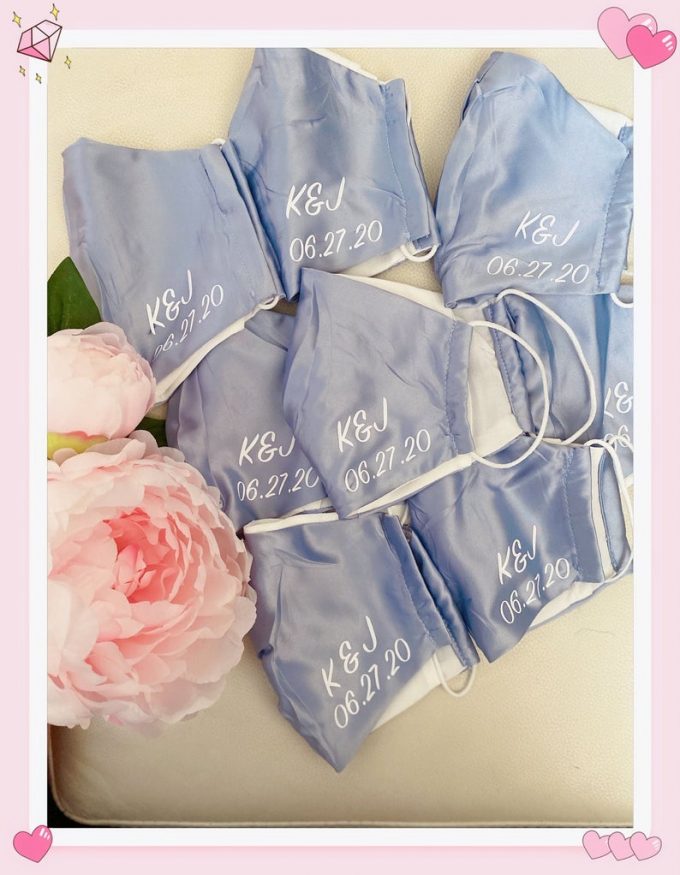 by belles design shop
Prefer disposable? These are perfect face masks for wedding guests! By ForYourParty.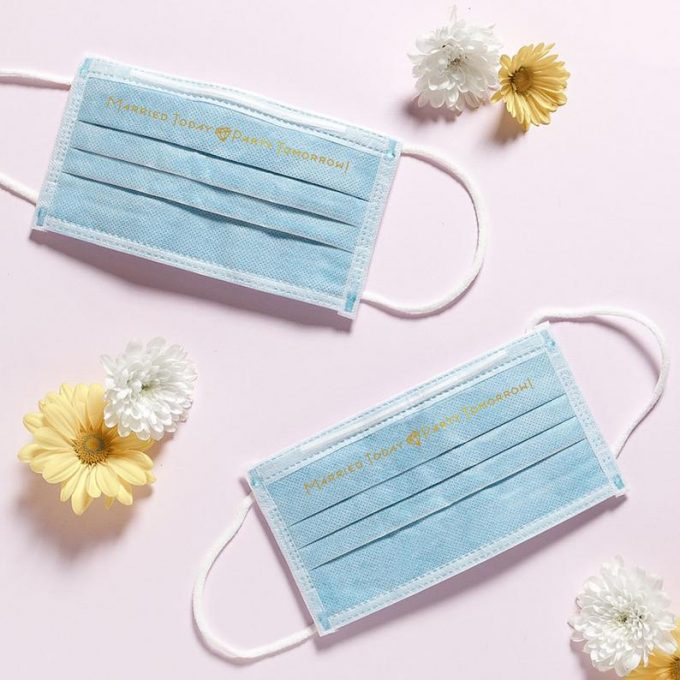 by foryourparty
And there you have it: how to plan a dusty blue wedding! Which of these ideas is your favorite? Are you planning a dusty blue themed wedding? Tell us all about it in the comment box below!
Happy Planning!
xo
Emma