What are the best fall bridesmaid dress colors for 2022? We're here to report on it! Read on to find out and subscribe now for the latest to your inbox for FREE!
If you're planning a fall wedding, get those bridesmaid dresses ordered ASAP! It will be September before you know it and you'll want to include plenty of time for shipping, alterations, etc. If you're stumped on what colors to choose for bridesmaids dresses, look no further. We're here to help you with this latest Ask Emmaline question from bride-to-be, Alyssa. She's looking for the top fall bridesmaid dress colors 2022 has to offer and we're outlining them all below.
by lulus
She writes,
"Dear Emmaline, I'm planning an autumn wedding but I'm not sure what color bridesmaid dresses to choose. I like a deep red like burgundy or maybe even a shade of purple, but I have no idea where to start. Do you have any suggestions on what is popular for fall color bridesmaid dresses this year? Thank you!"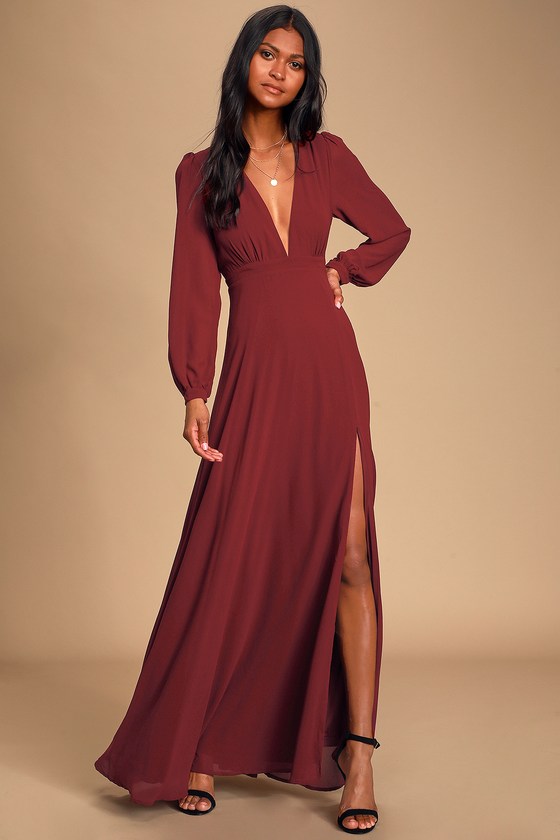 buy here
Great question, Alyssa! We've been seeing many deep reds in style for fall: burgundy, cabernet, wine — you name it! In terms of purple, we're definitely seeing plum as a huge color trend for bridesmaids, as well as dusty purple (a new favorite of mine). There are other bridesmaid dress colors for fall that are trending now, too, including the following: emerald green, granite blue, light gray, navy blue, rust, and black, just to name a few.
To help you pick out bridal party dresses for fall, here is the ultimate list including examples of dresses featuring the latest style trends (like high-low, maxi, and tiered skirts). I hope this helps you to choose a dress that everyone will be happy to wear. These are all hand-picked from the collection at Lulus, where these are all available at amazing prices with high reviews. I think you'll be able to find a bridesmaid dress color to love for fall right here. Good luck!
Fall Color Bridesmaid Dresses
1. Emerald Green
One of the biggest fall bridesmaid dress colors of the season is emerald green. This is a stunning choice for bridesmaid dresses and is available in many colors, cuts, and silhouettes here.
This satin, off-the-shoulder emerald green dress is a perfect choice for bridesmaids this fall.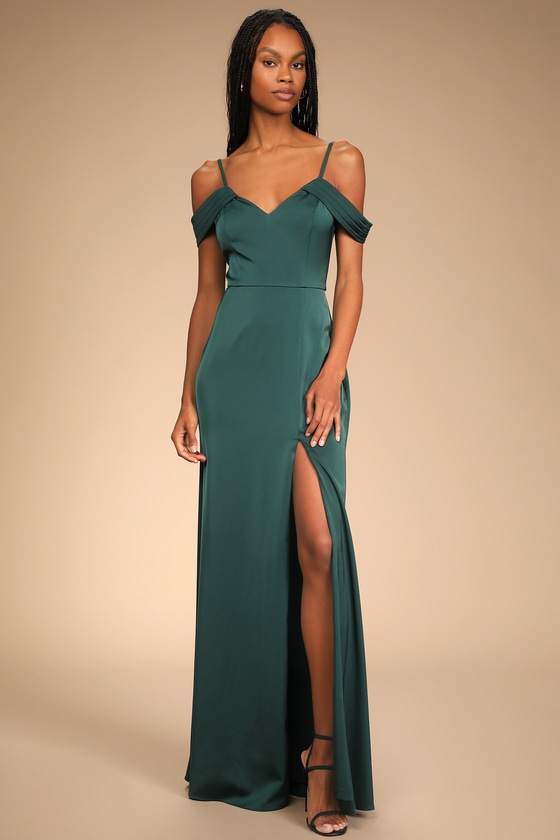 buy here
I'm also loving this lace-up high-low dress, shown below in emerald.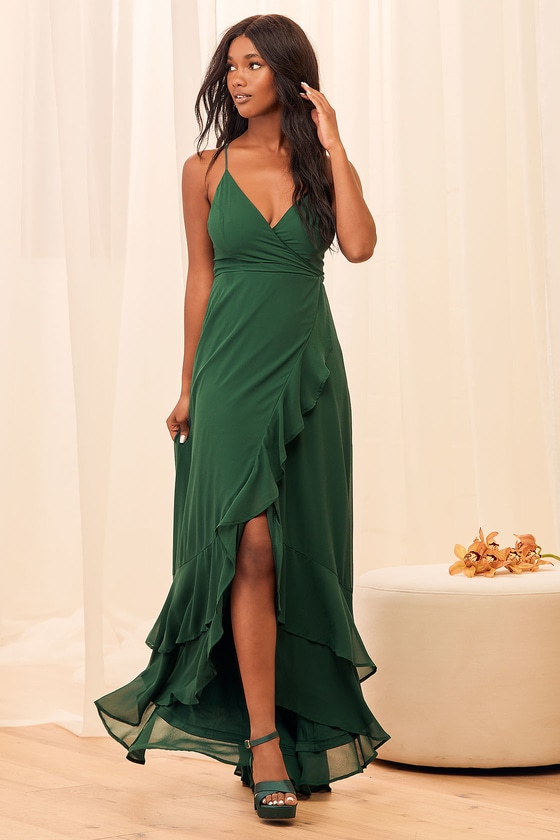 buy here
2. Granite Blue
Ah, this shade of blue is breathtaking for the autumnal months. I love this particular dress style, too: it's so pretty and versatile. Bridesmaids will definitely love to wear this color and style long after the big day. Shop here.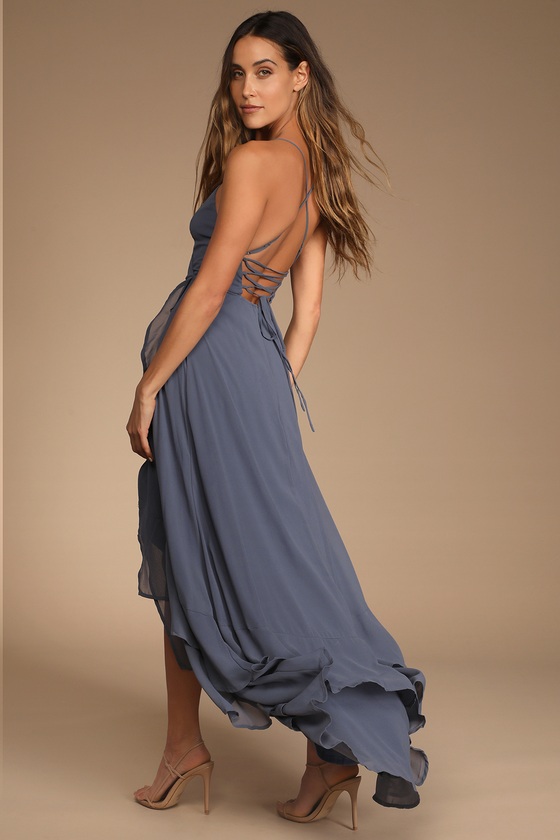 shop here
3. Burgundy
I'd be lying if I said burgundy wasn't one of the best fall bridesmaid dress colors of the moment. I happen to love this shade myself, so it's easy to add to this list. Expect to see burgundy as one of the fall colors bridesmaids are rocking from September onward, especially in of-the-moment fabrics, like this tiered dress in stylish lace and just a hint of a ruffle on the shoulder. Shop here.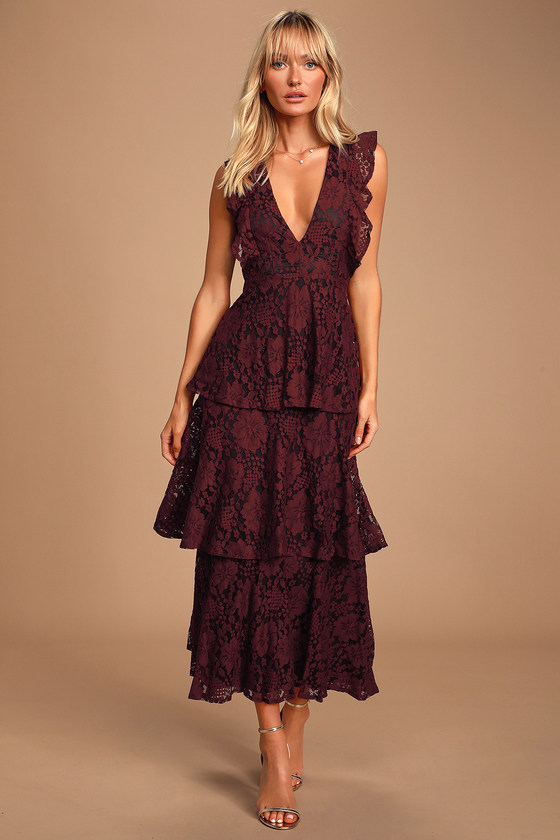 shop here
If you adore this color but want a different style, check out this popular bridesmaid dress with a short sleeve. Available here.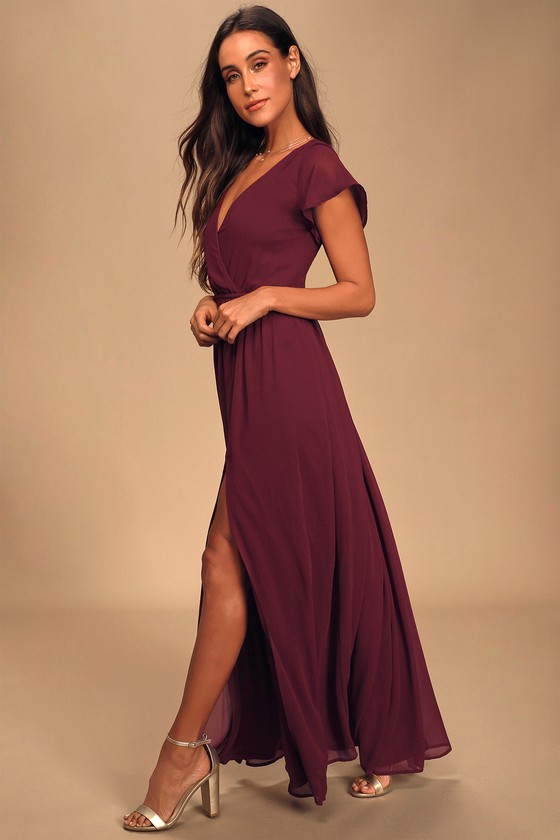 shop here
And I have to add this burgundy satin maxi dress, as satin bridesmaid dresses plus this color is all the rage this season. It's the ultimate combination! Shop this look.
shop here
If you're looking for fall bridesmaid dresses with long sleeves, here's an example of a dress they'll love.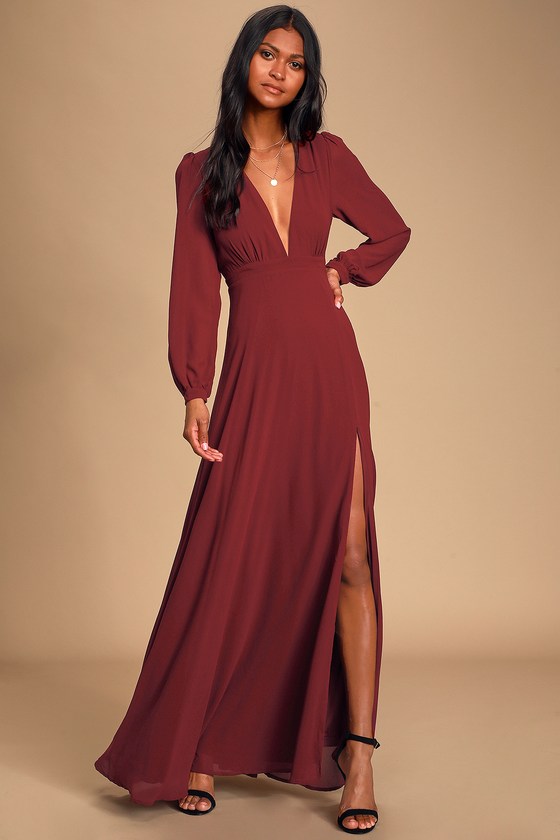 buy here
4. Light Gray
Ooh, light gray: it's one of the easiest fall dress colors to mix and match or wear on its own, paired with a lovely fall color palette. This example is a dress that is ultra-flattering with a deep v-neckline and long-length hem. Shop this look.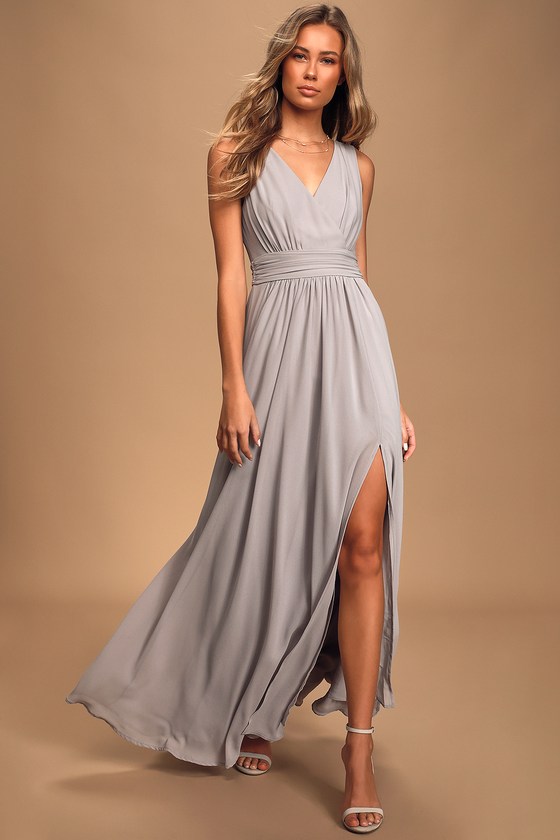 shop here
5. Plum
Plum is one of the bridesmaid dress colors fall is bringing to the season, with a rich, bold hue. I love this fashionable high-low bridesmaid dress with a strappy neckline as one example of this color in action. Buy here.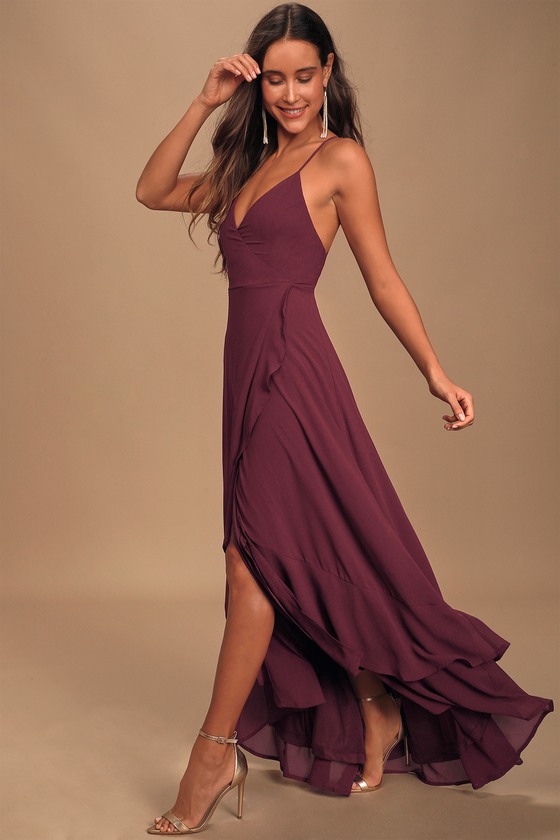 shop here
6. Rust
Calling all orange lovers! This shade of rust is undoubtedly one of the best bridesmaid dress colors we're seeing for fall. It is perfect for those cozy, romantic weddings and is as sleek as it is shiny. Get it here.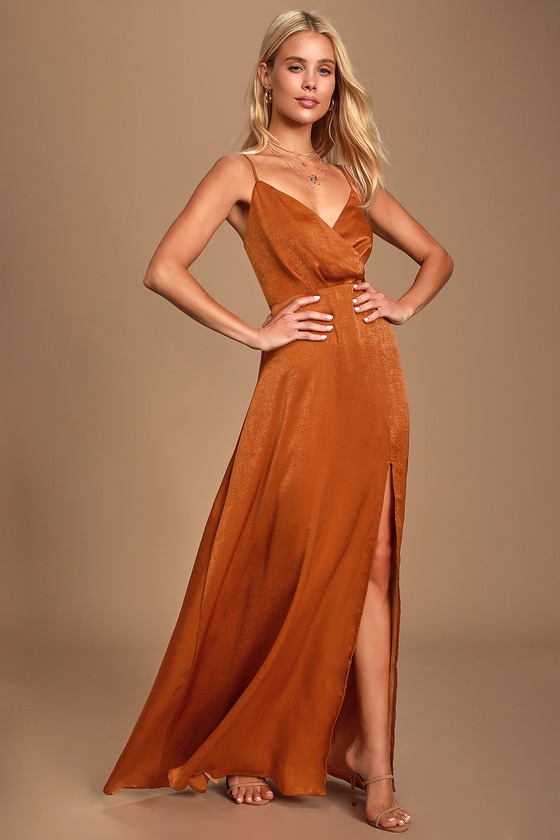 shop here
7. Navy Blue
Navy blue is absolutely one of the top bridesmaid dress colors 2022 has to offer. But that's no surprise, really, as navy blue is great any time of year. This dress style, shown below, is ultra-flattering and your bridesmaids will love to wear it. It is a maxi-length bridesmaid dress with a v-neckline and flowy skirt. It's great for dancing! Shop here.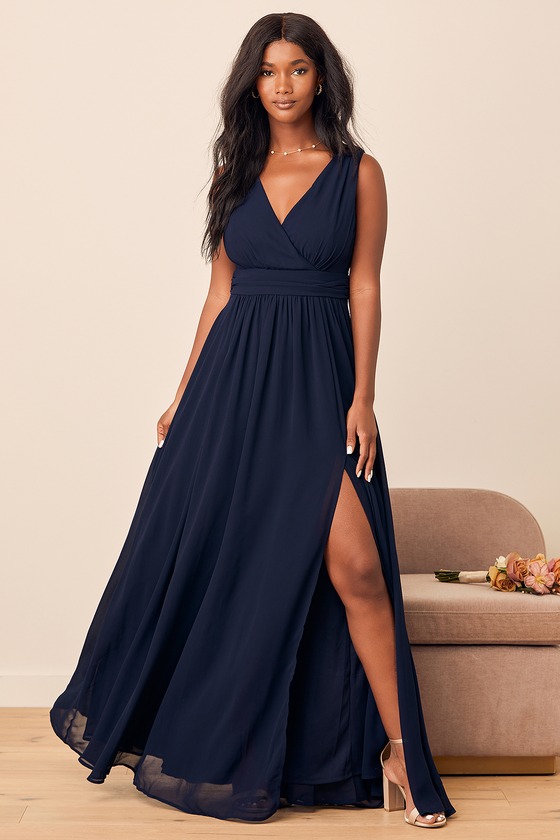 shop
here
8. Black
An off-the-shoulder dress like this one is elegant and timeless. Black is one of the fall bridesmaid dress colors that will never go out of style; who doesn't love wearing a little black dress? This style is one of my favorites, named Aveline. You can get it here.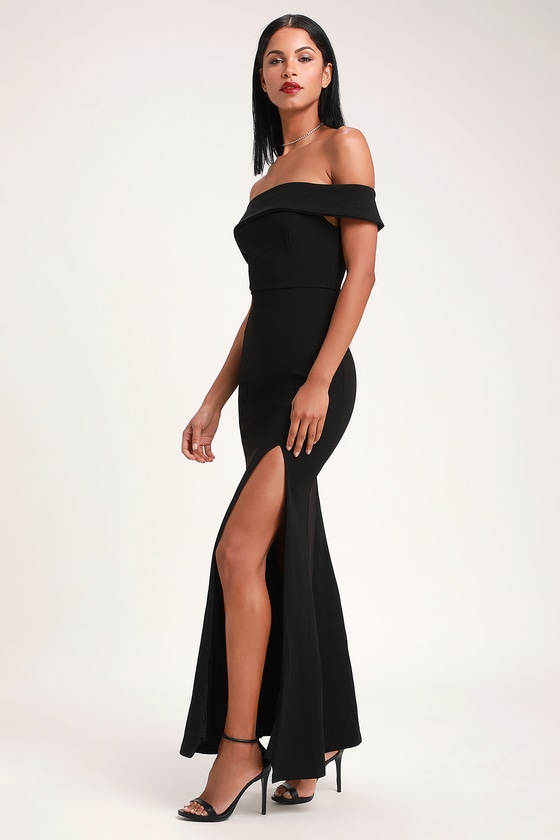 shop here
Want to go shorter? You can wear short-length bridesmaid dresses in the fall, btw. This one is perfect and features a faux wrap style. Shop here.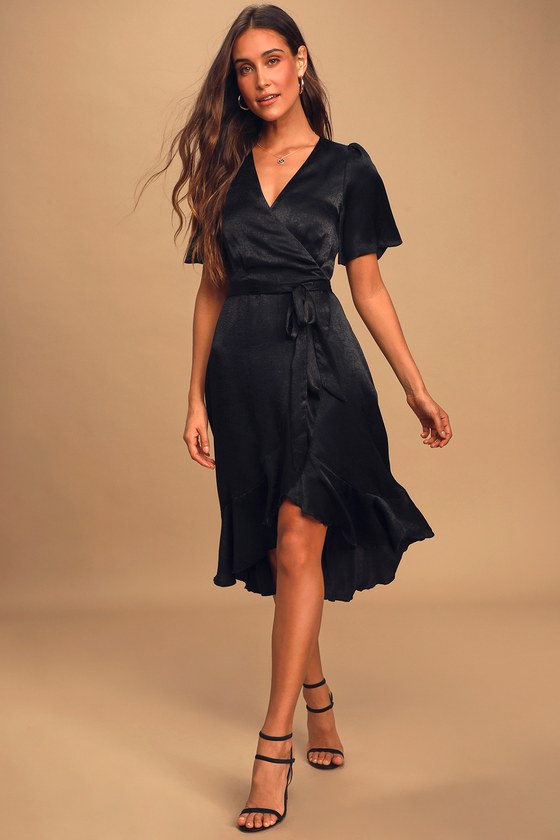 shop here
This black dress is another fan-favorite: the lace detail on the back is stunning! See it here.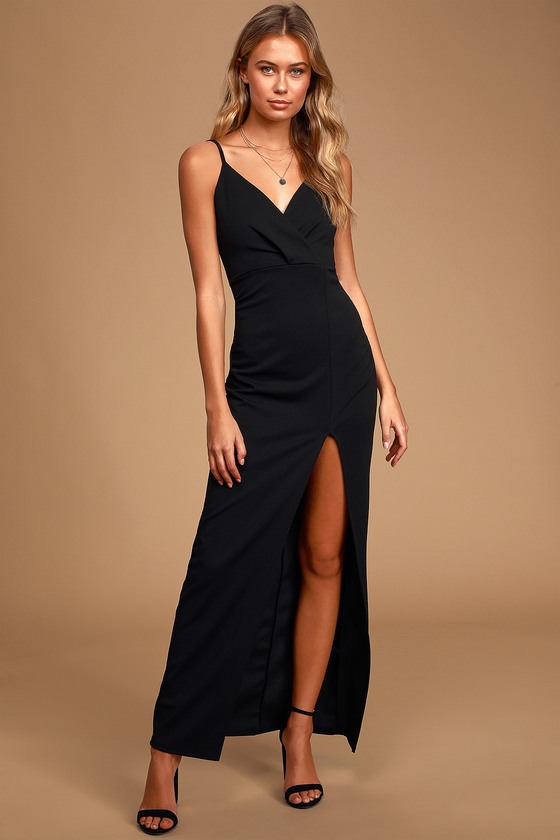 shop here
9. Dusty Purple
And last but not least, we're loving this shade of dusty purple new to the list of fall bridesmaid dresses. I think this color will be very popular this September. Shop here.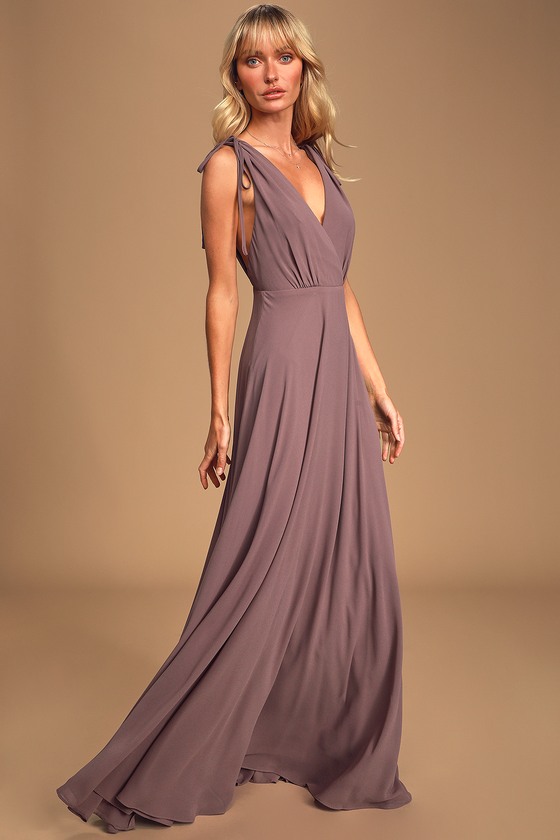 buy here
And there you have it: the top bridesmaid dress colors for fall 2022. Which shade is your favorite? Which one do you think will be the most popular fall bridesmaid dresses for 2022? Tell us your thoughts in the comment box below!
Where to Buy Fall Bridesmaid Dresses
Love what you see here? Don't stop there: click here to shop more dresses for your bridesmaids, along with bridal gowns for you!
Happy Planning!
xo
Emma