Are you shopping for black bridesmaid dresses? Are you wondering, can bridesmaids wear black? We have the answers! Read on + subscribe now for the latest to your inbox.
So, earlier this week we tackled an Ask Emmaline question: can wedding guests wear black to a wedding? (Here's the answer.) Then, we received a similar question from bride-to-be, Sarah. She writes,
"Is it OK to have black bridesmaid dresses? Is black a good color for bridesmaid dresses?"
by lulus
Great question, Sarah! Not only is it totally OK to have bridesmaids wear black dresses, but it's also one of the biggest trends right now for a few key reasons. In this blog post, we'll discuss why black makes a great color for bridesmaids to wear. We'll also show you where to buy black bridesmaid dresses and what styles are the best choice for this year.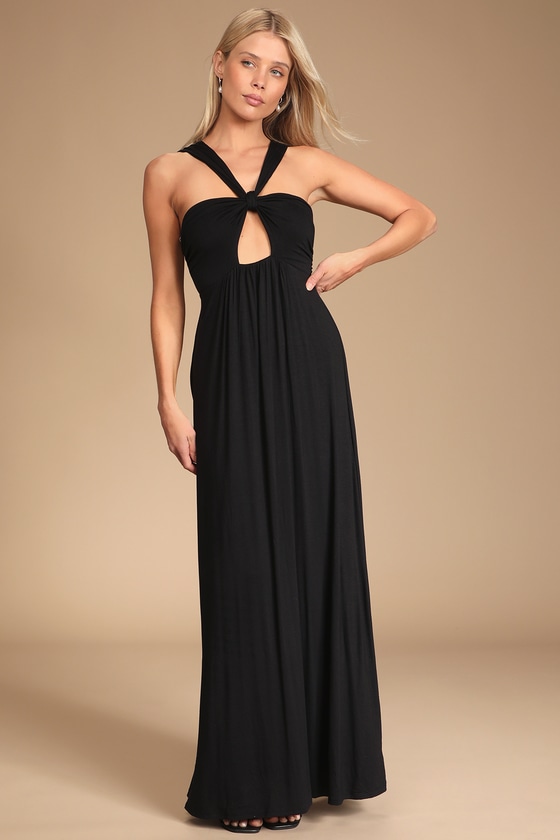 shop here
Can Bridesmaids Wear Black?
As a rule of thumb, black bridesmaid dresses are acceptable to wear to weddings. In the past (read: old-fashioned, out-of-date traditions), black was considered attire only worn at funerals because of its dark and gloomy color, as black symbolized death. But that's not really the case anymore in terms of fashion: in fact, some brides even choose to wear a black wedding dress vs. a white one. It's true!
Today etiquette dictates it is OK to wear black bridesmaid dresses and the trend is heating up this year. Here are 5 key reasons why a black bridal bridesmaid dress is a fantastic choice.
1. Black dresses are flattering.
The color is universally flattering on everyone! All skin tones, hair colors, and body types look beautiful in a black dress. It can have a slimming effect or accentuate curves, making it popular for all shapes and sizes.
2. It's easy to shop + achieve the same color.
If you choose the color black, but want them to pick out a style they like best, it is easy to match in any length, silhouette, or style.
When you take a different shade — say, burgundy, aqua, lavender, or even terracotta — colors vary based on retailers and the result is a mess! But black? It's always a perfect, chic, elegant choice.
3. Bridesmaids will wear black dresses again!
Unlike other dresses, you can rest assured your bridesmaids will actually wear their black dresses again to their next cocktail party or special event!
4. It is affordable.
Most bridesmaids already own a favorite little black dress. How convenient is that?! If you want them to buy a black dress for the wedding (so they all match), most of them are wildly affordable, making another reason why this is such a popular fad. All the dresses in this blog post are under $100.
5. Black bridesmaid dresses in the summer? Fall? Winter? Spring?
This color can be worn in any season of the year!
Will Black Be Too Depressing?
If you're worried your grandmother or mom will scrutinize your decision of black as the bridesmaid dress color, remember this: it's YOUR wedding!
Every decision made should be the result of what you want. Furthermore, nailing the look is all about properly accessorizing the dresses.
If you're worried black for bridesmaid dresses will be too dark, just add a bit of color! Have the bridesmaids carry bright, bold bouquets with strong hues or even fun bridesmaid clutches, like these from Eclu.
shop here
Alternatively, you can add colorful shoes or hair accessories to the mix. It's all about how you choose to accessorize it. Don't go dark with all of your wedding accessories; add a pop of color to take it up a notch.
Now that you know the answer to whether bridesmaids can wear black dresses (yep!), let's get to the fun part: dress shopping!
Here are the best black bridesmaid dresses Lulus has to offer, based on reviews and quality, affordability, and style. Boom! I want ALLLLLL of these.
Black Bridesmaid Dresses Under $100
Want to be the best-dressed? Check out these elegant bridesmaid dresses in black: we have long-length gowns, little black dresses, one-shoulder, off-the-shoulder, midi length, mini length, tea-length, and so much more! They're all from Lulus and they're amazingly affordable, all under $100.
1. Sleveless Black Maxi Dress, $99
Ooh, this dress is a showstopper! It has a fit-and-flare style and a floor-length. Available here.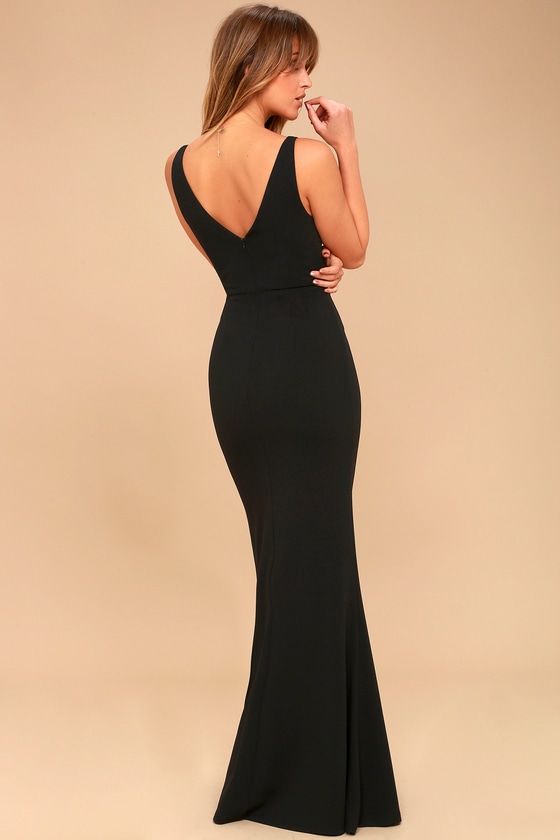 buy here
2. Off-the-Shoulder Maxi Dress, $89
This is one of the best black bridesmaid dresses with an off-the-shoulder silhouette. Beautiful! See it here.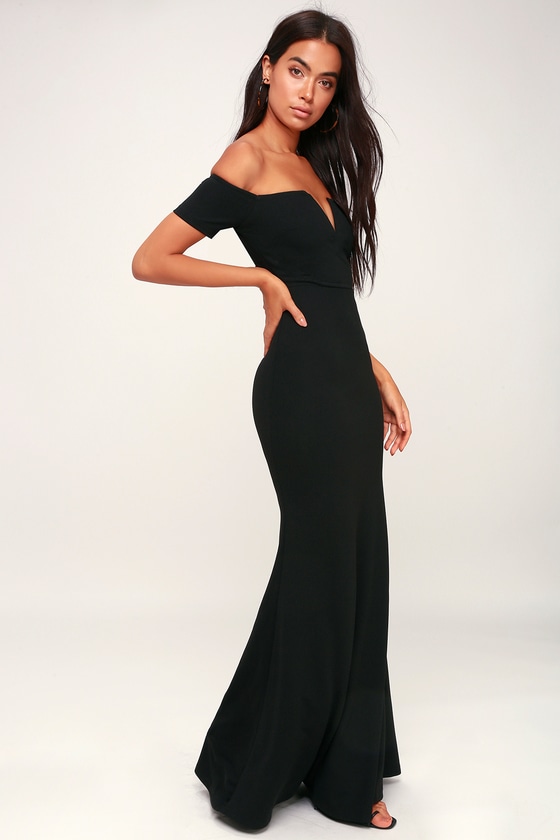 buy here
3. Backless Floor-Length Dress, $89
This stylish backless dress is available here.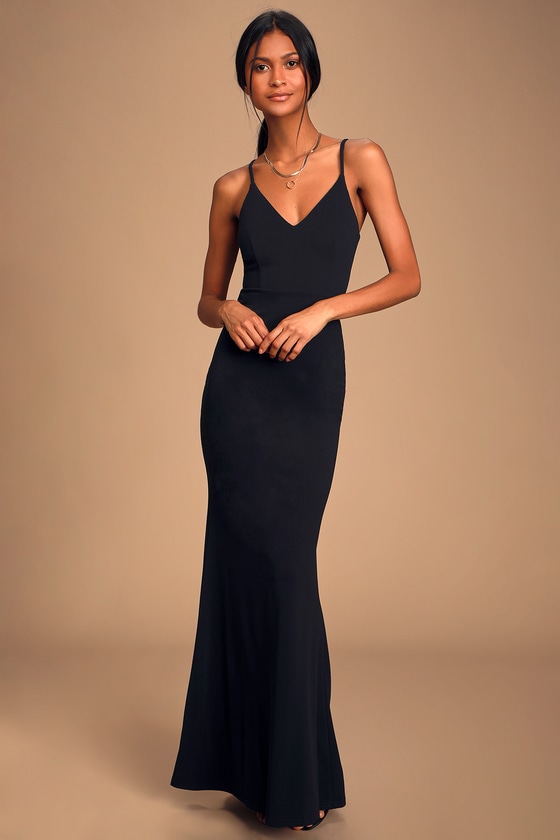 shop here
4. Sweetheart Neckline, $78
A long-length black bridesmaid dress with a strapless neckline and a sweetheart bodice. See it here.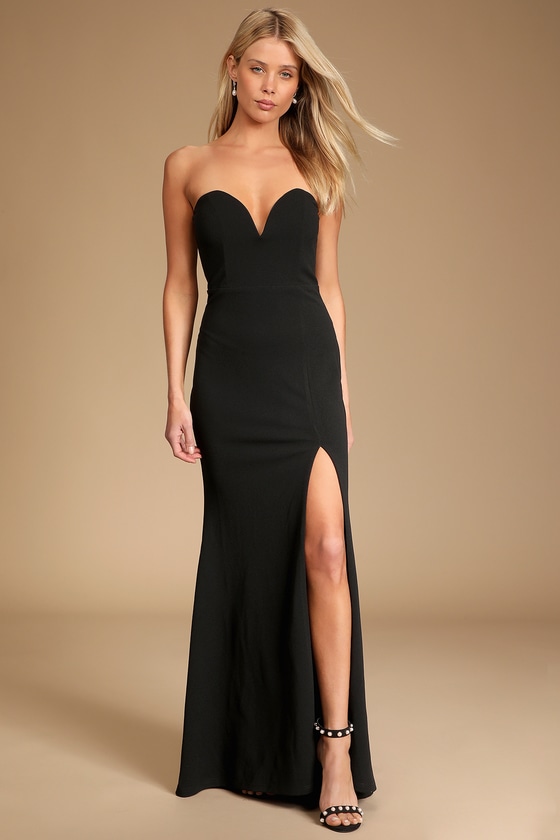 buy here
5. Black Bridesmaid Dresses with Sleeves, $89
See it here.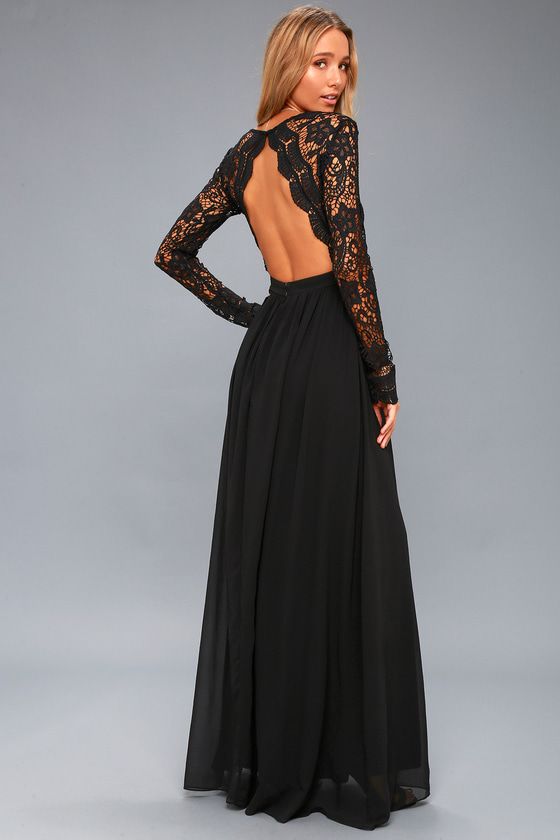 shop here
6. Long Sleeve Black Bridesmaid Dress Floor Length, $89
Get it here.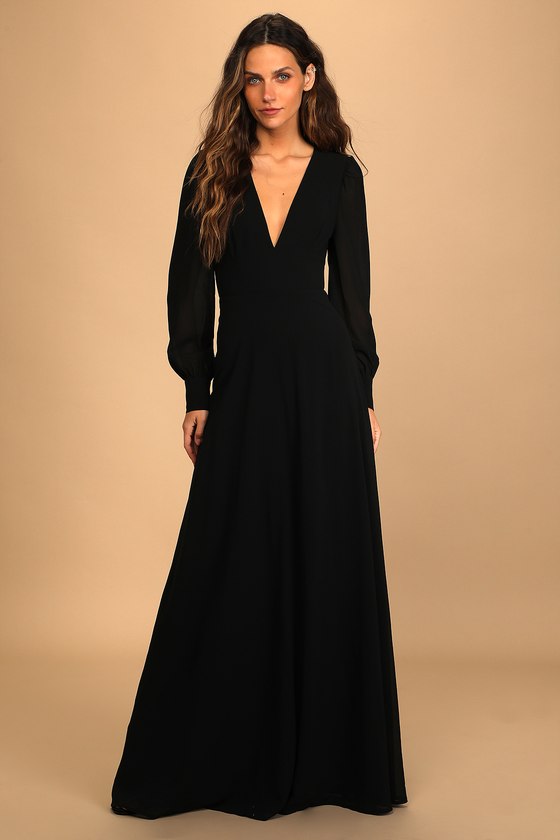 shop here
7. Strappy Black Maxi Dress, $89
A gorgeous strappy, v-neck maxi dress in black. It goes with everything! It has a unique rounded-back. Buy it here.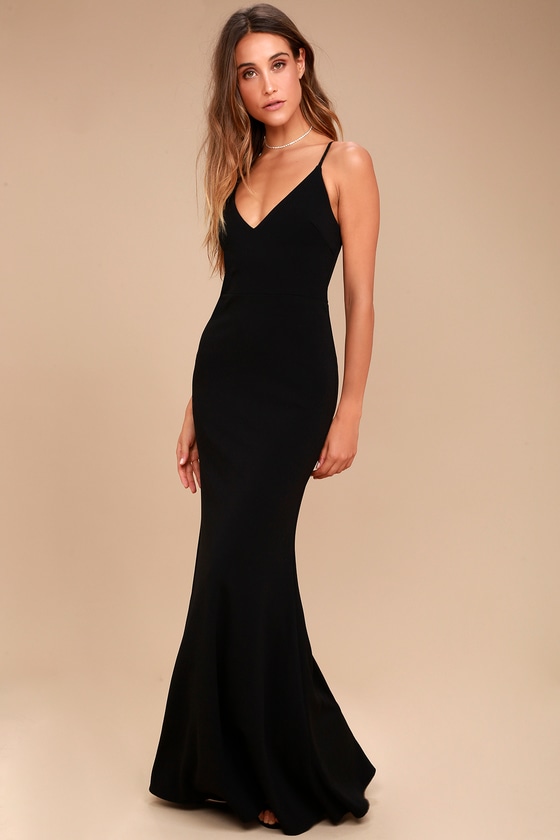 buy here
8. Black Satin Bridesmaid Dresses, $89
This one-shoulder satin dress is beautiful! Shop it here.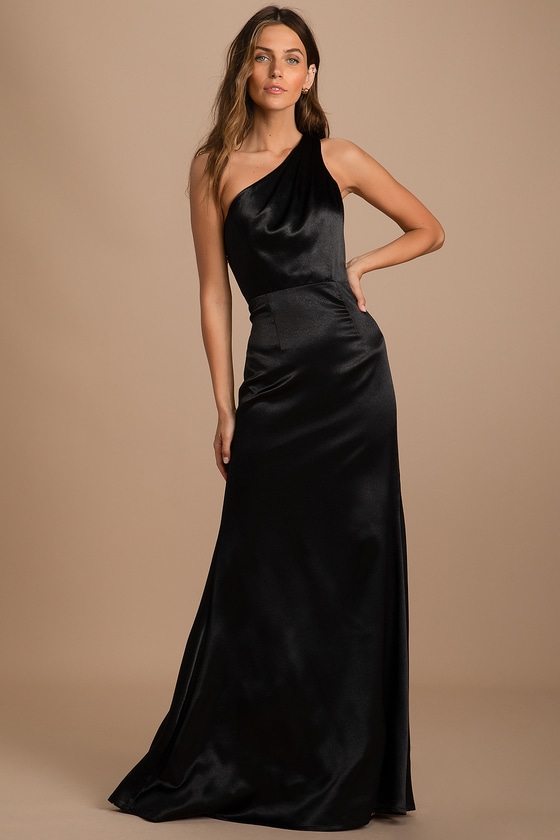 shop here
9. Short Black Dress with Scalloping, $46
Short and stylish! Get it here.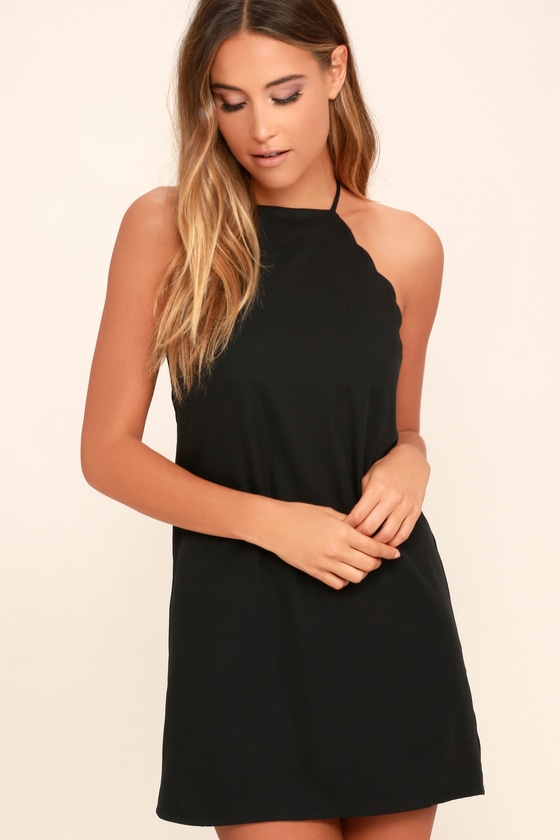 shop here
10. Square Neck Bridesmaid Dress, $49
Get it here.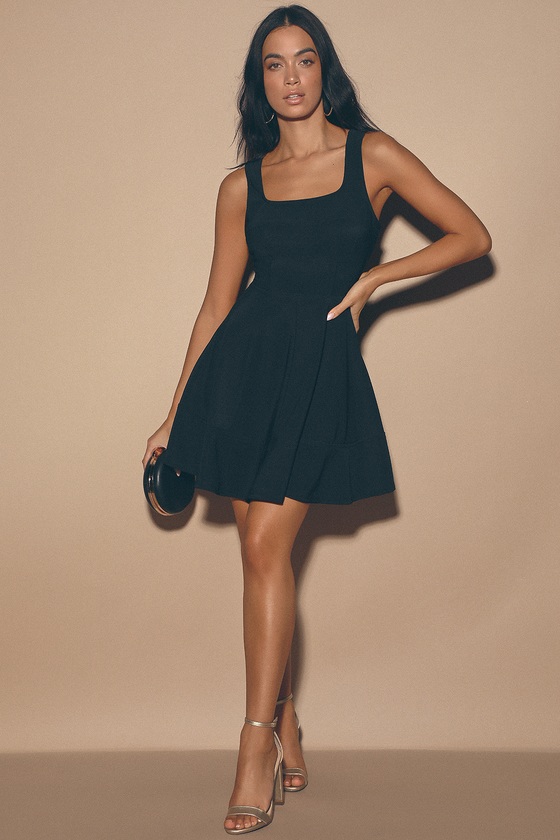 shop here
11. Black Ruched One-Shoulder Dress, $59
This asymmetrical dress has a one-shoulder and stylish ruching. Get it here.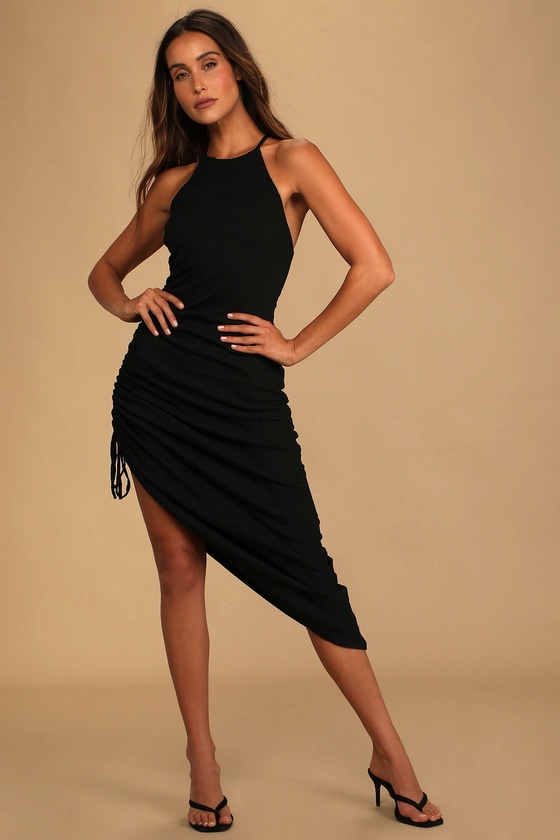 buy here
12. Deep V-Neckline, $89
You can get it here.
shop here
13. Midi Bridesmaid Dress, $69
If you're looking for a black midi dress, try this one on! See details here.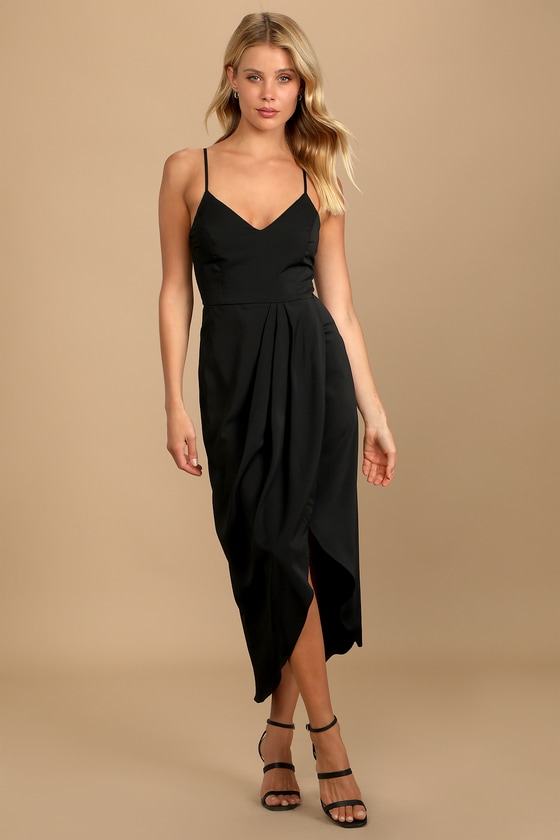 buy here
14. One-Shoulder, $69
Stylish! Get it here.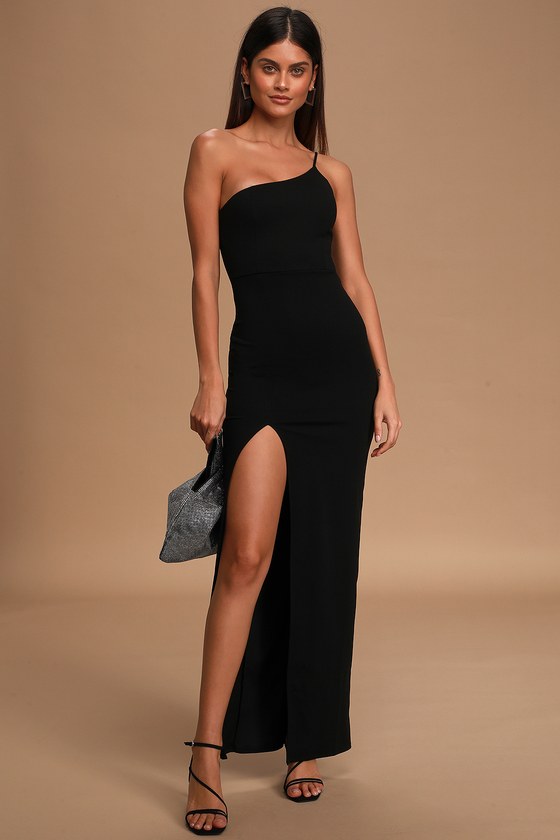 buy here
15. Black Satin Bridesmaid Dresses, $89
This strappy black dress is floor-length and has spaghetti straps with a cowl neck. Available here.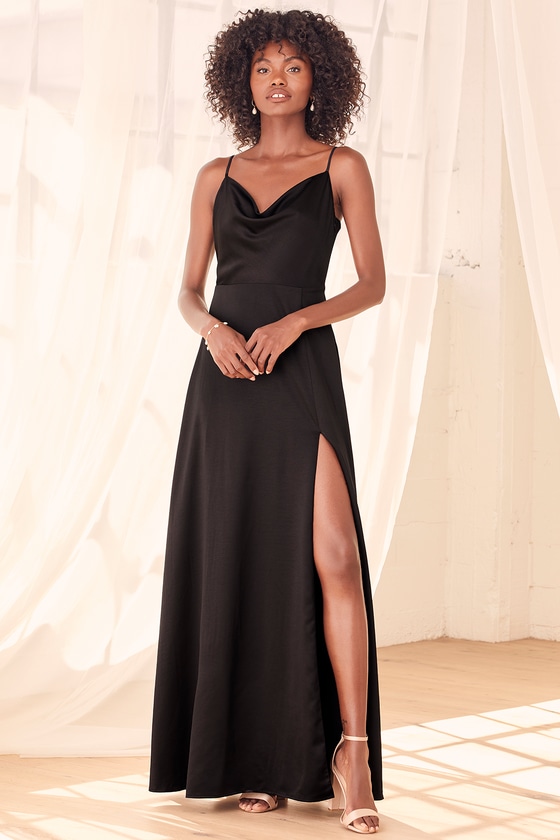 buy here
16. Midi Satin Bridesmaid Dress, $58
You can shop it here.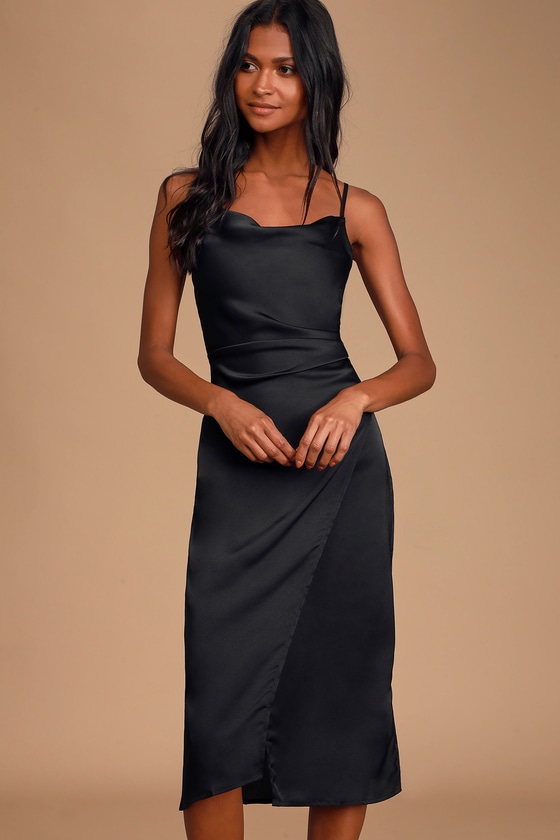 buy here
17. Short Black Scalloped Dress, $49
I love the scalloping on this dress! So stylish. Get it here.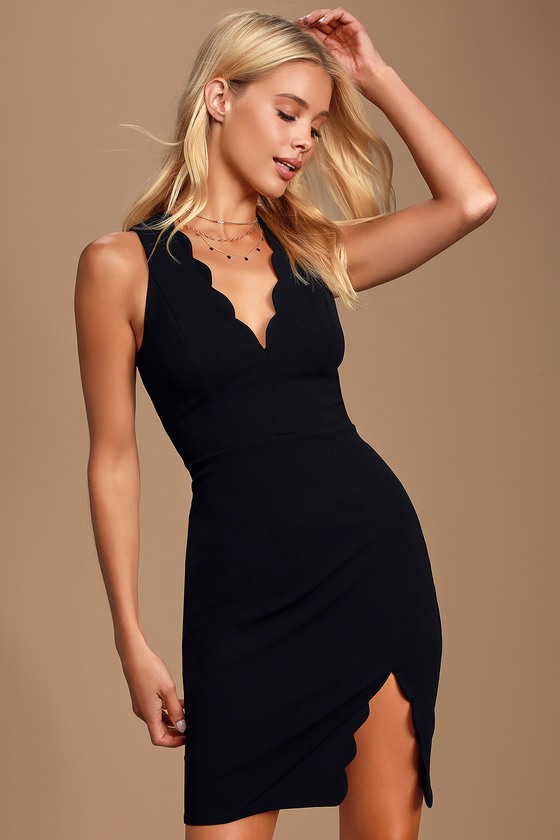 buy here
18. Black Backless Bridesmaid Dress with Long Sleeves, $59
This dress has a midi length. Buy it here.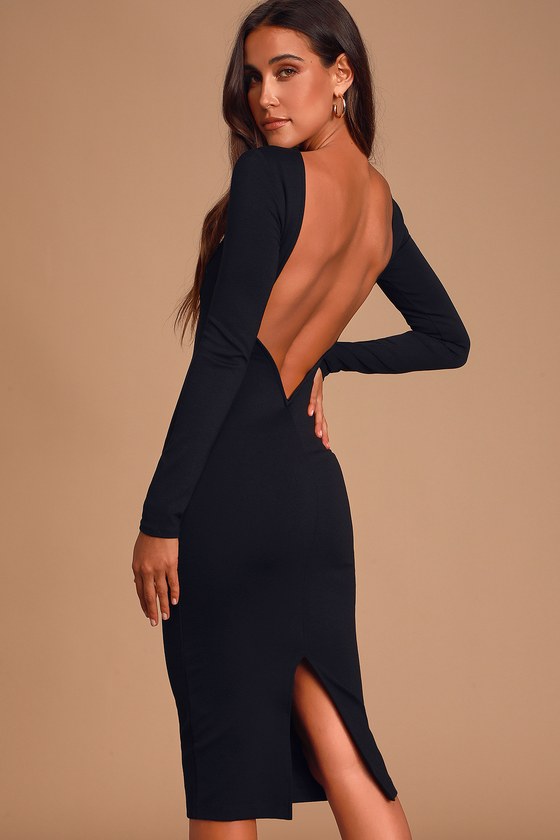 buy here
19. Ruffled Bodycon Dress, $59
Get it here.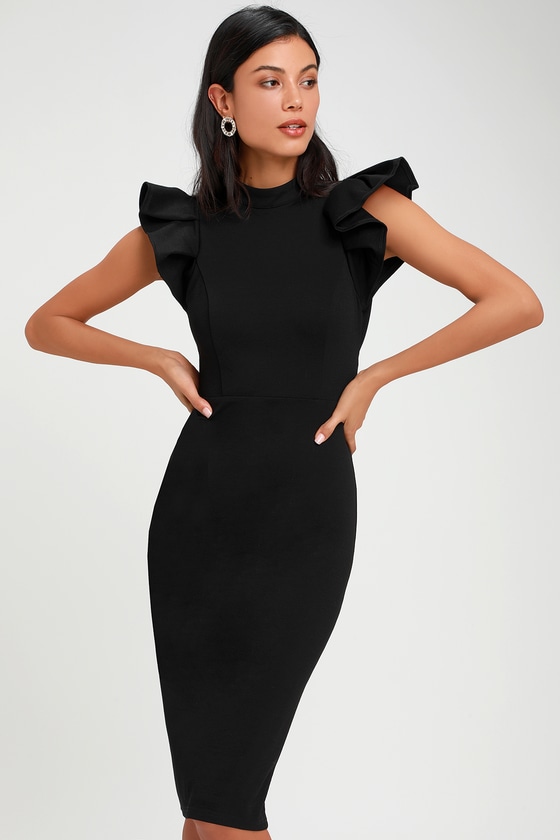 shop here
20. Classic Glamorous Short Off-the-Shoulder Dress, $69
You can get one of the best black bridesmaid dresses in a short length for under $70! Buy it here.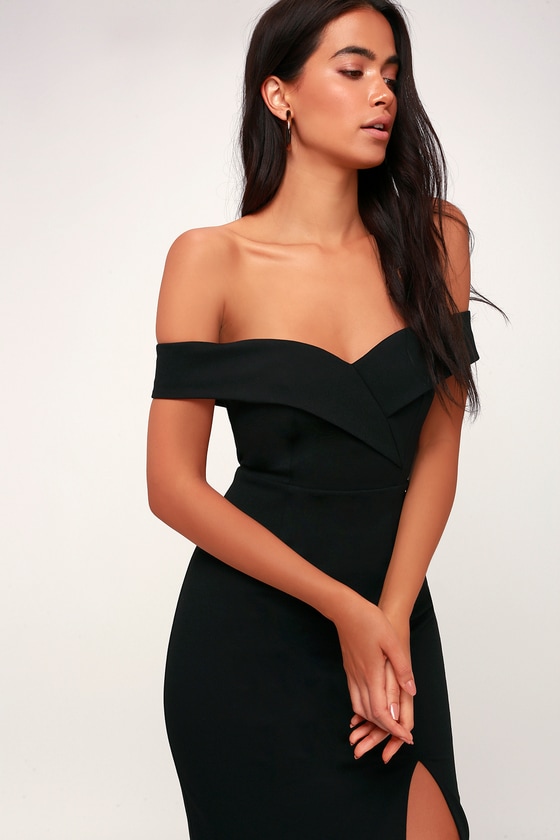 buy here
21. Black Halter Cutout Dress, $68
Love this dress! Get it here.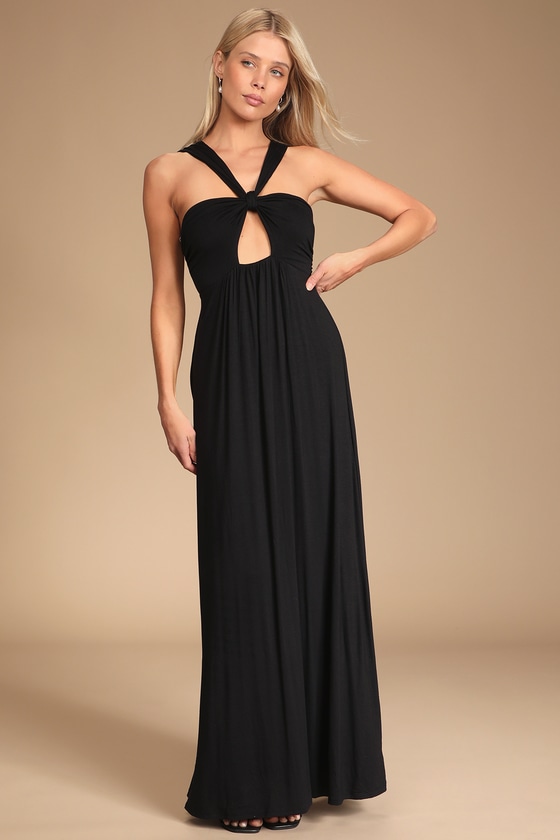 buy here
Want to see more? Click here to shop!
xo
Happy Planning!
xo
Emma
P.S. Now you need shoes, am I right? Read: 34 Most Comfortable Wedding Shoes Ever + Cute Flats for Bridesmaids.