When it comes to wedding invitations, few parts are as confusing as the wording of an invite itself. If you're not sure how to properly word your invitations and want to avoid making big blunders, read this blog post for tips and tricks. In it, we'll share the most common wedding invite wording tips to use for your wedding.
You'll find tricks on spelling out numbers, where to avoid punctuation, and whether including the year in the date is a big mistake to avoid. Read on to learn everything you need to know!
by robert and stella
These tips are most often applied to formal wedding invites. If you're planning a more informal event, wording isn't as big of a deal; however, it is always good to err on the side of proper wording to avoid confusion for your guests.

What to Include on a Wedding Invitation
In addition, any wedding invitation you send (whether formal or non-formal) needs to include the following information:
• The Host(s)
• Formal Request to Attend Your Wedding
• Your Names
• Date
• Time
• Ceremony Location
• Where the Reception is Held and at What Time
• Dress Code
• RSVP Card Information
• Optional: Wedding Website Address (Separate Enclosure Card or Included on RSVP Card)
Now that you know what is included on the invitation, here are some tips on wording the invitations themselves.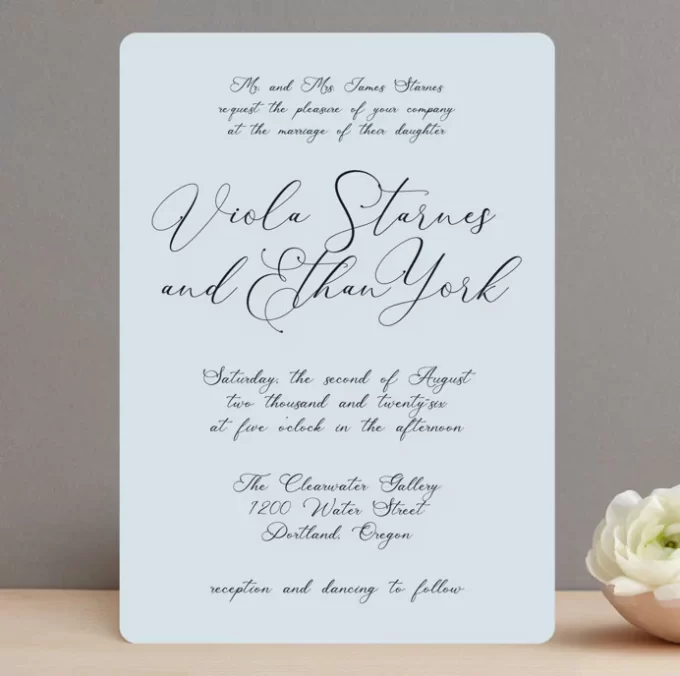 by maja cunningham
Invite Wording Tips to Follow
1. Use the formal spelling of "honour" and "presence".
When you're wording invitations to a wedding ceremony in a house of worship, you should always use the traditional "u" spelling, i.e. "honour" of your presence or "favour" of your response.
2. Use formal wording for the reception.
Your wedding invitation wording for the reception should read, "Mr. and Mrs. Jonathan Taylor request the pleasure of your company…"
3. Avoid punctuation and abbreviations except in this ONE instance.
It may feel funny to do so, but you'll be avoiding punctuation on your wedding invitation unless you're including a period following "Mr." or "Mrs."
For the addresses of your wedding venues, you should spell out "Street" or "Road", rather than abbreviating them.
In addition to skipping abbreviations on invitations, you should also skip abbreviations on guest middle names (and, instead, spell them out in full: "Scott F Kennedy" would be Scott Franklin Kennedy").
4. Spell out numbers.
Numbers are always spelled out fully in wedding invitation wording.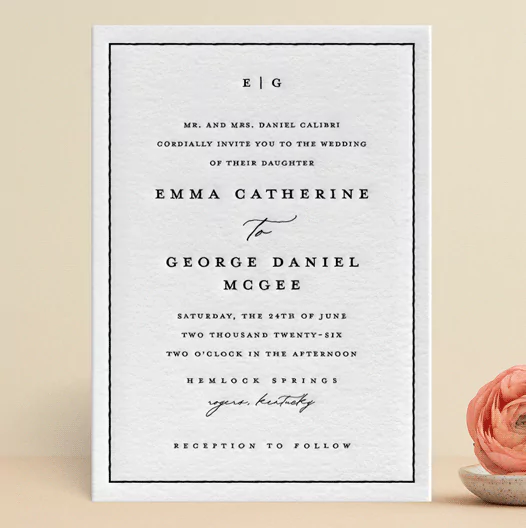 by stacey meacham
It feels odd when you are doing it, but it is the proper way to word your invites. For instance, numbers in the date are spelled out such as, "the fifth of December". You do not need to spell out long numbers on an address, though — that's the only exception.
5. Do not abbreviate Doctor.
The abbreviation "Doctor" is proper when written in full; do not abbreviate for "Dr." when wording your wedding invitations.
6. Include the year along with the date on your invitations.
And be sure to spell it out in full. For instance, you would say, "Two thousand and twenty six" as in this example below.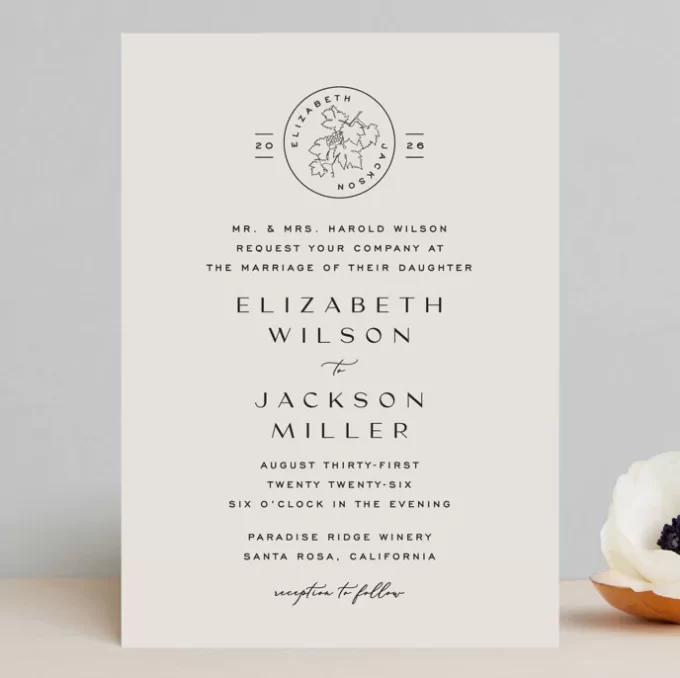 by owl and toad
7. Half hours are written out.
If your ceremony begins at 5:30, you would say, "half after five o'clock" rather than "five-thirty".
Now that you know how to avoid common wording mistakes, take it to the next level and choose a wedding invitation design! You can select a custom style from Minted and edit the wording so it perfectly reflects your event. Visit the new collection here to see brand new designs for the season.

ON TO YOU: What questions do you have for us about wording? Share yours in the comment box below.
Happy Planning!
xo
Emma
This is a sponsored post.