Wondering how to plan a Halloween themed wedding? You've come to the right place! Here you'll find the best Halloween wedding ideas for a spooky, fun, and tasteful event that is still an elegant wedding… but with a unique twist.
If you and your "boo" love fall and all things spooky, a Halloween-themed wedding may be perfect for you. Whether you go all-in on gothic style or just add a few hints here and there, you'll find something memorable in this list! You can request guests to wear costumes or dress up as usual and incorporate these fun finds.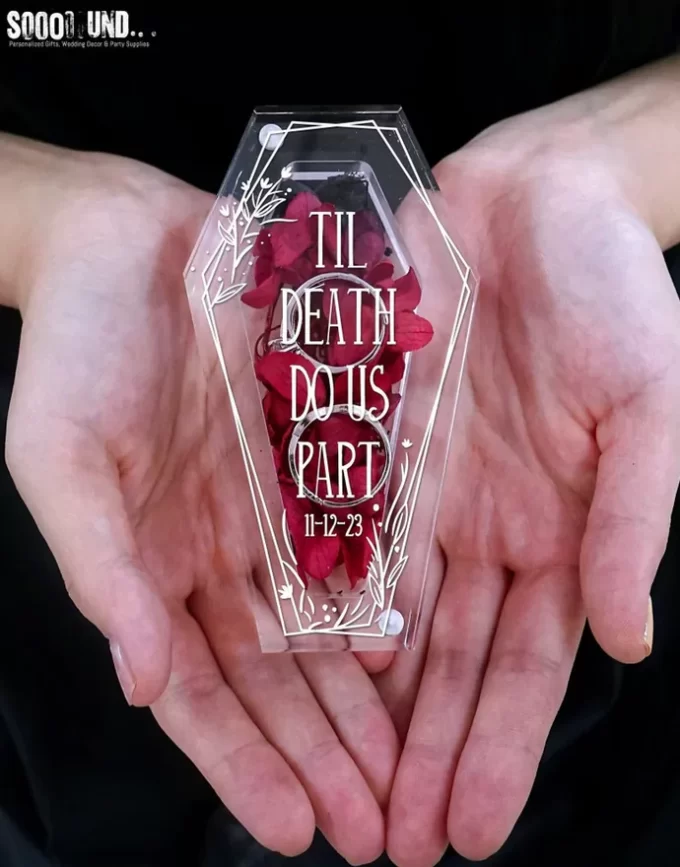 buy here
From Halloween wedding invitations to favors, decorative ring boxes to spooky centerpieces, we have everything Halloween themed for your incredible fall wedding. Enjoy!
Halloween Theme Wedding Ideas
First, send save the dates.
1. Halloween Wedding Save the Dates
Send these to guests to get them excited for the fun ahead! By NamiBearArtStudio.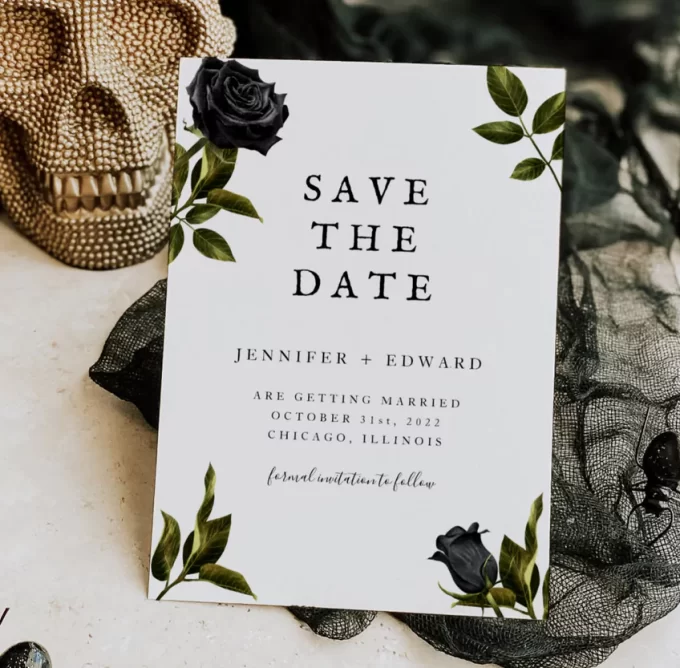 shop here
2. + 3. + 4. Mail Out Wedding Invites with Halloween Theme
It's hard to pick a favorite, but these spooky wedding invites are perfect for your Halloween-inspired reception. I couldn't pick just one so I'm sharing three. :)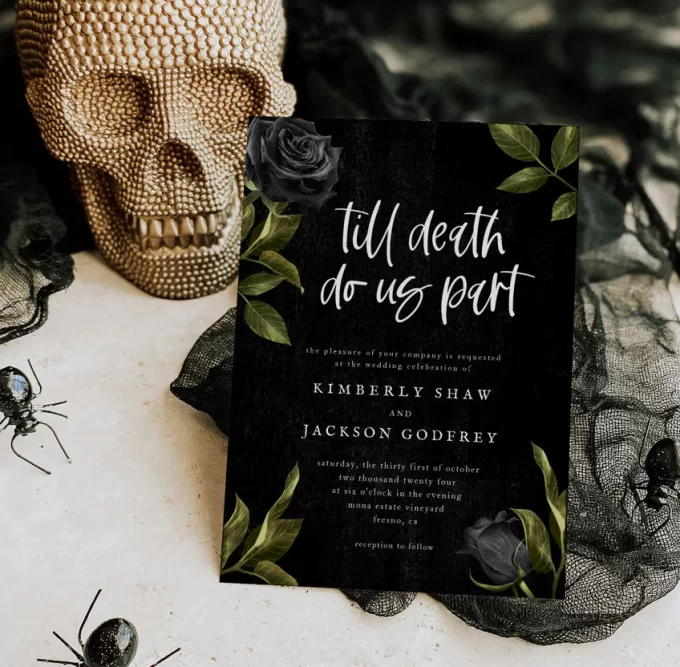 by namibearartstudio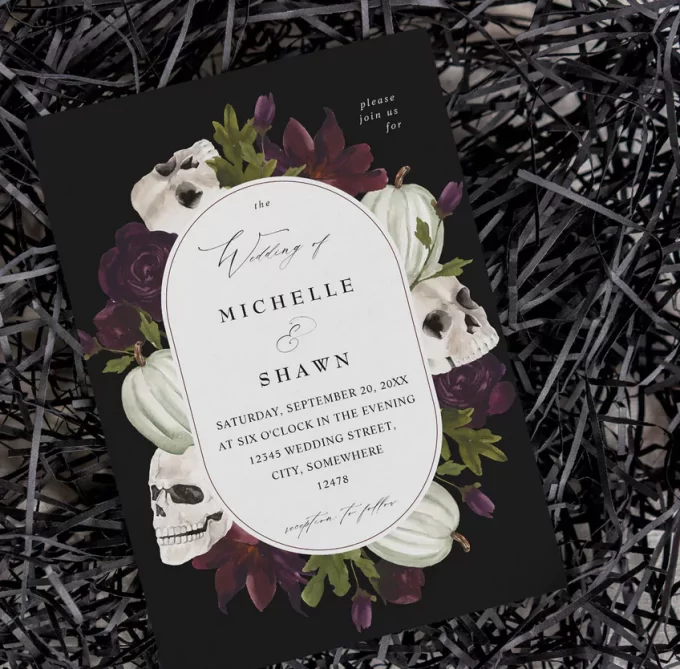 by m & z blue designs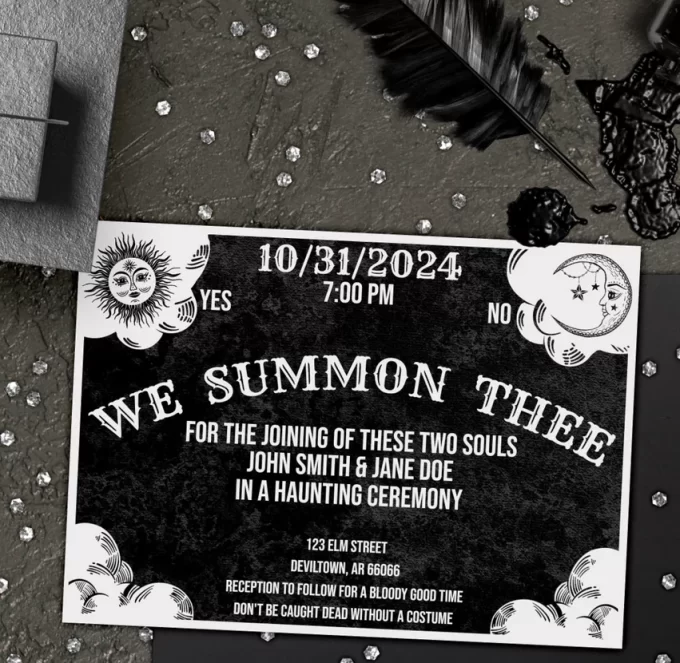 by alexandherdigitalart
For more spooky invites, check out this entire collection.
5. + 6. Carry Your Rings Down the Aisle in a Coffin Ring Box
By EvermoreStyled>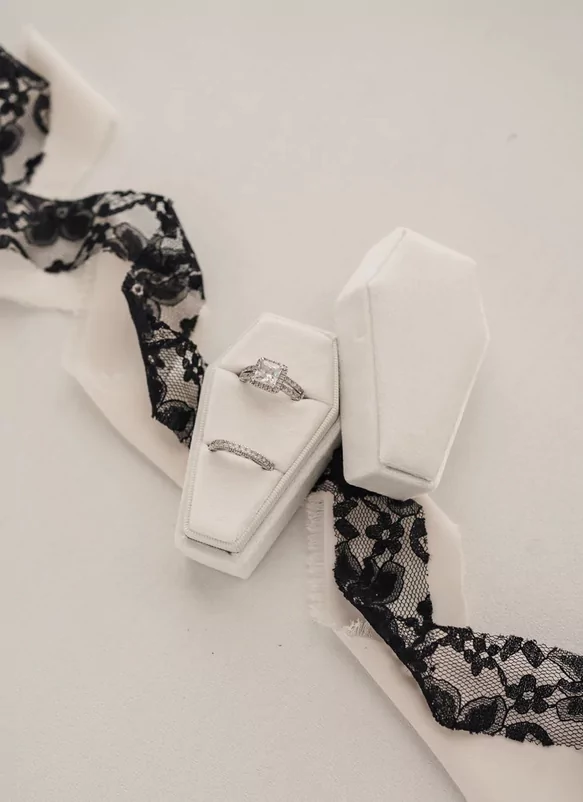 buy here
Or this one by Sooooound.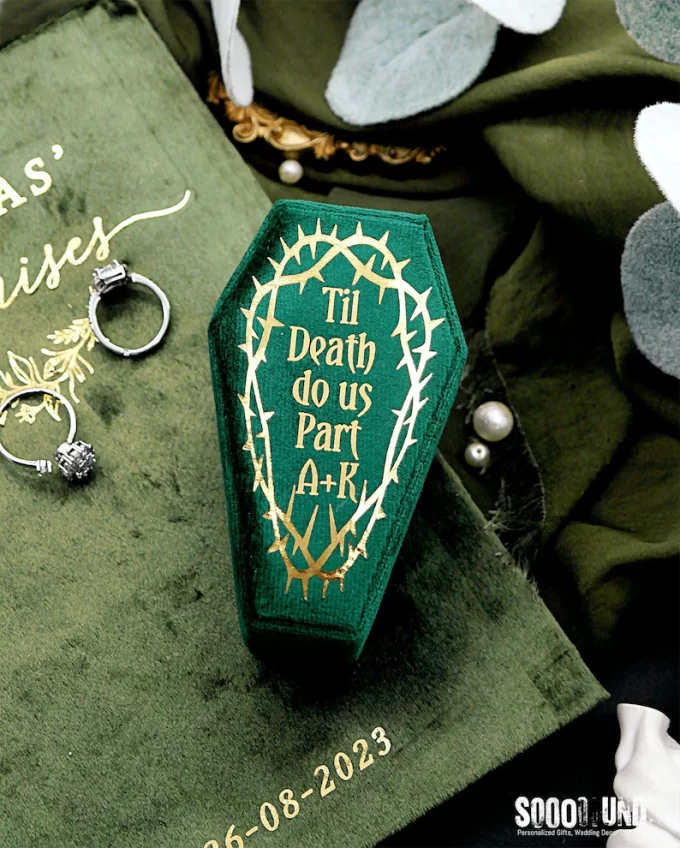 shop here
Or this other one! Love them all. Also by Sooooound.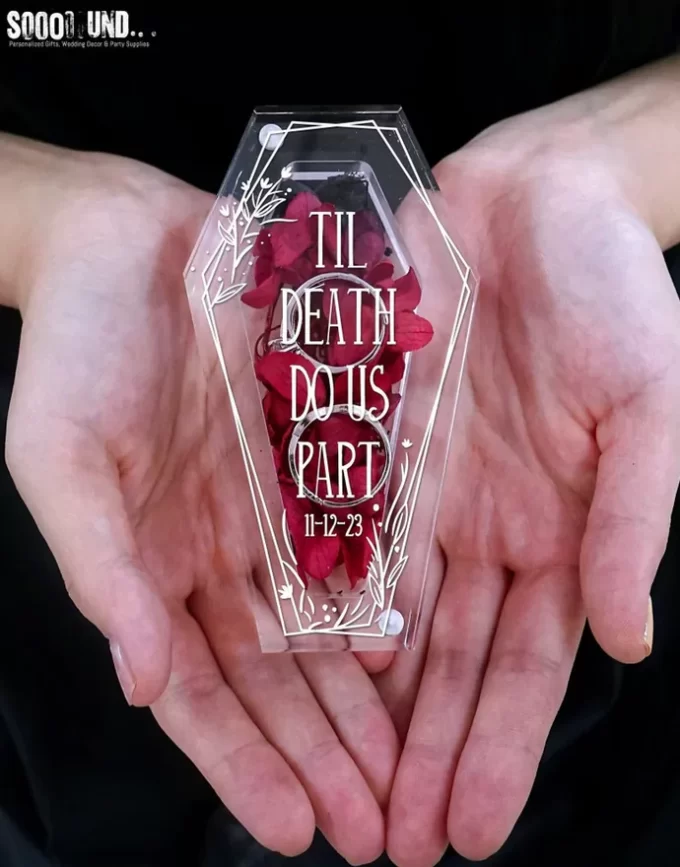 buy here
7. Do a Unity Candle Ceremony with This Gothic Set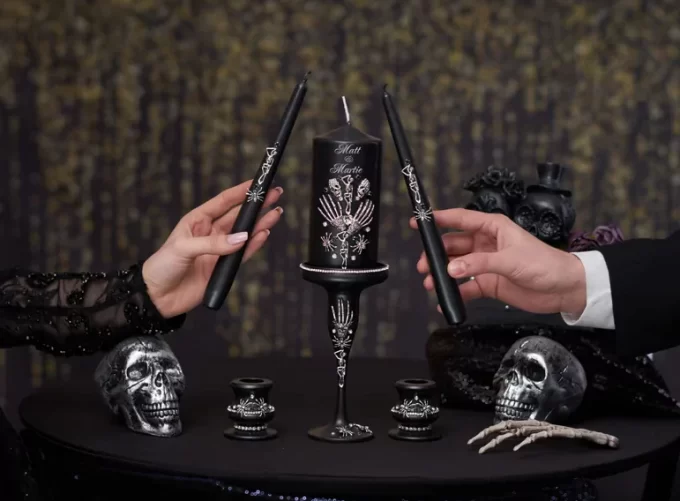 buy here
8. Cut the Cake with This Set
By BezCraftStore.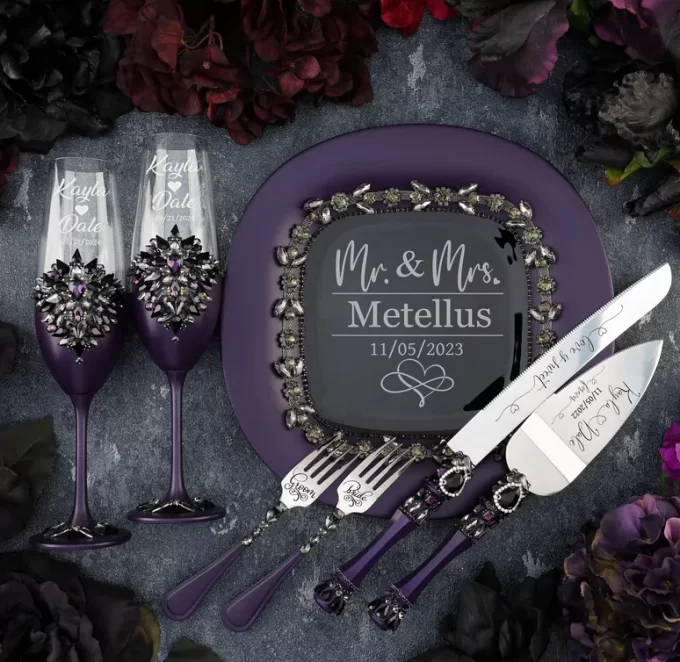 shop here
9. Write Your Vows in These Vow Books
These really stand out! By ForestNine.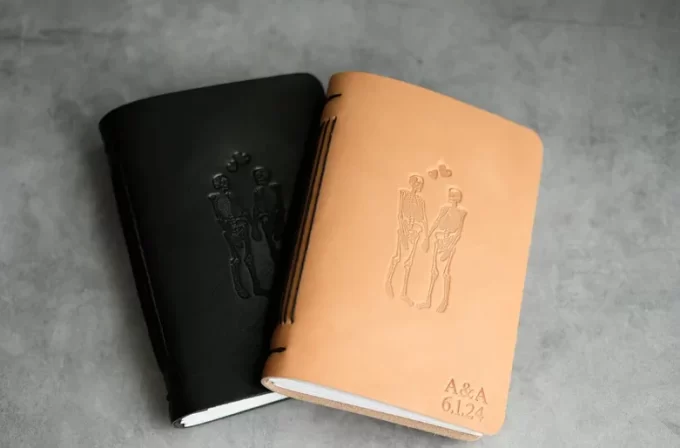 shop here
10. Have Guests Sign Your Spooky Guest Book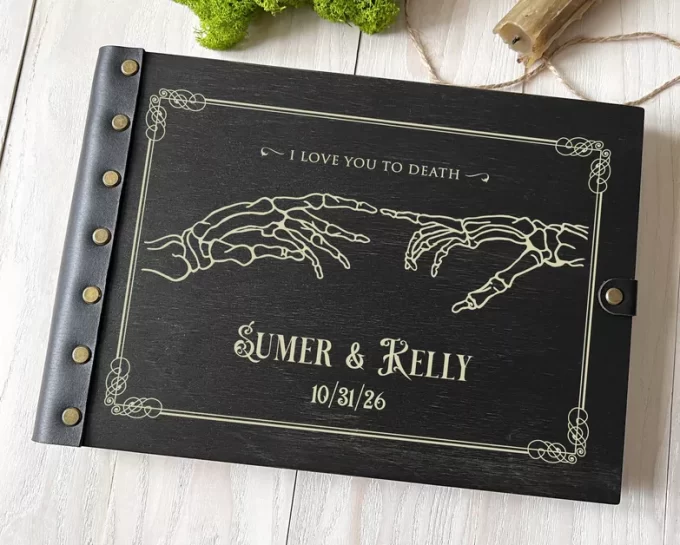 shop here
11. + 12. + 13. Top the Cake With This Til Death Cake Topper
By LaserworxSigns.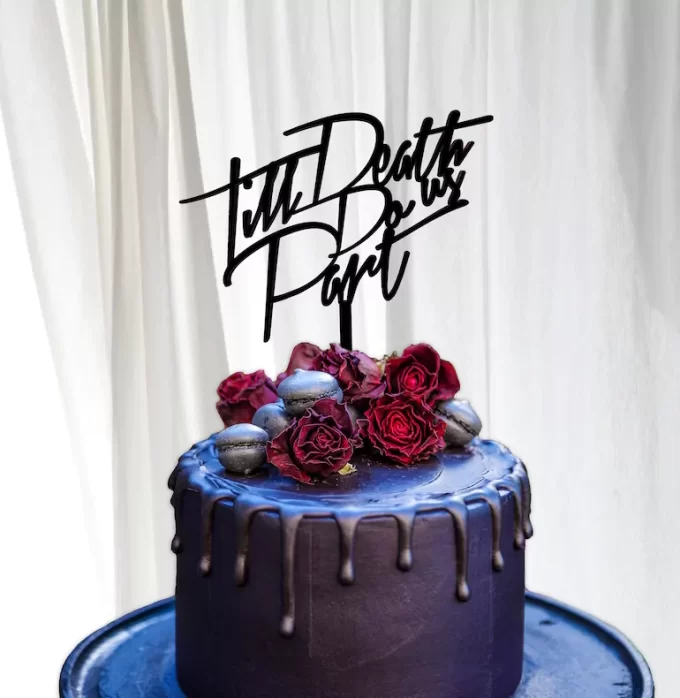 by laserworxsigns
This acrylic topper is a cute idea. By BearFoxSea.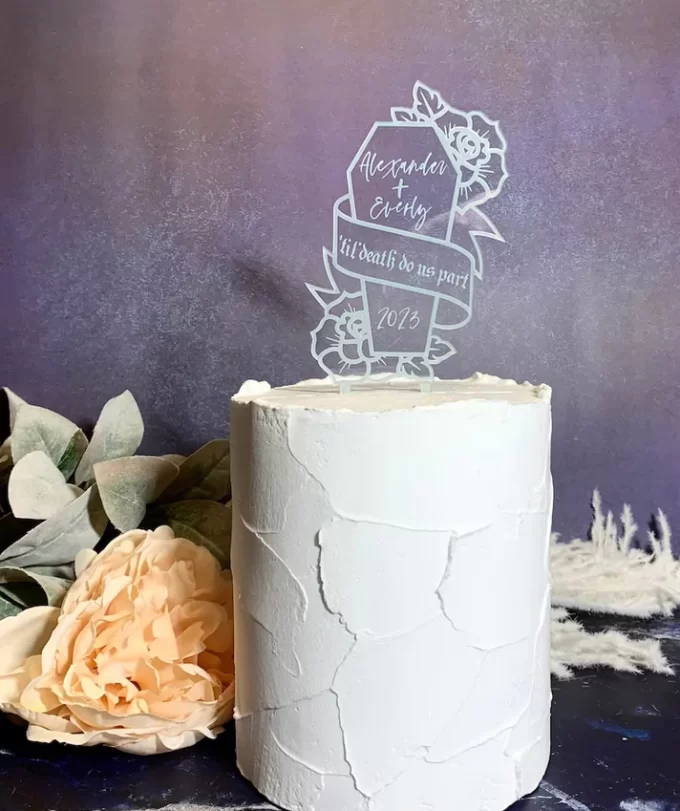 shop here
Another design I love? This one. So cute!
12. + 13. Display This Neon Sign at Your Reception
It makes a perfect Halloween wedding backdrop! By NeonDecorLovers.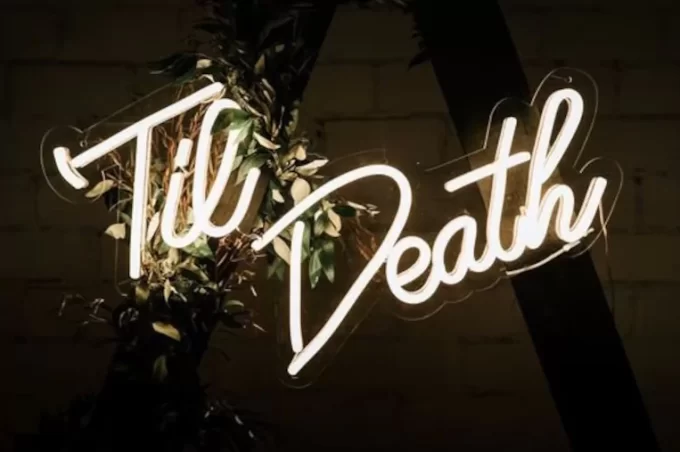 buy here
Or this "Til We Are Ghosts" sign. Spooky! By Neonball.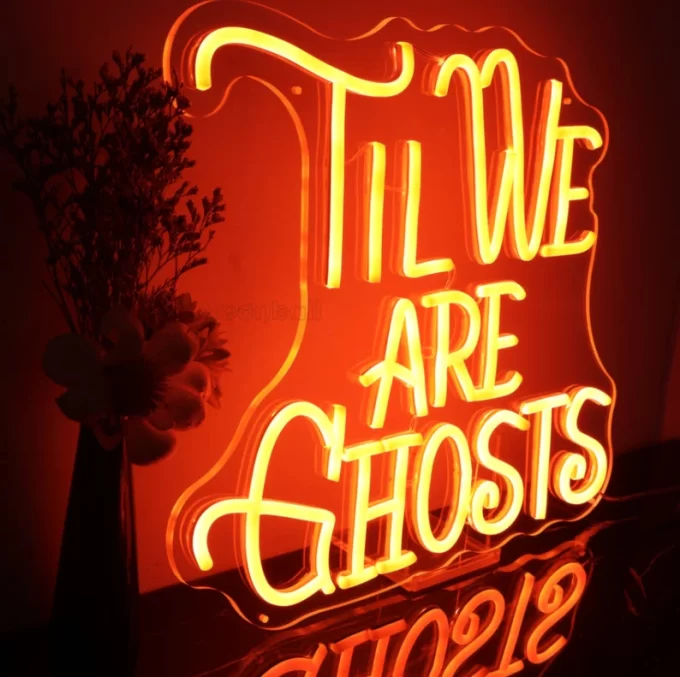 buy here
14. Use This Gothic Card Box
Have guests place their cards inside this gothic Halloween-inspired design. By OpenVintageShutters.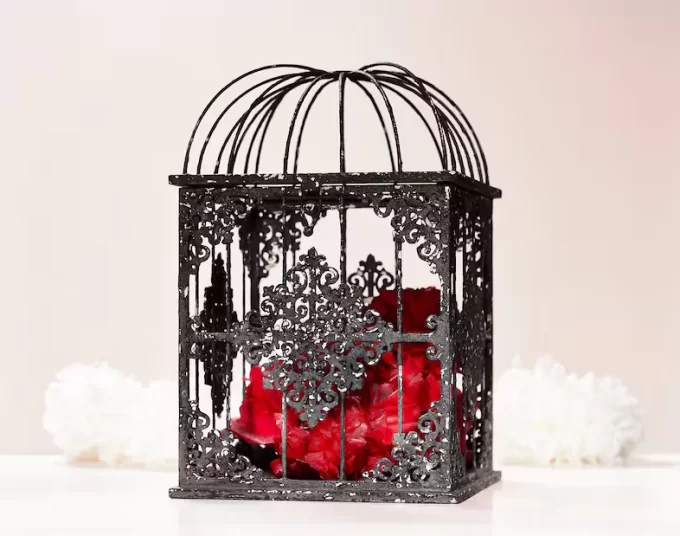 shop here

15. Seat Guests with This Unique Signage
By KatiesDecoSweets.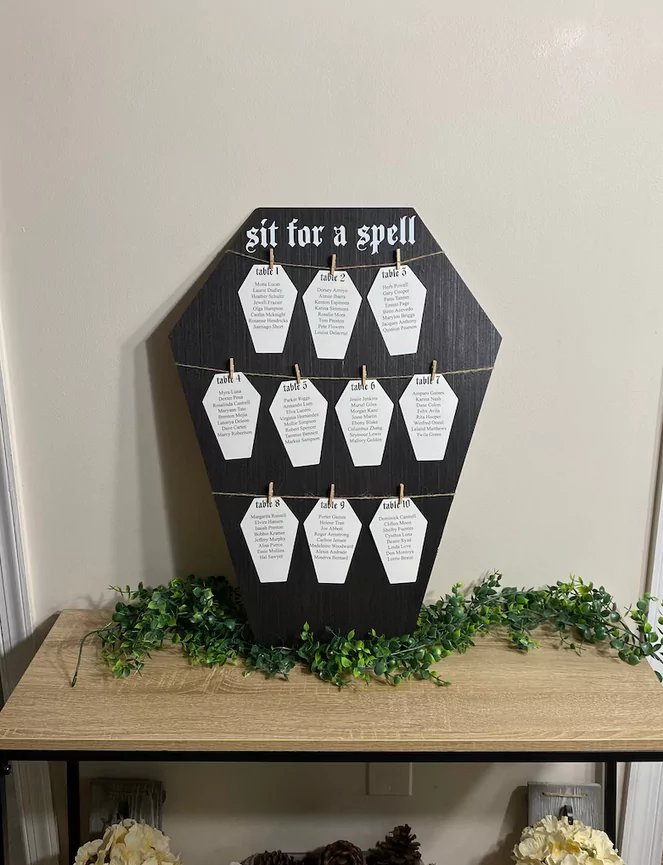 buy here
16. Wear This Spiderweb Veil
Classy, but spooky. Perfect for a Halloween wedding! By Whichgoose.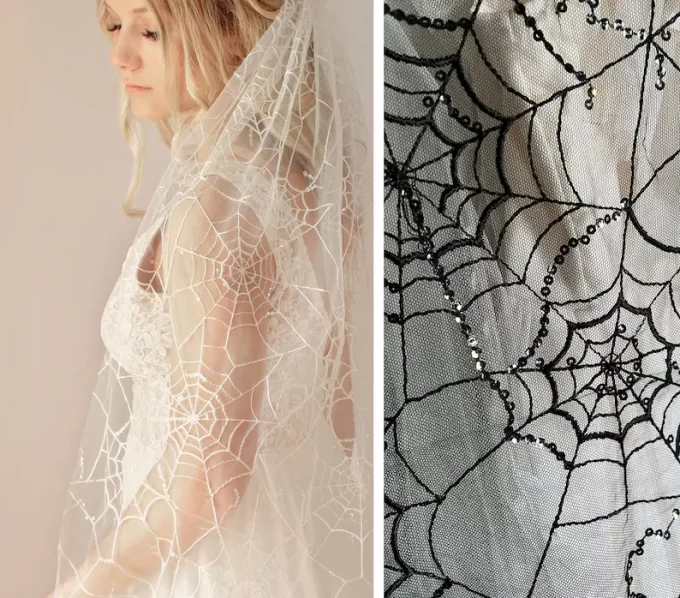 buy here
17. + 18. Wear This "In My Spooky Bride Era" Shirt While Getting Ready Before the Wedding
Cute! By Krabilion.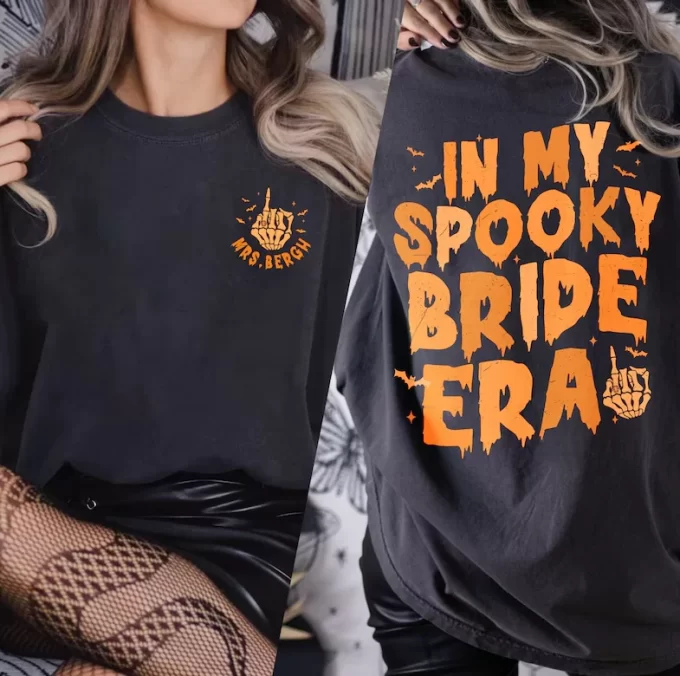 buy here
Or this getting ready robe with a Gothic style! By Wonderellastudio.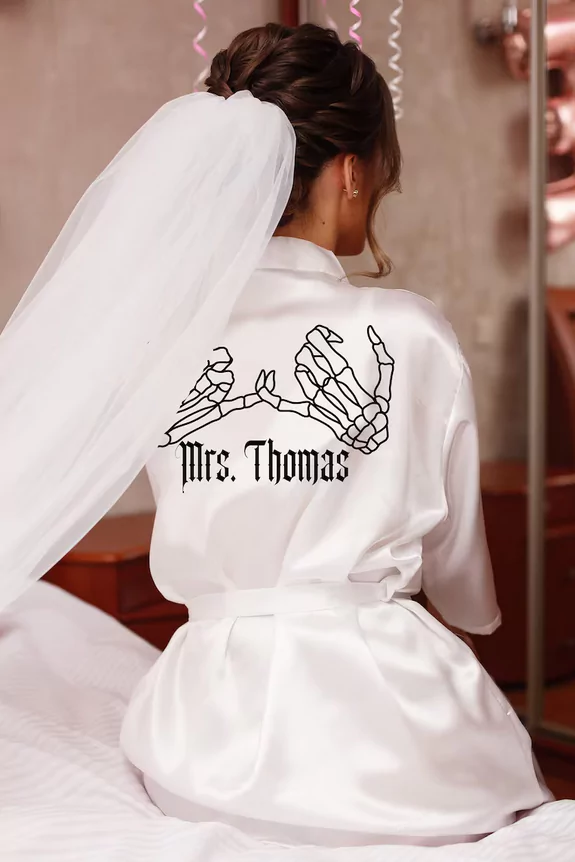 shop here
18. Decorate Your Tables With These Gothic Table Numbers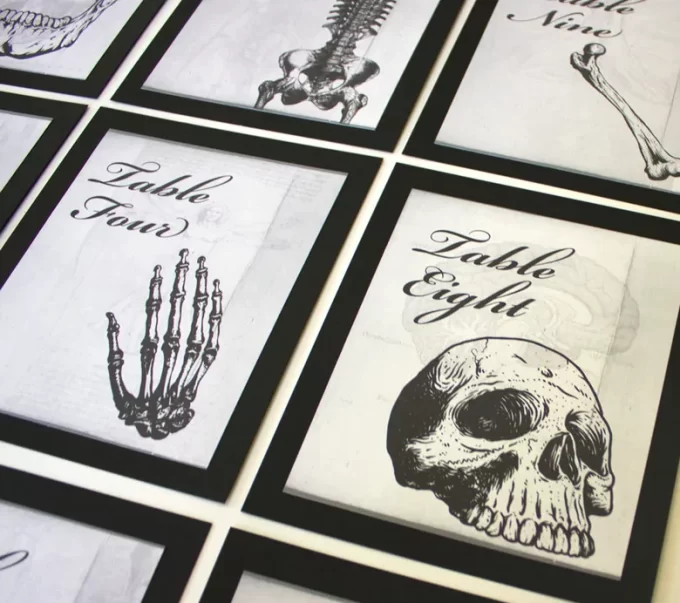 buy here
19. Wear This Bridal Garter
By GetTheGoodStuff.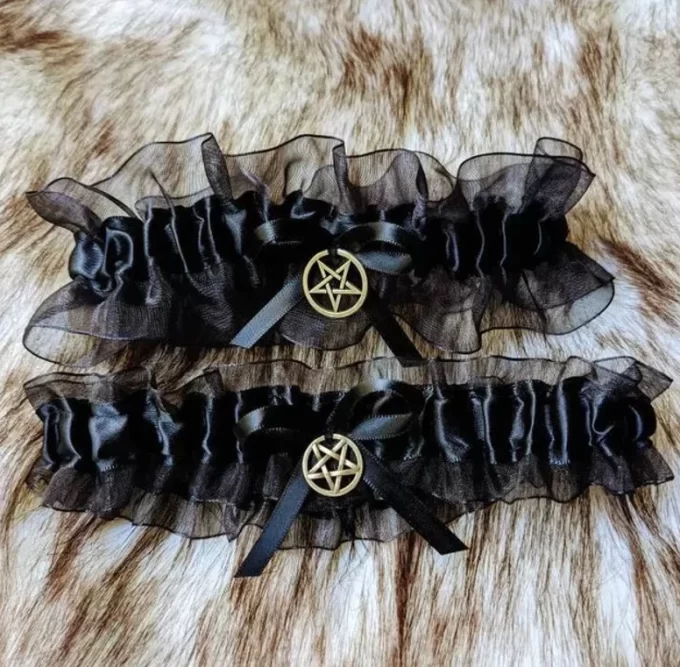 buy here
20. Decorate Your Entryway with This Welcome Sign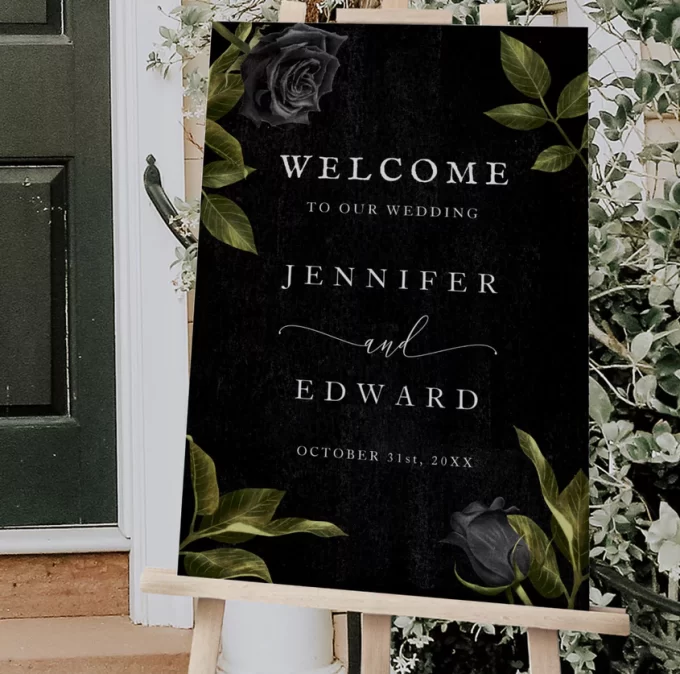 buy here
21. Display These Menus at Tables
Also by NamiBearArtStudio.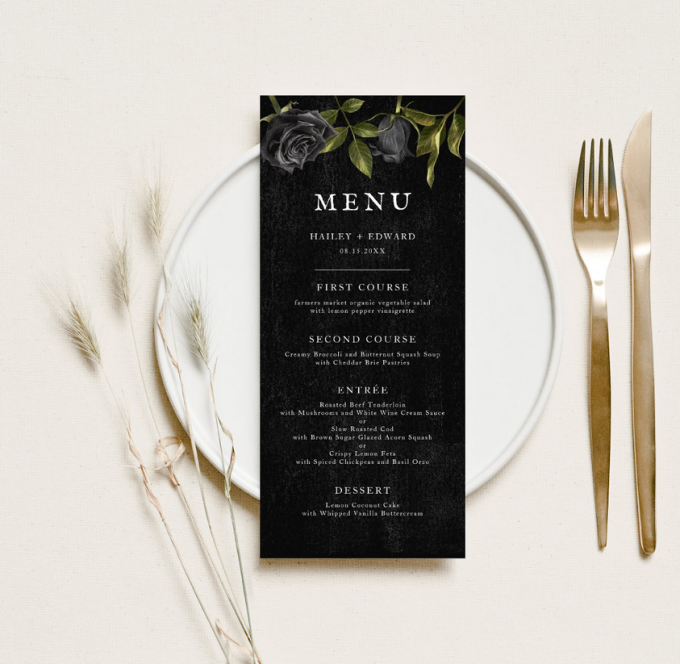 buy here
22. Decorate Tables with These Book Centerpieces
By SantanaAmosArt.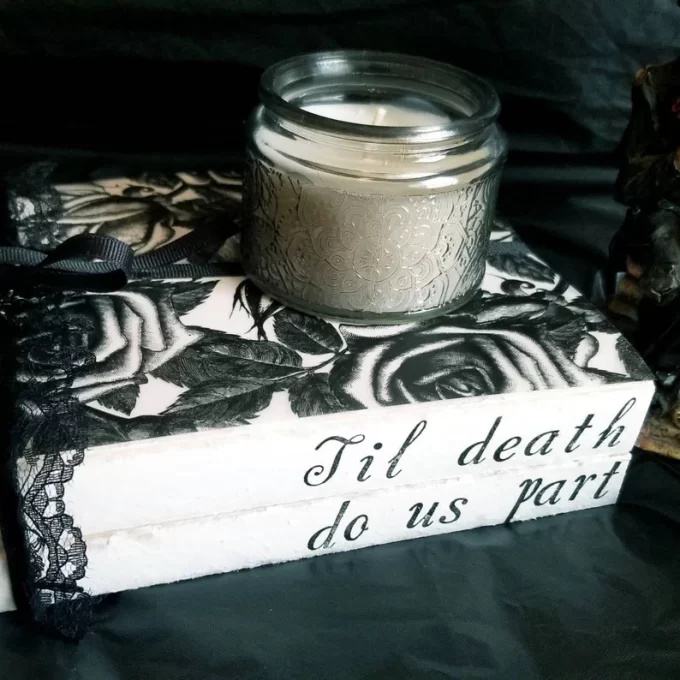 buy here
23. Use This Flower Girl Basket and Other Accessories
Perfect for your Halloween wedding theme! By NatalieSkyWeddings.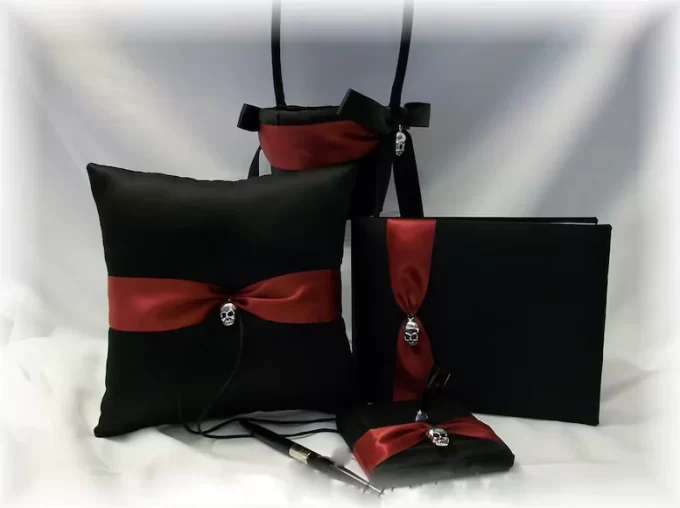 buy here
24. Add These Skull Centerpieces to Your Reception Tables
By Crafts2Much.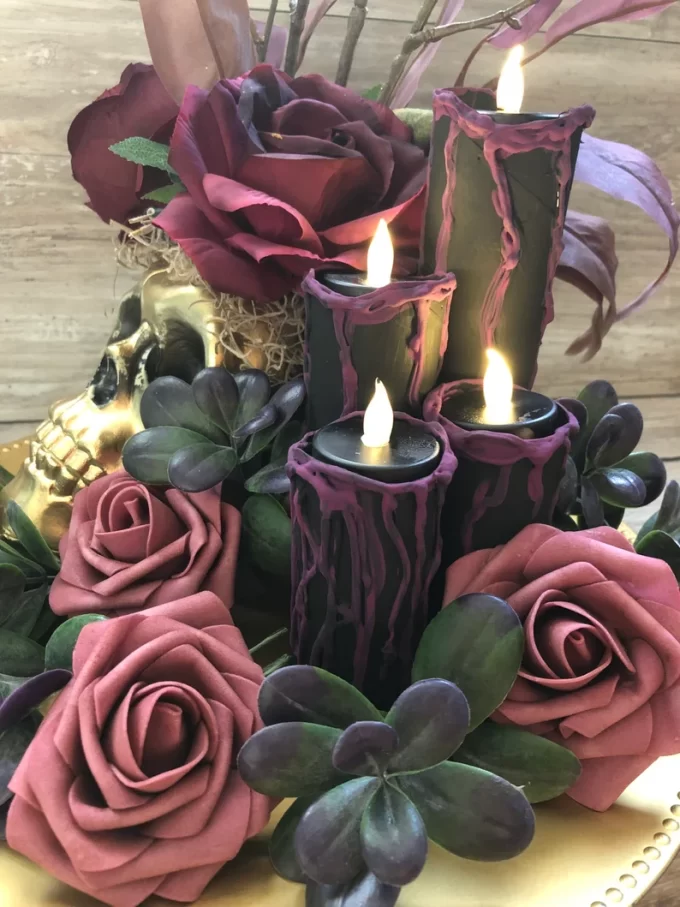 shop here
25. Hang Your Dress on This Gothic Bridal Gown Hanger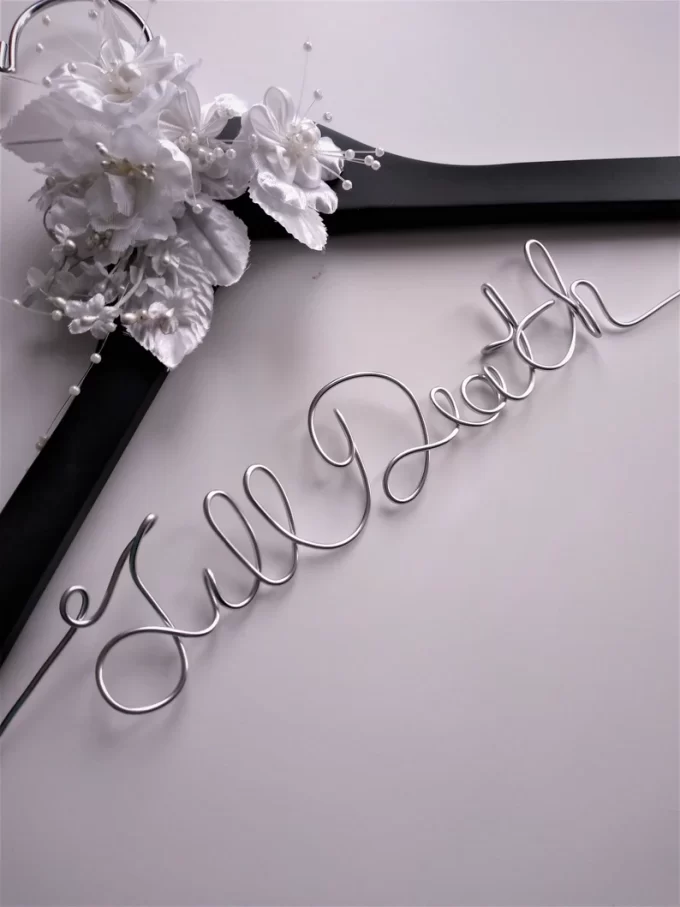 shop here
26. Have Guests Drop a Heart Into This Ghost Guest Book Alternative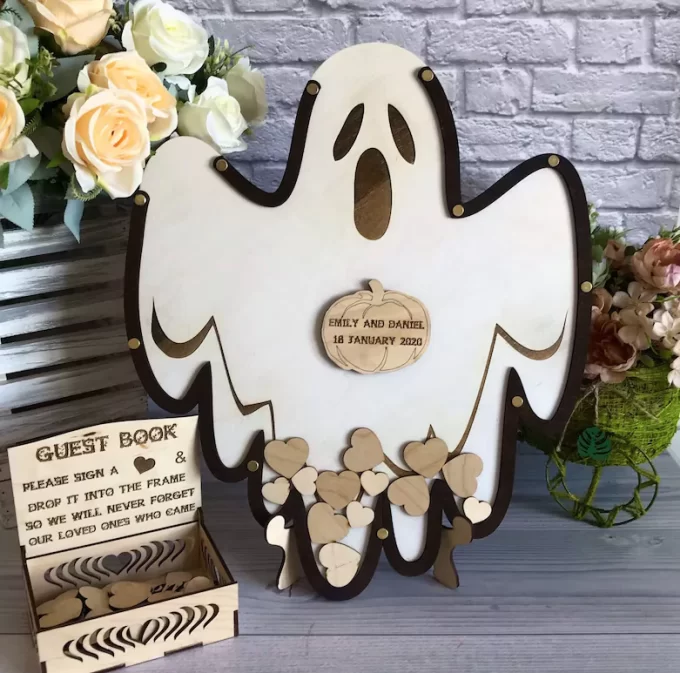 shop here
27. Decorate With These Rose Petals
Down the aisle, on tables, etc. By GraceReneeElegance.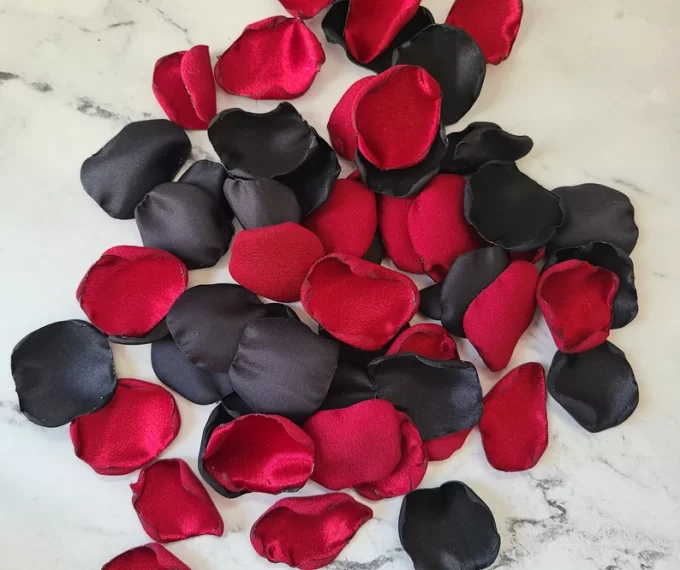 buy here
28. Place These Napkins at the Bar
By HouseofNapkin.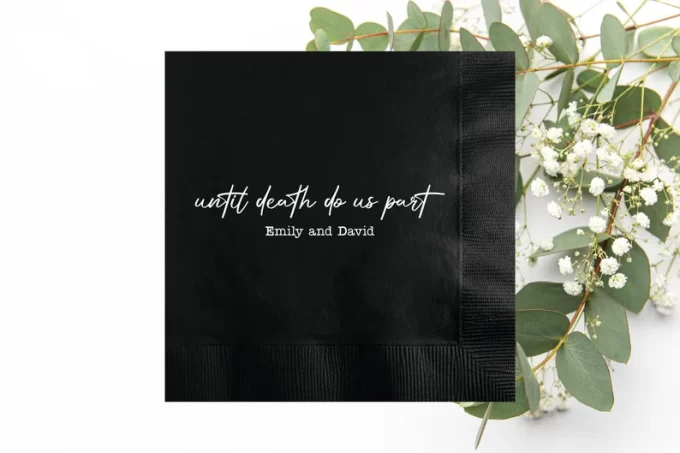 shop here
29. Give Mini Candle Favors to Guests
By AriabellaCandles.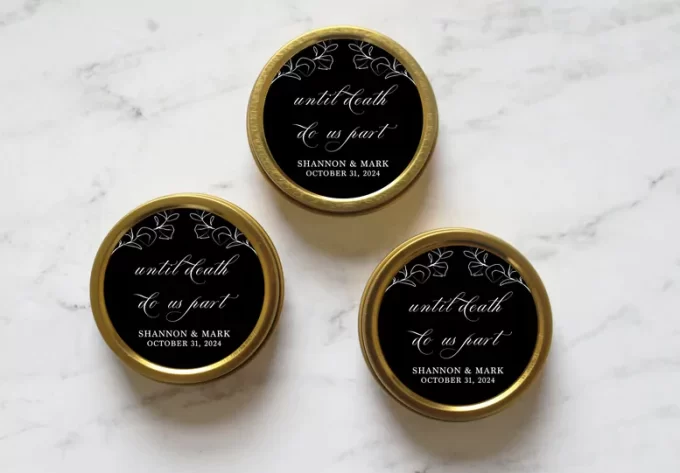 buy here
30. Tin Can Car Decoration
And last but not least, make your getaway car gothic with this tin can car decoration by FrecklesandWhiskers.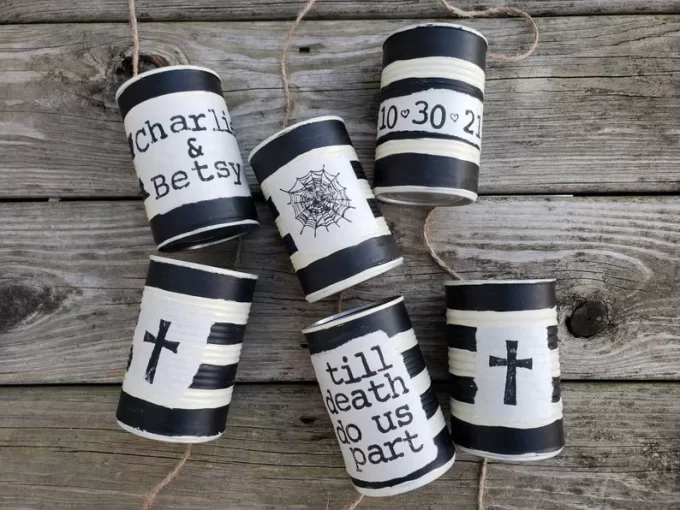 buy here
► Need some more ideas? Head over next to our list of Halloween wedding favors to keep the inspiration going!
Happy Planning!
xo
Emma