We've received an Ask Emmaline question from bride-to-be, Ashlee about her wedding registry. She asks,
"I've heard a lot about online wedding registries. A friend of mine is using a certain online retailer as her exclusive wedding shower registry, but I'm not sure if my friends and family would be comfortable with online-only purchases. Do you have any advice on whether a wedding registry online or in store is better?"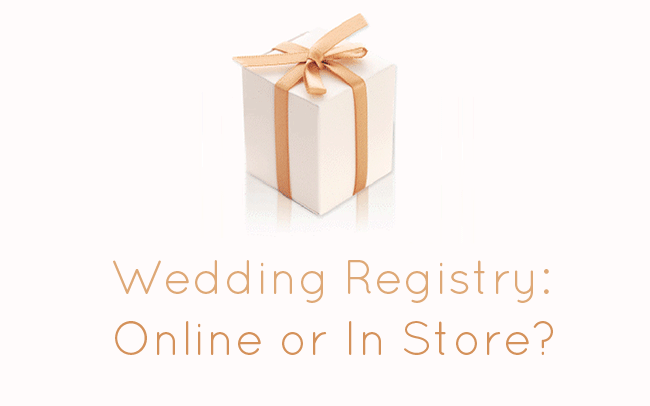 Wedding Registry Online or In Store?
Great question! When Andrew & I got married a few years back, Amazon was just starting to perfect its wedding registry service
, and, to be honest, we weren't really sure how it worked. Or comfortable completing a wedding registry online. However, online wedding registries have become a popular solution for some couples, particularly for off-the-cuff items like power tools to furniture to hobby or special interest items. But should you register for your wedding online?
Well, not exclusively.
If you want the freedom of registering for anything online and you like the ease and popularity of in store registries, we recommend the following: do a wedding registry online AND in store. Who says it has to be one OR the other? And here's why.
Why Registering Online AND In Store Makes Perfect Sense
1. Gift givers tend to prefer seeing the purchase in person.
Have you ever ordered an item online only to be disappointed in person? You see, your Aunt or Grandmother doesn't want to send you something before they can see it for themselves.
2. Not everyone is tech-savvy.
People are most comfortable with what they know. Since a traditional in store wedding registry has been the trend for so many years, it is going to be a tough sell to get everyone to figure out how to order online, and some people just aren't comfortable shopping online.
3. People like options.
Some people won't mind buying a gift online; others will love that they can go to a store and pick out something they know you'll love. Give the people what they want–options! Plus, I've heard that it's best to register for your wedding in at least two places, for variety (and convenience's sake, depending on how close a store is located to a shopper).
4. Most stores do both anyway!
Most in-store registries are now available online, too, so you have the flexibility of registering online in your pajamas and guests can still either shop online for an item OR go in store to see it in person. Ah, the internet: it's wonderful, isn't it?
♥ | ♥ | ♥
Where should you register in store?
Even though many purchases occur online today, brick and mortar stores are — and will continue to be! — a popular choice for shoppers. For instance, places like Bed Bath & Beyond (+ those 20% off coupons! Love them), Target (who doesn't love Target?), Crate & Barrel, and Macys are a few places that seem to be popular among engaged couples. Another favorite? Kohls (where if you're not shopping using a Kohls charge and getting Kohls cash and flashing a 30% off coupon, you're just doing it wrong).
These all offer many benefits of registry, along with ease of registering online or in person.
Where should you register online?
If you're going to have one in-store registry and one online registry, you may not know where to begin for the online wedding registry. We have seen so many registries popping up in the last decade, but we've tried a bunch and Amazon
is still our favorite. Here's why:
Amazon Wedding Registry
Amazon
's wedding registry is awesome! You get a 10% completion gift off most products on Amazon for a savings of up to $100. Plus, it's universal: you can add items from OTHER WEBSITES with the universal button (so, shop your heart out– anywhere!) Plus, many people now utilize Amazon Prime
, which means even last-minute shoppers can get your gift in time in only two days, guaranteed, for FREE.
It's free and easy to get started, just click here
or on the image below:
We're affiliates of Amazon, but this in no way effects our recommendation. We just love 'em anyway — we even shop Amazon ourselves!
I hope it helps and be sure to see these common wedding registry mistakes for more details. You should also check out how to register for your wedding for helpful tips & tricks.
So, tell us:
Are you registering online or in store and why?
Share your thoughts / questions / comments below!
Pin It:
Hover over the image below to pin it to Pinterest.