Hi, loves! If you're a bride-to-be, mom, sister, MOH, or a bridesmaid, you won't want to miss this post. Today we're talking about 3 tips for picking out a bridal shower theme. If you're not sure where to start or you just need a little push, you've come to the right place: find out where to get 50+ wedding (+ bridal shower) themes to inspire you, find out three tips for picking a theme, and enter for a chance to win bridal shower invitations in your favorite bridal shower theme by DistInk Designs in our newest wedding giveaway! Enjoy!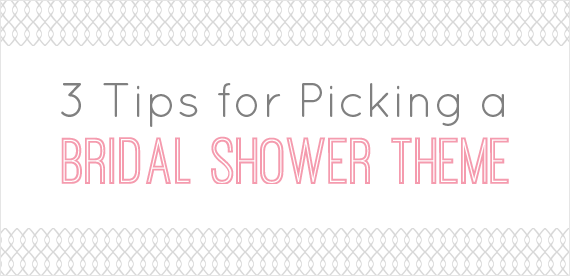 How to Pick a Bridal Shower Theme
When picking a bridal shower theme, don't be overly concerned with what's "in" or trendy. The important part of planning a shower for the bride is picking a theme that is perfect for her. Consider the following:
1 – What does she like to do?
There have been some recent, more modern themes that focus on what the bride-to-be and her future spouse like to do together. Does she love to go mountain biking? A bicycle themed everything can be applied to a bridal shower. (Just check out bicycle themed wedding ideas to see what we mean. ) Does she love to cook? A kitchen themed bridal shower would suit her best. Is she an avid traveler or lover of all things Paris? A Parisian bridal shower is an excellent choice.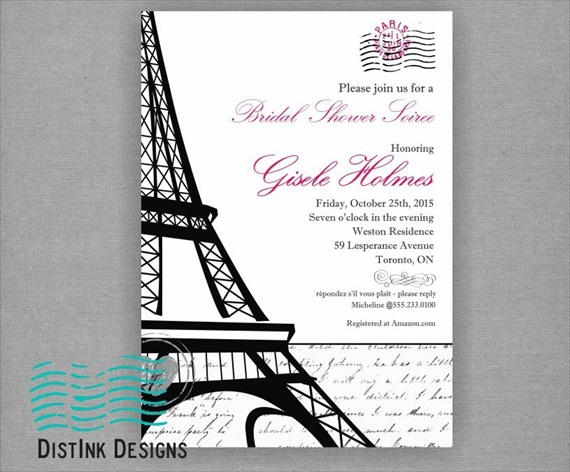 distink designs
2 – What season will the shower be held?

The season of her bridal shower can tie into her theme, too. For instance, a fall themed or spring themed bridal shower are popular options. For a fall themed wedding, bring in leaves in the centerpiece design, utilize a brown, gold, and orange color palette, and serve hot drinks (like hot apple cider, cocoa, or pumpkin spice coffee) for guests. Donuts and candy apples as favors are popular for a fall fete. For a spring wedding, tulip centerpieces, a pastel color palette, and wild seed flower packets as favors are a few examples of what to look for.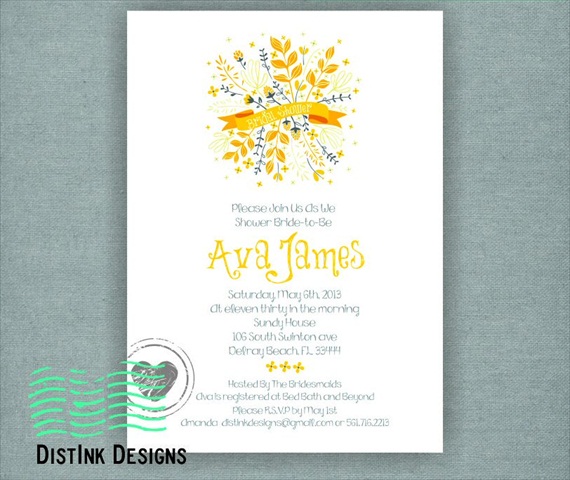 distink designs
3 – What's her wedding theme?
I don't recommend picking the same theme for her bridal shower as her wedding. You want to leave the wedding theme as a surprise, or at least you don't want to upstage it. However, you can use her wedding theme to gain insight into what her favorite style is. For instance, if you know her wedding is vintage themed, you can pick an equally vintage bridal shower theme, but one with its very own theme (like a vintage tea themed shower).
Important Tip: The best tip for picking a bridal shower theme is to think of the bride. This party is for her, so make sure every detail – from start to finish – reflects her personal style.
Bridal Shower Theme Ideas
When you're searching for bridal shower theme ideas, use wedding themes as inspiration. Check out 50+ wedding theme ideas we love, a few of which were tailored specifically for bridal showers.
Once you pick the perfect bridal shower theme, you're ready to order invitations! Here are a few to inspire you from Distink Designs.
Bridal Shower Invitation Giveaway!
Now that you know some tips on picking out a theme, it's time to enter for a chance to win FREE bridal shower invitations by DistInk Designs! Use entry form below to enter. Enter between 1/20-1/26/14 (11:59pm EST) for your chance to win. Prize value: $60. No cash value. Winner will receive twenty (20) 5×7 custom designed bridal shower invitations printed on premium card stock. Includes white envelopes. Prize must be redeemed within 6 months of contest closing. Available only to entrants in the U.S & Canada. Past giveaway winners within 30 days not eligible to win. Good luck!
Entry Form
Happy Planning!
xo,
-E.