If you're adding up your wedding costs and freaking out over how quickly things add up, we have good news: groomsmen gifts under 20 dollars ARE out there… you just have to know where to look! To prove it, we've rounded up twenty-nine affordable groomsmen gifts that are personalized and custom-made just for you… and they're ALL under $20!
You know I wouldn't steer you in the wrong direction, so believe me when I tell you these cheap groomsmen gifts certainly don't look inexpensive, and your groomsmen will appreciate these as thank you gifts. ALL of the gifts shown here are under $20 (some gift ideas are even below the twenty dollar mark). For a few extra bucks on some of these, you can include an engraved gift box made of wood, and if your budget allows, go for it! With a gift box, you won't have to buy wrapping to give the gifts, so that's one more thing to cross off of your wedding checklist.

Your groomsmen gifts should be a present given in appreciation for their help with your wedding. If you have fewer groomsmen, maybe you'll buy a few of these for each attendant. If you have more groomsmen and you budget only allows for a gift each, that's where these inexpensive gift ideas come in. You can also do nice things for your groomsmen to offset the cost of being an attendant in your wedding by paying the tuxedo rental fee or buying each groomsman their suit. Just an idea! Make sure your gift reflects your appreciation and go from there.
And if you're looking for a Valentine's Day gift for him, any of these will do! They're not just for groomsmen. Take a look!
Groomsmen Gifts Under $20

1. Leather bottle opener
This engraved leather opener is only $15.97 and includes a free can cooler with it. Customize it to say anything you'd like. By HisCorner.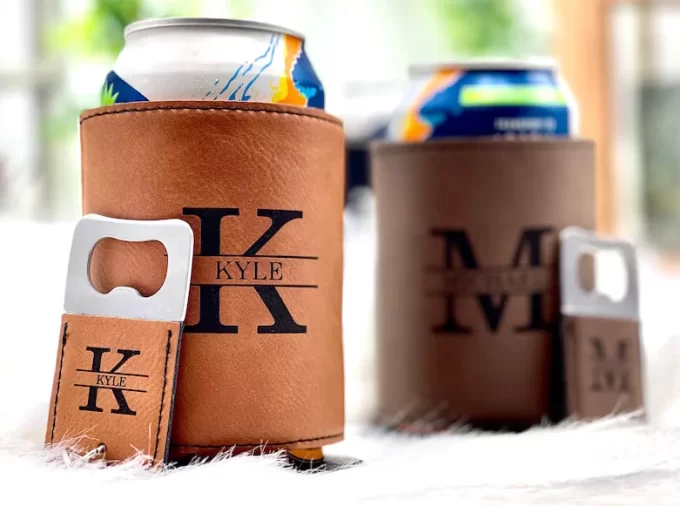 buy here
2. Personalized groomsman socks
Personalized on the dress socks? Wedding-day ready? Amen! These socks are a great deal for groomsmen gifts under 20 dollars. By BailiHandcrafted.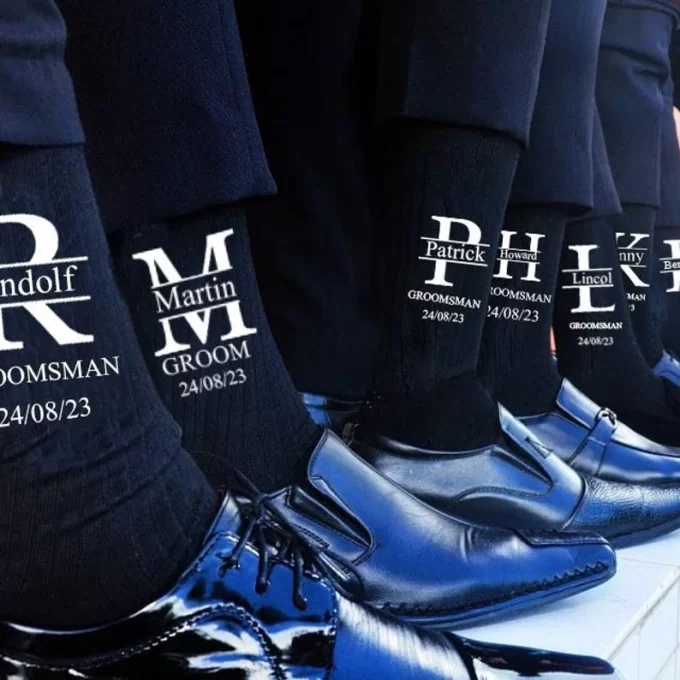 buy here
3. Leather passport cover
Many leather gifts you find aren't such a great deal, and that's where this find is different! Love these passport covers that are great gifts for groomsmen under 20 dollars, right on the mark (plus free shipping to USA!) By BPLaserEngraving.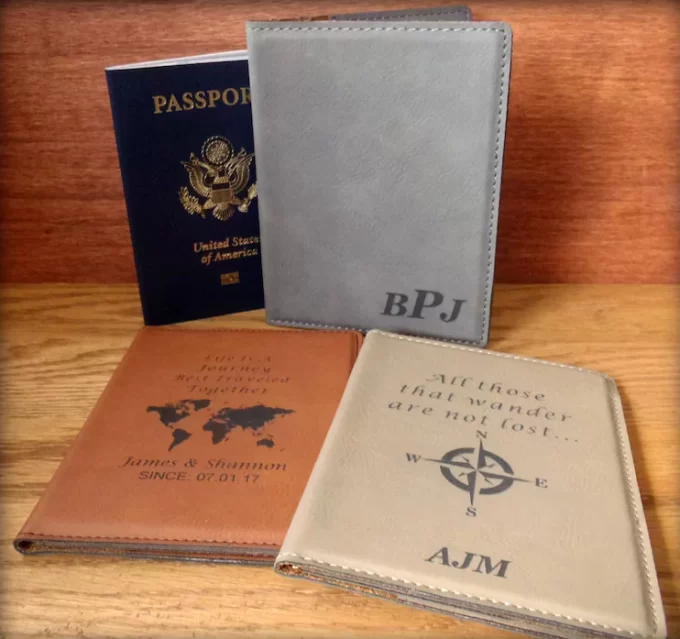 buy here
4. Toiletry bag for groomsmen
This bag is a great deal! Fill it up inside with cool beard oil, shaving cream, nice razors, etc. By AliceBySophia.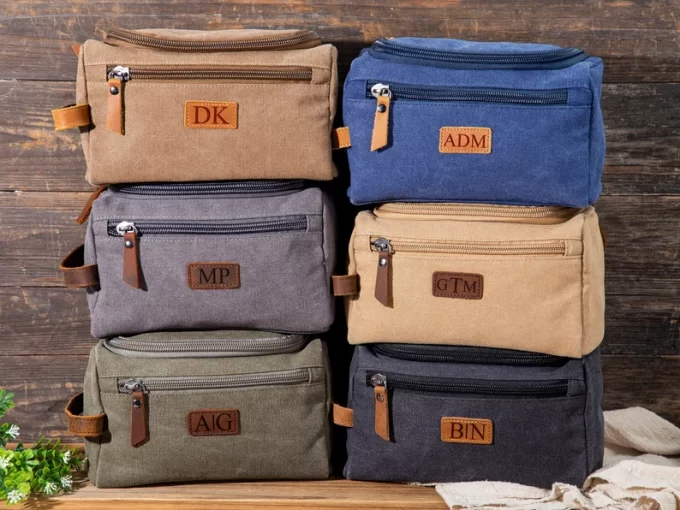 buy here
5. Groomsman flask
A flask, only $7.99! Perfect as groomsmen gifts under 20 dollars or as a "be my groomsman" gift. By YoursPersonalized.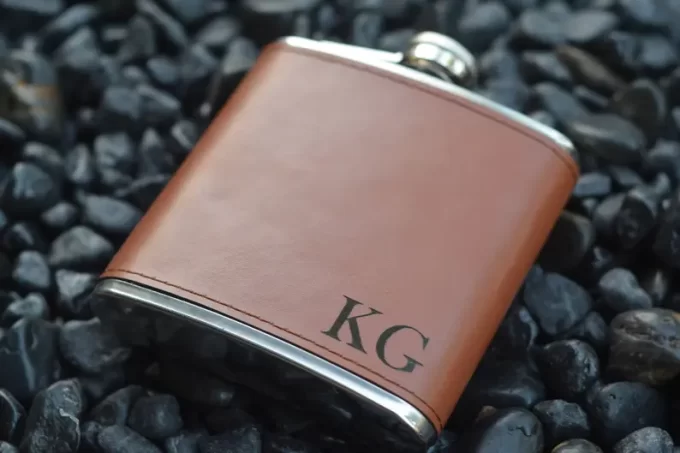 buy here
This one is only $7.99 if you're into the black and stainless steel style instead. By YoursPersonalized.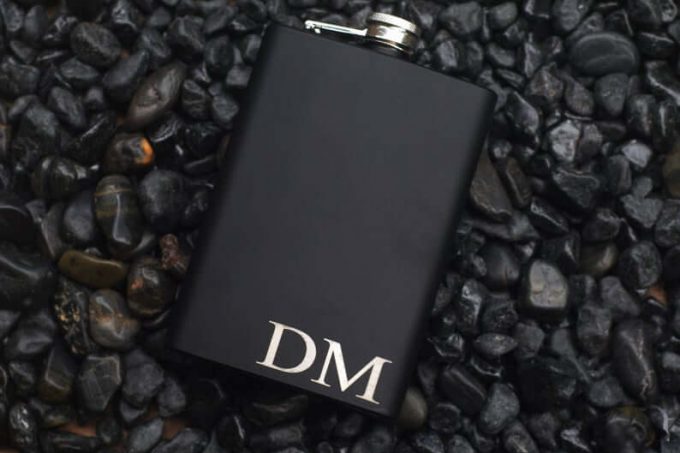 buy here
6. Engraved whiskey glasses
Stylish, functional whiskey glasses, only $11.99 each. By BlueRidgeMountainCo.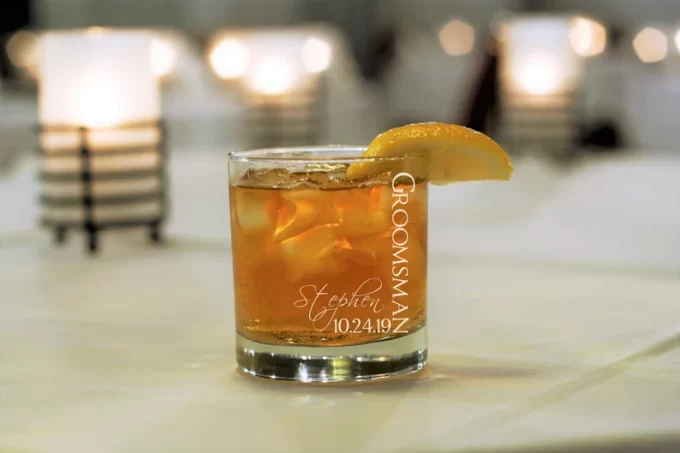 buy here
7. Personalized tie clip
This tie clip is personalized for only $12.90+. Great gift for him! By JewelMango.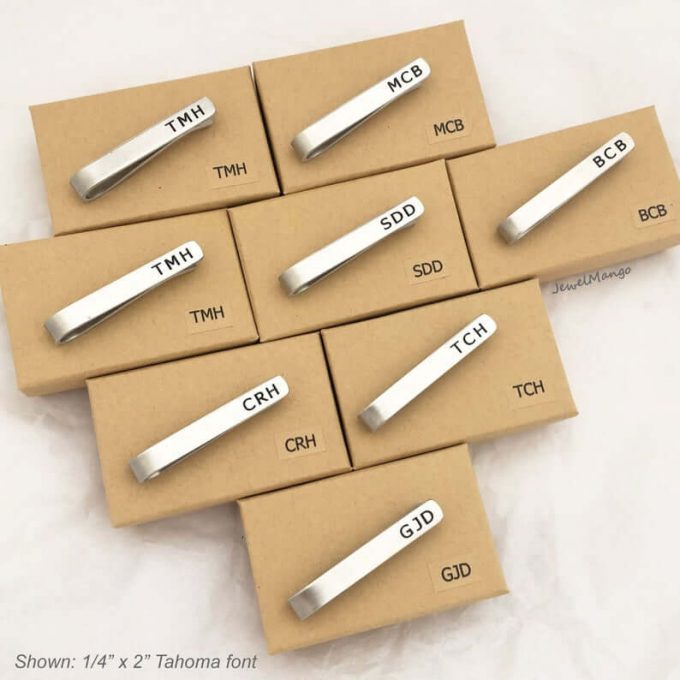 buy here
8. Engraved groomsman knife
A pocket knife with engraving coming in at $19.95. A great gift for groomsmen, especially outdoorsmen. By EngraveMyMemories.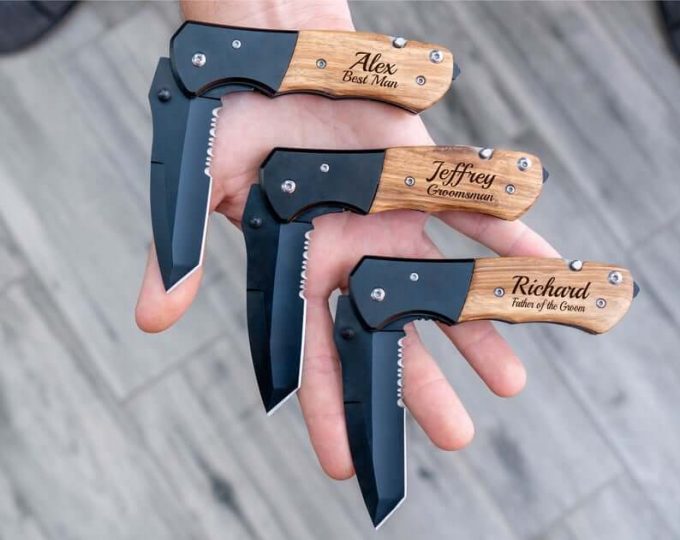 buy here
Another great gift for outdoorsmen/hunters? An engraved hatchet by TiposCreations, $19.95.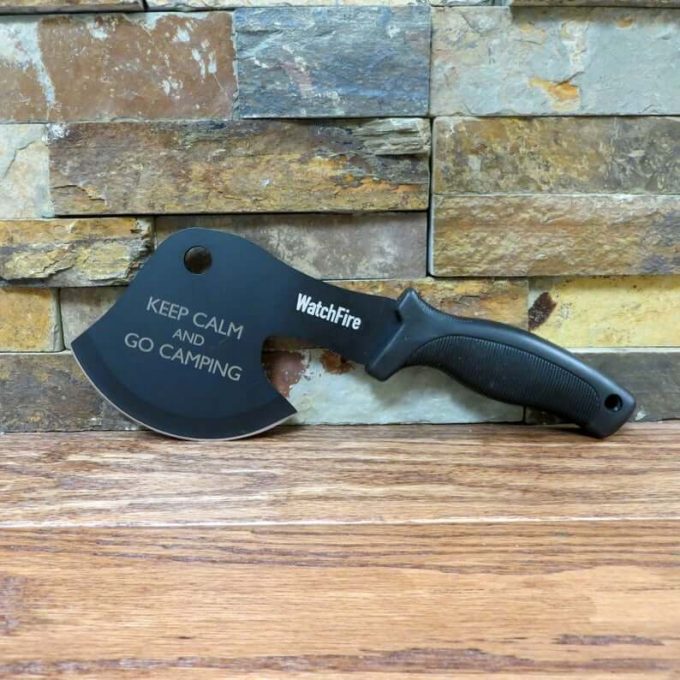 buy here
9. Personalized groomsman lighter
By Senaxus under $10.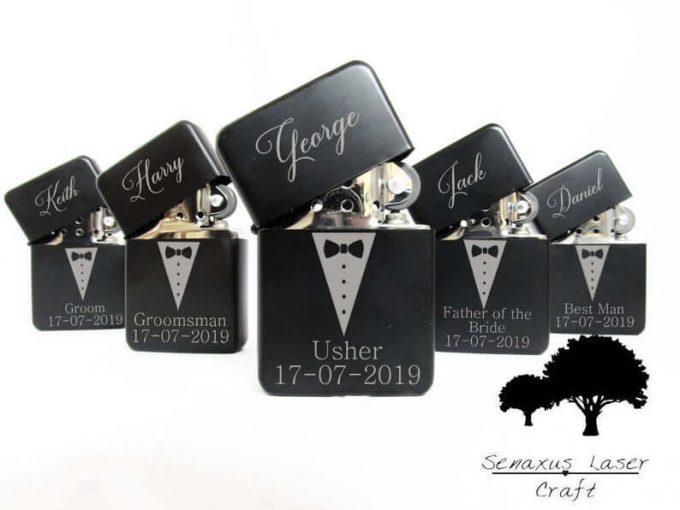 buy here
10. Hand-forged wrought iron bottle opener
How cool is this? It is $19.99 and by BlackDogIronworks.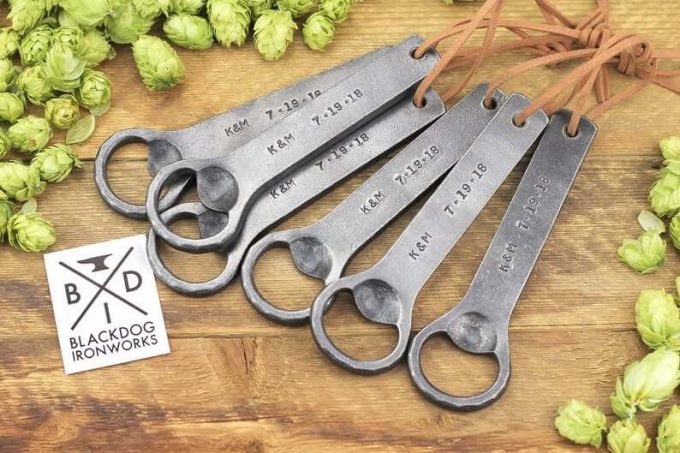 buy here
11. Personalized can glass
For brew-loving groomsmen. Love this style; only $13.99. By Donebetter.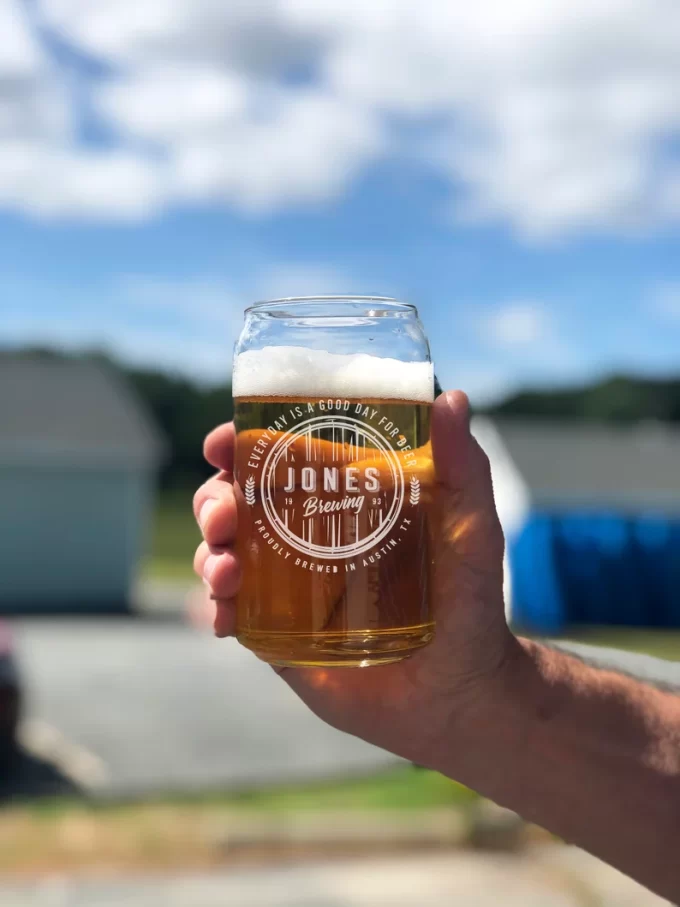 buy here
12. Personalized wood sunglasses
By Pong's Art.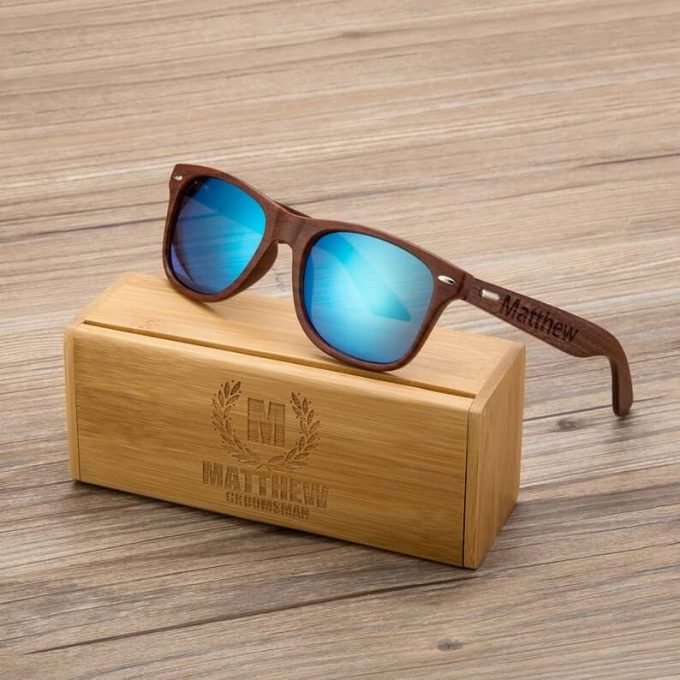 buy here
13. Personalized cufflinks in wood boxes
Easy gift for your groomsmen to add to their wedding day style. Only $11. By BstgftsArt.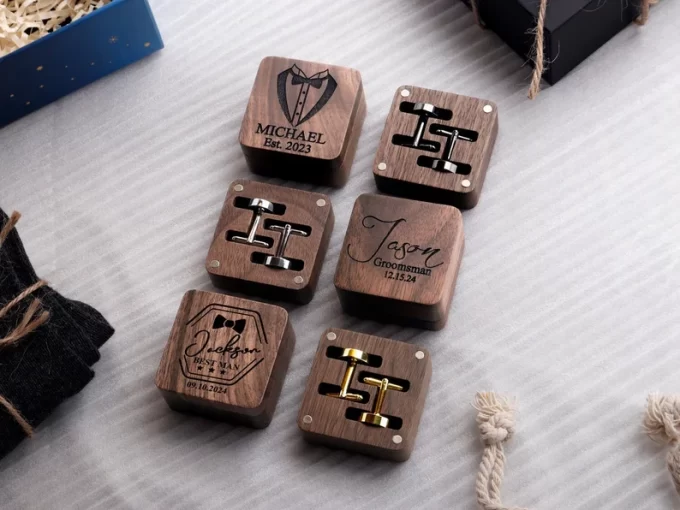 buy here
14. Golf ball marker, personalized
This is a golf ball marker and a divot tool in one. By WoodULike and one of the most popular groomsmen gift ideas under 20 dollars.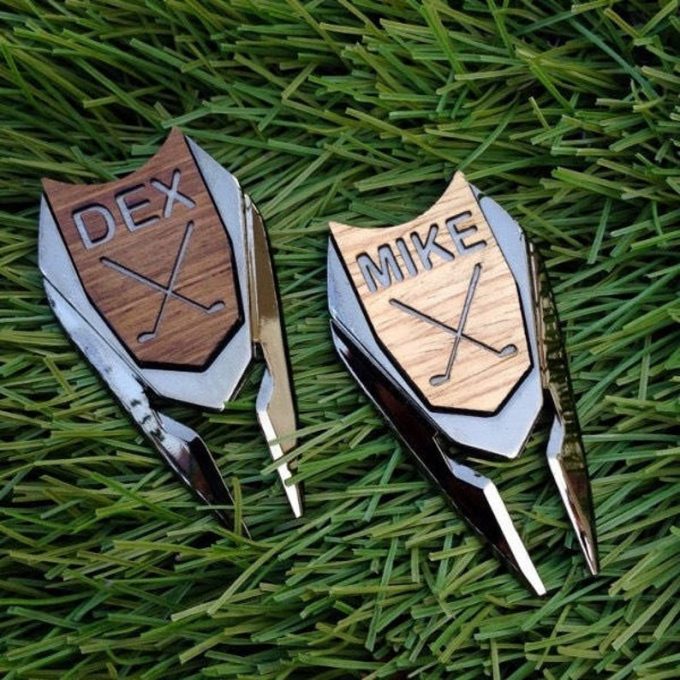 buy here
15. Groomsmen cufflinks, engraved
A pair of cufflinks he can wear on the wedding day and beyond! Only $12.45. Free shipping! By AimeeStore.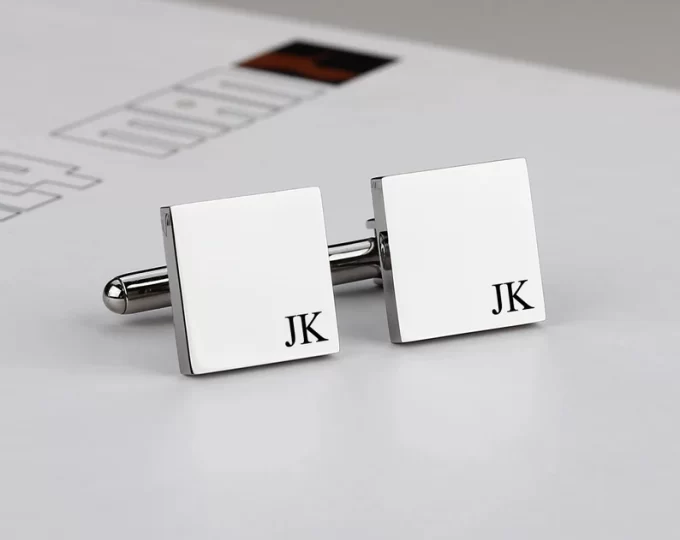 buy here
16. Leather can cooler
This personalized can cooler has a cool, worn-in look to it. By STRAIGHTLINE.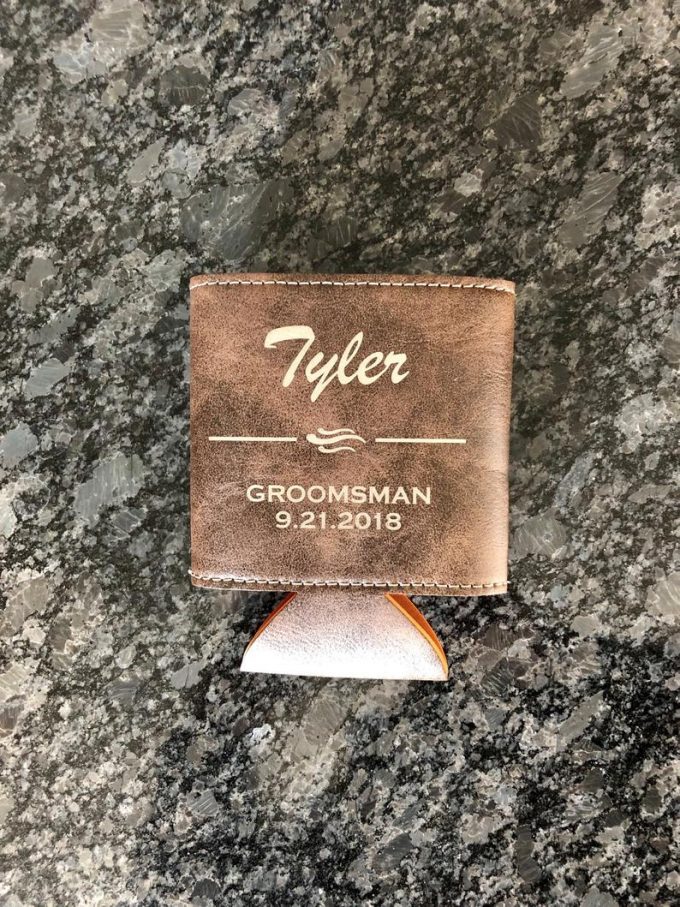 buy here
17. Personalized groomsman gift box
By Suncoast Laser.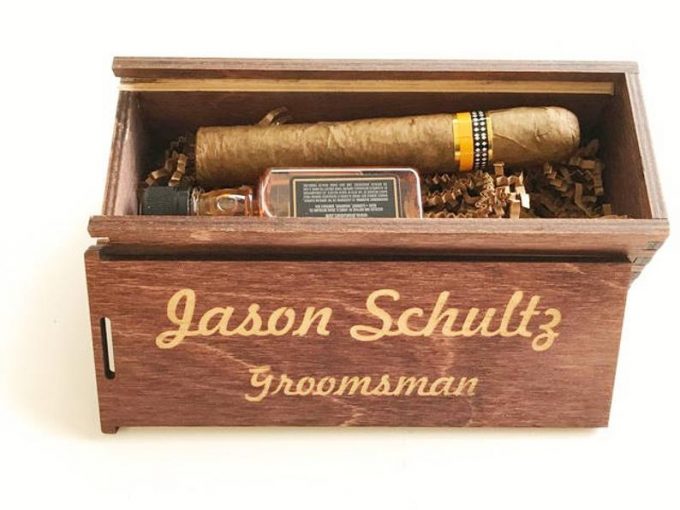 buy here
18. Personalized BBQ grilling set
For $20! Love this for guys who love to grill! By WinonaWoodCraft.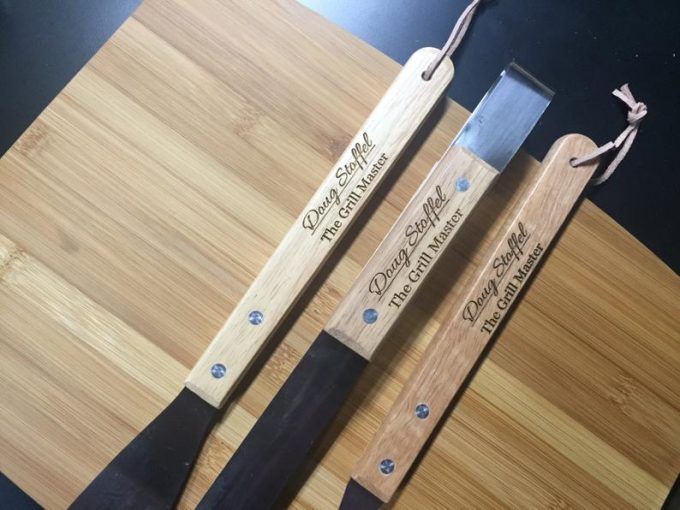 buy here
19. Wooden watch with box
A handsome wooden watch in box, $19.60. Amazing. By PrettyEngraving.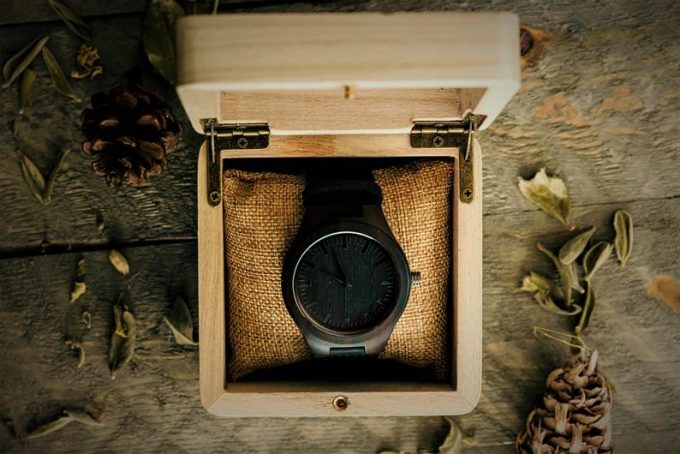 buy here
20. Personalized stone coasters
These stone coasters are engraved and there are dozens of designs available. Under $7. By SunshineLaserCo.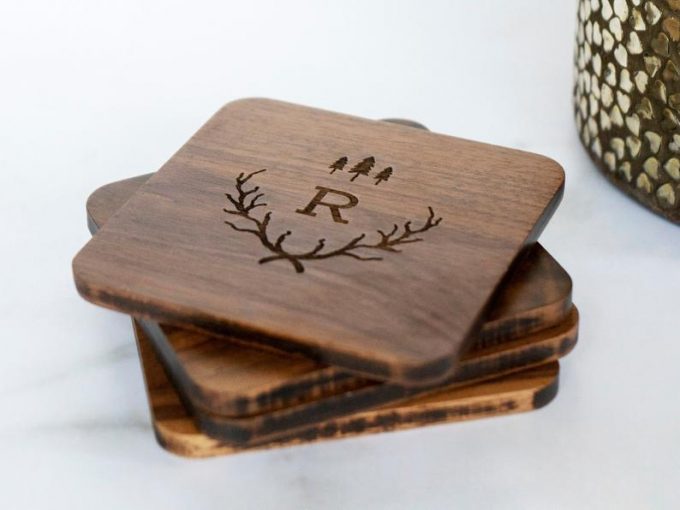 buy here
21. Metal can cooler
Keep his drinks cold. Personalized! Around $14 each. By Chixue.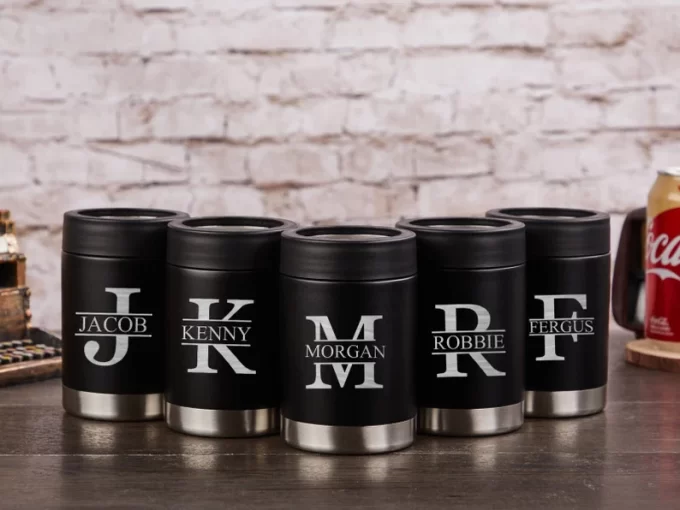 buy here
22. Personalized pocket watch
Great for outdoorsy groomsmen. By ArtiGift.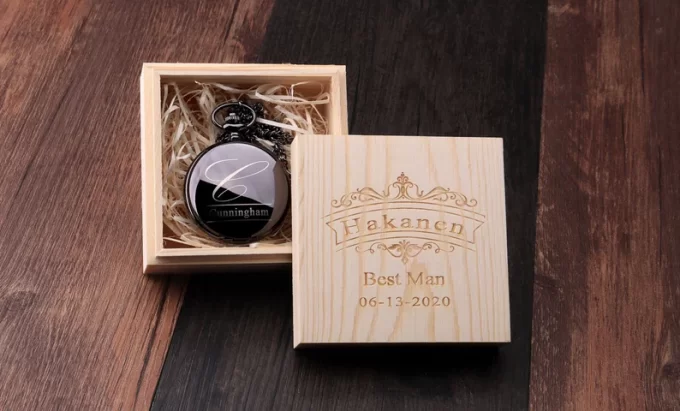 buy here
23. Wooden sunglasses
Personalized! By VintageOval, only $3.45 each.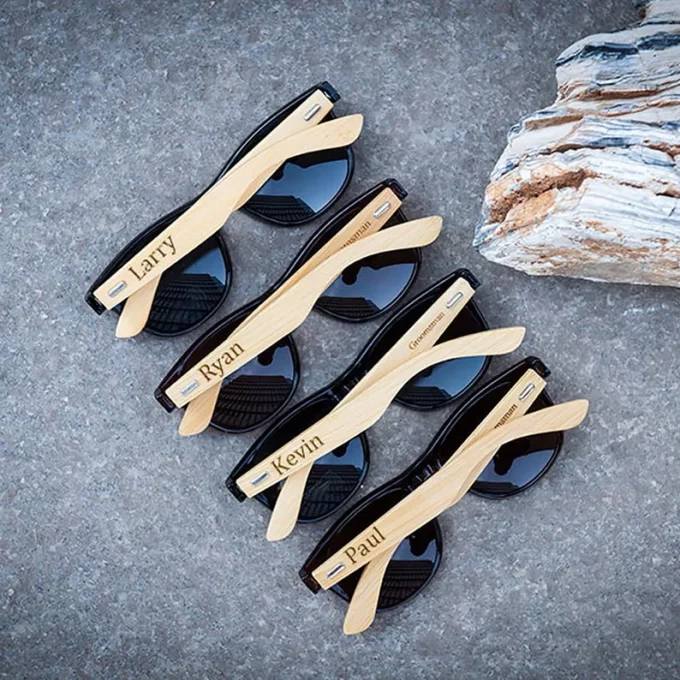 buy here
24. Wallet money clip
Rugged. Slim. Built tough. Get it at HappyManor.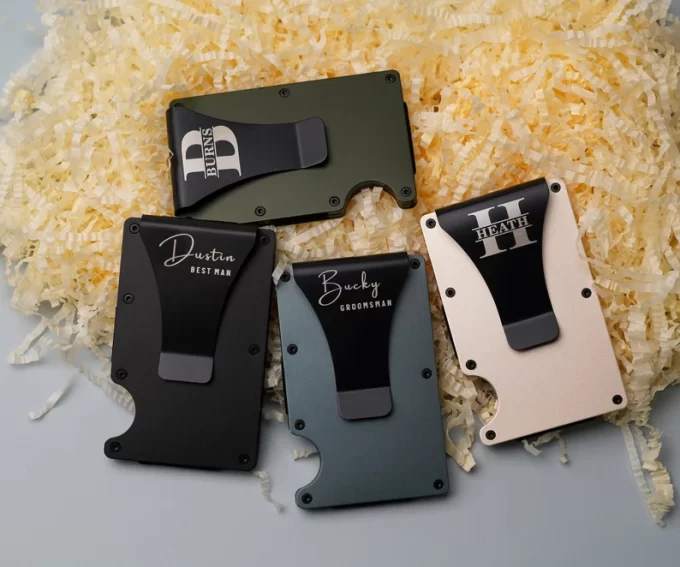 buy here
These next gifts are all from the same shop — TealsPrairie. One of these items, in particular, is a gift Andrew received, an engraved scotch glass and decanter set by Teals Prairie & Co. as a wedding gift a few years back; the set is so beautiful! It looks just as nice in person as it does online, and the quality of the glass is impeccable. I also love the gift box it came in with our last name engraved on the top.
25. Engraved cuff links
These are many styles available for these cuff links. This is probably one of the most classic item on our list of groomsmen gifts under 20 dollars; a man can never have too many pairs of cufflinks.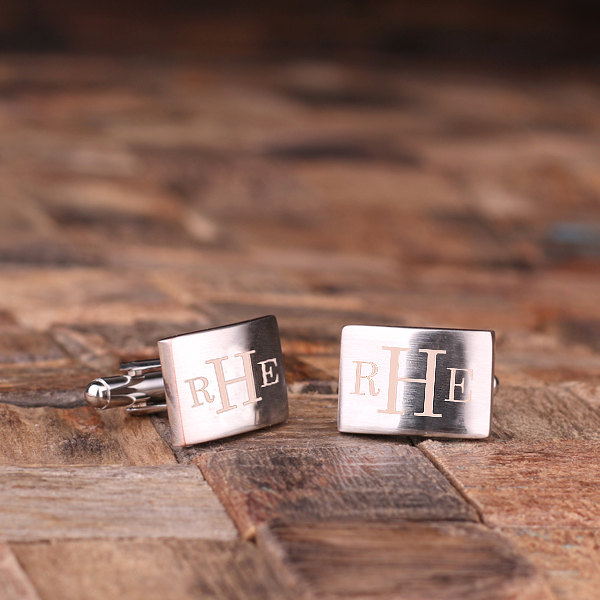 get it here
26. Wood tie clip with gift box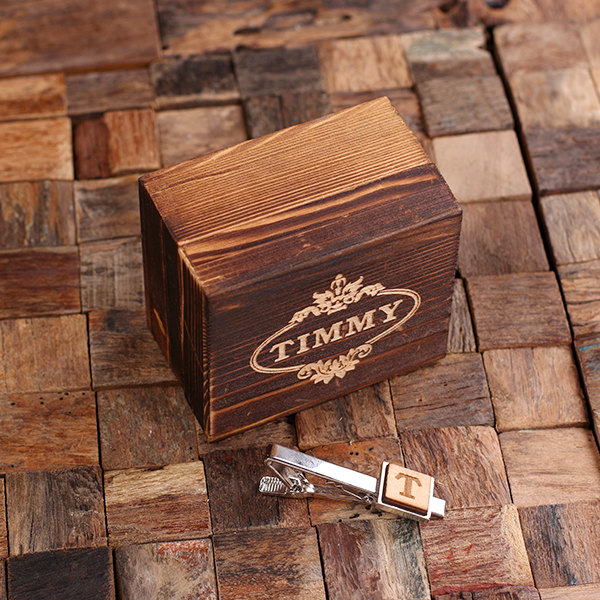 buy here
27. Personalized key chain in gift box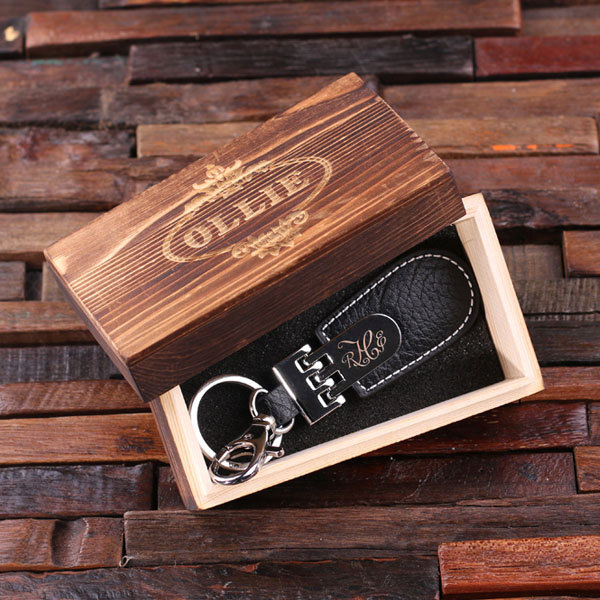 buy here
28. Scotch glass with box
This is a handsome scotch glass, perfectly wrapped up in a gift box! Via here.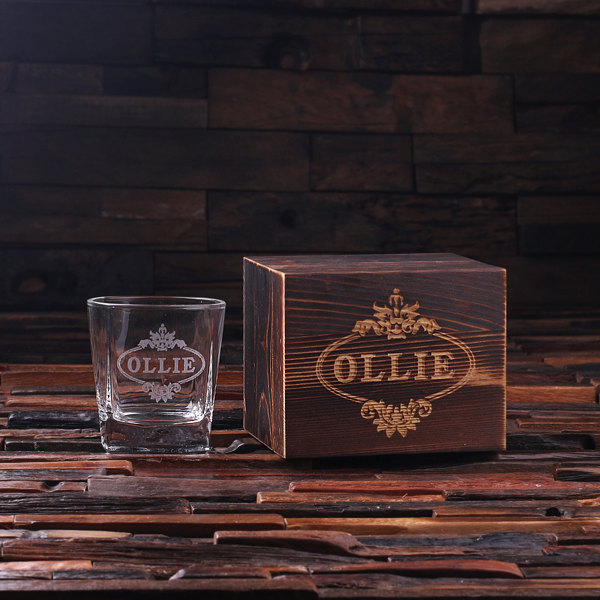 buy here
29. Pilsner / beer glass, engraved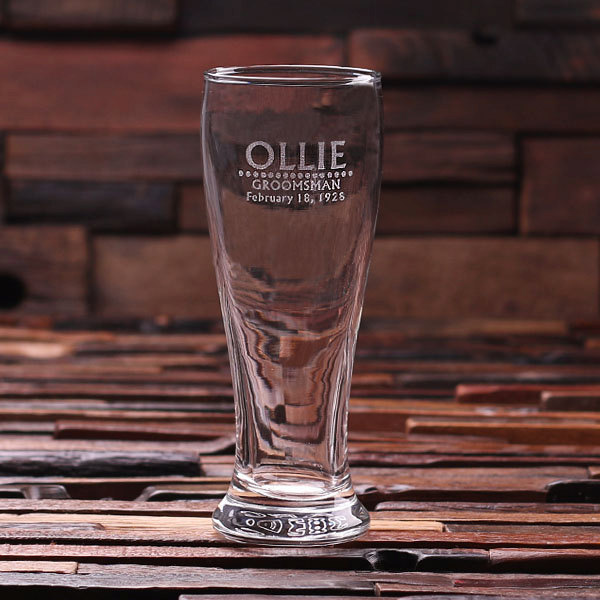 buy here
And… this glass comes with a free bottle opener!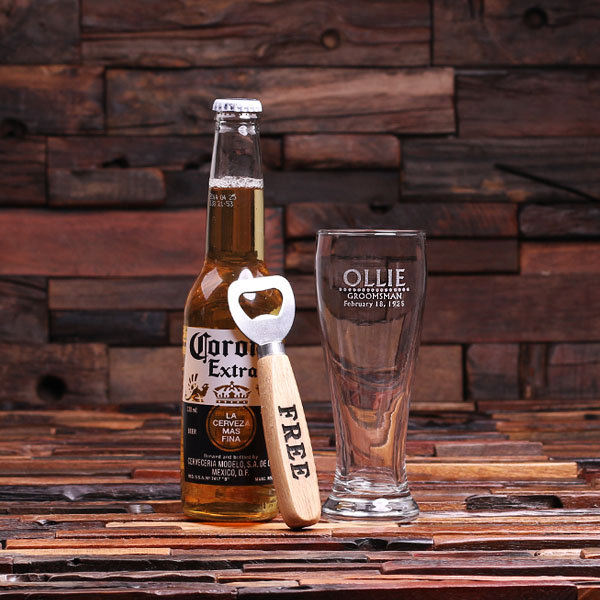 buy here
So, what do you think of these groomsmen gifts? Which present under $20 is your favorite? What are YOU giving as groomsman gifts? Tell us in the comment box below!
Happy Planning!
xo
Emma