Planning a fall themed bachelorette party? Or perhaps a BOOCHELORETTE? ;) Look no further than the best fall bachelorette party ideas on the web! We have tips on what kind of invitations to send, what favors to give out to guests, where to go, what to wear, and what to do to celebrate the bride-to-be.
by a banner boutique
If you're one of those people who, five minutes after September begins, breaks out her fave boots, leggings, plaid shirt, 'fall y'all' tee, and heads to get that first pumpkin spice latte, a fall bachelorette party may be right for you. :)
Do you have one of these yet? A must-have for fall from ShopKrissyDonohue.
by krissydonohue
Let's get started!
Fall Bachelorette Party Ideas
When you're planning a bachelorette party, what is the first thing you need?
A stiff drink! Just kidding.
Cute shirts! Yes, but we'll get to that in a minute.
by klsdbride
First, you need to pick a location, set a date, and send… invitations.
You'll take care of the date; we'll help you with the location and to find fall bachelorette party invitations to set the tone and theme of your amazing bash.
Fall Bachelorette Party Locations
Where should a great party be held? Somewhere the bride loves to go!
Girls' Night In
If she's a homebody, plan a fun bash indoors at home or rent a hotel suite for a girls' night in.
Painting & Wine
For a fun activity, you could first head to a place that does those painting and wine pairings, where you learn how to paint and can bring your own wine. This invitation would be perfect (by Nikki Levine):
get it here
If she's a little more outgoing, plan a fall bachelorette party to begin at a restaurant for dinner, followed by drinks at the same location or head out for a bar crawl (and people can buy the bride a drink with this brilliant idea).
Cider Mill
One of the best fall themed bachelorette party locations is… ah, a cider mill! You can gather the girls together for a fun pizza party at home, then head to a cider mill and enjoy donuts, cider, wine, whatever! Some bachelorettes even plan an orchard crawl, where you visit a few favorites in your area. This would be a great opportunity to rent a shuttle or party bus / limo and have fun while someone drives you around.
by symbolicimports
Other places to host the fall bachelorette party include a club or clubs, go to a musical or show after a nice dinner downtown, or simply stay in and rent Halloween movies, eat pizza and popcorn, wear cute pjs, and drink wine.
Cabin in the Woods
And lastly, one of my FAVORITE fall bachelorette party locations is… a cabin!
Plan a fun girls' getaway at a cabin in the woods, or a cabin near the woods, or just a fun Airbnb vacay up north in your town. (Read: Cabin Bachelorette Party.) Enjoy the nature, plan fun activities during the day, make it a one or two-night event, and have relaxing, outdoor fun, complete with bonfires, s'mores, and a wine tasting.
Now that you know some creative places to host the party, let's talk about fall bachelorette party ideas to put the rest of it together, kicking off the list with a few invitation styles.
Invites: do you really need to send them? Yes! As with any party, the fun officially begins when you decide on the guest list and send out official invitations. The same applies for a fall bachelorette party, although the invitations do not need to be formal (and you can actually send email invitations, if you prefer, which you can do here in an instant).
1. Fall Bachelorette Party Invitations
This design is perfect for a fall bachelorette party weekend away! By BillbyDesigns.
shop here
2. Glamping Invites
Going camping? How about glamping? These invites are perfect for the occasion! By Angela Garick.
via here
3. Rustic Weekend in the Woods
Or a rustic weekend in the woods, like this invitation by BasicInvite.
buy here
4. Floral Fall Themed Bach Invites
By PangaaDesigns.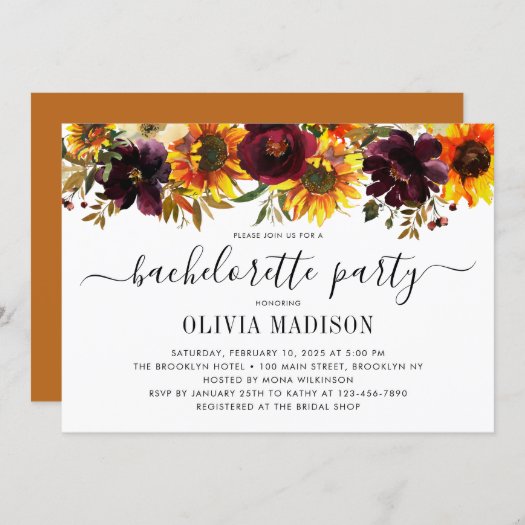 by pangga_designs
5. This Witch is Getting Hitched
This banner looks perfect in any space where the party is being held. By Wulagogo.
buy here
6. Wine Color Decorations
If you prefer a wine themed party (vs. a Halloween inspired event), try this decoration set with a bunch of fall bachelorette party ideas to use. By Qian's Party.
buy here
7. Witch Cake Topper
Serve delicious cake with this cute fall themed bachelorette party topper. By Deneo.
buy here
8. Let's Get Smashed
Ooh, these themed fall bachelorette shirts are the funniest! Love them all by EllieWestStudios.
buy here
buy here
buy here
9. Basic Betch Game
Every bachelorette party needs a hilarious game! Try this one by FitzStore! You can even get fun expansion packs here to make it even more fun.
buy here
10. Bachelorette T-Shirts
Also loving this cute pumpkin shirt by BlueBearMerch.
11. Flannel Fling Sash
Oooh, a great addition to the bachelorette festivities! By BrantPointPrep.
buy here
12. Buffalo Plaid Scrunchie Favors
Give these take-home favors to guests! They'll love these fall-inspired bachelorette favors they can wear. By TheGrapePeonyDesigns.
buy here
13. Hair Ties
These adorable hair tie favors are perfect for a Halloween inspired bachelorette party. By LoveMiaCo.
shop here
Or these, in plaid!
shop here
Also love these 'bride's coven' hair ties by ShelbyLenayDesigns.
buy here
14. Fall Bachelorette Party Hats
Wear these cozy hats around town as a fun alternative to bachelorette shirts! By Bachette.
buy here
15. Naughty Confetti
Party with your witches! Deck out your space with this fun confetti by NinalemsParty.
buy here
It goes great with…
16. Fall Bachelorette Party Straws
Also by NinalemsParty.
buy here
17. Hang Up a Banner
This is the perfect Halloween or fall bachelorette party decoration for your space. By HintofGing.
buy here
18. Witches Balloons
Fun balloons to add to your decor! By NinalemsParty.
buy here
And just for the fun of it, we wanted to share this banner. I love it for any bach party! What a great backdrop for party photos, too! By NinalemsParty.
buy here
19. Let's Go Ghouls
Oh, I love these fall bachelorette party shirts! So fun! By VizzTeen.
buy here
20. QR Buy This Girl a Drink Labels
OK, these are brilliant! Obviously, they're one of the most popular fall bachelorette party ideas right now, and it's not limited to the fall season. If you're heading out on the town, people can buy a drink for the bride by scanning the QR code! By LexisPartyFavors.
get it here
21. Rest in Peace Single Life
Hahahah! This bride sash is perfect. By MaskedRabbitCrafts.
buy here
22. 'Til Death Tumblers
Party hard with these adorable tumblers! They are one of the best fall bachelorette party ideas to use at the party and afterward. By HandToHeartBridal.
buy here
23. Adorable Fall T-Shirts
These bachelorette shirts are fun with bride and babe in fall colors. By Threads and Needles.
buy here
buy here
24. Can Coolers
Bride or die! By FringeFavors.
shop here
shop here
25. Drink Up Witches
Fill up these fall bachelorette party bags with a hangover kit. You can get tips to make your hangover kit here. Get these adorable bags from DashOfSouthernSass.
via here
26. Belt Bags
These are so fun for a night on the town or camping! By ShopStagandHen.
buy here
27. Bride or Die Shirts
By KLSDBride.
by klsdbride
28. Bachelorette Party Cups
These drink bags/cups are a fun addition to your fall bachelorette. By JoyandChaos.
shop here
29. Balloon Arch
Decorate your bachelorette party zone with a fun, thematic balloon arch. You can get them in a variety of color combinations at CherCanDoIt.
shop here
shop here
30. Unique Shot Bottle Holder
You probably haven't seen this yet, am I right?! Get one at KnottedSage.
buy here
31. Bride's Coven Can Coolers
More can cooler fun! This set is by MaskedRabbitCrafts.
buy here
32. Fall Bachelorette Pajamas
These look cozy for a weekend in! By HundredHearts.
via here
33. Candle Favors
Candles make the perfect fall bachelorette party favors! By EttaArlene.
buy here
34. Shot Glasses
Take shots from the best fall bachelorette party glasses! By TinZilly.
buy here
35. Witches Tees
Another cute t-shirt option for fall bachelorette parties. By AlpTeeDesign.
buy here
36. Fall Cupcake Toppers
Cute idea if you're serving cupcakes at your fall bachelorette bash. By JustTopit.
buy here
37. Gothic Bride Hair Accessory
By CozyStoreUa.
via here
38. Weekend in the Woods Invite
Another charming invitation style we spotted at Redwood & Vine.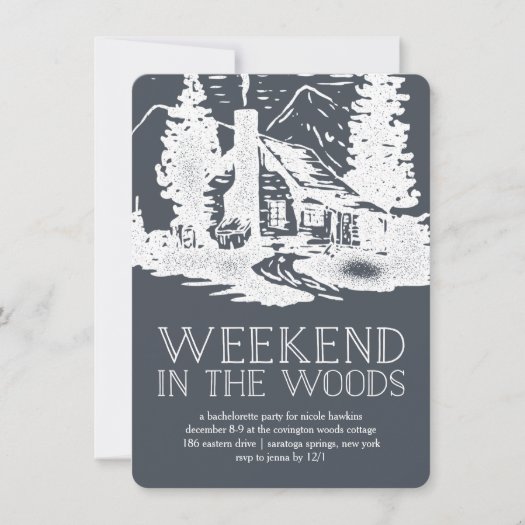 buy here
39. Lip Balm Favors
Give these out as fall bachelorette favors. By SugarLipsParty.
via here
40. Spooky Inspired Invitations
LOVE THIS DESIGN! It includes a fun schedule of events on the back for an itinerary, too. By NicoleWhiddonStudio.
buy here
41. Fall Bottle Openers
Looking for fall bachelorette party ideas for favors? These bottle openers are a great idea! By Beau-coup.
buy here
42. Halloween Sweatshirt
Instead of bachelorette shirts, wear these sweatshirts for a cozy night on the town with your witches. By FlawlessArtShop.
buy here
43. Cookies
And last but never least, these delightful sugar cookies are perfect as treats at your fall bachelorette party. By TheCookieExchange.
shop here
And there you have it: 50 fun fall bachelorette party ideas for 2021!
Which of these ideas is your favorite? I adore those can coolers… and the many t-shirts! I might just have to add that sweatshirt to cart. :)
For even more fun, read: Halloween Bachelorette.
Happy Planning!
xo
Emma