There are so many amazing wedding themes out there (speaking of, have you seen this yet?) but heart wedding ideas are often overlooked. Maybe it's because some of the heart decor you see out there is overly Valentine-y, or maybe it's because you didn't know just how gorgeous modern heart decor can be. Whatever the reason, today we're inspiring you to get creative with your heart-adoring self and steal these twenty-one heart themed wedding ideas. Read on for more… plus, you could win won of these heart themed wedding ideas from Harvest Gold Gallery, Giveaway #19 in our 31 Giveaways Series! Enjoy!
Heart Themed Wedding Ideas
1. Heart Wedding Chair Decor
Up first, take a look at these adorable heart chair backs! Oh, and I may or may not be partial to this as the first selection because of the huge E & A (you know, me + hubby) on the back wall. Where was this for my own wedding?
Let's take a closer look…
via bridal musings, photos: dasha caffrey
2. Metallic heart pillows at your sweetheart table.
Up next, let's incorporate some cute, modern, totally-comfy metallic heart pillows into the mix. How do they fit, you ask? On your chairs at the sweetheart table, of course! It's another way to identify your chairs as 'reserved' and will make for a comfortable dining experience.
sukan pillow
P.S. You guys, I'm obsessed with this one. Maybe I'll grab a few for the couch at home?
sukan pillow
3. Heart Wedding Rings
Each ring has a special indent that, when brought together, makes a heart.
cadi jewelry
4. Heart Clutch
Heart clutch + covered in pearls + ultra compact size = perfect bridal purse.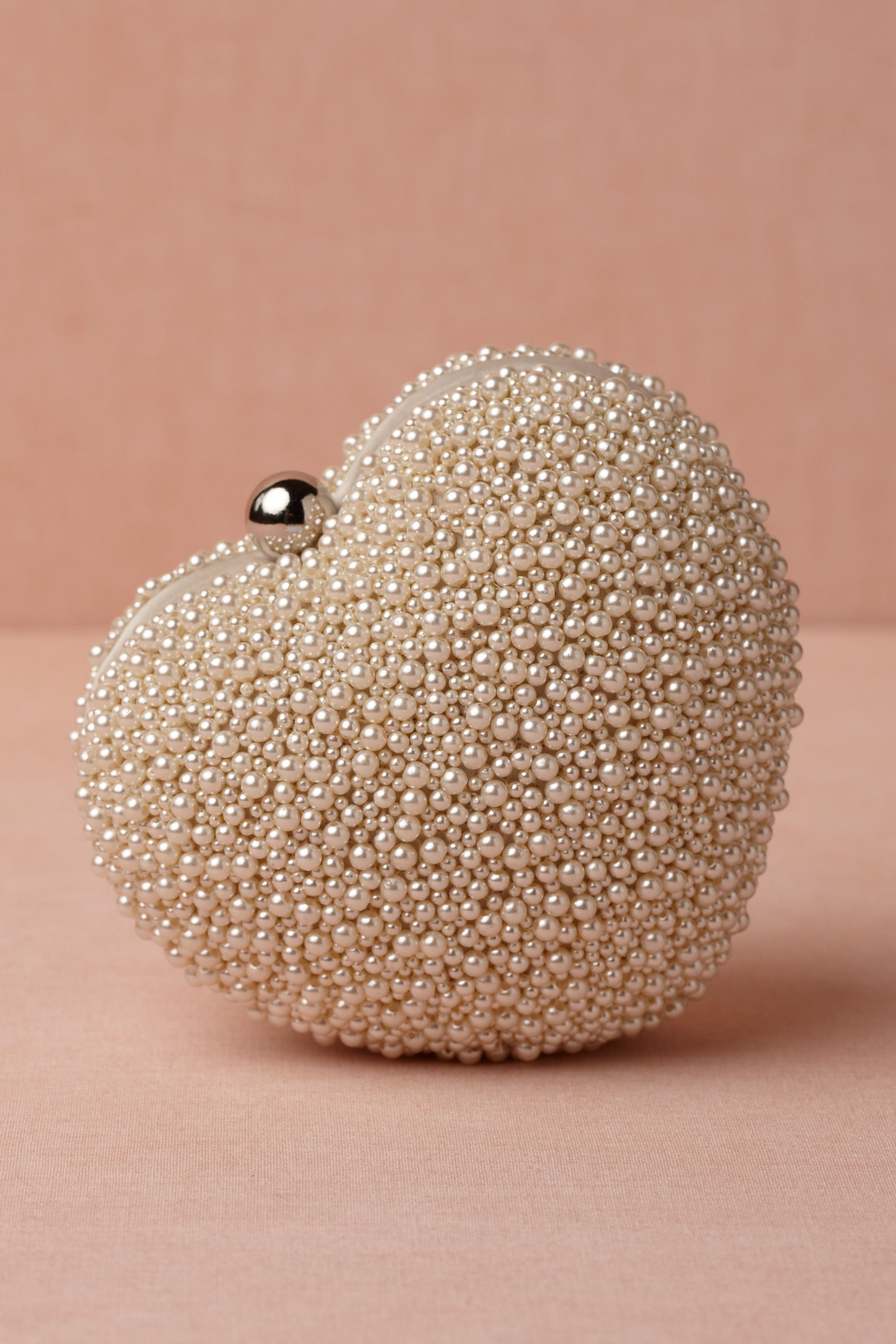 5. Drop Top Guest Book
This unique concept — the "drop top guest book" — is one of favorite heart wedding ideas! Guests write their names on wood hearts and drop them into this guest book display. Looks like fun for guests to do, too. Does this remind anyone of Plinko?
acf customs
5. Heart Wedding Invitations
If you are planning a heart themed wedding, kick off the theme with invitations to set the tone right off the bat.
birdhouse stationery
7. Heart Barn Decor
This heart decor is simple, understated, and yet so perfectly elegant for a wedding.
bridal musings, photo: live view studios
8. Cute Heart Photo with Groom's Hands
Add this must-have photo to your list. So cute!
photo: ashfall mixed media
9. Heart Wedding Fans
Cool off your guests or incorporate your ceremony program onto these chic heart wedding fans.
via love my dress, photo: claudia rose carter, made by berinmade
10. Heart Marquee Light
Light up the night with a giant heart marquee light! You can find a vintage heart marquee light right here.
via style me pretty, photo: annie mcelwain
11. Lovestruck Heart Cake Topper
This heart topper is simple, sweet, and perfect for a heart wedding theme.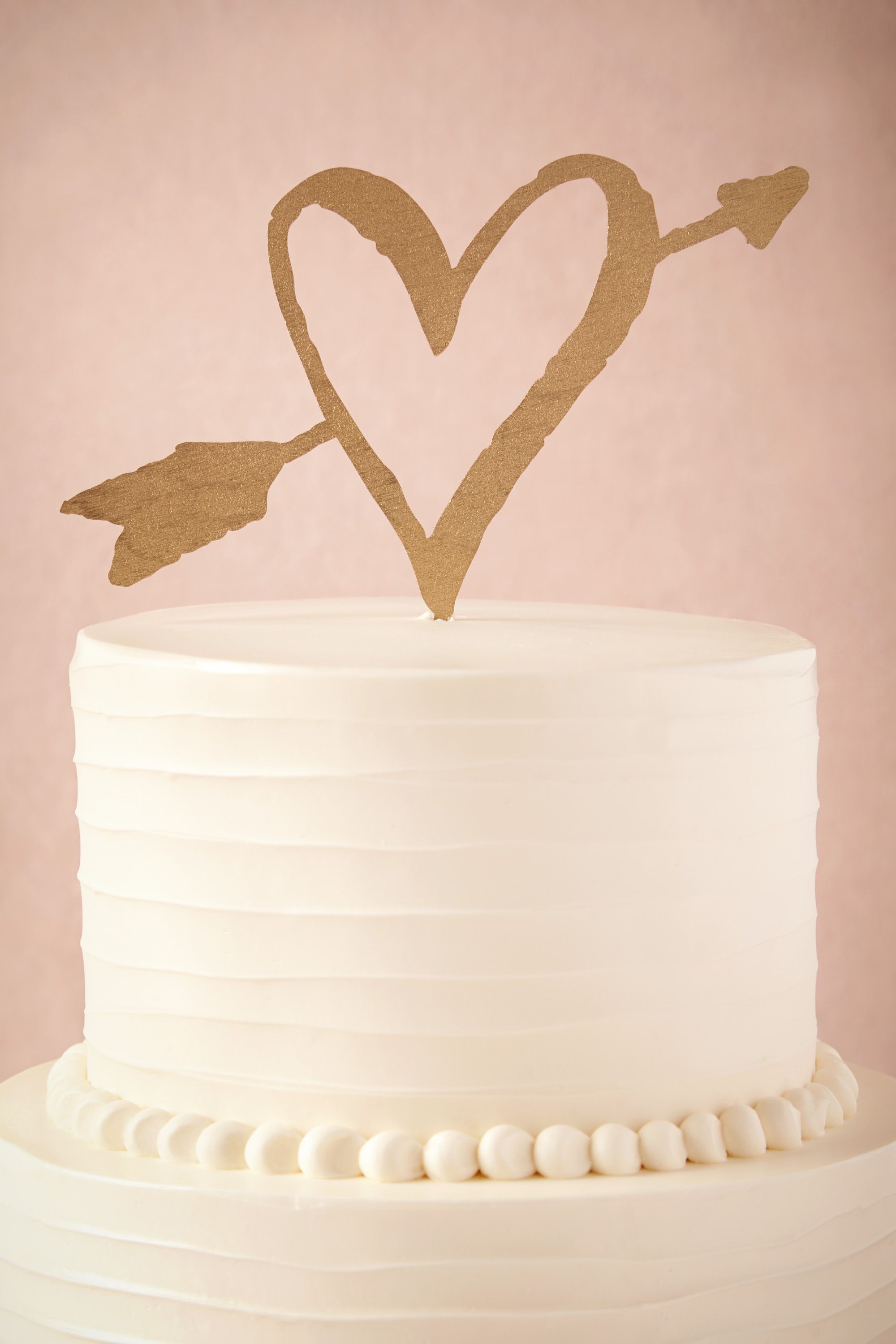 12. Here Comes the Bride Wood Heart Sign
Have the ring bearer carry a here comes the bride heart sign made on wood and hand-painted with love.
pnz designs
13. Line Aisle with Hearts on a Stick
Make your aisle way pop with colorful hearts on sticks — a totally modern twist to traditional petals.
photo: mark brooke
14. Petals in a Heart
Or, if petals are your thing, arrange them in a non-conventional way — like this heart design.
via french wedding style
15. Heart Ring Bowl
Instead of a ring pillow, have your ring bearer carry a ring bowl, which can be used to hold your rings at home when you're washing your hands or cleaning. (Check out these ring holders, too.)
susabellas
16. Hearts on the Backs of Chairs
Of all the heart wedding ideas shown here, this is one of my favorites. It's simple and easy to DIY. Plus, it dresses up your ceremony space in a snap.
photo: haywood jones photography via whimsical wonderland weddings
17. Heart Charm for Bouquet
Wrap the bouquet in a heart charm to tie in your theme. This one is made of real gold and can be added to a necklace as a keepsake after the wedding.
harvest gold jewelry
18. Birch Bark Heart Aisle Decor
This heart is hidden as a carving on birch bark and can be used as rustic aisle decor. Add a mason jar chock full of baby's breath and a votive candle and you have an entirely easy diy decoration that looks amazing.
via style me pretty, photo: kate preftakes photography
19. Metallic Heart Garland
Dress up an empty reception wall or jazz up your cake table with this metallic heart garland.
transparent es decor
20. Heart Patch Sewn in Dress
Get out — this is the ultimate 'something blue' AND adorable accent for your heart themed wedding. Love, love, love.
photo: fawn christansen photography via burnetts boards
21. Heart Cake Pops
Last but not least, you didn't think I'd forget something cake-related, did you? These cake pops are one of my newest crushes. Yes, cake pops have been around for awhile now on the trending board but seriously, how cute are these with the pops of hearts?
via the tomkat studio
Giveaway: Win a heart wedding bouquet charm!
Now that you're well-versed in amazing heart wedding ideas, it's time to win one! We've teamed up with Lynda from Harvest Gold Jewelry to give away one 14k gold bouquet charm (a $75 value!) in the winner's choice of color, as shown below. Get the full details!
Giveaway Details
o Enter between 8/19/14-8/25/14 (11:59pm EST) using giveaway form below
o Prize: one 14k gold bouquet charm (a $75 value!) in the winner's choice of color (14k rose, 14k white or 14k yellow gold) from Harvest Gold Gallery
o Winner will be randomly selected and announced on 8/26; winner announced on this blog post and emailed
o Winner has 72 hours to respond to email or new winner will be selected
o No purchase necessary
o Winner has 3 months to obtain prize
o Prize value: $75; no cash value
o Free shipping included to U.S. and Canada
o Past giveaway winners within 30 days not eligible to win
o Use entry form below to enter
Good luck!
– – –
– – –
xo
-E.