Want to plan an amazing book themed wedding? We'll show you how it's done! We're featuring a HUGE round-up of the best library / literary / book themed wedding ideas your guests won't stop raving about. Plus, there's a giveaway inside! Make sure you subscribe to our list so you don't miss out on future theme posts like this!
Hi, loves! Emma here. If you are an avid reader like me, you will enjoy putting together your book themed wedding from start to finish — including showing off your favorite series or title with guests. A book themed wedding — also known as a library themed or literary themed wedding — is a great opportunity to share your love of literary classics and makes a surprisingly fun and creative wedding theme. We especially love wizardly, Alice In Wonderland, or Gatsby-themed weddings, but you don't have to be too picky and choose just one. Your book themed wedding can include anything you'd like.
To help you envision a beautifully crafted book themed wedding, we've rounded up fifty of our favorite ideas. You'll find library card save the dates, book themed wedding invitations, unique guest book ideas, hanging decorations, book bursts, a creative ring pillow, the most amazing bouquets made from book pages (seriously!), boutonnieres, table decorations, place cards, table numbers, and more. There's a whole lot of amazingness ahead because I went a little wild and love bookish things.
And, since I am always thinking coffee is a good idea (and I just recently tried the strongest brew in the world — it's wildly caffeinated), let's just say nothing goes better with a book themed wedding quite like a coffee bar at your wedding. It's cozy, warm, and inviting — just like snuggling up under one of these giant wearable blankets that are all the rage to read a good book. (P.S. What are you reading right now? I need recommendations!) Coffee wedding favors also tie in well with this particular wedding theme.
Okay… on to the list! Enjoy!
Best Book Themed Wedding Ideas
We told you about these amazing library card bridal shower invitations recently and we also love PostedFete library card save the date. What a fantastic way to kick off the theme: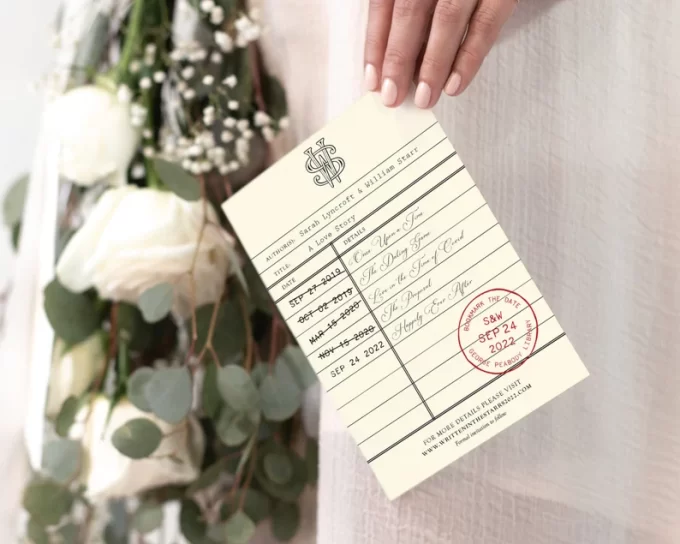 by posted fete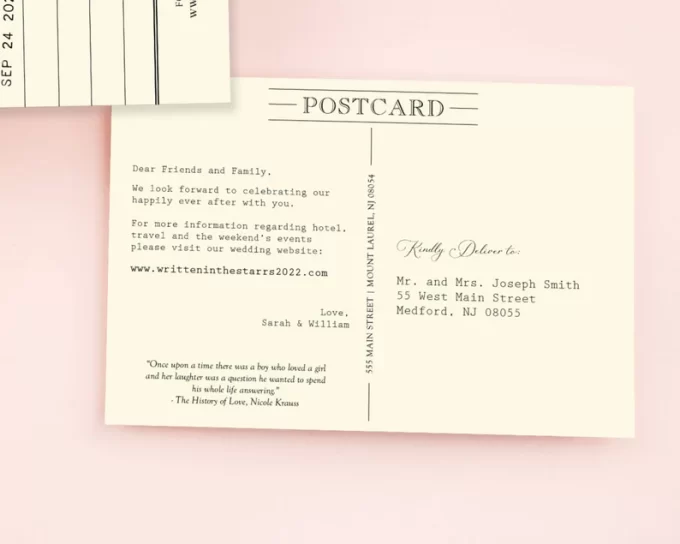 by posted fete
Or kick off "Chapter One" of your adventure with this book cover save-the-date card by AwkwardAffections: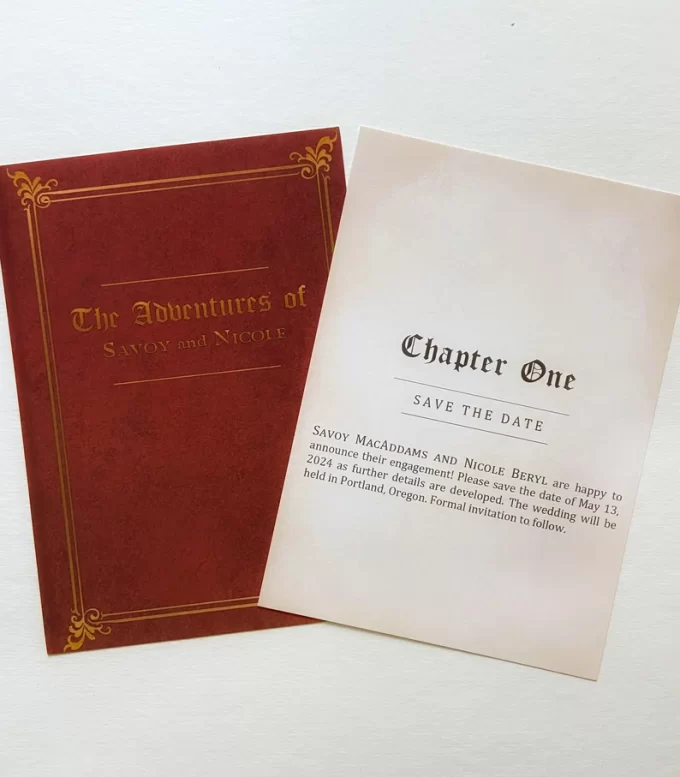 by awkwardaffections
Save the date? Check! Now it's time to choose book themed wedding invitations. We love these book-cover themed invites spotted at Whimsically Inked: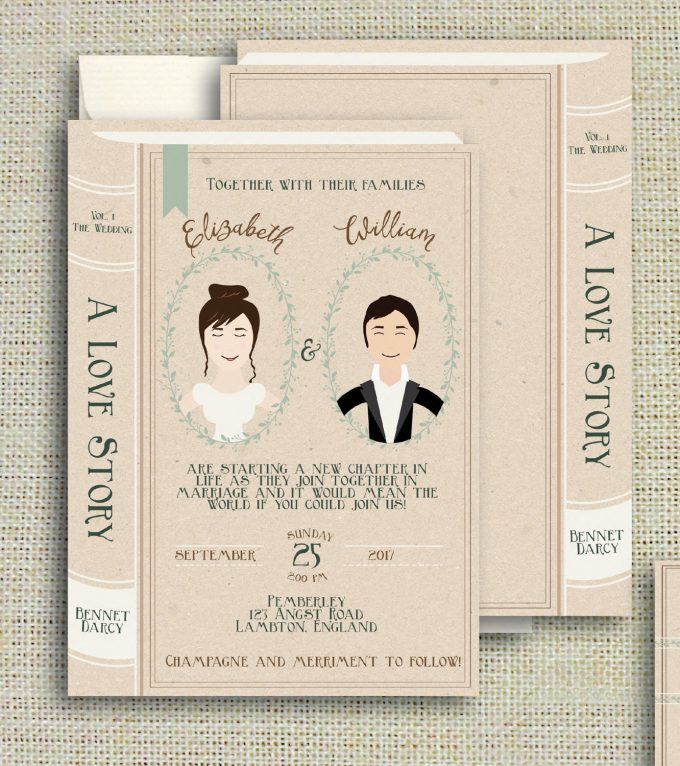 by whimscially inked
Other notable book themed wedding invitations include these colorful library theme wedding invitations (from MushiPrintables)…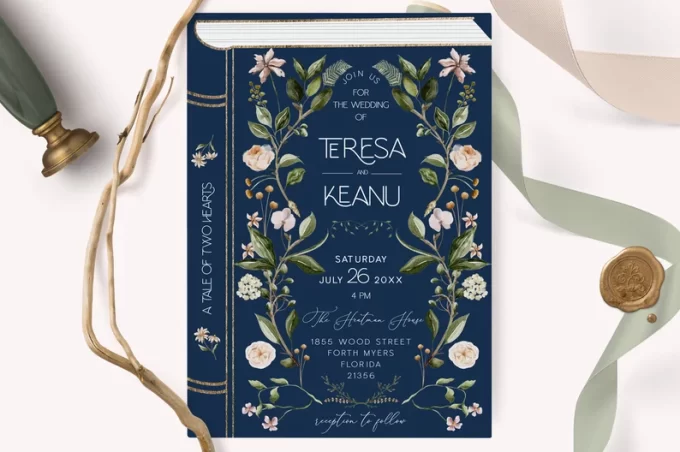 by mushi printables
… this Once Upon a Time style that opens like a book (by SocialSavvyDesign)…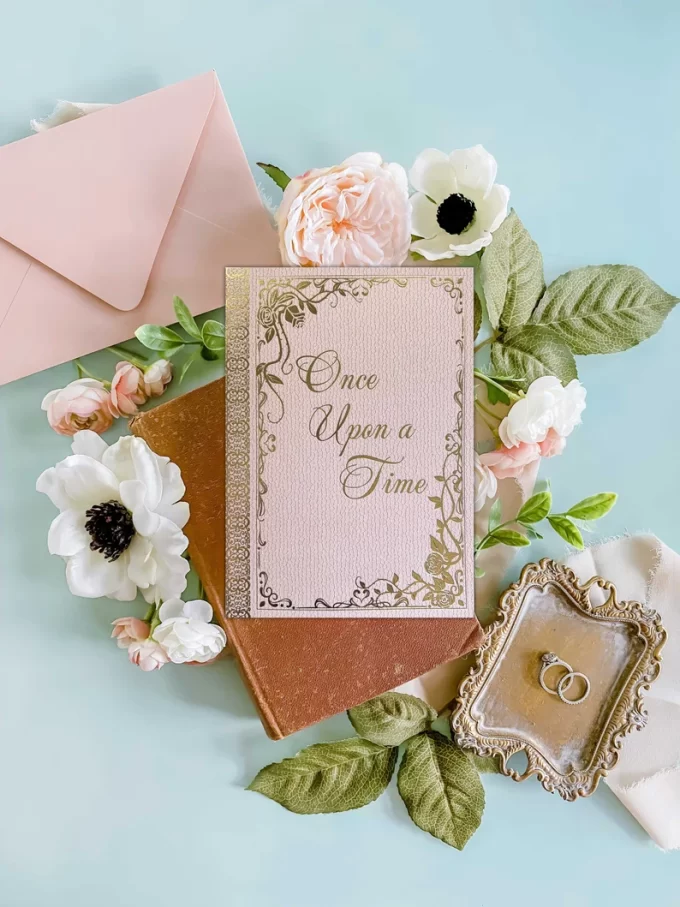 by socialsavvydesign
… these gorgeous classic-style book themed wedding invitations (by RememberNovemberInc).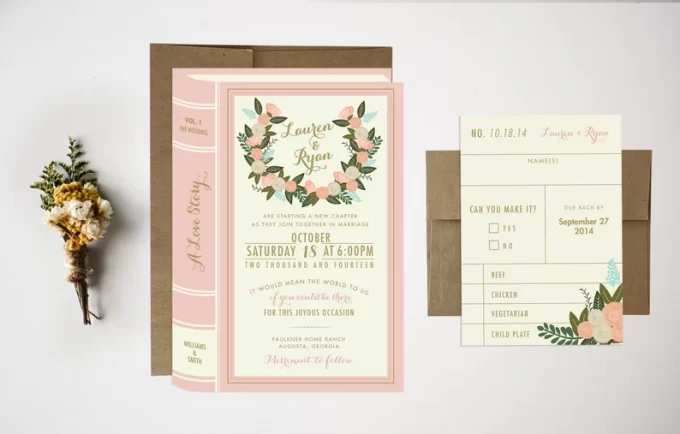 by remember November inc
… or this classic Penguin book wedding invitations from FeelGoodInvites!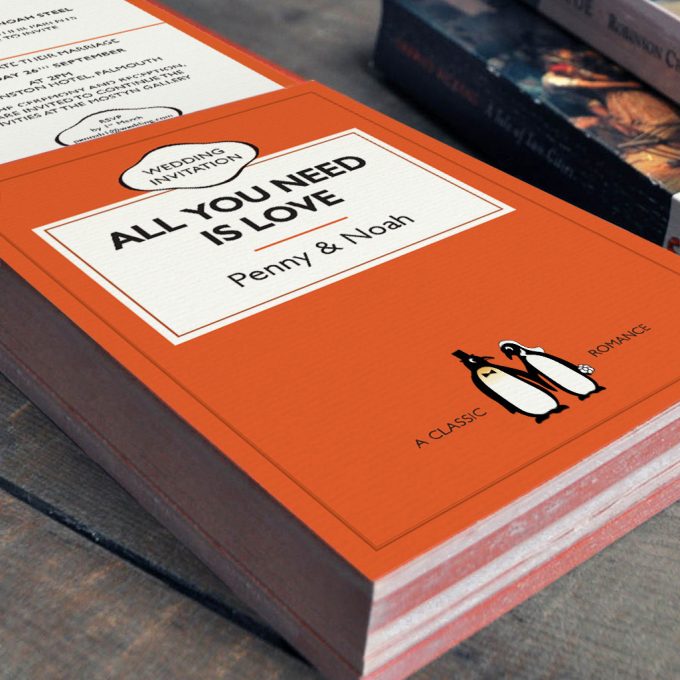 by feel good invites
Now that you have invitations all set, it's time to greet guests at your wedding with thoughtfully themed decorations. For instance, how about a book page wreath on the entryway doors to your ceremony (this one looks like dried hydrangea! It's by ThePaperWren527):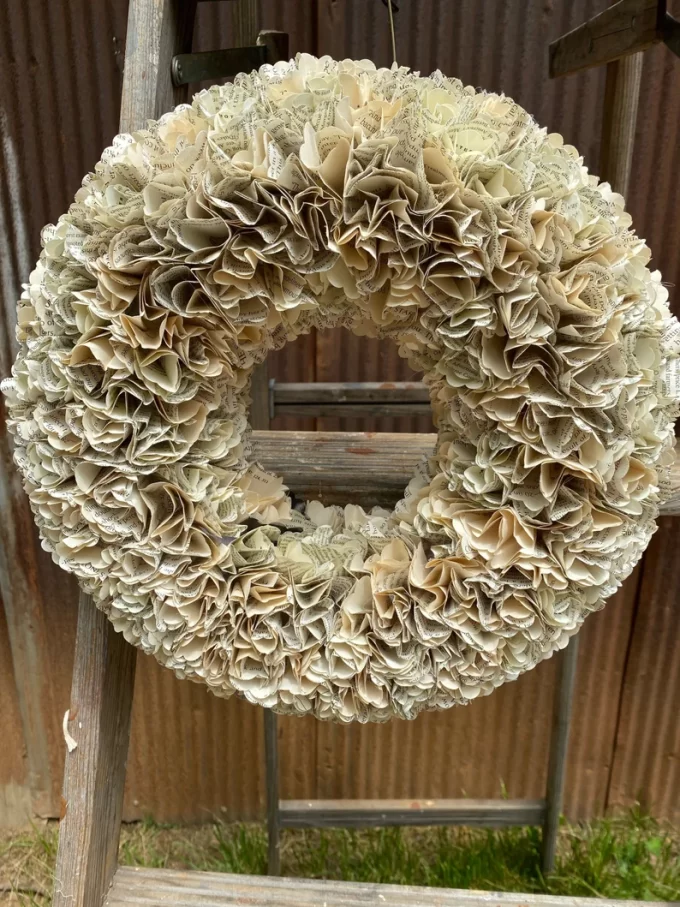 by thepaperwren527
… or this one by StarkeyandCo!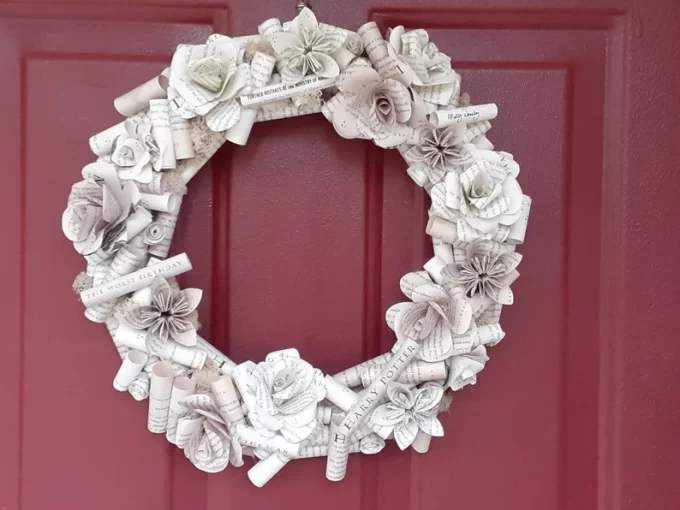 by starkeyandco
Welcome guests with signage like this "A Love Story" sign from PostedFete.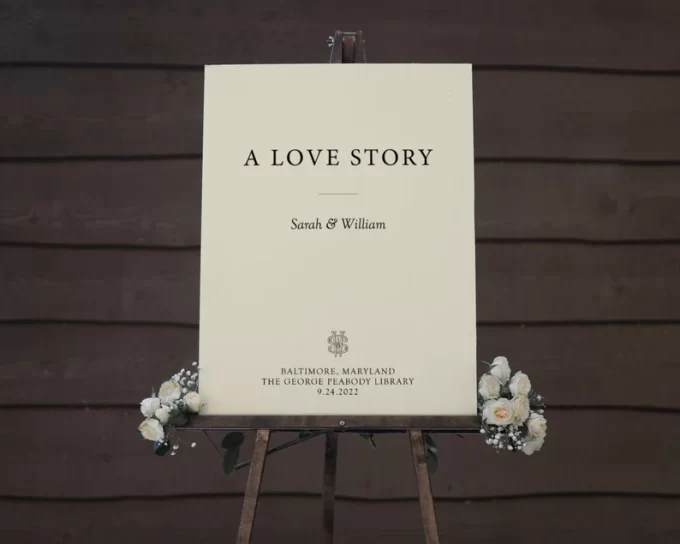 buy here
If you're outdoors, hang these decorations from trees in your woodland or dreamy garden wedding! By Root To Vine.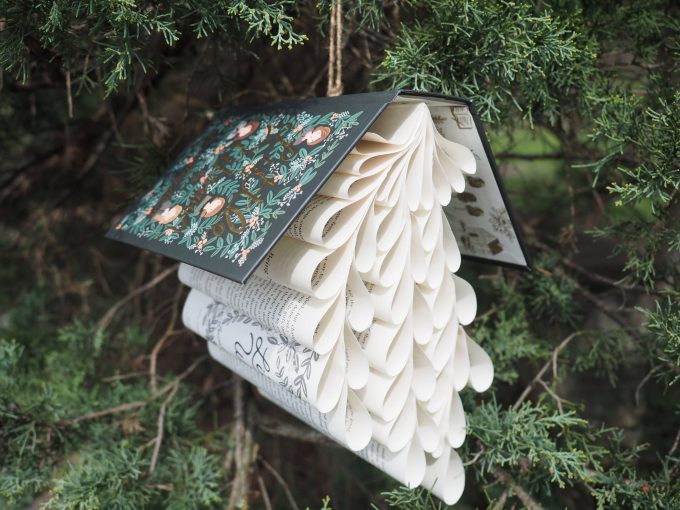 by here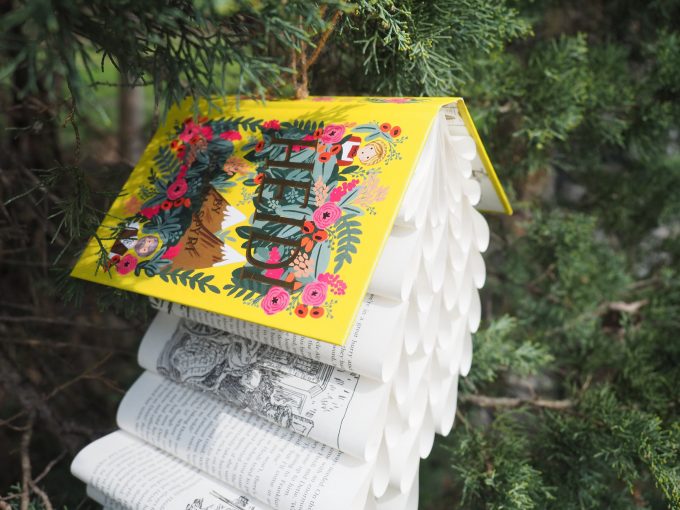 by here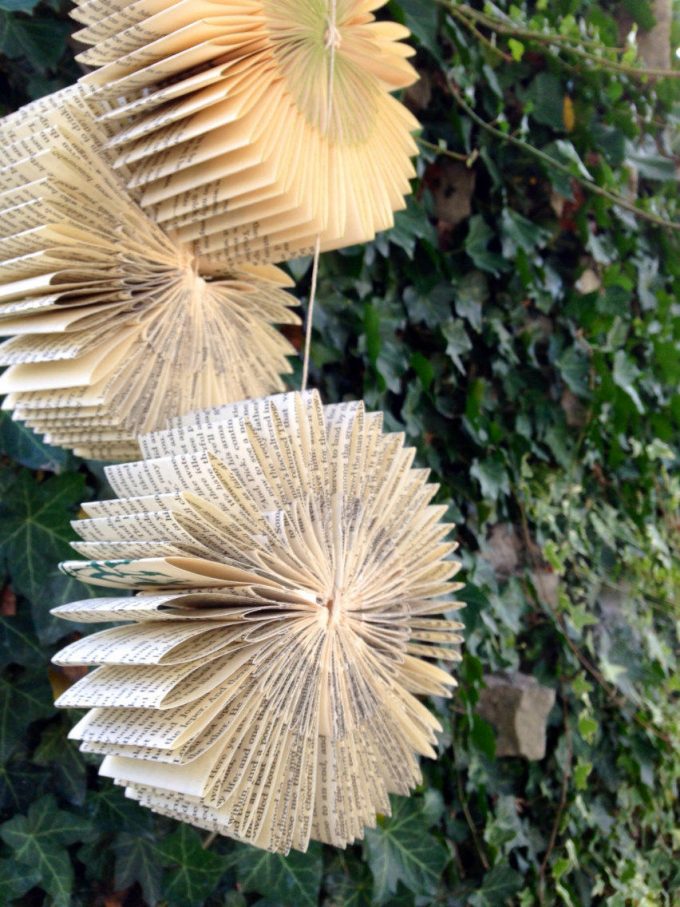 by here
After the ceremony, have your guests toss biodegradeable confetti from these book page cones! These are handmade from old book pages by SlovYarn: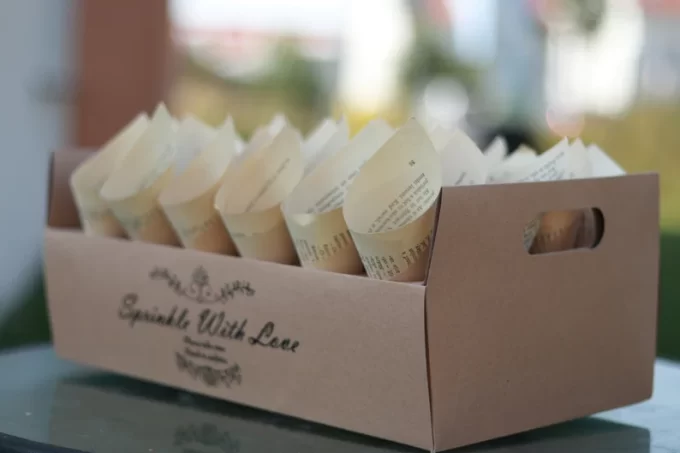 by slovyarn
You'll want to carry one of these insanely gorgeous paper book bouquets (from Starkey and Co). I want these just because! They're so beautiful.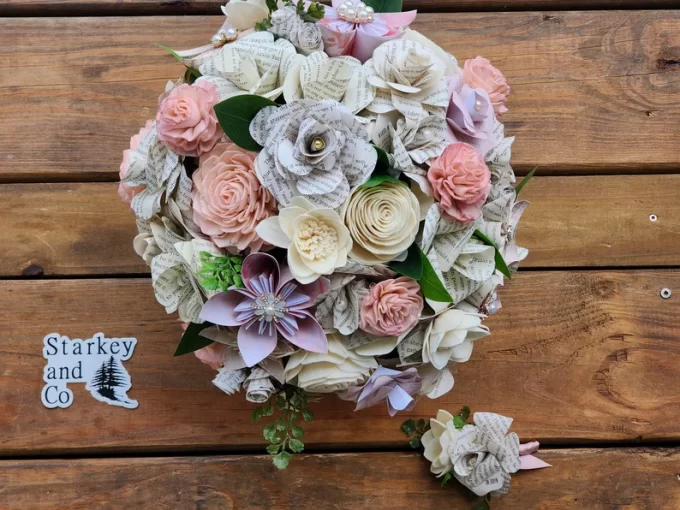 by starkey and co.
As you can see, there are matching bouts and even different color bouquets available! Here's another example: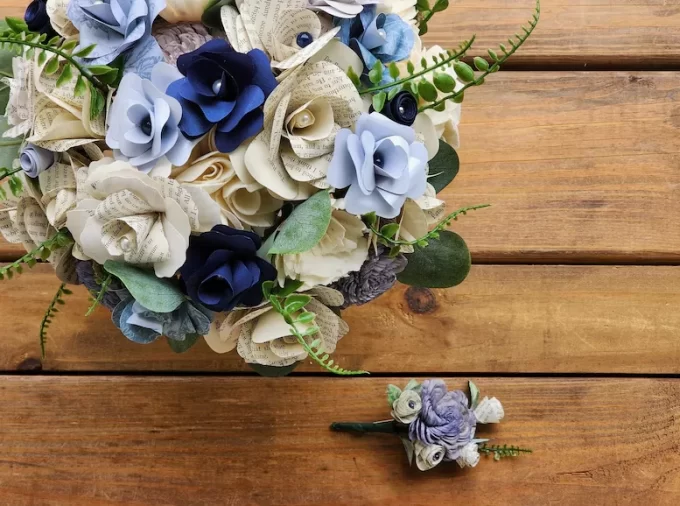 by starkey and co.
And have bridesmaids carry these book page roses by Page's Garden: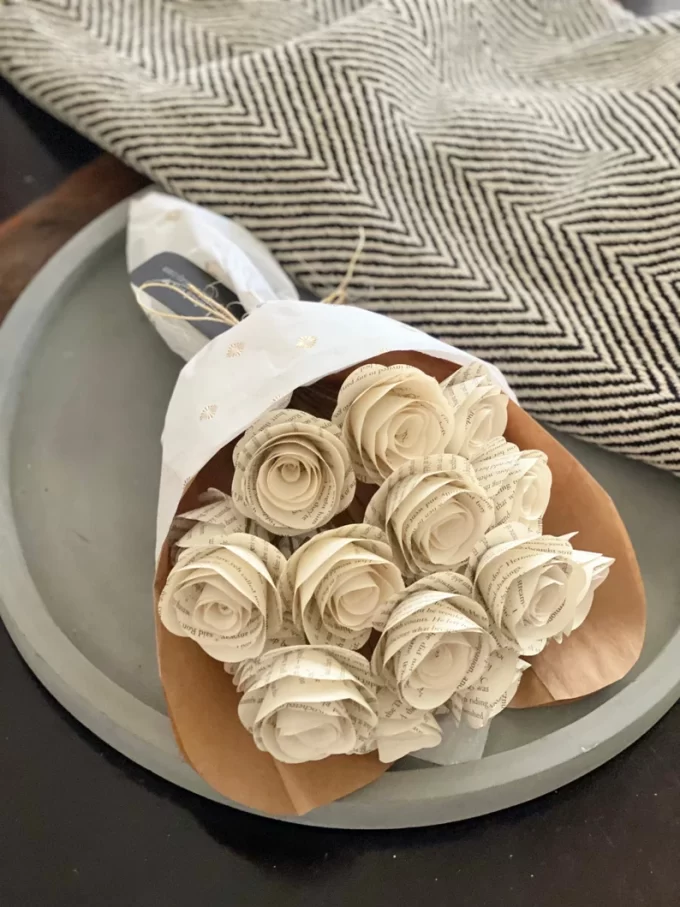 by page's garden
Or these by TheePaperGirl: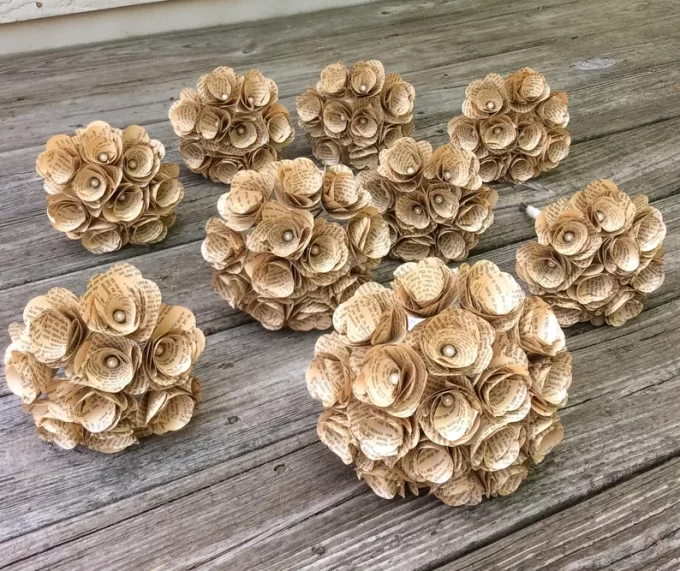 by thee paper girl
Of course, make sure your groomsmen have these book page boutonnieres! Love these by A Timeless Reminder: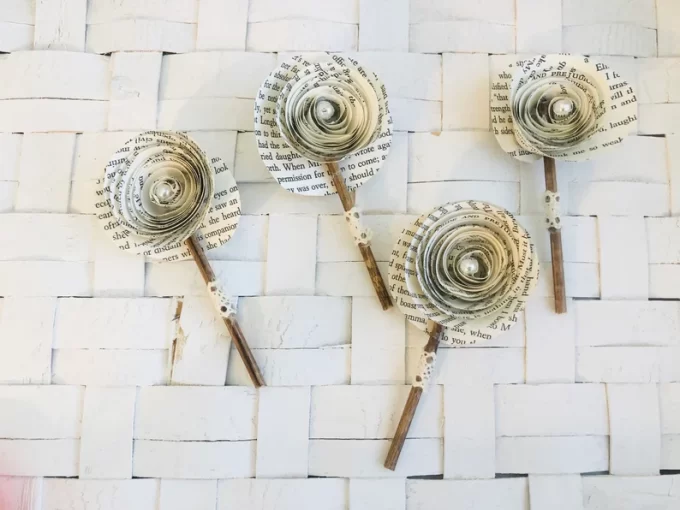 by a timeless reminder
If you want, groomsmen can even wear these awesome neckties from CoolGeekMadness: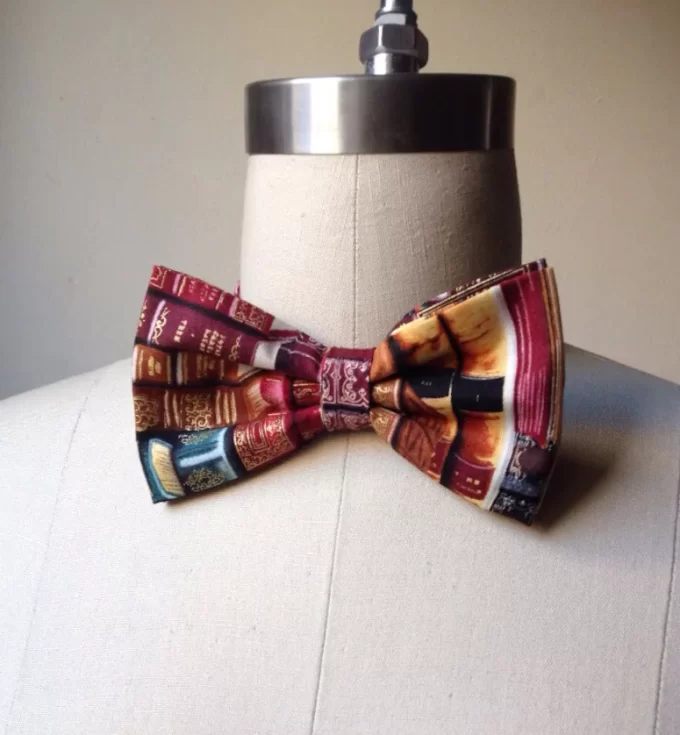 by coolgeekmadness
Your flower girl will love to wear hair pins made from book pages, like these (by Starkey and Co.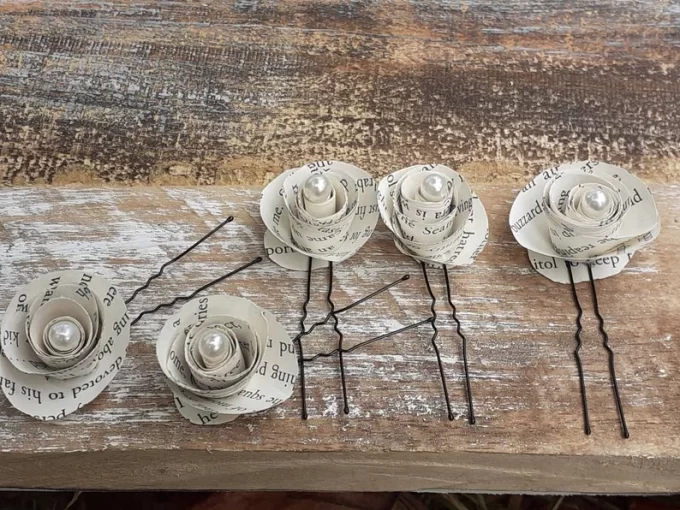 by starkeyandco
She can put these book page flowers in a basket to toss in lieu of petals! Get them at BrownEyedCrafter.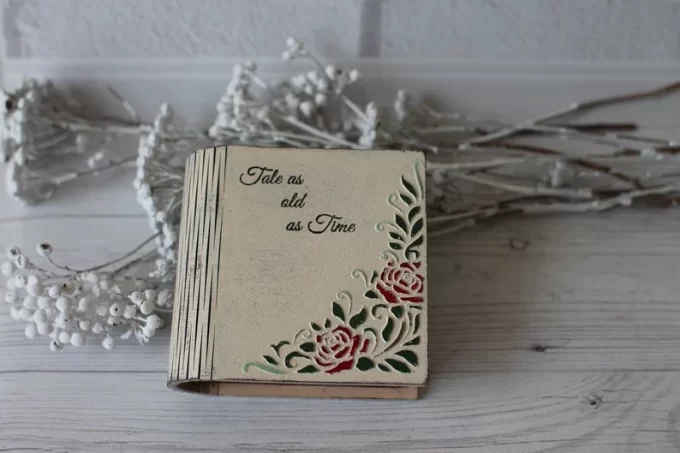 by wooddecorstudio
Or this one with, "Once Upon a Time". Also by WoodDecorStudio):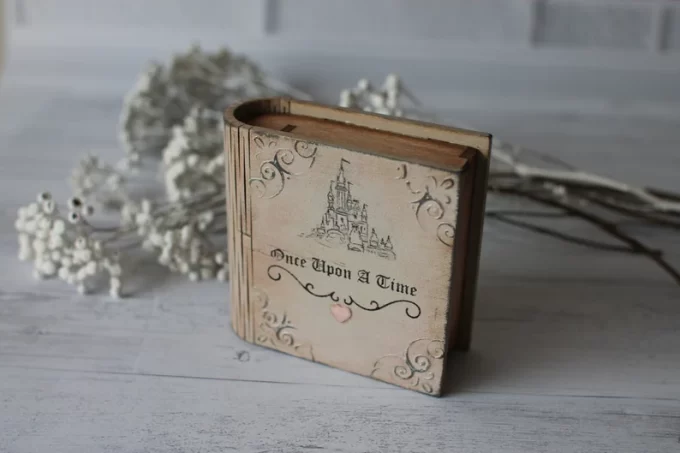 by wooddecorstudio
Or this book themed wedding ring pillow alternative that reads, "Happily Ever After" and is shaped like a book! By MyHouseofDreams.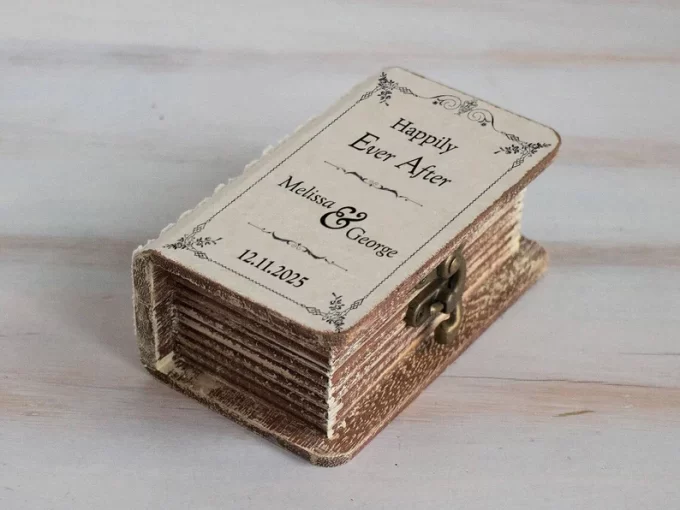 by myhouseofdreams
And in lieu of printed programs, hang this "Table of Contents" signage from PostedFete so guests know the order of events.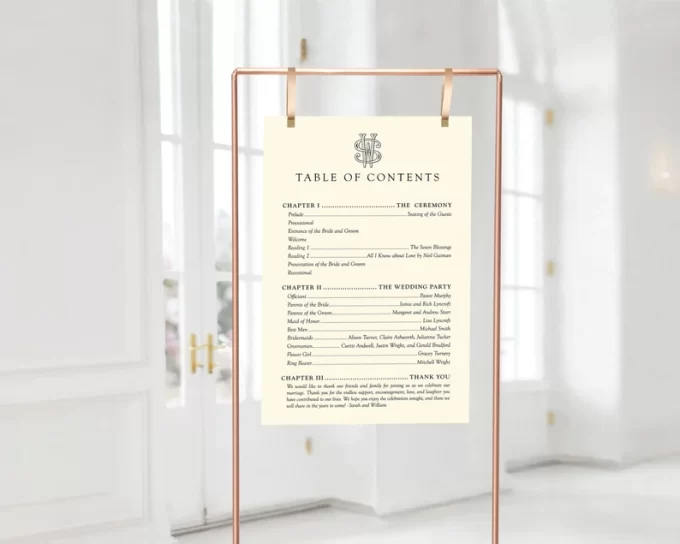 by posted fete
Once the ceremony has ended and you're proclaimed newlyweds, it's time for the party to start! Let's talk about book themed wedding ideas for the reception.
Best Book Themed Wedding Ideas: The Reception
Greet your guests to the reception with these creative book themed wedding ideas we've found. I can't honestly choose a favorite.
For starters, there's this adorable mini book garland (from Root To Vine)…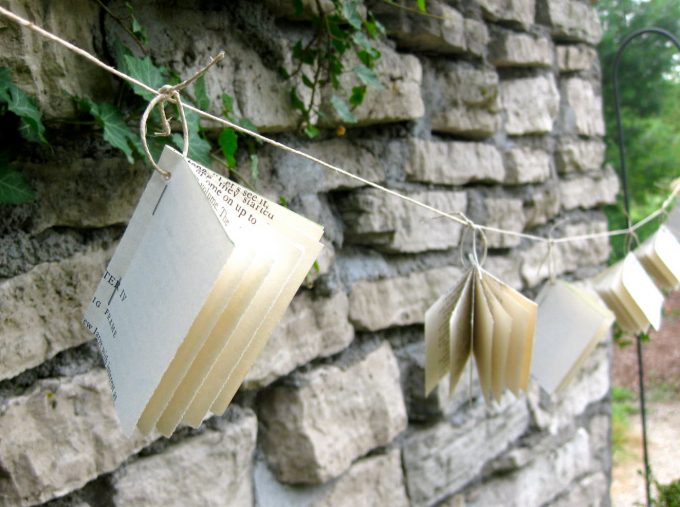 by root to vine
… these book page table numbers by BookishParties…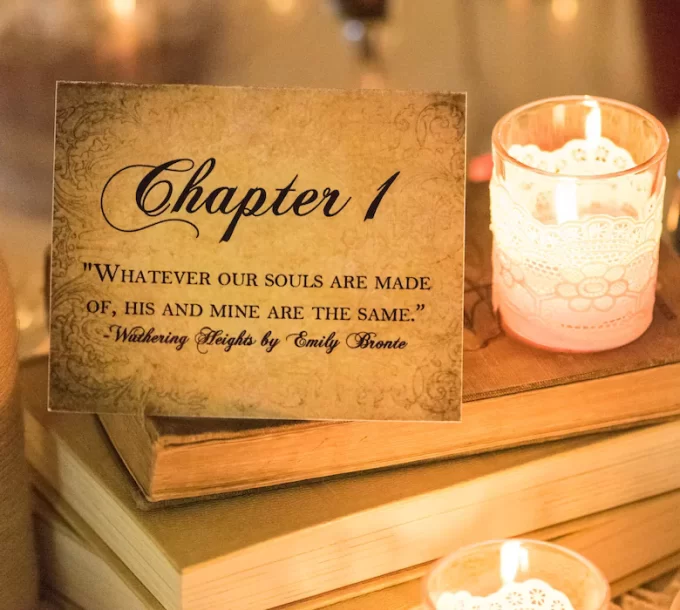 by bookishparties
… or these table numbers from PostedFete. Cute!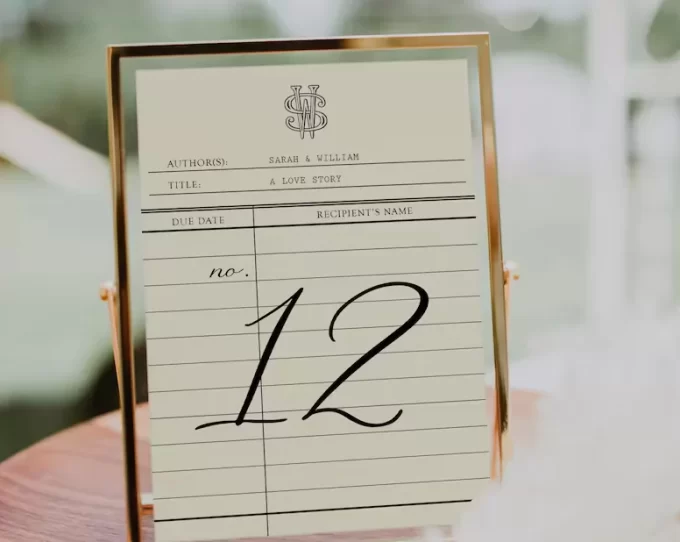 by postedfete
Also loving these framed book page numbers by OccasionalPapercraft. You can see a great example of a centerpiece style using these (from a Real Wedding) here.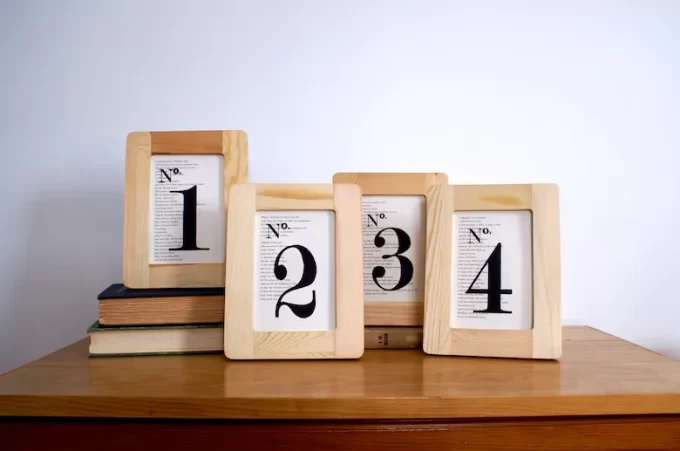 by occasionalpapercraft
Seat your guests at this unique "Appendix" table seating chart. It will let your guests know where to be seated for dinner. Creative idea by PostedFete.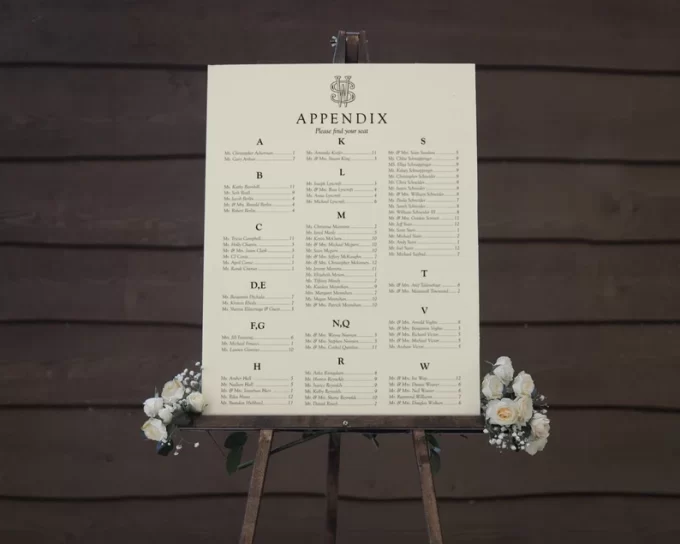 by postedfete
Or show guests to their seats with this unique library card setup! Get the cards from TheBirdandTheBeard.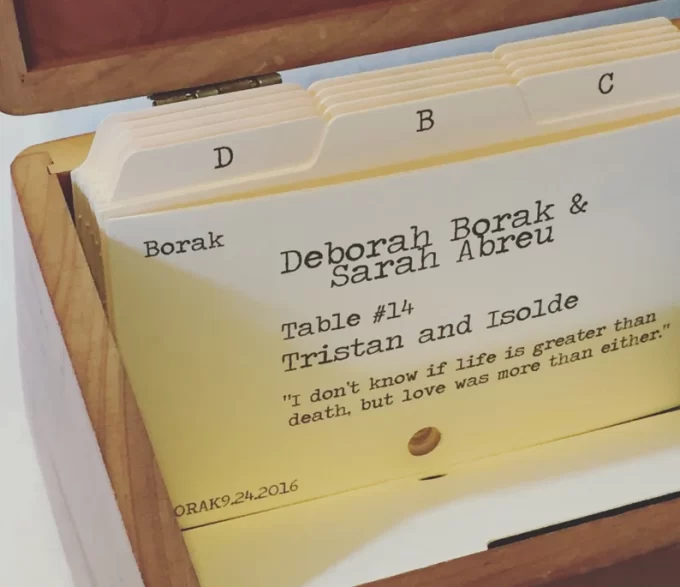 by thebirdandthebeard
You can do a unique guest book by asking guests to fill out advice cards, like these by Smitten Paper Boutique. Put them in an old upcycled library drawer!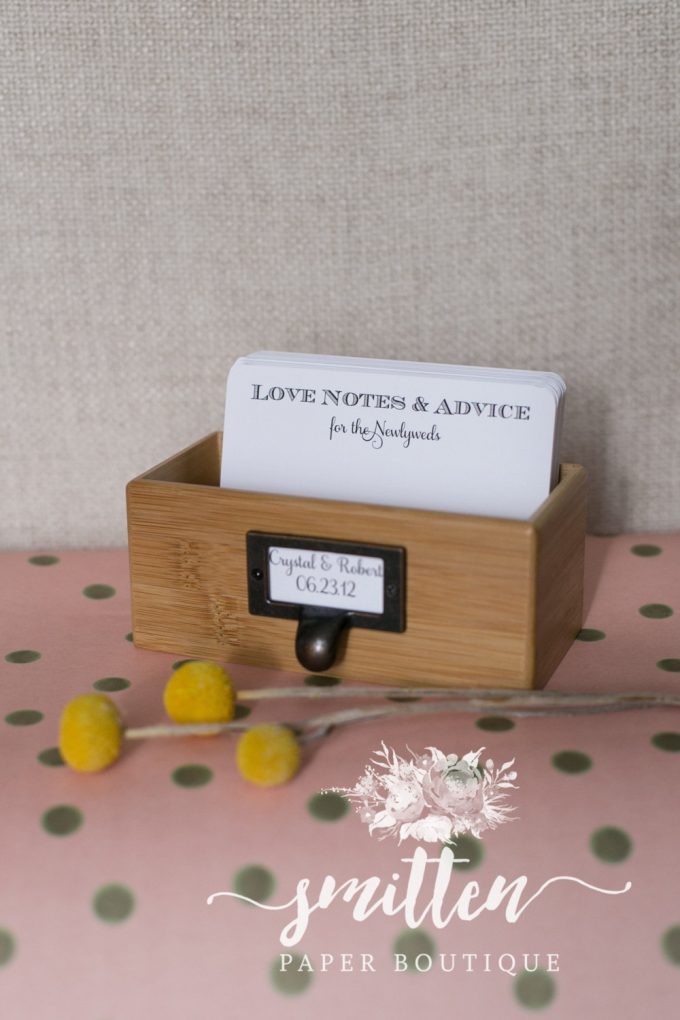 by smitten paper boutique
You can get mini library card drawers here.
shop here
Use this Mr and Mrs book art for the head table (from KashKreationsStudio)…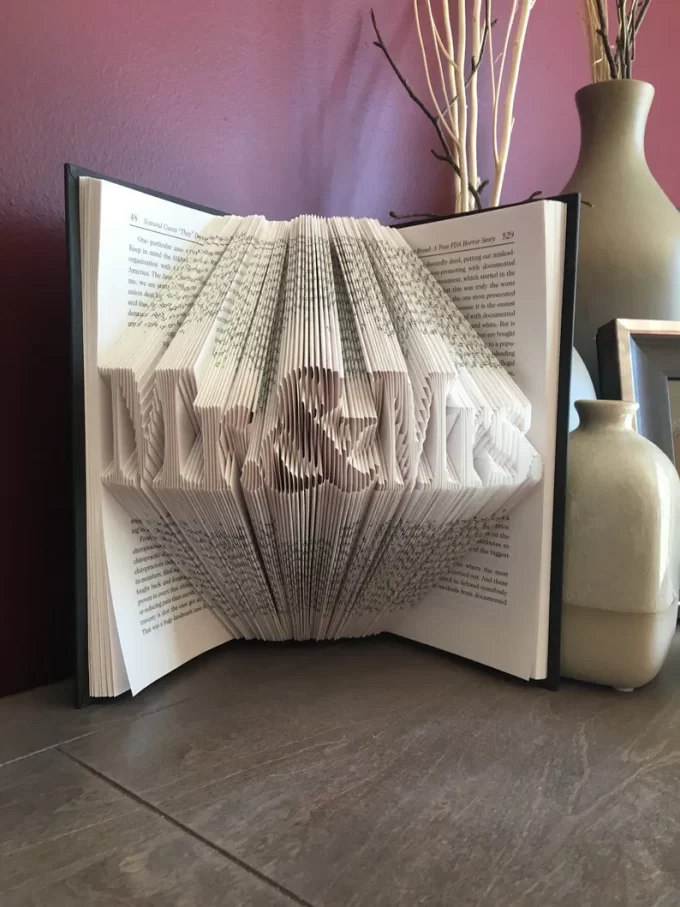 by kashkreationsstudio
… and these amazing place cards for guest seats by PostedFete.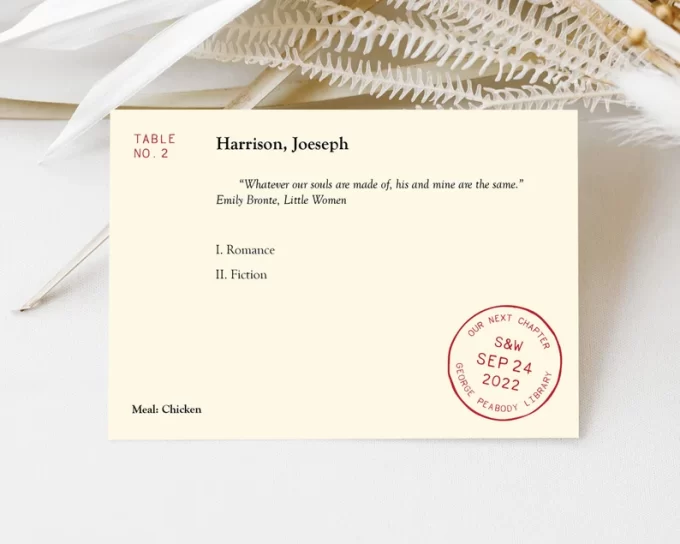 by postedfete
And you can't forget a cool menu, like this! Handmade with love by Posted Fete.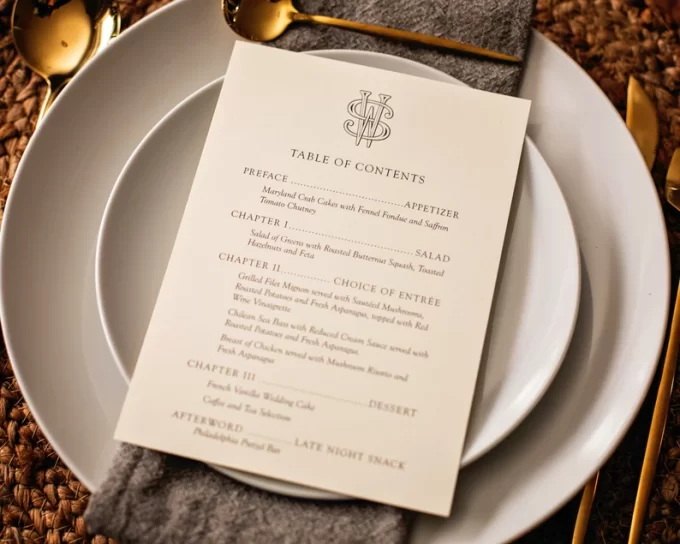 by posted fete
Decorate tables with these unique centerpieces: book page flowers in mason jars with stacks of books. Easy and creative! Book bouquets by StarkeyandCo.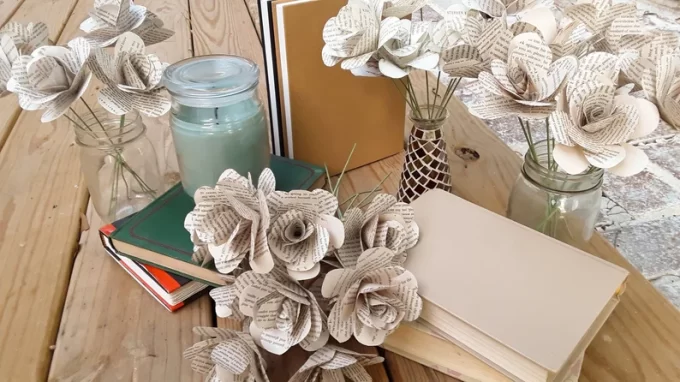 by starkey and co.
Or deck out tables with these centerpieces that double as table numbers! By RoughDraftRomance.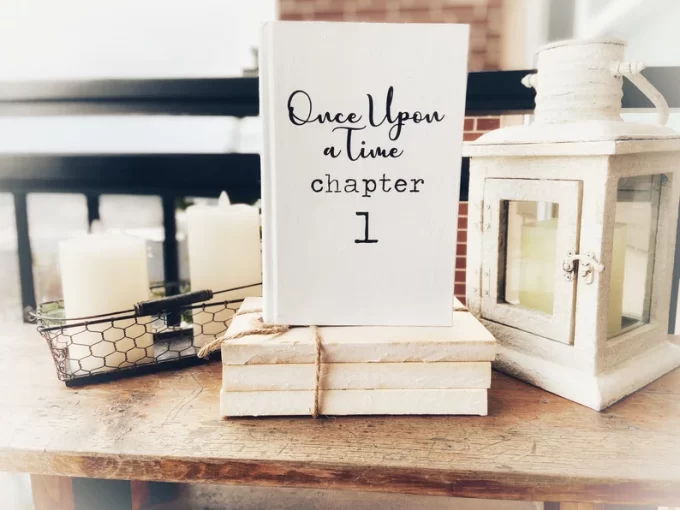 by roughdraftromance
Add romantic lighting to tables with these literary luminaries by OldenDesigns. Just add LED battery-operated tea-light candles inside.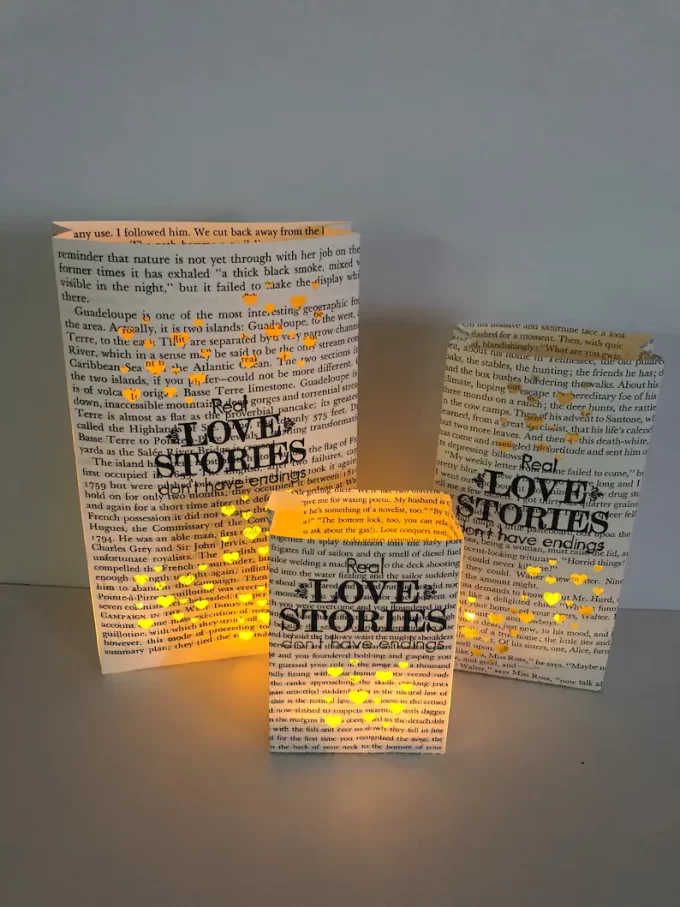 by oldendesigns
Other book themed wedding ideas for guest books include this charming book inspired print (by Sara A Art):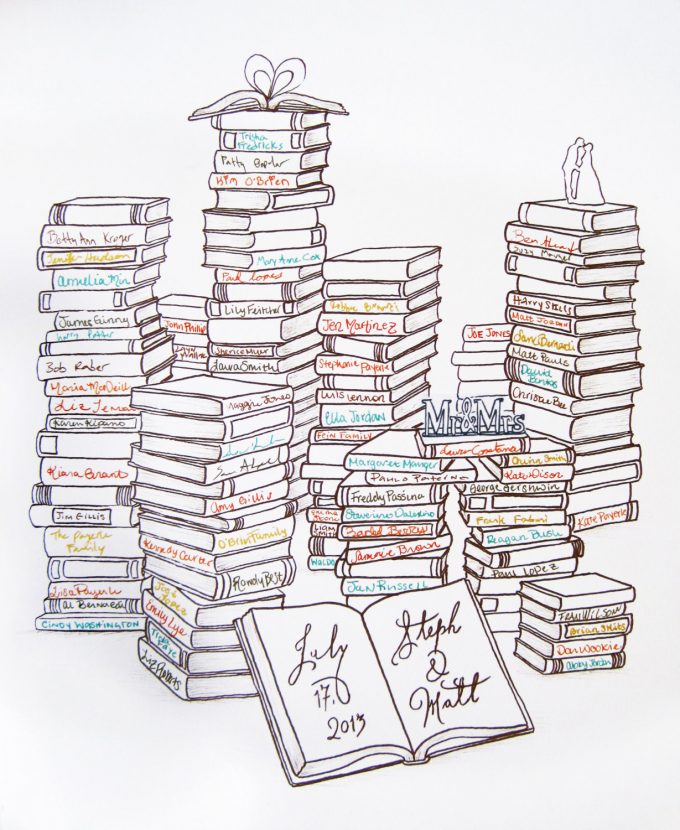 by sara a art
For favors, fill up these library card pouch/bags with candy and give them to your guests. By OldenDesigns.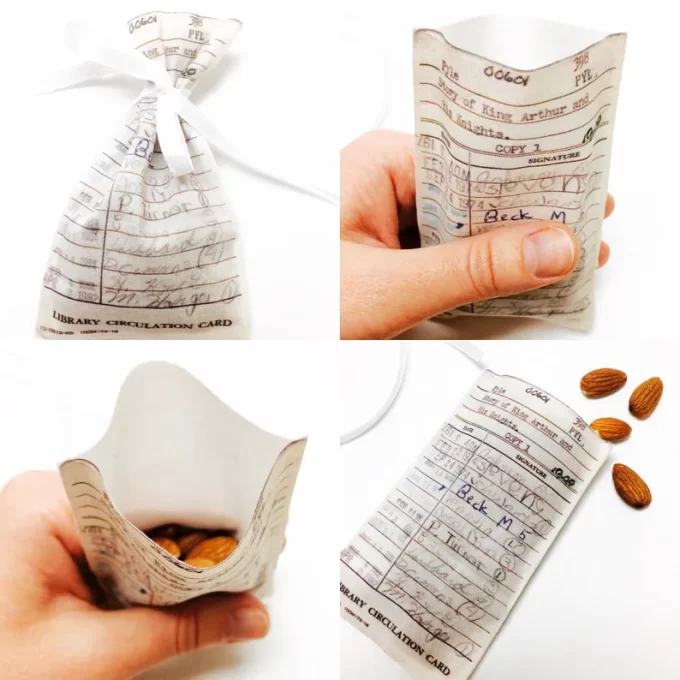 by oldendesigns
Or give these adorable bookmark favors guests will actually use from PostedFete.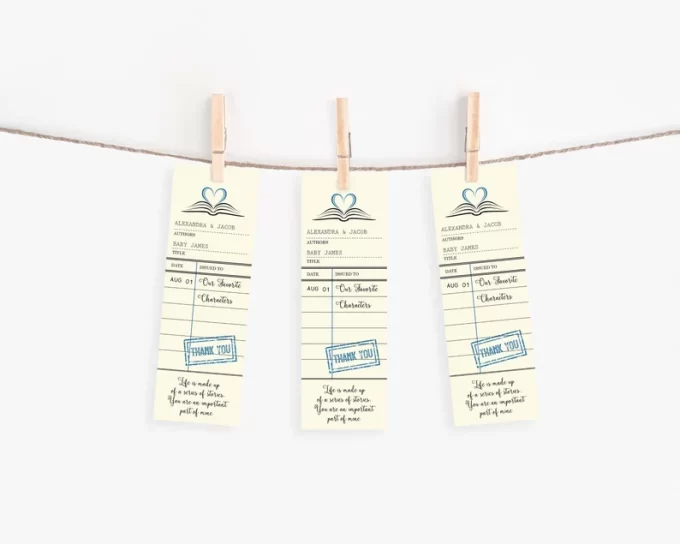 by postedfete
Or these with a different style by EverylastingMoment.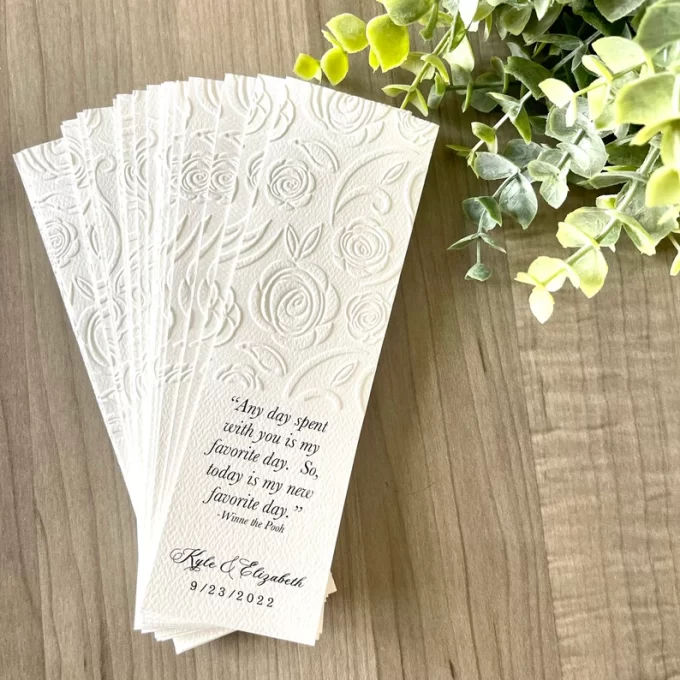 by everlastingmoment
Top your wedding cake with this book themed wedding cake topper from HappyCakeTopper: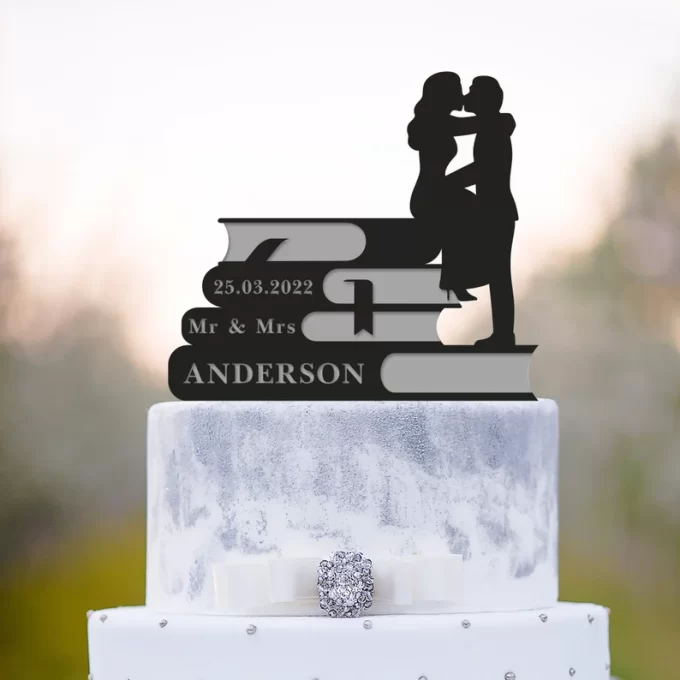 by happycaketopper
Or this cake topper with a couple reading by CakeToppersbyNadia: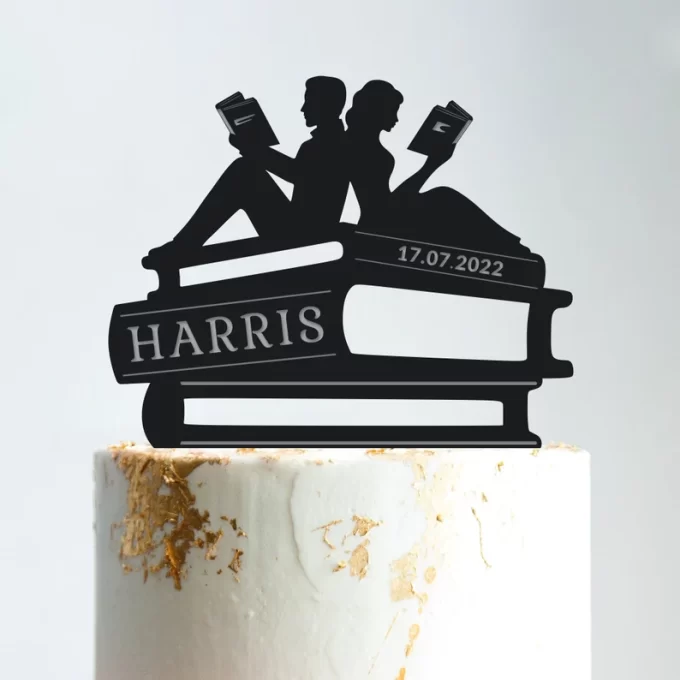 by cake toppers by nadia
Or this unique cake topper made from book pages by RootToVine: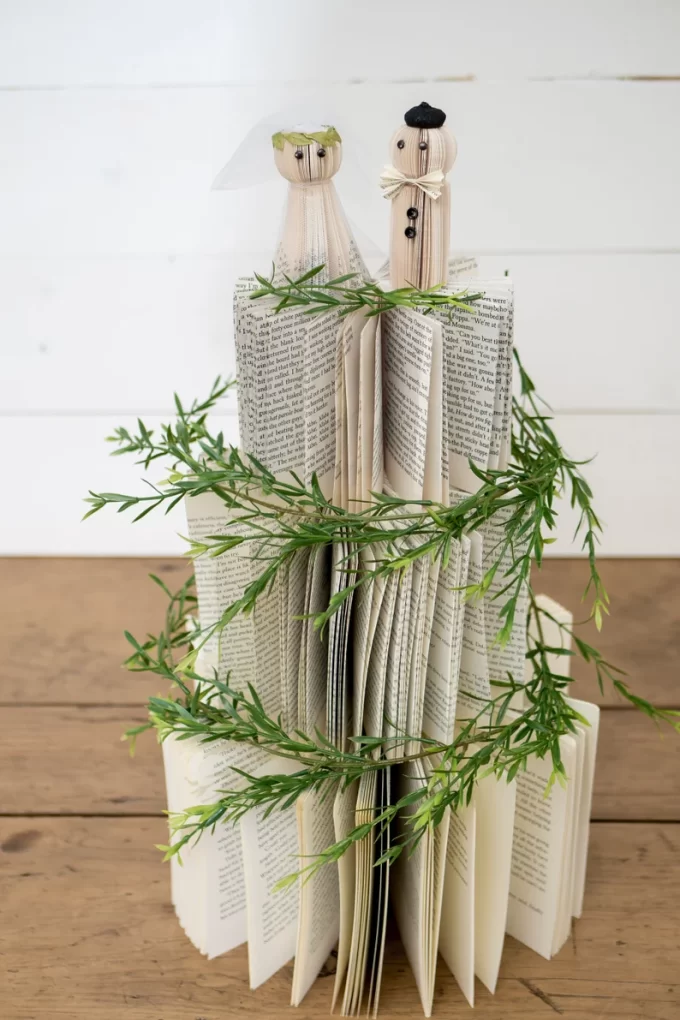 by roottovine
Serving cupcakes or desserts instead? Add these heart-shaped book page cupcake toppers instead! By SprinklesandScraps.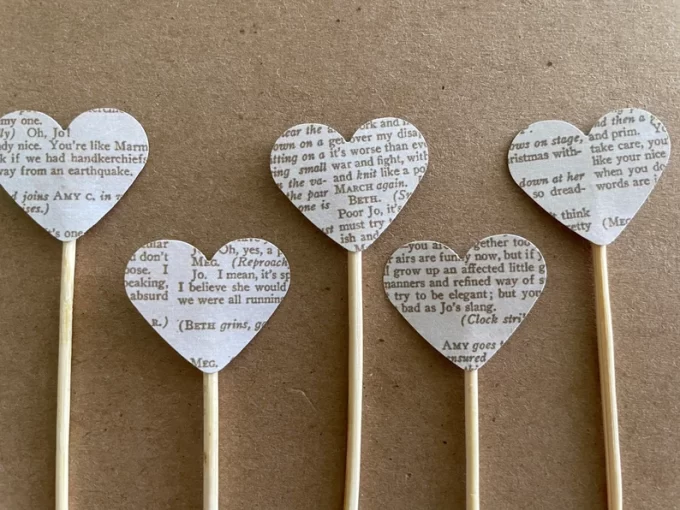 by sprinklesandscraps
Use this garland anywhere you see fit (by La Mia Casa):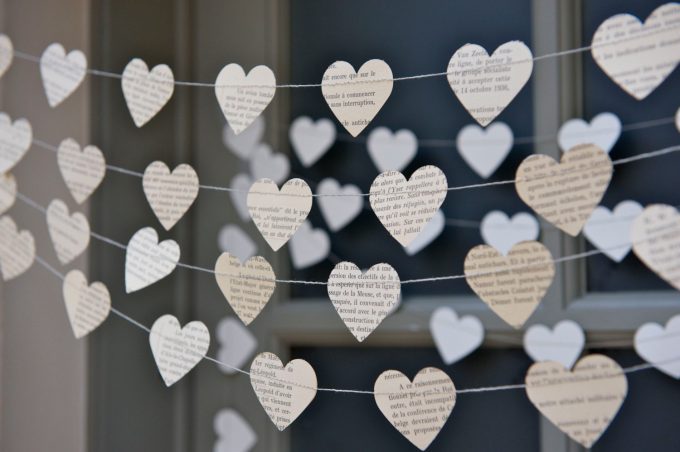 by la mia casa
And sprinkle these book page petals anywhere you see fit. By Burlap and Bling Studio.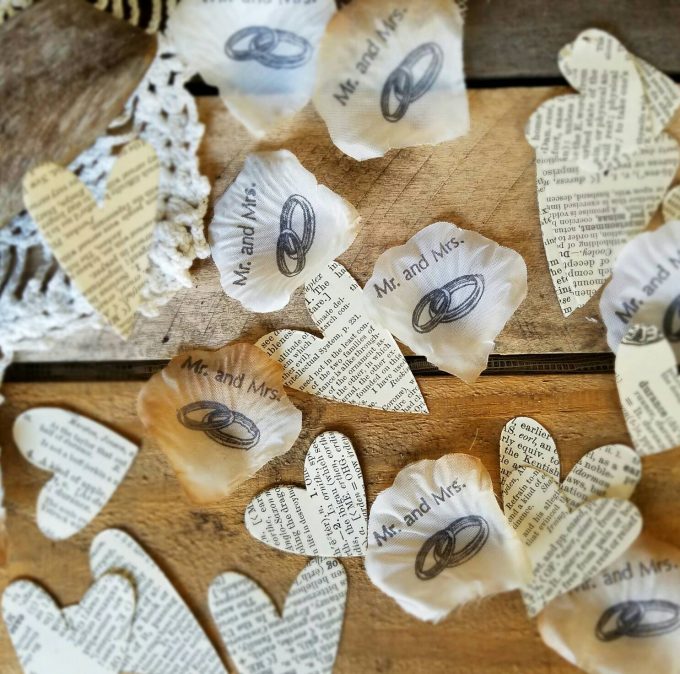 by burlap and bling studio
Another favor we love? These classic literary cover matchboxes. Great for book lovers! By Jessica Cunningham.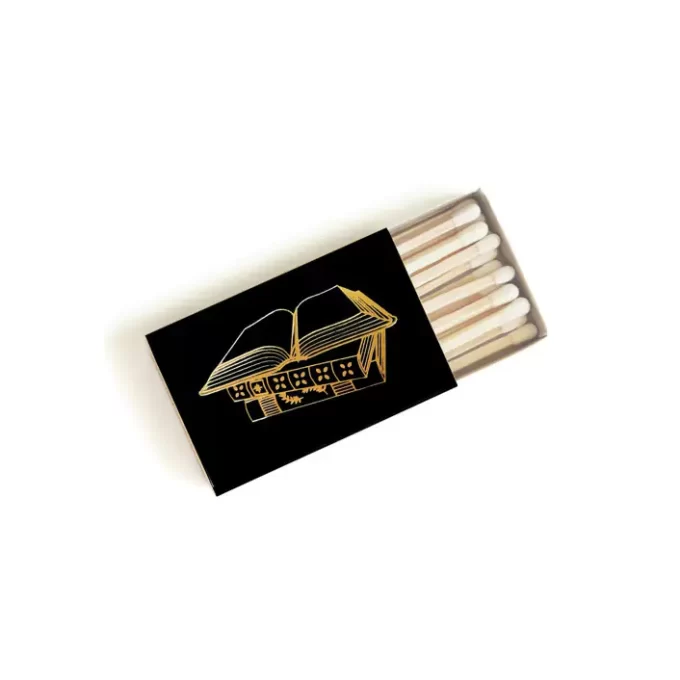 by jessica cunningham
Now, as the bride, you need something extra cool to remind you of your book themed wedding, am I right? This book clutch is a fun idea. By VRStorybook.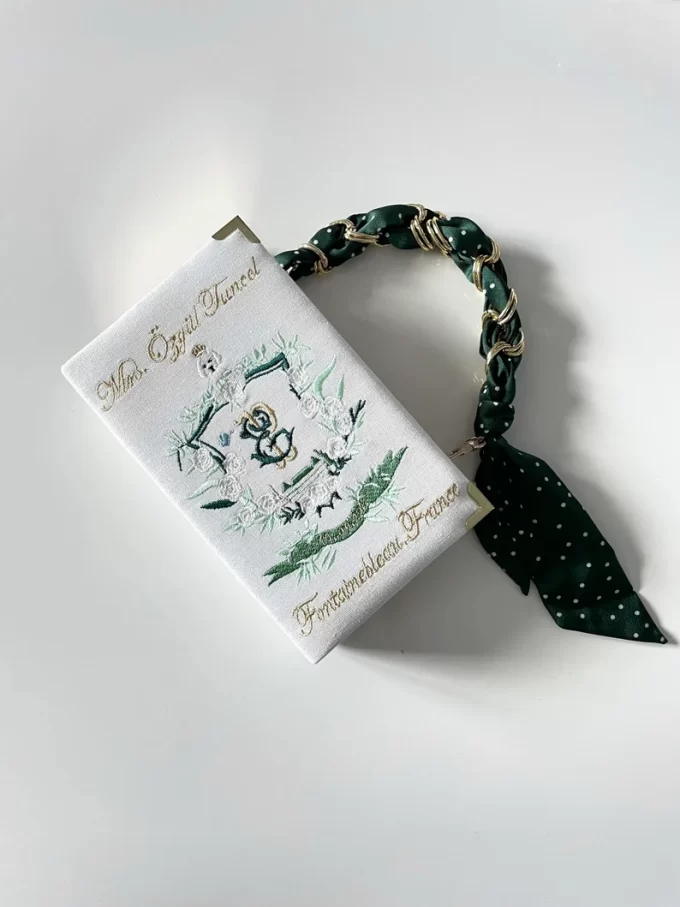 by vrstorybook
Or this unique design of a book themed wedding clutch bag by Frolioli: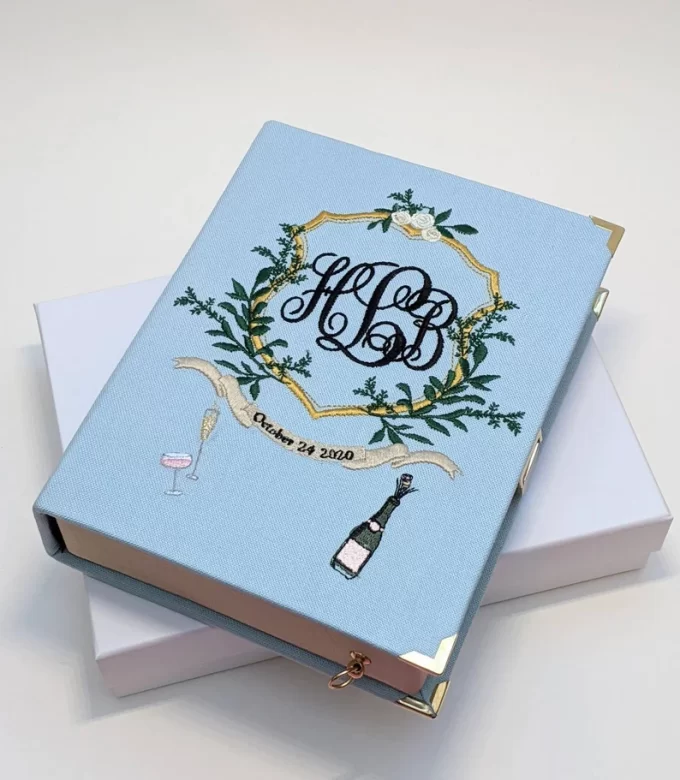 by frolioli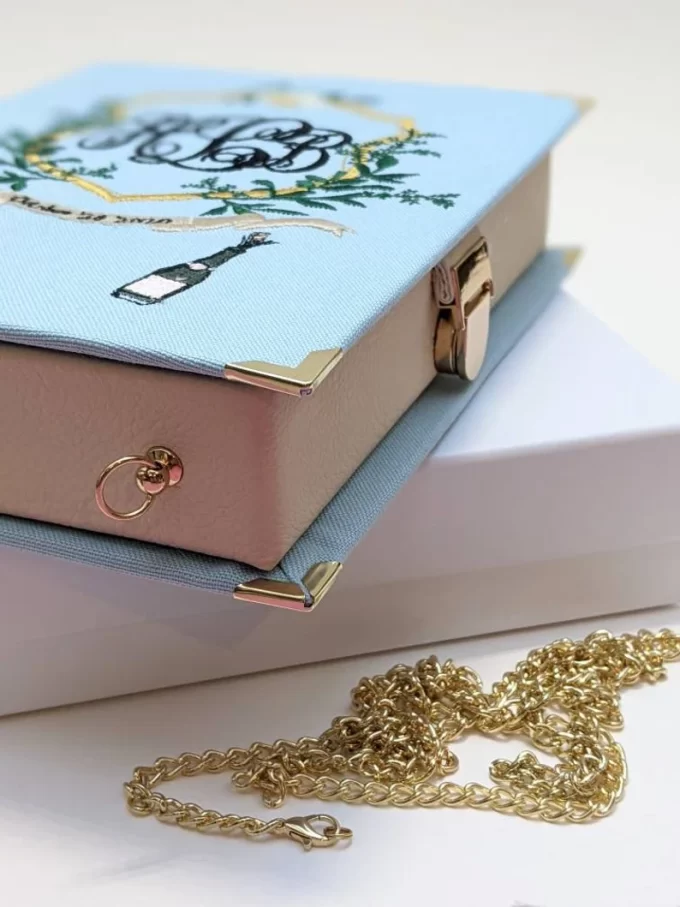 by frolioli
There are many different styles and book covers available here. Don't miss them!
And this locket with quote from Wuthering Heights on the inside! It can be worn as a necklace or wrapped around your bouquet handle. It even serves as your something blue! By DSP Davey.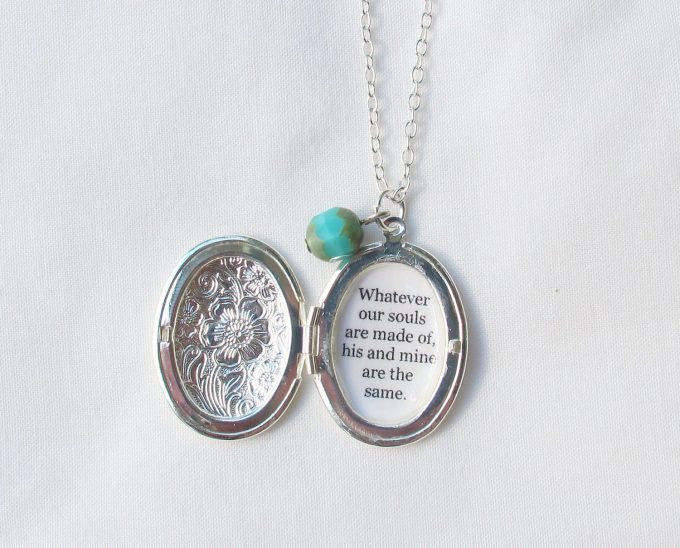 by dsp davey
Then, of course, this Jane Eyre garter, too! By DSP Davey.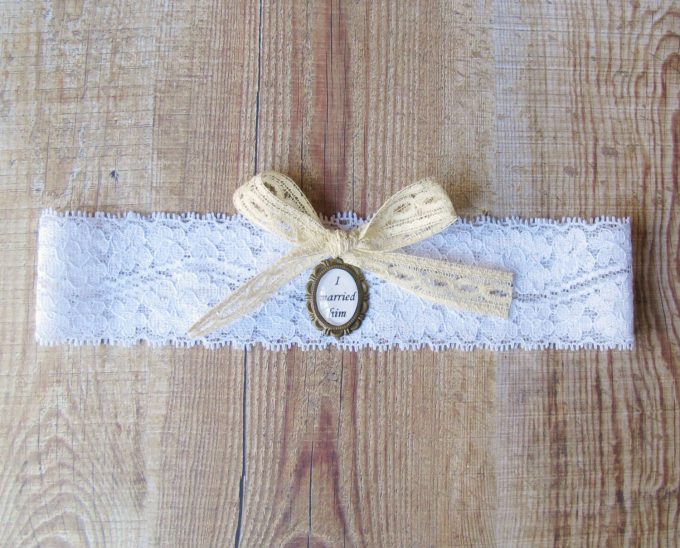 by dsp davey
These book themed wedding gifts are fun for bridesmaids, including these phone covers (by Chick Lit Designs):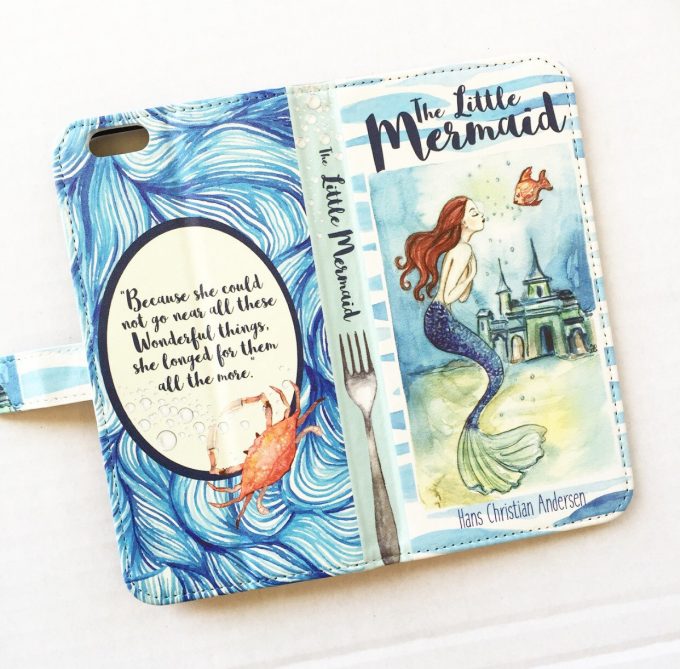 by chick lit designs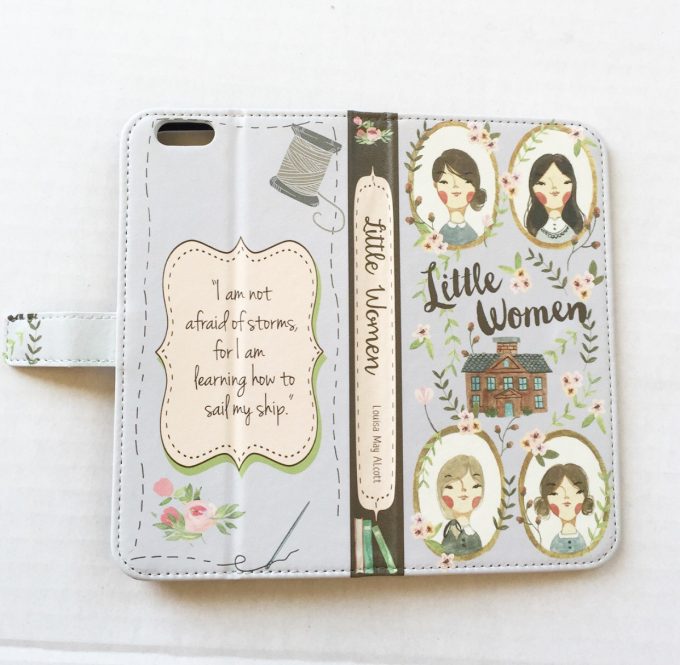 by chick lit designs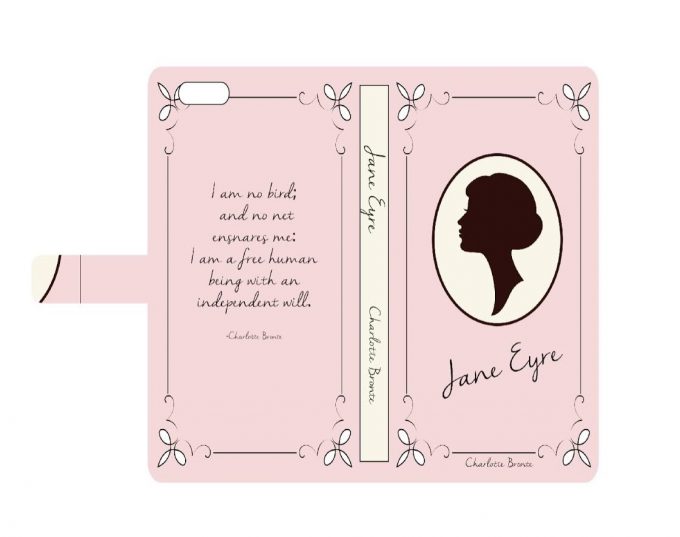 by chick lit designs
These book cover purses by BagsymeFirst — amazing! (Don't miss this awesome book-lovers shop here.)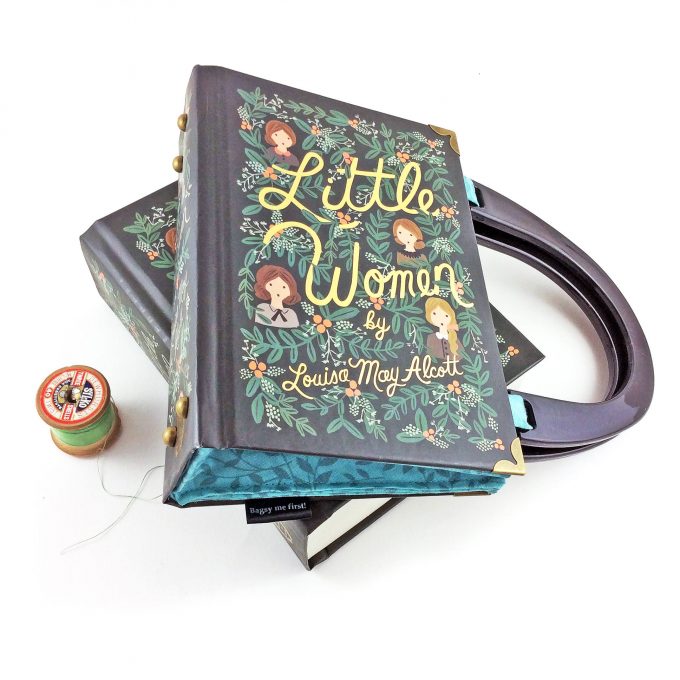 by bagsy me first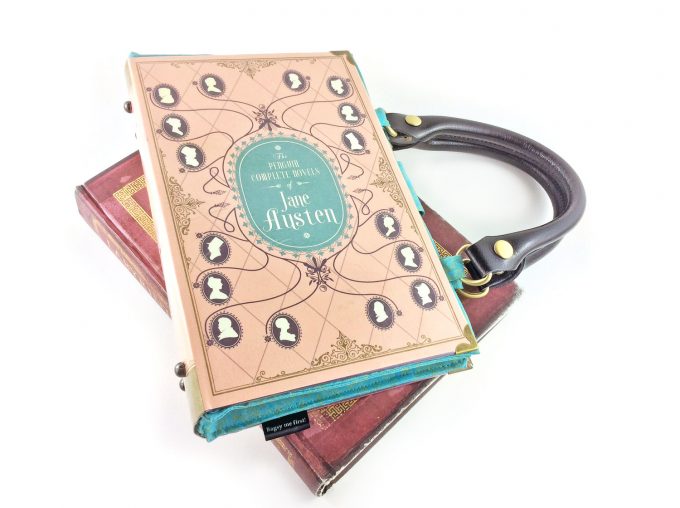 by bagsy me first
And this book clutch is my absolute favorite: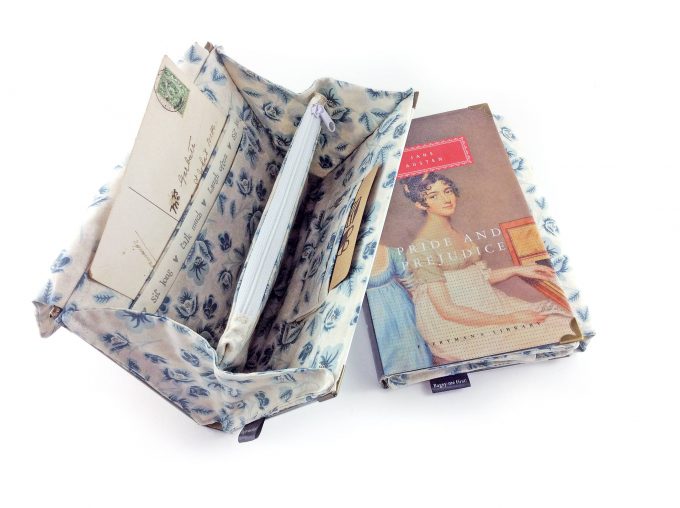 by bagsy me first
Give your bridesmaids gifts with a literary theme, like this beautiful book locket (from SilkPurseSowsEar):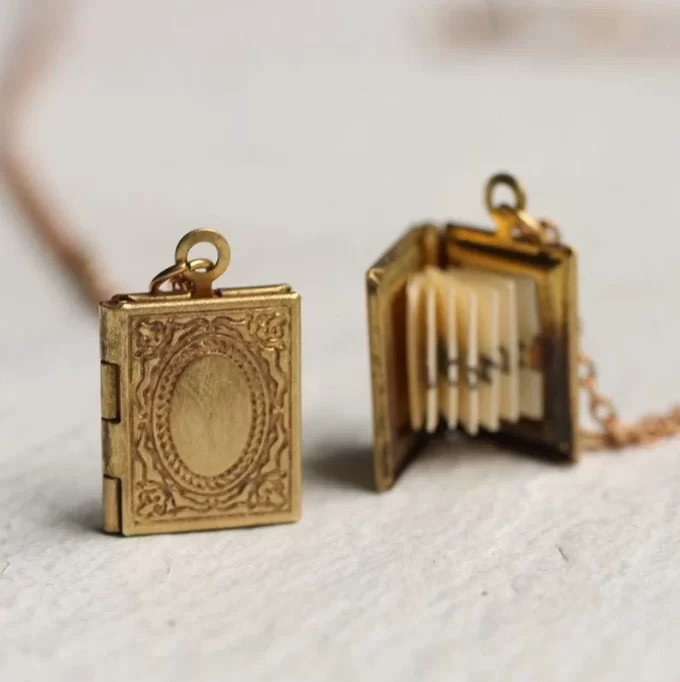 by silkpursesowsear
Or, this creative library card print scarf from Cyberoptix. I can think of ten bookworms I know who would love this as a gift.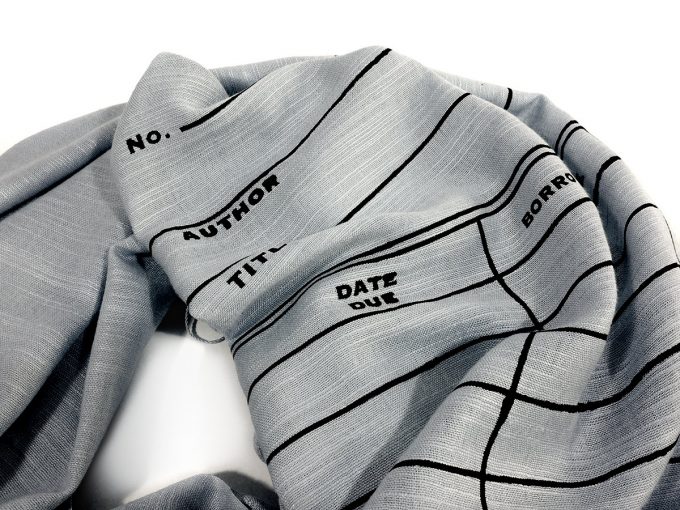 by cyberoptix
And there you have it! Now that you know how to plan a literary themed wedding. What do you think of this list?
Discuss: Are you planning a book themed wedding?
We hope you enjoy these book themed wedding ideas and can put them to good use! If you do plan a book themed wedding, be sure to let us know what ideas you chose.
Happy Planning!
xo
Emma