Shop our favorite new Lulus wedding dresses of the season! We spotted 12 gowns that'll take your breath away. Find out more + join the party, aka our newsletter, for tips and wedding inspo to your inbox!
Did you know you can buy wedding dresses at Lulus? It's true and it's incredibly affordable, tbh. I have been lovin' everything from Lulu's lately, especially since they launched their wedding collection which features beautiful and on-trend midi bridesmaid dresses, LBDs, off-the-shoulder wedding guest dresses — you name it.
As you can imagine, when I discovered their own wedding dress collection, I was floored. The simple wedding dresses Lulus offers — along with more intricate styles a la their Luxe collection — are exquisite.
Not only can you shop reasonably priced wedding dresses, but you are getting amazing quality, backed by a great return policy and reviews to boot.
If you're a bride on a budget, the Lulus wedding dresses are as affordable as you can get, ranging in price from $89 to the highest price of $348. That's amazing if you ask me. And there are tons of reviews from real brides, so you know exactly what you're getting before you order it.
There's so much win here.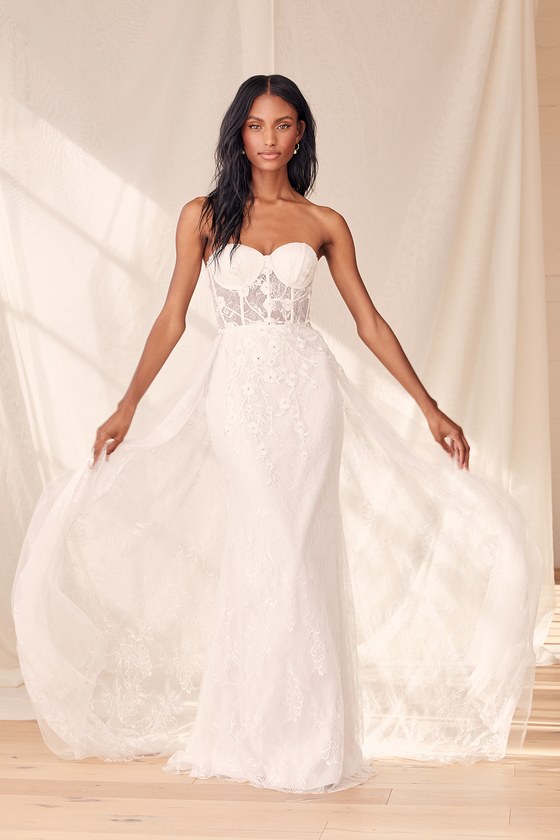 shop here
Today I'm sharing my top picks for the best Lulus wedding dresses of the season (with prices!) and where to get them. These on-trend styles include everything you're looking for including drop shoulder, lace, long sleeve, short sleeve, no sleeve, and those midi wedding dresses Lulus is known for! Let's get started, you have a dress to find! :)
Lulus Wedding Dresses
1. Lace Off-the-Shoulder Wedding Dress, $119
This is a Lulus wedding dress that is top rated across the board! It has a maxi length, off-the-shoulder neckline, and is made of a dreamy boho-inspired lace. Exclusively here.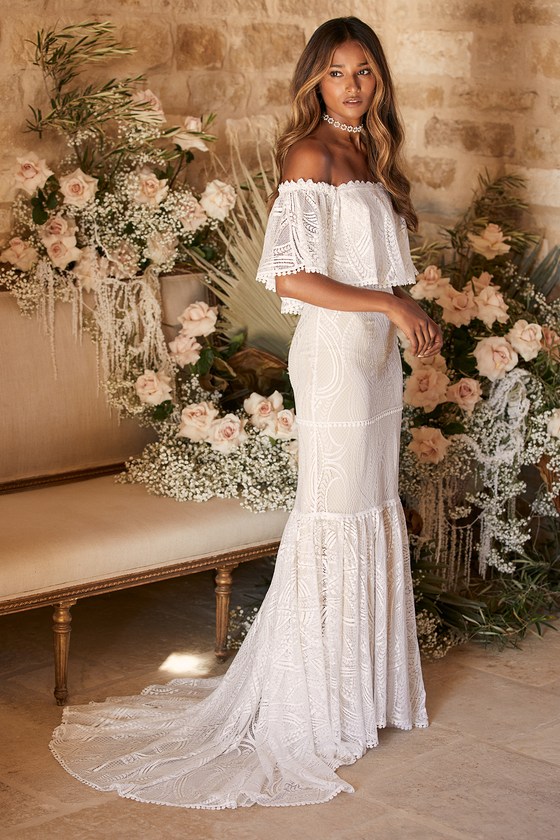 buy here
2. Bell Sleeve Lace Dress, $149
Wow, these bell sleeves are a delightful touch, plus check out the nice long sleeves made of lace. I also like the double v-neckline — very on-trend right now! Get it here.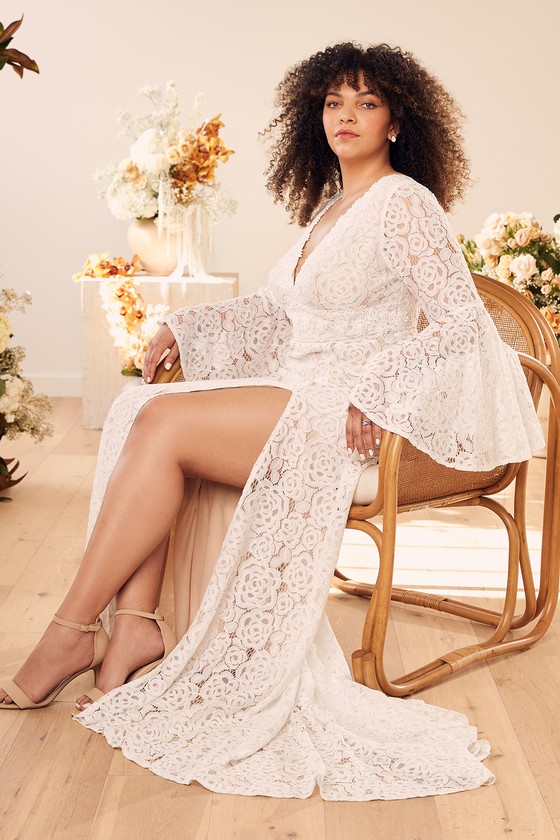 shop here
3. Lace Embroidered Full-Length Wedding Gown, $299
Whoa! This dress is made for dancing. It features elegant lace, a floor-length skirt, and a dramatic sweetheart neckline. See it here.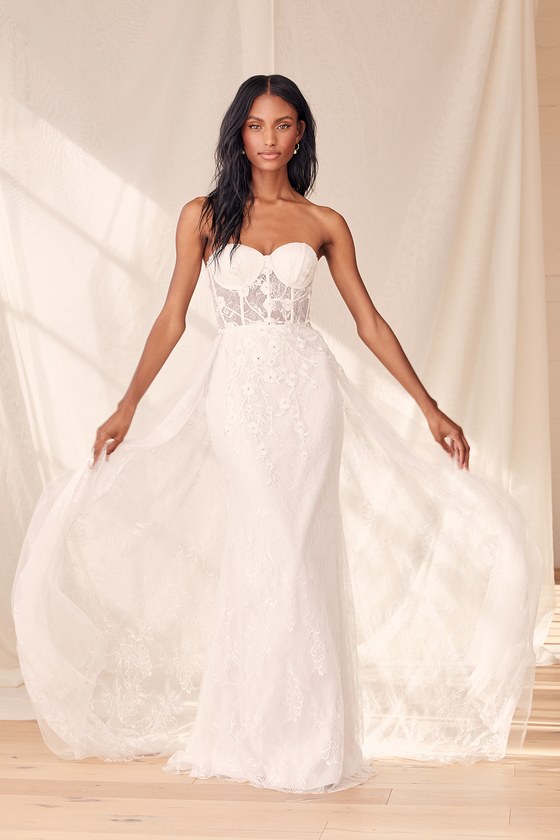 shop here
4. Backless Lace Maxi Wedding Dress, $109
This dress gives us all the romantic vibes! It is made of all-over lace, has a maxi skirt, backless style, and deep v-neckline with double spaghetti straps. Shop here.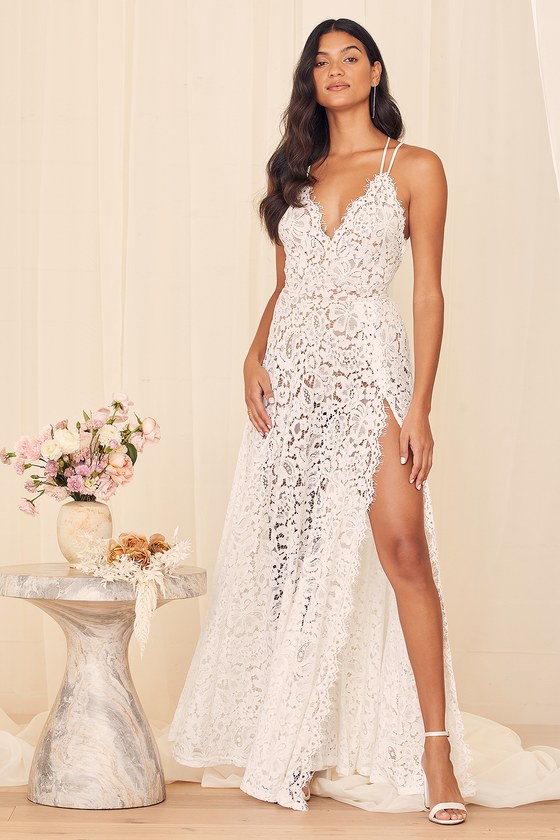 shop here
5. Open-Back Boho Lace Bridal Gown, $119
I can't believe this one: an open-back, lace bridal gown with a high neckline and sleeveless fit for under $150? It's absolutely gorgeous! And check out that train! The reviews speak for themselves. Shop this and more Lulus wedding dresses here.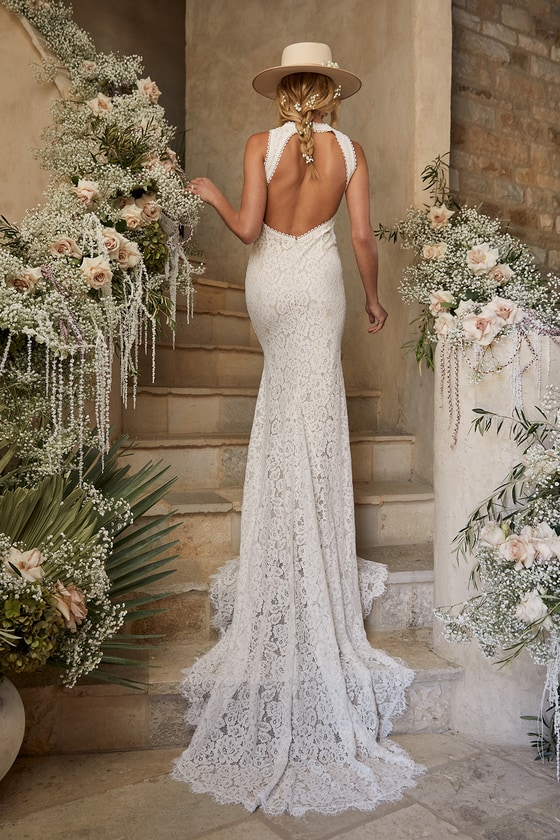 shop here
6. Beaded Bridal Gown, $200
The elegant beadwork on this wedding dress is exquisite. Shop here.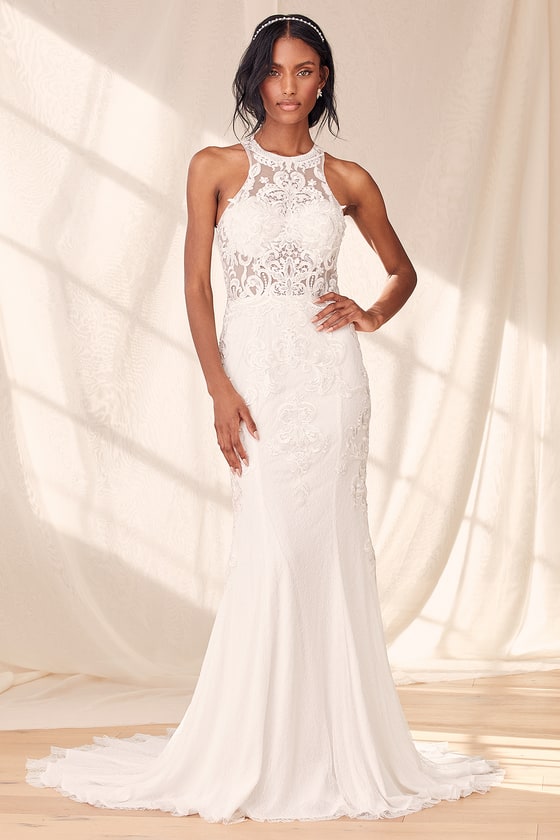 shop here
7. Cap Sleeve Wedding Dress, $299
Delicate cap sleeves and a gorgeous beaded bodice make this a dress dream come true! Available here.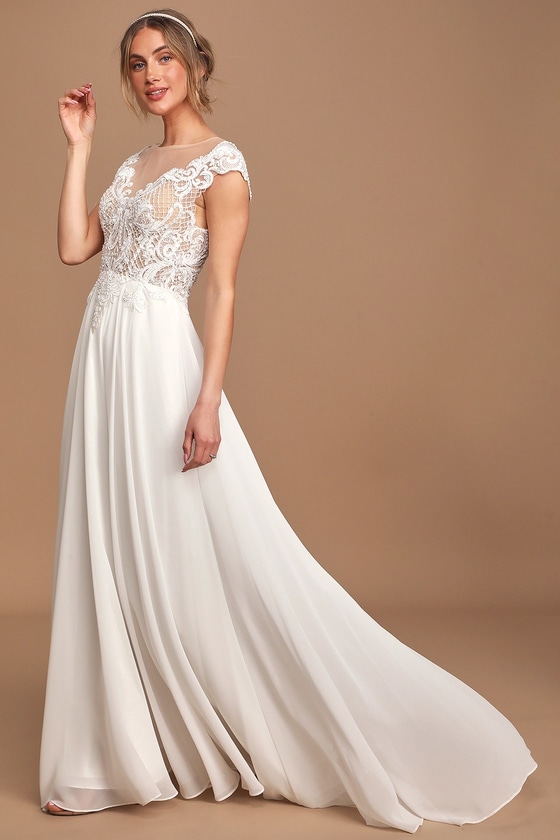 shop here
8. Halter Maxi Wedding Dress, $119
This is a new fave of mine! It has a halter neckline, tons of beading, and a pretty floor-length maxi skirt. Shop here.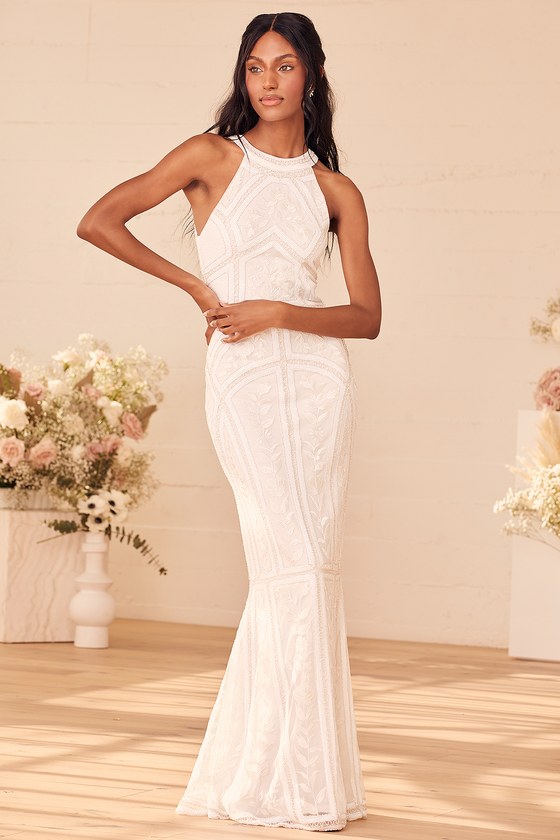 shop here
9. All-White Lulus Wedding Dress in Satin, $224
This is from the Lulus wedding dresses "Luxe" collection! The one-shoulder style here is fabulous. See more here.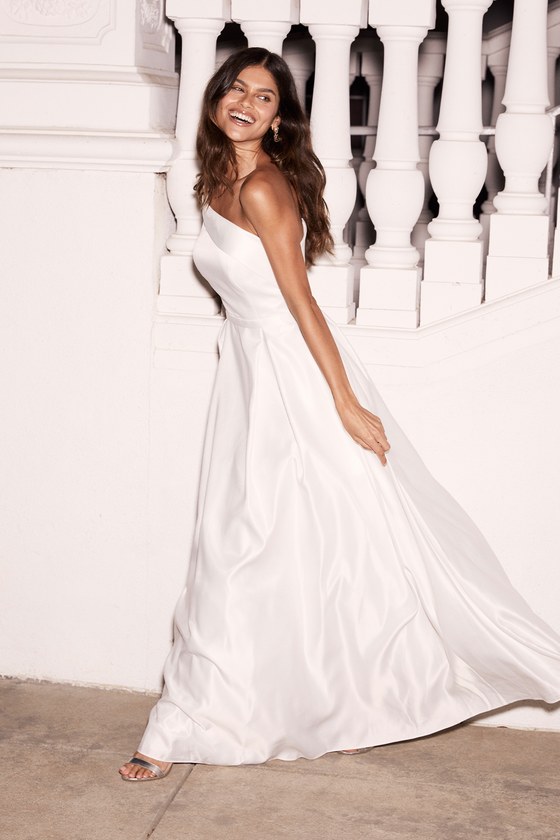 shop here
10. Midi Length Wedding Dress, $98
This midi length dress features a floral mesh lace overlay and skinny straps. Get it here.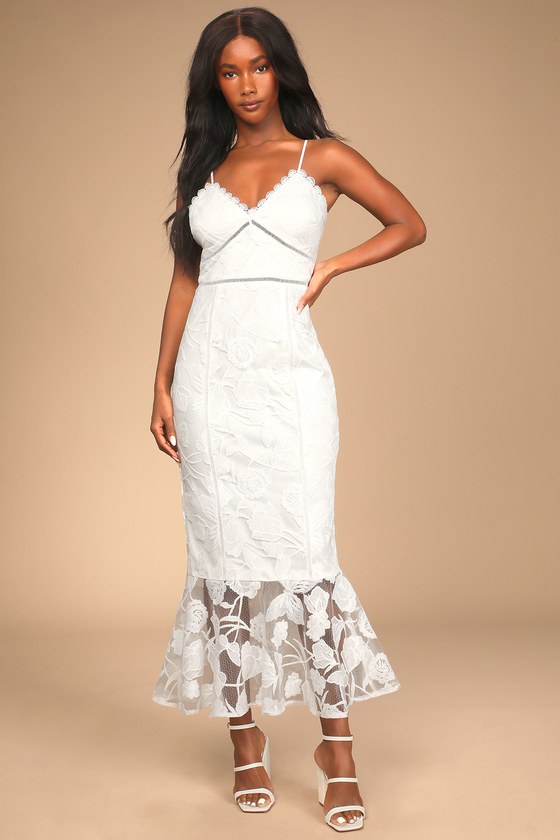 shop here
11. Ballgown with Embroidery and Tulle, $348
Amazing! This white embroidered tulle ballgown is absolutely stunning and one of the best Lulus wedding dresses of the season. Get it here.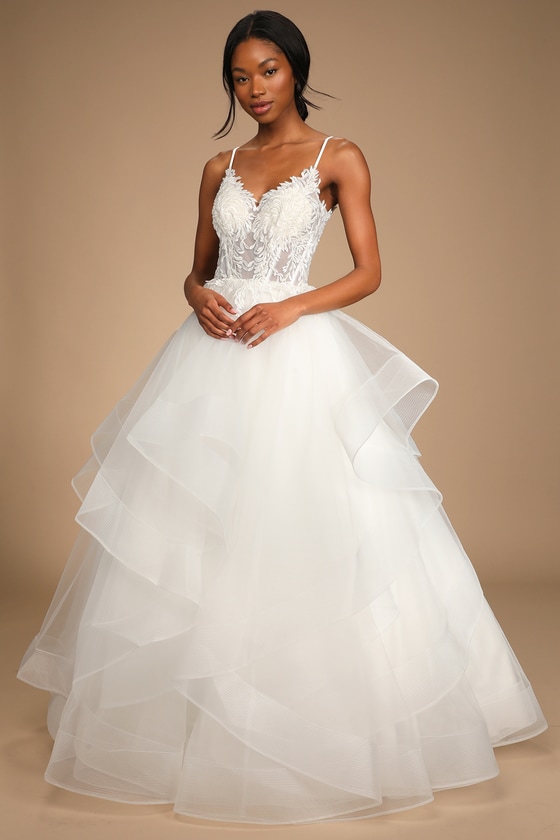 shop here
12. Embroidered Lace Trumpet Wedding Dress, $279
If you love floral embroidery and a fun trumpet skirt, this is THE dress for you! It is another of my favorites from the wedding dresses Lulus offers this year, especially with its strappy, deep v-neckline style. You can see it here.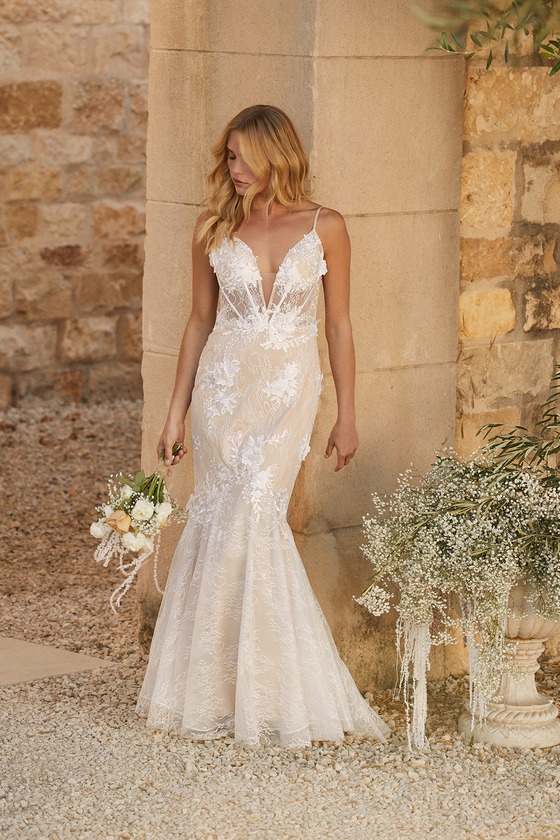 shop here
Simple Wedding Dresses from Lulus
To shop more wedding dresses from Lulus, head to their amazing collection here! Click here to see the new styles, added regularly!
These are MY favorite wedding dresses from Lulus, but I want to know: which dresses do you adore?! Tell me in the comment box below! :)
Happy Planning!
xo
Emma