If you're looking for a pair of white block heels, you'll find them on this list! Make sure you subscribe for the latest updates to your inbox.
As the bride, you get to decide everything, right down to the pair of shoes you'll wear on your wedding day.
For many, block heels are the preferred choice and it is not surprising: have you seen the latest designer bridal shoes in a chunky heel lately? They're incredible, particularly the white block heels we're finding (ok, obsessing over).
via here
A block heel doesn't just look nice, it is also one of the most comfortable wedding shoes you can wear that gives you an elevated walk down the aisle.
A platform or block style heel offers greater support, stability, and confidence as you're walking down the aisle, something I think all brides want on their wedding day!
Today we're covering everything you need to know about white block heels. We'll show you the latest styles, tell you how much you can expect to spend, and where to get the best bridal designer shoes on the market.
But first things first: what are block heels anyway?
What is a block heel?
You've likely seen them before, but if you're new to the style, a block heel is a shoe with a large, broad base. Block heels offer a unique platform heel with more stability, simply because your heel has more surface area. These shoes offer more stability than a traditional skinny heel, which is helpful for brides getting married on uneven ground (i.e. grass, sand, dirt, etc.) or who struggle with walking on thin heels.
You'll want to wear block heels if…
• You like the style (I do!)
White block heels are one of the most popular bridal footwear options of the moment, second only to these!
• You have trouble walking in regular heels or don't do it very often
• You're getting married outdoors on sand, dirt, uneven terrain, etc.
• You want to show off your incredible sense of style
Why are white block heels popular for brides?
If a bride wants to wear a heel but she's nervous about walking down the aisle in them, this chunky style offers significantly more support than a stiletto. This way, you can walk comfortably and dance the night away without worry.
White is one of the popular colors of the moment as it not only goes with your dress but really pops!
How much should I spend on wedding shoes?
That's up to you! On average, most brides spend around $250 on a pair of bridal shoes, but we've seen this price anywhere in the range of $150 to $350. For designer bridal shoes, expect to pay more with an average cost of $350 to $500. Some of the most popular designer wedding shoes of the moment (i.e. Loeffler Randall Natalia as one example) cost $495.
Some brides like to save money and buy affordable shoes which typically range anywhere from $30 to $100. There is nothing wrong with spending less on yours, if you don't want to shell out a bunch of money on bridal footwear.
On the other hand, some brides want to spend as much as it costs to get the perfect pair of wedding heels, and that's perfectly acceptable, too. Do whatever works best for you. There's no rule on how much you need to spend.
Now that you know more about this footwear style, let's talk about what types of white block heels are currently available — and trending. We're rounding-up 20 of the top chunky heels in white from designer bridal shoes (by Loeffler Randall, Badgley Mischka, Dolce Vita, Sam Edelman, Freya Rose, Betsey Johnson, and more) along with affordable block heels for brides who with a smaller budget (or who simply don't want to spend as much). These shoes range in price from $32 to $650 for a nice wide range of wedding day footwear for any budget.
You can't go wrong with these chunky white block heels! I want ALL of the pairs!
White Block Heels for Weddings
1. Chunky Heel Shoes with White Bow, $223+
These are my favorite Loeffler Randal wedding shoes of the moment! I love them in this white block heel style featuring a feminine bow and a fun ankle strap. Named Carmellia. There are great reviews on this pair, but we notice people are saying to size up a bit, FYI! You can shop here.
2. Off-White Ankle Strap Block Heels, $32
These affordable white block heels are perfect for the bride who wants a simple, comfortable sandal and an ankle strap. Love these! By Lulus. Buy here.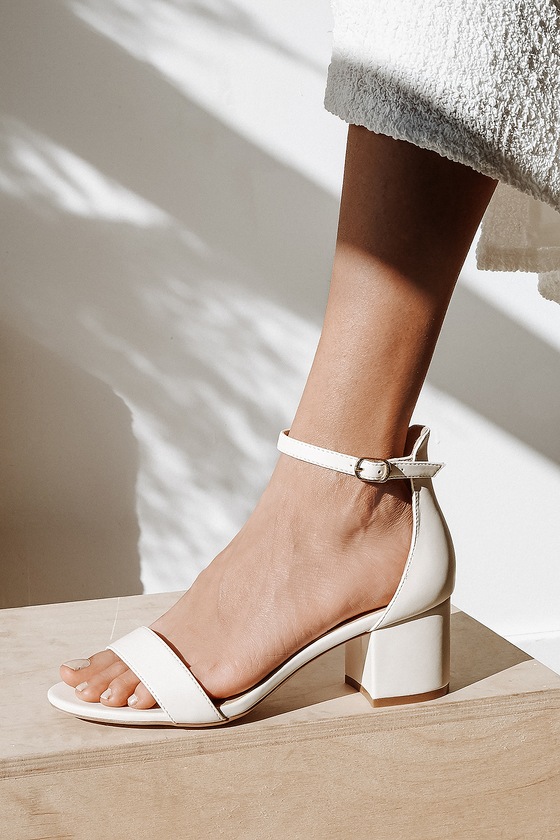 shop here
3. Ivory Block Heels, $608
If you crave luxury wedding heels, look no further than these designer block heels, designed by London designer Freya Rose named Martina. They are a glam heeled sandal with suede straps, a dazzling heel made of mother of pearl, and a buckle closure. 4″ block heel. Get them at Anthropologie here.
buy here
4. Modern White Block Heel Slides, $98
Slip into a pair of modern mules atop a 4″ white block heel with this pair of shoes. They'll look fabulous with any bridal gown you choose! Tip: Size up on these shoes, as they tend to run a bit small. By Schutz.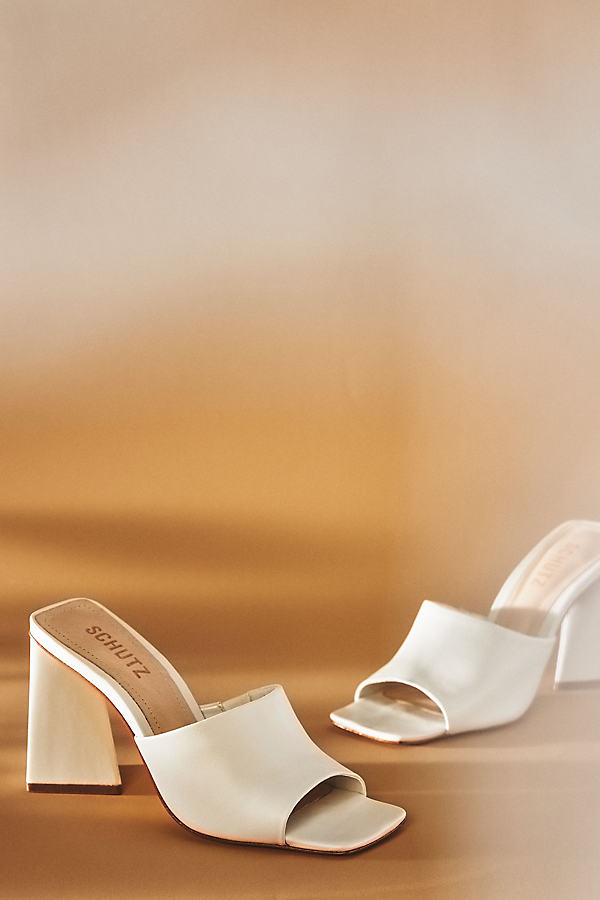 shop here
5. Braided White Block Heels with Open Toe, $125
This pair of designer block heels by Dolce Vita feature a wrapped and stacked block heel at 3.25″ height; the unique braided detail on the straps makes it a fun wedding sandal to wear. Buy here.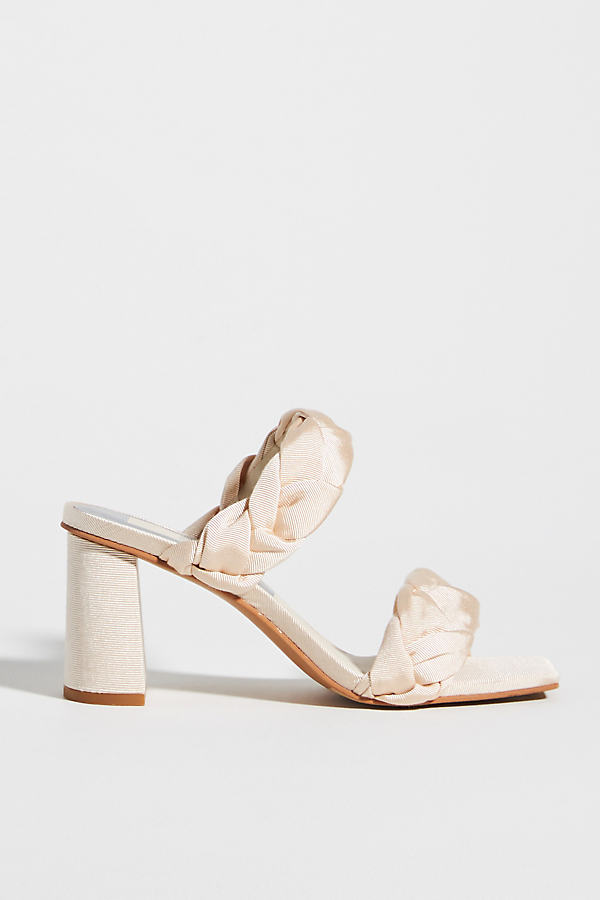 shop here
6. Rhinestone Block Heels in White, $50+
For an affordable option, check out these block heels with rhinestones and a large stacked heel and a back zip. By Top Moda. Shop here.
buy here
7. Crystal Vine Block Heel with Satin Ribbon, $245
These Badgley Mischka bridal shoes are a dream come true for brides who want a satin block heel and a romantic style. These block heels feature crystal vines and a ribbon tie on the ankle. These are my favorite Badgley Mischka bridal shoes from the collection this year! Available at Anthropologie here.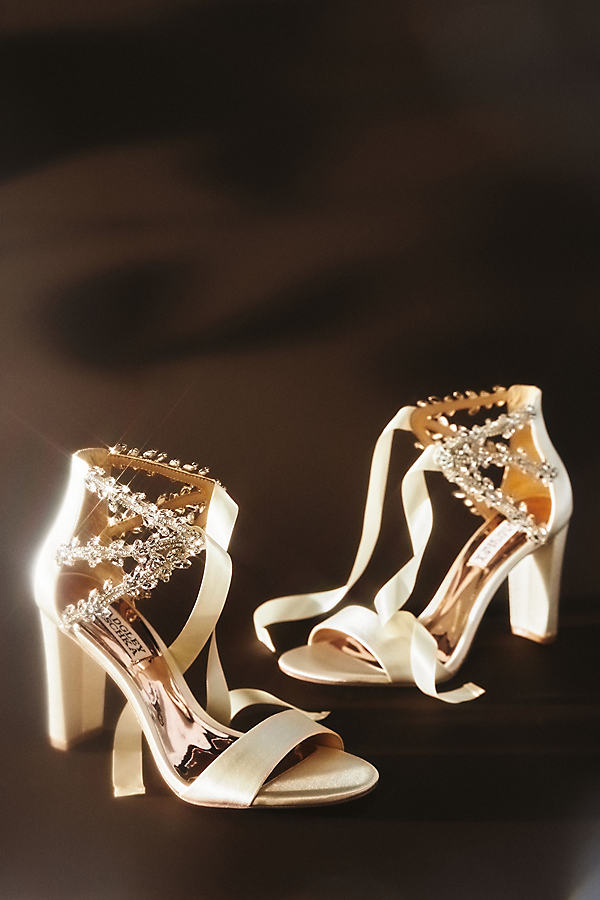 shop here
8. Short Block Heel with Rhinestones, $70+
Love block heels but can't walk in high ones? No problem: these stylish Betsey Johnson chunky heels are only 0.25″ in height. Cute! See them here.
shop here
9. Slip On Sandal Heels, $125
This stunning pair of Dolce Vita designer wedding shoes has a slip-on sandal style with a rounded, wrapped block heel that measures 2.75″. You can buy them here.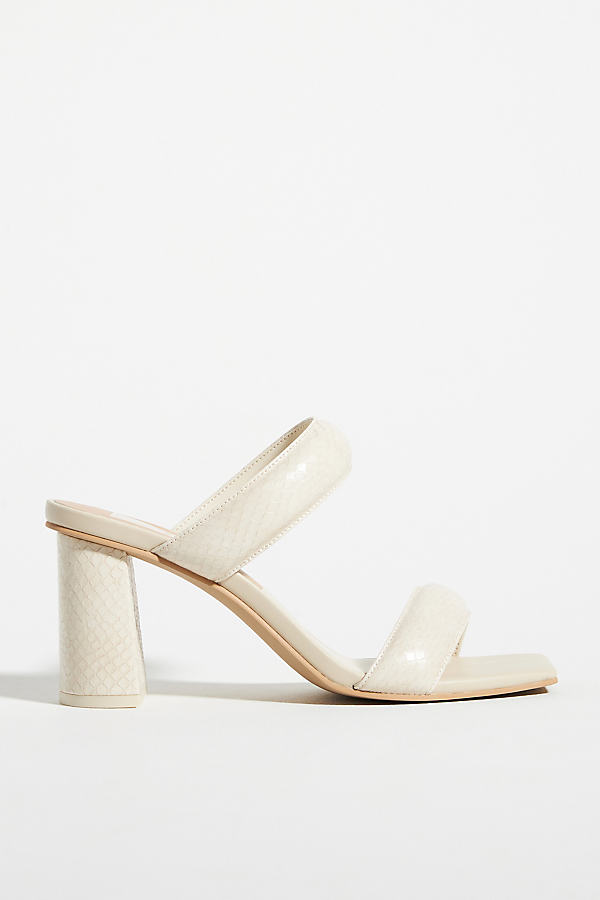 buy here
10. Satin Ankle-Strap Heels, $42
Slip into a pair of luxe satin 4″ wrapped block heels and rock that aisle! I love the cross-over peep toe styling. Get them at Lulus here for an amazing price.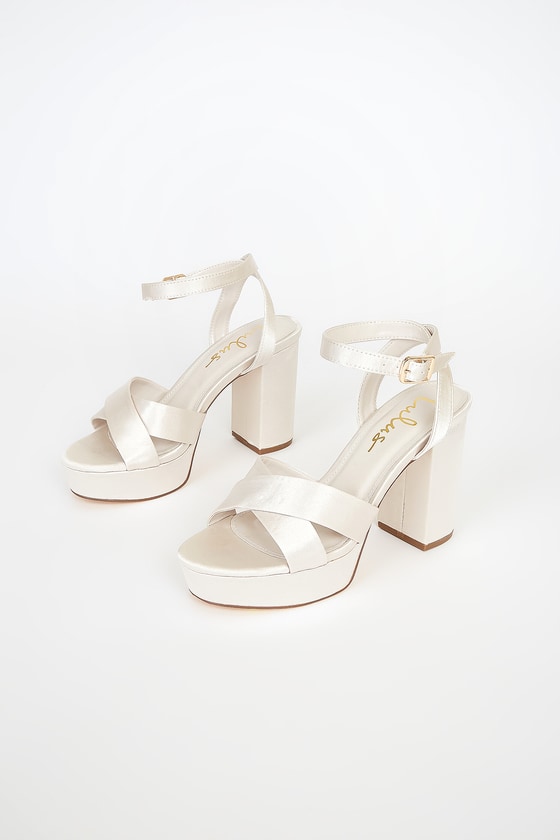 buy here
11. Closed Toe Block Heels with Pointed Toe, $140
For brides who want a closed toe mule, these white block heels are fun choice with bohemian vibes. I love a classic pointed toe! Buy here.
buy here
12. Pleated Bow Block Heels, $350
If you are a bride who loves a block heel without too much height, the Dahlia by Loeffler Randall are perfect for you! These have a pretty pleated bow, an ankle strap, and a low 2.25″ heel height. Buy here.
shop here
13. Open-Toe White Sandals, $100+
These simple yet pretty designer block heels by Sam Edelman are a perfect choice for the bride-to-be! Reviewers state these are comfortable, beautiful, and a great choice for a wedding. Get them here.
shop here
14. Rhinestone Peep Toe Heels with Bow, $495
If you're looking for the prettiest pair, we found them! I love these popular Loeffler Randall Natalia shoes featuring rhinestones, a white bow, and a perfectly-sized block heel. Available here.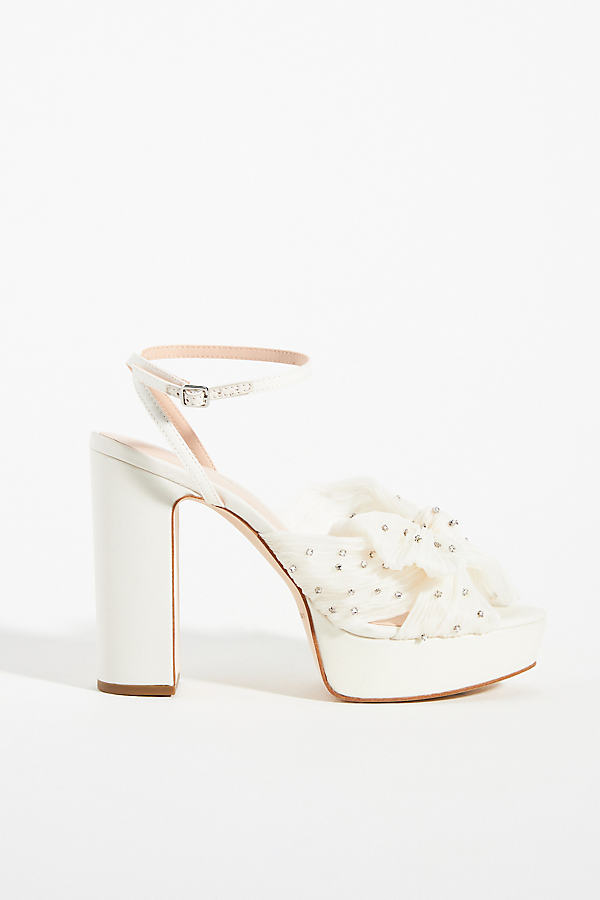 shop here
Take a closer look at that bow!
shop here
15. Pointed Closed Toe Bridal Heels, $38
Walk down the aisle in stylish heels like these! They are wildly-popular with positive ratings and one of the cheapest pairs of white block heels on this list. If you're after a pointed toe and a mid-level heel height, these are the perfect wedding shoes for you. By Lulus. Shop here.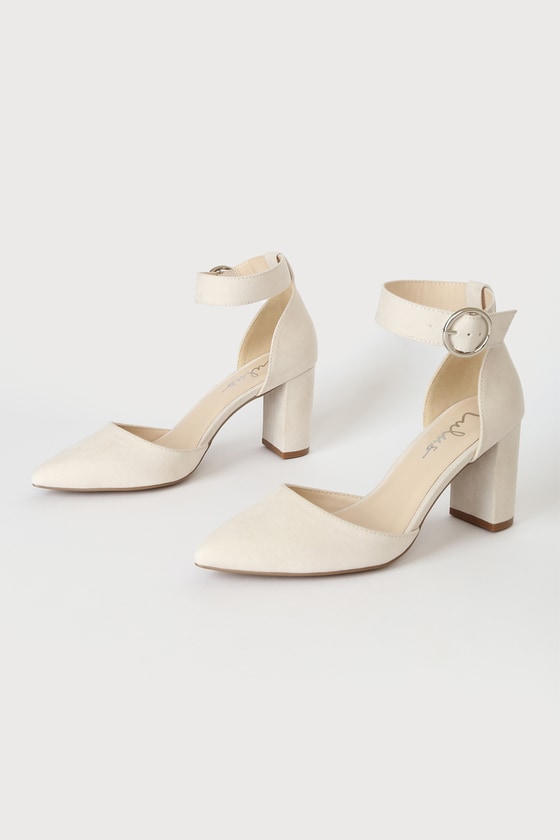 shop here
16. Knotted High-Heeled Sandal, $34
If you love a low chunky heel, these sandals are a perfect bridal footwear option. I love the bow detail! Get them at Lulus here.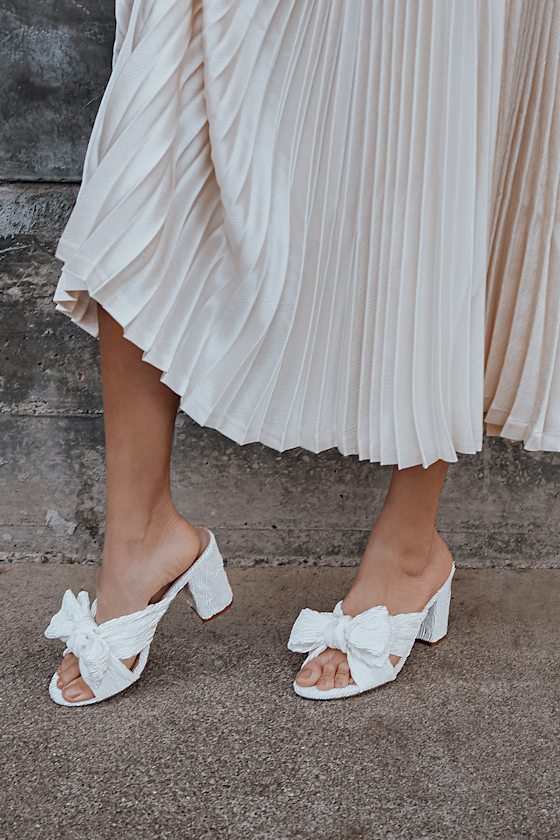 shop here
17. Pearl Ankle Strap Shoes, $59.99
These beautiful shoes are shown in Modern Ivory, perfect if your dress is on the ivory side vs. white. You'll find a stacked block heel and two rows of elegant pearls adorning the ankle strap. These are designer bridal shoes by Sam Edelman and are named Yanelli. Get them here.
shop here
18. Peep Toe Platform Heel, $69.95
These are fun chunky heels in white for the bride! You can get them at Chinese Laundry here.
buy here
19. Satin Pointed Toe Shoes, $38
This is a beautiful pair of satin block heels in white, featuring a pointed toe and a rhinestone ankle strap. By Lulus. Shop here.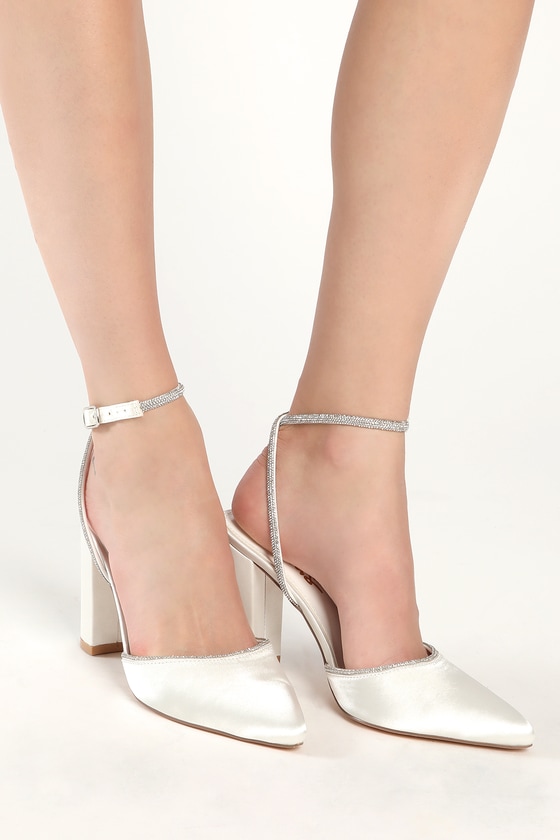 shop here
20. Block Heel White Boots, $192
And last but not least, these Dolce Vita bridal boots are a perfect choice if you want a closed-toe block heel in white… with a little western flair! Get them here.
buy here
Ah, what a beautiful list! I love how we managed to fit a cool pair of white booties in there, too. They're so stylish and perfect for fall!
Tips for Wearing Block Heels
Before you go, here are a few helpful tips before you buy and wear your heels on your wedding day.
1. Read reviews.
This is good advice before you purchase anything online, but when you're shoe shopping ratings and reviews are increasingly important. There are few things more annoying than buying shoes online only to try them on and be disappointed in the way they look, feel, or fit. Reviews are your BFF when it comes to seeing what works and what doesn't for others. Don't be dissuaded if your favorite shoes have a few negative ratings, either. Find out why: many people drop a star from a review due to a narrow or slightly small fit, so just use this information to size up on your heels.
2. Break them in.
What is the number one rule of wedding day shoes? Breaking them in first! Putting on a pair of brand new shoes the morning of the wedding is one of the biggest wedding shoe mistakes brides make. To combat this, you can wear your block heels around the house for awhile first, just to break them in a bit. In addition, you can use a shoe stretcher like this to give it that worn-in feel without having to do all the legwork. Ha! Over 20,000 people have reviewed this alternate option: shoe stretch spray. I haven't tried it yet, but it has rave reviews.
3. Add support and cushioning.
Is there ever a more important day in your life when footwear will be so important? You'll be walking down the aisle, mingling with guests, and on your feet all day. Don't forget about all of that dancing! Keep your heels feeling their best with:
• Heel Cushion Inserts: important for avoiding blisters on the backs of your feet
and
• Metatarsal Pads: essential for the ball of your foot
4. Get a pedicure!
If you are wearing open toe, peep toe, or any white block heels, make sure you get a pedicure first! You will love the way your feet look and feel — and you deserve to treat yourself. You're the bride!
5. Have a backup pair.
Lastly, you can plan ahead for any kind of shoe disaster, but the best thing to always have? A backup pair of flats! Get these from Cinderollies and you'll feel like you're walking on a cloud.
shop here
On to you:
Now that you've seen plenty of pairs, which white block heels are your top pick? I'd love to hear from you in the comments below!
Happy Planning!
xo
Emma