If you're looking to purchase a wedding dress online, chances are you want the best price AND the best quality. Is it really possible to have the best of both worlds?
In an quick online search, you'll find massive amounts of wedding dresses from all kinds of retailers. It's pretty overwhelming, IMO.
There are designer brands priced sky-high, along with budget-friendly gowns at bargain bin prices. It's tough to differentiate what is good quality and what is a scam.
When you discover a place that looks like everything you're dreaming of — like Lulu's, which offers beautiful wedding dresses at affordable prices — you may be wondering if it's too good to be true.

So, is Lulus a good place to buy a wedding dress?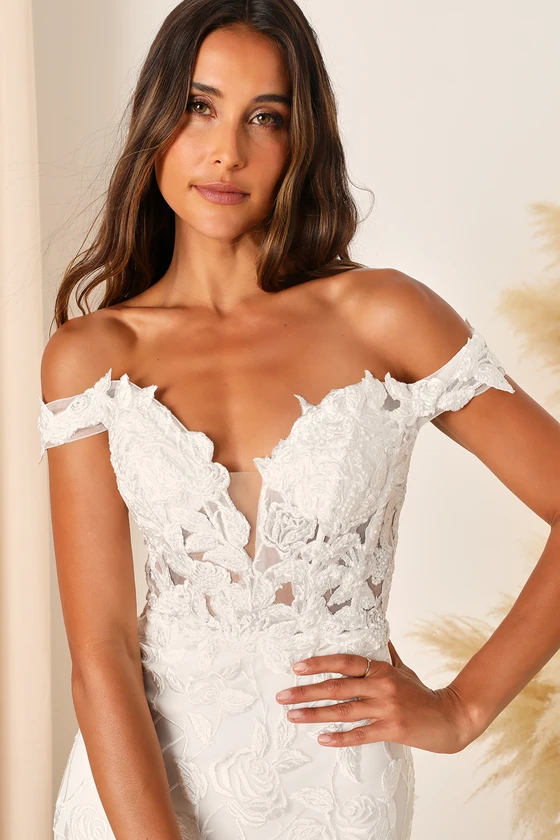 bridal gown via lulu's
If you're curious if discount retailer Lulus wedding dresses are legit, read on. We'll uncover everything you need to know to determine whether you should buy a wedding dress at Lulu's — or if you should look elsewhere and save your money.
Are Lulu's Wedding Dresses Good Quality?
Are Lulu's wedding dresses worth it?
First, let's talk about Lulus.com overall in terms of a price standpoint. Price-wise, it seems too good to be true. They offer amazing, trending outfits for every day in the life of you: lounge wear, office apparel, outfits for a night on the town, bridesmaid dresses, wedding guest dresses, and ah yes, wedding gowns. The prices are very reasonable, sometimes making people question the legit nature of the products.
I'm always adding to cart. They are realllllly good at what they do.
Now, let's shift the focus to their Wedding Collection. It's new-ish in the past few years, really gaining traction online with its massive appeal to wedding guests, brides, and bridesmaids alike.
The cost of their wedding dresses range from the cheapest (barring any clearance prices) range from around $89 to their most expensive wedding dress currently set at $529.
Here's the most expensive gown (gorgeous!)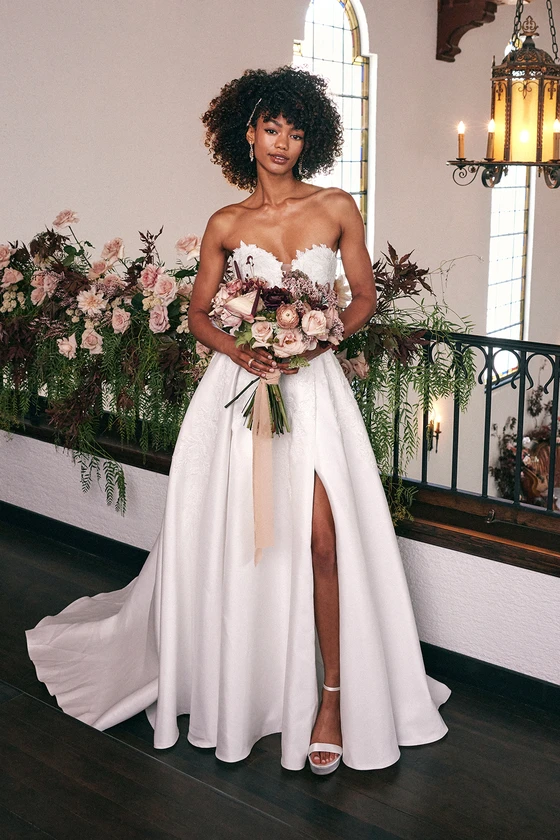 via here
When you compare this to other bridal boutiques, this is substantial savings: most brides can expect to spend 5% of their budget on attire and, nationally, this equates to around $1,900 (based on average costs in a recent compilation by The Knot) per the average bride.
So, let's say you buy the most expensive bridal gown Lulu's has to offer. That's only $529 vs. $1,900: a savings of over $1,300. That's not pocket change! And let's say you find a dress that costs even less, in the $250 range. That's substantially more money in your pocket.
Any bride would agree that's a nice savings, but is it worth it? Will your wedding dress look like it came from a bargain basement? Let's discuss further.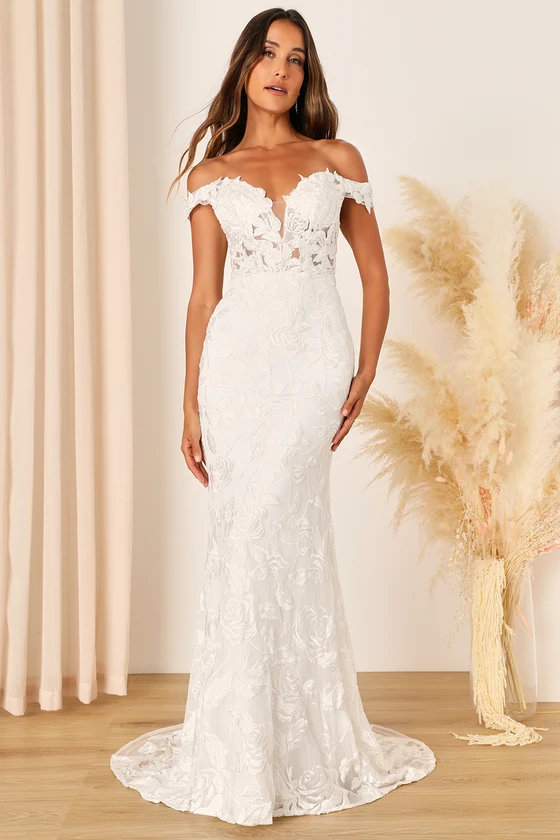 shop here
Is Lulu's Legit?
Now that you know the average cost of dresses, let's figure out if Lulus wedding dresses are legit.
Is Lulus a Legit Site?
When you find affordable attire, but you've never shopped there before, the red flags start going off in your head especially on a purchase as extravagant as your wedding dress. If you're wondering whether Lulu's is a legit site, I have good news: they're not only legit, they're pretty incredible.
I've had nothing but great experiences with their customer service, products, and ease of shopping.
In fact, I purchase a bit more often than I should. Ha!
I'm just one person and I want to give you an overall review, so I looked around online and did a little digging. I've read countless reviews, ratings, and watched try-on videos. As a whole, it seems the reviews are substantially positive.
I'm also impressed by their review process: you'll find a wealth of information on nearly any product before you purchase (from REAL customers, most of whom upload a photo on them so you can really see how it fits).
It also impresses me how often I'll see a customer service agent comment directly on a customer's review, especially if the review is not a five-star rating. They're often ready to answer anything further or assist in a product return, if needed. That is the level of customer service I love to see and I am happy to recommend Lulu's for everything: yes, especially weddings!
Read Reviews
However, based on reviews and filtering by "top rated", the average cost of a Lulus wedding dress is around $180 to $250. You can find an amazing collection of gowns within that price range with exceptional reviews.
When it comes to shopping for wedding dresses online from anywhere — Amazon, Lulu's, Etsy, you name it — the most important advice I can offer is to read reviews.
Don't just take the 'stars' ratings at face value.
Click on the gown, scroll down to the reviews, and read the individual comments from real brides who have purchased the gown. This will help you immensely. In addition to the glowing reviews, you'll find a few negatives here and there, but those are extremely helpful to read. A negative review doesn't mean you shouldn't purchase the dress: instead, it will give you proper insight into why the customer gave it that rating. For instance, it may be knocked down one star or two simply because, "sizing was way too big", "the bodice didn't fit me", or "the length was too long". These are things that are helpful to know prior to purchasing so you can make adjustments, as needed.
In addition, most of these things can be fixed with the help of a great seamstress or tailor.
In these ways, you'll be saving money on your wedding gown and, even if you need tailoring, you'll still be well under the national average price point.
Are Lulus Wedding Dresses Good Quality?
So, what's the verdict? Are Lulu's wedding dresses worth it? Or should you shop somewhere else?
The bottom line is this: based on reviews online, the wedding dresses purchased at Lulu's are of beautiful, high-quality material and boast many positive customer experiences.
The most important thing to consider is… do you love the style? If you are purchasing for the sake of saving money but don't find a dress that suits you, move on to somewhere else. However, if you do find a beautiful dress for your wedding at Lulus, the reviews are positive, and you love the way it looks, go for it!
It's important to stay on budget and love the dress you choose. Luckily, it seems you really can have the best of both worlds when you shop at Lulus.
Here are a few of my top picks from their collection to inspire you.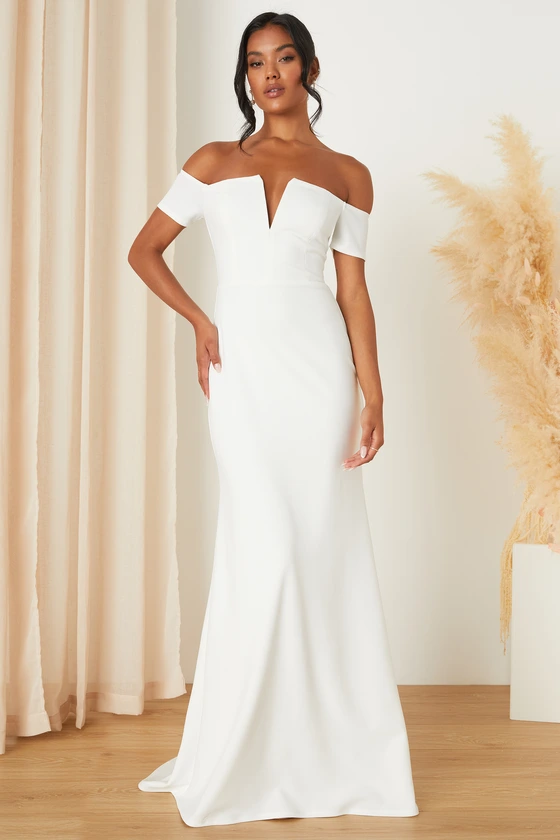 mermaid wedding gown, $99 via here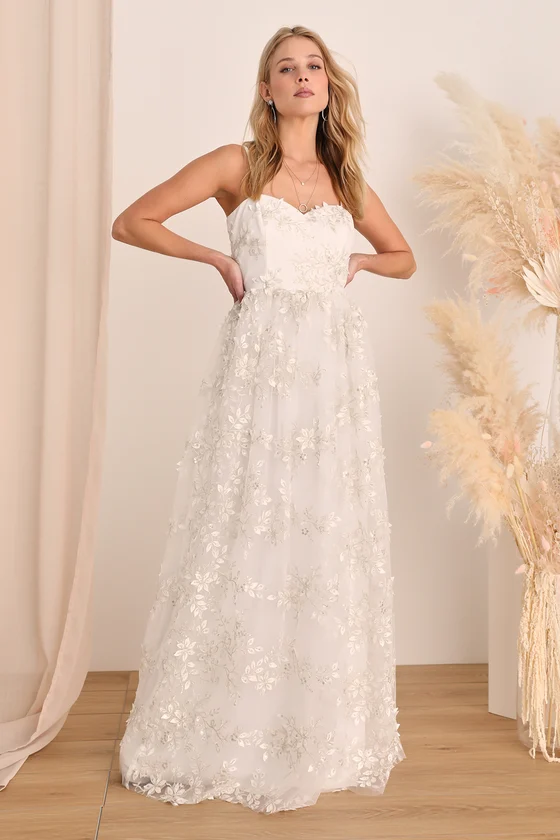 ivory applique gown, $145, via here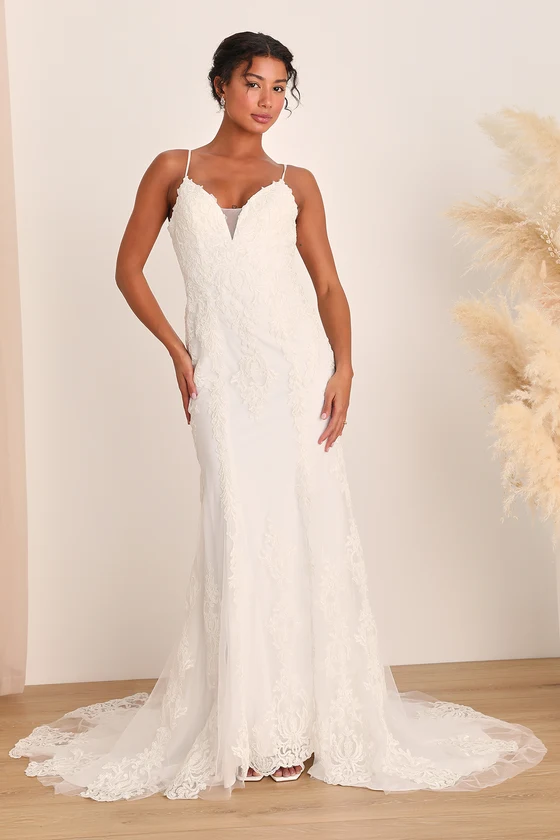 white embroidered lace gown, $462, via here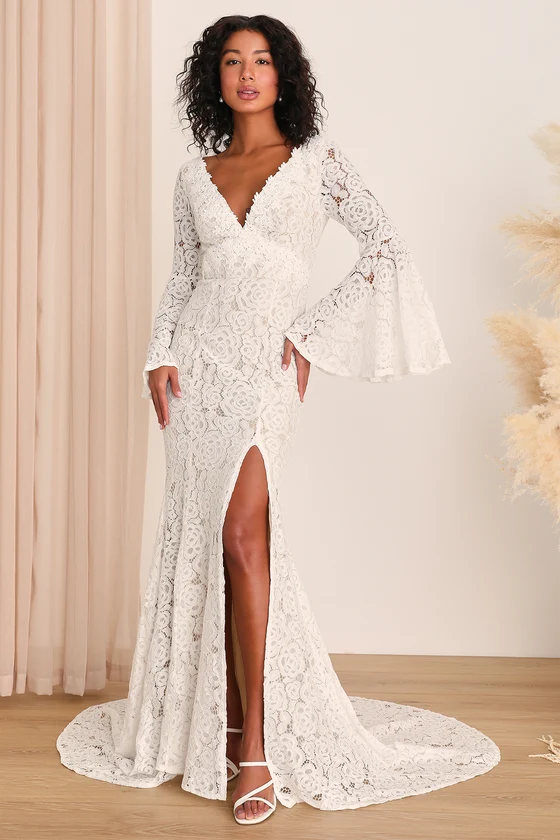 lace bell sleeve wedding dress, $182, via here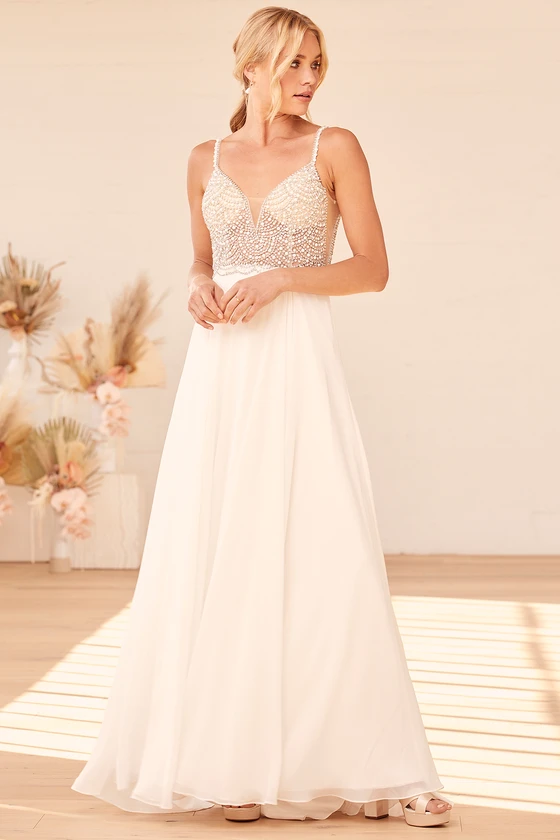 rhinestone bodice wedding dress, $276, via here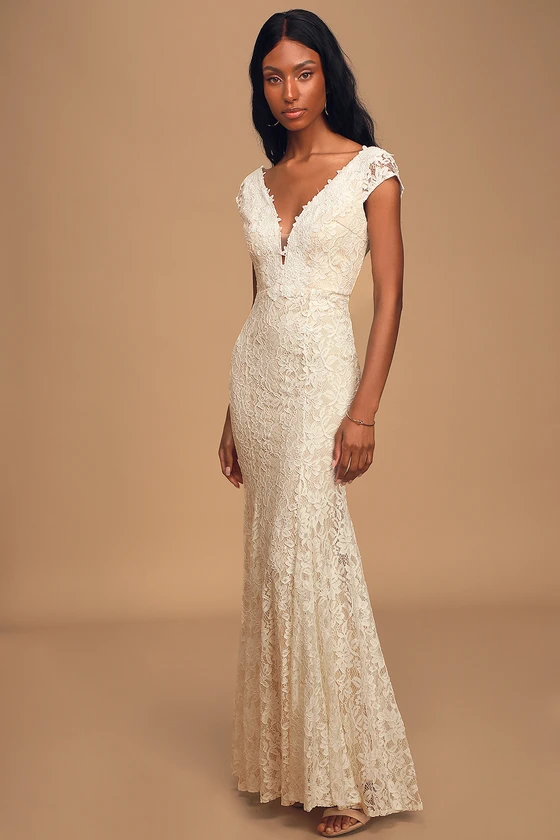 short sleeve lace wedding dress, $141, via here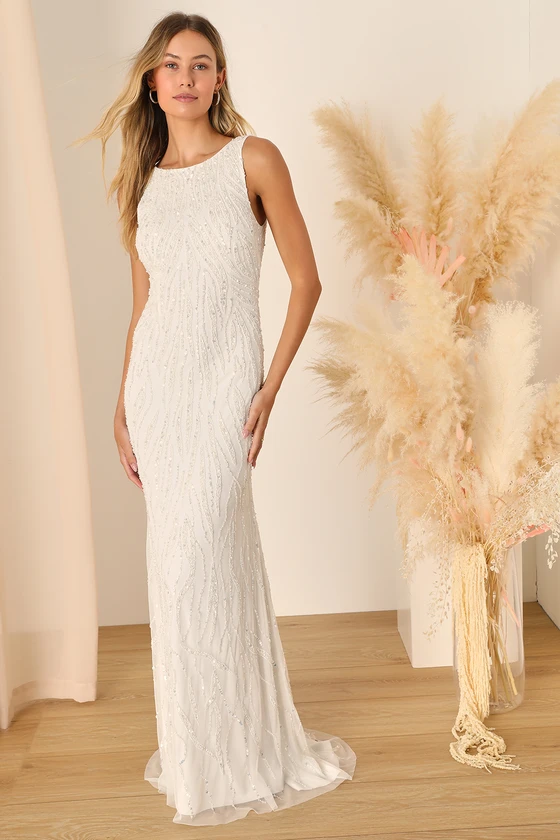 sequin backless high-neckline wedding dress, $286, via here
So, are Lulus wedding dresses good quality? I say yes! I wouldn't hesitate to recommend their affordable bridal gowns to everyone I know.
► Want to see more? Click here to shop top-rated dresses from Lulu's.
I hope it helps!
xo
Emma