The best bridesmaid gifts 2021 are HERE! Be sure to subscribe now for the latest posts to your inbox.
If you're looking for cool, unique, most-loved bridesmaid gift ideas for 2020 weddings, you've come to the right place!
Our popular bridesmaid gifts guide for 2020 is now updated with the latest + greatest presents for bridesmaids. And wow, the list has really expanded this year to feature lots of handmade, thoughtful, meaningful, and most of all — functional — bridesmaid gifts on the market. These are what YOUR BFFs are going to call the best bridesmaid gifts they've ever received; these non-cheese bridesmaid gifts are high-quality, custom-made, and handmade just for your bridal party attendants. We're including a wide range of prices, from luxury gift ideas to inexpensive bridesmaid gifts. There's something for every budget in this list!
So, check out the guide below and tell us which one is your favorite. Honestly, by taking the time to carefully select bridesmaid gifts they'll love, you're already rocking this whole "best bride ever" thing. :)
Let's get started!
Best Bridesmaid Gifts
Before we get started, a quick question + answer: why do you give bridesmaid gifts? And when are you supposed to give gifts to your bridesmaids? And HOW MUCH are you supposed to spend on bridal party gifts?
Ah, these are great questions!
For starters, bridesmaid gifts are given as a way to say thank you to your bridal party for standing up in your wedding. Presents are also given as a way to show your appreciation for the costs they've racked up (travel, a bridesmaid's dress, hair, and makeup costs, a bridal shower gift, time spent helping you, etc. really adds up!) and to show your sincere thanks for his or her friendship. (Yes, some men are becoming a part of the bridal party and can be a "groomsmaid", or Man of Honor. Here, there are no rules. It's your wedding, your way!)
When to Give Bridesmaid Gifts
Bridesmaid presents can be given to your bridal party either…
– at your rehearsal dinner, or
– on the morning of the wedding, while getting ready
If you're giving bridesmaid proposal gifts, those are different and are given when you ask, "will you be my bridesmaid?" You can find out more about those gifts here.
Here's an example of a "be my bridesmaid" gift (by PetalandPaperie):
buy here
Lastly, how much are you supposed to spend? That really depends on how much you're able to spend with your budget. And also, how much bridesmaids in your crew are spending on their end. For instance, are the bridesmaid dresses expensive? Do they need to travel? Are there many pre-wedding parties and festivities to attend? If so, spend a bit more. The most important part of buying bridesmaid gifts is to choose items that reflect their personalities. The gift(s) ought to be unique, functional, and make them feel appreciated.
With a gift, the best thing you can include for bridesmaids is a card with a handwritten note inside. They'll really love that. :)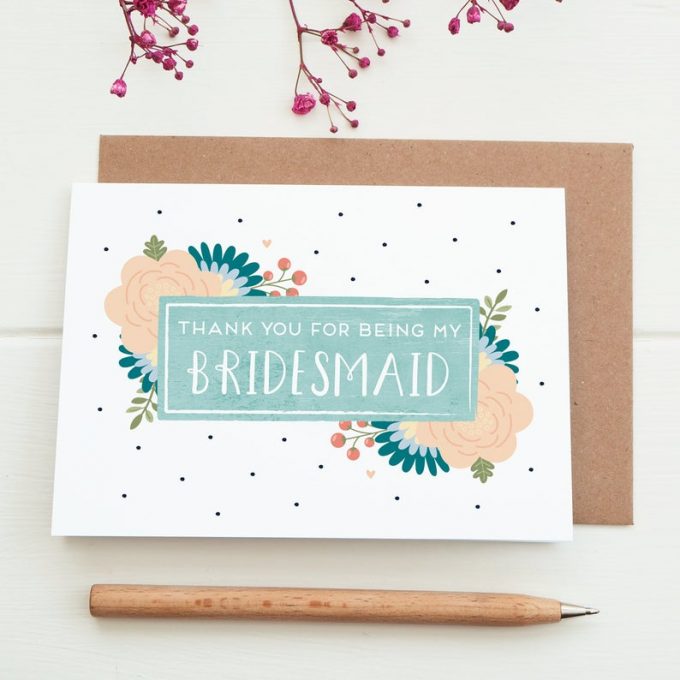 by joanne hawker
Now that you know why it is custom to give bridesmaid gifts and when to give them, along with how much to spend, let's go ahead and show you the best bridesmaid gifts 2020 weddings will bring!
Your crew will LOVE you for it. :)
1. Travel jewelry case for bridesmaids, $19.99
This travel jewelry holder is great for bridesmaids who love to travel or like to organize their jewelry in a small box for safe-keeping. What I love most about this jewelry case is the inside, where you can secretly place other small jewelry gifts, like rings or earrings, a necklace or bracelet. Cute idea! By ConfettiMommaParty.
buy here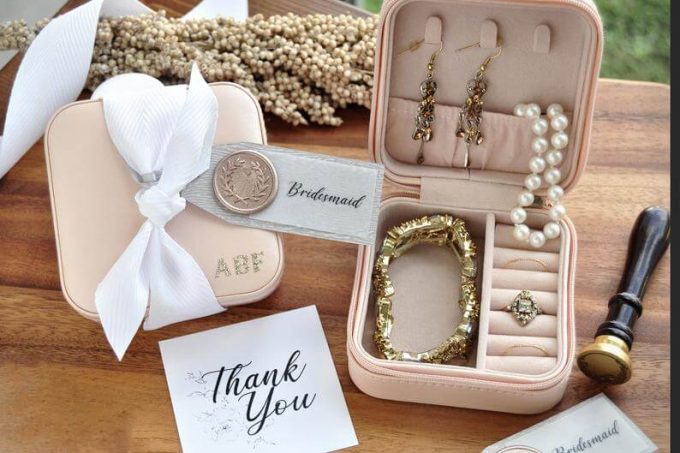 buy here
2. Satin bridesmaid pajama sets, $19.50 (on sale, normally $39)
This satin pj set looks glorious! It is available in a few color options, can be embroidered with your bridesmaid's monogram, and people love the option of shorts and short-sleeves for spring and summer weddings. A real win-win here, s can wear the pajamas in photos for getting ready on your wedding day, and continue to relax and lounge in them long after the wedding. By The Fancy Pigeon.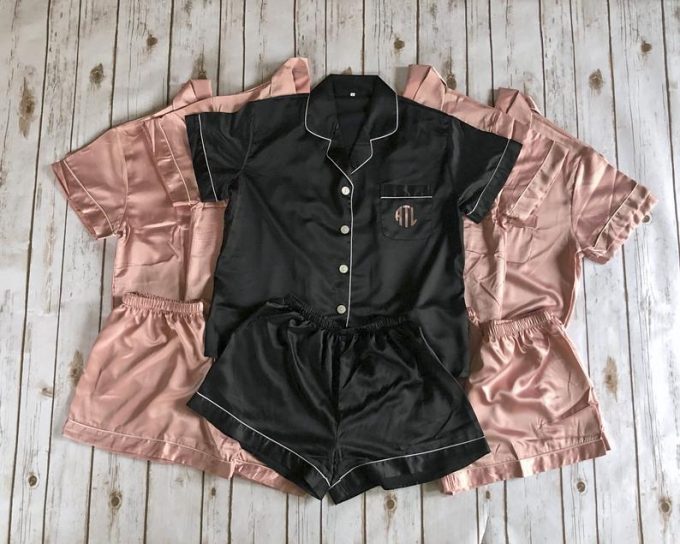 3. Personalized wine tumblers for bridesmaids, $16.99
The foil personalization on these tumblers is the icing on top of this functional bridesmaid gift: it's affordable, useful for fun pre-wedding festivities, and she can use it after the wedding. By BashHouse.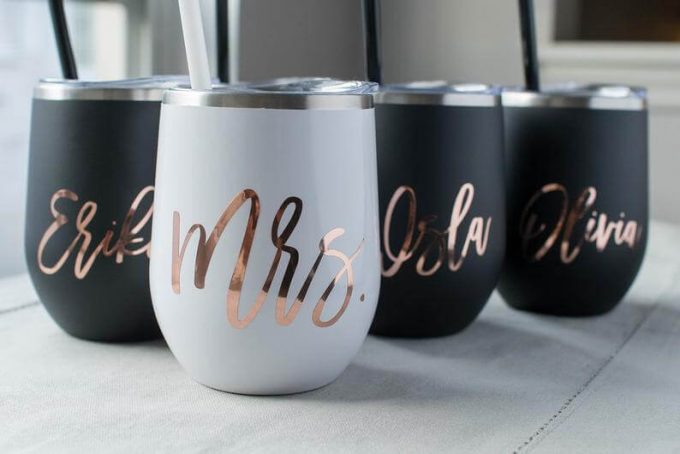 via here
4. This herkimer diamond ring, $84.99
At under $100, you can give a herkimer diamond ring to each of your besties, thanks to Gaia's Candy. This is one of my favorites in our best bridesmaid gifts list, aka I want one of my own, especially the aquamarine ring below. :) If you prefer the blue aquamarine ring instead, it's the same price — and just as WOW-worthy. Giving a BFF a gorgeous ring makes a very unique bridesmaid gift idea, one we really love for being so meaningful!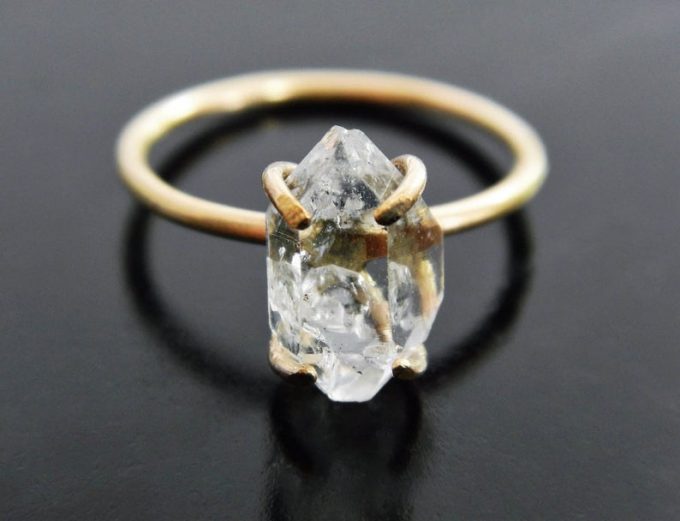 buy here
5. Bridesmaid clutch purses with flower brooches, $79
These are beautifully made clutch purses for your bridesmaids. Bridesmaids can carry these clutches instead of flower bouquets down the aisle which puts a fun and modern twist on your ceremony. Plus, these are totally unique bridesmaid gifts they won't already own. You can even have a special photo printed on the inside liner! By Eclu.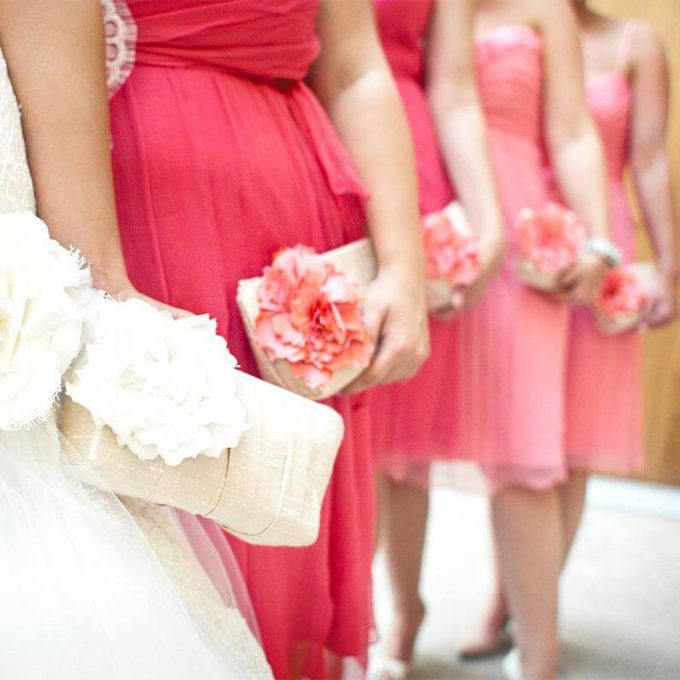 buy here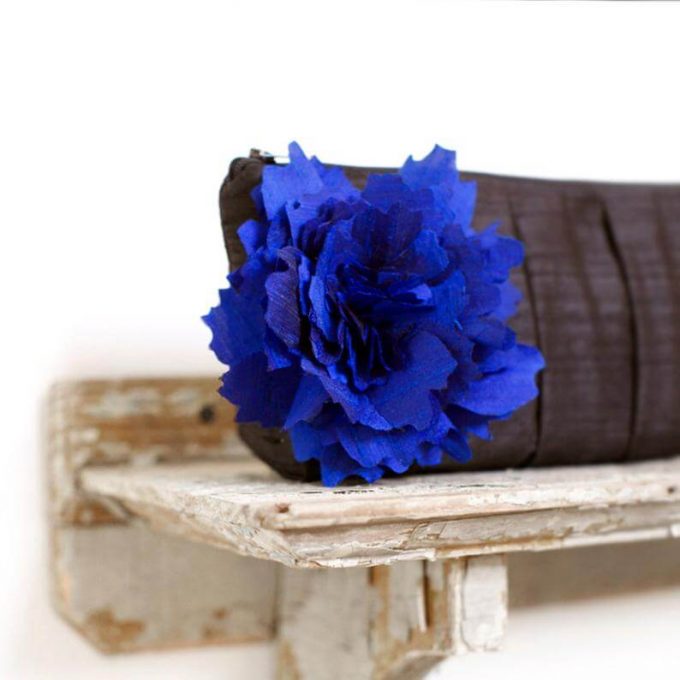 buy here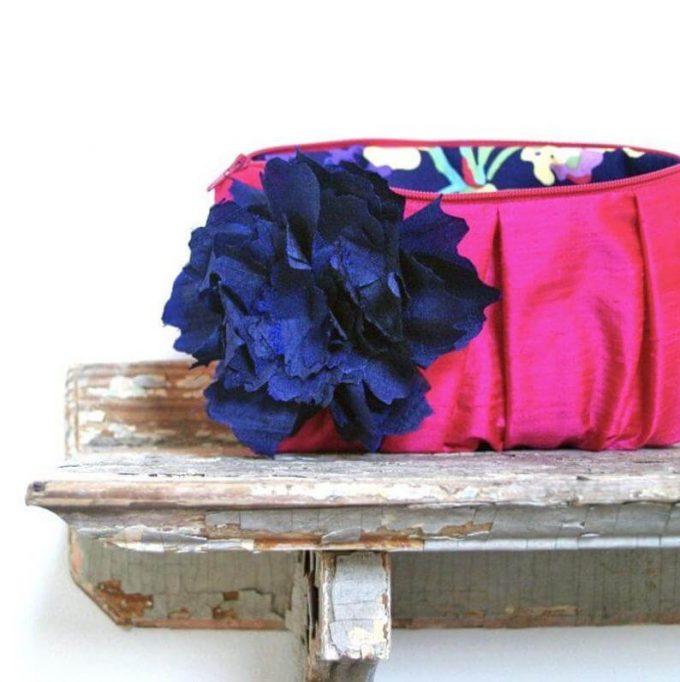 buy here
6. A personalized duffle/travel bag, $39-$69
A cute duffle bag she can take for travel! Fill it with other gift items inside from this list. She'll use this bag for adventures pre-wedding and beyond! The first design below is available in white, light pink, or black and is by LeRoseGifts.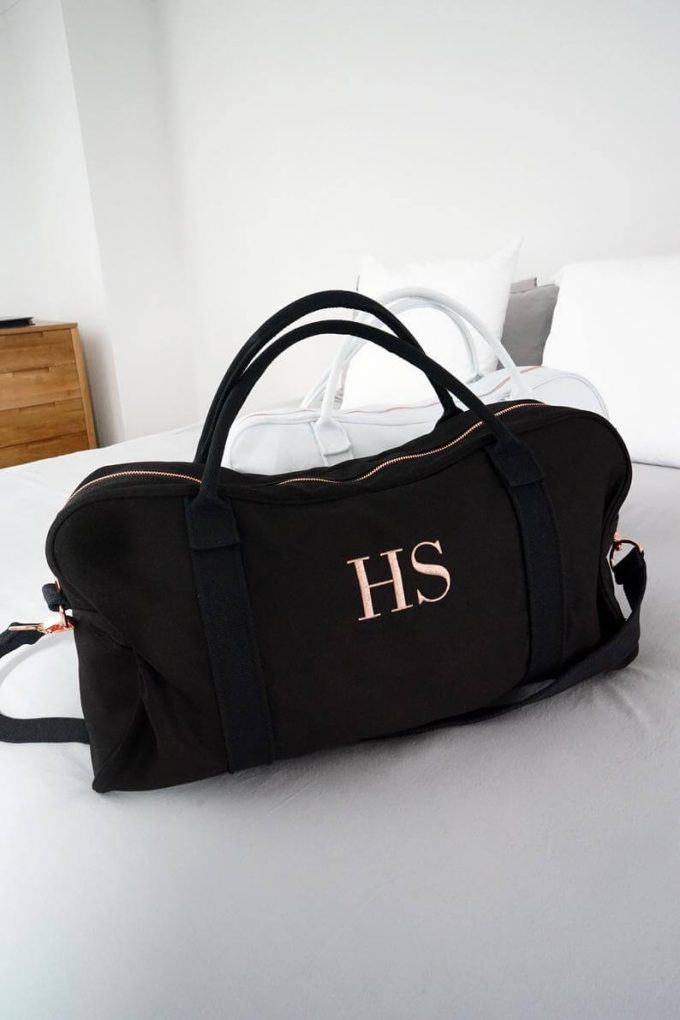 buy here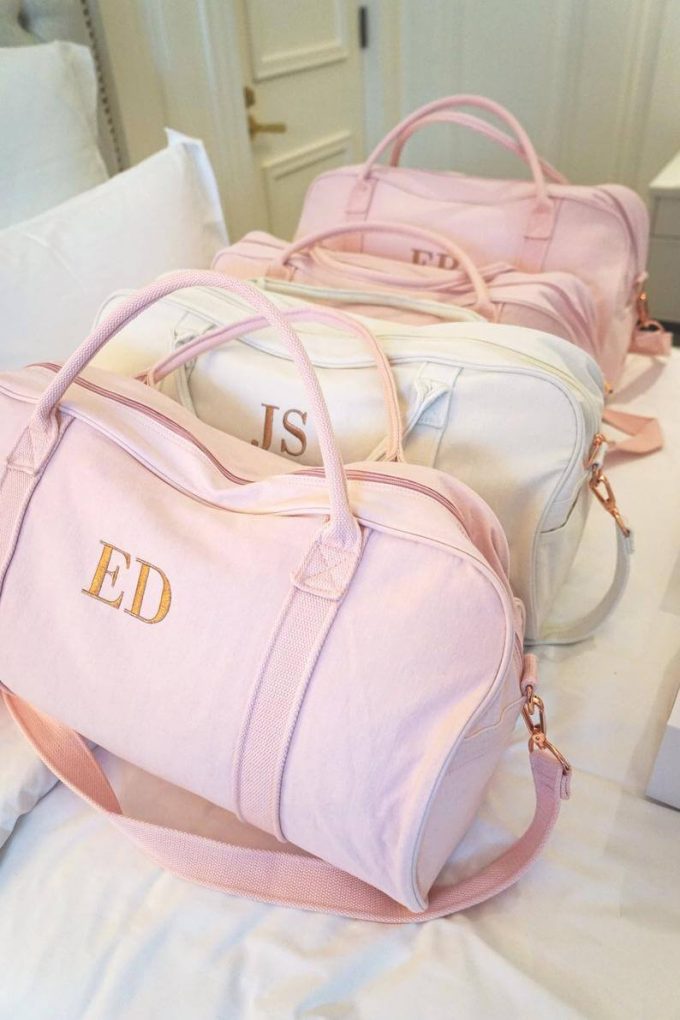 buy here
This other style (we also love!) features her initial on a leather square, leather on the handle, and a cute ribbon. By ConfettiMommaParty.
via here
7. Personalized sleep masks for your bridesmaids, $9.85
These lovely sleep masks are so pretty! They're great to wear while you sleep because it keeps your eyes from puffiness; they're also really cute and personalized with the names on the front. You've gotta get those forty winks, so you may as well wear a beautiful mask while you're at it! :) By JoyfulTidingsBridal.
via here
8. These cozy bridesmaid socks, $6+
A surprising new addition on the list of the best bridesmaid gifts: socks! A pair of socks may sound basic, but functional bridesmaid gifts are often those that are most-loved. Cozy, too! This pair of socks has bridesmaid written on the bottom. These inexpensive bridesmaid gifts are great and there's a pair for everyone: bridesmaids, the bride, mother of the bride, and mother of the groom! By KOYSARsocks.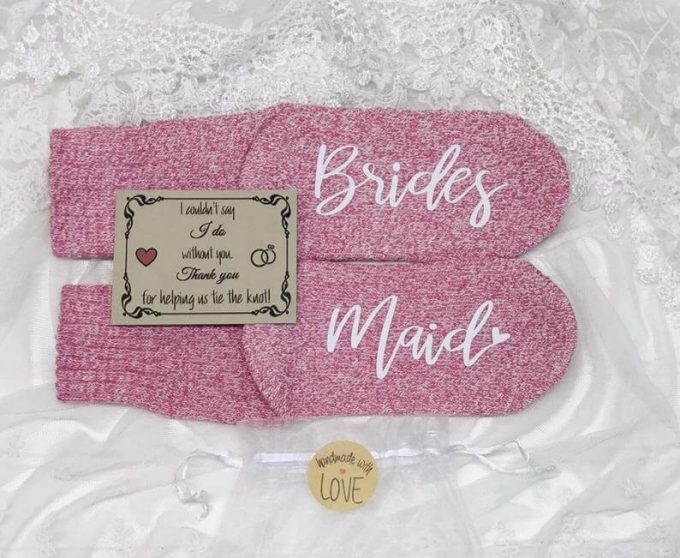 buy here
9. Mongrammed waffle robes, $254 for a set of 8
A waffle robe, personalized, is one of the most unique bridesmaid gifts. She'll love to wrap up in it for years to come. There are many colors available, too, and these are the nicest we've seen yet! By HeritageWedding.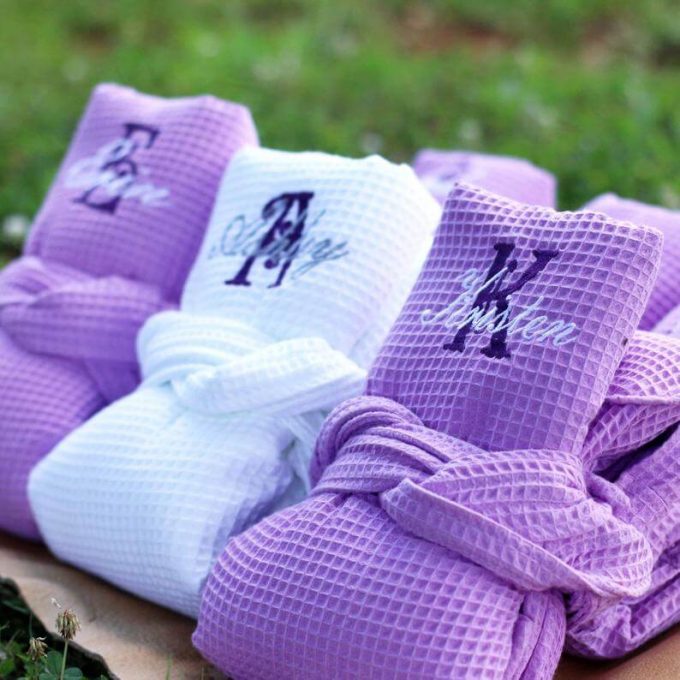 via here
10. Pashmina wraps for bridesmaids, $5
You cannot beat the price of these… plus, a pashmina wrap like this one is high-quality and there are so many beautiful colors available! This wrap is nice to wear on the wedding day to keep warm. Another functional gift idea on our best bridesmaid gifts list for 2020. By MiaKraftsShop.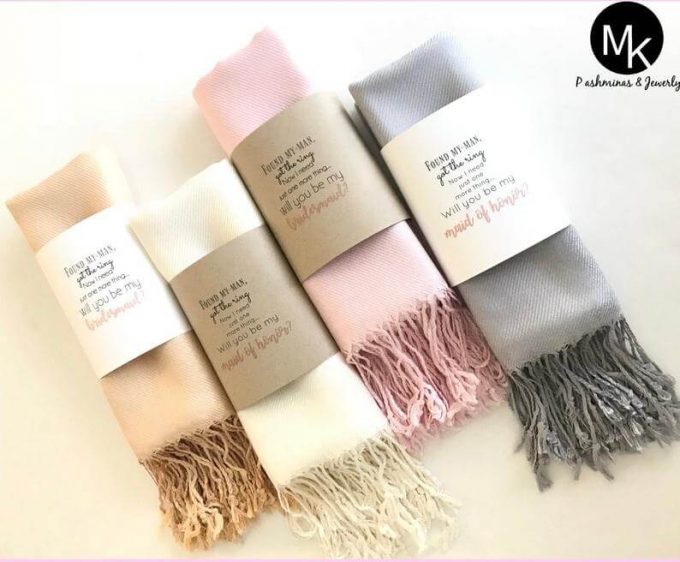 buy here
11. Camp mug, $22+
This enamel camp mug is perfect for the bridesmaid who craves camping and adventure! By ODYSEAstore.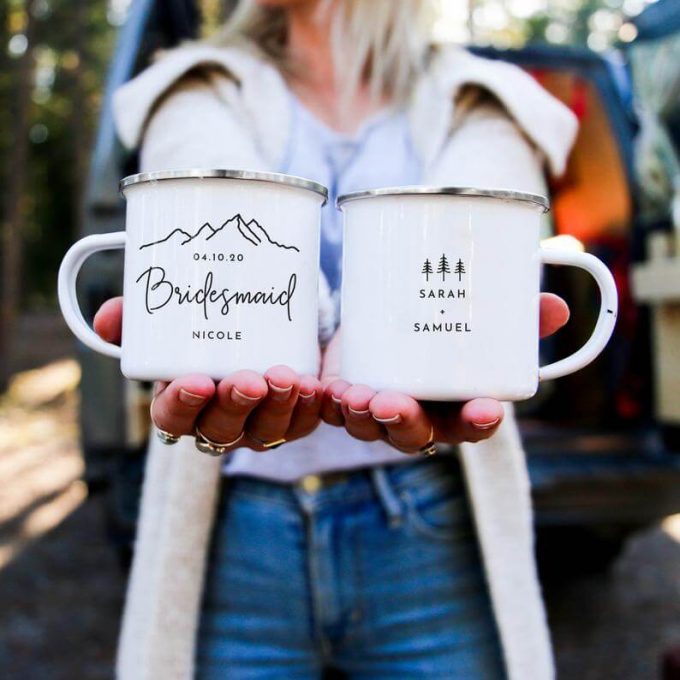 buy here
12. Stainless steel champagne tumbler, $10+
This tumbler is great for champagne! Take it to brunch for mimosas, toast to the bride on the bachelorette party weekend! By KGboutiqueDesigns.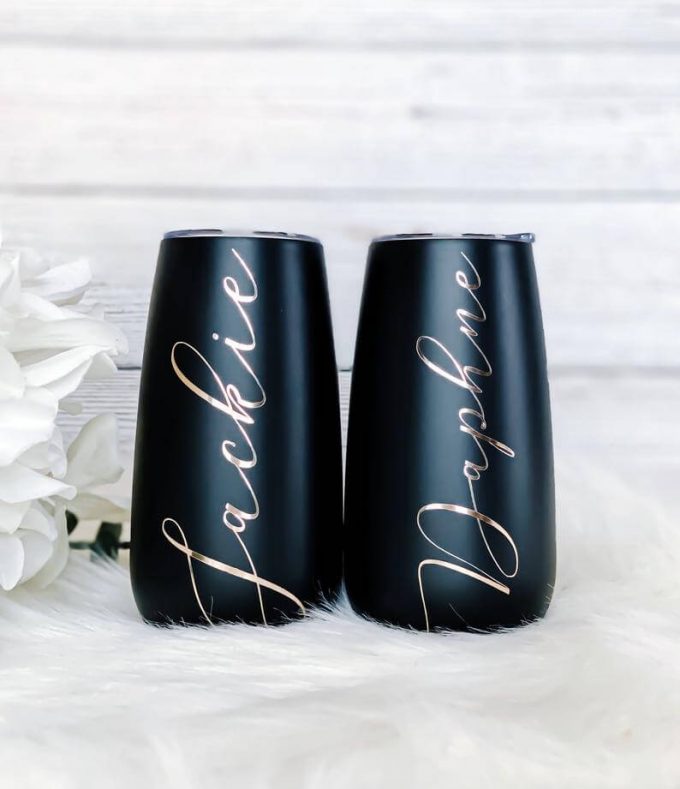 buy here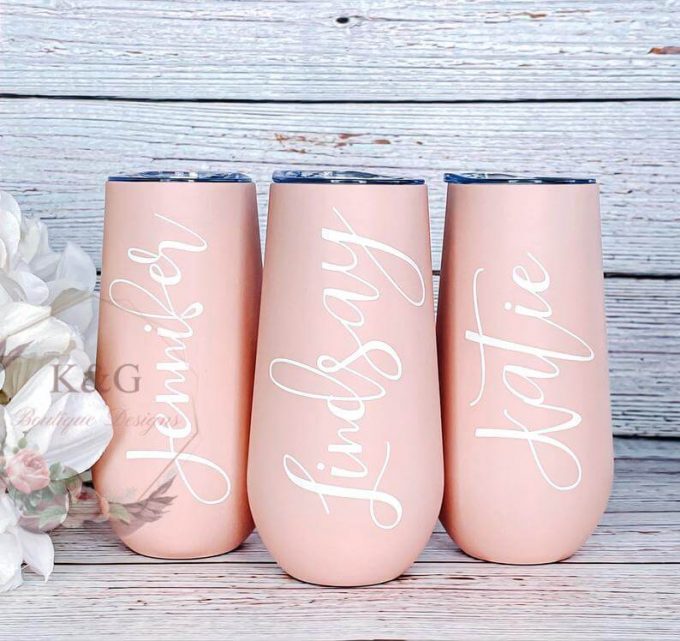 buy here
13. Tote bag with rope handle, $26.20
This cute tote bag is perfect for beach bachelorette parties or nautical themed weddings. I especially love the striped navy blue one (and that rope handle is perfection!) By ZoeEdenWeddings. As far as function goes, this is one of the top choices on our list of best bridesmaid gifts; who doesn't love a new tote bag, especially with spring and summer weddings around the corner?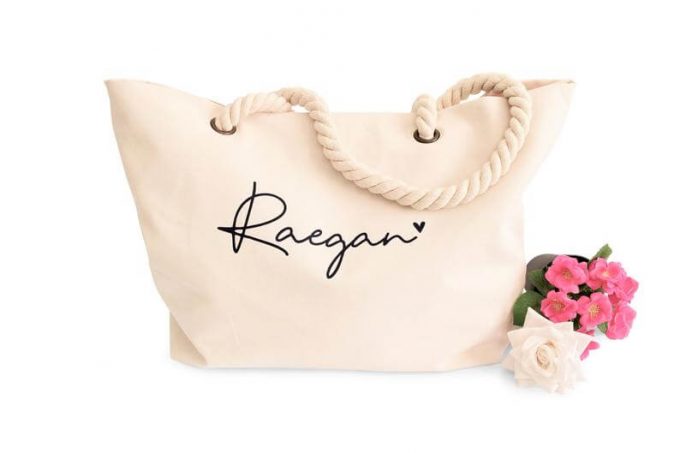 buy here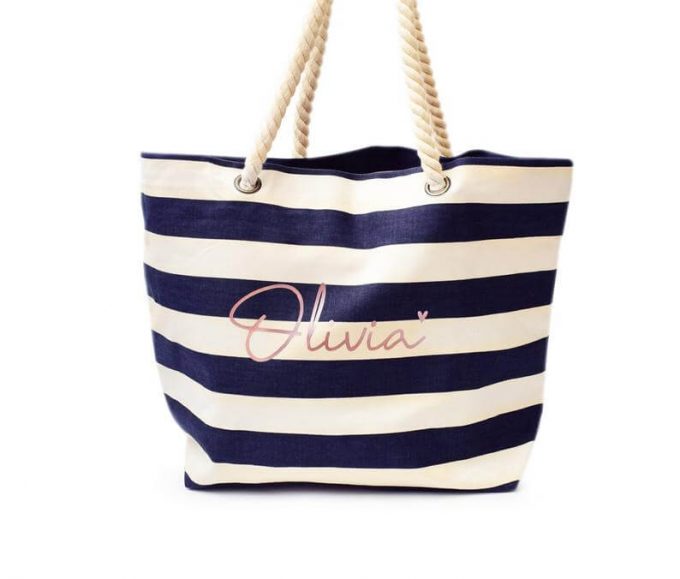 buy here
14. Personalized luggage tags, $4.75+
Crave adventure? These wanderlust-loving luggage tags are perfect. Perfect gifts for bridesmaids who love to travel. By Letter and Leather.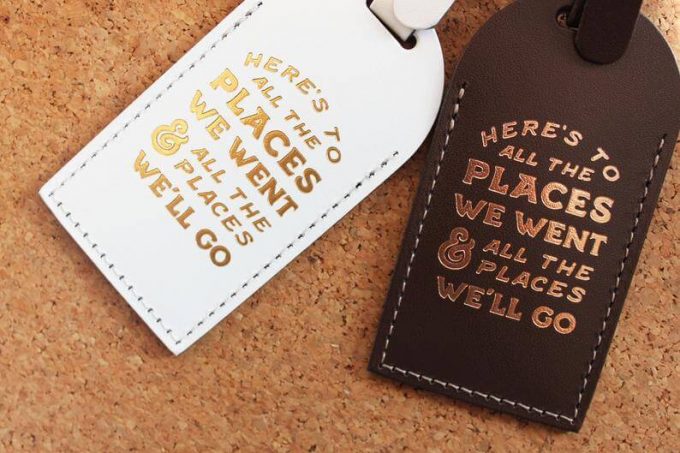 buy here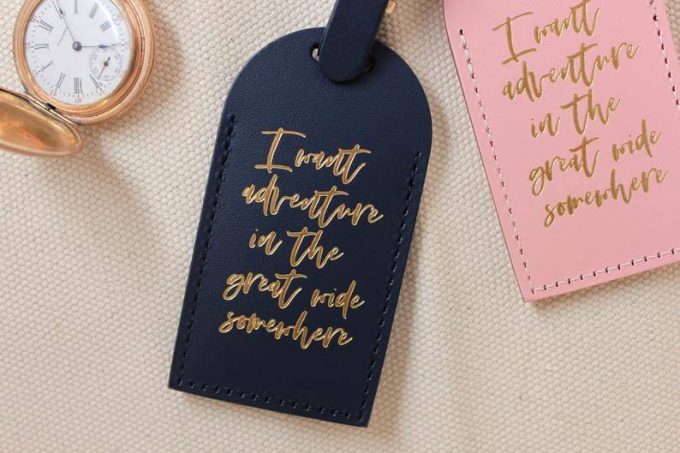 via here
15. Bridesmaid ring dish, $17
A cute place to keep her jewelry — bonus points for the personalization! By The Painted Press.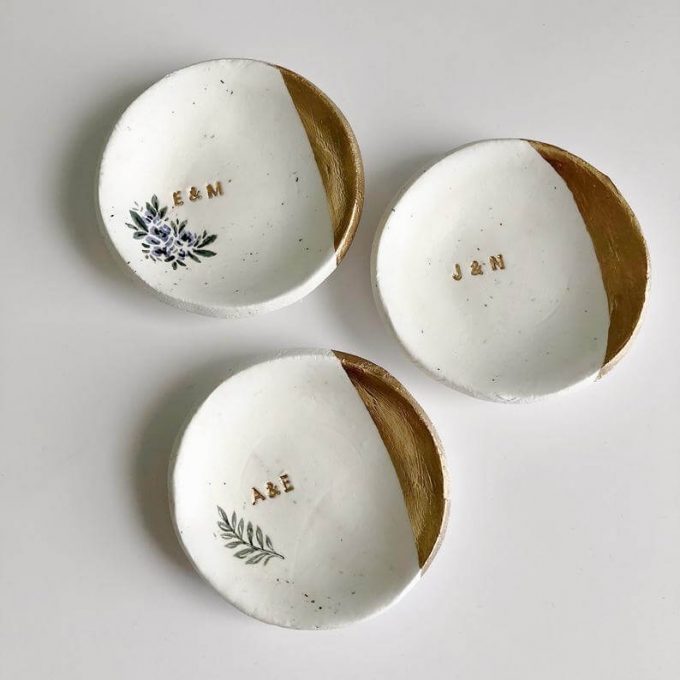 buy here
16. Stackable name ring, $21
Adorable! Personalize the ring in any name. By IvoryMr.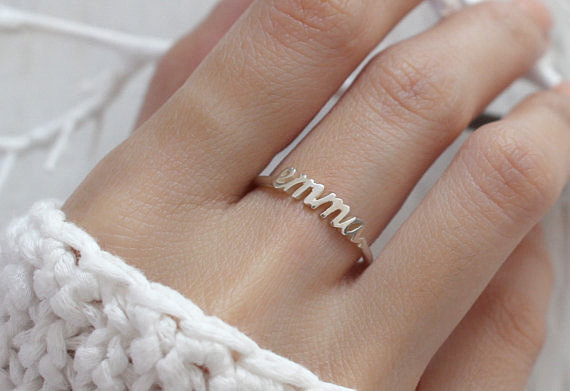 by ivorymr
17. Personalized cuff bracelet, $130
A gorgeous, thin cuff bracelet with her name engraved on the front; stackable, lovely, and plated in 14k gold. By Capsul Jewelry.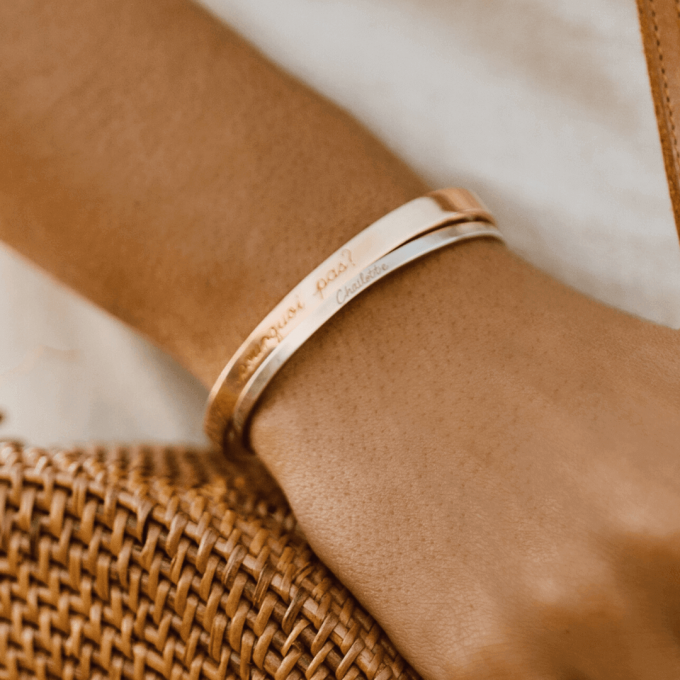 buy here
18. Personalized makeup bag, $14
A beautiful, personalized makeup bag for your bridesmaid! Fill it up with your favorite makeup gifts. By Mama Bleu Designs.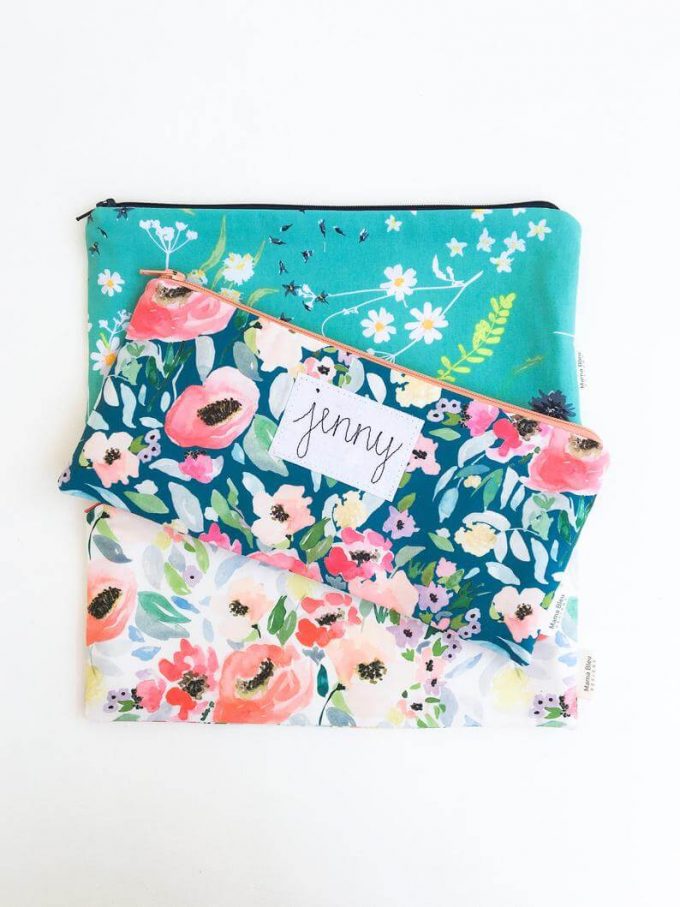 buy here
19. Initial stud earrings, $48
These are lovely! This is the best bridesmaid gift idea for minimalist jewelry lovin' ladies. By G.Smith Jewelry.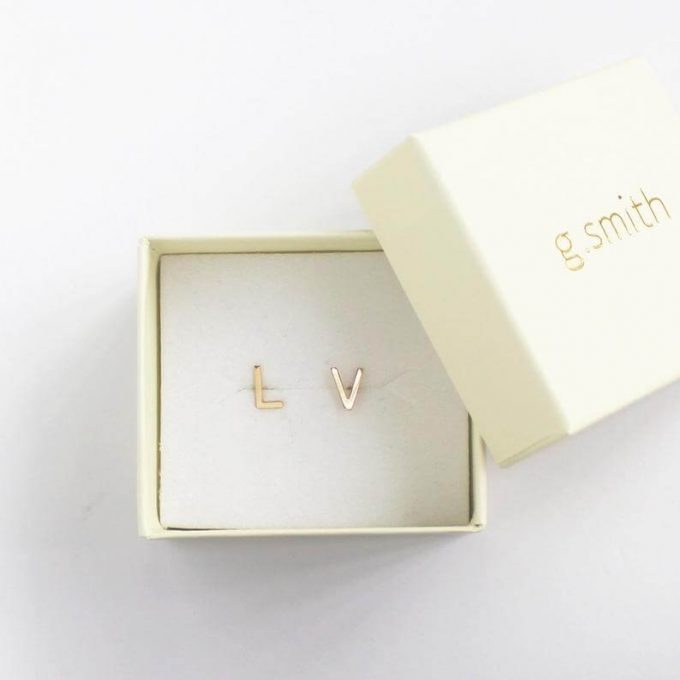 buy here
20. Leaf earrings, $41
These are simple, sweet, and they go with everything. By Burnish.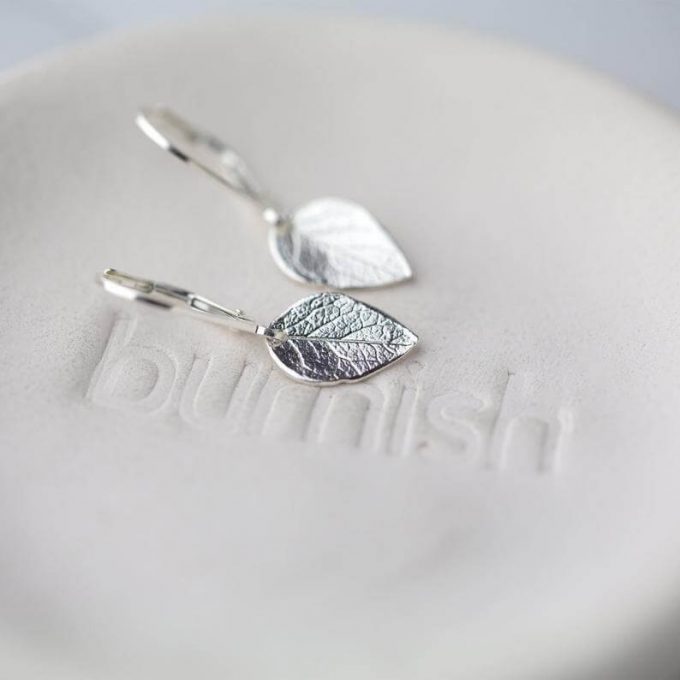 by burnish
21. Custom initial necklace, $35
I love this unique bridesmaid necklace! It's amazing for layering or wearing as-is. By GracePersonalized.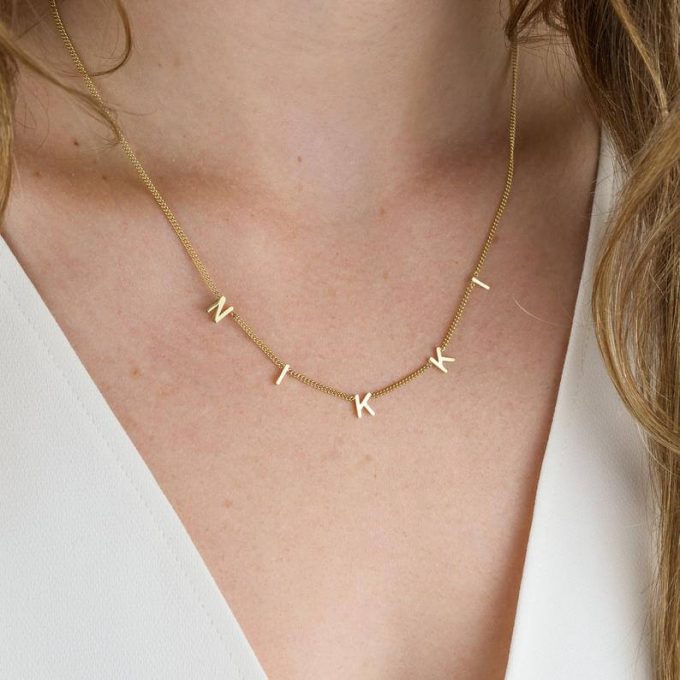 buy here
If you want the diamond version, this luxury initial necklace by RimonFineJewelry is a gorgeous luxurious gift!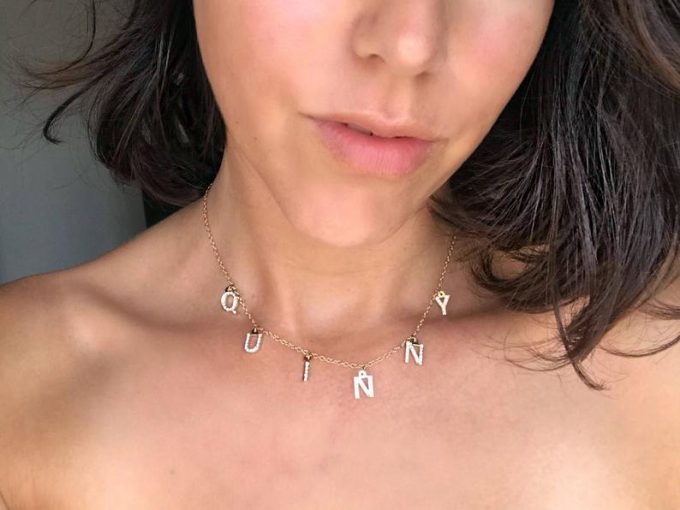 buy here
22. These ultra-gorgeous stacking rings with gemstones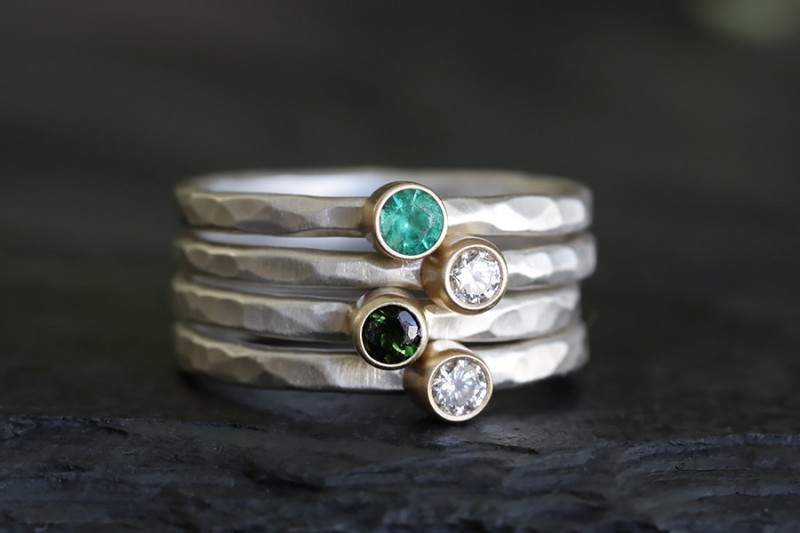 by andrea bonelli jewelry
23. One of these cute state necklaces
For showing your state pride! By The Folk.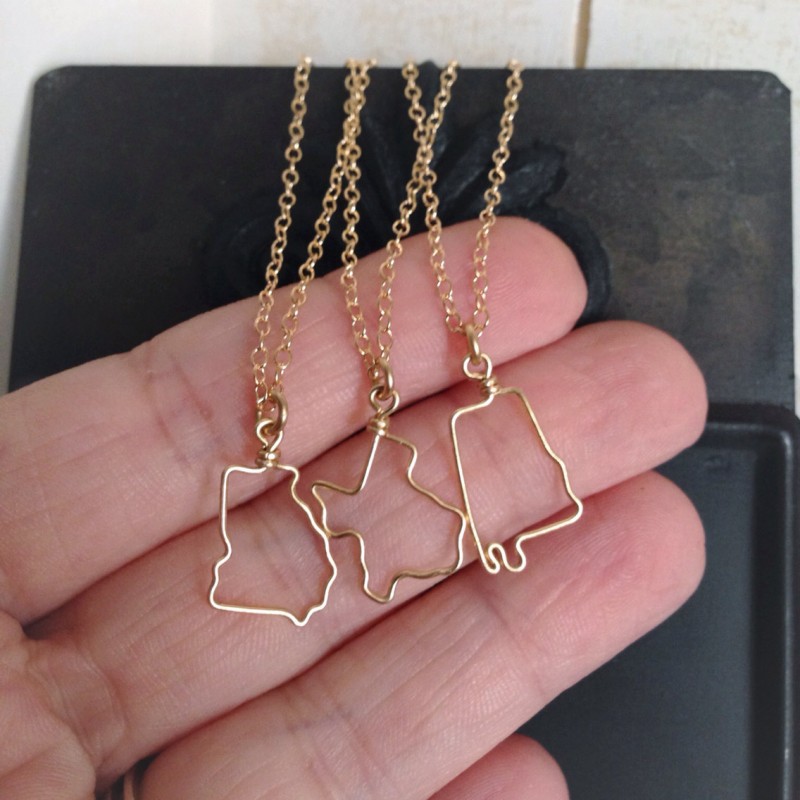 by the folk
24. Custom bridesmaid wine glasses, $25
These are so beautifully made! By Pastinshs.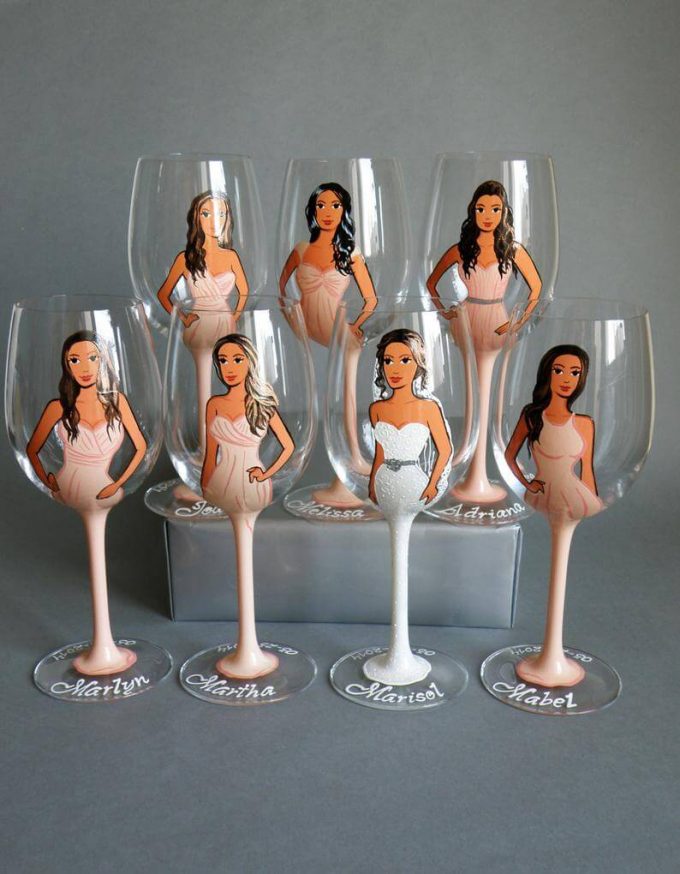 buy here
25. Personalized bridesmaid tote bag, $22
These personalized tote bags are incredible. By ConfettiMommaParty.
buy here
26. Floral robes, $12.75
These robes are adorable! They're great to wear when getting ready before the wedding with a cute tank; amazing as comfy loungewear after the big day! By EllaWinston.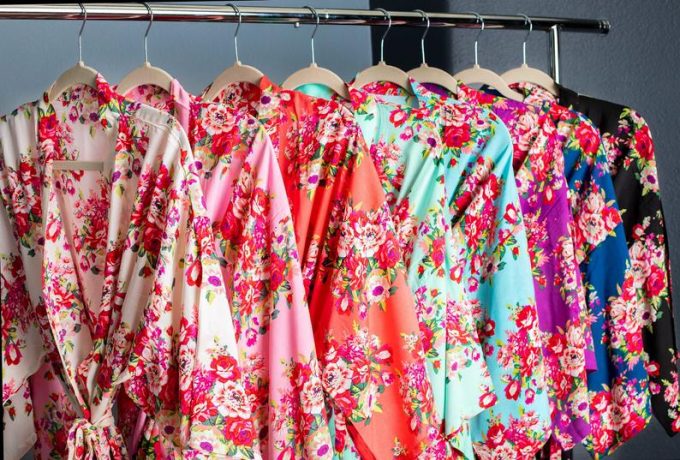 buy here
27. This lace statement necklace, $45
By Ava Hope Designs.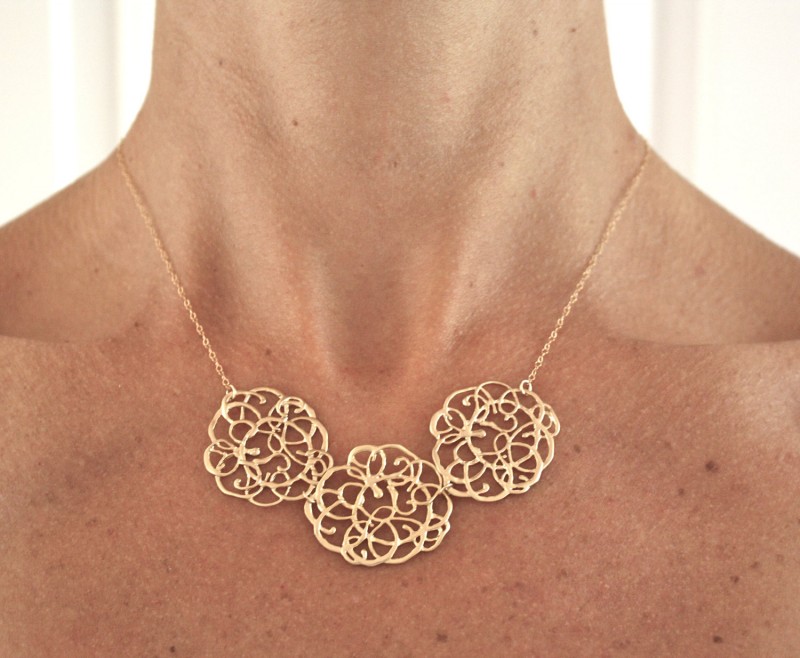 by ava hope designs
28. Cozy bridesmaid sweatpants, $34
Give the best bridesmaid gifts 2020 weddings really want: comfy sweats to wear after all the wedding stuff! ;) I know I love to put on a pair of sweats immediately when I get home. But I've never had a pair of sweatpants with my name on them, especially pairs that look so cute like these — see them at Sister 9 Designs.
29. This bridesmaid gift box, $35
We love these spa gift boxes by Little Flower Soap Co. They make lovely, custom and unique bridesmaid gifts.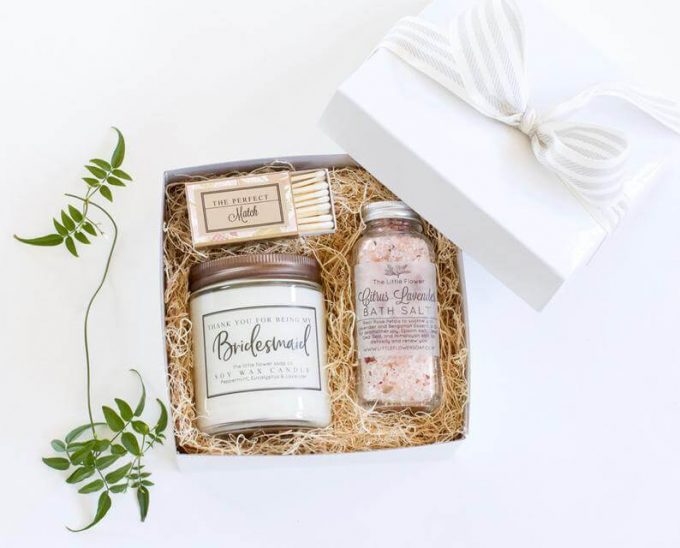 buy here
30. Personalized glass champagne flutes, $7.22
You can't find a prettier champagne flute with personalization than these! This is our most custom gift in our list of best bridesmaid gifts 2020. In addition to the champagne flute featuring her name on it, it also has her title! By TheFizzyMermaids.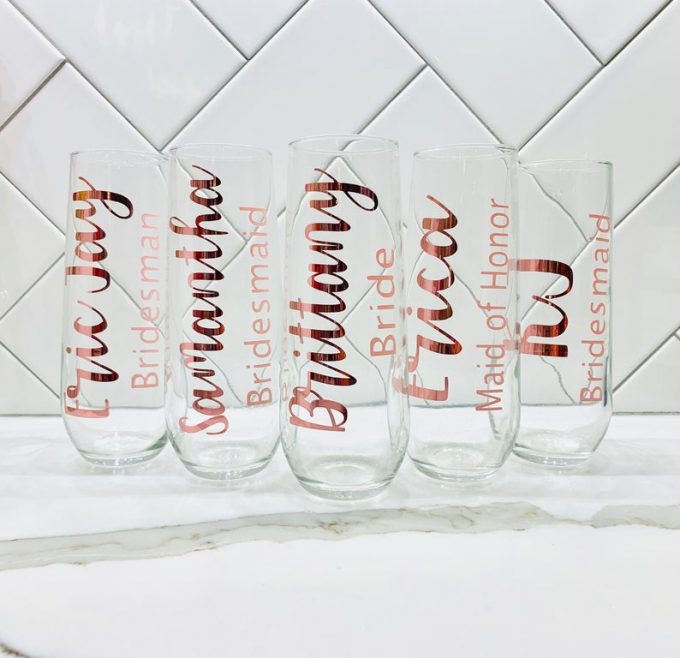 buy here
31. This personalized gold bar necklace
Hand-stamped just for her. By Vintage Stamp Jewels.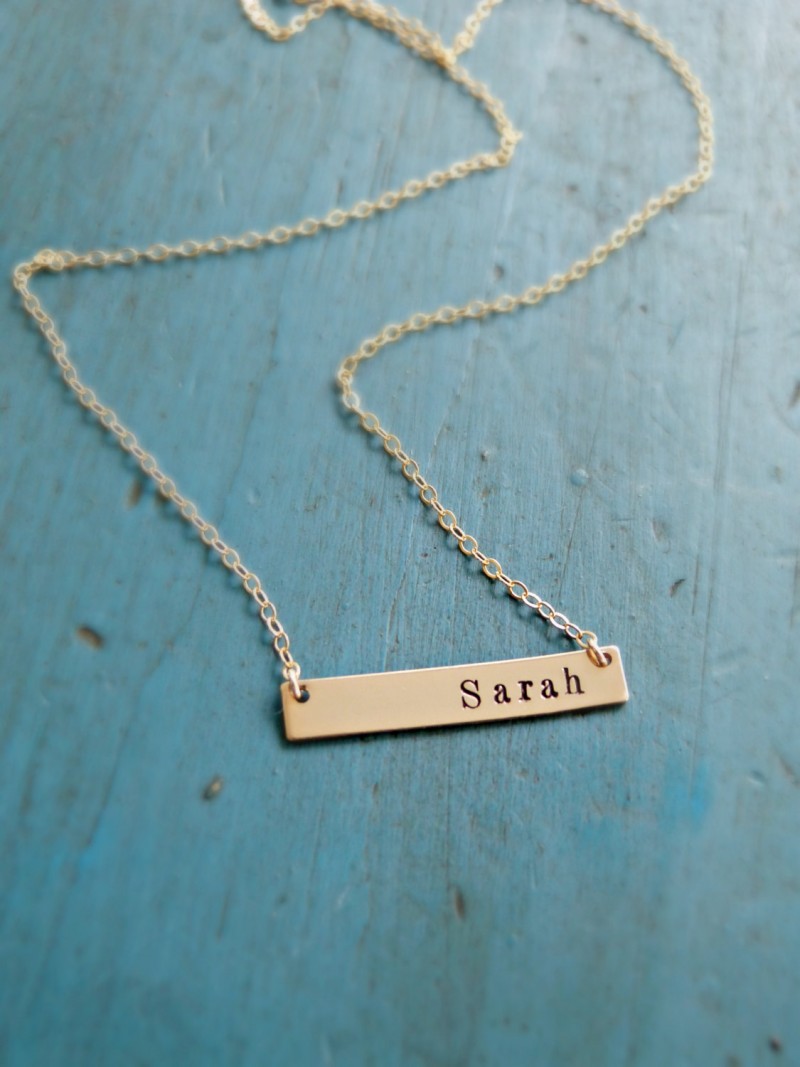 by vintage stamp jewels
32. These cute bow earrings with pearl accent, $39.99
These bow earrings feature a dainty pearl accent, perfect for weddings. By Jacaranda Designs.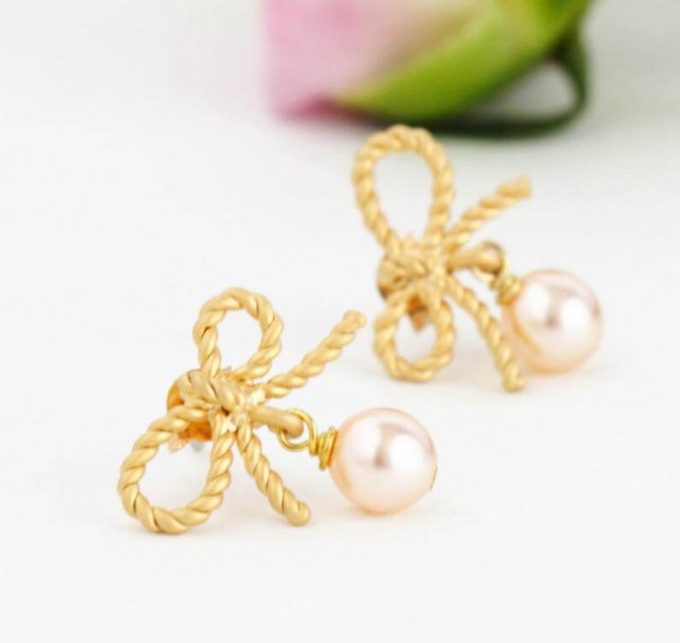 by jacaranda designs
33. This cuff bracelet with message inside, $27.95
It reads, "Side by side or miles apart, friends are always close at heart". By D and L Designs 4 U.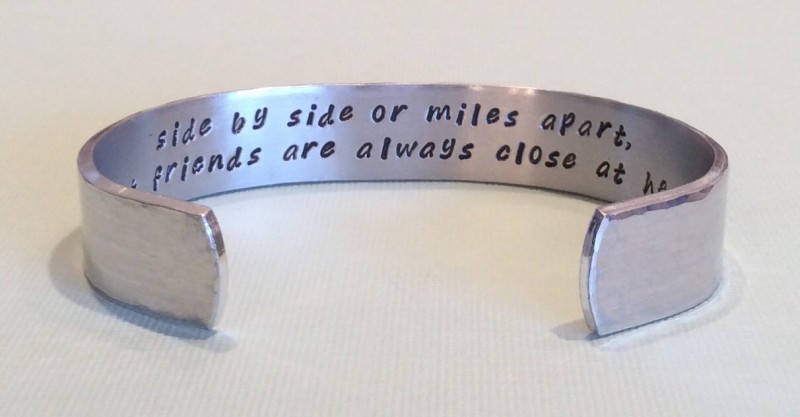 by d and l designs 4 u
34. These rose gold druzy earrings, $40
Who doesn't love shimmery, shiny druzy? This is a glamorous bridesmaid gift and one of the most popular bridesmaid gifts in 2020. By Constance Earth Stones.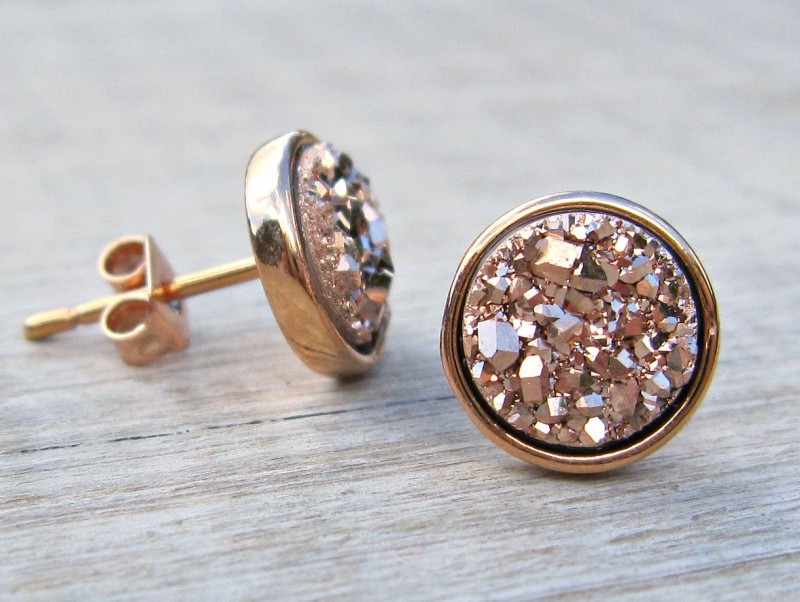 by constance earth stones
35. Cozy plush scarf with monogram, $10
Buy JoyfulTidingsBridal.
buy here
36. Hanging toiletry bag, $19.98
Functional bridesmaid gifts continue to reign in 2020 and this hanging toiletry bag is all of that and more! It is a great way to travel with your must-have toiletries and hangs on a towel rack or bar in the hotel room for easy access. It is made in the color of your choice and even features embroidery. By Joyful Tidings Bridal.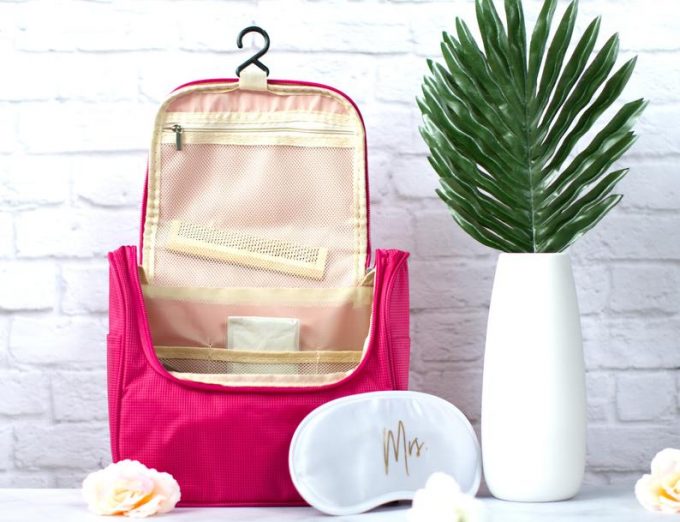 buy here
37. These ring dishes with bridesmaid dress and name, $14.95
These unique bridesmaid gift ideas continue to be a popular choice: the dress is customized to coordinate with your wedding and the price is UNDER $15! Amazing. By Say Your Piece.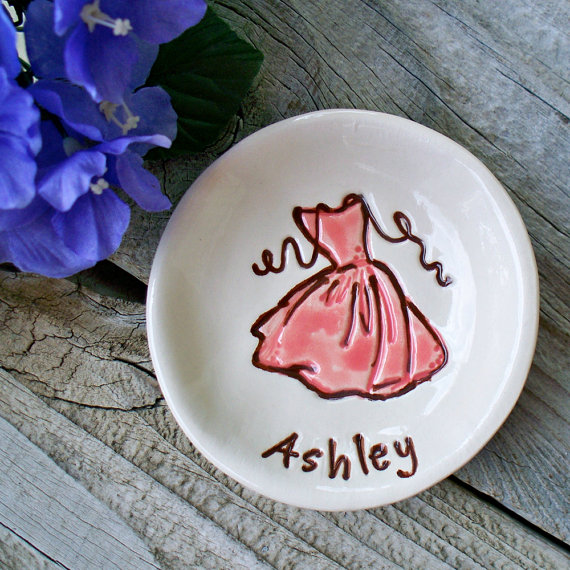 by say your piece
38. These personalized bridesmaid dress hangers, $14 each
These hangers are a really fun way to display your bridesmaid dresses! Handmade by GetHungUp.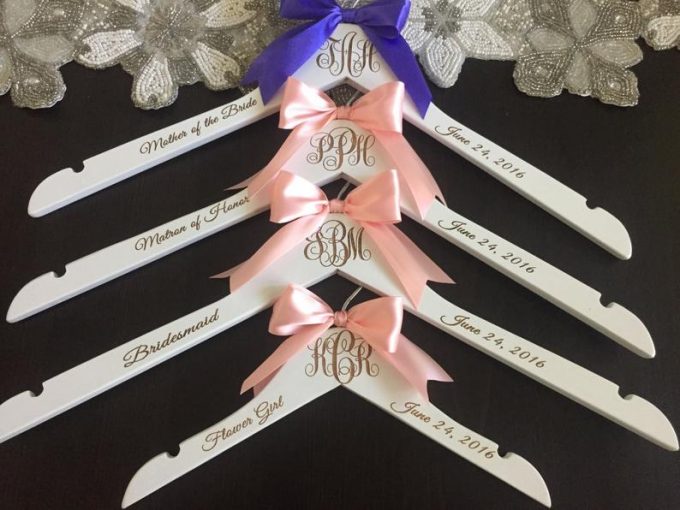 buy here
39. These cute and personalized handkerchiefs, $118 for set of 5
For happy tears! By Aristocrafts.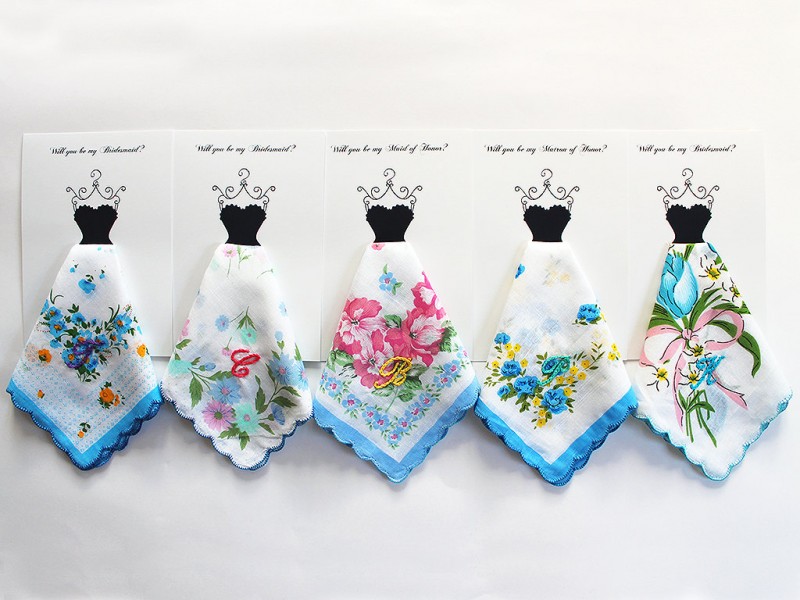 by aristocrafts
40. A custom wood photo frame
It features the bridesmaid dress design, bridesmaid's name, and wedding date wood-burned in the side. By Prince Whitaker.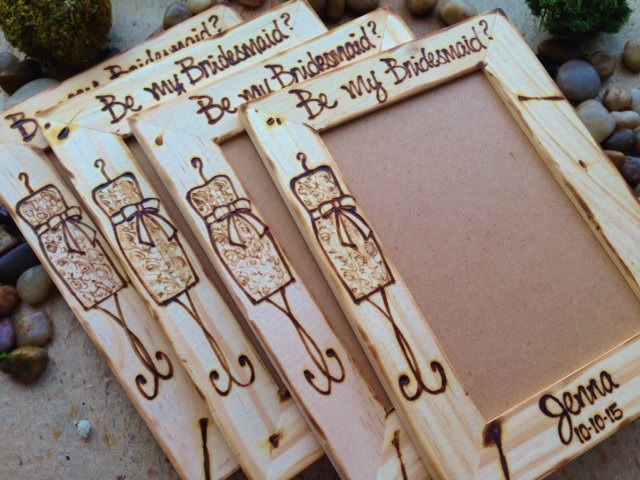 by prince whitaker
41. These personalized champagne flutes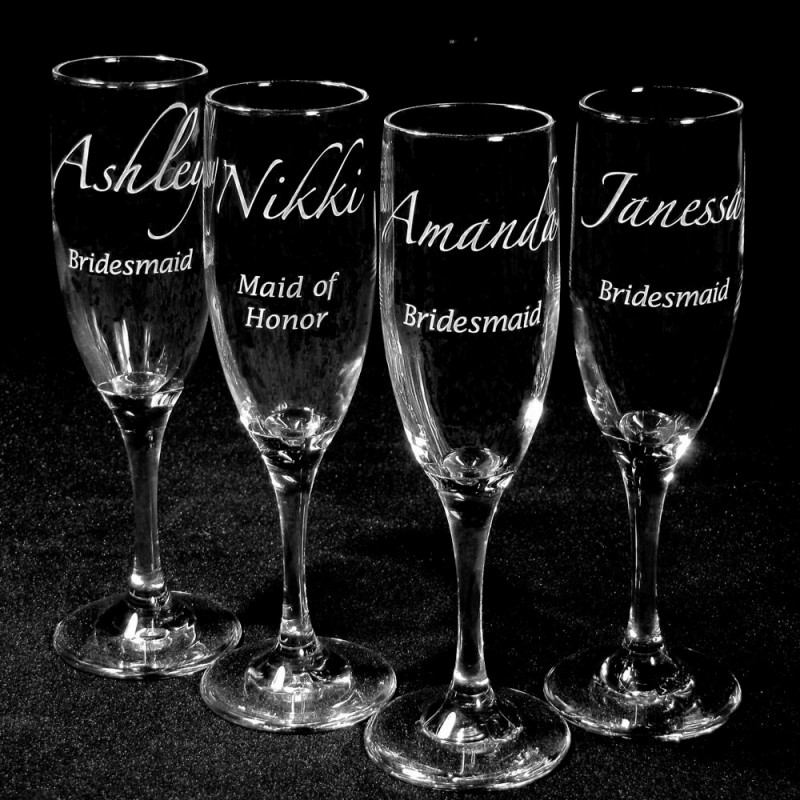 by brad goodell
42. These cute bridesmaid pajamas, $35
On our list of best bridesmaid gifts: pajamas! And these boomed last year yet continue to rise in popularity for 2020 weddings. These pjs look comfy, cozy, and they're totally flattering. See them here/a>.
You can even add custom coordinates on the back! By Mignon and Mignon.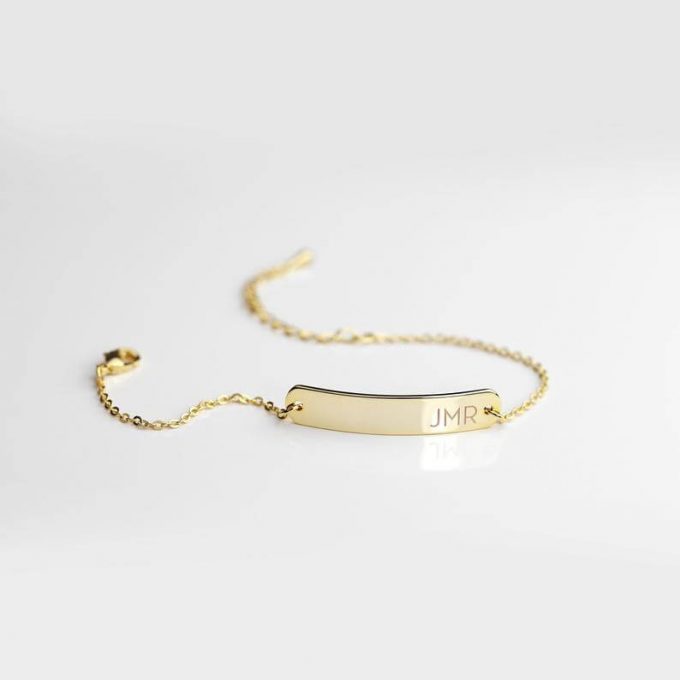 by mignon and mignon
44. This cute script-y coffee mug, $9.99
A sweet and simple bridesmaid gift for her favorite cup of coffee or tea. By MJ's Bridal Support.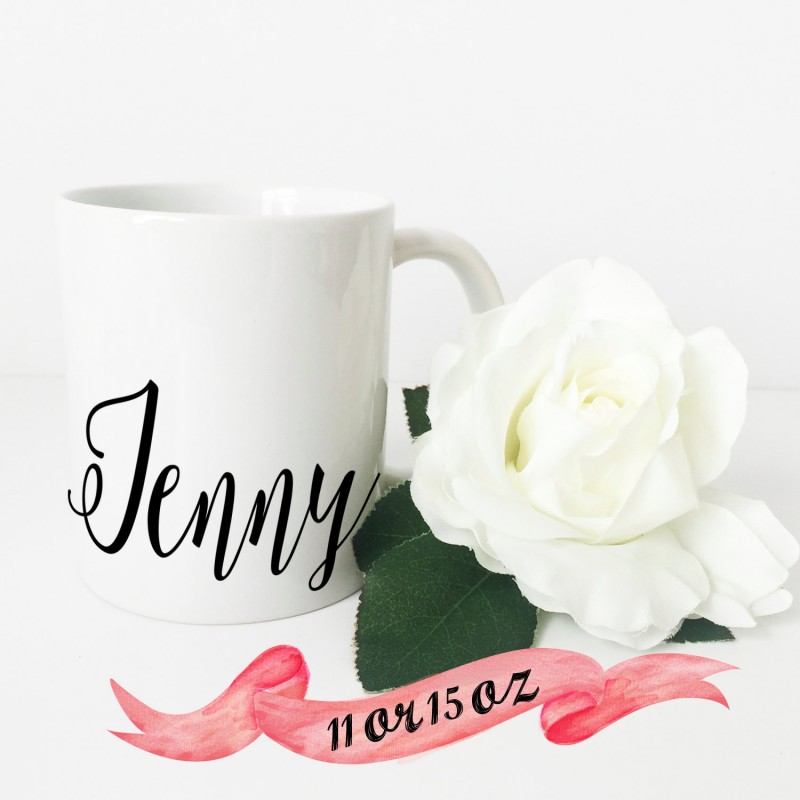 by mjs bridal support
45. These adorable personalized wine glasses, $9
These are amazing! By FoxblossomCo.
buy here
46. Bridesmaid flats, $14
Give your bridesmaids pairs of comfy, cute shoes they can wear on the wedding day and beyond! Buying the shoes for your bridesmaids to wear is a great gift idea; in addition to the shoes, another popular gift idea is to pay for the bridesmaid dress, or the hair and makeup sesh before the ceremony. You can get foldable flats by Cinderollies.
47. These pretty satin robes, $17
For getting ready on the wedding day and beyond. These are unique bridesmaid gifts because they even have her name on the back! Cute detail; by The Fancy Pigeon.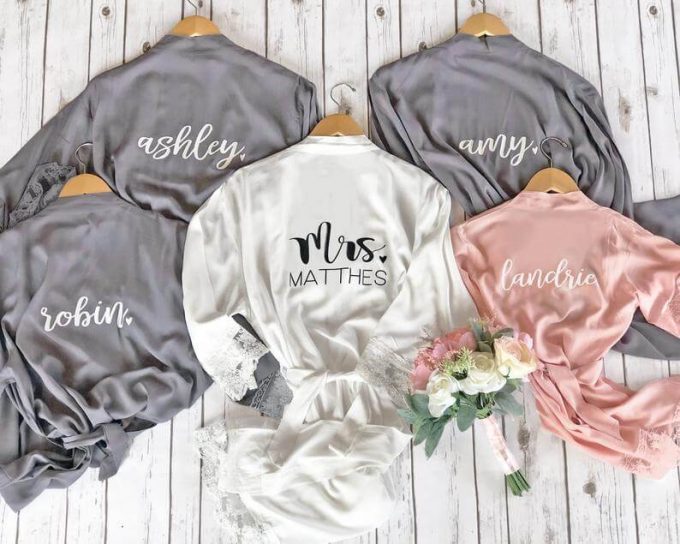 buy here
48. This pretty locket with engraving on the inside, $50+
You can even have a photo pre-loaded into it! By The Blooming Thread.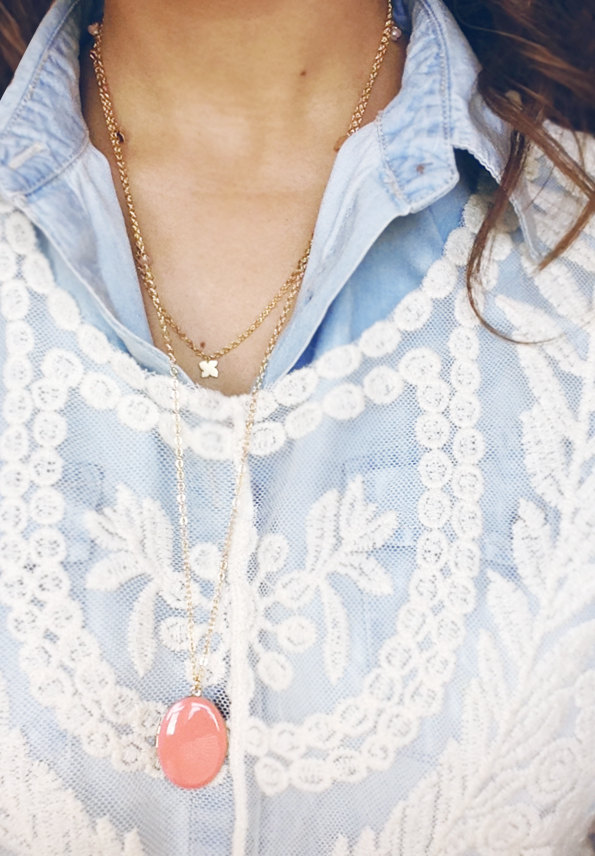 buy here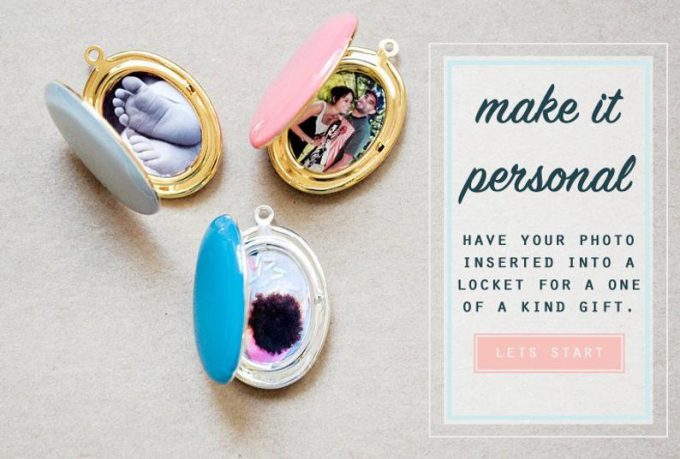 buy here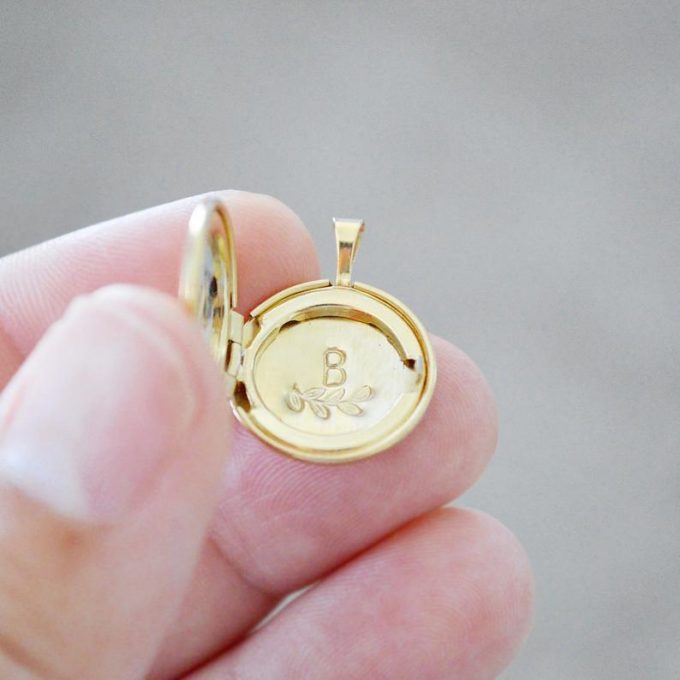 buy here
49. Friends since… bracelet, $49
These custom bracelets are a sweet idea, as they feature an initial tag and a tag with a year on it. Include the year you met your bridesmaid or maid of honor. By Georgie Designs. See the listing here.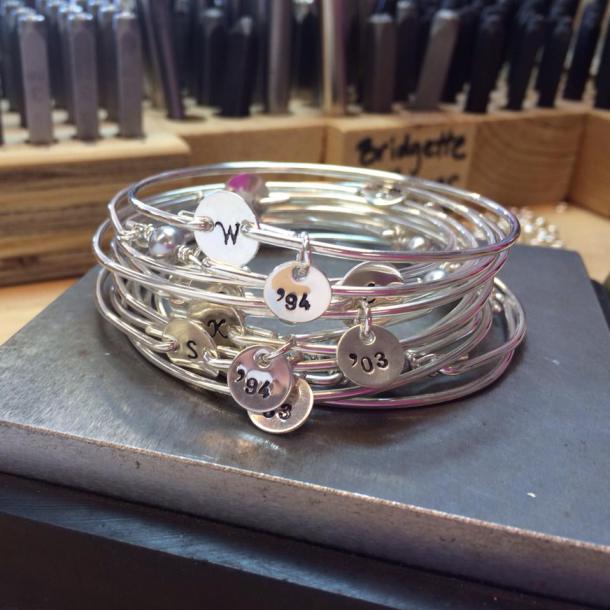 buy here
50. These travel makeup rolls
For bridesmaids on-the-go. By Forshee Designs.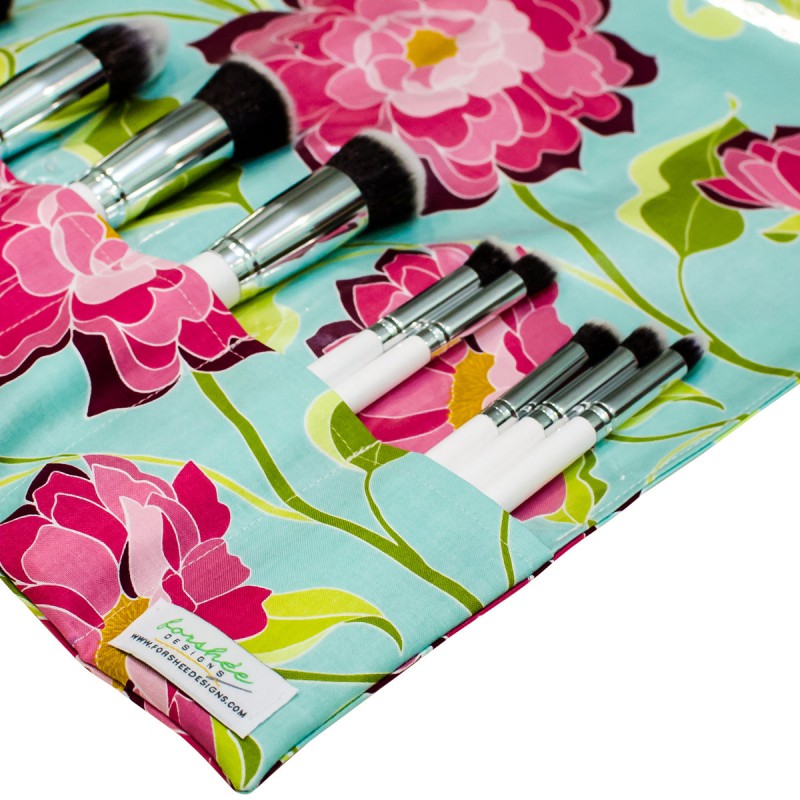 buy here
51. These colorful drop earrings in many colors, $34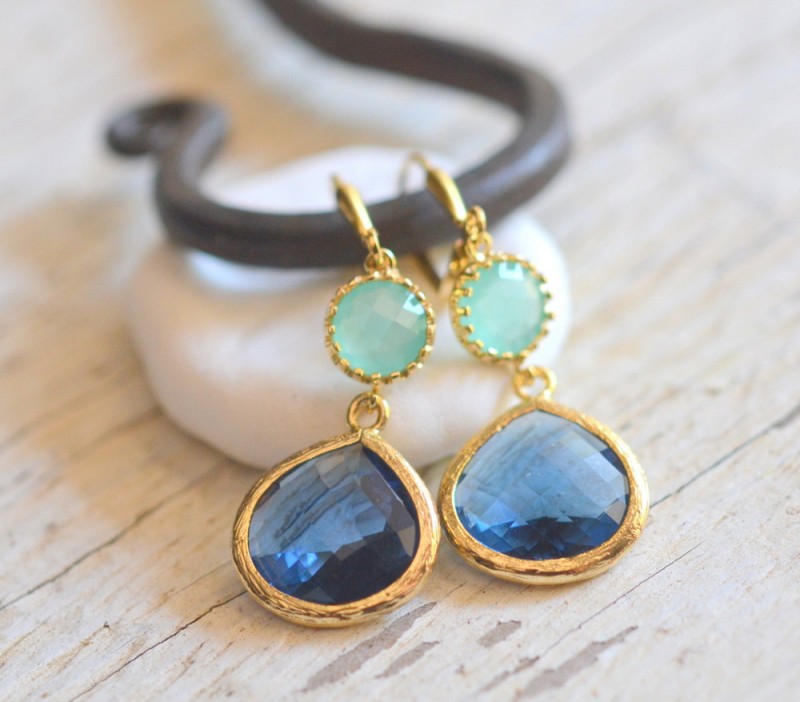 buy here
52. This quartz bracelet, $36+
I love this piece so much! This find in our list of best bridesmaid gifts proves it doesn't have to be a gift that says Bridesmaid on it. A beautiful piece of jewelry she can wear again and again is much-loved and appreciated. By Rustic Gem Jewelry.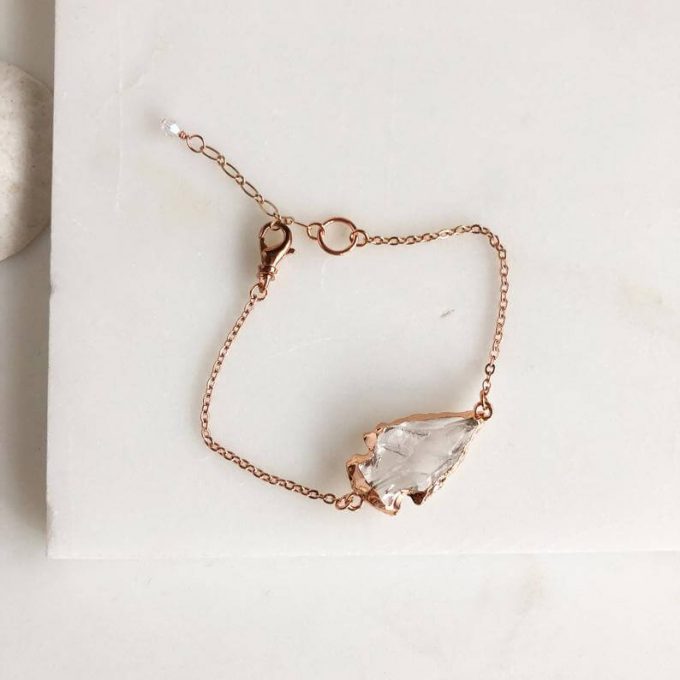 buy here
53. These adorable (+ colorful) leather bracelets with personalized tag
These coorful leather bracelets are unique bridesmaid gifts she'll wear again and again. Many styles available, as well as charm bracelets you have to see in their shop! By Sweet Auburn Studio.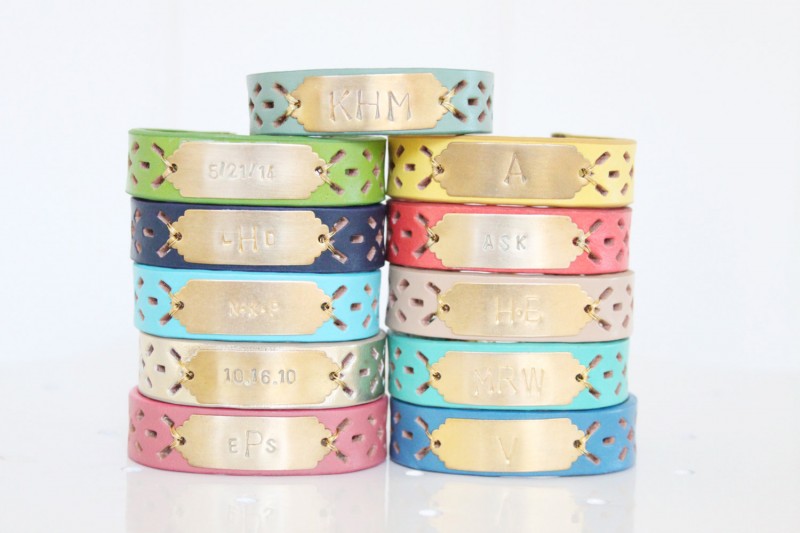 by sweet auburn studio
54. This "you'll always be my person" clutch
You can have a clutch purse like this one customized for your bridesmaids, including a "secret message" inside! Love it. By Sandra Smith Handmade.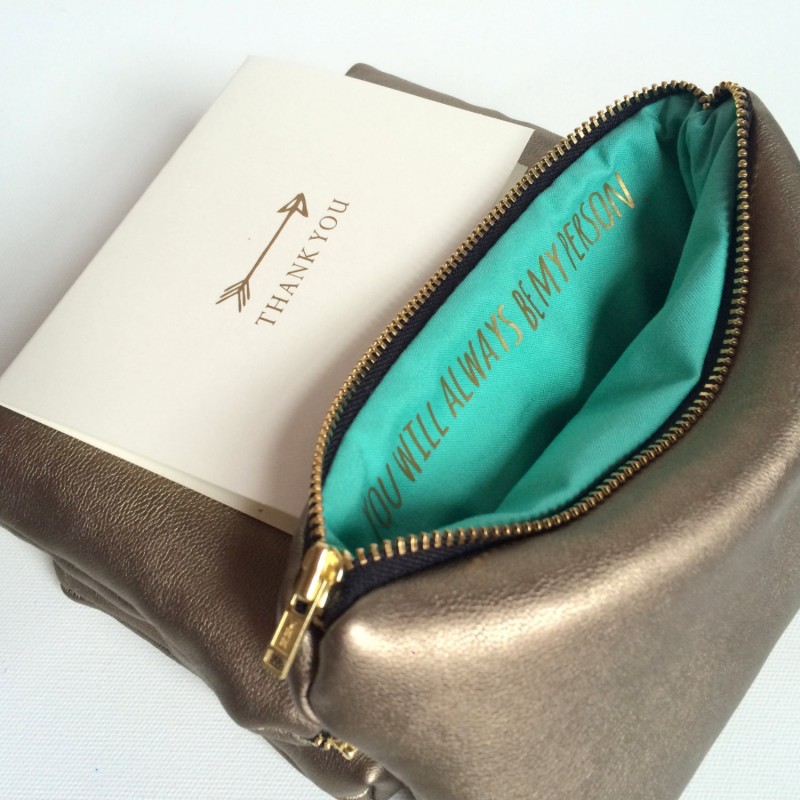 by sandra smith handmade
You can customize each clutch with any custom message inside!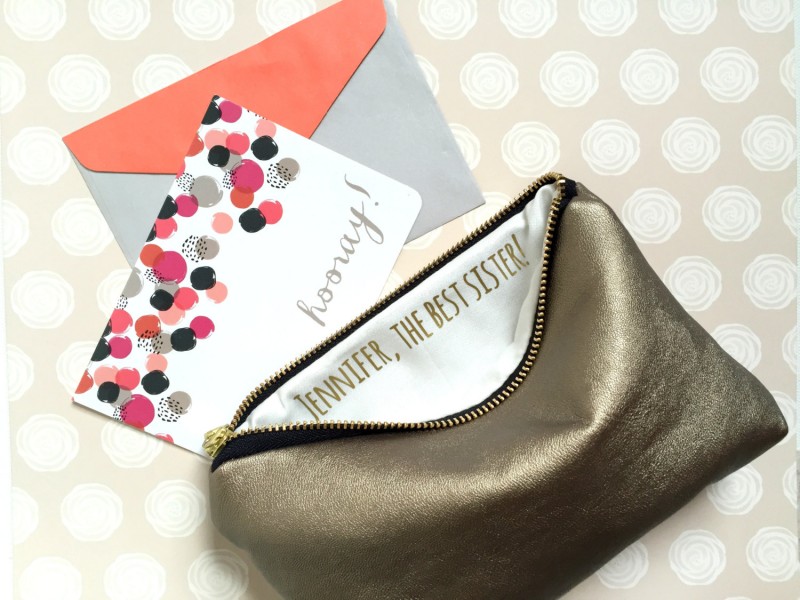 by sandra smith handmade
55. This heart initial bracelet, $35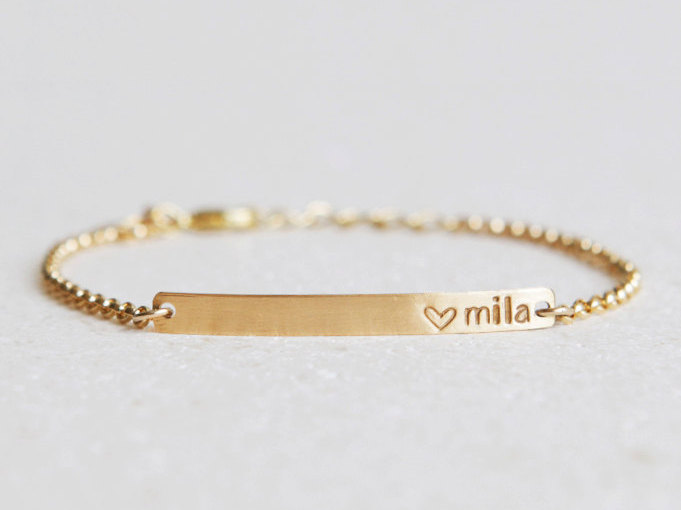 by leila jewelry shop
56. This gold bow necklace, $28
By Petitor.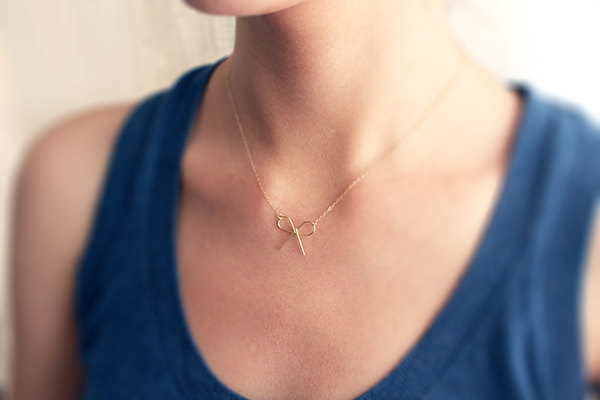 by petitor
57. These beautiful bridesmaid wristlets, $32.95
These make some of the best bridesmaid gifts! I especially love this buffalo plaid design. You can even choose a wristlet in a larger size to fit a cell phone. By Prettyloulou.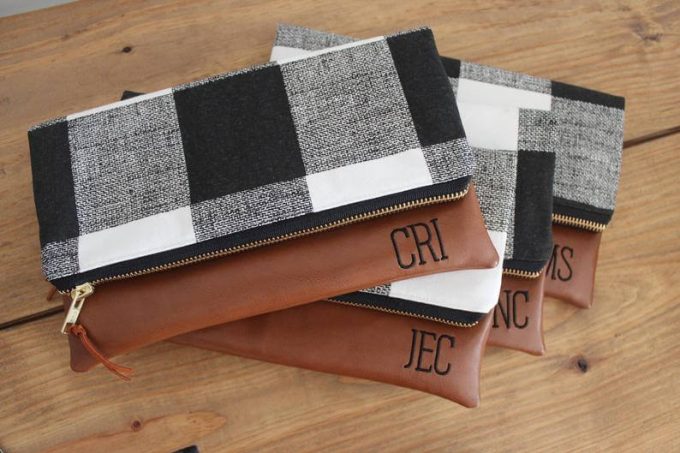 buy here
58. This personalized name candle, $16.99
By Vintage Created.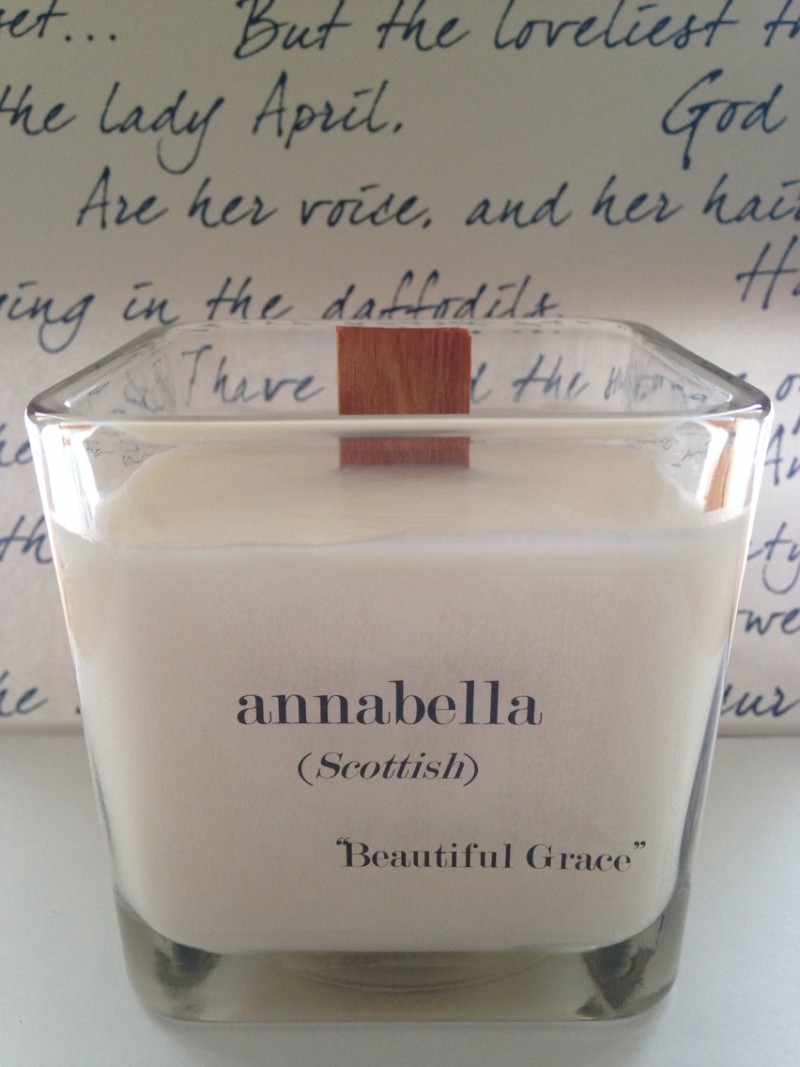 by vintage created
59. These pretty monogrammed vases, $36.95
These unique bridesmaid gift ideas can display her favorite bouquet of flowers on her desk or dresser. By Susabellas.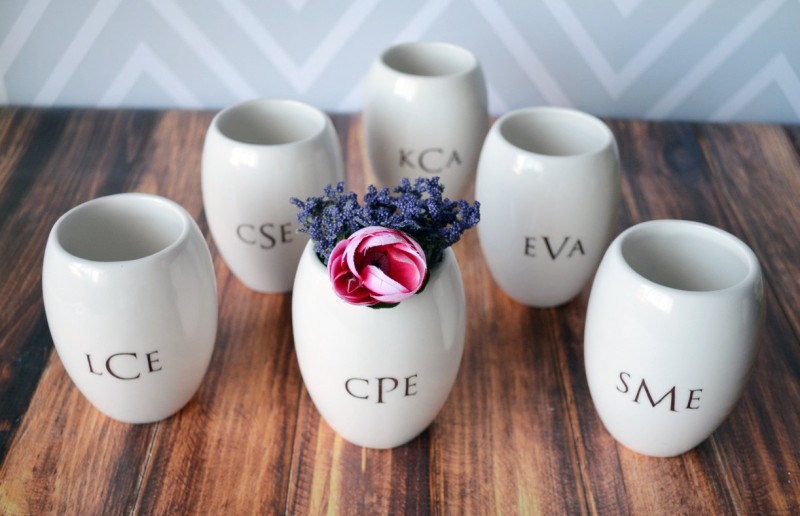 by susabellas
60. The One Where… wine glass, $14
These wine glasses make the best bridesmaid gifts for Friends fans! By JcDezigns.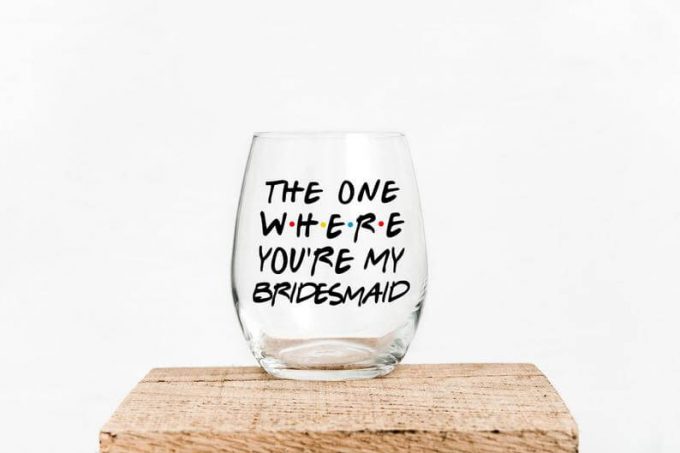 buy here
61. Monogram initial necklace made of porcelain, $60
This is one of the most popular unique bridesmaid gifts for 2020. By ModernMud.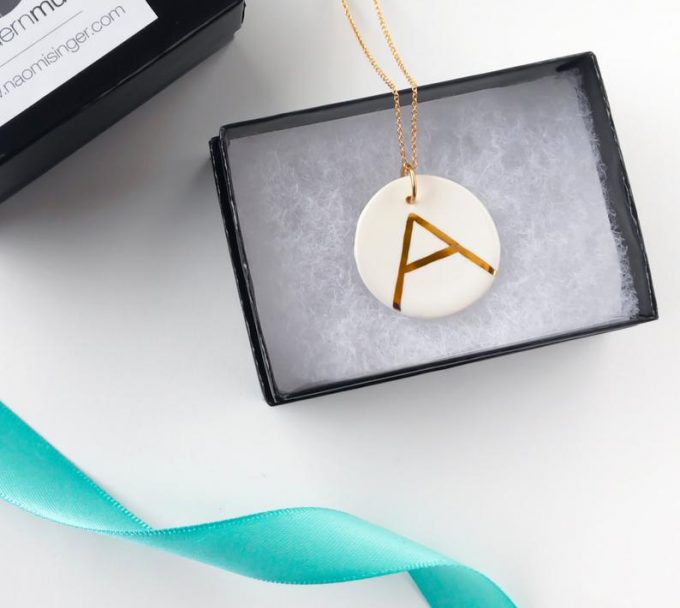 buy here
62. This leather wristlet keychain, $20
Everyone can use a beautiful leather keychain like this! By ColdGold.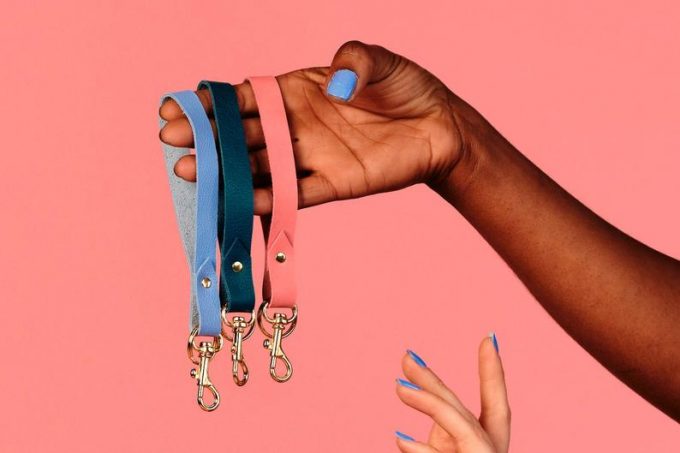 buy here
63. Diamond moon necklace, $330
This necklace is perfect for your best friends, especially if you're having a starry night wedding. By LieselLove.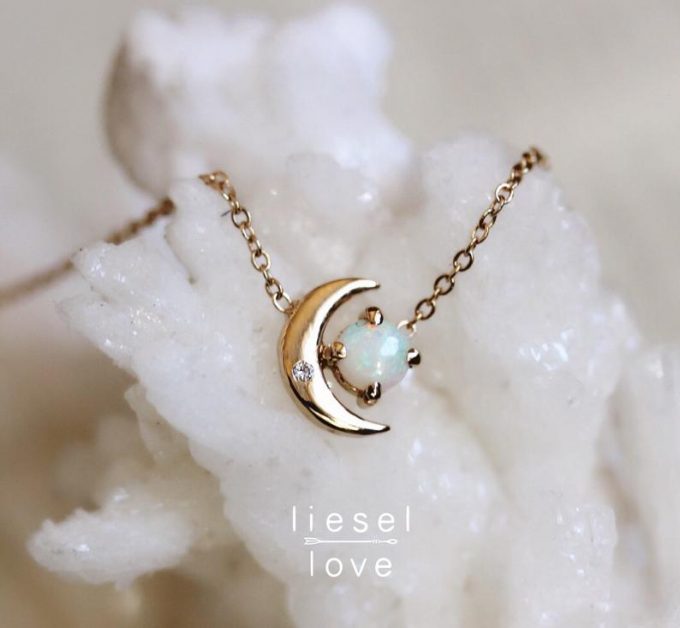 buy here
See also: 5 Sparkly Moon and Star Jewelry Gifts.
64. Custom bridesmaid denim jacket, $49
Probably the cutest layering piece ever! By ModParty.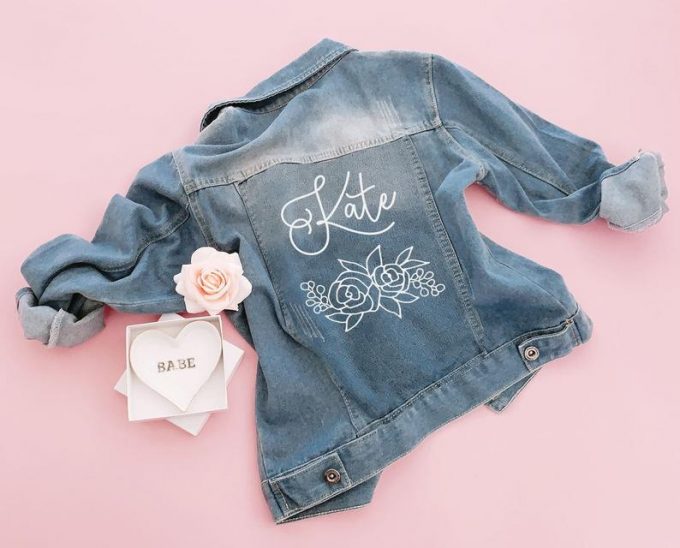 buy here
65. Leather makeup bag, $29.50
This is normally higher priced, but it's half-off right now, an amazing deal for quality bridesmaid dopp kits! By AddStyleCo.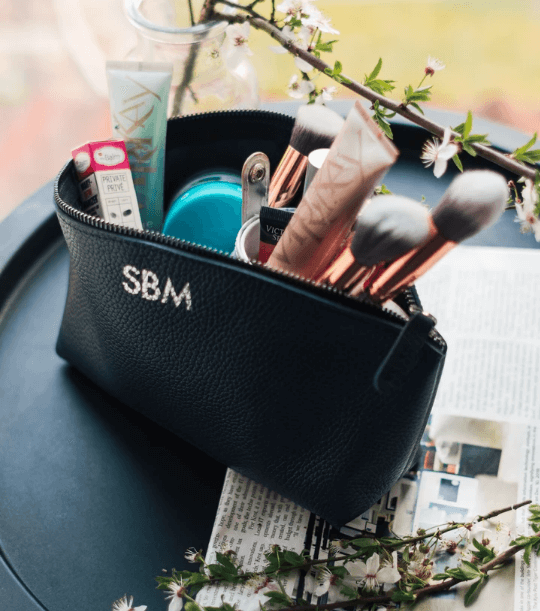 buy here
66. Faux fur wraps, $60+
One of the most unique bridesmaid gifts 2020 has to offer? Faux fur wraps! Bridal parties are going crazy over these cozy, wonderfully-warm wraps for fall and winter weddings. By Sissily Designs. Photo by Leigh Wolfe Photography.
67. Wood watches for bridesmaids, $79
These are gorgeous! A wood watch is likely something she doesn't already own, making it one of our top picks for bridesmaid gifts 2020. By Modply.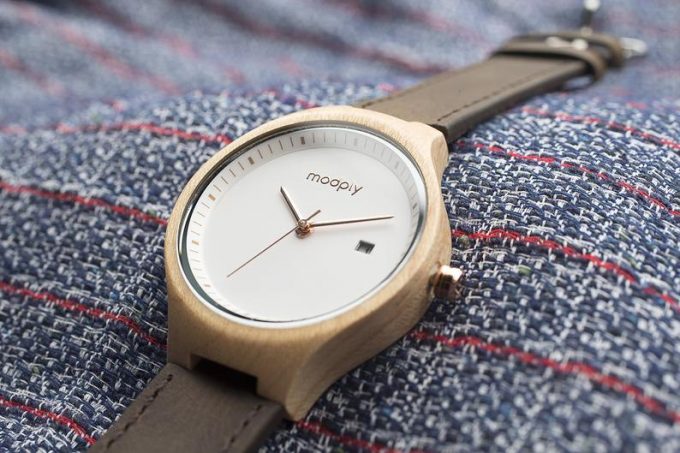 buy here
68. Custom hair ties for bridesmaids, $2.60
These are inexpensive and great for tossing in as extra gifts in bridesmaid tote bags! By Love Mia Co.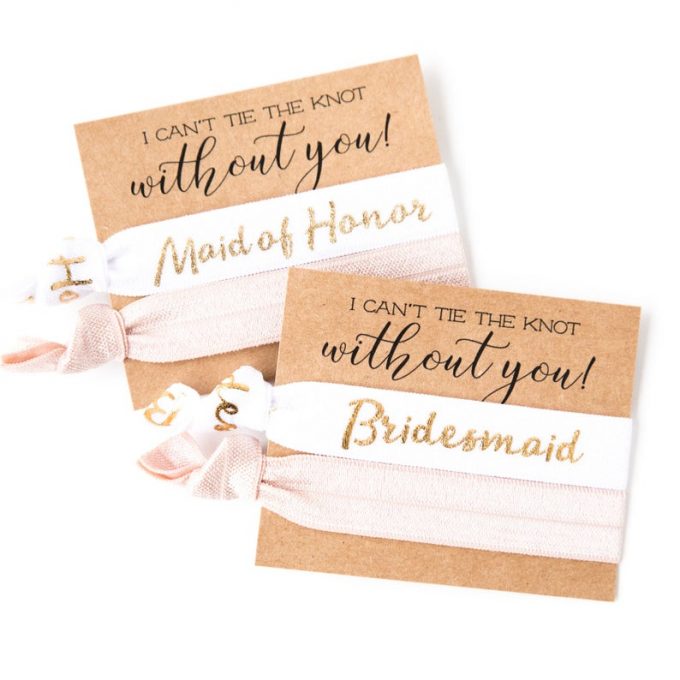 via here
69. Personalized flannel shirts for the bridal party, $22+
These flannels are perfect for staying cozy + lookin' cute before the wedding! By GiantLoveDesign.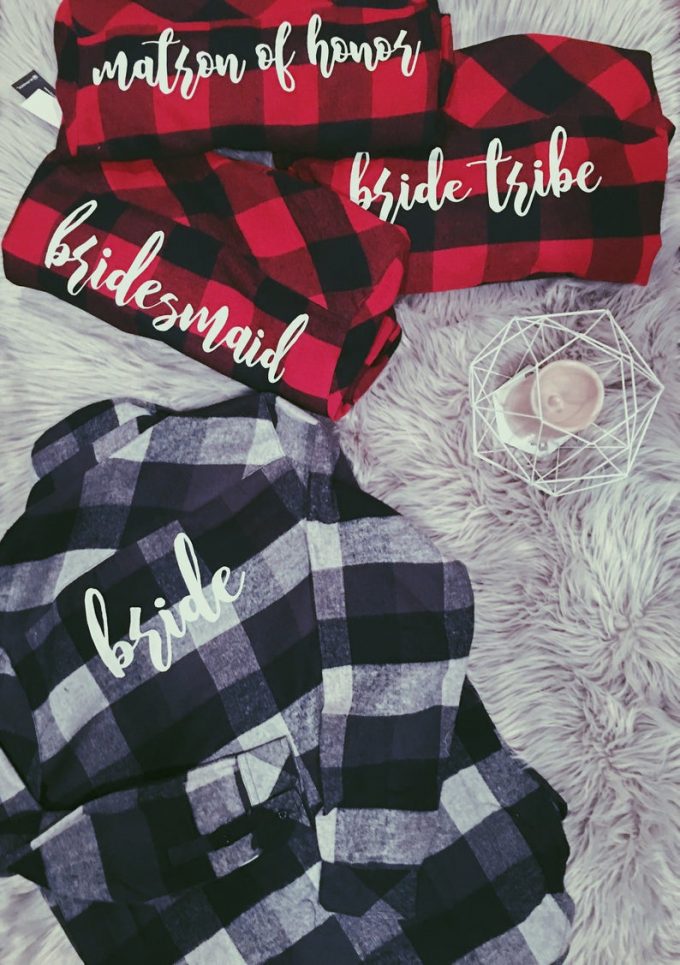 buy here
70. Bridesmaid earrings in vintage style, $30
These are gorgeous! By Lottie Da Designs.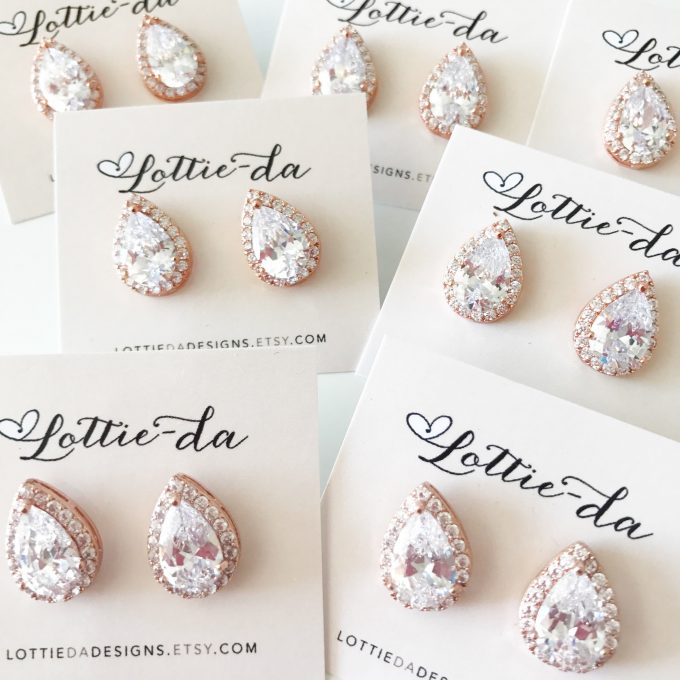 via here
For other unique bridesmaid gift ideas, try these additional presents.
Photo Gift
One of the most unique bridesmaid gifts you can give is one made from your favorite photos. Minted offers tons of options, like these, and it is so easy to customize your art gift just for her.
This art gift is one of my favorites; I made one of my kids' pictures and love seeing it on my wall. You can make your own photo art with favorite pictures of you and your BFF here!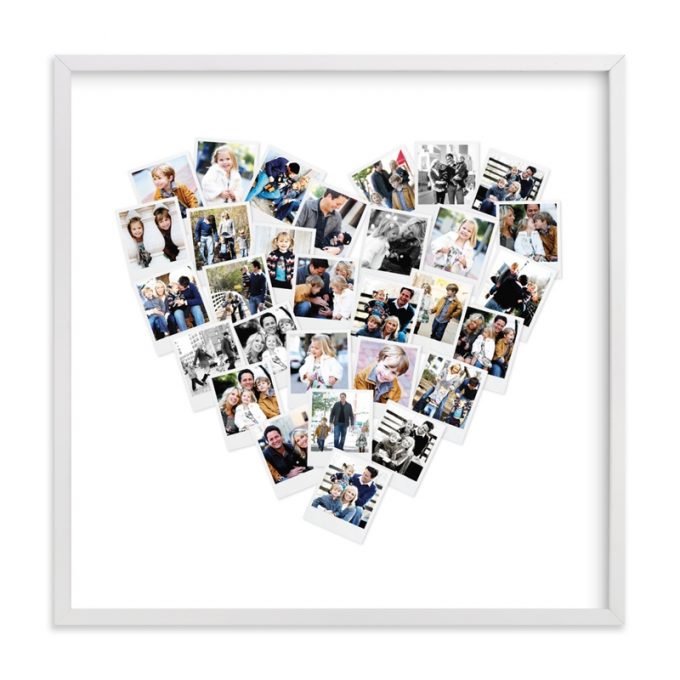 buy here
Subscription Gift Ideas
Other gift ideas include subscription boxes, like StitchFix (for clothing), just to name one. It's giving the gift of a personal stylist, and probably her new favorite clothing items. You can read more about my own experience (I like the service!) on the blog here.
Experience Gifts
Do you know how they say collect moments rather than things? Give the gift of an experience to bridesmaids instead! Browse the experiences offered at Groupon as one option. You can also choose food, spa, salon, or more.
Best Bridesmaid Gifts
What are the best bridesmaid gifts you've ever received? Tell us in the comment box below! And tell us what you think are the most unique bridesmaid gift ideas in this list.
xo
-E.