Are you making wedding welcome bags? Do you want yours to be the best? We're here to help! Be sure to subscribe for the latest so you never miss a post.
Hey, lovelies! If you're wondering how to make your own wedding welcome bags, you've come to the right place! Today we're sharing the ten things your wedding welcome bags need to make them extra awesome for guests. After traveling, it's always a nice gesture to be greeted at your hotel by a custom welcome bag. Here's what to put in your wedding welcome bags to ensure guests love 'em! Enjoy!
Wedding Welcome Boxes + Bags
Bride-to-be, Meghan, wrote us in our Ask Emmaline inbox with a great question. She wants to know how to make welcome bags for her out-of-town wedding guests. And since we love a good welcome bag, we knew we wanted to share this one with you! She is planning a wedding in her hometown of Wilmington, NC. However, a handful of guests are traveling from out of town (she currently lives in Chicago). She says,
"Hi Emmaline! Many guests are traveling for my beach wedding in North Carolina. I want them to feel comfortable in the area. I've heard of wedding welcome bags, but I have no idea what to put in them. Any advice?"
Great question, Meghan! Wedding welcome bags are a nice way to greet guests upon arrival at their hotel. It is a sweet gesture, since your guests have traveled to be a part of your day. Say thank you by leaving a welcome bag in their hotel room (this can be coordinated with the hotel — just be sure to tip extra generously) or at the hotel lobby.
You don't have to go crazy here: it's the thought that counts!
We've compiled a list of the top 10 things your wedding welcome bags should have. You can make them yourself with just a few easy-to-find things. Read on for the list!
We'll tell you exactly what to put in your wedding welcome bags to ensure guests love 'em as much as you enjoy putting them together. And if you need help assembling them before the wedding day, invite your bridesmaids over for a fun evening of snacks, beverages, and put on a movie while you assemble them. :) Enjoy!
What to Put in Welcome Boxes and Bags
To begin, you're going to start with — you guessed it! — a bag or box. Here are a few options.
Tote Bag
We love a bag that can be re-used. A tote bag like this is deep enough to be filled to the brim. It also includes a chic personalized leather label, FREE! By Minted.
by minted
You can get a custom tote bag for a destination wedding, like this Boston tote from PapercakeDesigns (other cities available here!)
buy here
Proclaim how it's the Best Day Ever with these adorable totes from PreciousPresents:
shop here
These custom tote bags by Rook Design Co. are made with your wedding location, date, and your names. Cute!
by rook design co
by rook design co
by rook design co
Or these, "Totes partied with the [Your Name]" bags, which might be the best wedding welcome bags ever. :) By PartyToThePeopleCo.
buy here
Prefer a different style? Go with reusable jute bags like these from ImagineColorUS, sold in a bulk pack of 50.
buy here
Going rustic? Give bags of burlap to welcome your guests, like these by GlitterMemory.
buy here
And this tote bag from MokoandCompany is made with a state or country and a heart over the location. Cute idea for destination weddings!
by mokoandcompany
And of course, kraft paper welcome bags are always a great choice and cost effective if you have many guest bags on your list. These are by LabelsRUs.
buy here
If you're making a welcome bag for a bridesmaid, splurge a little on a bag she can use forever — preferably one with a durable handle. The tote can be a part of her bridesmaid gift.
Welcome Boxes
Prefer boxes? Wedding welcome boxes are a new-ish trend vs. bags and we're loving this look, too!
This style is by LabelsRUs:
buy here
buy here
This style is by Prepping Parties:
buy here
buy here
Now you have your welcome bags and/or boxes… it's time to fill 'em up! Here's what to put inside.
Top 10 Things to Put in Wedding Welcome Bags
1. Wedding itinerary / booklet
Give guests a warm welcome with a wedding itinerary so guests will be on time and know what's happening — and when.
You can also include additional itineraries (i.e. for your rehearsal dinner, or a separate itinerary for bridesmaids). You can include phone numbers and addresses to the locations in case guests need navigation.
by lillylamanch
Here's an alternate design for a wedding itinerary, outlining everything your guests will need to know. By StationeryConcierge.
by stationeryconcierge
If you're like, include a list of a few restaurants nearby, a local coffee shop, and grocery store.
And, last but not least, include a phone number for a taxi in case they need transportation (or include information if you're having transportation like a shuttle service to pick up guests from the hotel for the wedding).
2. Thank you bag tags / cards
And… be sure to include a wedding thank you card and write your own sweet sentiments inside.
Or get a card made like this by CreativeUnionDesign, which has all the necessary information on it including shuttle service!
For instance, you could thank guests for traveling to be a part of your big day and tell them how excited you are to see them out on the dance floor. This thank you welcome card is by Cards By Flora.
Or these by FabLabStationery:
via here
Prefer a tag? Make it easy with a welcome bag tag, like this one by TwoSonsPaperCo., which you can simply tie to the handle of your bags.
buy here
Planning a fall wedding? Here's a pretty burgundy style also by TwoSonsPaperCo.
buy here
3. Snacks + Water
Include a little something as a snack. Guests love a little treat when they reach their hotel room after traveling.
So, what are you supposed to put inside the welcome bag for a snack? Include something sweet and something savory.
Sweet
Chocolate bars like this are a cute addition to a wedding welcome box.
buy here
Or these little chocolate candies (a few for each bag) are another great choice. I like these as a suggestion, which you can buy in a bulk bag to make things much easier when assembling your welcome bags.
buy here
For a combination of sweet and savory, go with sea salt caramels. You can never, ever go wrong with sea salt caramels. By GiftBoxLoveCo.
buy here
Savory
These little popcorn bags are a great choice as a 'savory' snack option. Buy them in bulk here.
via here
Pretzels: always a good choice! These mini sizes fit nicely into your wedding welcome bags and boxes; available in bulk here.
If there's a local fare that the destination town is known for, include it in the bag! One example is Better Made potato chips for a Detroit wedding: a must-have. :) And of course, Faygo pop. Oh, it's not soda, it's pop around here. :)
It's fun to add that personalized touch when guests are visiting a new area, sharing with them things that are popular to the area.
His or Her Favorite Bags
For a little bit of both sweet and savory, you can make these his or her bags and fill 'em up with your favorites! Guests love this personalized touch and think its fun to see what you picked as your favorite or your partner's favorite. You can make your own with these stickers and bags by Clementine Weddings.
buy here
Granola Bars
A little energy never hurt anyone! Plus, great idea for really hungry travelers who just arrived to their hotel. You can buy granola bars here in bulk, so you can put one or a few in each of your wedding welcome bags.
buy here
Prefer trail mix? Sure thing! Go to your local Costco for a huge bar or buy it in bulk online here in perfectly-sized individual bags.
buy here
5. Water
And of course, water. All wedding welcome boxes or bags need water: include a small bottle or two because hydrated guests are happy guests.
You can get custom water bottle labels from LabelsRUs and purchase the small-sized water bottles in bulk here.
by labelsrus
by labelsrus
You can even get it to coordinate with your location, like this Chicago skyline for instance. It's perfect for your Chicago themed wedding!
by labelsrus
6. Recovery Kit
Include a fun hangover kit / recovery kit for guests to use after the wedding reception. Something like this will do by Clementine Weddings.
by clementine weddings
You'll need to fill these bags with essentials, like headache medicine (buy the individual packs in bulk here for cheap!), some vitamin-c packets, stain remover, and mini bottles of water. That's really all you need!
7. COFFEE!
Ah, is there anything better than a nice cup of coffee when you're traveling, especially when you can make it in your hotel room? When the coffee tastes good, that's all you can ask for… it's the elixir of the gods, I say!
But how do you put coffee in wedding welcome bags? Here are a few ways to do it:
• Give ground coffee favors if there's a traditional coffee maker in the room
• Give coffee pods if there is a compatible coffee machine in the hotel room (these fit my Keurig!) You can go sustainable with these unique pods from Gourmesso: they're eco-friendly and biodegradable.
No coffee maker? Give a small gift card to a local shop (preferred to support local!) a coffee chain. A $5 gift card works great!
When I'm filling up wedding welcome bags or boxes for guests, these multi-pack gift cards are always a favorite. And you can buy them in large quantities to save time.
8. Map
A local map is ALWAYS a good idea. Sometimes my GPS lady and I don't get along and, I swear, she gets verbally annoyed. Skip the satellites and go old-school — it'll never let you down. You can get custom maps made from WeddingSundaeStudio for a custom, decorative touch.
9. A Local Souvenir
Pick up something cute from and state-themed from a gift shop. The emphasis here is on something sort of silly and definitely inexpensive — but local, and with the city's name on it. Can coolers, shot glasses, keychains — anything along those lines!
For instance, a shot glass, a postcard, a refrigerator magnet, a keychain… you get the idea.
City magnets like these by CreativeLaserArt4U are a great option!
buy here
These can coolers by YoureThatGirlDesigns are AMAZING. They have EVERY city available here!
buy here
10. Bottle of Wine or Champagne
If you'd like, pick up mini bottle of wine to include in your wedding welcome bags. Mini champagne bottles also work — you can buy them here online and have shipped to you directly. Easy!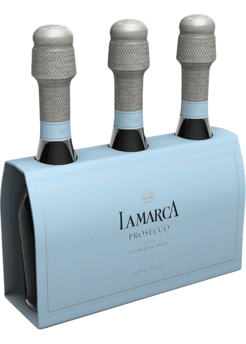 buy here
Make sure you get the kind with an easy-open twist top, otherwise they'll need one of these mini corkscrews handy.
via here
And because these are too cute to pass up: include door hangers like these from Grand Design Studio. I love this idea!
by grand design studio
What do you think of these wedding welcome bags? What will YOU put in your welcome bags for wedding guests? Tell us in the comments!
Have a question for Ask Emmaline? Submit it here! We'll swoop in to help.
For more tips, the latest trends, and additions to your bags or boxes, browse here.
Happy Planning!
xo
Emma
Pin it: