If you're a bride who wants a ring that rivals a diamond in beauty, but is more modern and eco-conscious, get ready to be inspired! Morganite engagement rings are all the rage and continue to grow in popularity, due to their incredible soft pink color.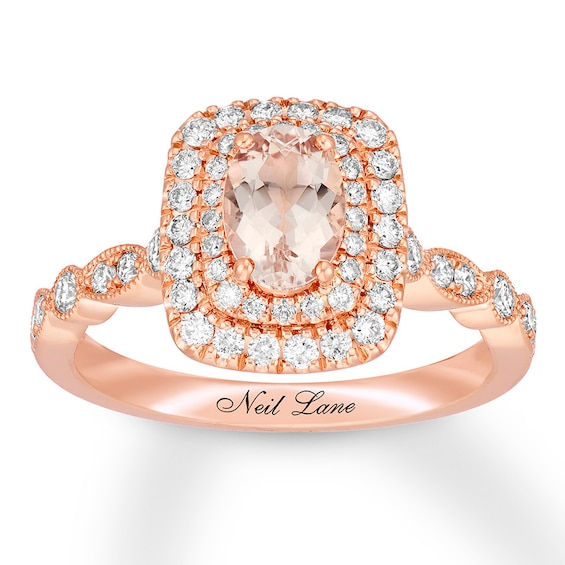 If you're wondering, can morganite be an engagement ring, the answer is: YES! It is the perfect pink diamond alternative.
In this article, we'll talk about where to buy morganite engagement rings online for non-traditional options. We'll answer frequently asked questions about morganite, in case you have initial concerns about choosing a stone other than a diamond.
And lastly, we'll showcase the best morganite rings you can buy. These fancy pink rings are a great alternative to diamonds, whether you don't want a diamond or you simply want to rock something different. Go you!
From expensive to affordable, heart-shaped to emerald cut, we have a little bit of something for everyone.
Let's get started!
Can you buy cheap morganite rings?
Yes, you can find cheap morganite engagement rings, along with pricier options, depending on how large you'd like the stone to be.
The price of your ring will vary, depending on the metal you choose, whether you want diamonds on the band (or choose moissanite as an alternative), and of course, the carat size of the gemstone itself.
What are some good places to shop morganite?
If I was selecting a non-traditional engagement ring, I would turn to any of these retailers: you can shop vintage inspired morganite at Etsy, BrilliantEarth, Kay, and there are many beautiful options on AmazonHandmade.
Do morganite rings make good engagement rings?
Is morganite suitable for an engagement ring?
This was the very first question that came to my mind when I started looking into morganite rings online. Is morganite durable enough for an engagement ring? The last thing you'd want to do is buy an engagement ring and worry about it lasting for years to come.
Good news: morganite is sturdy and durable enough to be worn as an engagement ring. However, as with all gemstones, you will still want to take care of your stone and remove it if you plan to do extreme cleaning, working out, painting, anything that can scratch the stone, etc.
This jewelry cleaner is terrific at taking care of your ring (see ratings here).
TIP: It's always great to have a ring holder necklace or dish to keep it safe and secure!
Which is more expensive, morganite or diamond?
That's easy: diamonds are far more expensive than morganite.
Morganite is quite popular for that very reason: you get the glam and look of a pink stone, but without the same hefty price tag.
1. Morganite Engagement Ring
This ring is simple, elegant, and has the perfect combination of diamonds along the side with a morganite stone in the center. By designer Neil Lane for Kay.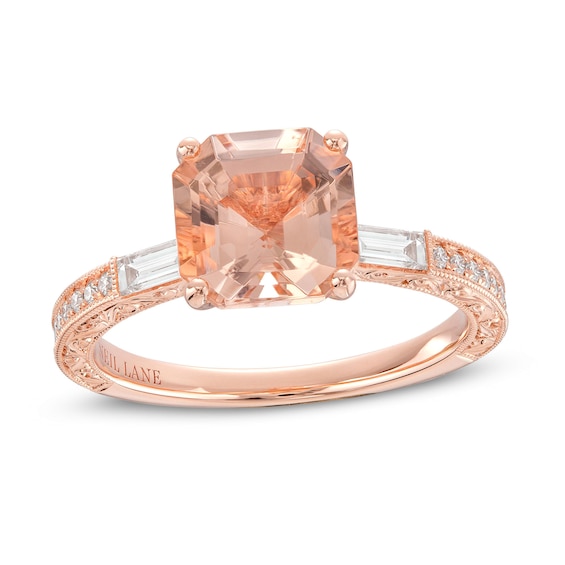 2. Vintage Style Cushion Cut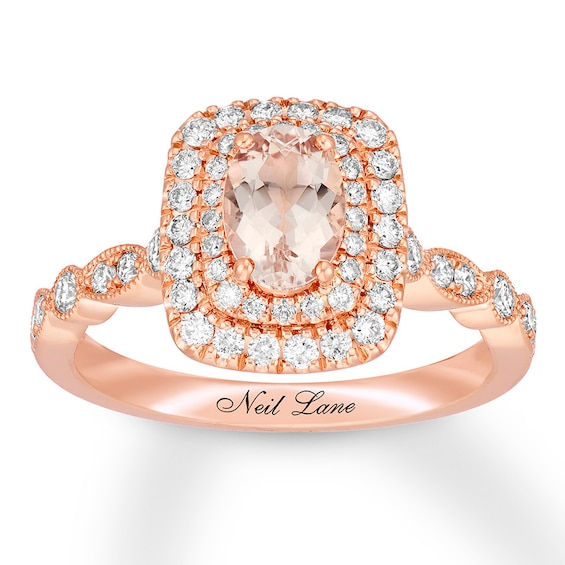 3. Vintage Inspired Morganite Ring
This is one of the most gorgeous (handmade!) morganite engagement ring Etsy seller PENNIjewel makes. Exquisite!
4. Pear Shaped Gemstone Ring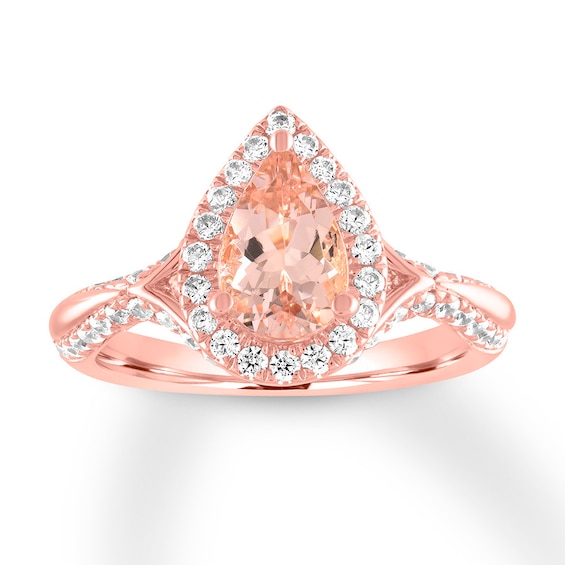 5. Rose Gold Alternative Diamond Ring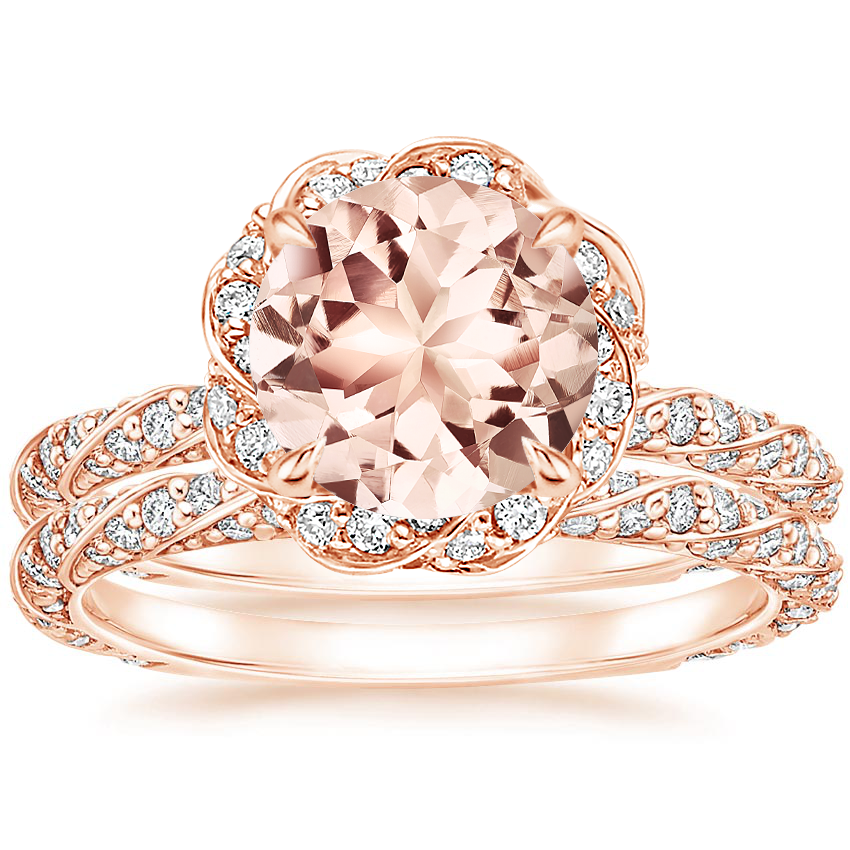 6. Morganite Fortuna Bridal Ring Set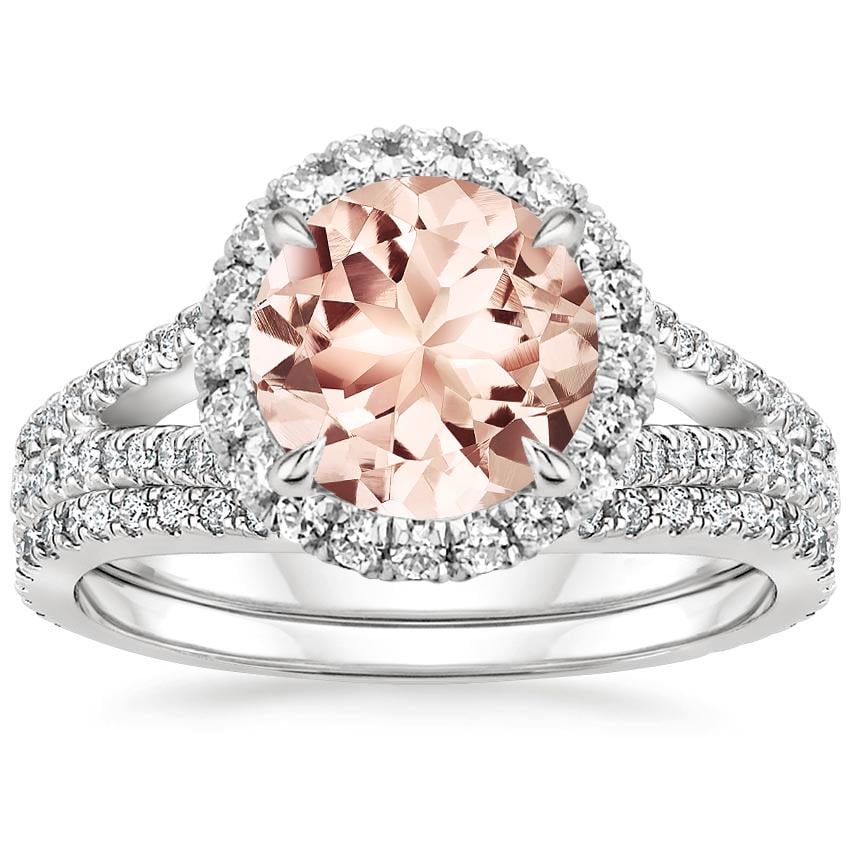 7. Elegance and Romance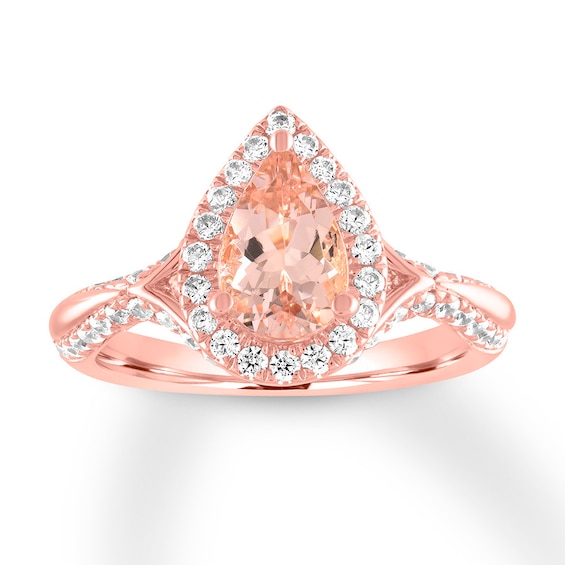 8. 10k Rose Gold Accent Ring
This charming ring is under $500! Available here.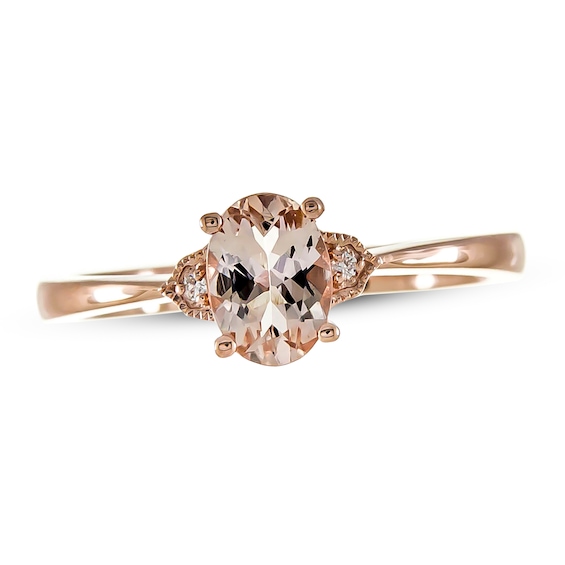 9. Oval Ring
This feminine engagement ring sparkles with an oval morganite stone as its focal point. By Neil Lane.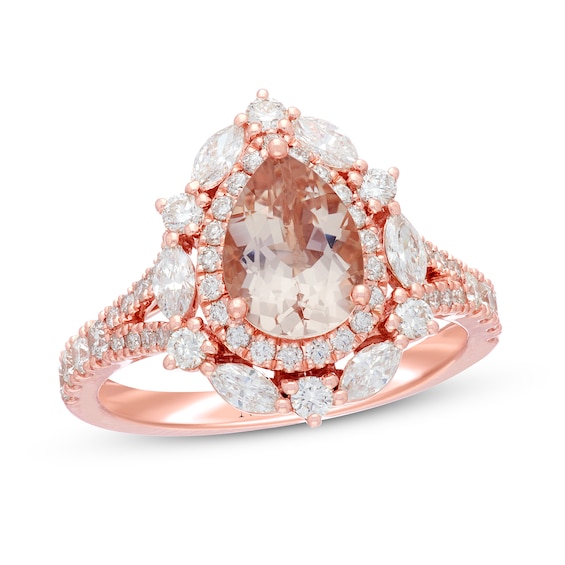 10. Simply Morganite Engagement Ring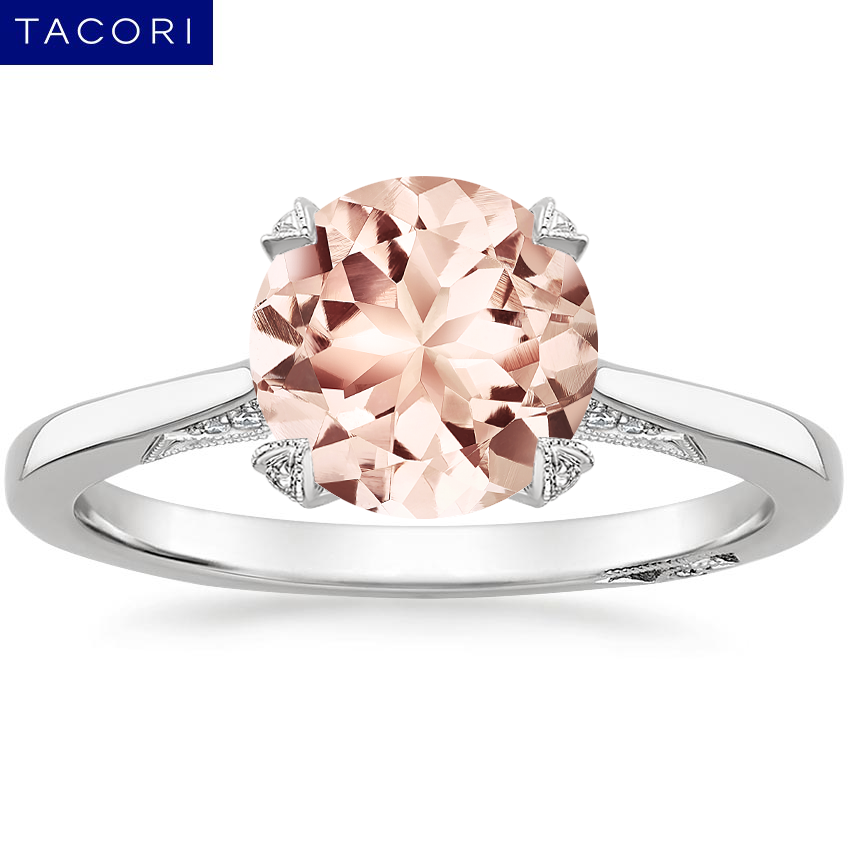 11. Yellow Gold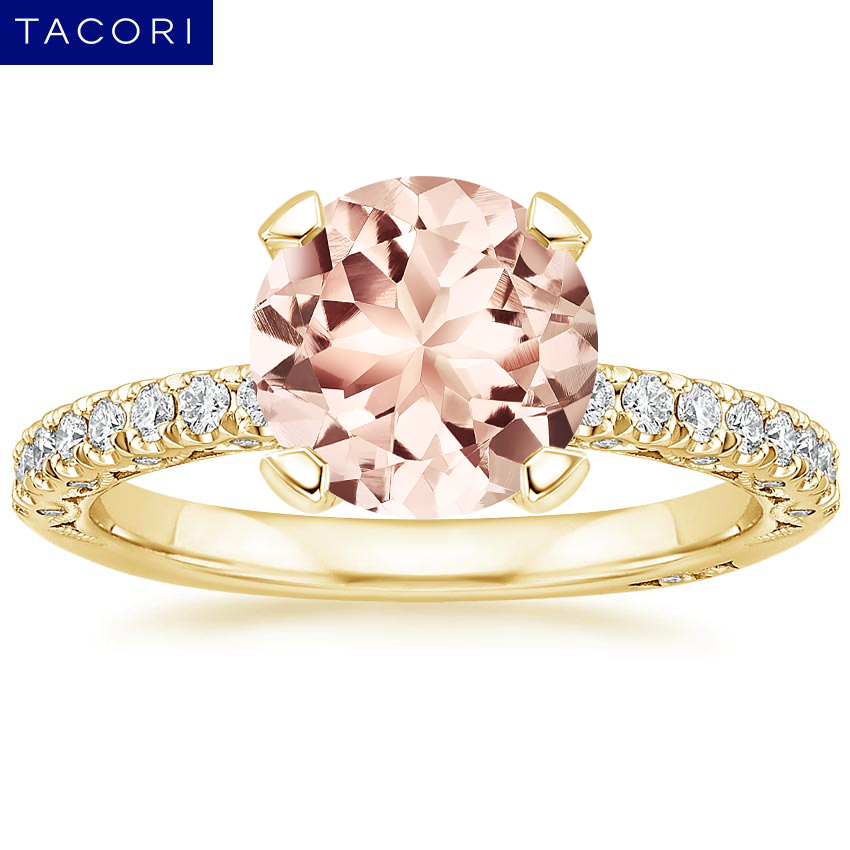 12. Platinum Morganite Crescent Ring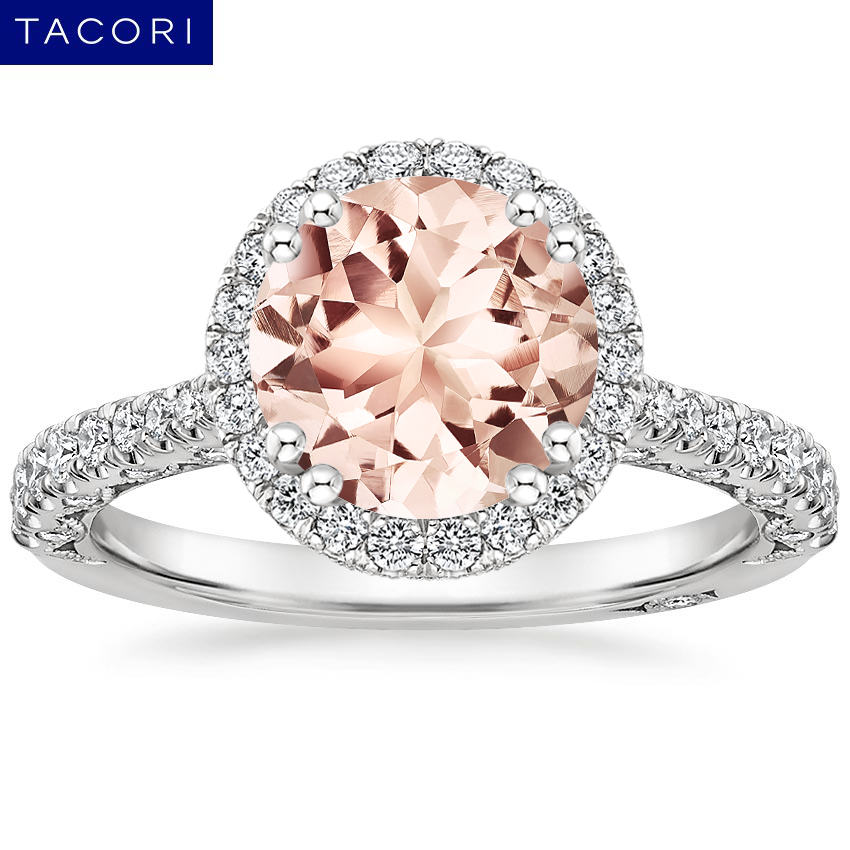 13. Round and Marquis Diamond and Morganite Engagement Ring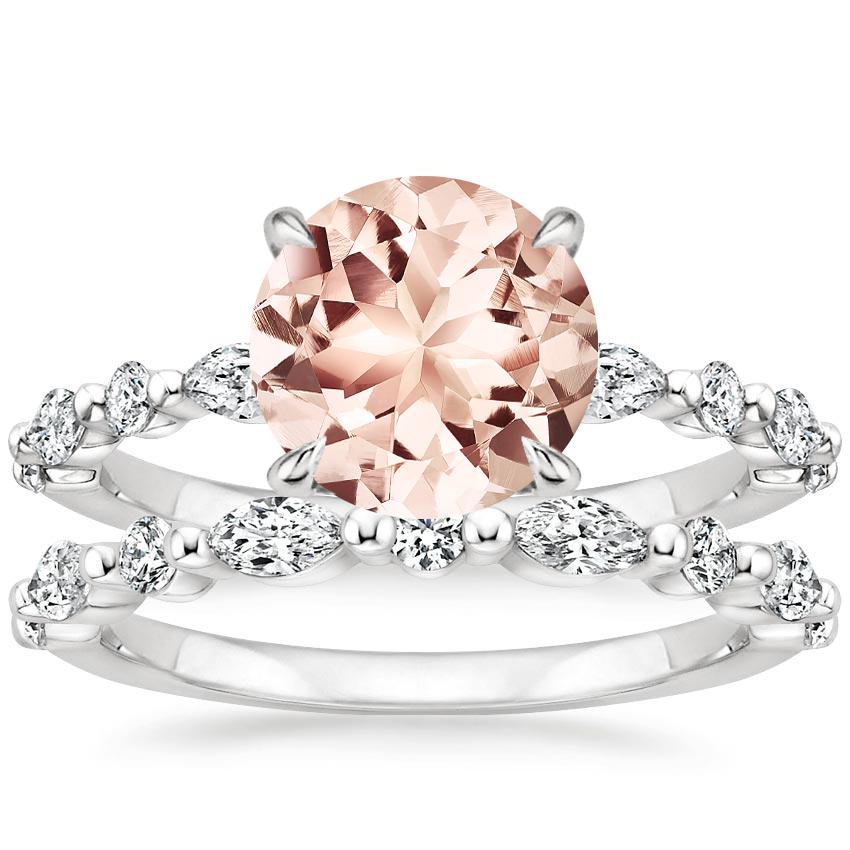 14. Half-Eternity Split Band
Oooh, this is one of my absolute favorites. It is a morganite ring Etsy designer BlueRocksJewelry has absolutely perfected. I love the split band style and the large morganite stone. Perfect.
15. Marseille Halo Style Engagement Ring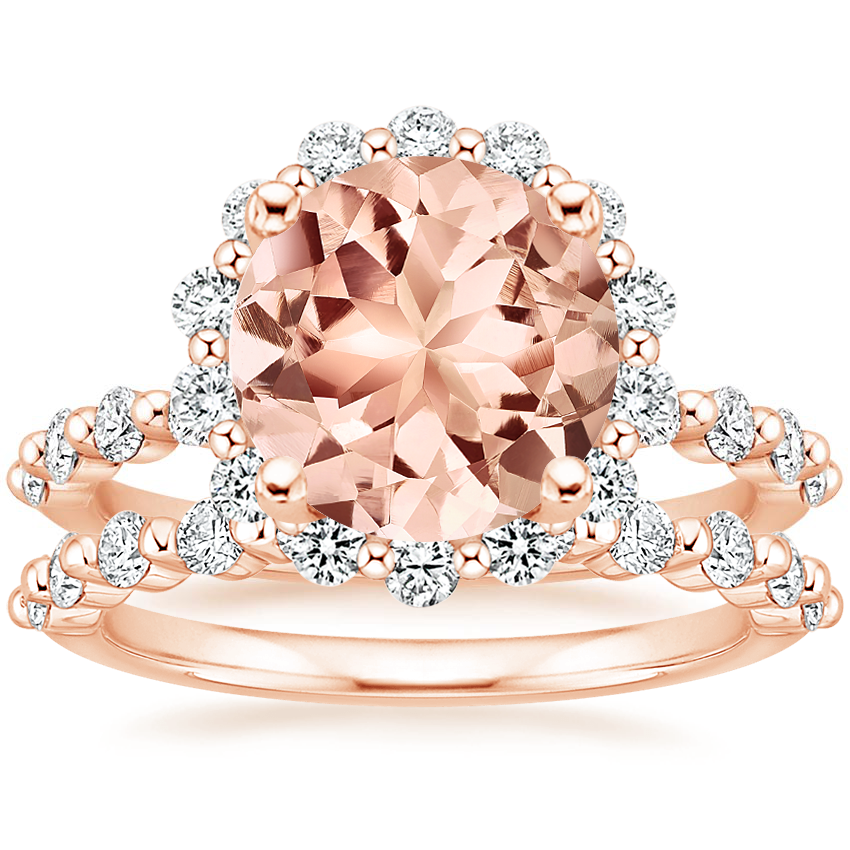 16. Valencia Style Morganite Engagement Ring Set with Pave Diamonds
Oooh, love this double band!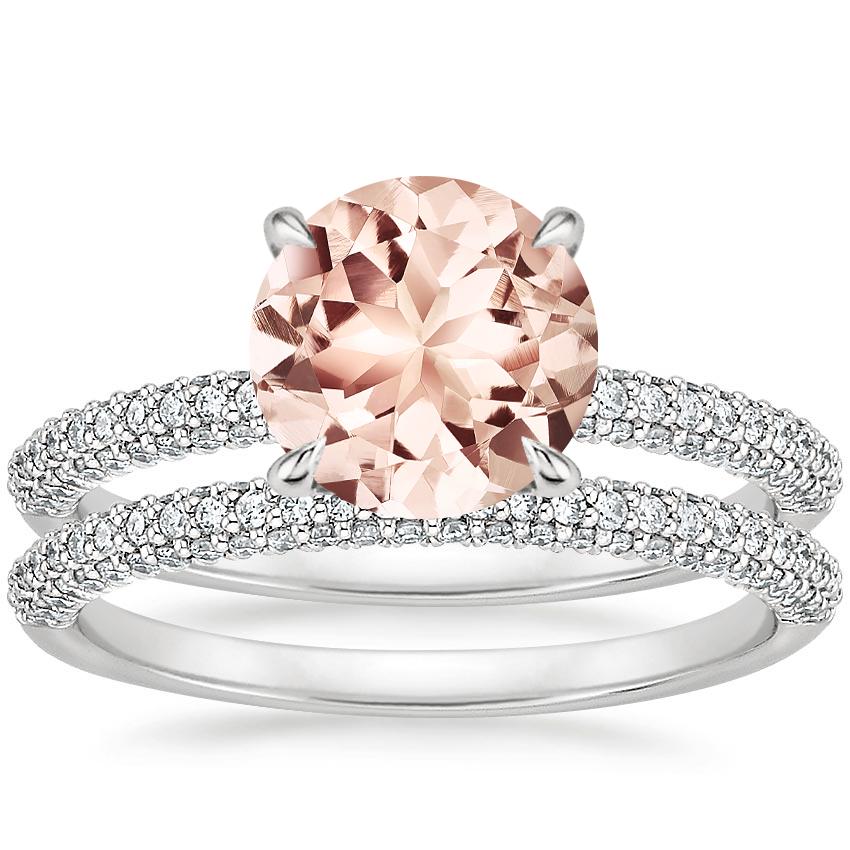 17. Morganite and Diamonds
This is the most beautiful morganite engagement ring Etsy has on its site! By GNGJewel.
18. Solitaire Morganite Stone
Gorgeous engagement ring! By GemsTrove.
19. Natural Peach Morganite Engagement Ring
20. Pear Cut Natural
By MyrayGem.
21. Cushion-Cut Stone with Rose Gold Band
By Gin & Grace.
22. Halo Marquise
By Kiseki Kiara.
23. Rectangle Morganite Ring
By Belesas.
24. Heart Shaped Morganite Engagement Ring
25. Pear Morganite and Moissanite Tiara Ring
By LordofGemsRings.
26. Natural Pear-Shaped
By MyrayGem.
27. Floral Gemstone Ring
By CamelliaRing.
28. Natural Morganite Stone
29. Radiant Cut
By Laurie Sarah.
30. Natural Art Deco Inspired Ring
By Diamondere.
31. Morganite Engagement Ring Emerald Cut
If you're looking for an emerald cut morganite ring? You got it! By MyrayGem.
Where to Buy Morganite Rings
The best place to buy morganite rings for an engagement is… online! To shop any of the rings shown here, click on the shop now button under the ring you like or click on the name of the designer.
From there, you'll see pricing, carats, morganite stone options, shapes, and you can buy them directly.
For a shortlist or to browse other rings, we recommend:
• Etsy
Hope it helps on your quest for a beautiful non-traditional diamond ring! Any of these are absolutely stunning.
Happy Planning!
xo
Emma