Today we're showing you the best wedding shapewear to wear under your bridal gown! Read the scoop below + subscribe right this instant or you'll have total FOMO. ;)
When you're trying on dress after dress… after dress… you'll soon realize that what you wear UNDER the dress is just as important as the dress itself.
Emma here and I'm going to let you in on a little secret weapon to looking your best on your wedding day: wedding shapewear, aka what to wear under the wedding dress. We're usually talking about what to wear on top of your dress in winter, or how to keep warm with these, or why this denim jacket is so appealing.
But today we're talking about what to wear UNDER your wedding dress — the best wedding shapewear! — for the ultimate fit.
It has nothing to do with your size, your weight, height, style, silhouette, or current mood, number of IG followers or what you ate for breakfast.
EVERYONE can benefit from undergarments, especially wedding shapewear. And it will make your beautiful wedding dress fit even better.
The secret weapon to the best fitting wedding dress is shapewear: a properly-fitted, seamless, makes-you-want-to-punch-today-in-the-face kind of shapewear. I want to wear it daily, that's how awesome it is.
And everyone, from thin to plus-size, is wearing it and utilizing its "magical" powers. :)
Many brides forget about shapewear because they feel like they're fit enough, or the dress is contoured to their curves already. But proper fitting shapewear will give you an added confidence and a smoothing effect unlike anything else. And I know this because I wore it myself!
Here are a few tips on the best shapewear to wear under your wedding dress and what color to pick. Plus, we'll tell you why it's important to get it now, even before you find the wedding dress.
Let's discuss it!
Where to Buy Wedding Shapewear
First, let's talk about where to buy wedding shapewear. You can go to Kohls and look through their racks and then look at the price tag, do the math on your 30% off coupon, and still feel like you're getting a bad deal. Plus, it's not a name brand, and you CANNOT return shapewear to the store, so it's kind of a gamble.
You can do the same at Target, and although I love me some Target, they do not offer a very good assortment of wedding shapewear, at least not at any location near me (they have some online here, but there's never really enough!)
So, where's a bride-to-be to go?! Spanx!
The Best Wedding Shapewear
Spanx! You've probably heard of Spanx but maybe you don't have a pair yet. I understand. You probably didn't know you needed any and never thought about wearing it under your wedding dress. I never thought I needed Spanx until I tried it on. And then I was like, omg where have you been all my life, you glorious silhouette-shaping hero?!
You see, proper seamless shapewear is really a game-changer. It makes you feel confident. Smoothed out. Sassy. As they say on their website, "they've always got your butt covered". :)
I'm not saying there isn't any other shapewear in the world, but I'm saying that with my own personal experience, the best wedding shapewear I've worn is from here. It is so comfortable and the material is ahhh-mazing.
For my dress, I needed something that would not show lines, was smoothing and would be comfortable to wear; as a bonus, I needed a strapless style.
Here's one similar to the same kind I wore for my wedding:
via here
What I like about this wedding shapewear is how you can choose pieces that coordinate with your dress style. You can buy a strapless bodysuit like the one shown above, but it also comes with removable straps (so if you prefer straps, you're all set!)
If you want more coverage, opt for their "ultimate solution" to getting glam: the suit your fancy bodysuit. You can even see a real bridesmaid and bride in their shapewear before and after they are wearing the dresses. There's a helpful video here.
via here
Shapewear isn't just about sucking in, pushing up, smoothing out, or contouring. Shapewear also helps in wicking away sweat (hello, high-humidity weddings!) and cooling you off. It's about not having to pull up on your strapless bra a million times or re-adjust your slip when it starts to stick with static cling. Or what about that pinching and digging? UGH.
The best wedding shapewear will make you feel confident, comfortable, and amazing! And you can wear it time and time again, for special events or business lunches or fun girls' nights for years to come!
It may be what to wear under your wedding dress, but it is also the secret weapon to all outfits, all season long!
When to Buy Wedding Shapewear
You can buy wedding shapewear anytime, but it is very helpful to have it even before you dress shop so you can try it on WITH the dresses. This is, of course, unless you plan to wear an open back dress, in which case you might need these for your bra and then wear wedding shapewear like this — a half-slip — instead of the full-body option:
buy here
Or you can wear their plunge low-back wedding shapewear, which is awesome because you can remove the straps for an open-back option. See it here. This is the best wedding shapewear to wear for an open-back dress or deep v-neckline.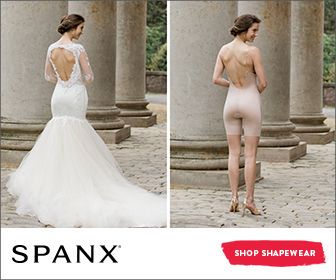 Here's another image for the open back option:
buy here
buy here
For breathability in a bodysuit style, try this style on their website. It is the answer to the best wedding shapewear to wear for most dresses — and a solid layering piece for everything else!
buy here
Need more coverage? Try their under sculpture, which provides a ton of cinching and sculpting.
buy here
A pair of high-waisted shorts are another great wedding shapewear option; you can wear any bra you already love with it! Available here.
buy here
There are other styles, plus-sizes, as well as levels of support for what you need (whether you want your wedding shapewear to smooth, shape, or sculpt). You can choose bodysuits, strapless bras, underwear, slips, half-slips, and so much more!
What Color Shapewear to Wear
For your big day, the best wedding shapewear color to wear is not white. You may think, well, the dress is white, so… but you'll actually see it under your dress.
Instead, choose something else: nude, naked, cameo blush, etc. You can browse by color here.
SHOP WEDDING SHAPEWEAR HERE TO GET STARTED!
So, what do YOU think about shapewear? Did this article help you find the best wedding shapewear for under your bridal gown? Do you have questions, suggestions, things to add? Tell us in the comment box below!
Happy Planning!
xo
Emma
Affiliate links included in this post. We only promote companies or brands we believe in.