What kind of wedding outerwear should you wear as the bride? We'll tell you! Make sure you're a VIP member (it's free!) or you'll miss out on future tips like these.
Halloween is just around the corner and do you know what comes next?
Winter.
I know, way to bring down the fall party, Emma!
buy here // by newyorkcitybride
And as much as I'd like to whisper it away, winter is coming one way or another and as they say, I AM HERE FOR IT.
Winter is our wedding anniversary, so you know for a fact that I truly do love weddings in winter (or else I wouldn't have planned one in December!)
There is also the inevitable "I smell snow" moment, snowball fights, ice skating, sledding, and ah yes, the holidays. The best!
by midwestern roots co. and great for gilmore girls fans
I don't love the freezing my butt off most days out of the week and getting dark at like 4 pm is pretty ridiculous, if you ask me, but that is beside the point.
I'm focusing on all the good, here: winter brings with it all kinds of beautiful things you can see if you just look for them. Our favorite: winter weddings! And if you're planning one, you'll need to wear a winter wedding coat to stay cozy and look just as fabulous as your wedding dress.
If you have winter coats for brides on the brain, you're probably asking yourself a few questions like:
Do you really need a winter wedding dress coat?
Should you wear a wedding cape?
Or is a wedding shawl a better choice?
Can you just get by with wearing nothing over your dress and braving it?
And what about winter wedding coats for bridesmaids, or guests?!
Oh, so many questions: let's jump right in and tell you everything you need and want to know about winter wedding coats for brides including stylish choices you'll love — that won't ruin the look of your dress.
Winter Wedding Coat for the Bride
Do you really need to wear a winter bridal jacket? Let's discuss it.
Should you wear a winter jacket?
Your usual winter jacket should stay in the closet on your wedding day! Instead, you should reach for a wedding coat designed for the bride to wear to keep your style at an all-time high. :)
Whether or not you the bride really need a wedding coat depends largely on the climate and date of your wedding. Chances are if you are planning a winter wedding in the Midwest as I did, the answer is yes.
Could you just brave it and stand outside getting photos taken? Well, yeah, I guess you could but you will freeze your little you-know-what off.
And your skin may get that odd "I'm so cold I can barely move my lips" tone, maybe even a little bluish or your skin will have a reddish tone. You'll also be shivering and uncomfortable, perhaps not the best combination for photos.
So, yes, winter coats for brides – or alternatives – are essential in cold weather locations. :) If you are getting married in an outdoor ceremony, this is especially crucial. And with so many COVID precautions causing more couples to host weddings outside, you will be relieved to have a bridal jacket at hand to wear as you make your vows, make a grand exit at your ceremony, and as you dance the night away.
You May Not Need a Bridal Jacket If…
• You're wearing a winter wedding dress like this gorgeous style by PolinaIvanova. It has a "turtle" collar, long bell sleeves, a nice thick satin fabric, and long length; the classic bridal buttons on the back are the icing on top!
This dress is fully lined and will cover you completely, which may be just as warm as if you wore a coordinating winter wedding jacket. Therefore, you may not need to wear one in this particular instance.
• You prefer an alternative: a pashmina, shawl, bridal wrap, a winter wedding cape, denim or leather jacket, or winter poncho can be worn to stay warm in lieu of winter coats for brides.
A pashmina can be worn around your shoulders to stay cozy, add a pop of color (or go neutral so it blends in more naturally), and remove easily any time without messing up hair and makeup.
Winter Wedding Coats for Bridesmaids
Pashminas make great wedding jackets for bridesmaids, too, and they're wildly affordable if you buy them in bulk from YadiMercier. She has the best colors, prices, and quality on winter wedding outerwear for brides and bridesmaids.
These make fantastic wedding coats for guests, too!
Buy them in bulk here + give them away as favors. A tag like this — "to have and to hold, in case you get cold" — is the finishing touch. :) We discuss it in greater depth + detail here.
buy here
A poncho for the bride, also known as a winter bridal jacket (but without buttons or a zipper), can be worn over the top of your dress and gives free movement to your arms. This winter wedding coat for the bride is handmade by ANLaceStudioShop.
buy here
A shawl or faux fur wrap add a small layer of warmth over your shoulders and are worn like this example by SissilyDesigns. I chose a faux fur wrap like this for my own wedding in December. I liked the freedom it provided, the soft faux fur, and the warmth it added.
I also like the vintage shawl look, which tied into my vintage-themed wedding beautifully. Shawl by SissilyDesigns
buy here
Here's another example of a fur shawl stole for the bride (also from the same shop here):
buy here
A denim or leather jacket is an alternative to a more formal winter coat. If your wedding is more laid-back or you're a casual bride, opt for one of these jacket options instead. Just note, they may not be as warm as wool, faux fur, or knitted options.
Here is an example of a super-stylish faux leather wedding jacket by CustomByMJ.
buy here
So, do you have to wear a coat or jacket the entire time? Let's discuss it.
When Does the Bride Wear a Jacket?
The winter jacket doesn't have to be worn all day. If your wedding is held outdoors, and you're chilly, go for it! Chances are, you'll work up such a sweat on the dance floor, you'll stay plenty warm! :)
Your coat or jacket can be worn anytime you're outdoors: traveling to and from the ceremony or reception venue(s), taking photos outside, and exiting your ceremony and reception sites.
Winter coats for a wedding make the finishing touch to your grand exit photos at your reception.
Wedding Coats for Brides
Here is our list of the best ten wedding coats for brides to wear this season.
1. Wool Winter Coats for Brides
This cute and cozy cashmere bridal jacket is a stylish winter coat for brides! You won't mind wearing this over your dress, since it will keep you warm and also on-point with style and elegance. By ArtPodiumStudio.
buy here
2. Peplum Bridal Blazer for Winter
This fashionable wool wedding coat for brides is one of my top picks. I love how it lays on the dress with an asymmetrical hem and is made in a wool that is suitable for fall, winter, or early spring weddings. Available in three shades to coordinate with your wedding dress. By DressInFelt.
buy here
buy here
3. White Satin Blazer Jacket
This stylish blazer is made of sumptuous shiny satin and will look beautiful with your wedding dress. Buy it here.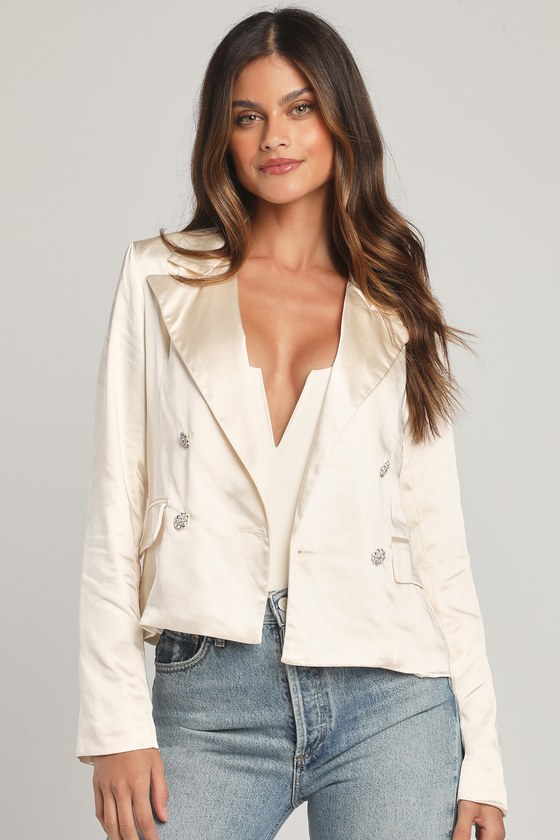 buy here
4. Fluffy Bolero Bridal Jacket
This jacket is for that extra soft, delicate layer that will keep you cozy and stylish. By Bubish.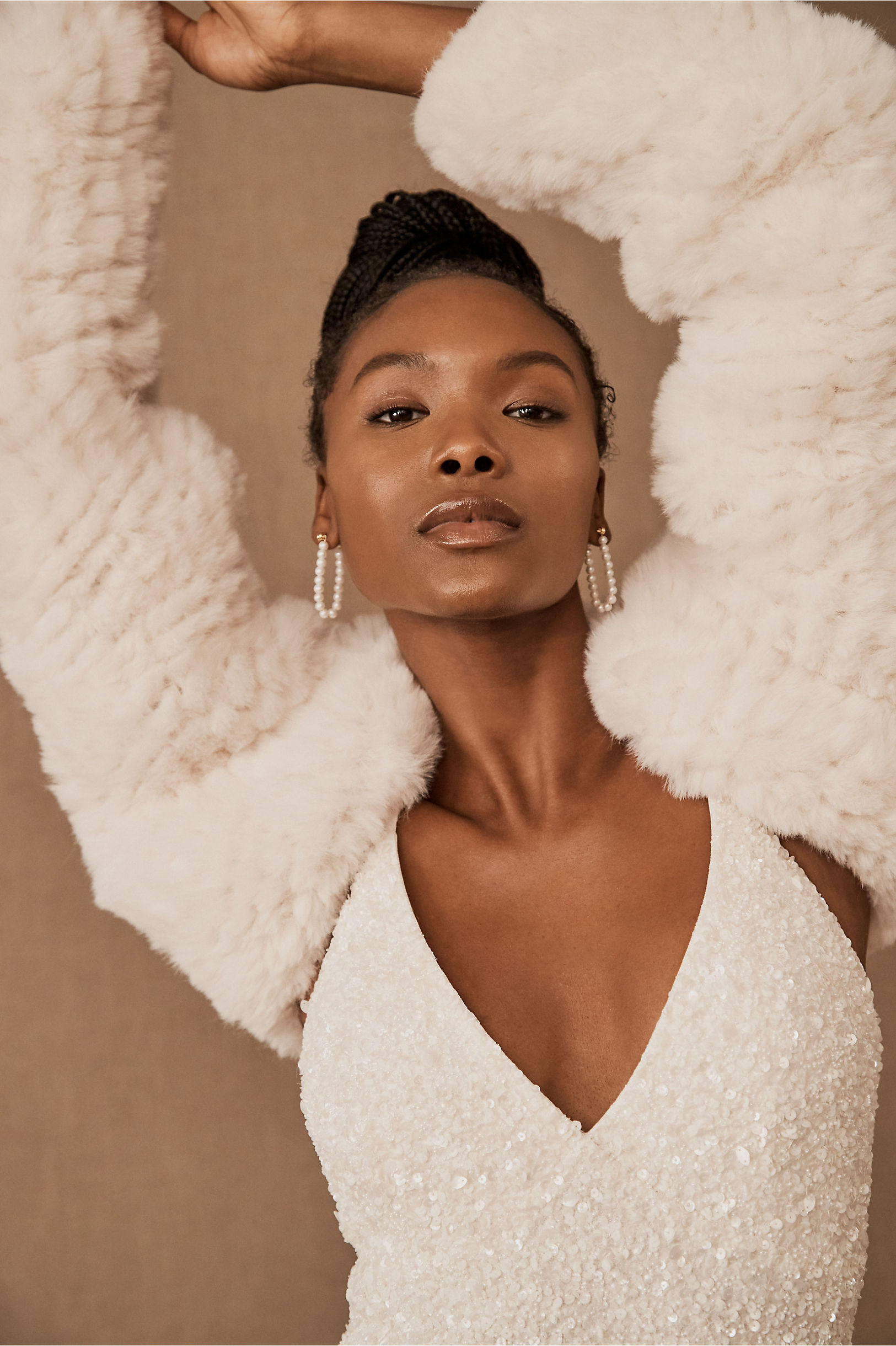 buy here
5. Felted Wool Cape
This bridal cape is amazing! I love the hood. By DressInFelt.
buy here
6. Cashmere Bridal Coat
The buttons on the front are so stylish here. By ArtPodiumStudio.
buy here
7. Mrs Denim Jacket
Who couldn't use an adorable Mrs denim jacket for the bride? This one is by UntamedPetals.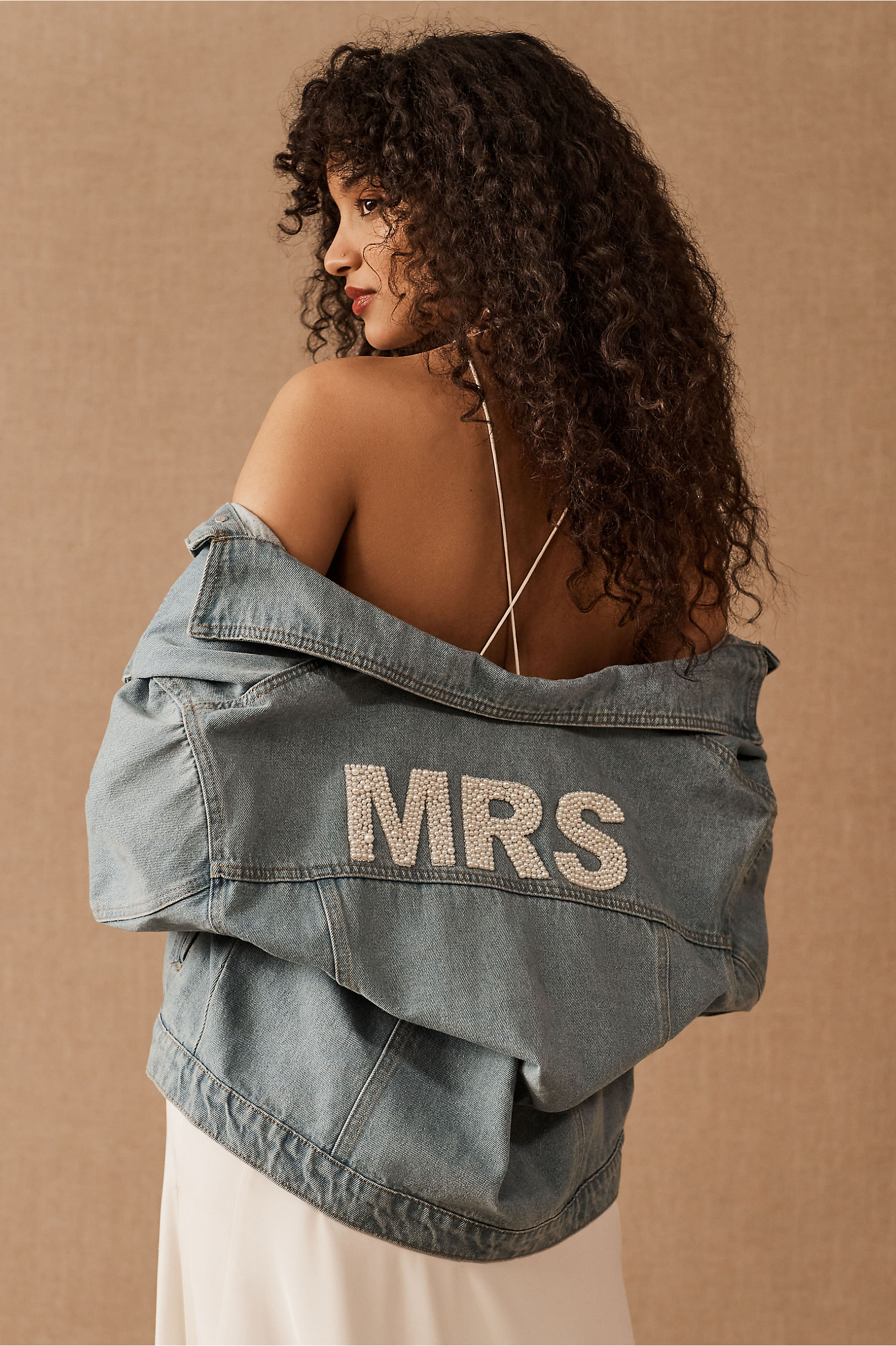 shop here
8. Winter Bridal Coat with Faux Fur and Buttons
This winter bridal coat looks so cozy and warm! By NewYorkCityBride.
buy here
9. Long Trench Winter Cape for Bride
This winter wedding coat for brides looks great with a gown or over a stylish bridal jumpsuit. Buy it at BHLDN.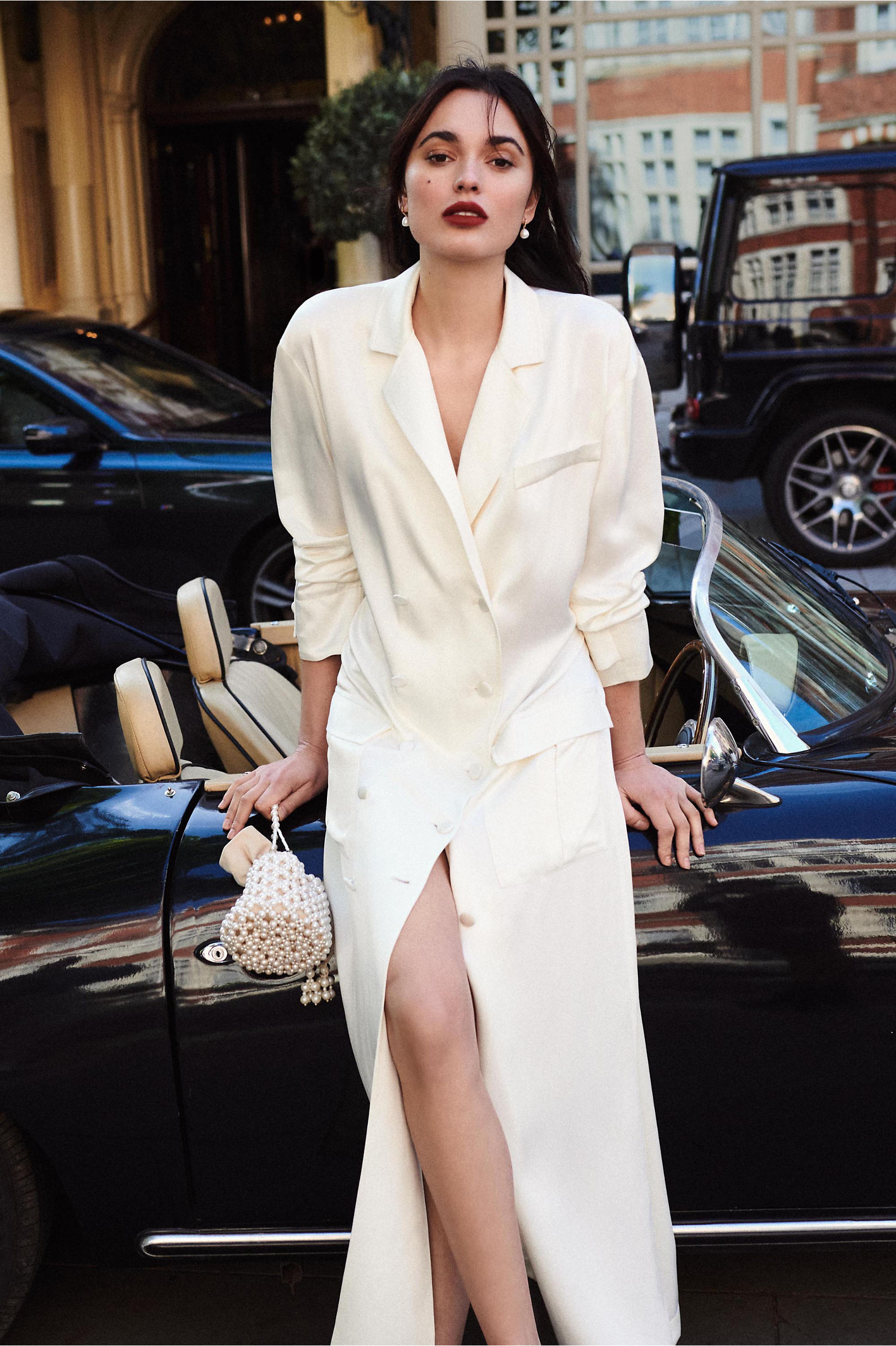 buy here
10. Bridal Jacket Blazer
Also loving this long white bridal jacket blazer. It's perfectly oversized! Get it here.
shop here
11. Bridal Jacket in Blush
I love this boho bridal jacket style! It makes a perfect winter wedding coat for brides. This outerwear has metalpress studs and a cute blush pink color. By DressInFelt.
shop here
12. Faux Fur Winter Coat
This white winter coat is perfect for the bride! By BHLDN.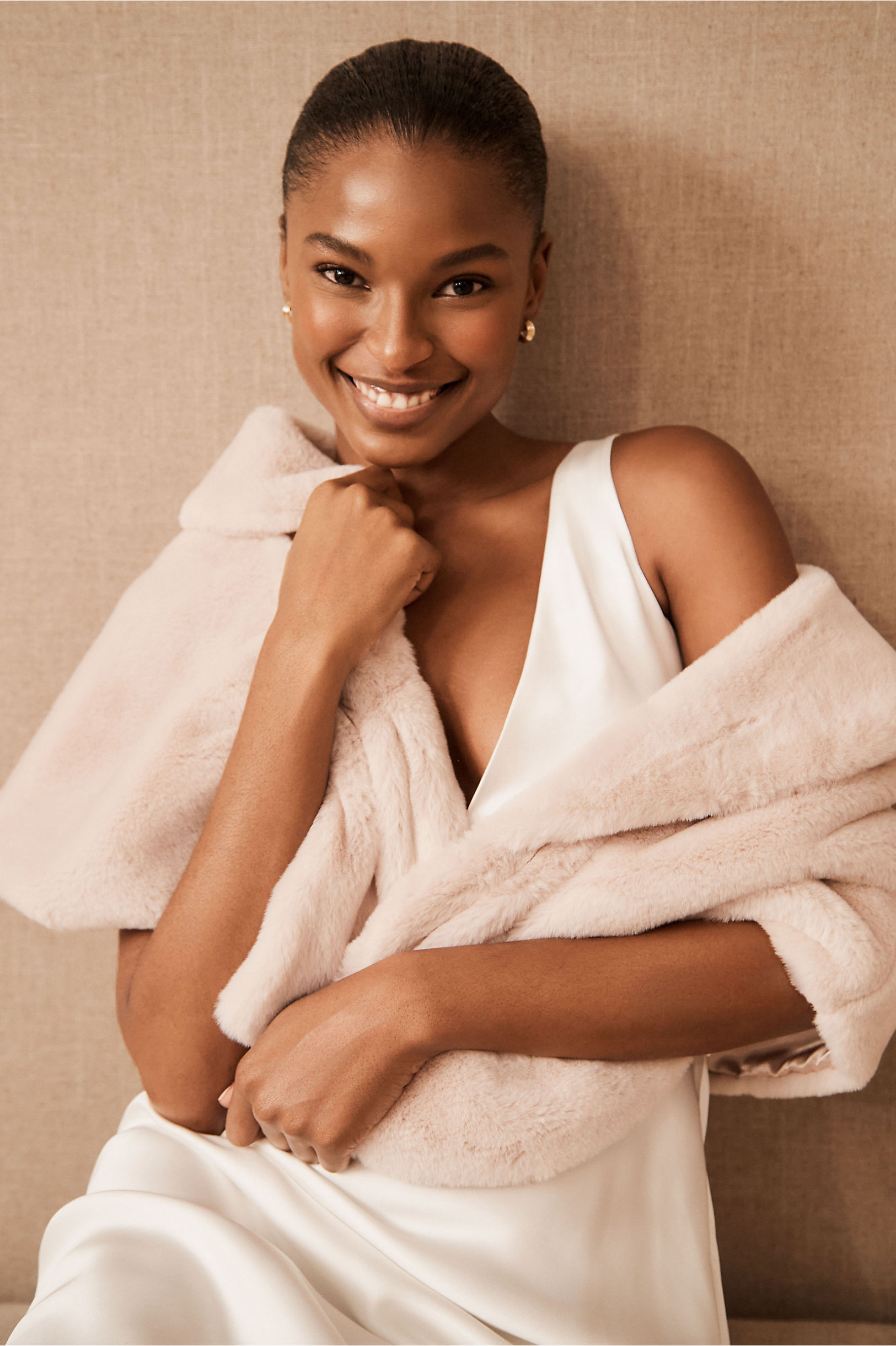 buy here
13. White Bridal Cropped Jacket
One part cover-up, one part stylish accessory! Get it at Lulus.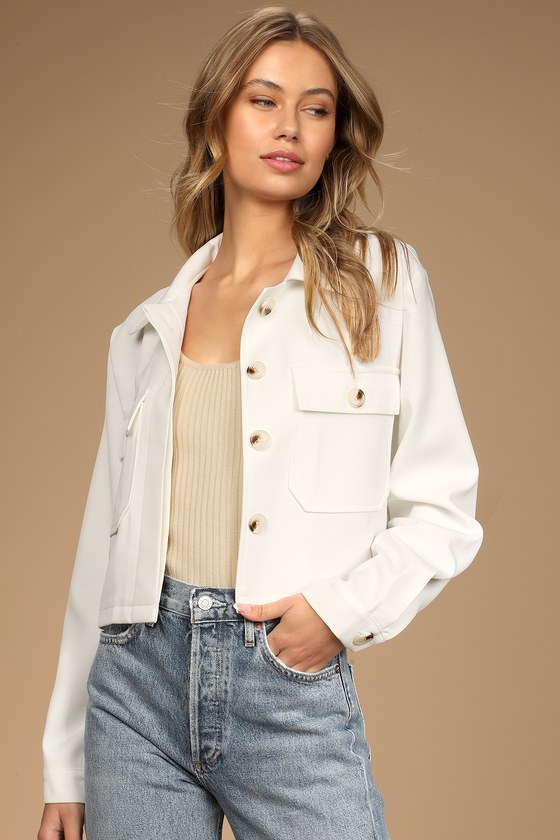 buy here
14. Elegant Long Bridal Coat with Hood
This fur hood and winter coat are an amazing addition to your bridal wardrobe. Add the long gloves, I say, for a complete look. By ANLaceStudioShop.
buy here
15. Long Winter Wedding Coats for Brides
This style — shown in blush, but available in ivory, white, etc. — is exactly what I picture when I think of a bride wearing a winter wedding dress coat. It is so pretty! By ANLaceStudio.
buy here
16. Cropped White Lace Bridal Jacket
Ah, this is a cute one: a cropped white jacket for the bride with lace sleeves! Get it here.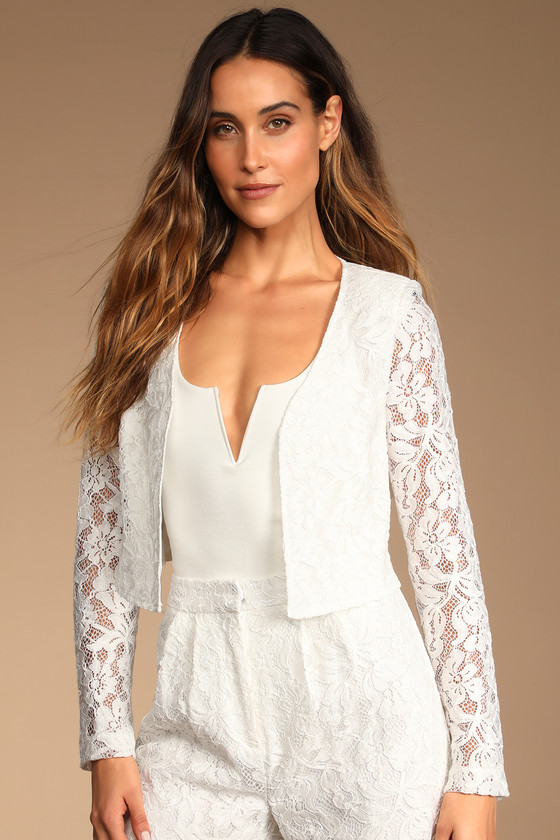 buy here
17. Cropped Ruffled Bridal Bolero Jacket
This is a beautiful vintage-inspired bolero jacket for the bride! By BellePoque. Get it for a great price here.
buy here
If you're looking for more winter wedding outwear or coats for brides, check out these shawls — they're incredible!
To buy winter wedding coats for brides shown here, click on an image or link underneath the image to shop. You can also browse more ideas for winter jackets or bridal jackets by handmade designers here to keep the inspiration going.
We hope this helps you to pick out a stylish bridal jacket you can wear and stay warm during your winter wedding. Which of these winter wedding coats is your favorite for the bride to wear? What kind of bridal jacket, cape, shawl, bolero, pashmina, etc. will YOU be wearing this season? Tell us in the comment box below.
We hope this helps you to stay warm at your wedding — and still look stylish!
P.S. Want to go matchy-matchy with your soon-to-be spouse? Try these matching wedding jackets!
xo
Emma