Are you attending a winter wedding and need a guest dress? Wondering what kind of styles are "in" right now and will keep you as cozy as possible during these chilly months? You've come to the right place! Today we're chatting about the coziest and cutest winter wedding guest dresses, outfits, and attire for 2020. Want a winter wedding guest jumpsuit? How about winter wedding guest dresses long sleeve, short sleeve, or made of luxe velvet?
You've got it!
We hope these winter wedding guest ideas help you pick out a stylish new outfit to rock at your upcoming wedding or event. Which guest dresses are your favorite?
Oh, and P.S. some of these dresses are SUPER affordable, as in, around the $30 mark. I know, I couldn't believe it either. Enjoy!
Winter Wedding Guest Dresses
1. Silky High-Low Hemline Dress
A stylish silky wedding guest dress available in clay (shown), navy, or oyster. By BHLDN.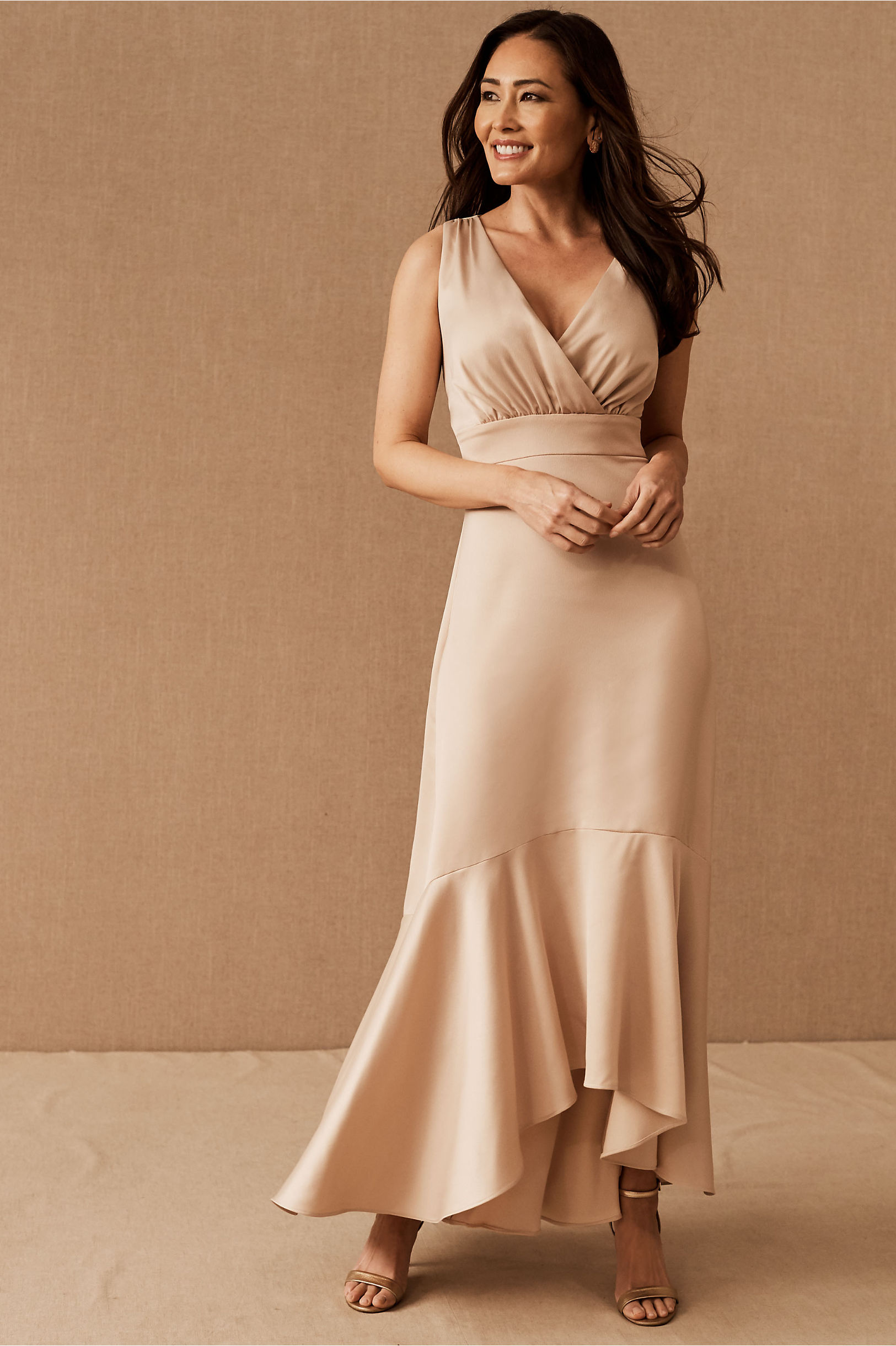 by BHLDN
2. Satin Midi Dress
Shown in a sweet icy shade of blue, this satin midi-length outfit is one of the best wedding guest dresses for winter. It is stylish, features skinny spaghetti straps, and cowl neckline. This wedding guest outfit is available in MANY colors! By BHLDN.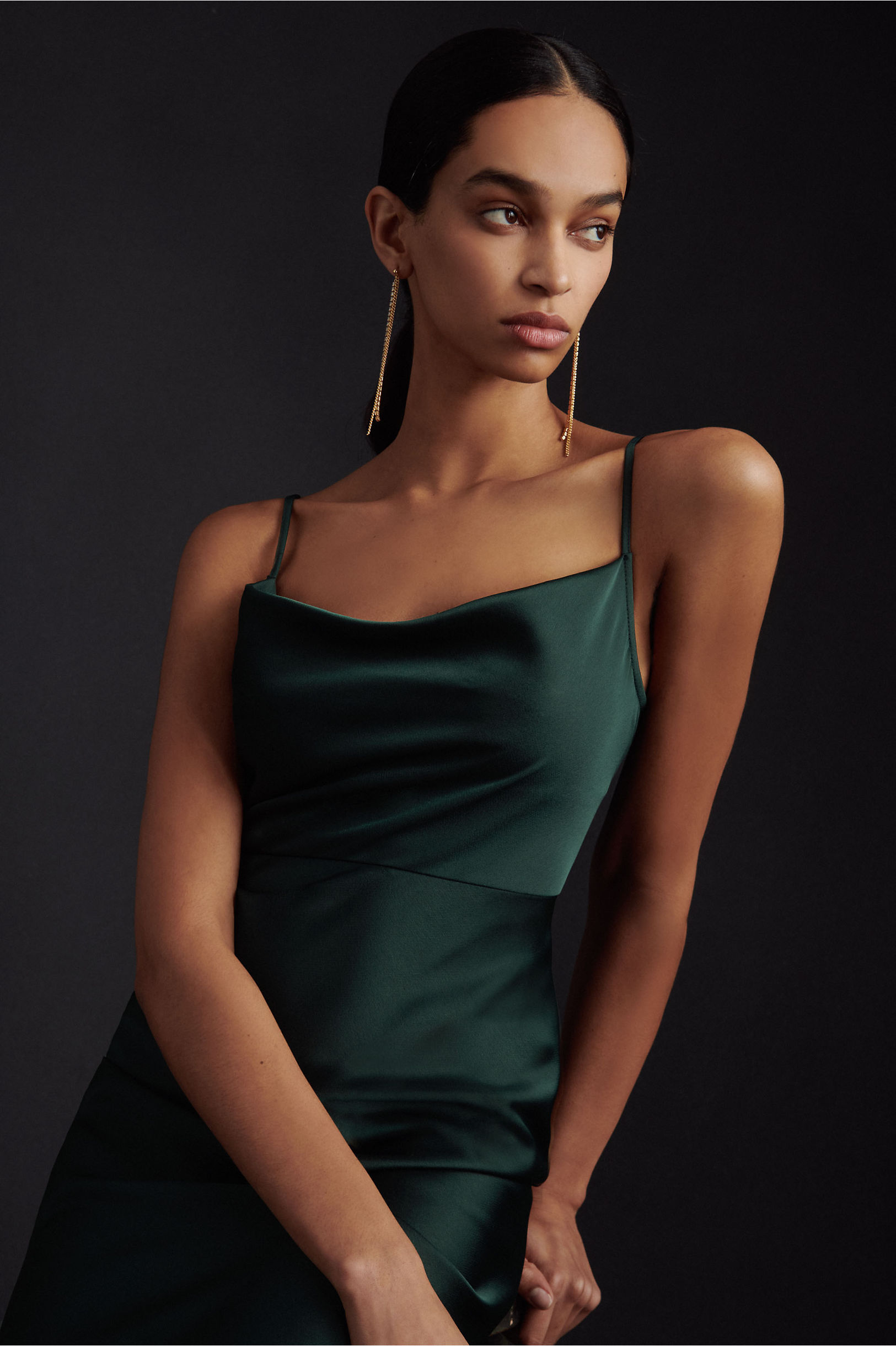 by BHLDN
3. Off-The-Shoulder
This sophisticated wedding guest attire is a black dress that features sleeves in a dropped, off-the-shoulder style. It reminds me of the look of long elegant formal gloves! By BHLDN.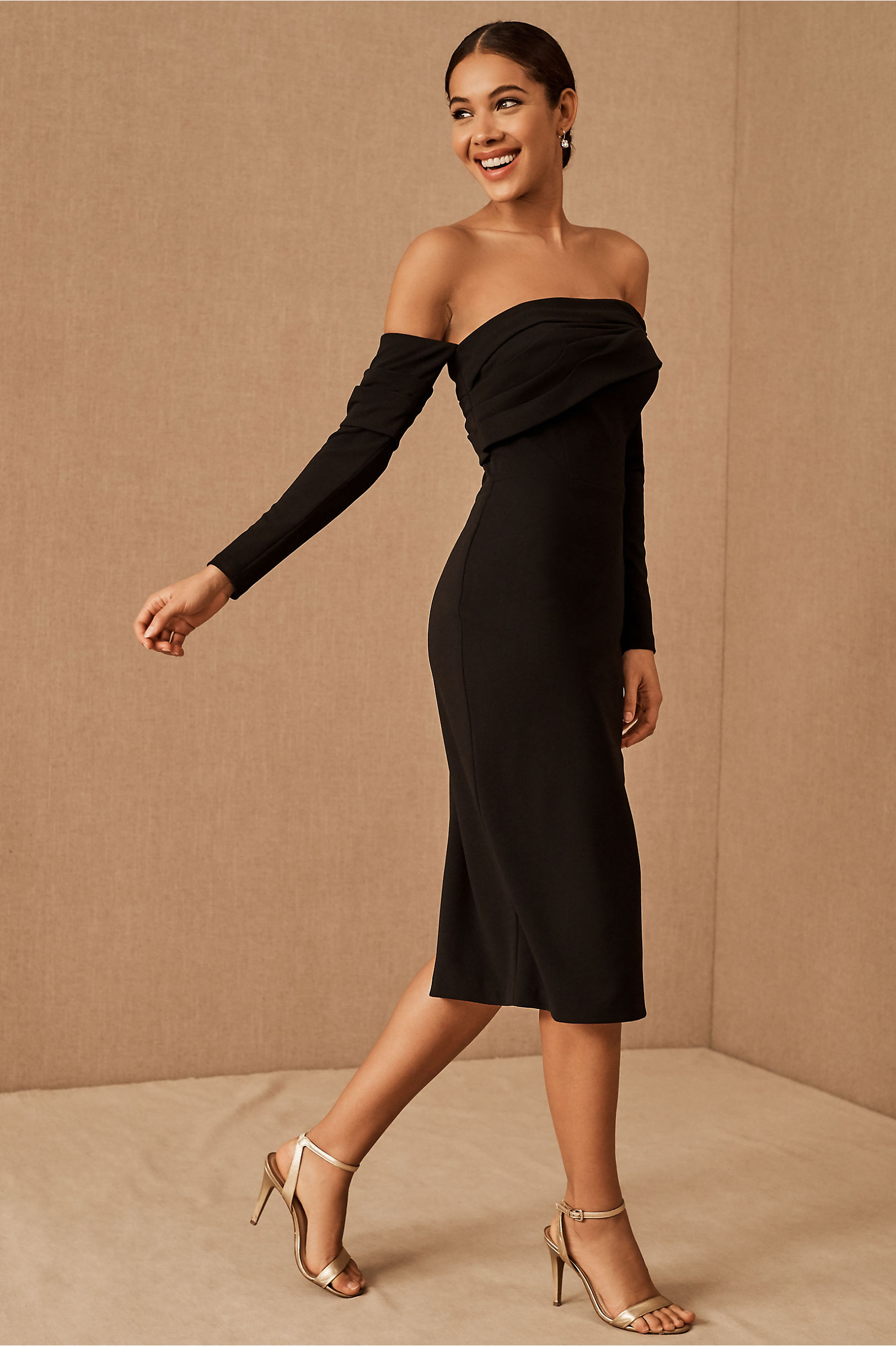 4. Velvet Dress
Looking for velvet winter wedding guest dresses? This style named Dover is one of our top picks! It features gorgeous draped sleeves, a tulip skirt, and midi length. By BHLDN.
by BHLDN
5. Winter Wedding Guest Jumpsuit
This stylish jumpsuit has great ratings, most notably for being a "flattering" style! Great to hear because this price is also awesome. By Happy Sailed.
by happy sailed
6. Satin Maxi Dress
This fashionable outfit is great for guests to wear to winter weddings. It is floor-length and cozy, made with luxe satin fabric. By BHLDN.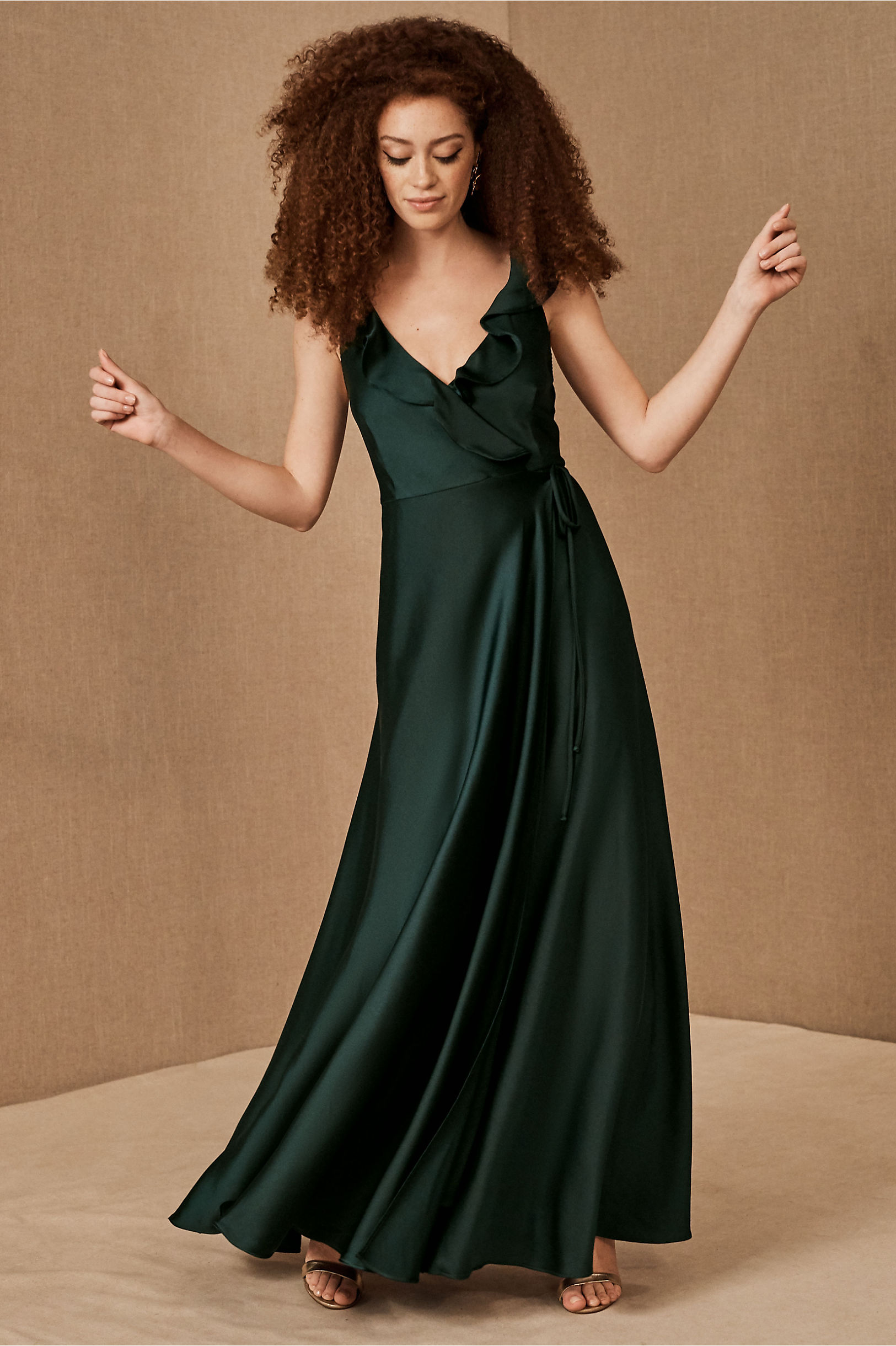 by BHLDN
7. 3/4 Sleeve V-Neck Velvet Dress
Oh, I love this one! Can you believe it costs less than $30?! I'm shocked! By Fantaist.
by fantaist
8. Floral Lace Long Sleeve Maxi Dress
I want/need this one! I love the color and the floral lace sleeves. Only $33.99! By Zattcas.
by zattcas
9. Wine Red Floral Maxi Outfit
This is one of my favorite winter wedding guest dresses: it is a long, maxi-style dress in a wine-colored floral pattern. By Zattcas.
by zattcas
10. Ruched Wrap Party Dress
Ooh! This is a stylish winter dress for wedding guests! I love the ruching, the color, the long sleeves, and the short skirt. Great for dancing! By Grace Karin.
by gracekarin
11. Flowy Long Sleeve Swing Dress
I want this dress in every color. Pair with leggings, if you'd like! By Amoretu.
by amoretu
12. Stretchy Long Velvet Dress
This velvet dress features long sleeves and has a nice stretch, so it is comfortable to wear! Great for formal weddings. Love it in emerald; available in other colors, too. By UrbanCoCo.
by urbancoco
13. Chiffon Wedding Guest Dress
This beautiful dress is made with party-ready chiffon! Available in plus size. By Romwe.
by romwe
14. 50's / 60's Style Wedding Guest Dress
Ooh, this is a perfect dress for a throwback style! Over 6500 reviews + counting. By GraceKarin.
by gracekarin
15. Casual Winter Wedding Guest Dress
This is a top-pick for more informal winter wedding guest dresses. I love this color combination; more shades available. This one is very popular. By DearCase.
by dearcase
16. Off-The-Shoulder A-Line Dress
This winter wedding guest dress with long sleeves and floral skirt is adorable! By Oxiuly.
by oxiuly
17. Ultra-Flattering Lace Sleeve Dress
This is a very stylish and classic choice for a winter wedding guest dress. Many colors; love it in navy blue! By Miusol.
by miusol
18. Pleated Short Velvet Dress
This velvet winter wedding guest dress features a stylish choker neckline! Great for winter weddings and holiday parties. By HotLoox.
by hotloox
19. Long Sleeve Maxi Dress with Pockets
You had me at pockets! By Auselily.
by auselily
20. High-Low Cocktail Dress
Dance your you-know-what off in this cute cocktail dress! I like the off-the-shoulder style. By Sarin Matthews.
by sarin matthews
21. Bell Sleeve Sheath Dress
Ooh, I want this one! So cute! I like the bell sleeves. By VFShow.
by vfshow
23. Deep V-Neck Long Dress
This dress looks like it would go with anything and works great for many occasions, not just for winter wedding guest dresses! Shown in classic black but with other colors available in the store. By Miusol.
by miusol
What do you think of these winter wedding guest dresses 2021 has to offer? Which one is your favorite? I love them all, but honestly, pockets? And a maxi style? Sign me up! :)
Tell us your favorite winter guest dress in the comment box below.
Have fun!
xo
Emma