Hi, loves! How was your Memorial Day weekend? Ours was fantastic — lots of time snuggling with little man, Andrew, who turns 2 months old today. (More details on him to come!) Today we're bringing you a brand new Ask Emmaline question from Joshua, groom-to-be! Joshua wants to surprise his bride-to-be with a gift. Here's what he wrote to us: "Emmaline, Help! I want to give my fiance, Jamie, a gift for our wedding. I was thinking of one of those wedding dress hangers she can hang her dress on… I saw it somewhere but can't remember where to get one. Any tips on where to buy wedding dress hangers?" Great question, Joshua! A wedding dress hanger is an awesome gift for the bride because she can use it to display her dress on the wedding day while those getting ready photos are being taken. It's also a wonderful keepsake for after the big day, as most wedding hangers can be customized with her name (and her new last name, if she'd like). Read on to get a glimpse of wedding hangers we love and enter for a chance to win one of your very own! Giveaways… that's how we do it here at EB!
Wedding Dress Hangers
First and foremost, no two wedding dress hangers are the same. We've found a few different hanger styles from which to choose, depending on your wedding theme or personal preference. For instance, there's a wooden hanger with metal personalization underneath which can feature her new name with 'Mrs' in front.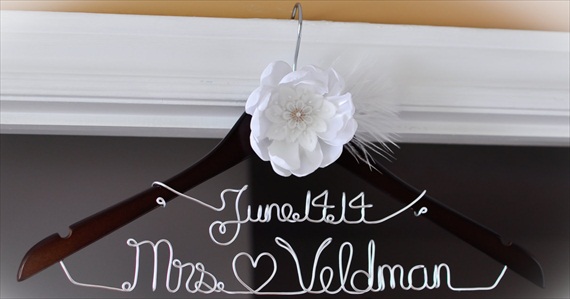 touch of elegance by del
Crave a little "something blue"? This dress hanger includes personalization in a new bolder hue — blue!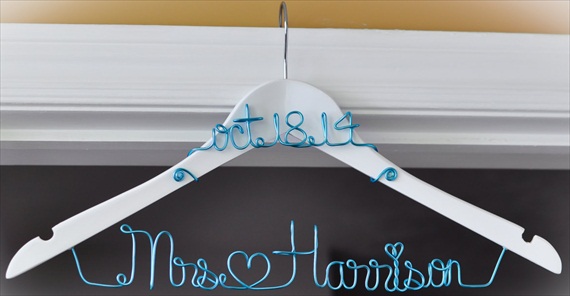 touch of elegance by del
Or, create a unique hanger with both of your names crafted in gold wire.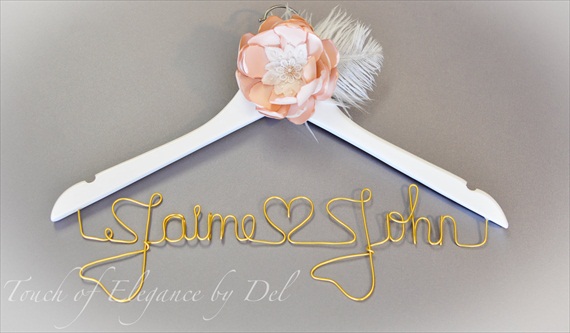 touch of elegance by del
If she's planning a vintage-inspired wedding, a satin padded hanger with simply 'Bride' underneath makes a great gift.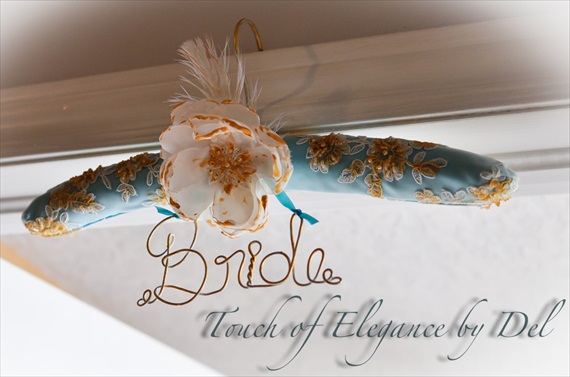 touch of elegance by del
Rustic wedding? Check out these wedding dress hangers that include personalization right onto the top with a wood-burning tool.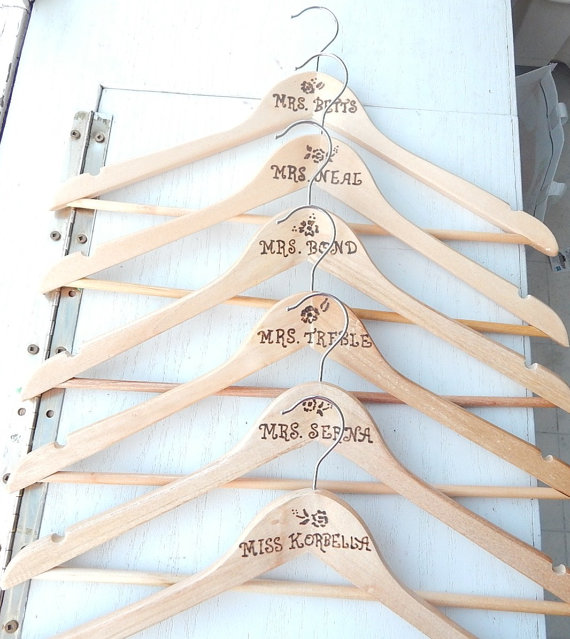 knotty notions
Is she a glamorous bride-to-be? A dress hanger with bling (think rhinestones or pearls) may be the perfect option for her.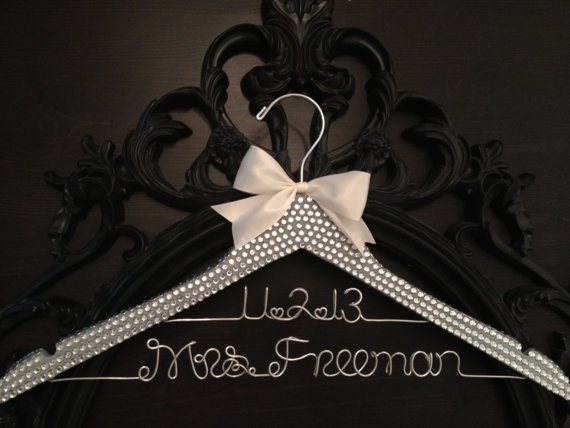 get hung up
Or, if she wants to tie in her theme, grab one with embellishment (like this beach-inspired hanger):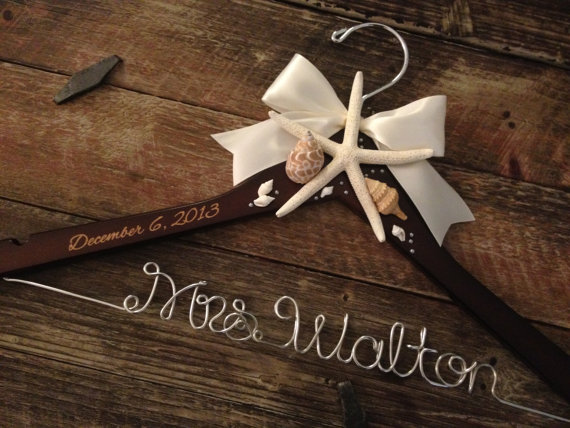 get hung up
Giveaway: Win a wedding dress hanger!
Now that you've seen a few different wedding dress hangers and styles, it's time to enter for a chance to win one! We've teamed up with Touch of Elegance by Del to offer this padded wedding dress hanger, shown below, to one lucky reader! Check out the details below.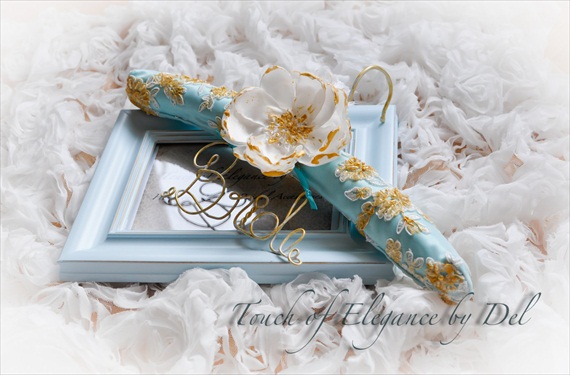 o Enter between 5/27/14-6/2/14 (11:59pm EST)
o Prize: Bride wedding dress hanger, shown above, by Touch of Elegance by Del
o Winner will be randomly selected and announced on 6/3; winner announced on this blog post and emailed
o Winner has 72 hours to respond to email or new winner will be selected
o Winner responsible for shipping cost
o No purchase necessary
o Winner has 3 months to claim prize
o Prize value: $60 | No cash value
o Past giveaway winners within 30 days not eligible to win
o Use entry form below to enter
xo,
-E.