In love with Anthropologie style but have no idea where to buy BHLDN wedding dresses in store or online? We'll tell you! But first, subscribe or you'll miss out on future posts like this!
Hey, Emma here!  What's happenin', loves? It's Friday… almost Memorial Day weekend… you're looking for BHLDN wedding dresses and BAM.  You come across this post and we're about to hit you with three (count 'em!) very cool surprises.
Ready for it?
For starters, we've hand-picked fourteen BHLDN wedding dresses that are super gorgeous and affordable!  So affordable, I might add, that your wedding budget is going to come back from summer vacation and be like, oh thank goodness, you didn't blow the entire thing while I was away!
And surprise number two:  if you're wondering where to buy BHLDN wedding dresses in store or online, we'll answer that for you.  You might even be able to sneak away during the BBQ this weekend to try some on in your own hometown.
Finally, surprise number three– and this one's a good one —  there's a SALE.
Since I shop BHLDN and Anthopologie more than Andrew might like (ha!) I know for a FACT there is a sale happening right this very moment.  And there aren't sales that often. But when there are, they're so good — like 40% off, good.
But you can't blink or you'll miss it because it's special just for this holiday weekend.  Score the sale discount code & find out which BHLDN wedding dresses I've spent time serious time swooning over…
BHLDN Wedding Dresses
I appreciate BHLDN wedding dresses for a myriad of reasons, but pretty much because they're so incredibly pretty.
They're effortlessly curated, so you know you're getting fashion-forward styles.  Their dresses are made by top designers, so quality is of utmost importance.  And there are reviews, so if you're on the fence, another bride-to-be can shed some light on what she did (or didn't) think was particularly awesome about her wedding dress.
Anyways, these fourteen hand-picked BHLDN wedding dresses (rule: ones I'd totally wear myself) will make you happy because they're delightfully designed, on trend, and under (and many are well under) the price point of $2k.  Many of the BHLDN wedding dresses in this list are $1k or under, as a matter of fact.  For BHLDN, that's not an everyday thing because they're so freaking gorgeous that the price is usually somewhat high.
But as I like to say when I find a stray k-cup in the back of my cabinet for a much-needed caffeine fix, sometimes you win one.  And today's your day!
Let's check out the list of wedding dresses and then we'll get to the other two points:  where to buy BHLDN wedding dresses in store and online plus that super-saver discount code I told you about.
BHLDN Wedding Dresses, #1. Astral
Let's kick off the list with Astral.  This is one of my top BHLDN wedding dresses picks of this year.  A v-neck, illusion tulle, hand-sewn embellished flowers, tulle… love this dress.
via bhldn
BHLDN Wedding Dresses, #2. Cruz
Next up: Cruz.  You can see the front of the dress here. The whole dress is stunning, but the back is a real showstopper. Check out that train!
via bhldn
BHLDN Wedding Dresses, #3. Melrose
Oh, hey, Melrose… I'm absolutely loving the flower detail on the bodice of this gown.
via bhldn
BHLDN Wedding Dresses, #4. Gina
Let's just go ahead and say it — damn, Gina! (#MartinLawrence) This sheath style gown is classic elegance at its finest.  A strapless sweetheart neckline — fab — and a sash to tie it all together.   If you're putting this in your file of favorite BHLDN wedding dresses, be sure to add those shoes to it, too.  They go so well with the sash!
via bhldn
BHLDN Wedding Dresses, #5. Delancey
Delancey is a modern wedding gown that has one of the prettiest backs ever. The feminine styling of the bow is divine, and, seriously, whoever decided to put pockets on wedding gowns (this one has 'em!) is a genius.
via bhldn
BHLDN Wedding Dresses, #6. Reagan
Reagan is one of the BHLDN wedding dresses I'd recommend to anyone, right off the bat.  It is ultra feminine with elegant lace flowers and illusion tulle (very hot this season).  The tulle will make you sashay down the aisle so gracefully.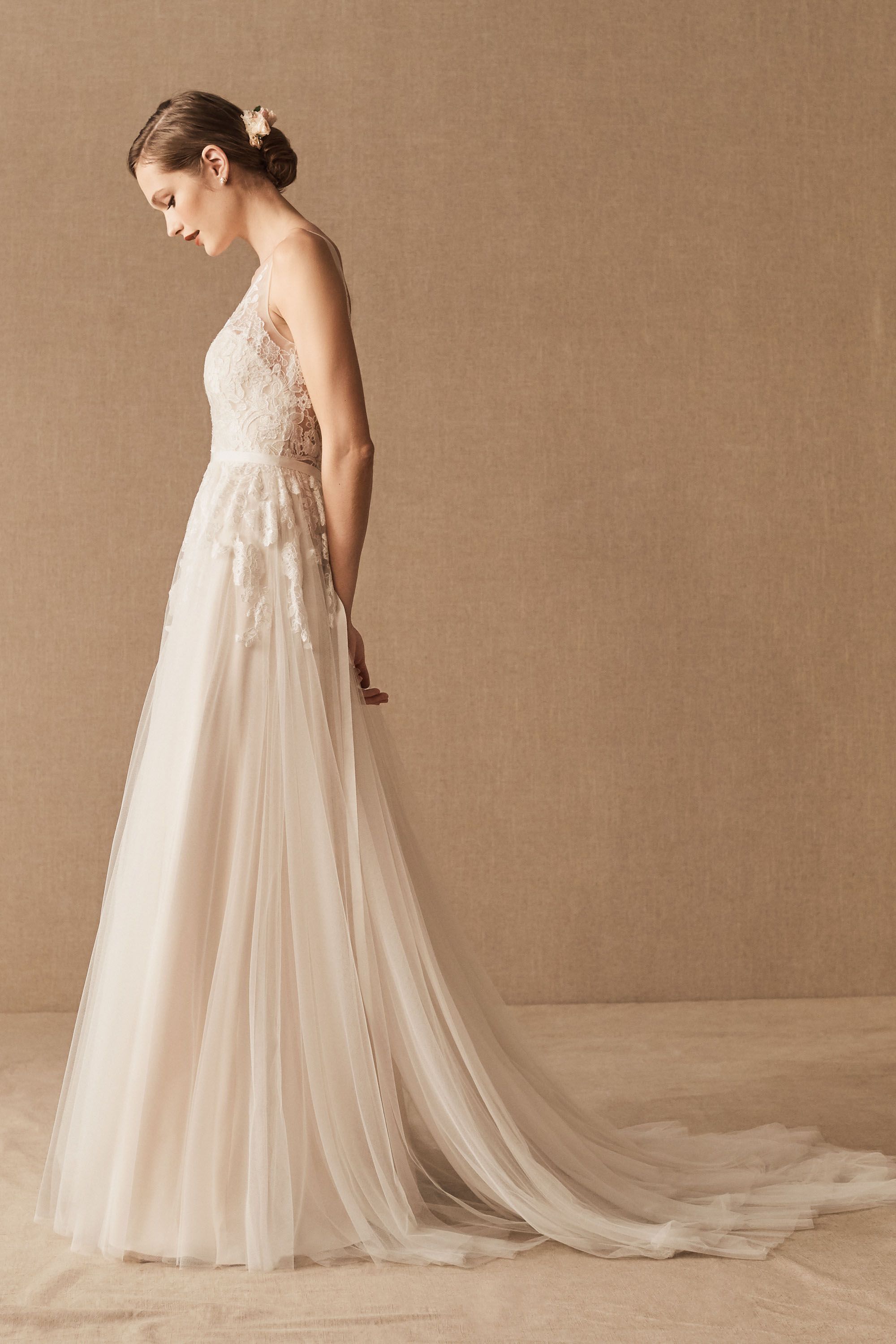 via bhldn
BHLDN Wedding Dresses, #7. English Rose Gown
This English Rose Gown is romantic with a textured floral appliqué. I love the flowing tulle and large graphic blooms! Trés chic!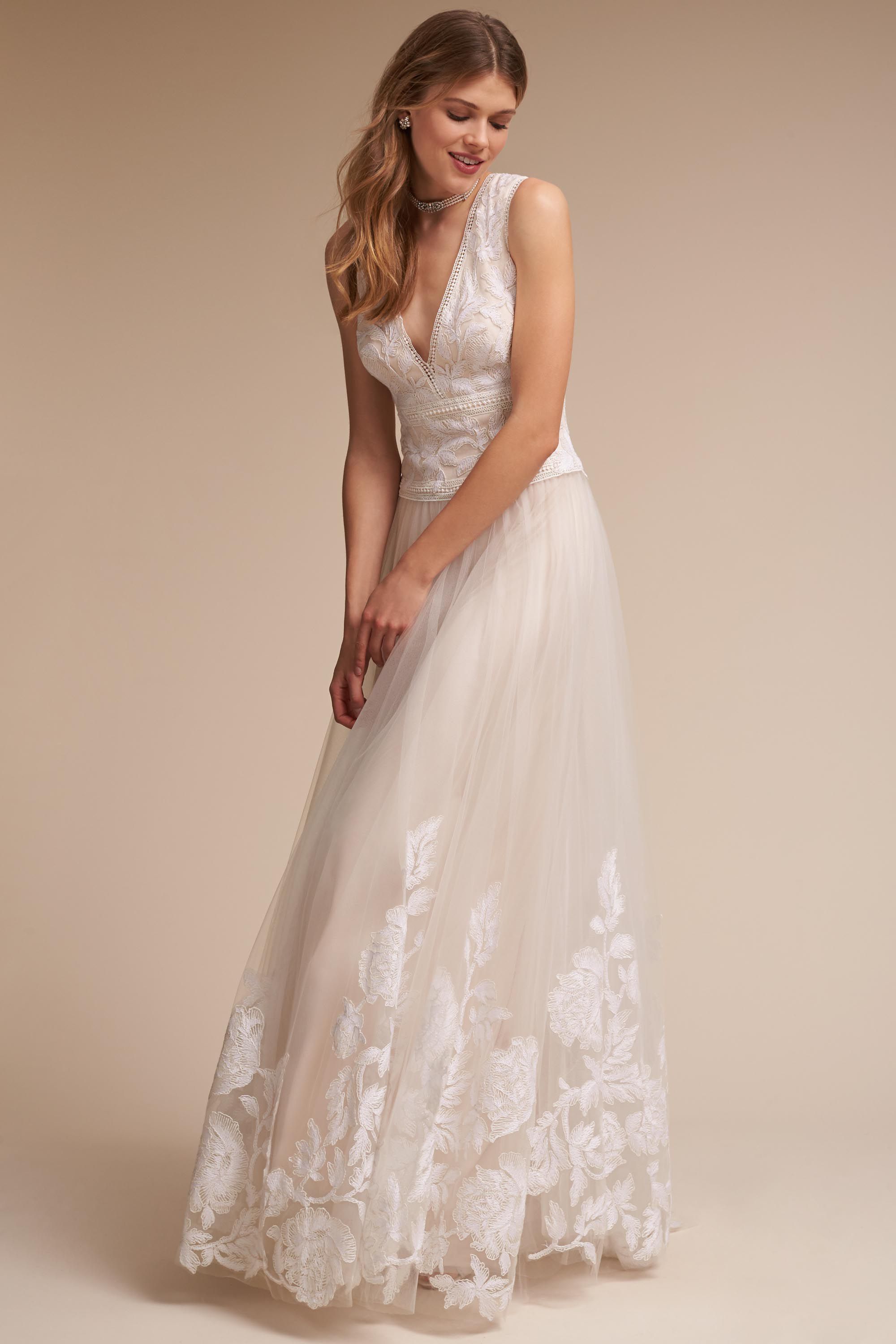 via bhldn
BHLDN Wedding Dresses, #8. Freesia
Freesia is the wedding dress I'd recommend to vintage-loving brides. I love this lace inspired pattern and the embellished belt.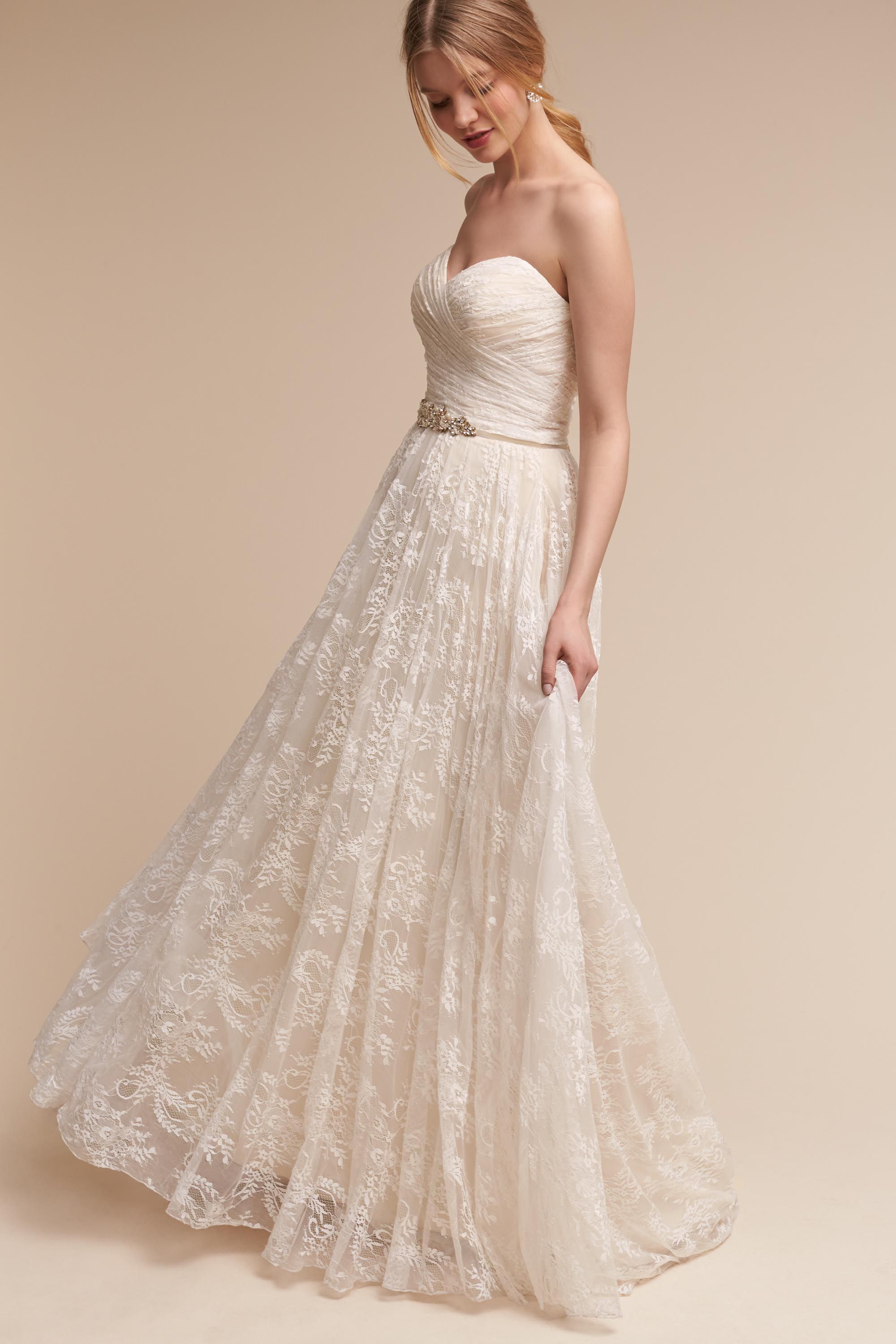 via bhldn
BHLDN Wedding Dresses, #9. Rosalind
Dainty and feminine with a lace bodice, scalloped edging, and a full tulle skirt, I'd say Rosalind is pure perfection.
via bhldn
BHLDN Wedding Dresses, #10. Melanie
Melanie comes in at the top of our price point but it's not surprising: it is designed with bohemian lace, exquisitely tailored detailing, cap sleeves, and a sweeping train.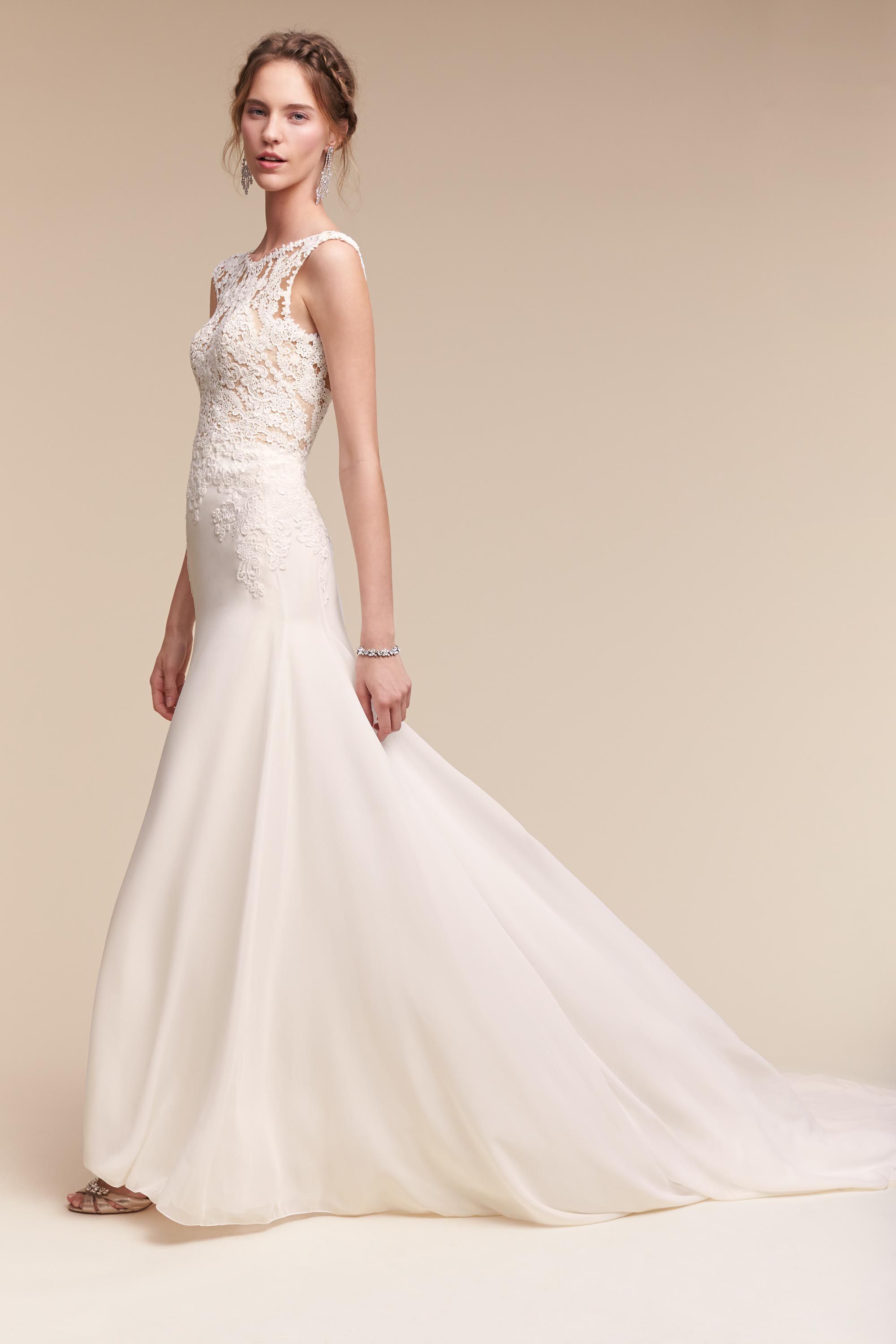 via bhldn
BHLDN Wedding Dresses, #11. Ramona
The Ramona is another favorite from BHLDN. It features a delicate champagne tulle skirt, modern silhouette, and off-the-shoulder details. The voluminous skirt is seriously made for twirling.
via bhldn
BHLDN Wedding Dresses, #12. Naya
Sequin beads, airy tulle, and an incredibly awesome price makes Naya one of the best wedding dress picks. It's gorgeous!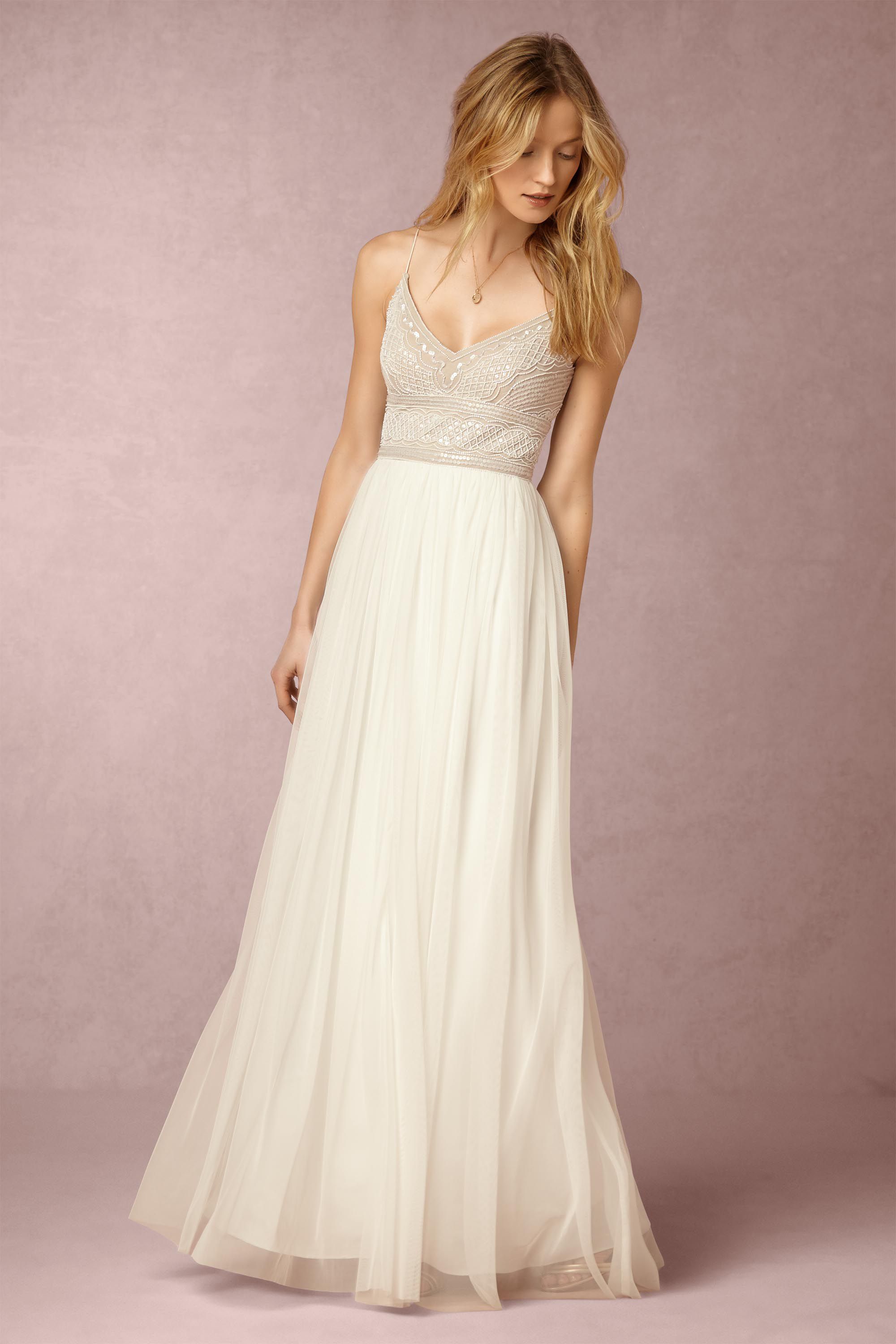 via bhldn
BHLDN Wedding Dresses, #13. Amalia
Amalia has graphic floral lace and buttons up the back. I am smitten for its long train and totally romantic style.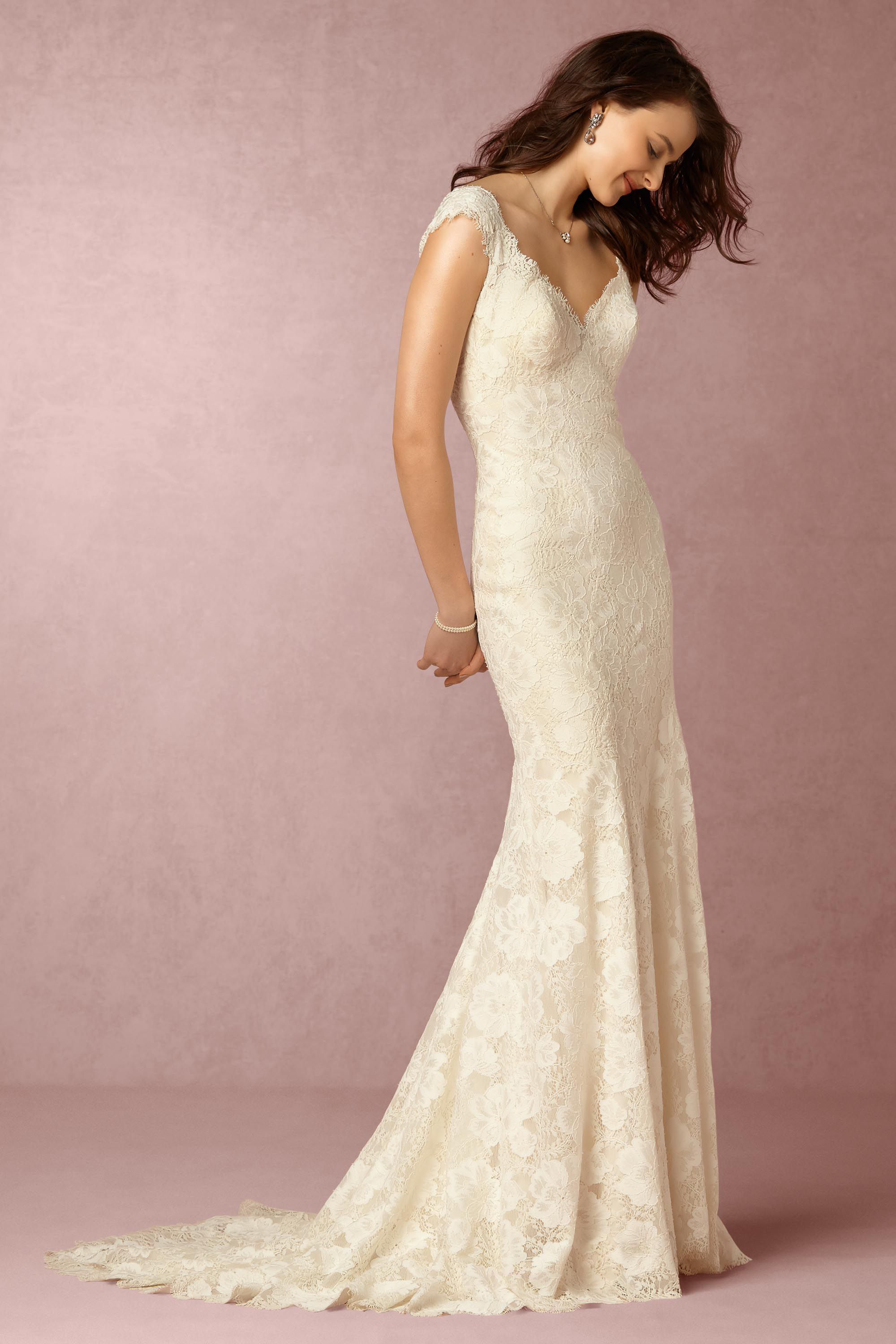 via bhldn
And last but not least — I could go on forever! — is the Queensland.
BHLDN Wedding Dresses, #14. Queensland
The Queensland dress is another with botanical elements and layers upon layers of tulle.
via bhldn
So, that just about does it.
What do you think of these BHLDN wedding dresses? Have a fave? Head over to BHLDN to see the entire collection.
As promised… here's where to buy BHLDN wedding dresses in store or online.
Where to Buy BHLDN Wedding Dresses
Many brides buy their wedding dresses online nowadays — it's sort of the new norm.  For where to buy BHLDN wedding dresses online, you'll want to go right here.
Prefer to kick it old school? You know, TRY IT ON first?! ;) I hear ya.  If you want to see it in person, you can try on BHLDN wedding dresses in store. BHLDN now offers a myriad of bridal shops that carry BHLDN wedding dresses, so you can actually SEE Ramona, or say what's up to Gina, or get a glimpse of Reagan's seriously gorgeous silhouette in person.
The store locations are being added all the time, so check here for the latest.  There's even trunk shows or special events popping up all the time — find them here — even if you don't have a local store in your area.
Get your discount code!

You didn't think I'd forget your sale code!
For a limited time, use code: HEY40 at BHLDN to enjoy an extra 40% off sale items in stores and online. Does not apply to full-price merchandise. Ends Monday! See their website for the full details and exclusions.
Leave a comment
Now that I've talked your ear off, it's your turn:  what's your favorite wedding dress here?  Which one were you not so fond of? I want to hear it all!  I'm crazy for them all, but I am especially digging the Reagan (#6). It's incredible! Tell me your pick below in the comments box.
Happy Planning!
xo
Emma
Pin for Later: