What do brides wear to a wedding shower? Anything they'd like, of course! Traditionally speaking, the bride typically wears a little white dress to her bridal shower. This dress is not meant to be fancy like a bridal gown, but stylish and formal enough that everyone knows you're The Bride.
Most brides opt for a short little white dress for the occasion.
If you need outfit ideas for the bridal shower, you're in luck: we found twelve beautiful bridal shower dress ideas to inspire you with a little bit of everything from short little white dresses to longer maxi dress styles. We found some with ruffles, others with one-shoulder styles, and some strapless bridal shower dresses to wear.
What you might not expect, though, is where all of these designer bridal shower dresses are available: Lulus and Zappos!
Yes, they not only offer everyday clothing and shoes but now wedding apparel, too! You'll be surprised by the number of women's dresses and the trending styles they offer.
And when you're shopping for something as specific as bridal shower dresses, it's easy to narrow down your search by color, popularity, length, price, size, event, and more. In addition, they offer plus-size and petite dresses for a variety of size options.
While browsing for examples of what the bride wears to the bridal shower, we came across these dresses. We are sharing these as possible wedding shower dress options with a little bit of everything: short, long, midi, maxi, feminine, laid-back, casual, and formal. Both retailers offer a tremendous array of styles to suit everyone's needs and these bridal shower dress ideas will prove it to you.
Here are the best wedding shower dress ideas for 2022 brides to wear.
Bridal Shower Dress Ideas
1. White Lace Dress
This dress is named Remarkable because that's exactly what it is! I admire the allover lace trim and the delicate hem that hits right at the knee for a perfect length. Available here. By Lulus.
buy here
2. White Sleeveless Bridal Shower Dress
This sleek midi length dress features all-white intricate floral lace and a rounded neckline for sophisticated style. Get it here.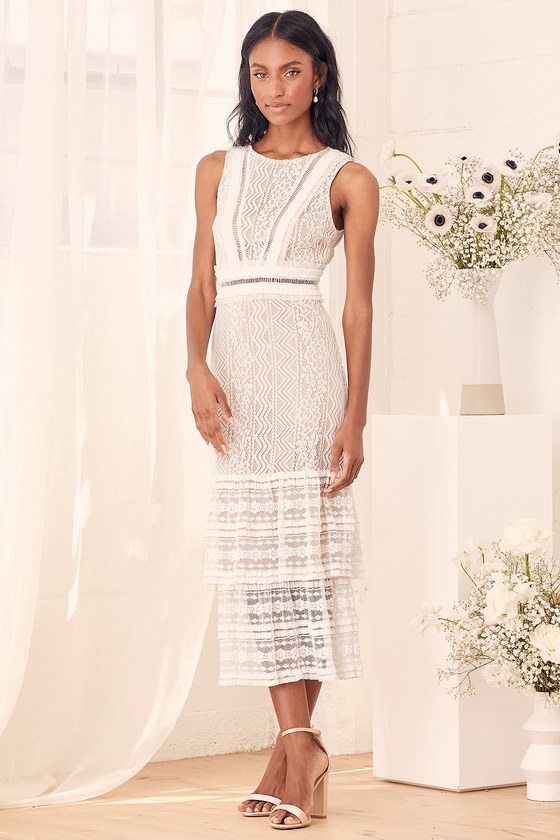 buy here
3. White Shift Dress
A fun, casual shift dress with elegant gold beading at the collar and a fun, above-the-knee length. Buy here. By Lilly Pulitzer.
buy here
4. Fitted White Bridal Shower Dress
This wedding shower dress features a fitted, sleeveless design with a scoop back and straight hemline. By Lilly Pulitzer. Shop here.
buy here
5. Lace Bodycon Style
This bridal shower dress has a mini length cut, high neck, and ruffle detail on the sleeve. Cute! By Lulus. Buy it here.
shop here
6. Tiered Mini Dress
This highly-rated skater dress is made with white satin and features darling tiers. Shop here.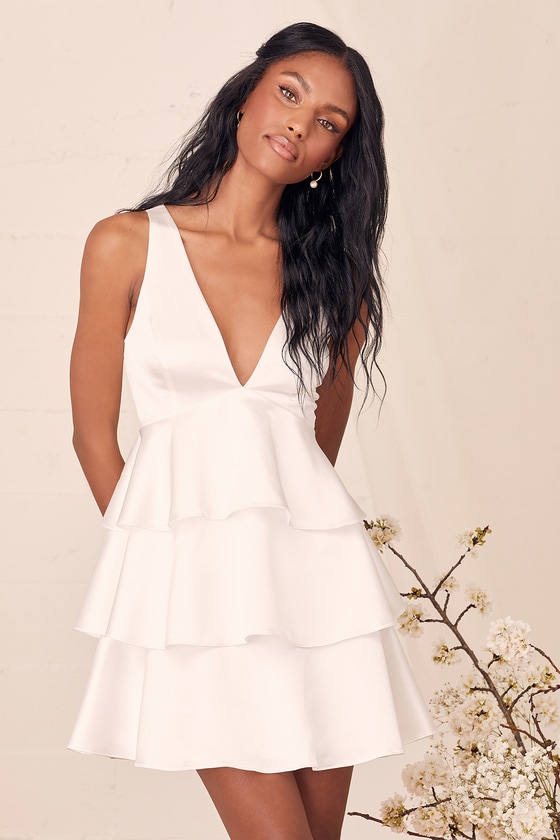 buy here
7. Long Sleeve Sheer
This bridal shower dress has elegant long sheer sleeves, a high neckline, and a fitted bodice. So stylish! You'll definitely want to wear this to the bridal shower. Available here.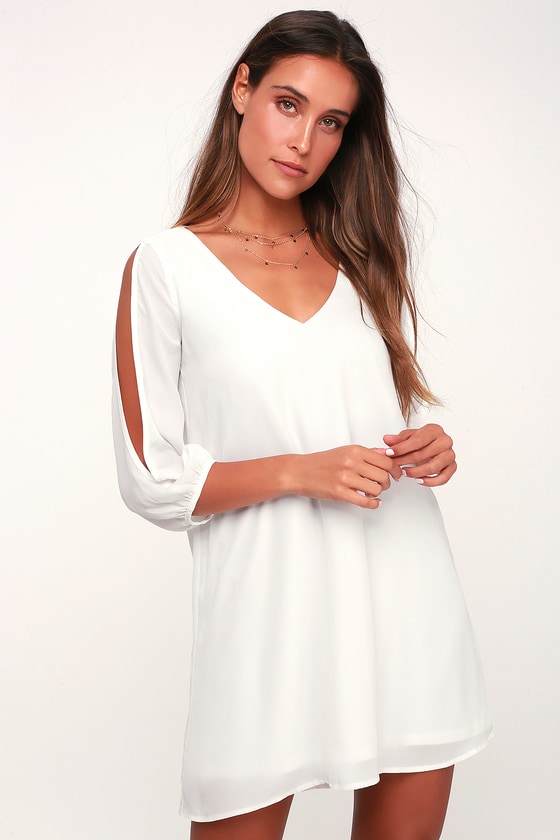 shop here
8. Wedding Shower Dress with Half Sleeves
Looking for half sleeves, a stylish high-neck, and front pleats? You'll find the best bridal shower dress here by Lulus. Shop here.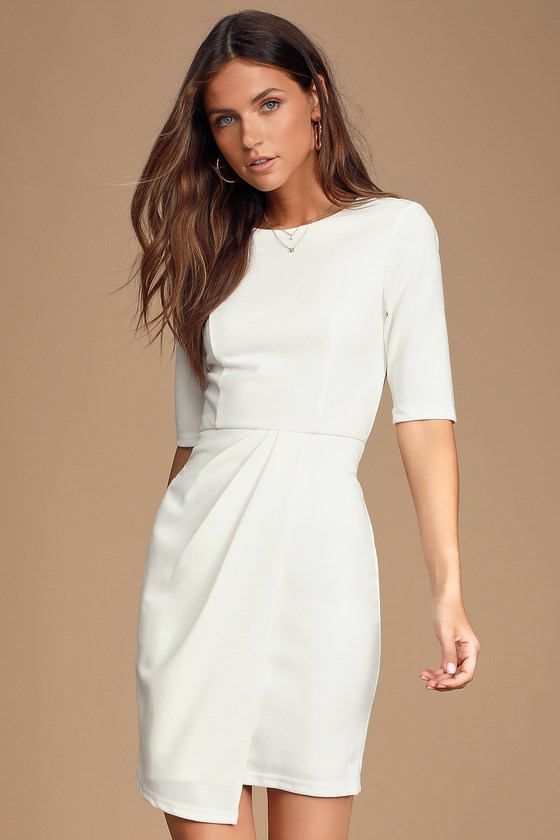 shop here
9. White Lace Bodycon
This sleeveless crochet lace dress is a boho bride's dream with a rounded neckline, sleeveless bodice, bodycon style skirt, and a fringe hem, adorable! By Lulus.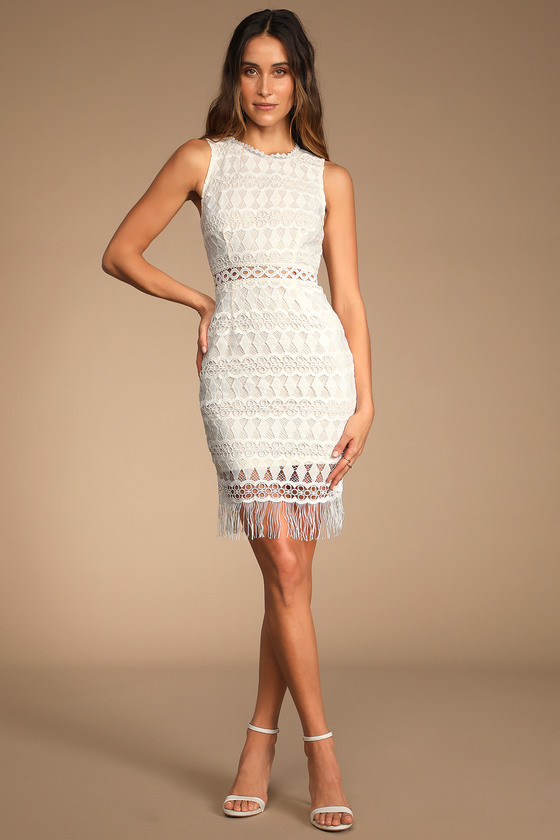 shop here
10. Floral Satin Halter Dress
This halter dress has a flattering silhouette and fun floral print. Buy here.
shop here
11. Off-the-Shoulder Dress
This elegant and sleek off-the-shoulder dress is elegant and sophisticated — and definitely fun! I love the half sleeve style here. See it here. By Lulus.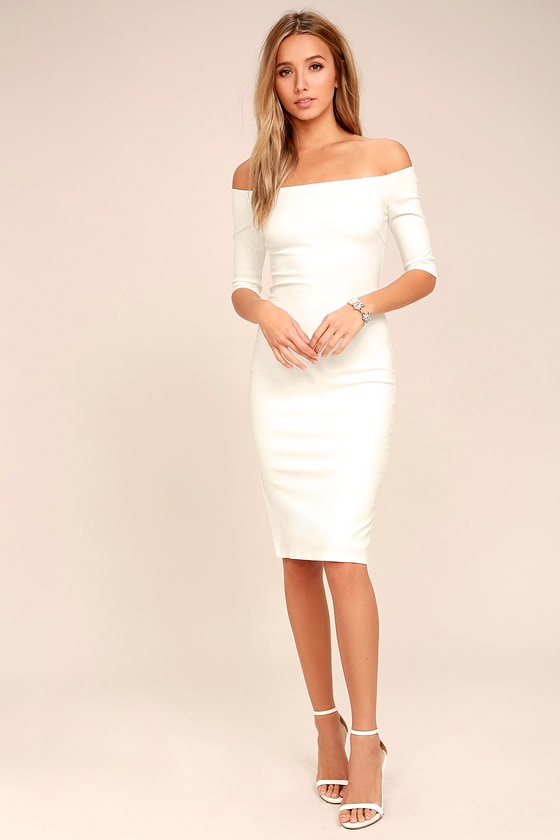 shop here
12. Sleeveless Tulip Midi
A tulip skirt finishes the look of this beautiful white sleeveless dress in a mini length. Get it here. By Lulus.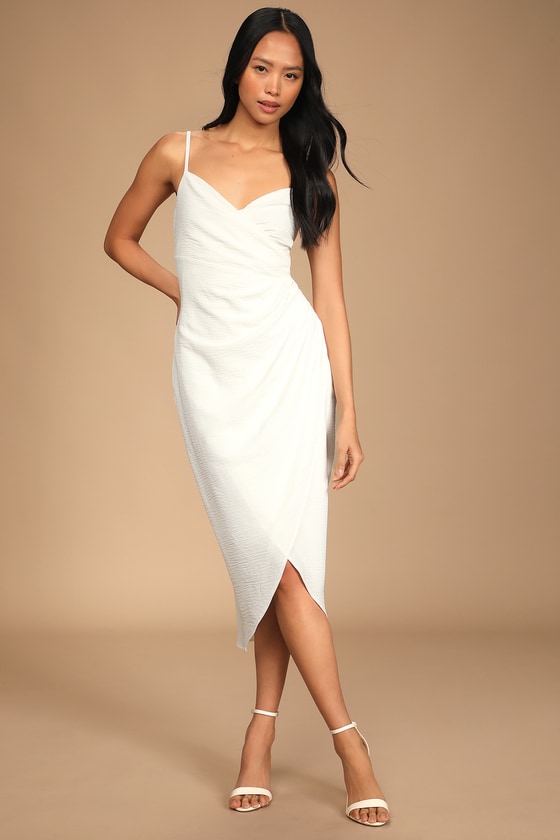 buy here
Now that you've seen some suggestions, we'd love to hear what you think: what kind of bridal shower dress will you be wearing?
Where to Buy Bridal Shower Dresses
If you want to shop bridal shower dresses, click here to see more!
This site receives compensation for this article as well as for purchases made when/if you click on a link and buy something in this article.
Happy Planning!
xo
Emma