If you want to wear a jumpsuit as a wedding guest, you're in luck! I love the look of jumpsuits for wedding guests as an alternative to a dress. If you don't want to wear a dress, but you want to dress up for a wedding, a one-piece jumsuit is a great attire option.
Many women are nervous to wear a jumpsuit to a wedding because they worry whether a pantsuit is formal enough for the occasion. But guess what? Jumpsuits are perfectly appropriate attire for wedding guests, especially for cocktail or semi-formal dress codes.
Can You Wear a Jumpsuit to a Formal Wedding?
Yes: a jumpsuit or pantsuit is an appropriate outfit for wedding guests to wear to a formal wedding. The trick is to make sure the jumpsuit you select is elegant, goes with the theme and tone of the wedding, and you accessorize it as you would a wedding guest dress.
If you're still on the fence about wearing one — even though you and I know you'll totally rock it! — we recommend choosing one of the jumpsuits that look like dresses. You'll see them later on in this list.
By doing so, your outfit will feel more like a dress, but it will be a stylish jumpsuit. Win-win!
buy here
To help you find a jumpsuit you'll want to wear to the next big wedding, we're rounding up the most popular jumpsuits 2022 has to offer. The best part is, these are all highly-rated and you can read real reviews from customers (many with Real Wedding photos).
Plus, they're affordable! We're listing the price on each jumpsuit so you can shop easily; you'll quickly see that each is under $100.
After we show you the jumpsuits, we're sharing some advice on how to wear a jumpsuit to a wedding.
Top-Rated Jumpsuits for Wedding Guests
1. Backless Black Jumpsuit, $62
This is probably my favorite when it comes to a classic, yet edgy, cocktail jumpsuit. It has a backless style that looks gorgeous and wide cross-over straps on the back. Get it here.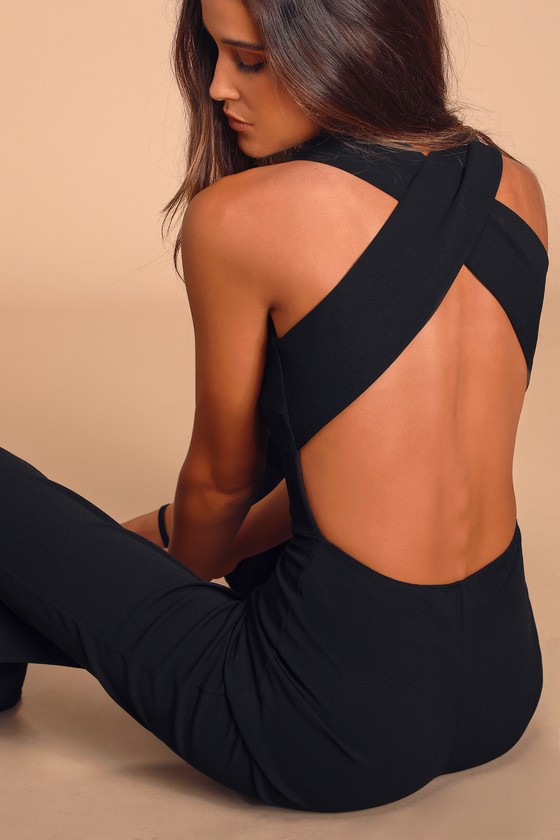 buy here
2. Burgundy Wide-Leg Jumpsuit, $64
This style has as v-neckline and wide shoulder straps plus a wide leg style that flares out. I love the rich burgundy color shown here! Shop now.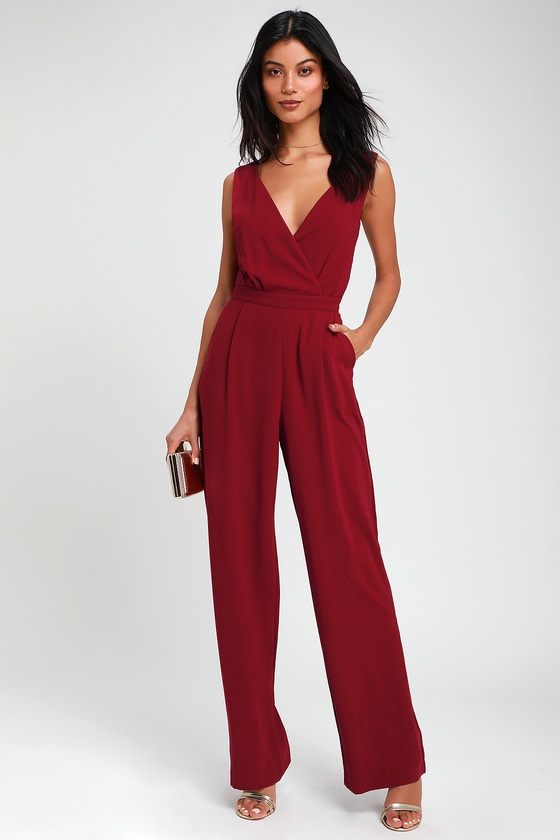 buy here
3. Green Strapless Jumpsuit for a Formal Wedding, $68
Green is a popular color for wedding guest attire and we're seeing it everywhere — and in every season! This shade of green is perfect for a cocktail jumpsuit and this strapless neckline is beautiful! See it here.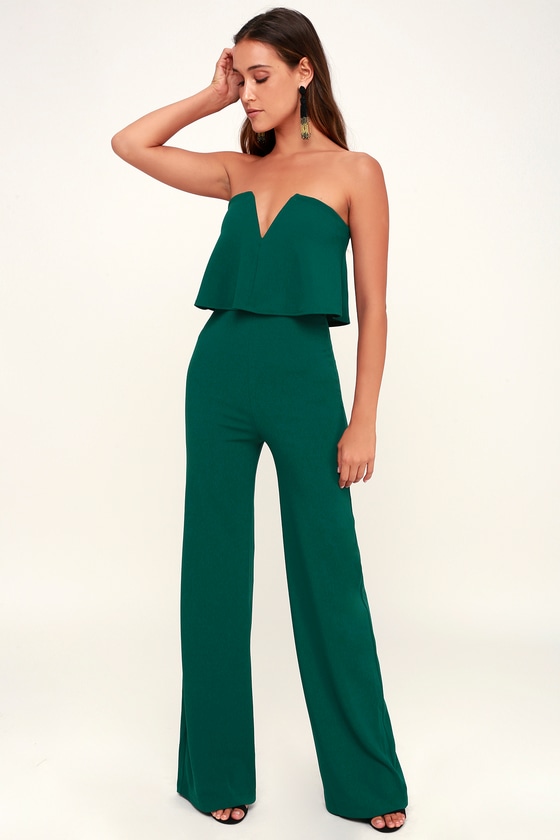 buy here
4. Jumpsuit with a Square Neckline and High Coverage, $68
Wear this classic wedding guest jumpsuit to the reception and turn heads! This style has as squared-off neckline and high coverage on the back. See more colors here.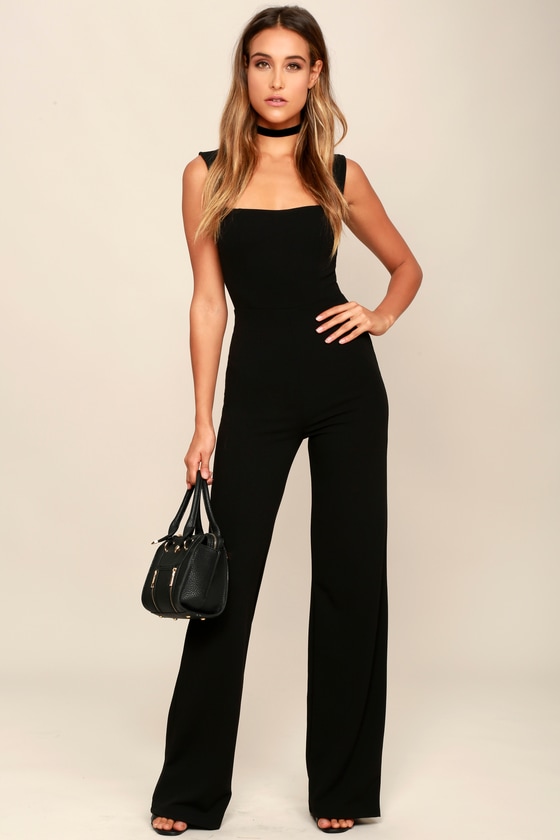 buy here
5. Surplice Sleeveless Jumpsuit, $62
Some people like jumpsuits for wedding guests with sleeves… others like to go sleeveless! This style is for the latter and includes an adorably fun ankle-length pant. Get it here.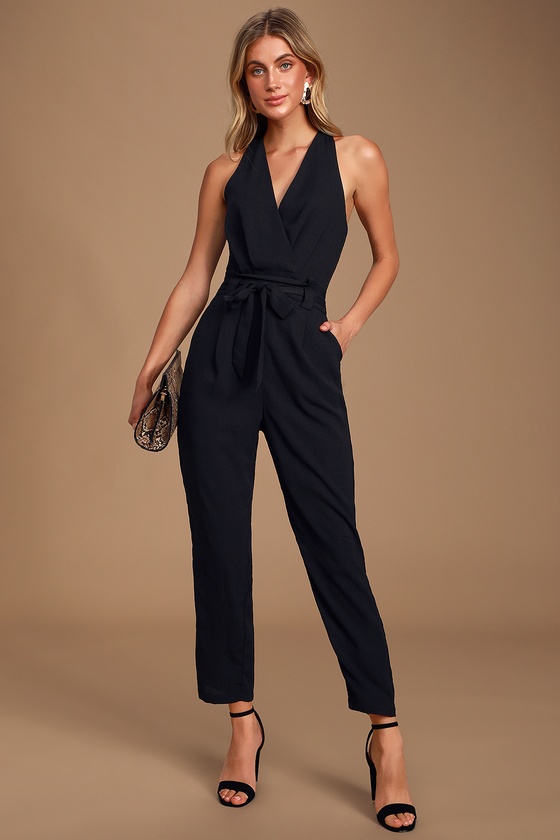 shop here
6. Satin Jumpsuit in Rusty Rose, $74
Put on a luxe satin jumpsuit like this one in rusty rose and you'll look confident, stylish, and you'll feel comfortable! Soft satin accentuates your curves with a deep-v neck and sleeveless style. Available here.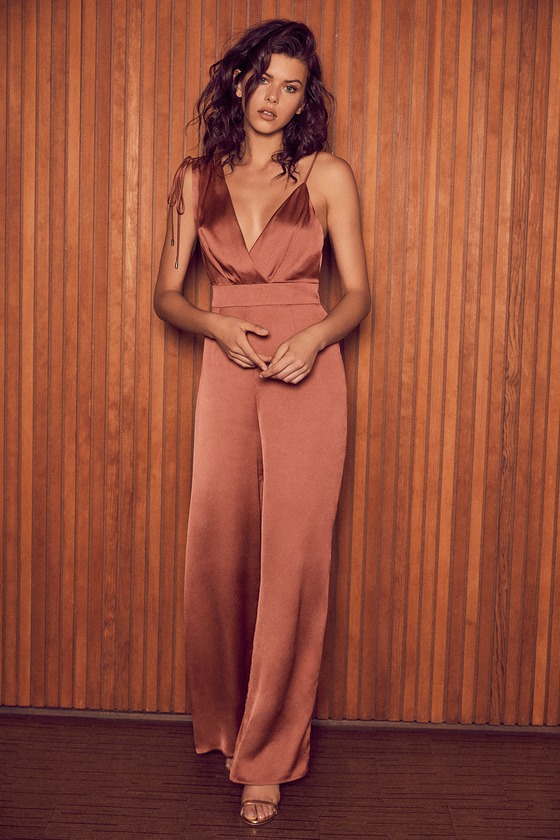 buy here
7. Black Ruffled Wide Leg, $72
This is the best jumpsuit for a wedding guest, in my opinion. It is classic black, elegant, and features the most darling ruffles on the front. Shop here.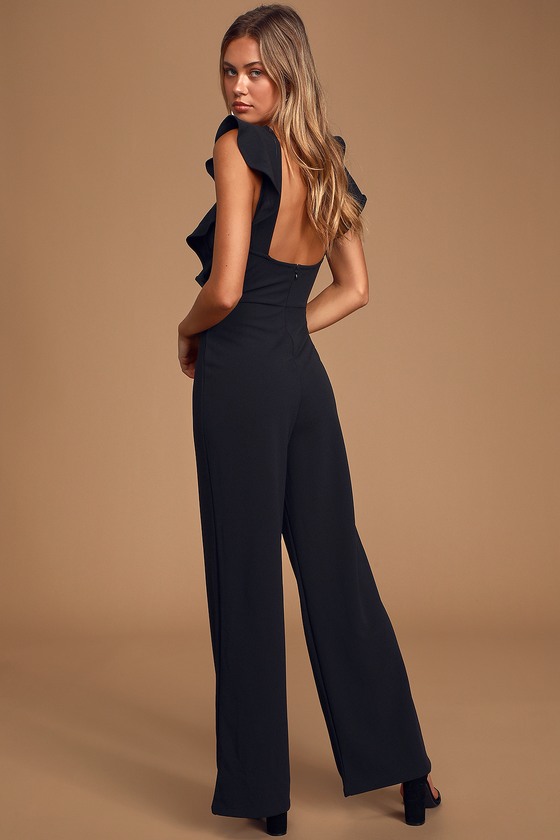 buy here
8. High Neckline Jumpsuit in Burgundy, $72
If you're nervous about how to wear a jumpsuit for a wedding because you think it will show too much skin, here's a great option: a high neckline! This shade of burgundy is beautiful for fall, too. Buy here.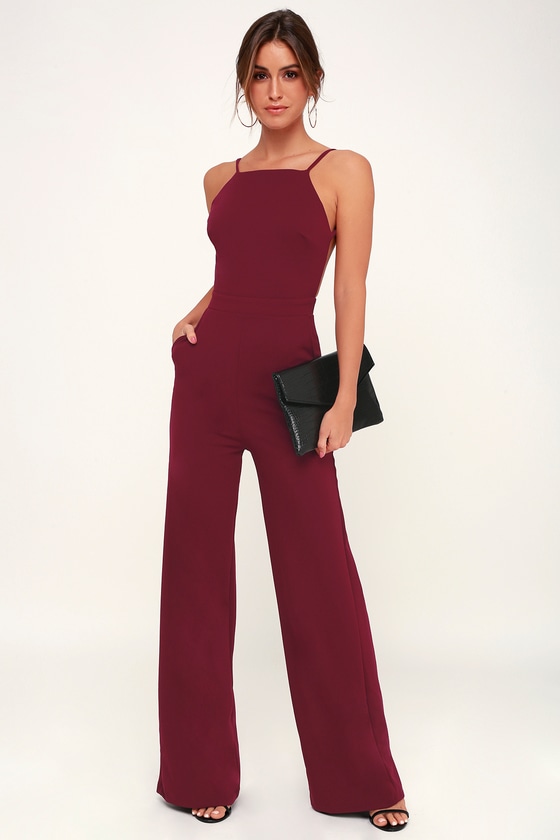 buy here
9. Mauve Ruffled Jumpsuit, $59
This ruffled jumpsuit is a perfect attire choice for any wedding, any time of year! Get it here.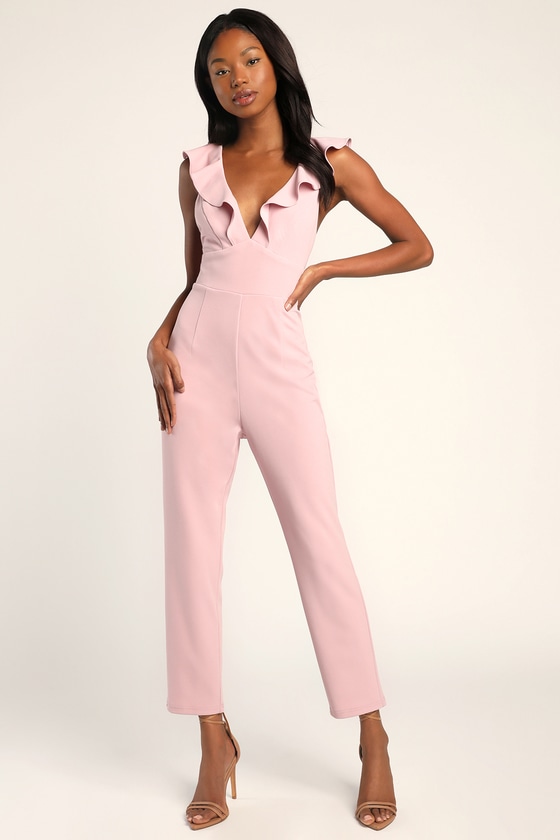 shop here
10. Navy Blue Backless Jumpsuit, $62
Now in navy! Love this color as well. Available here.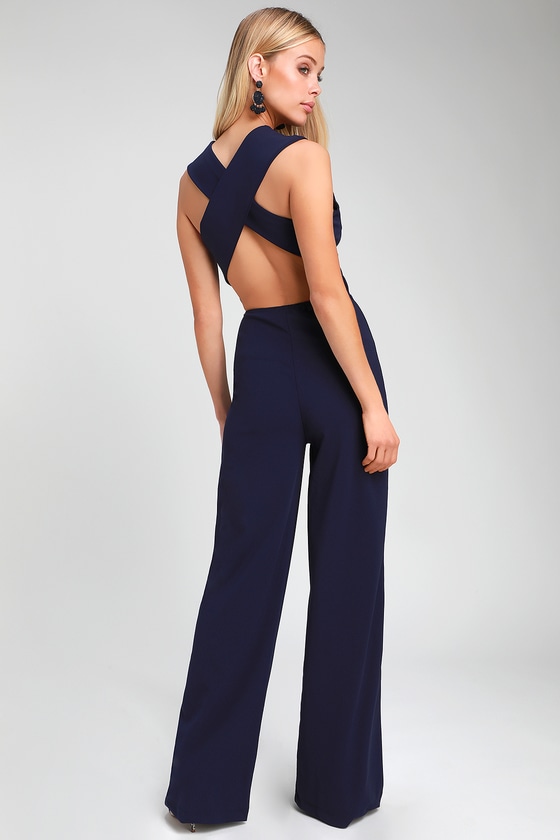 shop here
11. Black Floral Print, $82
You don't have to choose a solid color pantsuit or jumpsuit as a wedding guest! Go bold with a fun pattern, like this floral pattern jumpsuit from here.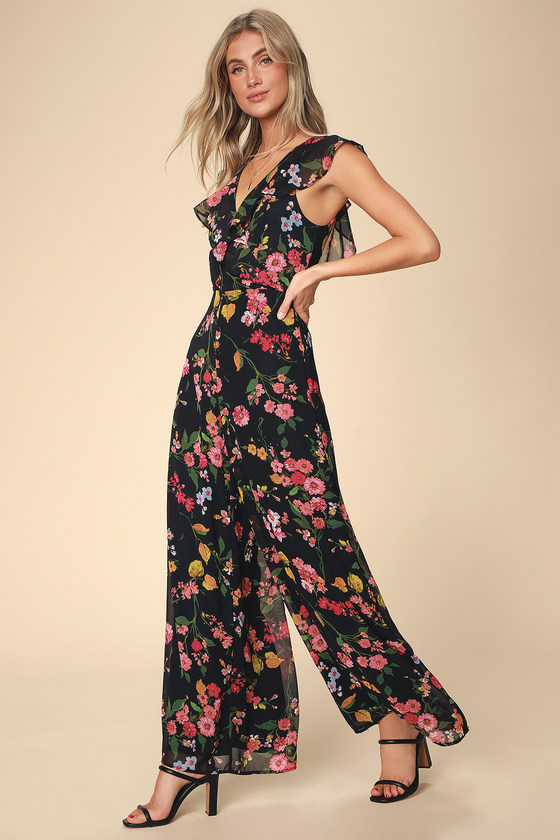 shop here
12. Black Floral Velvet, $78
Feel and look luxe with this velvet jumpsuit; it is one-of-a-kind! See it here.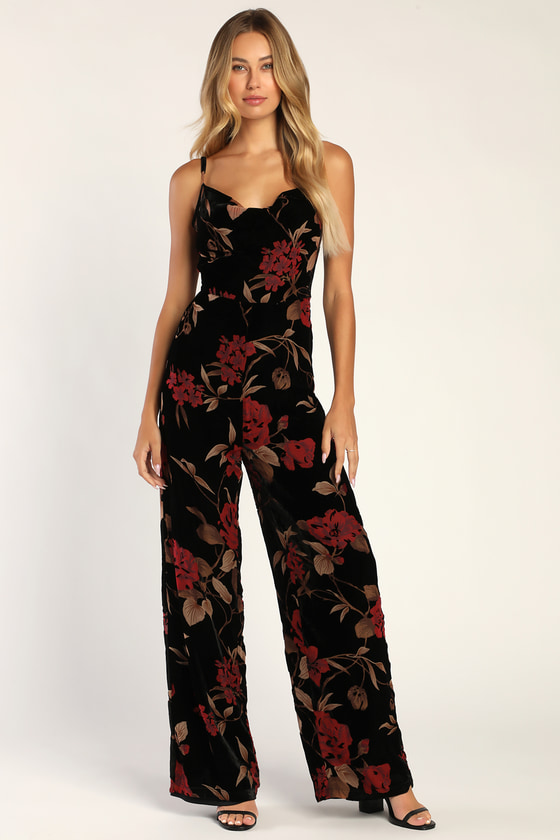 shop here
13. Metallic Wide-Leg Jumpsuit, $78
Part disco, part wedding guest, this jumpsuit is a whole lot of fun! Dance the night away in this sparkly metallic jumpsuit with a wide-leg. Get it here.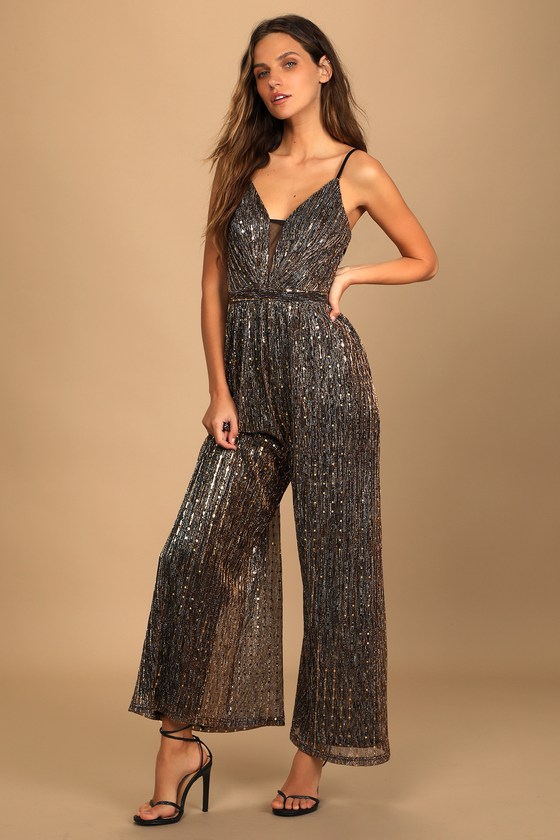 shop here
14. Plunging Neckline, $69
This makes a fabulous one-piece outfit for a wedding guest. Wear this jumpsuit to your next wedding reception and for events to come! Available in black. Shop here.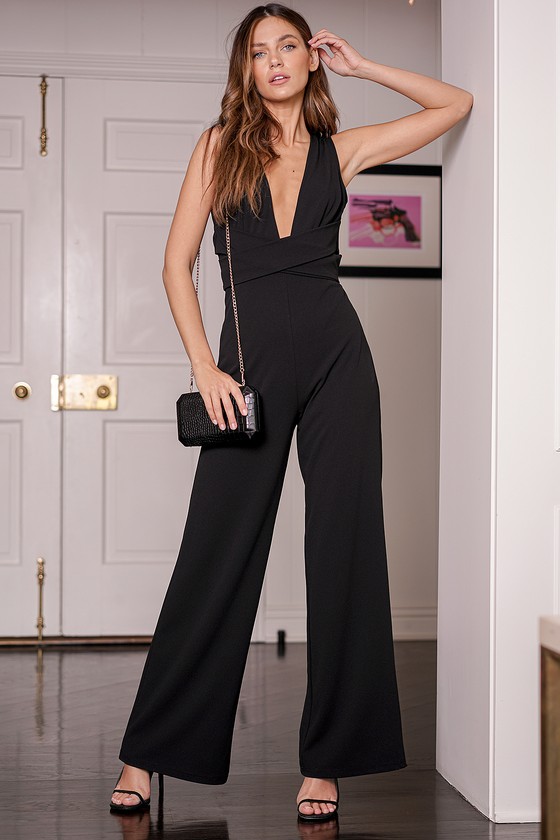 shop here
15. Teal One-Shoulder Jumpsuit, $74
Have you ever seen a one-shoulder jumpsuit with this much color and sparkle? I love the shade of teal and the stylish velvet ruching. Buy here.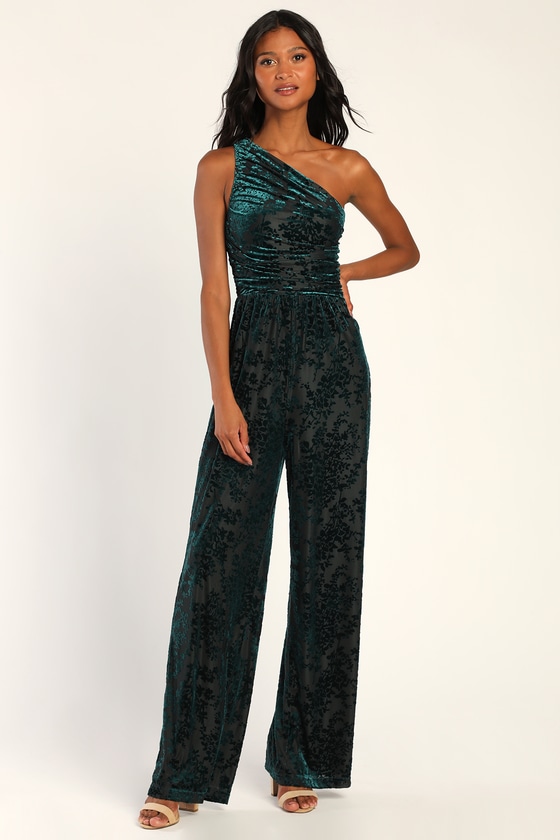 shop here
16. + 17. The Non-Jumpsuit, $72
This looks like a dress, but it's actually a jumpsuit! Great choice if you're new to the style and still getting comfortable with it. See it now.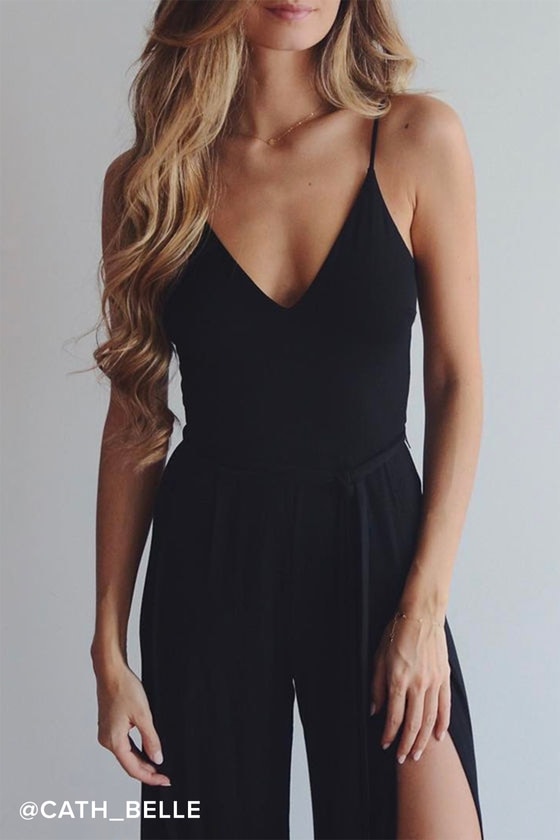 shop here
This is also available in purple: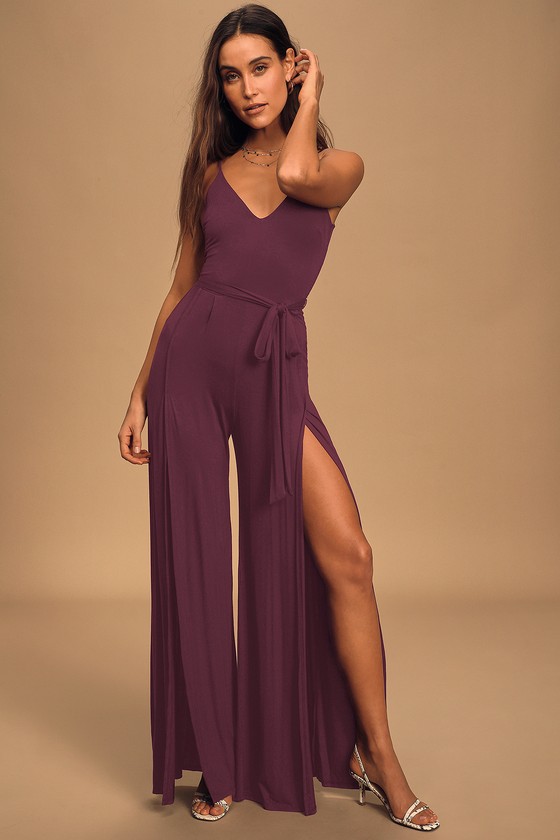 buy here
18. Navy Lace Jumpsuit with Short Sleeves, $84
If you'd likea jumpsuit with sleeves, here is a beautiful one! Try this navy blue lace outfit on and dance the night away at the wedding reception. Get it here.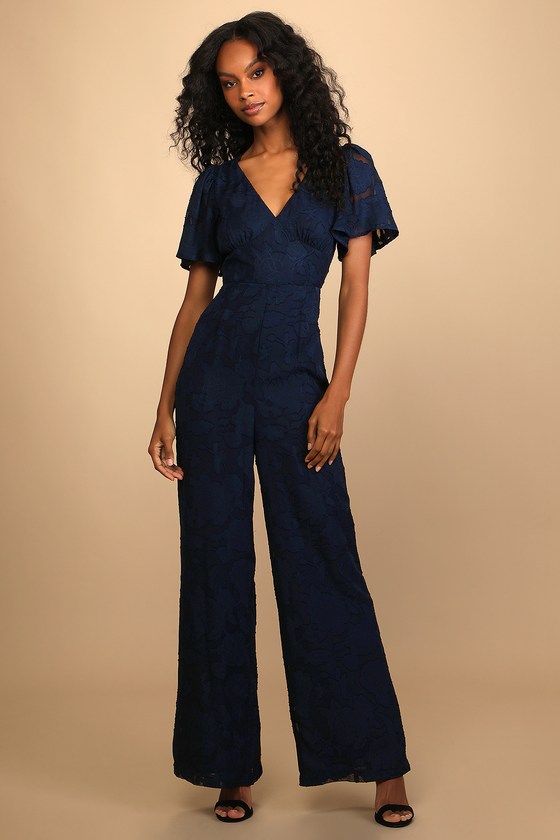 buy here
19. Off-the-Shoulder Jumpsuit for Wedding Guest, $72
This is a stylish jumpsuit! It is also one of the highest rated by customers. Love the look of the off-the-shoulder long sleeves! Buy here.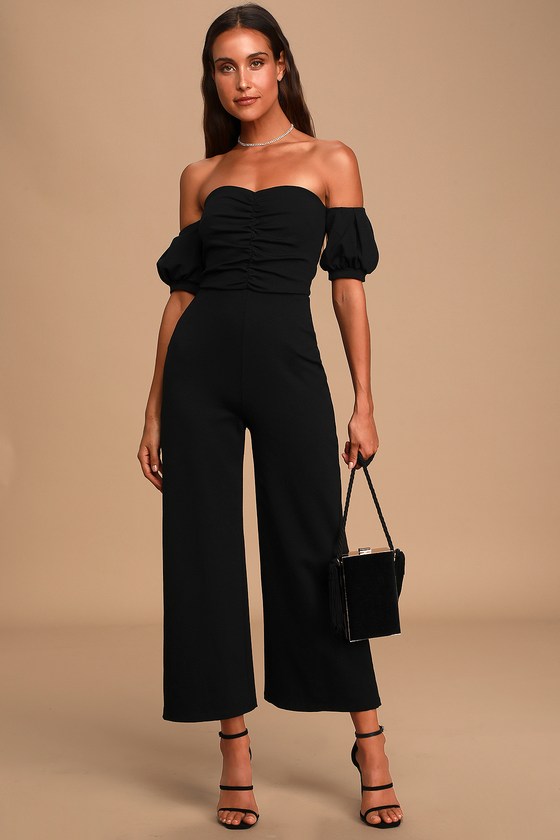 buy here
20. Luxe Satin Asymmetrical Jumpsuit, $74
Wear this luxe satin jumpsuit as a wedding guest outfit, particularly perfect for fall and winter weddings. Shop here.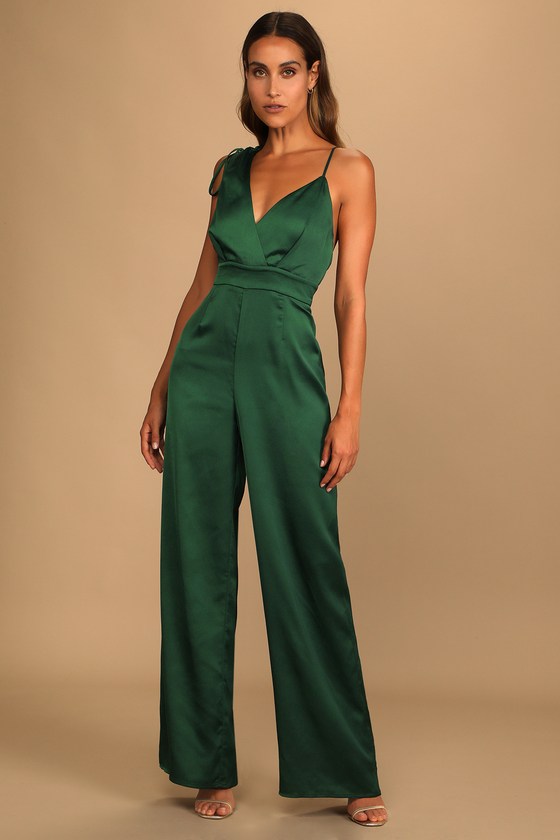 shop here
21. Brown Satin Culotte Jumpsuit, $54
Style, elegance, and a pretty cowl neckline makes this one of my favorite jumpsuits on this list! Get it here.
shop here
22. Black Velvet Stretch with Mesh, $
This straight leg jumpsuit features plush black velvet, sheer mesh cutouts, and a stylish plunge neckline. See it here.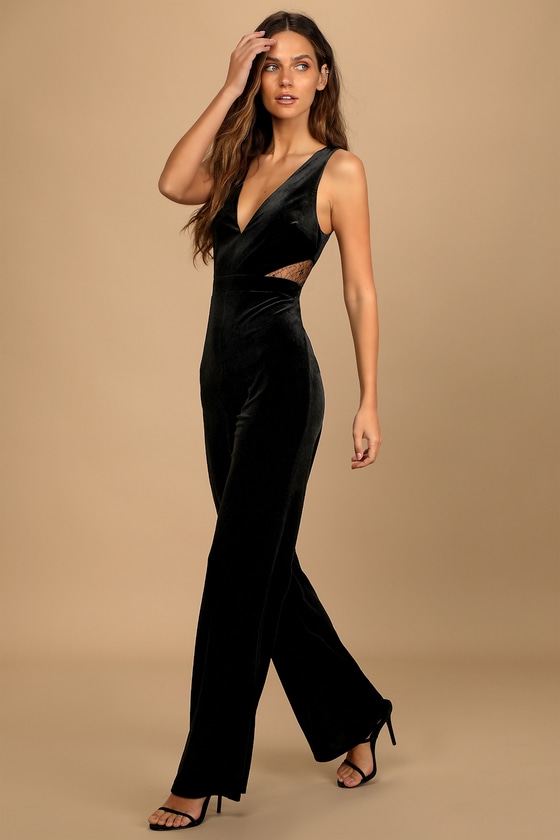 shop here
23. Navy Blue Halter, $39
Can you believe this jumpsuit is under $40? It is a perfect shade and goes with everything! Get it here.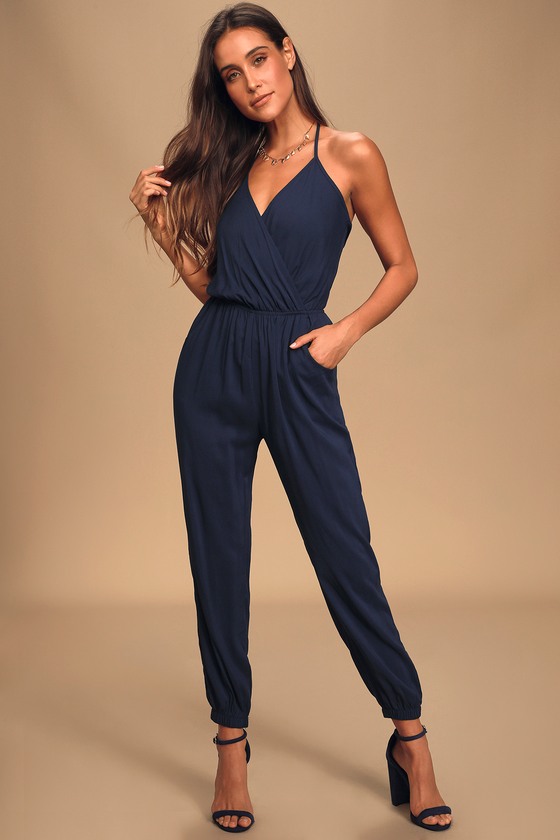 buy here
24. Glamorous Black Cutout Jumpsuit with Short Sleeves, $82
Party ready, this glam jumpsuit is the perfect attire option for an elegant wedding! The cutouts are subtle and stylish; I adore the little cap sleeves! Get it here.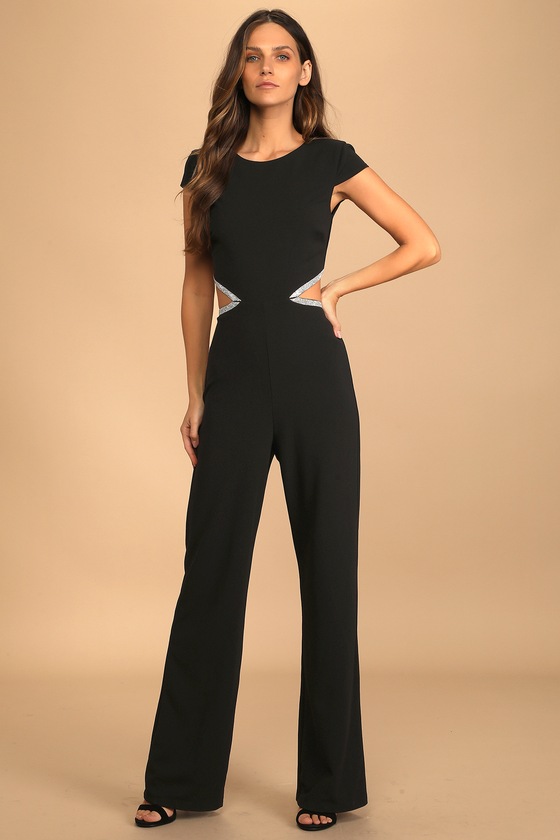 buy here
25. Black One-Shoulder, $79
The perfect black jumpsuit: it has a one-should style, elegant wide pant legs, and an open back. Love this one!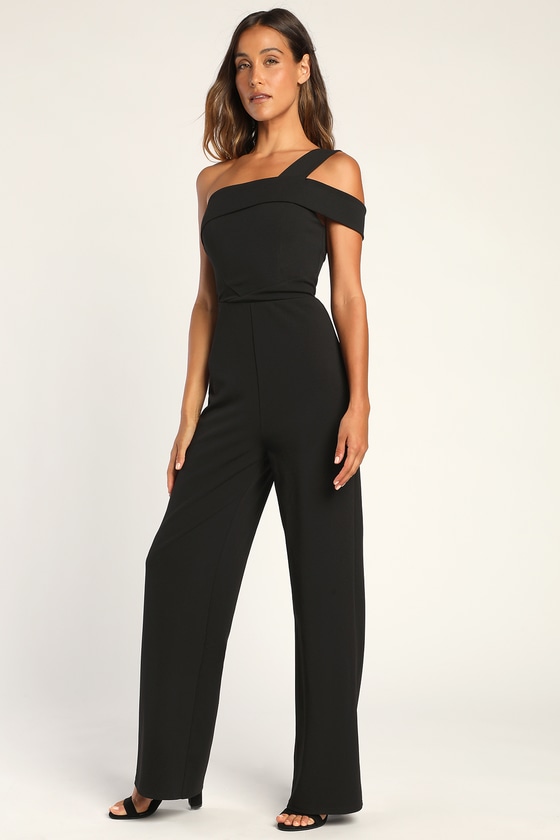 shop here
Shop this wedding guest look, complete with jumpsuit, a purse, and a pair of shoes!
26. Black Halter Jumpsuit, $68
I love this jumpsuit for a wedding guest! It is available in royal blue, but that style is currently on a waitlist. See it here.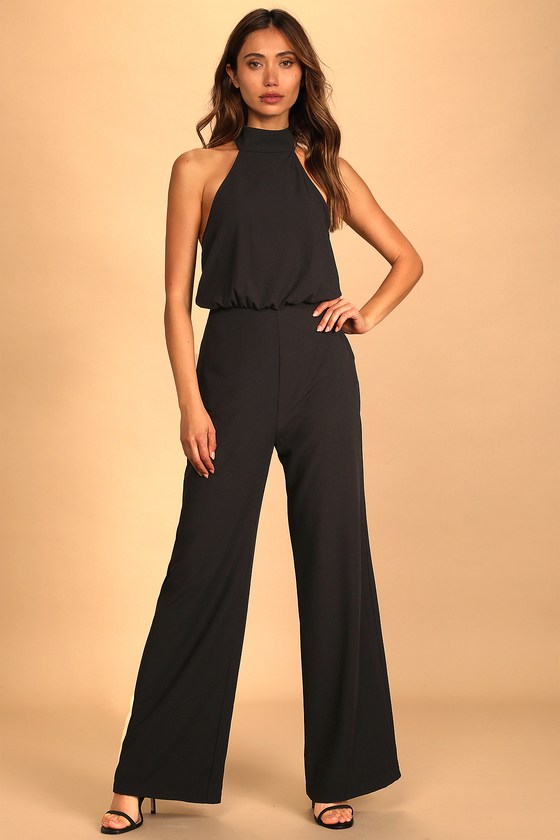 buy here
27. Black Sequin Jumpsuit, $68
If you're going to wear a jumsuit to a wedding, go all in! Add sparkle and style to the dance floor and the reception with this gorgeous strapless jumpsuit. Get it here.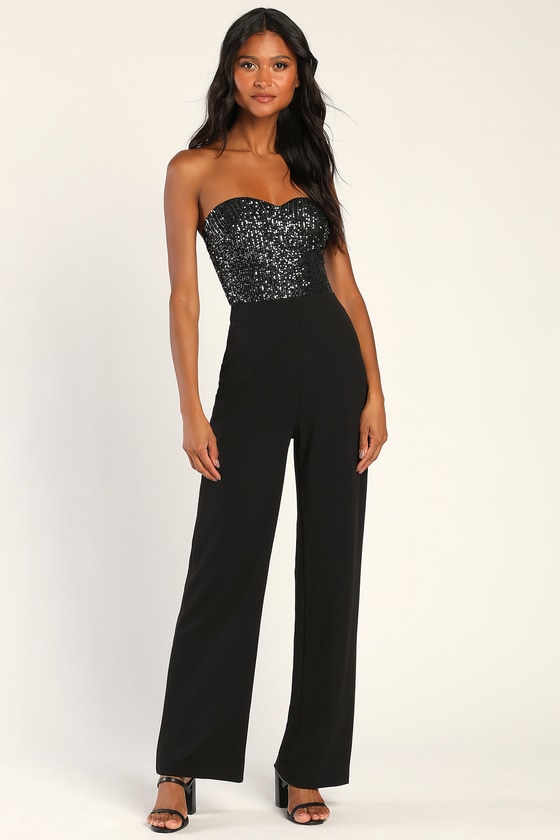 buy here
28. Hunter Green V-Neck Jumpsuit, $62
Now THIS is how to wear a jumpsuit to a wedding! What an elegant choice for dinner and dancing! Get it here.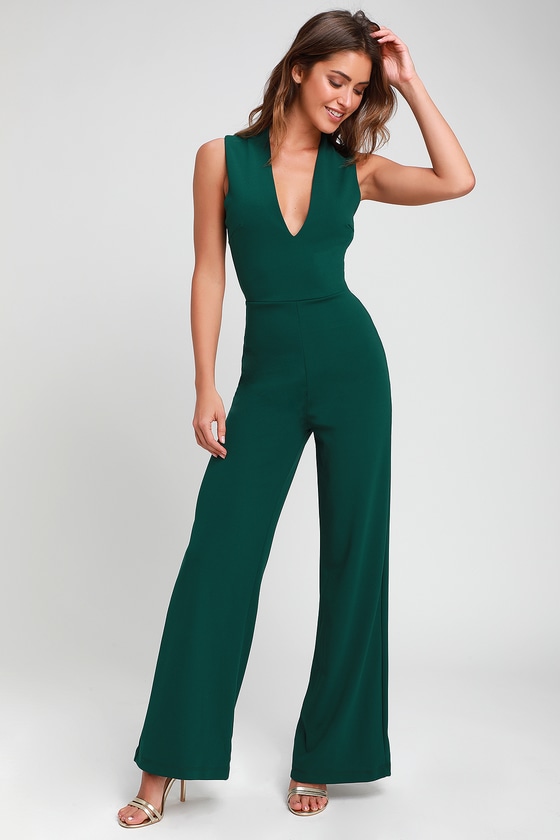 shop here
29. Wide Leg Plunging Neckline, $68
This wide leg one-piece outfit features classic black with wide legs and a plunging neckline. features wide legs, and has a crinkle texture. You can shop this look here.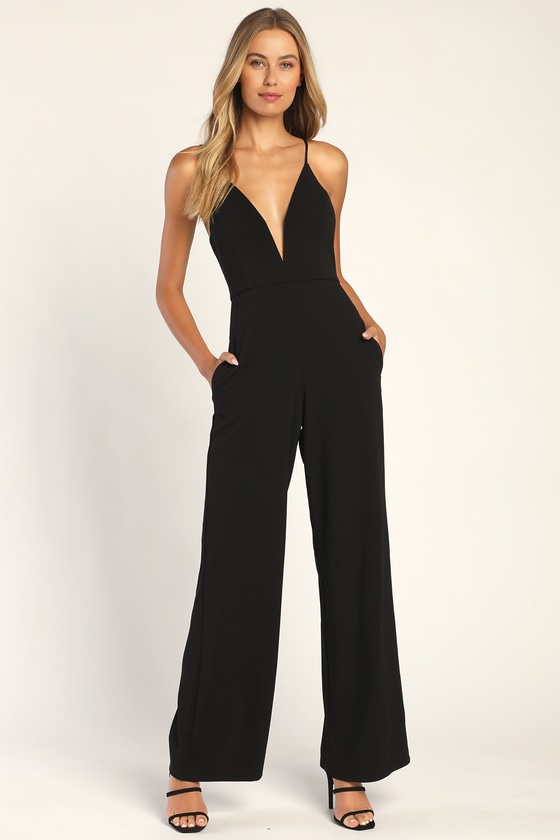 buy here
Also available in burgundy: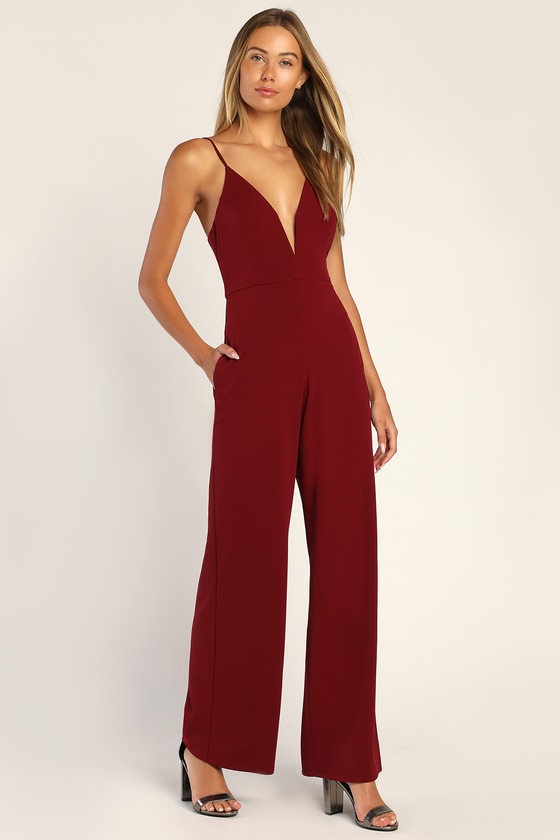 buy here
30. Emerald Green Long Sleeve, $74
Who says you can't find an elegant long sleeve jumpsuit? Here's one you'll love to wear and it's available here.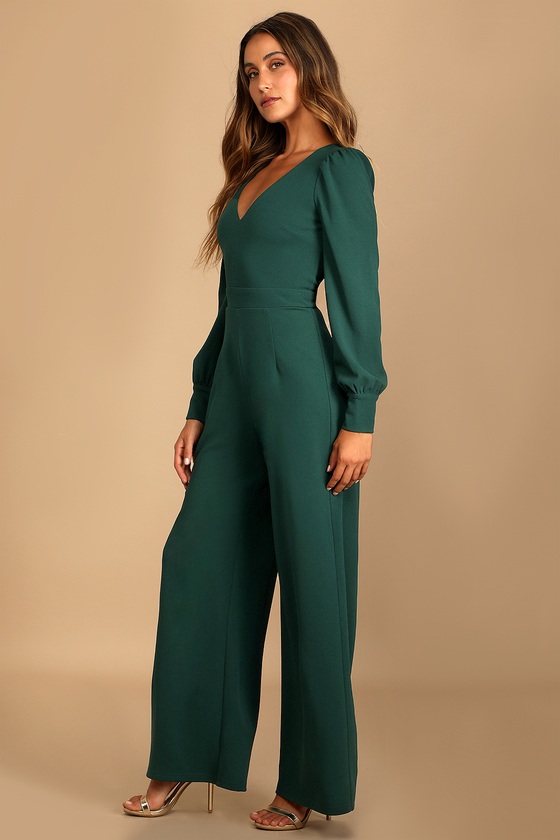 buy here
Shop the entire assortment of wedding guest jumpsuits here if you need more inspo!
Now that you have some ideas of what styles to wear, let's tackle a few frequently asked questions about this fashion choice. Is a jumpsuit suitable to wear as a wedding guest, and if so, are there any styles to avoid?
Let's discuss it.
Can you wear a jumpsuit as a wedding guest?
Are jumpsuits appropriate to wear to a wedding?
Yes! Of course. I know the answer is pretty obvious because, well, why would we show you so many beautiful wedding guest jumpsuits if it weren't an option?
Dress codes of all kind — yes, including cocktail and semi-formal — are an appropriate guest attire choice for any wedding, regardless of season.
In regards to formality, keep in mind a few rules listed below.
What jumpsuits should wedding guests avoid?
There are just a few types of jumpsuits you should avoid if you are a wedding guest. None of them are included on this list; however, if shopping for a jumpsuit elsewhere, keep these tips in mind.
Don't wear a jumpsuit that is white, ivory, or champagne in color.
As per the normal dress code rules, the same apply to a jumpsuit as a wedding guest dress. Don't wear a color the bride would wear so you avoid upstaging her.
In addition, avoid wearing a bright color red: it tends to draw attention in real life and in photos, which takes away from the spotlight of the bride.
You might also refrain from anything too revealing, two-piece jumpsuits that show a lot of skin, and fabrics that are more suited towards summer beach weddings (when you're attending an indoor fall reception). When in doubt, shop styles shown in the list above, as they are all perfectly appropriate for wedding guest attire.
What kind of shoes to wear with a jumpsuit to a wedding
Any type of dress shoes for wedding guests will do! A pair of low heels, stacked heels, or block heels tend to look best with a jumpsuit. However, you should wear something that is dressy yet comfortable, so you're not walking around uncomfortably all night.
Lulus offers many of the shoes you see in the examples above; you can shop their affordable collection of dress shoes here.
What are the best jumpsuits for wedding guests?
Last but not least, the top jumpsuits for wedding guests are anything on the list above! My favorite is probably #7, followed by #12. I do adore them all. The trend is here to stay for awhile, so if you're also thinking ahead to 2023 wedding season, I have no doubt these jumpsuits will serve you well right into the next year. :)
I hope it helps!
Which one will you be rocking this year?
Happy Planning!
xo
Emma